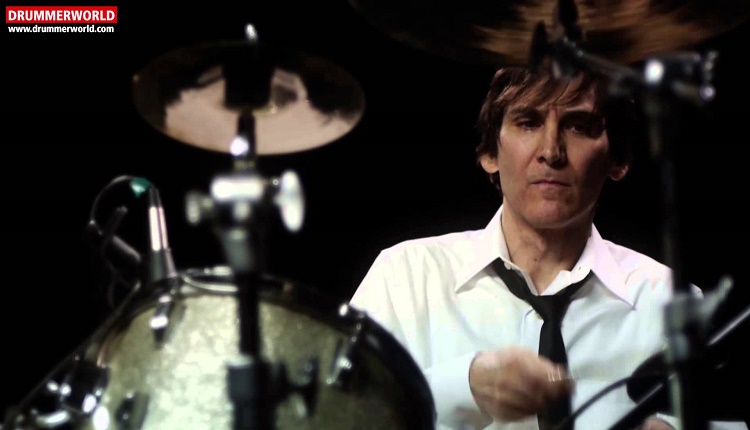 HAIL MARY
A Metal Sludge exclusive with ex-Alice Cooper drummer Ken Mary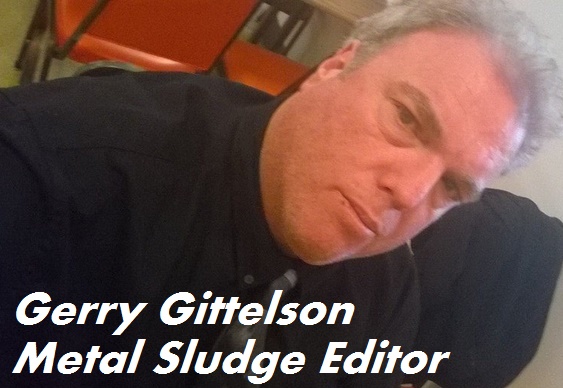 LOS ANGELES — He signed his first major-label record contract when he was still in high school (with Fifth Angel), and drummer Ken Mary just keeps on rocking.
He has recorded and toured with some of music's biggest acts like Alice Cooper, in addition to being a founding member of legendary pomp band House of Lords plus stints with Impelletteri, Bonfire and others.
Heck, Mary even contributed backround vocals for Tuff in 1991, and that's the pinnacle, right?
These days, Mary is hosting an upcoming documentary on the world's top drummers — wonder if he will include himself? — and in the meantime, we sat for a Metal Sludge exclusive.
——————————————————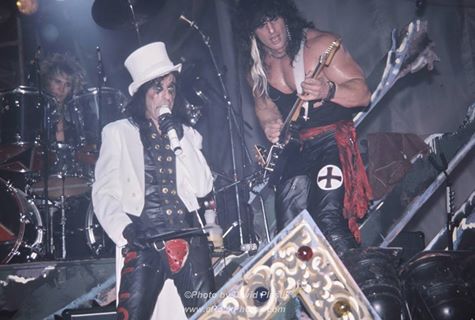 Ken live with Alice Cooper and Kane Roberts
METAL SLUDGE: I actually interviewed you like 30 years for Fifth Angel, one of my fist-ever interviews. You were on Epic, and your publicist was Hanna Bolte, right?
KEN MARY: Wow, you remember that? I remember Hanna Bolte, definitely.
You know she is super successful now in PR.
MARY: That doesn't surprise me at all. I thought she was good. Does it surprise you?
No, no. I loved her. Anyway, so you're doing this documentary on drummers, and you're the host.
MARY: Yeah, it's a documentary, actually, going through history and starting with guys like Buddy Rich, Louie Belson, Gene Krupa.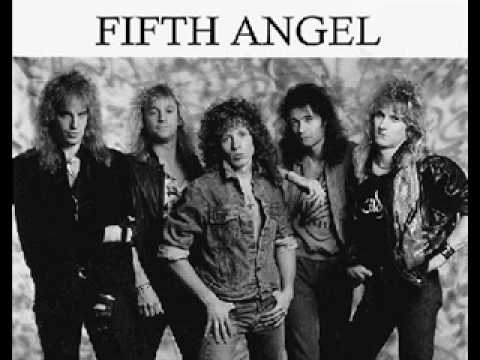 Now you've seen Metal Sludge, we ask some wacky questions, kind of poke fun, you're OK with that, right?
MARY: Yes, I think so.
Well, through the years you worked with both Gregg Giuffria and Kip Winger. Who had the best beauty tips?
MARY: Wow, that's a good one. If I had to pick one, Kip was certainly a handsome guy in his day.
But Gregg had the hair.
MARY: We all had the hair. That's one of my biggest regrets about the '80s, compared to the '60s and the '70s when everyone still looked cool, but the you look at the stuff in the '80s, and it's like, what were we thinking? That's the only thing I wish I could go back and change. In terms of playing to crowds, it was the best era ever, but I don't know about the clothing and the hairspray.
House of Lords was an amazing band, and you were the drummer.
MARY: That was one of those bands, in my personal experience, one of the best I've ever played with. Just amazing talent in that group, and I think we made a pretty decent impact. Certainly I think House of Lords should have bigger than it was, but at the same time, we were a little different than the bands that were out there, a little more musicianship-oriented, and that's actually one of the things that hurt us. A lot of our songs were pretty serious. We had fun songs, too, but there was a lot of deep stuff in some of the music,  and who knows, that might have hurt us a little bit. I don't know.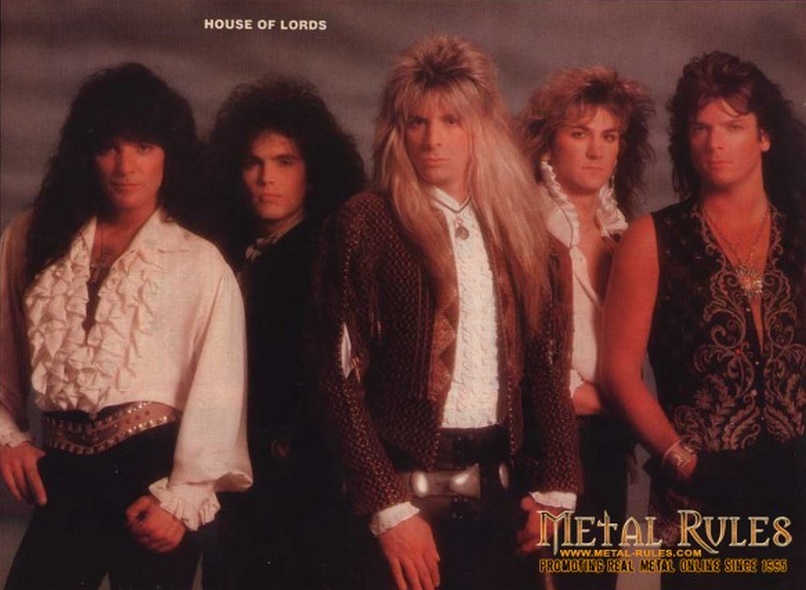 At that time, you had come off a pretty good stint playing with Alice Cooper. Was he sober yet at that point?
MARY: Yeah, we toured from late  '86 through 1988, two world tours, and when we toured, he was sober for like seven years at that point. He was an amazing person, a super nice guy, very intelligent. It was one of the highlights of my career, for sure. I look back on those days with fondness.
But you left.
MARY: To be completely honest, Alice was incredible, but some guys in the organization, they made it clear that this was not my home and not to consider it my home. It just always felt tentative, day after day, year after year. It was a great gig, but it was Alice's gig. I just wanted to strike out on my own because with Alice Cooper, your reality is not really your reality.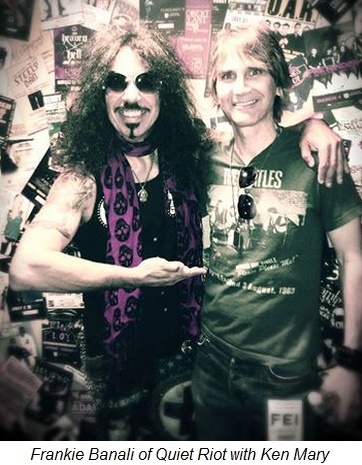 So with House of Lords, you basically joined a brand-new band. Was it a big risk?
MARY: I don't think so. I mean, nobody came up to me and said, "Hey, what you are doing?" The funny thing is, as a kid I had an Angel poster on my wall. I was a huge KISS fan, too, and of course Gene Simmons was the one who signed us.
Do you hate Gene Simmons by now?
MARY: You know, I'd love to be able to dish some dirt, but to be totally honest with you, in my experience Gene was a great guy to work with. Some others had problems with him, but when I worked with him, he was always honest, just like "here's the deal," and we took it, and he never tried to change the terms. We always found him honorable and honest and very helpful. I mean, at this point, he had been in the business for 25 years already and was worth hundreds of millions of dollars, so there was really no need to be nice to anyone, but Gene, he knew every record-store owner's name. Everyone who had ever helped KISS, he was nice to every single one of them. He's a smart man.
Then you founded your own band called Soul Shock Remedy. Dude, I checked the net, and there is like NOTHING on this band on the net. This project must have come and gone very quickly.
MARY: You're right. It came and went fairy quickly, though we had better success in Europe. Kerrang gave it five Ks, and that was very rare in those days.
They gave both Paul Sabu and Valenine five Ks, too, and nobody even remembers them anymore, so maybe five Ks in Kerrang is the kiss of death, Ken.
MARY: Yeah, maybe for us, too. It was just one of those deals. We lost a couple of guys who went on to join another group because they didn't think things were happening fast enough, and I was a little burned out myself trying to keep everything together, spinning a lot of plates. I was like, "I'm done. This is the last time I'm doing this." And it was.
OK, speaking of drummers, who would you be MOST opposed to dating your daughter, Phil Rudd of AC DC or Deen Castronova of Journey?
MARY: Well, I don't have a daughter, but if I did, Deen Castronova is actually a friend. I know he's catching a lot of heat, but he's a really good guy who got into stuff he shouldn't be messing with, and things happened. So I would have to go with Deen on that.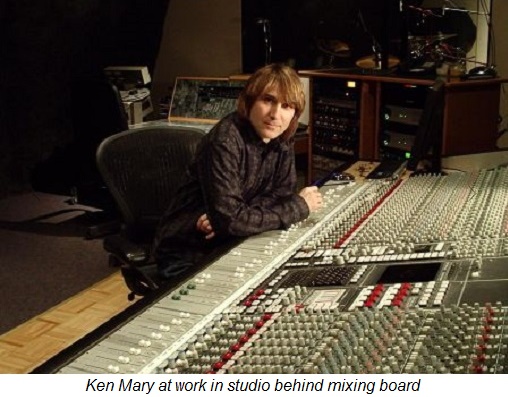 What are some other interesting things you can do with a drum stick?
MARY: Can you let me think about that one?
Most drummers are nice guys. Do you think hitting things is theraputic?
MARY: I do. I think it's great therapy. It's absolutely a release of aggression. The drummers, we're the ones who excercise more than anyone else in the band. Plus, for the most part, drummers play a supportive role in the music, so part of our job is to get along with people, so drummers, they tend to be balanced with some exceptions that you've already pointed out, but overall we're pretty nice. I think you're right. Most drummers are nice guys who would give you the shirt off their back. Just great guys to be around.
So I guess part of your history, you had a really bad back. Did you ever fall in love with pain pills?
MARY: No, actually I didn't. It's kind of interesting. I just didn't want pills to mask the pain, so that way, I couldn't injure myself more.

You worked with the Beach Boys for a bit. Was Brian Wilson an odd guy?
MARY: Actually, that was for a TV series, "Full House." I was on three episodes, and I think more people saw me than all the concert world tours I've ever done — like 80 million households. But Brian, I don't believe he was there. I'm ashamed to say it, but I didn't really know who was who between all the brothers.
Overall, through all the years, who treated you the best, and who treated you like shit?
MARY: That's a great question. I don't think anyone treated me poorly. I really enjoyed working with Michael Wagener. I used to hang out and watch him mix Ozzy's albums. He was wonderful to work with, and we're still friends. Usually, in this business, you can usually count your total true friends on two hands. I also liked working with Andy Johns. I was a big fan, and he said he liked my drumming.
Not to talk bad about the dead, but was he tanked?
MARY: Well, he was notorious for that, but he was a brilliant engineer. People thought he was too harsh, especially on drummers, but to be honest, he just had a great sense of meter and time.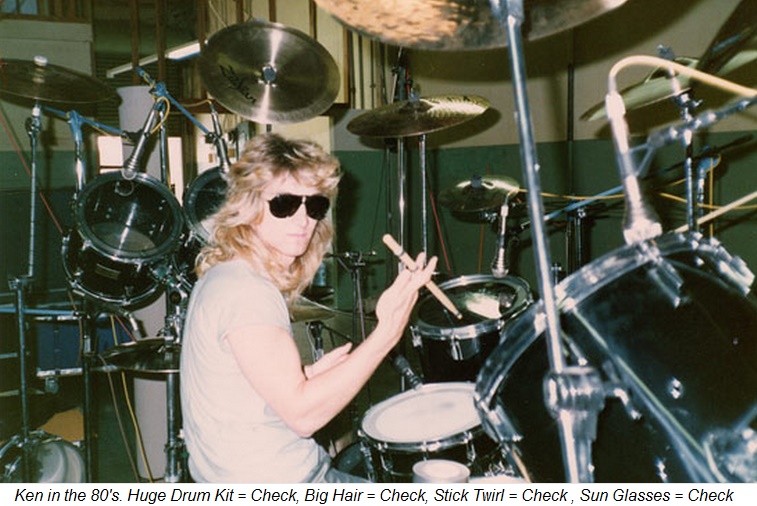 What about the biggest music-related check you've ever received, and what did you spend the money on?
MARY: Well, I'm not going to give you a number, but I bought my first house. Most guys probably would have bought something different, like a car, but I wasn't one of those guys.
Which band was this?
MARY: House of Lords.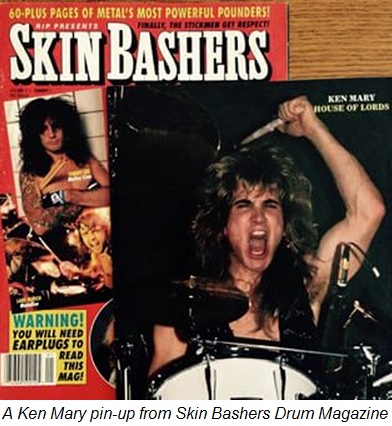 House of Lords? You got six figures?
MARY: No, no. Five figures, but I had earned enough from Alice to put toward the house. I'm not gonna say how much, but five figures.
I got it. So more than $9,999.
MARY: Yeah, I guess.
Any good groupie action back in the day?
MARY: Well, I've been married for a long time, but I can comment in terms of other people. i think the best decade was the '80s and also the early '90s. It was a very interesting time. I saw a lot of very interesting things, and I'll leave it at that. Many, many interesting things.
I know you're tight with Paul Taylor. And he played with Steve Perry. Did you spend much time with Steve Perry?
MARY: I actually jammed with Steve Perry one time with (guitarist) Lanny Cordola. He was a super-nice guy, but I guess there was just no chemistry. I think he wanted to put together a band, not sure if this was before or after when Paul Taylor was in his band.
I think he toured with Paul Taylor in like 1994 and 1995.
MARY: Oh, so I guess this was prior. He had been forming and reforming bands for some time at this point, and I wasn't sure what the deal was — whether he just wanted to jam or get together to write.  We jammed on a couple of Journey songs, then did some riffs with Lanny. That was it, though. It was fun. I guess it's a part of my history that not people know about.
Journey was my favorite band.
MARY: Who didn't like Journey? They're one of those bands with such huge hits, a band I grew up on. It was an honor to jam with him, even if just for an hour and a half or so.
Are you disappointed in missing out on all the great stuff Steve Perry might have done?
MARY: Of course I would like to hear what Steve Perry would be doing. Anyone who was a Journey fan, I think,  would feel that way. He is an amazing talent and I'm sure he has some great songs to offer the world. That being said, I heard that he may have some physical issues that make touring and performing very difficult for him. That's what I had heard, anyway. You guys need to interview him and find out for all of us.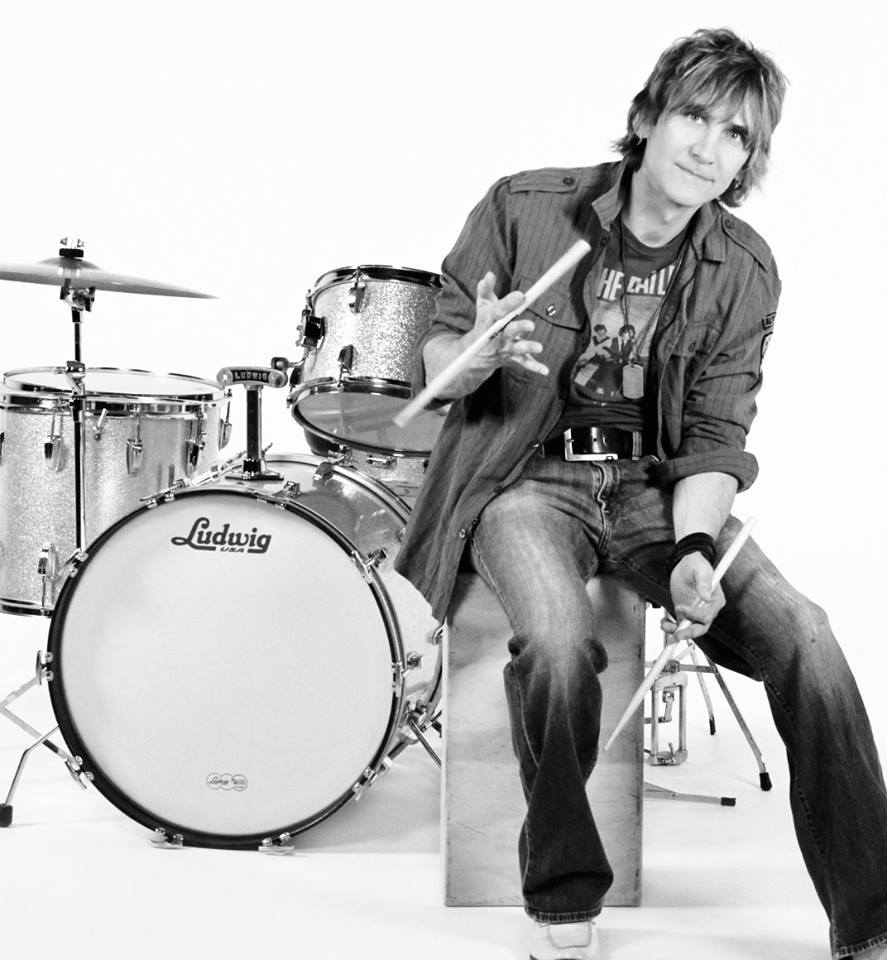 What else, Ken.
MARY: We toured with Cheap Trick in 1990, when "The Flame" was No. 1. We toured with them when I was with House of Lords for eight months. I definitely have fond memories of that tour. I remember Lanny Cordola thought it would be fun to switch busses and party with Cheap Trick for a week. He only lasted three days — that was it.
OK, let's do "last time." Last time you signed an autograph?
MARY: Fairly recently, actually. Within the last few weeks.
Last time you shook hands with a celebrity?
MARY: Oh, last week. Steve Smith, the former drummer for Journey since we've been talking about Journey.
Last concert you paid to see?
MARY: Oh boy, that's gonna be a tough one. "Dancing With The Stars" in Phoenix with my wife, does that count?
Last time you drank so much you regretted it?
MARY: Oh geez, you would have to go back to the Alice tour. I was never a huge drinker, but Paul Taylor and I had some drunk nights, a little too much. In Italy with the road crew night, people were pulling people apart, so yeah, Paul Taylor and I, we had some drunk nights.
Last time you used a condom?
MARY: Well, I've been married for 25 years.
Last time you did cocaine?
MARY: How about never.
Last time you used a whole can of hair spray?
MARY: I am going to say 1986.
Final quesiton: Who would you rather see as the next president, Donald Trump or Hillary Clinton?
MARY: Oh boy, are we really getting political? How about neither?
Ken Mary @ WebSite – Twitter – Facebook – Instagram
Gerry Gittelson can be reached at gspot@metalsludge.tv