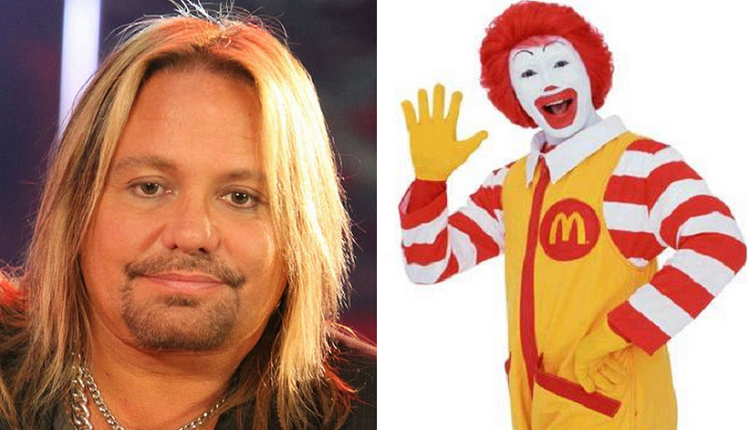 I'M LOVIN' IT!
Insider from Motley Crue crew says "Vince ordered McDonalds every day….and always gets a quarter pounder with cheese"


Backstage  — It's always interesting to hear what really goes on behind the scenes in a famous person's life. The fan in all of us usually leaves us laughing when we read the simplicity of that, and we somehow get a kick out of it.
Don't you?
One must admit that hearing how normal certain celebrities can be in their daily lives makes for an interesting read.
Recently Brad Pitt and wife Angelina Jolie stopped into a SubWay with their kids near Glendale California and the report went viraal.
The photos of Brad ordering a sandwich and selecting chips to go with their combo just seems insane, he's Brad Pitt, does he really eat SubWay?
It seems so.
We've all seen the occasional rock band rider get posted and the stuff of Van Halen's "NO brown M&Ms" is legend. So, when we stumbled across a posting from a Motley Crue local stage hand, we found it a must share with our readers.
This insider talked about his recent experience in working for Motley Crue on a few of their shows.
This person appears to have been a local grip or stage hand who got to see (according to him) some pretty interesting stuff. So we decided to post it here.
We cannot confirm or deny how authentic all of this is, but regardless it's very entertaining.
——————————————————————————
Naw, not really. I can't spill the beans too much and it's kinda killing me. We are supposed to get a couple KISS shows in the spring, and I don't wanna get fired. (same production company as Motley)
I will say this;
We did two shows.
The show usually rolls in 12 tractor trailers. ours was done in two. No roller coaster, no pyro, minimal production. Two of the smallest shows of the tour in a 5000 capacity venue. Since it was two shows, they said they were recording for a live album, but maybe they say that everywhere. Comedian Craig Gass opened, not Alice Cooper.
The band all travels separately and has separate dressing rooms.
All the wives traveled as well.
Vince ordered McDonalds every day he was here (three days) and always gets a quarter pounder with cheese. Every day.
Mick always got a Super Bird from Denny's
https://www.dennys.com/food/burgers-san … superbird/
Mick shows up an hour before the others to sound check, he's on the stage for quite some time. We were specifically told to not make eye contact with Mick (no mention of the others). Tommy shows up next. The full band sound checked for a half an hour which kinda surprised me.
Somebody (a fan/stalker) got into Nikki's dressing room after the first show while Nikki was in there. Nikki was spooked for the rest of his stay. (which in my opinion is completely reasonable)
Vince and his wife travel with a weird guru called "yoda"
Nikki came out back and signed autographs outside after the show. I did not see any sign of a "samich".
I let my 12 year old boy into the show, and put a pass around his neck. He was walking down a back stairwell as Tommy was walking up it with his entourage. Tommy asked my boy "are you working" with a puzzled look on his face, my boy said "no" and kept walking. I had to explain to my boy later that that guy walking a dog in the stairwell was super famous and in the band.
The shows sold pretty well, better then the recent Tim McGraw and Brad Paisley shows.
There was some more scandalous shit that went down, That I probably should not nark the band out on. But, ya know, it's Motley. So it should be expected I guess.
That's it!
The above blog was found on the World Famous Metal Sludge Gossip Board right HERE