IT WAS A JOKE
Phil Varone reflects on BulletBoys run: "The singer is the worst human on earth, just a pathetic sack of garbage"
DETROIT, Michigan — In a brand new interview with Talkin' Rock With Meltdown on 101 WRIF, Red Dragon Cartel drummer Phil Varone speaks his mind.
Varone talks at length about all things related to playing drums and his future as a writer.
The interviewer asks about the drummer's plans, and Varone is elated to foam at the mouth uninterrupted.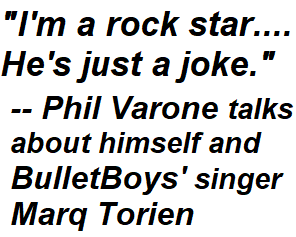 During one the retired Porn Star and soon to be retired Rock Star's endless run-on answers, he brings up the BulletBoys tour, which he confirms he quit after 2 shows.
"The singer (Marq Torien) is just ahh, the worst human on earth, and just a pathetic sack of garbage. Umm, and you know…it was a joke."  said Varone
Never at a loss for words Varone continues his rant on BulletBoys: ""The band draws like 20 people. And he screams, and pisses and moans and tells everybody that he sold millions of records. And I'm like I'm not gonna sit out here, I'm a rock star in that sense. He's just a joke." 
Comparing Jake E. Lee and Marq Torien: "Jake wasn't like that. Jake is complete. Jake is a professional. Jake is a true musician, and a great, great human, unlike Marq."
The former Saigon Kick drummer has choice words for the hack websites as well, and we're always happy to be noticed.
When asked about his retirement press release, Varone brings up the recent Metal Sludge article RED DRAGON QUITEL
"That site (Metal Sludge) is a joke. And it's run by a joke. You know, this poser, who wishes that he was us…" says Varone talking about Tuff frontman Stevie Rachelle.
Varone doesen't mince his words when talking about Rachelle adding: "He ruined a 20 year friendship over it. And ahh quite frankly if I see him, I'm gonna knock his fricking teeth out too."
"He needs his ass… you know when certain people need their ass kicked? This idiot does. And he's one of those guys that will get it at some point. Or maybe one of my fans will get him before me. That would be even better." — Phil Varone
To hear a self-proclaimed Rock Star talk about himself for 48 minutes and 21 seconds, please listen below.