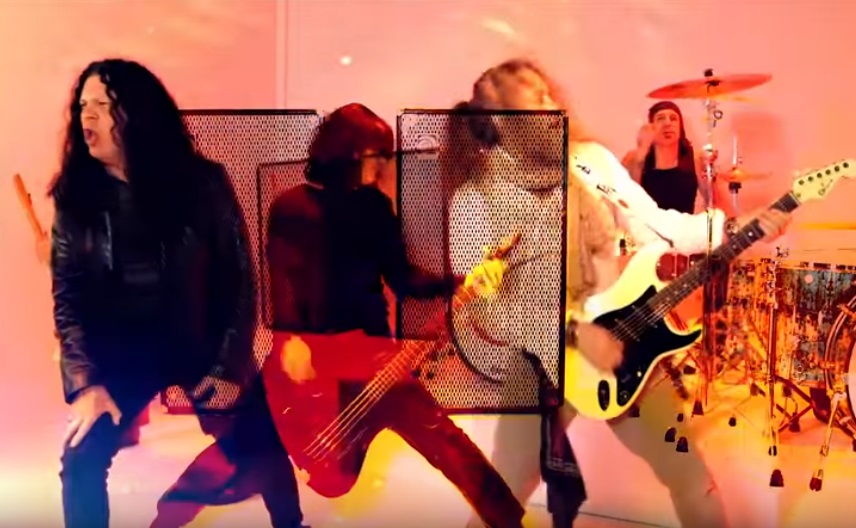 RED DRAGON QUITEL
Phil Varone throwing in the towel after 2 weeks on tour, is Jake E. Lee next?
From The Road — It's only been a few weeks of touring, but it appears that Red Dragon Cartel just might be ready to wave the white flag.
A source close to the band are telling Metal Sludge: "Jake says this is his last tour."
We dug around and inquired about Jake and got "who knows?" type of responses.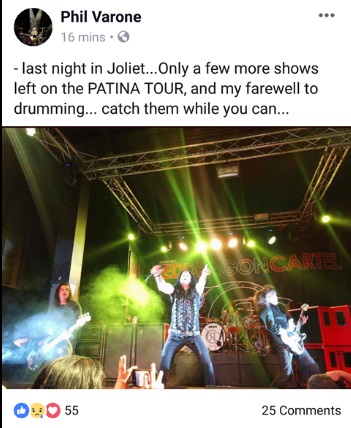 In addition, it appears Phil Varone has just posted something similar writing: "Only a few more shows lef on the PATINA TOUR, and my farweell to drumming… catch them while you can…"
Fans have been commenting online and questioning the seriousness of the former Saigon Kick drummer's post.
Metal Sludge reached out to Varone direct and asked. "Retiring again?"
Varone replied: "Never really retired … just took a break… and this time I'm done."
Varone then followed it up this afternoon (March 14th) with a more detailed explanation.
" -No Drums No More…Although I've given interviews announcing my retirement from drumming, it seems people think I'm kidding…So this is an official post… This is my farewell to drumming tour. There is no big story other than I no longer have a passion for drumming. As I get older in life, drums have fallen to the bottom of my list. As I get older in life, drums hurt instead of making me happy… When you're not happy or lose the passion in anything you do, it's time to gracefully bow out."
To read the full statement from Varone, see below.
Readers may recall, Metal Sludge broke the story last fall when Varone quit BulletBoys after 2 shows into the Hair Nation Tour.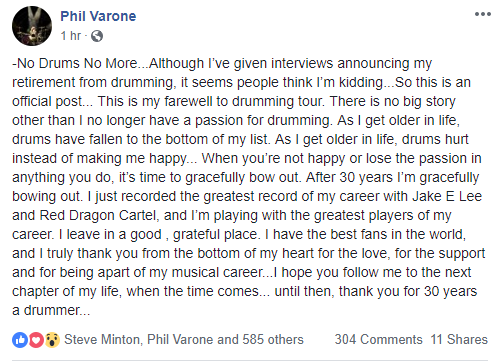 Online comments from some fans have noted that the shows were poorly attended.
Bassist Anthony Esposito also urged fans to come see the band with a post earlier in the week on Facebook.
Esposito posted the remaining tour dates and wrote: "So I'm kind of bummed out at the amount of people who say the day after a show "if I had known you guys were playin I would've came!!"
How can we fix this??
Here is a list of the remaining shows left on this run
Any ideas how we can get the word out?"
Red Dragon Cartel is no stranger to drama as the band had a plethora of cancellations in 2014 during its first year on the road.
Speaking of cancelled shows, the band's most recent tour started off with cancelling night #2 in Agoura Hills, California when their bus broke down.
Aside from cancelled shows, the band also had some issues with lead singer Darren James Smith.
Smith at some point parted ways with the group in 2015, yet the band continued with what amounted to live show auditions with various singers.
In total, the band had 7 different singers in and out of the group.
Now after a few years off, of writing and recording their late 2018 release "Patina" (Frontiers Sr1) it seems the road is kicking their asses again.
Lee most known for his tenure as the guitarist in Ozzy had been in-short, in hiding for a few decades until the RDC band hit the circuit in 2013.
Look for the guys on tour in the next week or two, as it may just be their last shows.