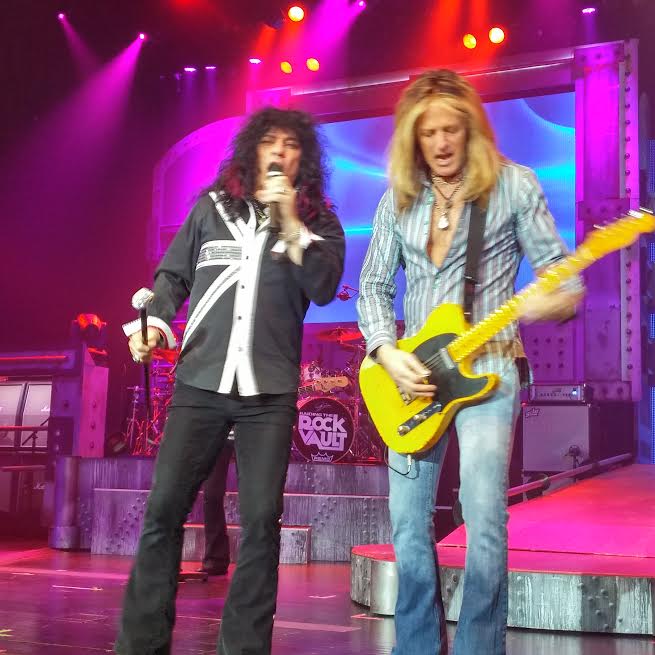 JACKPOT!
METAL SLUDGE DOES LAS VEGAS FOR NEW YEARS WEEKEND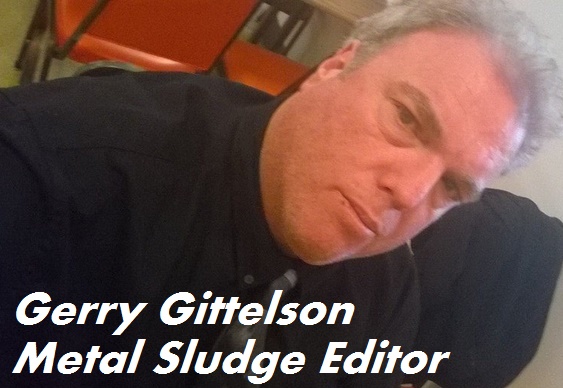 LAS VEGAS, Nev., USA — They say what happens in Vegas stays in Vegas — but not in our case. Metal Sludge took in a long, rockin' weekend to the city that never sleeps (that part is true) for an official road report.
No surprise, it has taken us a few days to recover, but alas we have all the gory details and the pictures to prove it.
The festivities started on New Years Eve, of course. Both downtown Fremont and the Vegas strip both close streets for the revelry, and we started with the Fremont Street Experience, as more than a dozen tribute bands performed on three stages to welcome in 2016.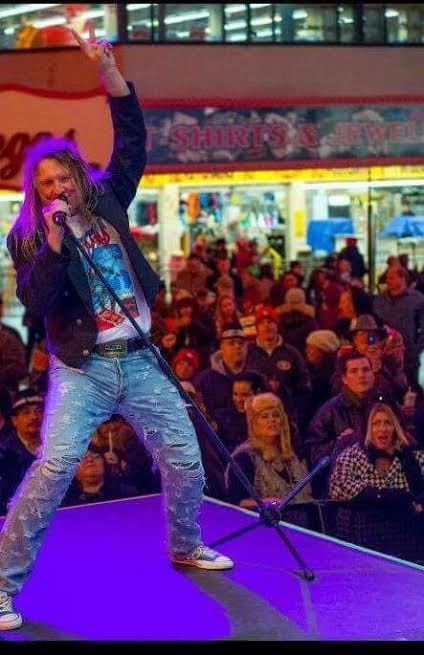 Tribute acts are a really big thing everywhere but in Hollywood, but frankly, most of the ones we saw were not very good. But two excellent exceptions were Pyromania (Def Leppard) and Fan Halen (you can figure that one out yourselves).
It was cold at night with temperatures dipping into the 30s, but these two were red hot and had a lot of fans pushing towards the stage and singing along to all the choruses. Pyromania features an exceptional guitarist named Neal Shelton, who delivered all the catchy riffs with zest and precision. The singer dressed and even looked a bit like Joe Elliott, and when "Pour Some Sugar on Me" rolled around, it felt just for a moment like we were back in time to that awesome MTV-soaked period when the Leps were the biggest of 'em all.
In Fan Halen, Derek Fuller plays the part of Eddie Van Halen, and Erie Berru is the best David Lee Roth copycat this side of the great Ralph Saenz.
No, they're not the real thing, but the eruption felt like lava, and yes the cradle did rock.
"The thing about Fan Halen is, we are all huge Van Halen fans, so we couldn't see ourselves doing a tribute to any other band," Fuller said. "This is the music we grew up with. If you would have said to me when I was 17 in high school that in my 40s I'd be pretending to be Eddie Van Halen and performing all over the world, I would have said you're crazy, but man we're having a blast."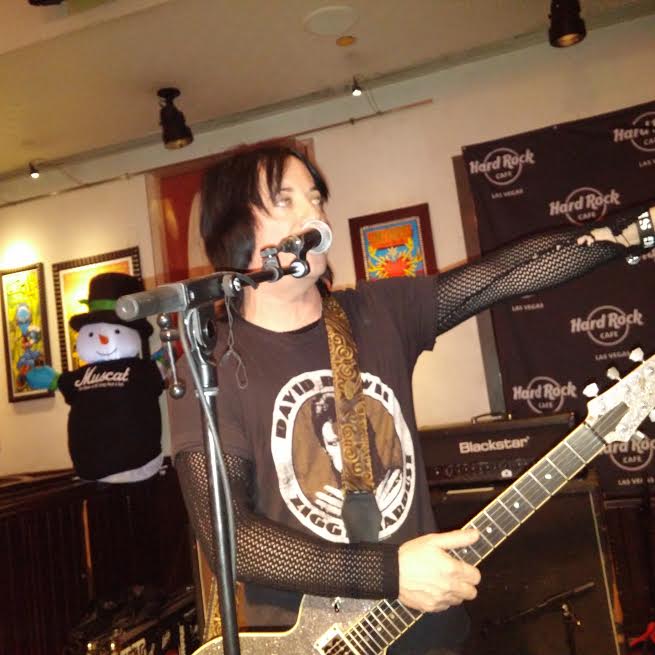 There was still time to make it to the Hard Rock Cafe near the strip by midnight to catch Brent Muscat's All-Stars.
Muscat, the former star guitarist for Faster Pussycat, is no longer with Sin City Sinners, the group he founded in 2007 and built to great success. The transplanted Californian said he has left the group, and we didn't press much further — New Years Eve is the one night of the year Metal Sludge does not raise too much controversy — but it was clear Muscat is doing just fine on his own.
The group kicked ass on the Faster Pussycat classic "House of Pain," and it helped having former Faster vets Eric Stacy (bass) and Greg Steele (guitar) up there, too.
By this point, we had shared almost a full bottle of 166-proof Firewater, so the rest of the details are a bit fuzzy, but folks told us we had a good time.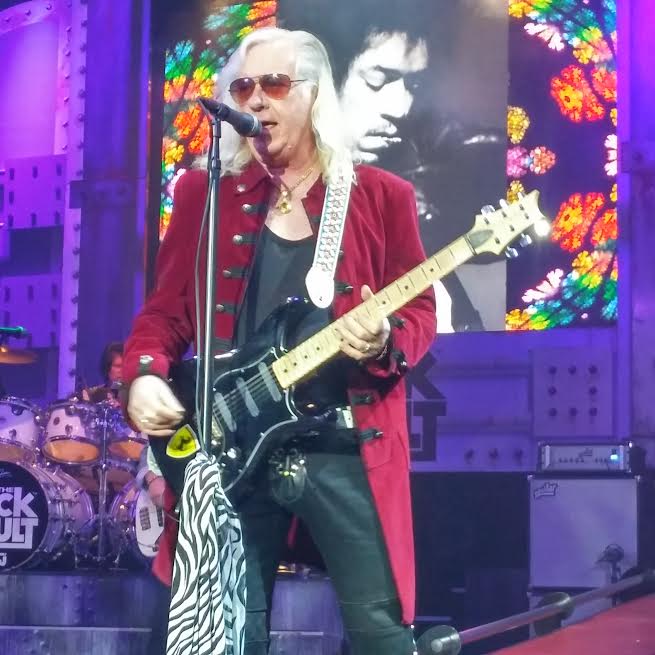 New Years Day found us at the show Raiding The Rock Vault at the Tropicana, and my gosh what a spectacular event . The performance features some of the best rock musicians in the world playing some of the best classic songs in the world, and wow does it work.
We were right there in the front row just a few feet from Heart guitarist Howard Leese, singers Robin McCauley and Paul Shortino and a bunch of other kick-ass rock stars (including guest guitarist Doug Aldrich from Whitesnake!), and the results proved spectacular.
Among the highlights were "My Generation," "Light My Fire," "All Along The Watchtower," "Honky Tonk Woman," "All Right Now," "Stairway to Heaven," "Here I Go Again," "Smoke on The Water," "Alright Now," "Hotel California," "We Are The Champions," "Living on a Prayer" and "Separate Ways."
With a set list like that and so many amazing musicians, how could you lose? It's the only sure bet in Vegas, so if and when you visit, make sure you check this show out; Raiding The Rock Vault is utterly amazing.
Afterwards, the players hung out for a meet and greet.
"How could I not like playing all these amazing songs?" Aldrich songs. "It's a total blast. I love it."
We could not agree more.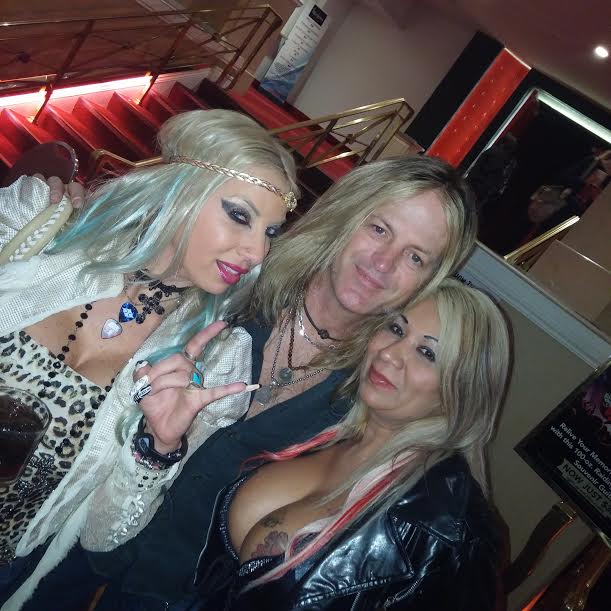 Doug Aldrich enjoying the company of sexy ladies Deanne & Amy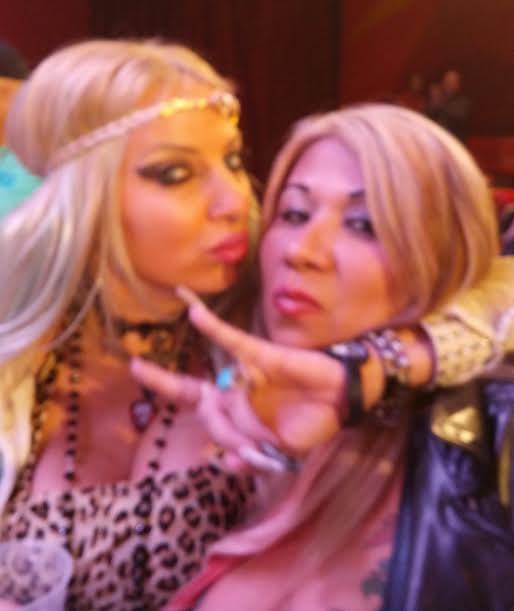 Horns up with Deanne & Amy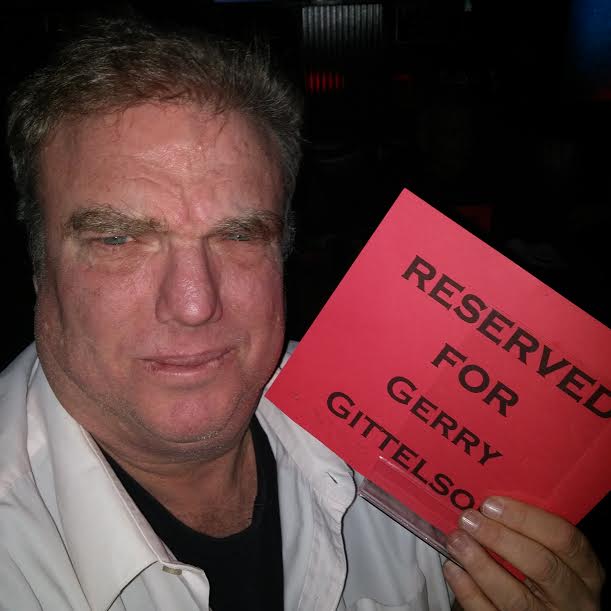 Mr. Gittelson your booth is ready
Onward and upward. We gathered some friends together and headed off to a club called Count Vamped to catch the newest version of Sin City Sinners without Mr. Muscat, and to be honest, they're still pretty darn good.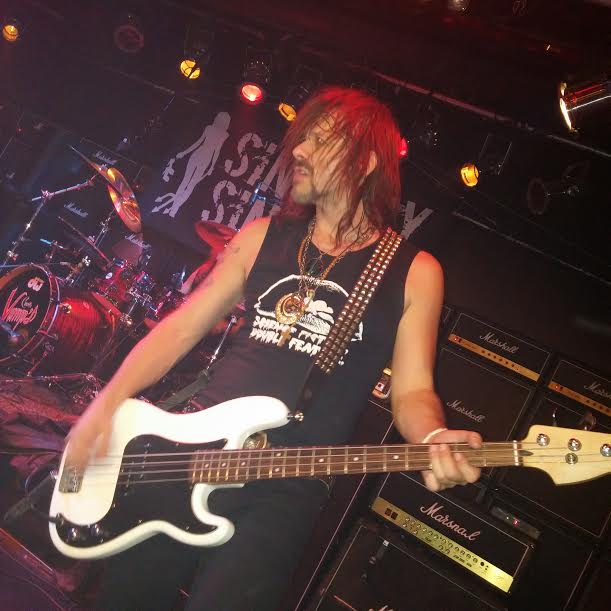 With the great Scott Griffin from LA Guns/Ratt on bass and Blas Elias from Slaughter on drums, there remains a good dose of star power. In fact,  basically most of the new verson of Ratt (except for drummer Bobby Blotzer of course) are in Sin City Sinners, including singer Josh Todd and guitarist Doc Ellis, so the guys definitely know what they're doing.
The group mixed some originals (did you know Griffin can actually sing lead?) and loud classics like Guns N' Roses' "Rocket Queen" and AC/DC's "Highway to Hell," and it all worked. The crowd was more than half female, which is never a bad thing, and the music echoed well past midnight.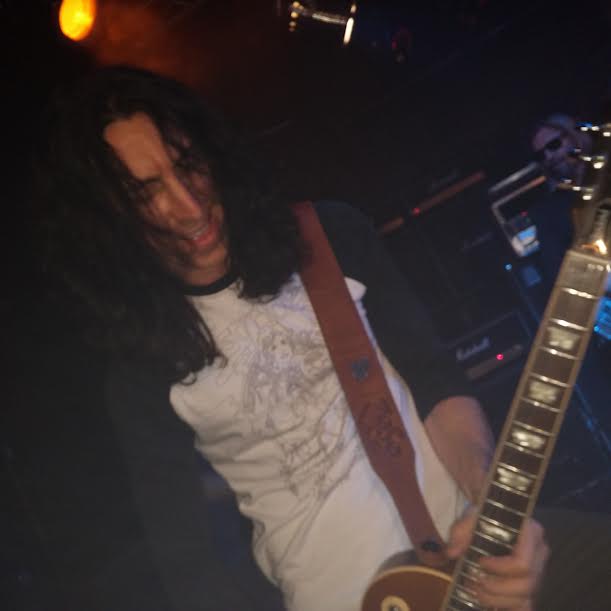 We returned to Vamped the next night on a Saturday for the Moby Dicks, a Led Zeppelin tribute of the very highest order featuring singer Chas West (Foreigner, Bonham), drummer Brian Tichy (Foreigner, Whitesnake, Billy Idol, Ozzy), guitarist Brent Woods (Sebastian Bach, Vince Neil, Young Gunns) and bassist James Lomenzo (White Lion, Megadeth, X-Drive).
The place was packed, everyone was in a great mood (West was celebrating his birthday), and the group filled the night with more than two hours of Zep classics that proved well-executed and utterly mesmerizing; Aldrich was back for more, joining the band for a stretch, and the place was going nuts.
Afterwards, we all partied backstage for hours, though the festivities seemed to fly by in no time, as we toasted such a successful proceeding and continued to welcome in the new year.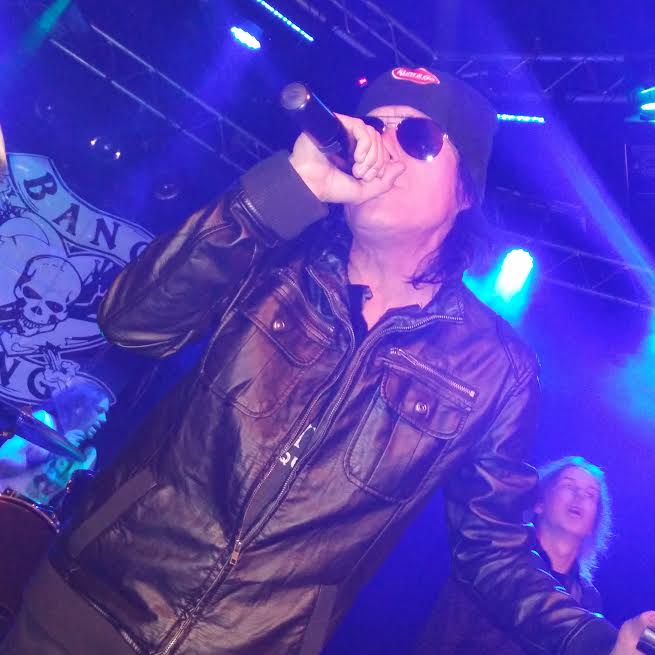 By Sunday, it was time to head home, but since it was still technically the weekend, we took in the Bang Tango/London concert at the Whisky just to make sure Hollywood was still standing, too.
London opened, and the place was pretty packed. There was Nadir D'Priest, the great frontman in all his glory. He has been among the kings of the Sunset Strip all the way back to the 1980s, and he knows it.
"This is MY house," D'Priest screamed into the microphone, and we could not have agreed more. The other key member is Alan Krigger, the decorated drummer from Giuffria and Tina Turner, and Mr. Krigger was bashing away for all he was worth.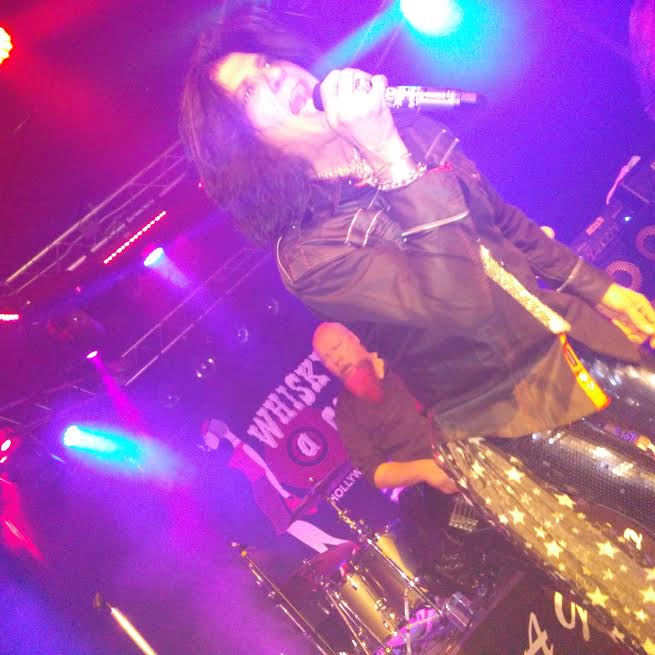 On "Drop The Bomb," the girls were pushing their way to the front and trying to reach out for Nadir, ever the coy one who did a good job of avoiding being pounced upon a la Keith Partridge.
Bang Tango was strong, too. Dimple-faced Joe Leste is a kick-ass leader and passionate singer, and his voice proved in fine shape.
The group has a couple of terrific guitar players in Rowan Robertson (ex-Dio) and newbie Drew Fortier. In some ways, Bang Tango is better now than in their prime, when the group was briefly an MTV sensation during the "Psycho Cafe" era.
Former member Mark Knight got caught up in the excitment of the new year and strapped on a guitar for the last three songs, including "Someone Like You" to put an exclamation point on a great set.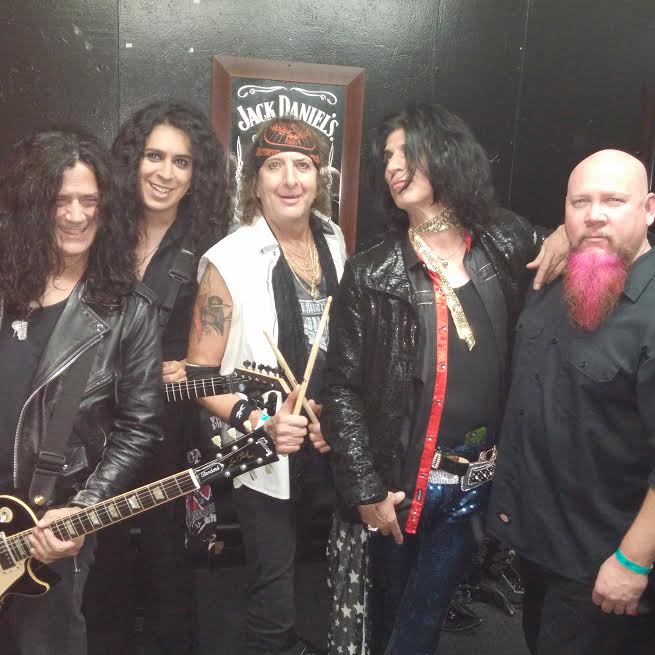 Metal Sludge caught up with Mr. Leste backstage, where promoter Jake Perry was holding court and doing a great job of taking care of everyone, as always.
"I love the Whisky. This is where we basically started out," Leste said. "It was me and some dude, Mark Knight, so having Mark here tonight is insanely awesome. I think it's great that he jammed with us."
We think so, too. This was a rock and roll weekend for the ages, an awesome way to bring in 2016, and we're not done yet. This is going to be a great year for rock, a great year for Metal Sludge, and as for 2015, goodbye and good riddance. We're already on to bigger and better things!
Gerry Gittelson can be reached at gerryg123@hotmail.com