Metal Sludge — L.A. Guns cancelled their appearance on the Sonic Slam Tour in Daytona Beach Florida on Saturday evening July 23rd 2022.

Fans of the band took to social media as the event unfolded after the word spread fast that L.A. Guns would not be playing.

A variation of rumors and complaints the same were fueled by angry fans when it became clear to those in attendance that L.A. Guns were not appearing as scheduled.
Comments online have included noting it was too hot for the band, to the sound system and issues at the venue in general. However it appears that the Tom Keifer Band and Faster Pussycat both performed as advertised.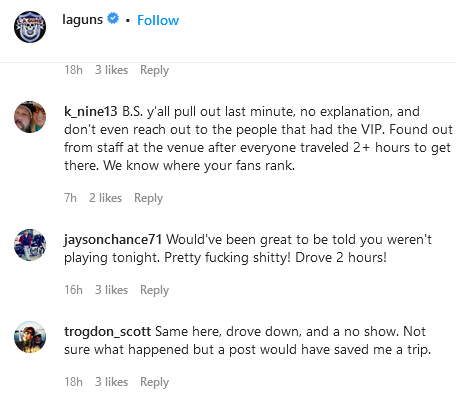 The Sonic Slam Tour was scheduled to appear in Ormond Beach at the Destination Daytona Complex.

As our readers might recall there was an incident in Plano Texas exactly 1 month ago when Tracii Guns claimed to have a 'panic disorder' which affected his ability to play in the heat.

Metal Sludge was first to report this in our article (June 23rd 2022) titled: L.A. TOILETS … Tracii Guns of L.A. Guns has a Panic Disorder and will perform tonight in Toilet with Amp, Monitor and Pedals for Texas show which proved to be true even though some thought this was a gimmick or a silly rumor.

We also published a follow-up article (June 24th 2022) titled: FANS REACT … Tracii Guns performs sitting on a Toilet Backstage for L.A. Guns show because it was Too Hot on Stage, blames Panic Disorder.

Many fans commented back in June that L.A. Guns would be touring through Florida in July and playing additional shows throughout the mid-west and south that would likely have similar weather conditions that might affect future shows.

Some predicted this might happen again, including the blogger Eat_Nails on the Metal Sludge Gossip Board who wrote the following on June 25th 2022: "I'm planning to go see them in Florida next month. It's been exceptionally hot down here this year. He might want to skip it."

After all the online chatter last night Metal Sludge reached out to a member of one of the related touring parties directly who informed us; "Too hot. They split" in regards to the Daytona area show.

One comment from a poster named Fred wrote on L.A. Guns official Facebook post promoting the event: "Unfortunately, LA Guns sound checked and didn't like sound or venue so backed out of the gig at Ormond. The promoter gave other bands more time to play. I believe FPC played a little extra. Tom Keifer's set was the same."

Another fan named Aylin confirmed the band was there, but offers that L.A. Guns did not actually sound check writing a reply to Fred: "They showed up the bus was there and TRACII GUNS apparently said it was to hot to play. There was no sound check for them to lie about I stayed in the room next to the guitarists from the Tom Keifer band and heard everyone sound check but them."

Brian from Facebook adds: "Show up and then leave Daytona the LA Guns shit show. I think I'll crank some Riley's LA Guns at least they play their gigs and don't leave the paying public hanging. What's the matter you couldn't even find a bathroom for Traci set up and play in. The heat too much for him? The Faster Pussycat guys and Tom Keifer managed to play and managed to finish the show even with technical difficulties with the monitors near the end."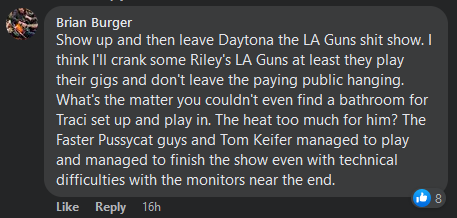 A fan named Richard commented on Tracii Guns official posting for the event writing: "Yeh got fucked drove 3 hours paid for hotel on beach to have a great weekend an see l.a. guns only to get screwed I call bullshit!"

Another fan named Bonnie also commented on Guns post writing: "Didn't even show up … everyone in the world knows its hot in Florida in JULY! how about don't book an out door venue in the middle of summer in Florida if you can't handle the heat!!!Even the other band members were disgusted with your behavior."

Alex says he was at the show too: "I just heard the same thing from the road crew during faster pussycats sound check and all of a sudden a bus pulled out of the lot.What happened guys? We are here for la guns."

Kristi adds: "Super disappointed in LA Guns not giving a shit about their fans enough to at least try to tough it out. They'll get no more of our support. We drove 8 hours from the panhandle to Ormond Beach for this show."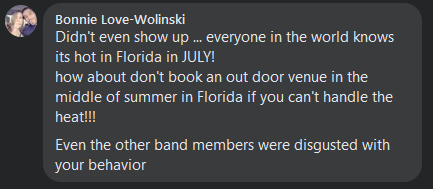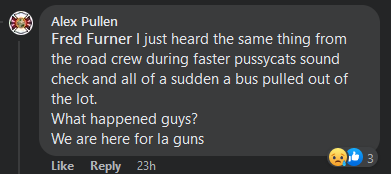 According to multiple sources including fans in attendance, L.A. Guns were at the event during the day, but at some point their bus left the venue and did not return.

The band's official L.A. Guns Facebook page along with select members of the group including band founder and lead guitarist Tracii Guns shared a promotional post on their respective social media pages early Saturday morning (July 23rd) that stated: "We're headed up the Florida coast tonight to Ormond Beach at the Destination Daytona Complex#sonicslam2022Tom KeiferFaster Pussycat Tickets and VIP Experiences available at lagunsmusic.com/tour"

Fans online stated that Faster Pussycat and Tom Keifer Band both played their sets, but there was never any announcement made at the event that L.A. Guns would not be performing.

L.A. Guns is made up of founder and lead guitarist Tracii Guns, classic era vocalist Phil Lewis along with Johnny Martin (bass), Ace Von Halen (guitars) and Shawn Duncan (drums).

L.A. Guns is not to be confused with Riley's L.A. Guns who feature 2 classic era members Steve Riley (drums) and Kelly Nickels (bass), 3-time member Scotty Griffin (lead guitars) and Kurt Frohlich (lead vocals and guitars).

As of press time there has been no official word from L.A. Guns or the promoters for the Ormond Beach event as to why the band left the venue and cancelled their appearance.
The Sonic Slam Tour continues into August with all dates listed below.

Stay tuned to Metal Sludge for Breaking News, Updates and Features along with New and Classic interviews.

JUL 23 SAT Destination Daytona @ 7:00pm Ormond Beach, FL
JUL 24 SUN The Ranch Concert Hall & Saloon @ 7:00pm Fort Myers, FL
JUL 26 TUE Beacon Theatre @ 6:30pm Hopewell, VA
JUL 27 WED Amos' Southend @ 7:00pm Faster Pussycat Charlotte, NC,
JUL 28 THU Buckhead Theatre @ 7:00pm Atlanta, GA
JUL 29 FRI Marathon Music Works @ 6:00pm Nashville, TN
JUL 30 SAT Bootlegger Harley-Davidson @ 7:00pm Knoxville, TN
AUG 11 THU The Canyon – Agoura Hills @ 8:00pm Agoura Hills, CA
AUG 12 FRI The Canyon – Montclair @ 6:00pm Montclair, CA
AUG 13 SAT The Canyon – Santa Clarita @ 7:00pm Santa Clarita, CA
AUG 20 SAT BOK Center @ 7:30pm Tulsa, OK
DEC 30 FRI Coach House Concert Hall @ 7:00pm San Juan Capistrano, CA
DEC 31 SAT Whisky A Go Go @ 7:00pm West Hollywood, CA