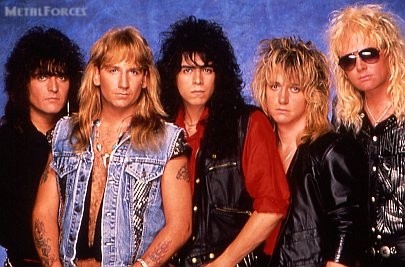 KNAC — GREAT WHITE has got to be one of the most tenacious and persevering bands in music history. They have faced adversity from breakups, litigation and tragedies beyond comprehension. Despite the tragic Rhode Island nightclub fire, where 100 people lost their lives, the band remains strong. 2015 marks 32 years together for GREAT WHITE. It's hard for most people to maintain any relationship for that long, let alone a band that has faced such tribulations.
Over the past several years, GREAT WHITE has continued to perform with a divergence of lineups, the most tenuous being the dissolution of original singer Jack Russell that resulted in a contentious court battle over the band's name. The latest lineup appears to be the strongest to date, with founding lead guitarist Mark Kendall, singer Terry Ilous, guitarist/keyboardist Michael Lardie, bassist Scott Snyder and drummer Audie Desbrow.
Having been refocused, in 2012 the current lineup released two albums, Elation and a celebration of their 30-year anniversary titled 30 Years – Live From The Sunset Strip. The band is presently touring and looking forward to recording new music and performing.
They will be touring quite a bit this summer, with a big show hitting The Joint at the Hard Rock in Las Vegas, Saturday May 30th featuring GREAT WHITE, TWISTED SISTER, EXTREME and SKID ROW. It's an early show with doors at 5pm, and GREAT WHITE taking the stage at 5:30pm. Get there early!
I recently talked to my friend Michael Lardie about the band and all things GREAT WHITE. Michael remains one of the nicest and hardest working guys in the music industry.
————————————————————–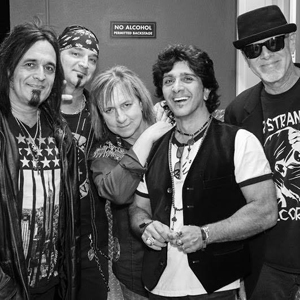 KNAC.COM: You know what the nicest thing about doing phone interviews is? You get to sit on the phone in your pajamas.
LARDIE: Well, we could always facetime. [laughing]
KNAC.COM: Haha! No. We are definitely not facetiming. So, I'm pretty blown away that GREAT WHITE has been together for nearly 32 years!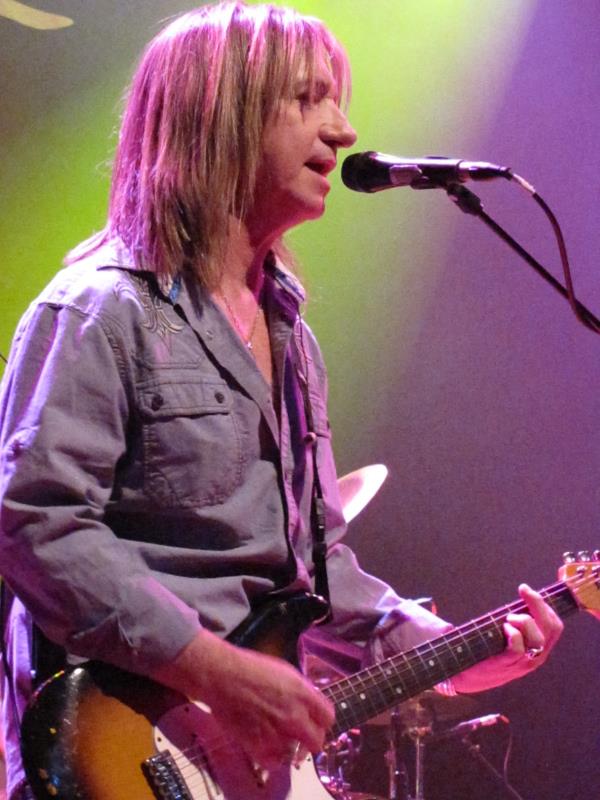 MICHAEL LARDIE: Yeah, the band actually started with Mark in 1979 or '80. He had a band, and that band split apart during a time that our former singer went off to incarcerationville (Russell was arrested for shooting a live-in maid in a botched robbery attempt and sentenced to 8 years in prison). So Mark basically had to start from scratch. Mark handpicked some players which eventually became DANTE FOX, and when Jack was out (he only served 18-months of his prison term), he was back in that band. When Alan Niven started to manage them in 1982, he said he liked what the band was about, but that the name had to go. So the band was worried at the time that they would lose all their following, all 75-people [laughs]. Mark tells me that Alan came up with the name GREAT WHITE because that was Mark Kendall's nickname. He had very white hair – when he had hair [laughs] and very light complexion. They called him The Great White. So they figured out all the marketing that could go along with the image of GREAT WHITE, and it made sense with a heavier rock band. When I met the band and they recorded their first record for EMI in 1983, at that point they were a four piece, and they went out on tour with JUDAS PRIEST on the Defenders Of The Faith tour and they came back to record the album Shot In The Dark, they decided that they wanted to try out some keyboards on the songs and I just started working with them from there on. The first record (Stick It) I actually played some backgrounds on and did some engineering. I did some work on Shot In The Dark and started playing with them in January of 1985 and that was the first show both Audie and I had begun with GREAT WHITE.
KNAC.COM: It's incredible. 30-years is a long time to stay with not only someone you really like and are in a relationship with, but any one person, let alone a group of five. Speaking of personnel changes, the obvious not so great white elephant in the room is screaming out to be addressed. I know you guys in GREAT WHITE have kept a really zen approach with the situation with Jack (Russell), but can you tell us a little about what's going on with that?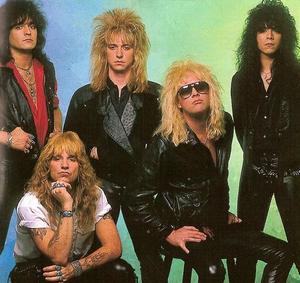 MICHAEL LARDIE: There's really not much to tell. In March of 2012, he had sued us for the name and we countersued for the name. Our original court documents were such that the majority of original members, or corporate members that own the name. Never could one person go out and say they were the name. Obviously it's the majority with Mark, myself and Audie. It was decided in court and we decided on the concept that we're called GREAT WHITE and Jack can call himself JACK RUSSELL'S GREAT WHITE. I would never want to block his ability to go out and make a living. I think it was the right call that the majority of the core of the band are moving forward with being in possession of the name.
KNAC.COM: When did you guys decide that it was enough for you with Jack? I know he was missing some gigs and a few other issues because of his health and other issues. Was it a tough decision? When do you just say, enough, and let's move forward?
MICHAEL LARDIE: I don't know if it was a switch that was flipped. I think it was many, many years, and many things that happened over time that wouldn't be right of me to air any of that in public. It was an amalgam of things that lasted over 25 to 30 years that as a group of people between myself, Mark and Audie that we basically all looked at each other and said, "It's time". I don't know if it's one of those things that you flip a switch and it's horrible and sad. It's always horrible and sad when someone you worked with and created things with goes in the direction that they go in that is counterproductive to what you're doing and counterproductive for the best things that they can be. When it goes in that direction, you never, ever like to see that. We're all adults that we're talking about even though we're in a business where they encourage arrested development. It's really about performance. When someone is on your team or at your work that isn't fulfilling in such a way that isn't being productive to the sum total of everything, then you make considerations as to where you want to go and how you want to proceed forward.
Interview By: Krishta Abruzzini, Pacific Northwest Writer  –  Live Photo By Larry Petro
To read the entire interview, please visit KNAC.COM