EXTREME the sleeper (literally) at CATHOUSE LIVE
Highlights included Sebastian Bach, Tom Keifer, LA Guns and Faster Pussycat while side stage act Bang Tango impressed
REVIEW #1 by the always popular and super friendly Izzy Presley
August 15th 2015
(IRVINE, CA) The festival nearly thirty years in the making finally took place at the Irvine Meadows Amphitheater; Cathouse Live.
Before delving into the highlights of the day, internet fans who were not able to be in the house on Saturday and only saw pics from early in the day need to be truly informed.  It was not poorly attended.  Yes, they did upgrade lawn seats to regular seats but you in no way knew what was going on the whole day or at the times of the early afternoon photos.
In the blistering heat, many fans were either busy staying cool on the grounds, watching the bands on the 2nd stage, or checking out the many vendors on the grounds.  By the time Sebastian Bach, Tom Keifter, Extreme, and the all star jam happened, it was full. NOW, on with the show.
A good reporter would have made sure to poke their head in and watch every band.  That I did not do, but that does not mean that I did not hear nearly every band.
I walked into the main stage to catch the Bulletboys ending their set with "Smooth Up In Ya".  After doing a sexy thrusting my crotch dance for a couple cameras I rolled down to what I thought was my seat three rows from the stage to see the stage itself rotate to give us Trixter as DJ Will shouted their name over a microphone.  The beauty of the main stage was there was no wait between bands because of the rotating stage.
Roughly four songs into the Trixter set, I could feel my ginger skin on the back of my calves starting to heat up so it was time to move to some shade and spare myself the sunburn.  Trixter sounded great busting out with their latest single "Rockin To The Edge Of The Night".  By the time they got to "Rockin' Horse", the sun made me move to the 2nd stage to catch the end of TUFF.
I showed up there in time to catch the last two songs of the band fronted by the Sludgemiester himself, Stevie Rachelle.  "I Hate Kissing Your Goodbye" and "American Hairband" were the appropriate choices the end the set and give me a chance to show my friend Stevie my glorious man rack.
After wandering the grounds and checking out Black & Blue, it was time to get ready for the return of Junkyard.  Being one of those bands I have never had the opportunity to see live, I can say this; they fn rocked.  Down and dirty rock and roll as it should be played.  From their new single "Faded" to the song that could have easily been the anthem for the day, "Hollywood", they were one of the top bands of the show.
After working my way back down front and center, it was time for something that I knew was gonna happen and was extremely excited about – the Faster Pussycat reunion.
There can't be a Cathouse without the Pussycat boys and Taime Down, Ace Von Johnson, Chad Steward, Xristian Simon, and Danny Nordahl did what they do – kicked ass.  When it was time for "House Of Pain", former guitar player Greg Steele joined the them.  With 2 songs left, former guitarist Brent Muscatt and bass player Eric Stacy joined the party for a mixture of new & old.  "Bathroom Wall" and "Babylon" were done with everybody on stage.
After checking out Tracii Guns & Gunzo and Gilby Clarke on the second stage while hearing Sebastian Bach killing it on the main stage, it was time for the guy that stole the show.  Tom Keifer.
Keifer destroyed on the main stage while ripping through Cinderella hits and some flavor from his new solo record Solid Ground with the title track.  Tom Keifer was freaking amazing…as expected.
Next up: Extreme.  I could lie to you and tell you I watched them and they were amazing but alas, I only heard them because I found myself in the VIP bar area being distracted by a new friend with great eyes…..and a huge fucking fake rack.  WITH that said, they did sound amazing.  They could be heard clear as day and sounded great.
Jam time…..
Gilby Clarke hosted the "All Star Jam" which featured himself, Taime Down, Riki Rachtman, Evan Seinfeld, Brent Muscat, Chip Z'nuff, Sean McNabb and Ben Fitz from Slash's band, which made one wonder if the top hatted guitarist would make an appearance.  He did not, BUT the one and only Spaceman, Ace FN Frehley joined for "Shock Me".  Sebastian Bach came to the stage and they busted into "Deuce" after the crowd denied any thought of the overly done "Rock And Roll All Night" to end the night.
In true rock & roll, or some would say Spinal Tap fashion, the stage started rotating with about a minute left in the song and the PA was cut (due to curfew rules), but dammit, they finished the song.
All I can say about Cathouse Live 2015 is WHEN IS THE NEXT ONE?!?

REVIEW #2 by a Gossip Board poster named Fastermetalcat
My review: It was insanely hot from BulletBoys up to LA Guns when it finally started to cool down which would explain the crowd being more subdued/not present.
The rotating stage was genius and ensured no band (except for one) went over their time. However, I thought the spinning could've been used as a theatrical element to start with, but only two bands (Trixter and Black 'N Blue) that I saw utilized it that way, which was awesome!
BulletBoys were fun, like someone said earlier, Marq behaves like he's playing to a soldout crowd, which is fun to watch. A lot of bands namedropped having performed at Irvine Meadows before this.
I wanted to see Tuff, since I've never seen them before and I wanted to see the CEO, but Trixter was at the same time and I like them a lot so I ended up seeing them instead. There were some sound issues and a woman threw her underwear onto the stage, which Pete wrapped around the mic stand. Pete made sure to point out that they were all original members. I think they should've played a little later in the day because of this. However, a lot of the crowd didn't seem to know them. I wonder if this is because they're originally an east coast band? Pete said they hadn't played in California in 20 years.
I hadn't planned on watching Black 'N Blue but I was impressed by them immediately playing their first song while spinning around after Trixter and I'm glad I stayed. They were good and Jaime's a great frontman.
LA Guns was great, Phil is such a good frontman. Kenny looked sunburnt and Steve Riley had a funny bright red trucker hat on to protect himself from the heat, which was smart. What I really enjoyed about the shorter set times was that it really forced the bands to play all the good songs and (while I do appreciate their new material) not play new songs.
I caught one song by Enuff Z'Nuff while waiting in line for food and I honestly thought it was Donnie singing by sound alone, but it wasn't.
Faster Pussycat was probably my favorite act of the night. Honestly, they could've headlined because the Cathouse was Taime and Riki's thing so they easily could've gotten away with that and the crowd loved them. I had no clue Brent, Greg, and Eric were going to show up, so seeing that reunion was really cool. Greg looks a lot younger (and kind of like Jared Leto) than Ace and Danny…both of those guys look "rode hard and put away wet" since I last saw Pussycat live. Brent looked really happy to be there. Greg played House of Pain with the current lineup, and then Brent and Eric joined everyone for Bathroom Wall and Babylon. Greg and Brent did their original vocal parts. Go go dancers were onstage for the first three songs for Faster Pussycat, Stephen Pearcy, Sebastian Bach, and Tom Keifer.
Next was Stephen Pearcy. I absolutely love RATT so I will always enjoy hearing those songs live and seeing him but my god, he sounded like hell. Missed a lot of beats, lyrics, and cues. Very Vince Meal like. And not having Warren playing those guitar parts really ruins it for me.
Dokken was tolerable. Jon is a great guitarist but Don just cannot sing. That said, he sounded better than he did at M3.
To give Sebastian credit, the crowd probably was the fullest when he played. He was great and entertaining as always. He played one non-Skid Row song, but the one he picked was pretty rocking so it really didn't lower the energy. His future wife was filming the whole thing and he had her come out and basically mauled her at one point. His daughter was covering her ears for most of the set. I'm assuming that for whatever reason, no one gave her ear plugs.
I liked Tom Keifer, but I cannot stand his solo material and I'm not as crazy about the bluesier Cinderella songs. I felt bad for the gogo dancers because the second song they were supposed to dance to was some dreary solo song of his. Later on, when he played Shake Me, some audience member (and I'm assuming she was a professional stripper) got on the pole and did some impressive moves. Security came over to remove her, but she got off on her own. The audience sat for more of Tom's set because of the slower songs. Still he sounded great and I really liked hearing the old Cinderella songs.
Extreme kind of blew for me. I did really like Get the Funk Out, but the rest was just so bland compared to everything earlier. Gary is an entertaining frontman, but the songs just aren't that good. Same with Nuno…great guitarist but you have to tolerate the songs to see him. For whatever reason, they were not spun around even though they bled into the All Star Jam by ten minutes. I was pretty pissed about that.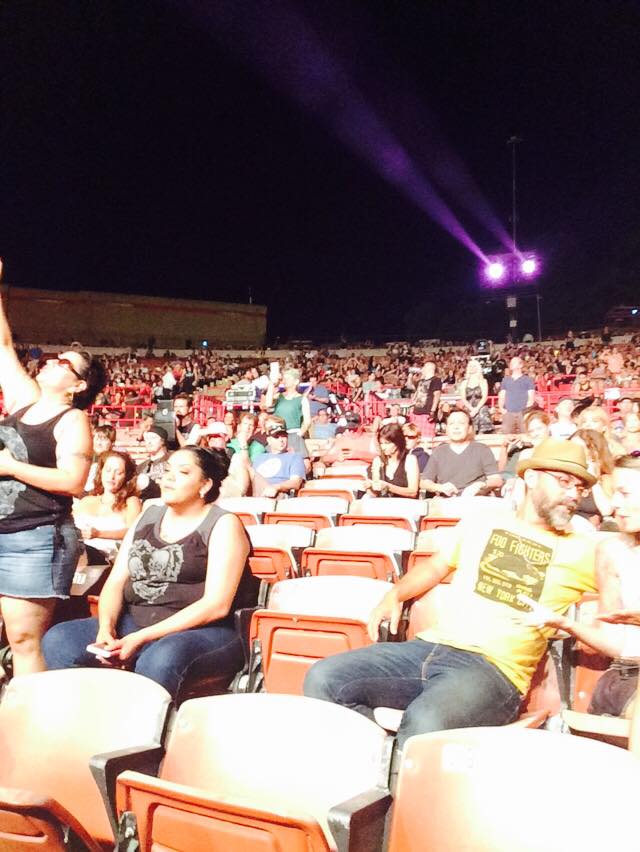 There's some photos on the Extreme FB page, including this one w/ the caption,
"This is what the Extreme crowd looks like right now"

All Star Jam was awesome. But it was cut short due to Extreme playing too long. Some security dude kept talking to Gilby (I assume telling him to hurry up) and Gilby looked pissed about that. The Mr. Brownstone cover was great, Michael Starr was the perfect choice to sing that. It was really cool seeing Ace Frehley and Sebastian looked like he was in heaven singing with Ace. I saw him fangirling over Ace backstage. Baz asked the audience if they'd rather hear Deuce or Rock N Roll All Nite, and thank god everyone wanted Deuce. Ace looked surprised the audience picked Deuce.
The attendance definitely could've been better, but the event was run really smoothly and I had a much better time than I was expecting. The heat was brutal. If they do it again, hopefully they'll do it during a cooler month.
Here are my pics from the show…for some reason photobucket doesn't order them chronologically but whatever you'll get the gist: >>> http://s962.photobucket.com/user/fastermetallicat/library/Cathouse%20Live

REVIEW #3 comes to us from one of the performers, Sebastian Bach has posted the following.
Sebastian Bach
An open letter to Southern California:
I am still on a high from Saturday's show at Irvine Meadows Amphitheater. It's hard for me to put into words what this day meant to all of us. During our show there were moments when all the lighters were lit up, sorry I mean all the cell phones were lit up, because it's 2015 now. As far as the eye could see. It's always a breathtaking, beautiful vibe. The first time I played Irvine Meadows was 1989 with Bon Jovi. My brother Zac was a little kid and my dad brought him to the show that day. On Saturday my daughter Tiana was standing side stage, 28 years later. Next to my beautiful bride to be Suzanne. We came out on fire after seven weeks of touring. At the end of the night we got to shred 'Deuce' w Ace Frehley & the rock n' roll circle was complete. The crowd packed out the place and made us feel so special we cannot thank you enough. We will never forget Saturday!!!! Thanks to John Reece & Riki Rachtman & the bands & crew for throwing the party!! I only hope we can do it again sometime at the Cathouse LIVE!!! Southern California you made our set a night we will never forget!!! Irvine Meadows what can we say, but THANK YOU for 28 YEARS of ROCK N' ROLL!!!!!!
REVIEW #4 comes to us from online poster named Blumpin King
Okay, here is my quick review of what I saw.
Yes, It was hot. Really hot, but no band seemed to let that stop them. Got there about 2:30 just as the stage turned for the Bulletboys.
Bulletboys – Probably about 300-350 people in the stands. Marq sounded fine and gave a good performance. He acted like he was opening up Rolling Stones. He seemed to give it his all. Smooth Up In Ya went over very well.
Tuff – Went over to check out Tuff on the 2nd stage. I thought they were really good. Stevil was very funny and ripped a couple of bands while on stage. I would say probably 200 people were there. Great show.
Black N Blue – I am a fan. I liked their performance. They sounded fine. I've seen them do better. I will give them credit as they had the sun directly in their face the whole set. I still can't get past the guitarist who always makes the rock faces. Getting a little more crowded in the stands but the high sun was keeping people away.
Autograph – Have not seen them since they opened for VH in 1984. I am not sure who was in the band then that is still in the band. I would guess the guitarist since the other guys looked too young to be in the band then. The lead vocalist actually sounded pretty good. They weren't bad but I just didn't care. I left early because –
Walked around the tents after that while waiting for Bang Tango. Sludge tent seemed to be busy when I walked by. I was going to stop in, but Stevil was talking to a couple of guys and I needed to go pee. Most of the other booths seemed pretty lonely. Mostly people selling their crappy looking rock shirts. Some crappy jewelry. Some craft beers. Cathouse tent seemed to have people around it, but not a big crowd. Mech for the show was pretty bad. PBF Tent was super crowded after their show as they did a meet and greet right after they finished. Most band merch pretty much sucked.
Bang Tango – 2nd Stage – They were the same as they always are. Sounded good. Good show, but not the best I have seen them. I may just be burned out on them as I saw them twice on MORC. Probably the same amount of people that were there for PBF.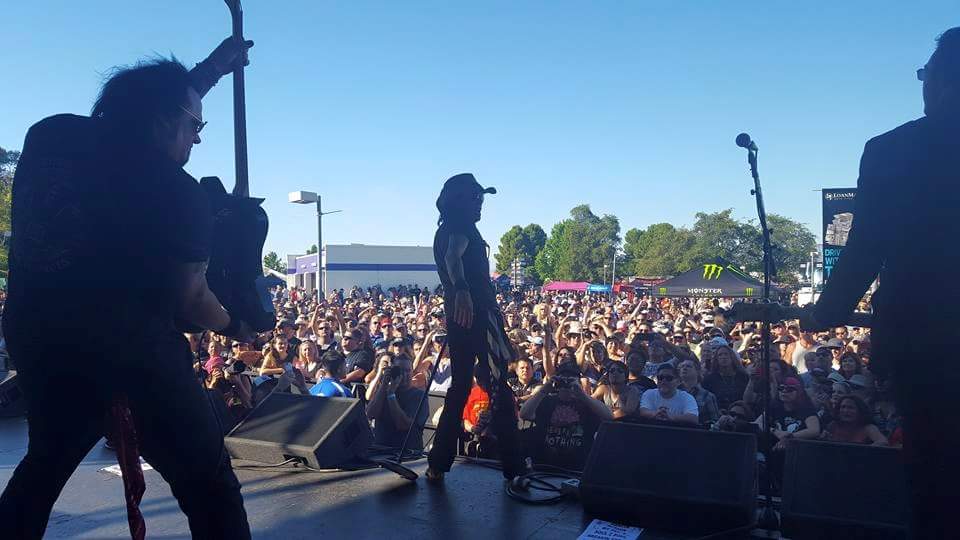 Joe LeSte leading the way for Bang Tango on the side stage
LA Guns – I had not been at the main stage for a bit and it had gotten more crowded. Crowd was really into LA Guns. They were pretty good. Have not seen them in a long time and enjoyed the set. Lots of bands on the side of the stage watching them. The crowd loved them and they sounded really clean.
Dangerous Toys – Was never a fan. Took this opportunity to grab a small bite and some water.
Faster Pussycat – For me, the highlight of the show. They sounded fantastic and Taime was really great. The reunion of Greg and Brent was cool, but there were a lot of people on that stage at one point. Cords were getting caught up in each other. Would have loved for them to continue to play for another hour. Crowd was really into them. Since the sun was dropping I think a lot more people were filtering into the stands.
Stephen Pearcy – What a joke. He sounded so bad at the start. He was smart enough to only play Ratt Hits. He got better as the set progressed, but that's not saying much. By the time Round and Round came on he had gotten himself to simply bad. He looked ridiculous with red brass knuckles and a mesh shirt that he should not be wearing. Crowd loved it, but I think they just love those songs. There is no way that he was anyones favorite for the day unless you were related to him, and even then they would have to be deaf. Also his band was shitty. The guitarist was awful trying to play Warren's stuff.
Dokken – Don sounded worn. I saw them a few moths ago and they were great and Don sounded pretty good. Not so much on Saturday. The Band was great, but Don was having a hard time. He go in a fight with some tech at the start of the show. They made up. Don apologized to the camera man as he thought he spit on him. The set list was good, although It's Not Love was missing even though Levin started it. Don lost the good will that he had earned with me on the last show to this one. He sounded rough at best. I would pass if they were coming around again. And I really like Dokken, so this was a disappointment.
Bach – All he needed to do to keep the crowd happy was play Skid Row. He didn't and during his solo songs he lost the crowd. During the Skid Row he had the crowd in the palm of his hand. He sounded pretty good and is a ball of energy. The complete opposite of Don Dokken. One thing that was evident though was during his singing he would pull the mic away and still have his screaming going. He was singing, they just seemed to have some sort of sustain on. I liked Bach, but it did not inspire me to see him solo anytime soon. I remember you was probably the biggest song of the night. Whole place was singing along.
Tom Keifer – Really great. He sounded so good. He had a pretty good set-list. You know he is going to play 3 or 4 solo songs, but they seem to fit in with the Cinderella stuff. His band is great. He is a great showman. Cinderella songs got the crowd really going. Everyone rolled their eyes at his wife coming out. It's such a downer to have her up there as he is so good.
Extreme – Watched half of the first song and then left. Never cared much for them and they didn't grab me coming out of the gate. I didn't feel like sticking around through extreme for the all star jam.
It was a great time. It was a good deal for the money spent. The heat did make the day harder, but didn't kill it. I would say there was probably about 8K at the height of Bach and Keifer. I was not the only one to head for the gates during Extreme. Mass exodus. Parking was easy to get in and out. The timetable was spot on. In fact at one point they were about 5 minutes ahead. The rotating stage worked perfect for this. Glad that I went, but I would like a better headliner if they ever do it again. The crowd had a great time.

REVIEW #5 by online poster Reseda Country Club
Another quick ass review:
I was there for the entire day. Free parking! The lawn is closed,so all people who bought lawn seats are upgraded. DAMN WAS IT HOT!
2:30 Bulletboys (Mainstage) – Marq and the other guys sounded pretty good. Better than I thought they would. The sound mix was good.
3:00 Trixter (Mainstage) – Band starts and we only hear the drums/ bass for the first minute of opening song. Sound kicks in and the band sounds great. Still nobody is here. Only band here with all original members.
3:30 Black 'n' Blue (Mainstage) – Poor choice for an opening song "Get wise to the rise". After that, the songs are much stronger. Sound is good, but vocals aren't as strong as Trixter's were.
4:00 Autograph (Mainstage) – Sounded great! I was surprised, because at M3 they were average. Steve Lynch is a fantastic guitarist. Place is still empty.
4:30 Junkyard (Mainstage) – Sound is bad and now I'm off to the second stage.
5:00 Saigon Kick (Mainstage) – I love these guys, but their sound is terrible except for the vocals. Matt sounds great! Sound gets better as the set goes on. The crowd isn't into them at all. Jason plays some killer melodic solos, but their performance is below their normally high standards.
5:30 L.A. Guns (Mainstage) – The first band to connect with most of the audience and get people to the mainstage. Phil sounds great, but the guitar is way down in the mix. Finally, the mainstage audience realizes that this is a Rock concert.
6:00 Dangerous Toys (Mainstage) – Bad sound and the guitars again are too far down in the mix. The band is trying really hard to get the crowd moving, but they don't do as well as L.A. Guns did. Watched most of the set and now must walk back to the sidestage.
6:25 Enuff Z Nuff (Sidestage) – Chip, Monoco, & a drummer in front of 100 people and damn they sound great! Donnie who? Monoco mimics Donnie Vie vocals perfectly. Great sound! Tracii Guns with his wife and daughter are on the side of the stage. Well actually their on the stage behind Chip enjoying the show. I see Rudy Sarzo on the other side of the stage. Enuff Z Nuff plays a cover version of Wings "Jet" perfectly. Too bad only 100 of us saw it.
6:55 Faster Pussycat (Mainstage) – I only see one song and that's "Babylon" and it sounds great. Some former members of FP are on stage with the current band as well. The crowd seems to be into them.
7:00 Stephen Pearcy (Mainstage) – TRAINWRECK! Stephen sounded terrible! The band is pretty good and the song choices are solid. Sound mix is good, but Stephen is having a below average vocal performance.
7:30 Dokken (Mainstage) Don has struggled with health issues over the last couple of years, but he sounds pretty good tonight. He can't he the super high notes anymore, but the dude is over 60. John Levin is amazing. The overall sound is perfect. The band is tight and a pleasant surprise. The crowd is into them.
8:10 Sebastian Bach (Mainstage) Mr. Energy! He's still got it! The crowd is into him and he's delivering! The first two songs are hamper with sound issues. Guitars and backing vocals are too far down in the mix, but it's fixed by the 3rd song. Great set!!!
8:50 Tom Keifer (Mainstage) The energy level takes a little dip after Sebastian, but he's blessed with great songs and a killer solo band including ex-Winger member Paul Taylor. The crowd is into him and the man is delivering vocally. Very solid set!
9:50 Extreme (Mainstage) I love this band, but the sound mix is terrible especially the bass and guitar. Gary's mix was great, but the rest of the mix was muddy. I'd say at least, 30% of the crowd left to beat the traffic. I guess these bozos don't know that ACE FREHLEY is playing later?
10:50 Gilby Clarke all star jam! Rikki rides up on a harley and invites the crowd all to come down to the front. Now, I'm 15 feet from the stage! Awesome!
Gilby was on guitar and Brent Fitz from Union and Slash's band were on stage for every song of the jam.
The first song is David Bowie's "Jean Genie" with Chip Z Nuff on bass, Brent Muscat on guitar and Phil Lewis of lead vocals.
The second song was some Punk song with Taime Downe and Rikki singing lead. Evan Sinfeld from Biohazard is now on bass. Rikki trips over the front monitor.
The 3rd song Michael Starr (Ralph) from Steve Panther and Nuno (Extreme) came up and did a killer version of "Mr. Brownstone."
4th song: Gilby brings up Ace Frehley and they do "Shock me".
The last song: Sebastian Bach comes up, but do to Union rules they have to stop right at 11:30. They were supposed to do 2 more songs, but now they have to pick one. Sebastian puts it to a crowd vote. "Deuce" or "Rock and Roll all nite". Easy vote "Deuce" wins in a landslide!!! The band plays 80% of the song and the stage begins to turn, but the band keeps playing and finishes the song facing backstage. Classic!
Overall it was a great time except for the heat. I wish the crowd turn out would've been better and the west coast really dropped the ball for possible future Hard Rock festival shows. The East Coast and the Midwest draw a lot better.