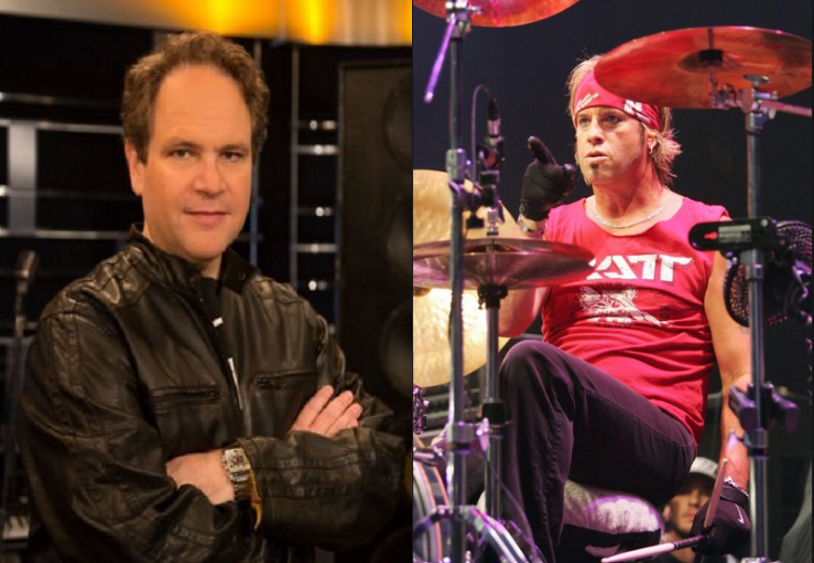 OWNED
Eddie Trunk calls Bobby Blotzer's recent online rant; "Juvenile, lame, weak"
Eddie Trunk Show — Radio host Eddie Trunk recently blasted Bobby Blotzer about comments the drummer had posted online.
Blotzer posted a video of former bandmate Juan Croucier performing live, and added some choice words.
The drummer made comments that some might find offensive, then ended his post with a sh!t imoji and "F.Y. J.CASTRO".
As of press time the original comments have been edited out. But not before they were screen captured by a fan. (see below)
Trunk puts Blotzer on blast saying; "I heard a lot about Bobby's rant, about Juan (Croucier) and what he looks like, and his performance style. And what he (Blotzer) wrote. I gotta say, it was so, so juvenile, and lame, and weak."
Trunk added; "When you're 60 years old, or whatever you are. And really, name calling, and what people look like, and what not…I mean, c'mon. I mean, it's just, it's High School stuff man. Not even High School, it's Kindergarten stuff."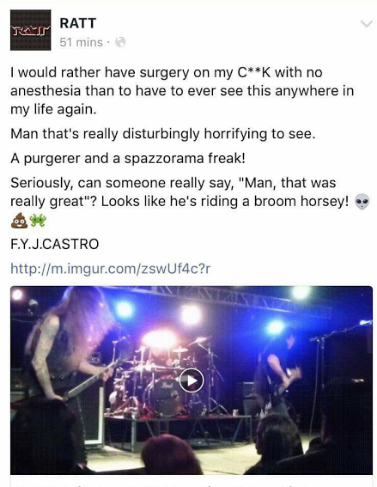 Croucier performs as a solo artist, but also is a member of what some industry types and fans refer to as the 'real' Ratt.
Joining Croucier in Ratt are founder and lead vocalist Stephen Pearcy along with lead guitariat Warren DeMartini.
These (3) core members are the key song writers from throughout the band's storied platinum selling career.
Ratt's lineup is filled out by a long time member and ex-Quiet Riot guitarist Carlos Cavazo. Drum duties are currently being handled by Jimmy D'Grasso (Black Star Riders, ex-Megadeth, ex-Lita Ford).
Blotzer is the sole classic era member of his version of the band Ratt. They last appeared at "Prarire Knights Casino" in Ft. Yates, North Dakota on March 18th.
Blotzer's Ratt recently welcomed new singer Seann Nicols (ex-Quiet Riot, ex-Adler's Appetite) after Joshua Alan left the group in late January.
Metal Sludge first reported Septemeber 12th 2015 that Blotzer was going to morph his side-project into the official Ratt.
Our sourced rumor we reported turned out to be fact, Blotzer and his (Ratt) band have been performing shows ever since.
Blotzer's version of Ratt currently features the following lineup; guitarists Mitch Perry (ex-Lita Ford) and Stacey Blades (ex-L.A. Guns) along with former Y&T bassist Brad Lang.
Stay tuned for more from Eddie Trunk and Ratt.
Eddie Trunk @ WebSite – Twitter – Facebook – Store – Podcast One