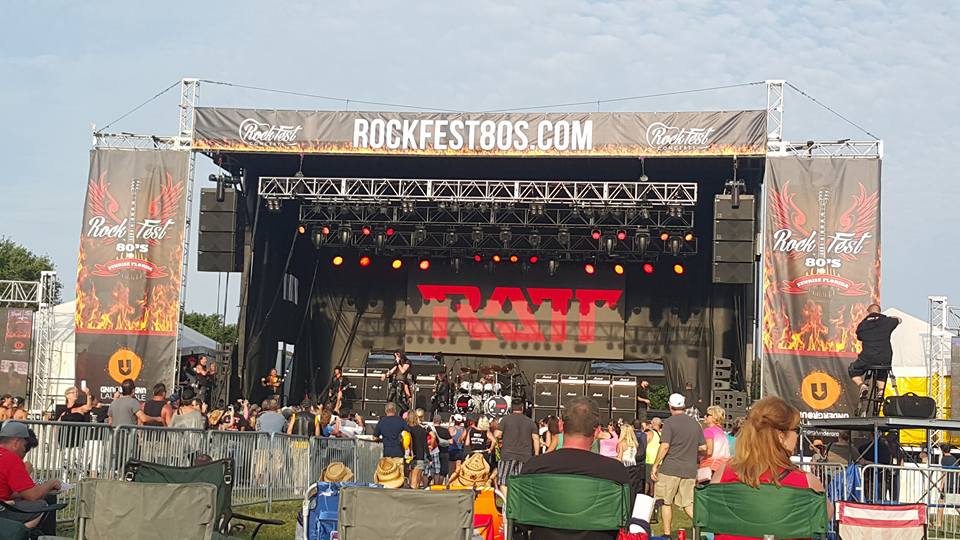 PAY TO PEE?
South Florida's heat wave didn't help attendance at the inaugural 'RockFest 80's'
South Florida — This past weekend was the first ever 'RockFest 80's' music festival. The 2 day event was held April 2nd & 3rd and took place at Markham Park in Sunrise Florida.
The inaugural event supplied 22 hours of music by more than 20 artists.
At the press kick-off local Radio Dj Paul Castronova and event organizer Roy Anthony talked about the event.
Castronova is a local Dj from Big 105.9 The Paul & Young Ron Show, the long time radio jock boasted; "This is gonna be a sick weekend."
Castronova then predicted the event would draw big numbers stating; "I'm thinking about 20,000 people, probably each day. At Markham Park. Temperatures hovering in the mid 90's. Nice and steamy, south Florida."
But it appears that weather may have kept some fans away from the event as those who attended, including some artists complained about the intense heat on Saturday.
Word from artists themselves was that the event drew more like a few thousand.
One artist briefly stated; "It was a thin crowd for sure. All of us expected bigger numbers but oh well, that's rock n' roll."
Anthony spoke with some excitement; "I wanted to bring a true rock festival to Sunrise. We haven't had a rock festival here since Zetafest."
"Zetafest was unbelievable, at this same park." added Anthony.
Zetafest did have huge success in 1997 and drew over 20,000 fans to their first year festivities. But that was nearly 2 decades ago and the music industry has drastically changed since.
Some fans wrote crib note style reviews and posted them online and to their social networks.
One who attended put the crowd closer to 2,000 which is a far cry from the 20,000 predicted by Castronova.

As noted on his Facebook Tim Maher added that the ticket price was in his eyes what kept many away. And he seemed none to pleased to inform readers that the only one 'lighted bathroom at night' cost $ 10.00 to use along with $ 15.00 for parking.
The cheapest single day ticket was $ 99.00 on the events official website.
We have found a few live clips from the weekend that have already hit youtube. We've included them below along with a few 'fan' reviews which we've added as well.
—————————————————
Thunderdan writesabout RockFest Day #1
Went yesterday. I'd say 3-4k and I caught last song of Nelson. Saw all the other bands. Trixter was good, guitar player plays great VH stuff, can now see why Def Lep had him fill in. First time seeing Trixter, they were good.
John Waite up next, I knew his big 2 songs. He was good though. Romantics every song sounded the same, much like John Waite didn't really fit in, but I did know their 2nd big song, "What I Like About You" everyone got up and danced. Vixen I just know their one big song. They were awesome. Wow, all 4 of them killed it and looked good, singer is still really hot. They played great.
Warrant rocked, first 4 songs first album, which is my least favorite. They did 3 big ones from "Cherry Pie" but nothing new. One or two more from the first album. "Dog eat dog" by far their best to me, would've liked "Machine Gun" at least over "Big Talk" or "Dirty Rotten Filthy Stinking Rich". They didn't do "Sometimes She Cries". They were excellent, they look like rockstars still and badass. Mason can be annoying but does a good job overall for Jani.
Firehouse, always good same 8 songs or whatever from first 2 albums, still love their first album. Had a couple slow dance to their wedding song "Love Of A Lifetime". They must do that at every show! Safe, good musicians, very non LA, they are what they are but sound great still.
Night Ranger, snooze fest. Lame band, drummer set up on the side of the stage sideways, do they always do that? Also I was like; "That looks like "Kerri Kelli". He was great w/Slash, Warrant, Ratt. I opened and hung w/him L.A. Guns. Guess Night Ranger pays well but he's much too badass for Night Ranger. They prob only did like 6 songs, didn't do "Still Rock In America". They were the worst band I thought but i'm not a fan of their aor deal.
Keifer's voice was a bit shot. "Don't Know What You Got" did acoustic w/his wife half – then electric, no piano. Don't like when bands do this. Did a few new songs, sounded good. Bass player looks like 20 years old. Other guys were okay, not really rock looking. Had wife and another woman sing backup on a few songs. Still looks like a rockstar and great performer, but his voice wasn't all there.
Bret, I hate to say this being a Poison nutswinger seeing them 23 times, an all time favorite, and I opened for Bret in 2003 when his solo thing started and he was really cool but it's gotten worse and worse. 10 songs if you include "Mama Don't Dance" 6 originals, if don't include 7 originals. He did "Sweet Home Alabama", "Rock And Roll All Night", "What I Got". To not do "Fallen Angel" is ridiculous. There's so much dicking around on covers and snippets of covers he probably did his 75 mintues or whatever he was contracted to do 10 songs. That first solo album "Songs Of Life" was a really good record, I wish the reality tv stuff didn't happen b/c he's so famous he headlines these fests phones in 10 or 11 songs a bunch of covers and gets paid more then he must doing Poison. Still great performer and one of the all time great front men but he's selling himself short. His solo stuff since the first record has been bad even I'll admit but even if he did no solo stuff do like 1 cover, do "Fallen Angel", "Ride The Wind", "I Want Action", "I Won't Forget You" and that's a great Poison greatest hits set. He leaves out top 40 poison hits (maybe because C.C. wrote these i'm guessing) to do covers on a short set is annoying as a huge Poison fan. Casinos and festivals based off his name and draw will continue to pay him 50k I'm guessing (know for a fact show I opened in 2003 10k, pre reality tv) for a lot of these so unfortunately this will continue. When I opened in 2003 he was hungry to prove himself so did maybe 4 or 5 solo songs, Poison hits and probably 15 songs in total, it was a great set.
I wanted to go both days being a nut but no one could go 2nd day, 10 hrs was enough 1 day thought day 2 probably better and heavier lineup. Day 2 so Fl Sludgers give us the review.
———————————————–
Famous James wrties about day #2 at RockFest 80's
Bas seemed to be in a pretty good mood and did a good job onstage…
Vestryche was boring as hell. They're more effective than zzzquil and an episode of Matlock. His voice was fine, his band was fine… But just no excitement. And he looked like a hipster waiter in Portland. Pass…
I also skipped Ratt. Wife wanted to see Winger and I prefer listening to Reb Beach over Blotz. "Ratt" sounded ok, but looked pretty empty on that side. I'll upload some pics tomorrow.
Mark Slaughter is seriously fat. Not just in the way that none of us are getting younger and we could stand to take better care of ourselves… But like, Meat Loaf fat. Makes Vince Neil look svelte. Mark's a nice guy and Slaughter sounded good, but he'd probably be surprised himself if he saw pics.
Quiet Riot was great, Autograph was great, Ace Frehley was as you'd expect… And Paul Rodgers had no business being there. An odd choice for sure but he was spot on.
——————————————–
RockFest 80's is unique from other festivals as it celebrates the nostalgia and history of the greatest decade in rock music. Concert goers will experience rock music's biggest hits from over 20 legendary artists all in a festival atmosphere with 80's themed events. Reminisce as ledges like Bret Michaels, Paul Rodgers, Ace Frehley and 20 more bands take the stage and bring you back to the 80's over the course of 2 days. In addition to the 2 stages, all day interactive entertainment including an 80's dance party, vendor village, vintage car show, and more will be on site.