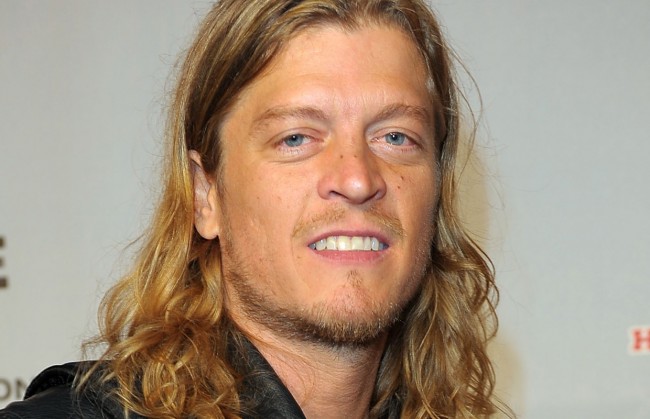 PUDDLE OF MUCK
Wes Scantlin and Puddle Of Mudd are a no show at 3 more weekend concerts
Update Monday August 28th 10:00 (pst): It seems Puddle Of Mudd also missed their Sunday August 27th show at "Rams Head Live" in Annapolis Maryland.
That makes 3 in a row, also known as a hat-trick in Hockey or a turkey in Bowling.
The band were a no show for their entire weekend run, missing shows on Friday, Saturday and Sunday.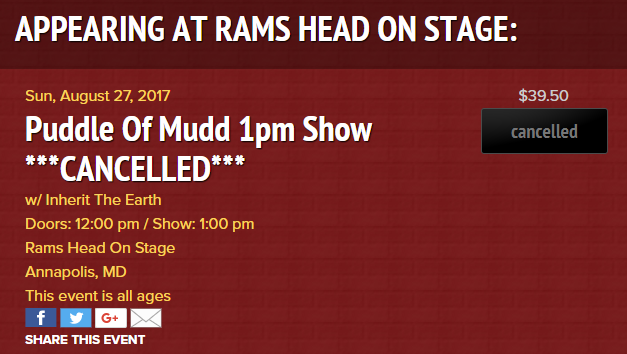 WARRENDALE, Pennsylvania — It appears that Puddle Of Mudd have missed their weekend shows yet once again.
A post from a club outside of Pittsburgh called "Jergel's Rhythym Grill" wrote on their official Facebook page: "Jergel's wants to sincerely apologize to all the customers who purchased Puddle of Mudd tickets and the unfortunate situation that occurred with the lead singer not showing up."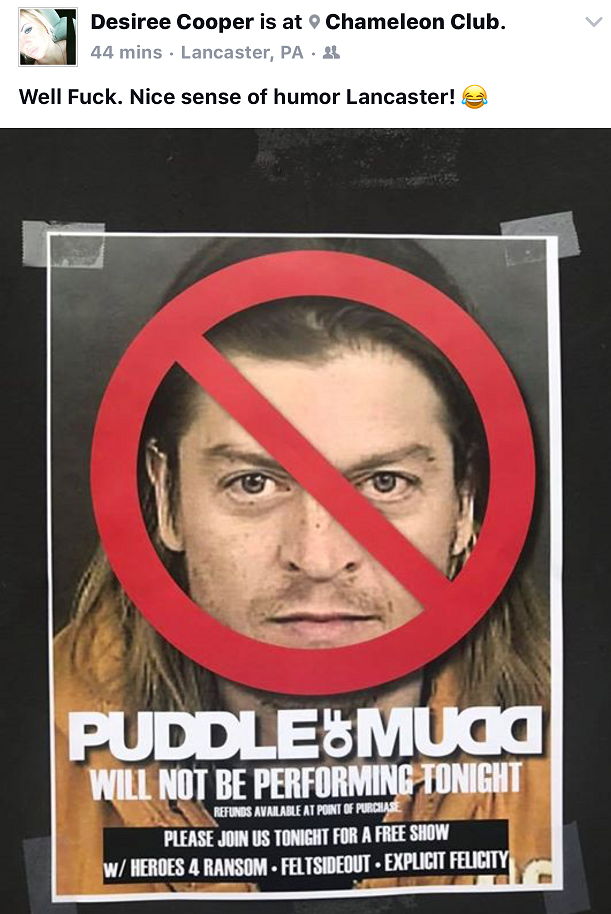 An additional comment posted by "Jergel's Rhythym Grill" noted that the Friday event was sold out.
The following night in Lancaster Pennsylvania the band missed another show scheduled at "Chameleon Club" for Saturday August 26th.
A poster was making the rounds (inset left) on the club's facebook page and reportedly was also posted at the venue and reads in part: "PUDDLE OF MUDD WILL NOT BE PERFORMING TONIGHT"
The poster featured a photo of the band's singer Wes Scantlin with a big red circle, and a line cutting across the singer's image similar to a No Smoking sign.
Puddle Of Mudd and their only original member, singer Scantlin have been the subject of some criticism as the band and/or singer have missed multiple shows in just the last few weeks slone.
Back on August 5th the band were scheduled at 'J.D. Legends" in Franklin Ohio, and the group did perform a set that night, but did so without Scantlin.
It was reported that Scantlin was scheduled to appear (solo) and play acoustic in a club near Houston Texas on August 5th, the same night Puddle Of Mudd were booked into the club in Franklin Ohio.
The show in Ohio was saved by Saving Abel frontman Scott Austin who fronted Puddle Of Mudd after his group was the night's opening act.
A week later on August 12th the band did not show for their scheduled appearance at "Hog Daze Motorcycle Rally" in Marion Indiana.
Scantlin, 45 has found himself in trouble with the law in recent years in addition to his on-going performance issues, or lack thereof.
According to Wikipedia Scantlin has been arrested 12 times since 2002, with 8 of those arrests coming in the last 30 months.
Puddle Of Mudd first formed back in 1991, but didn't make it big until their 2001 release "Come Clean" which sold in excess of 5 million copies.
Below are up coming tour dates for Puddle Of Mudd according to the band's official website.
HERMOSA BEACH, CA

SAINT ROCKE

OAKLAND, CA

OAKLAND, CA, YOSHI'S JAZZ CLUB

GREENSBORO, NC

CENTRAL CAROLINA FAIR

COLORADO SPRINGS, CO

SUNSHINE STUDIOS LIVE!

MITCHELL, NE

93.3 KMOR'S 4th Anniversary RocKtober Fest @ Scotts Bluff County Event Center

JEFFERSON, LA

SOUTHPORT MUSIC HALL

LITTLE ROCK, AR

ARKANSAS STATE FAIR

PONCHATOULA, LA

ROCKIN WILLY'S BAR & GRILL

LAKELAND, FL

LAKELAND, FL, MASON'S LIVE

S. Shore, Kentucky

S. Shore, Kentucky, Halloween Hootenanny

LONG ISLAND/AMITYVILLE, NY

REVOLUTION MUSIC HALL

STAFFORD, TX

STAFFORD, TX , THE PUB FOUNTAINS

SAN LEON, TX

SAN LEON, TX , 18TH ST PIER BAR & GRILL

CINCINNATI, OH

CINCINNATI, OH, MAD FROG

W. HOLLYWOOD, CA

WHISKY A GOGO

SCOTTSDALE, AZ

SCOTTSDALE, AZ, BLK LIVE

SACRAMENTO, CA

SACRAMENTO, CA, ACE OF SPADES

MUMBAI, INDIA

MOOD INDIGO FESTIVAL