QUIET RIOT CANCEL
Rock N' Skull announce several lineup changes along with new venue "Diesel Dick's Pub & Grub"
_______________________________________________________________
Update: In yet another stunning cancellation Quiet Riot has pulled out of Rock N' Skull.
The legendary band was scheduled to headline Sunday night October 29th.
Quiet Riot has been on board since late 2016 and were 1 of the bands featured on the original poster. (see below)
Metal Sludge has an industry source who has informed us of this latest development.
No word from Rock N' Skull yet, but in recent weeks the band's name has been on, then off, then on again per their event schedule. As of this posting the Quiet Riot name is no longer listed and L.A. Guns has been moved into the headliner spot for Sunday's event.
See below for other updates regarding acts curently listed to appear at Rock N' Skull.
_______________________________________________________________
PEKIN, Illinois — After several weeks of speculation, rumor and industry hearsay Rock N' Skull has finally confirmed recent Metal Sludge reports.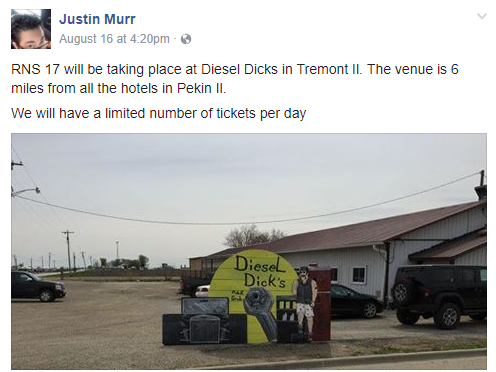 It's official as reported by Metal Sludge back on July 16th, the new venue for Rock N' Skull is "Diesel Dick's Pub & Grub" in Tremont, Illinois.
Event promoter Justin Murr confirmed the new location on August 16th after a month of speculation that the festival was moving from "Avanti's Dome". (See inset right)
Also, the new roster (lineup, see lower inset left) appears to confirm that Steel Panther, Warrant, Don Dokken, Lita Ford, FireHouse, Little Caesar, Amunition vocalist Age Sten Nilsen and Jules Millis of White Widow are all no longer on the event schedule to appear.
However as usual, with the loses there are also some gains.
Rock N' Skull has added a few marquee names to the weekend lineup as well.
Friday night losses include Don Dokken and Lita Ford along with 2 of the Foreign acts, but the bill adds Gary Schutt along with Shane West & Cody Mitchem (New Age Sinners/ Pink Velvet Krush).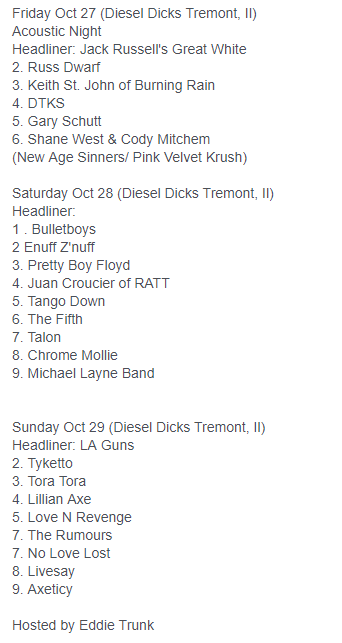 The acoustic night is now headlined by Jack Russell (Great White) with support from Killer Dwarfs singer Russ Dwarf.
Saturday features a few new additions most notably Juan Croucier (Ratt) and Chicago legends Enuff Z'Nuff.
Other featured acts appearing on the Saturday bill are BulletBoys, Tango Down and Talon.
Sunday still lists Quiet Riot in the headline slot with the recently reunited L.A. Guns as support.
Also scheduled for Sunday are Tyketto, Tora Tora, Lillian Axe, Love N Revenge, The Rumors, No Love Lost, Livesay and Axeticy.
In related news, when Don Dokken told The Classic Metal Show on August 12th that he was gonna "blow out" his appearance at Rock N' Skull, it appears he wasn't joking.
The frontman of the band who shares his last name complained about timing and having to fly to Mexico the following day.
Dokken told TCMS (listen from the 50:00 minute mark): "I was gonna play accoustic, but the problem was. I would have to have gone to Chicago. Drove 3 hours to Pekin Illinois. Play my show. Drive 3 hours back to Chicago. Hop on a red-eye, and fly to Mexico, Monterrey Mexico.. I would arrive at 2:00 in the afternoon, and I have to be on stage at 4:30. It's not do-able, it's just too much, I can't, it'll, it'll kill me. So I have to blow out the Pekin Illinois show."
Dokken then added: "The promoter doesn't even know it yet, so I'm sure he'll hear about this in the morning, I'll be getting tons of phone calls on Monday (laughter). So what am I, (inaudiable) he doesn't even know about it yet. But I can't do it. I mean I could do it, I mean I could do it, I'll get my ass kicked, but you know, I hate to turn down, you know $10,000.00 to play for 30 minutes, acoustic. But ahh, it is, what it is man.  I gotta go to Mexico. I have to blow it out."
Murr confirmed on August 29th that Don Dokken is officially off the bill despite the event having a contract with the artist, it appears Dokken did have an "opt out" clause which he seemed to have optioned. (See screen capture below)
The 3-day event is hosted by Eddie Trunk of That Metal Show and will be held October 27th. 28th & 29th 2017.
There is also a pre-party event on October 26th at "Twisted Spoke Saloon" which will be headlined by Airkraft.
Rock N' Skull also has now put limited tickets back on sale as of August 19th after they had been unavailable since July 13th.
Below are some recent screen captures noting updates on where, when and who.
Rock N' Skull @ Facebook – Twitter – Diesel Dick's Pub & Grub – Tickets –