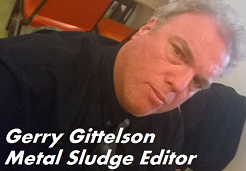 Metal Sludge — Among the biggest bands rising on the East Coast is American Jetset from Maryland, and yes Metal Sludge all the way on the West Coast, has noticed.
American Jetset would be perfect if only it was 30 years ago. As things are, a band with strong vocals, tight songs, good hooks, nice choruses? They're the Alternative music of 2022.
But the rock climate has not put a shade on American Jetset's ambition.

The band – singer/guitarist Ian Kaine MacGregor, guitarist Skinz Skinsacos, bassist Kevin Harrington and drummer Jeff Bradford – are not shy about packing into a van and touring America (though a cozy tour bus would be better!), and, except for the Pandemic years, they are continuing to do just that.
With a tasty third album called "Cat's Got Your Tongue," American Jetset is on the move again. They'll be at The Whisky on July 29 with D'Molls, and there are also gigs with both Stephen Pearcy and Steven Adler.
The group has also played with Tom Keifer of Cinderella, Jack Russell's Great White, Faster Pussycat, Living Colour, L.A. Guns and Slaughter, so American Jetset has paid some dues.

Check out our interview below with American Jetset!

———————–
METAL SLUDGE: I just listened to the whole album, and it's great. In addition to L.A. rock influences from the Sunset Strip, I hear classic British AOR influences, too. Am I crazy?
AMERICAN JETSET: Yeah…you're crazy AF…BUT now you got us thinking about doing a cover of "Midnight Rendezvous" by The Babys.
SLUDGE:: For a hair band type band, you guys do not have much hair.
JETSET: Skinz is the one doing the heavy lifting in this department. That said, we're taking the genre in a new direction – hairless metal!

SLUDGE:: You're from Baltimore. Name some great classic bands that played Capital Center in Landover.
JETSET: A few of us kinda lived at that place in the 80s. We saw em all – Van Halen, AC/DC, Ozzy, Motley, Poison, Priest, Kiss, and Bon Jovi.
SLUDGE:: Describe each band member including something embarrassing.
JETSET: Ian Kaine MacGregor (Lead Vox/Gtr) – Ian runs on a nervous energy that we suspect is chronic mania. His policy is "why remember lyrics when you can just make them up?". Outside of that he's focused AF and the brains behind our killer brand.
Skinz Skinsacos (Lead Gtr) – Loves puppies and sunshine. He once fell off the stage and split his leather pants wide open. He also happened to be going commando at the time. Oh well…the show must crack on as they say.
Kevin Harrington (Bass) – Kevin's rock solid bass playing will lull you into any groove. That is until you hear his ear piercing falsetto harmonies. Are they in key? Yes. Are they on time? Yes. Can dogs hear them? Only they would know.
Jeff Bradford (Drums) – This guy is way too short, talks too much, and Vanilla Ice owes him $4k (true story). On top of that Jeff is out of his mind and dreams up insanely crazy shit for our band and then manifests them into reality.
SLUDGE:The animation video is impressive. Someone in the band has some serious money.
JETSET: We like to roll big! Most of what you see and hear is hard work and a total DIY mentality. The rest is handled by the badasses at our label Big Curve Music.
SLUDGE: Being so close to DC and without divulging which way you lean politically, what are your general thoughts about Politics news taking over everywhere you look?
JETSET: We'd rather be watching a Depp v. Heard sequel. Politics and politicians are the worst. As for music we'll leave politics to bands we don't listen to (we're looking at you Green Day).
SLUDGE: How much experience do you have playing in L.A.?
JETSET: Jetset's 2019 tour took us to LA where we supported Jack Russell's Great White. We were set to return in 2020 as direct support to Pretty Boy Floyd at the Whisky for the 30th anniversary of the "Electric Boys" record. That show was rescheduled 3x because of COVID but we didn't get to play the final scheduled show. This year we're gonna be in LA 3x by the end of the year with D'Molls on Friday July 29th 2022, Steven Adler on Saturday September 17th 2022 and Stephen Pearcy on Friday December 30th 2022.
SLUDGE: You're coming back soon. Are you looking forward to it?
JETSET: Jetset was built on a bucket list of bands we wanted to share the stage with. D'Molls was one of the first bands we added.
SLUDGE: If this was 1985, would American Jetset be the biggest band in the world?
JETSET: You know it. We'd be so big that Beau Hill would have Mike Slamer playing all of our guitar parts.
SLUDGE: Final thoughts?
JETSET: We're pumped that real rock & roll is finally back and couldn't be more humbled that people dig our music. If the band ever falls apart, our fans should know that we'll be ready to roll out Ian Kaine MacGregor's American Jetset and Jeff Bradford's Jetset Experience as soon as the lawsuits are settled. RNFR.


AMERICAN JETSET @ WebSite – Facebook – Twitter – Instagram – Bandcamp – YouTube – Store –


Gerry Gittelson can be reached at gerryg123@hotmail.com