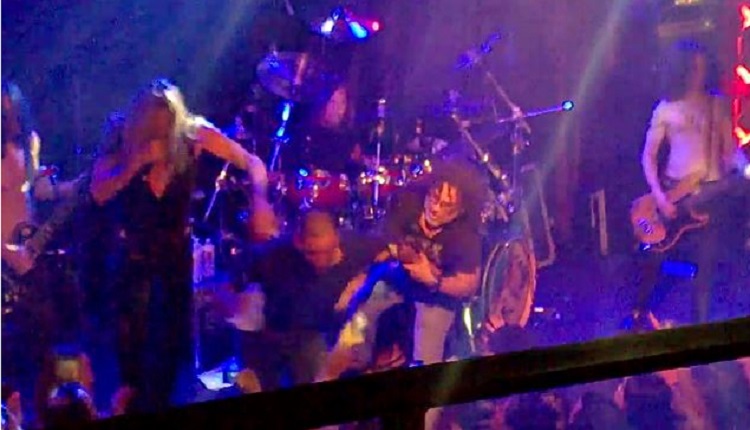 Seattle, Washington —  Former SKID ROW singer SEBASTIAN BACH screams out "Call the cops on this fucking guy" after fan comes on stage and steals a set list.
BACH on his current tour called a stop to the show last week June 10th in Seattle when a male fan walked up on stage, appears to casually grab a beer off the drum riser and then high-fives BACH.
The band including BACH seemed startled as the fan stands center stage, raises his beer and then snatches the set list off a monitor.
The fan is seen on stage for several seconds before a roadie or presumably a security guard confronts the fan and throws him into the crowd.
The singer who is famous for 'stopping the show' if something goes sideways did just that.
After the fan is pushed off the stage BACH barks out commands into his mic;  'Are you fucking serious? You're an idiot!'
As the band and fans seem stunned, BACH then announces over the PA system; 'Fucking call the cops on this fucking guy.'
When it becomes evident that not only has the fan interrupted the performance, but someone was now hurt, BACH says: 'Stop the show. Why? Like, why? This chick is hurt. This chick is hurt.'"
SEBASTIAN BACH is currently on tour in support of his most recent release "Give 'Em Hell."