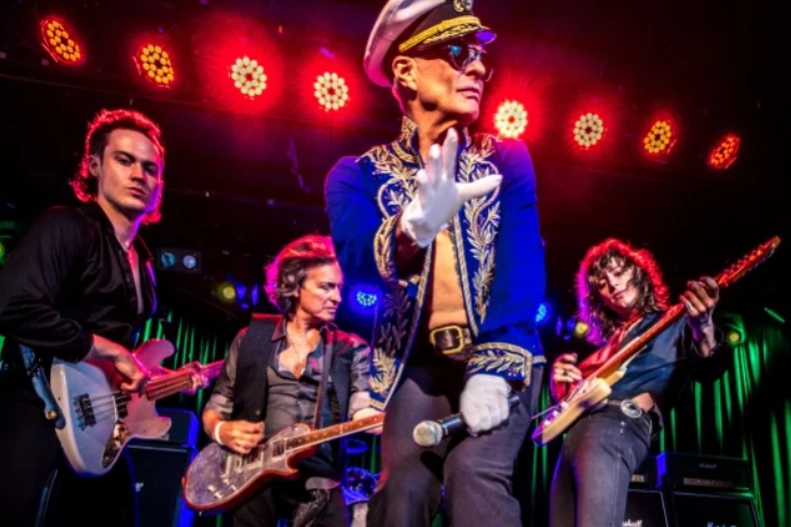 Updated Thursday Dec. 30th 2021 5:45PM (PST).

House of Blues Las Vegas has officially confirmed our breaking news story about the David Lee Roth shows being canceled for this weekend.

See full tweet below.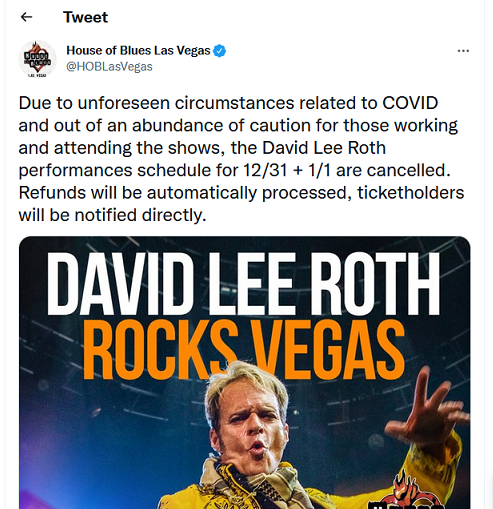 ?CONCERT ALERT?
David Lee Roth shows planned for New Year's Eve weekend in Las Vegas have been canceled due to COVID-19.#LasVegas #NYE #Vegas #DavidLeeRoth #entertainment https://t.co/gIN8uqx2uz

— MORE Las Vegas (@MOREFOX5) December 31, 2021
Metal Sludge — A hot tip has just hit the Metal Sludge inbox… and it is being alleged that David Lee Roth will be forced to postpone his December 31st 2021 New Year's Eve show and his January 1st 2022 show in Las Vegas.

A source has informed Metal Sludge that a band-member is rumored to have come down with Covid.

Story developing now…

————————————
In addition to playing at Mandalay Bay's House Of Blues on December 31, January 1, 5, 7 and 8, the VAN HALEN singer will now also also perform on January 14-15 and January 21-22.
Roth Las Vegas residency dates:
December 31, 2021
January 1, 5, 7, 8, 14, 15, 21, 22, 2022
Roth explained his decision to extend the residency in an audio message earlier today. He said (as transcribed by BLABBERMOUTH): "David Lee here. I had no idea how many people wanted to see me go. Okay, that sounded wrong. [Laughs] All right. Don't turn it off. David Lee here, for the second time. I had no idea how many of you wanted to pay to see me go. [Laughs] So I'm putting more tickets on sale, instead of doing the wrong thing and pissing more people off. I have industry professionals now ringing in, telling me, 'Dave, at your age, you should be in the middle of your third retirement. Did you watch 'Rocky' movies? He's on his seventh. Same guy, 'Rambo' — fifth. He's about 14 retirements ahead of you.' Just when I get out, they drag me back in.
"Look, I'm vulnerable. I feel sensitive. If I sound that way to you, I'm in the middle of my first retirement. And I'm gonna extend my world goodbye tour of Las Vegas at the House Of Blues for two more weekends — like any good fucking barbecue. Just like you would, if you could."
December 13, 2021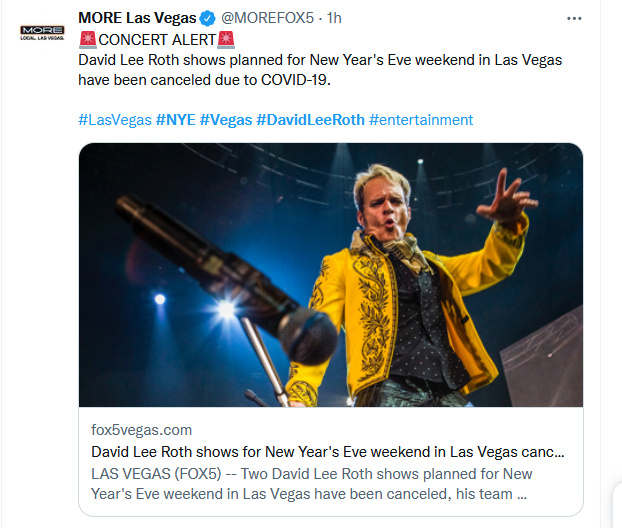 Hey David Lee Roth fans! ? This show requires proof of vaccination or a negative test result within 72 hours of the event. We got your back – get your Rapid Covid Antigen test onsite at the #HouseOfBlues!

Schedule your test here
? https://t.co/w6F6EecK6q pic.twitter.com/eZXh426pnt

— House of Blues Las Vegas (@HOBLasVegas) December 29, 2021