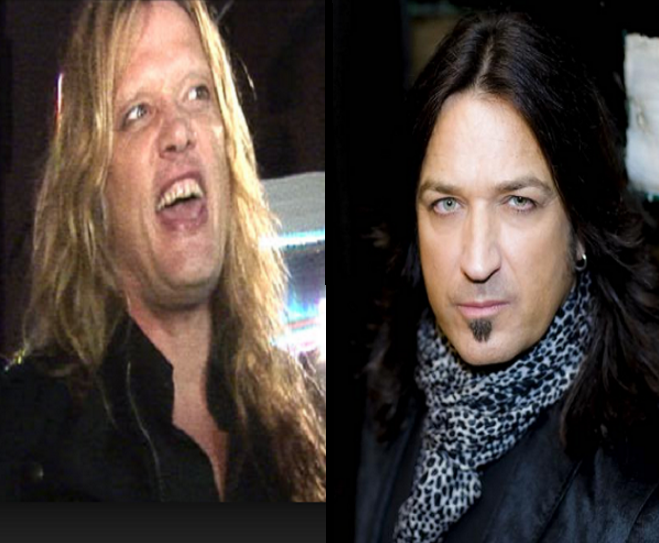 THREAT TO SOCIETY
Sebastian Bach calls Stryper singer a 'pussy' in profane twitter warning
Twitter — Wow, that didn't take long.
As Metal Sludge predicted less than 24 hours ago, Sebastian Bach was about to be on the war path, and the enemy would be Michael Sweet.
And we were correct.
Bach has lashed out at the Stryper singer's comment that 16 year old (female) singer/songwriter Moriah Formica "smoked" Bach's version of "I Remember You."
The Stryper frontman has taken the teen up n' coming star under his wing so to speak. He has brought her out to perform with him at solo shows, before and during Stryper shows and the teen is a guest singer on Sweet's latest solo release.
Sweet's exact words were; "This kid is the future of rock
? So proud of her and honored to have her on my new album – Moriah Formica kills this and in my humble opinion, smokes the original singer
?"
Moriah Formica has everyone turning their heads at her amazing talents and flawless soaring voice. And Sweet seems to have stirred the 'Bach Pot' with his comment.
Bach has now went off and tweeted what could be perceived as a threat to the God fearing musician.
One can only wonder, will Sweet be fearing Bach the same?  See screen capture below.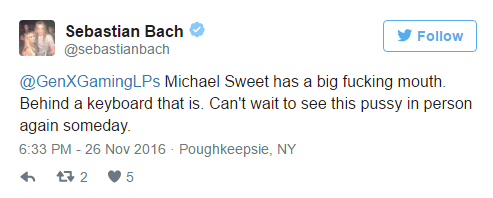 This is nothing new for Bach who had a similar issue on twitter with William Shatner back in May of this year which Metal Sludge covered.
Bach tweeted; "I will see you at your home" then called him a "dickhead" and seemingly threatened the 85 year old Star Trek star.
Adding to that the 48 year old metal musician went as far as tweeting Shatner's home address and tweeted: "I will seeU on the 13th, we'll see what you have 2 say."
Sweet has already replied with an extensive and adult like answer on his official Facebook, and we have posted below.
Bach has said similar things before, and seemingly made empty threats so we must ask, is Sebastian Bach a threat to society or a big bag of hot greasy (h)air?
We're going to go out on a limb and say the later.
Aside from the expected drivel from the unfiltered one, we're going to suggest you check out Formica's videos below.
She really is awesome and we at Metal Sludge would like to think this should be more about giving this teen up n' comer some shine. As opposed to it being turned into a war of adult men arguing on twitter and facebook.