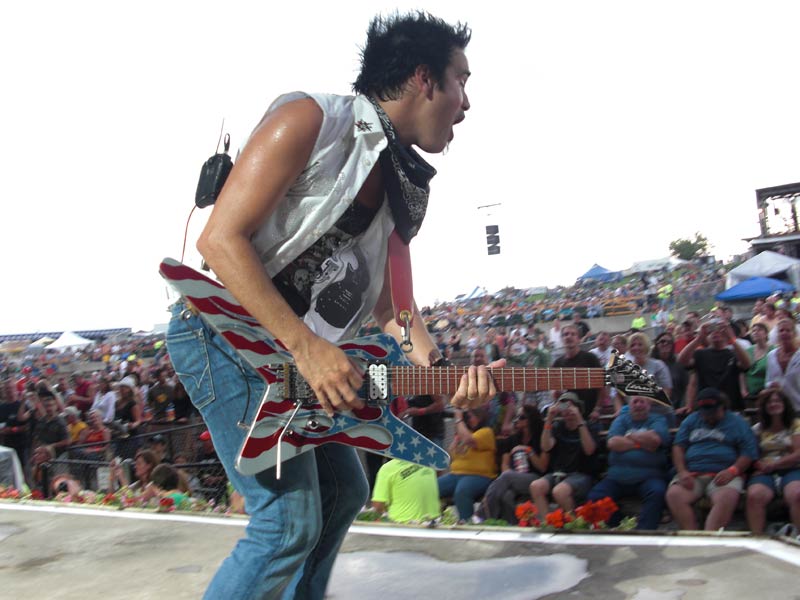 New Jersey — Trixter are roaring back in 2015 with a new album Human Era which comes out on June 9, 2015. The band is back better than ever and still happy to be playing together after 30 years. Trixter came roaring into the the scene in 1990 with their self-titled debut album which spawned three hit singles "Give it to me good", "one in a million" and "surrender".
Trixter new single Rockin' to the edge of the night is a great single that shows Trixter are still writing great songs and are moving forward and not ready to rest on what they have done in the past. I had a chance to catch up with Steve Brown to talk about the new album, new tour, and Trixter's career.
———————————————————-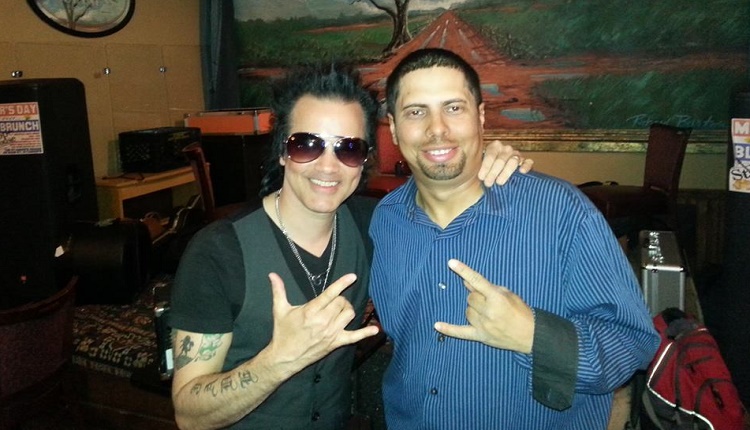 Steve Brown with Interviewer Angel Alamo
Angel Alamo: How did this record come together?
Steve Brown: Being primary writer in the band I am always working on songs. Wether its for Trixter or other things I do writing music for TV or movies or whatever. After we did 2012 New Audio Machine we knew we would make a new record because we had so much confidence. New Audio Machine was an incredible feat for us 20 years later after our 2nd record to finally make a new studio album. An album that came out spectacular is a feat in itself for a band that hasn't made a record in such a long time. We were so proud of it we came out with a renew confidence of vitality if you will which made absolute sense. We knew we would make a new record. Frontiers records people Sarrafino texted me called me and e-mailed me said Steve we want you guys to make a new Trixter record. Sure enough we did. Human Era which comes out June 9th here in the states we couldn't be prouder it is our best record.
Angel Alamo: Being that this is your 4th album was making this record easier than your previous albums?
Steve Brown: Yes and no what I can is that now we made our 2nd record with a new form of recording as opposed to the first two records. The first two records were made in the heyday when bands made albums. We were living in California or recording in New York City the best studios money can buy huge budget nowadays its different ball game. We make records at our houses. I have a studio at my house where we do all of the tracks Pete does all of his vocals in Arizona. With the internet and dropbox and file sharing programs it makes life a lot easier.

Angel Alamo: Did the band do anything different when it comes to recording this record?
Steve Brown: We are just trying to be the best Trixter that we can be. We have no preconceive notion of being something we are not we focus on keeping things conzised simple and powerful and that's what Trixter is.
Angel Alamo: How many songs were recorded for the album?
Steve Brown: I did more demos once we got it down were set with the 11 brand new songs plus the two bonus tracks Road of a thousand dreams which was recoded and always a victim which is the I-tunes bonus track.
Angel Alamo: Why did you guys name the record Human Era?
P.j. Farley my co-producer and partner in crime. He came up with the concept and I loved it. It is kind of a testament to who we are. It reaches everyone. There is something to be said in this day and age with technology. Social media, cell phone, e-mail. It is something to be said when you have to actually have to sit down in front of somebody and talk to them and having Human contact. That is when we started this band ij 1982 those are the foundations this band was built on when you had to call someone on rotary dial phone. We had to ride our bicycles to rehearsals. We had to be there face to face human contact. That is really what the record is as much as we love technology there is something to still be said. As much as we love techonolgy and everything that it brings us. There is something still to be said about sitting in a room together, we are together all of us on the road we were at M3 together. We love being with each other and 30 years later that is something near and dear to our hearts.
Angel Alamo: A lot of bands in general may find it hard to play together and get along. You guys seem to be still enjoy being together. After 25 years together how do you manage to still work together and get along?
Steve Brown: This band is not just a rock n roll band or a business. We are family Steve P.J. Scott those guys are my rock n roll brothers. I am closer to them than to anyone in the world besides my wife. It's that chemistry we have we literally love each other. We have a great time.
Angel Alamo: The 1st single Rockin' to the edge of the night is a great catchy kick ass rock song. How did the song come together?
Steve Brown: It is an anthem. For anybody in life for the hard workers of the workld everyone has to let loose. When it comes working 9-5 five or six days a week at some point you want to rock into the edge of the night. It is one of our oldest songs from 1987-1988 it was a live show statement. The last record we resurrected a couple of older songs that reason they didn't make certain records has nothing to do if there where good enough. This one was one I re-worked it dropped they key down a bit.  It made sense Pete did a phenomenal job on vocals. It is one the quickest songs we recorded. With give it to me good 3 minutes and 52 seconds of hard rock perfection.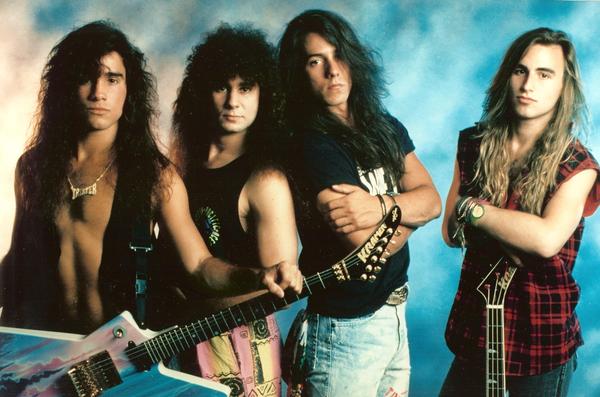 Angel Alamo: You mentioned the song "For you" having a Van Halen feel to it. Did you originally intend for that to happen or is it just how the song came out?
Steve Brown: Van Halen is the band that is Trixter's biggest influence. It is why we are a band everything we aspire to be is because of them Anything we do has Van Halen spirit. For you is one of those things I came up with riff first it is the first record where Mark is crushing with double bass drums. The guitars is nuts.
Angel Alamo: Are there any ballads on the record?
Steve Brown: Beats me up which is a classic Trixter ballad. Pete Loran does tremendous vocals on it. He is incredible on it. Beautiful song right up there with every rose has its thorn and never say goodbye.Angel Alamo: What songs on the record came easy for you?
Steve Brown: They all came out relatively easy. For you took more work a lot of changes. We have such a good system of making records. There is no pressure we do it in my basement in my studio we work and make work fun. P.J. and Gus come come over. We work and have a good time and that translate into the CD.
Angel Alamo: What is the song Human Era about?
Steve Brown: It was the last song written for the record it has very profound lyrics. P.J. came up with the idea and with the concept. He had a song and a chorus for it. Is it any wonder we're still together. Very profound lyrics for a band all original band  that has been together for 30 years. Still doing it and getting better and as I said before we still love each other. We still have a great time we are family.
Angel Alamo: What are the touring plans for Trixter?
Steve Brown: We are getting a lot of offers it just has to make sense. We have families so its not that easy. We are getting a lot of offers we have 15 dates on the table we are doing our first California shows in over 20 years at the famous whiskey go go in October which is going to be tremendous that was our first ever Hollywood performance back in 1990 it's going to be extra special. We are just enjoying every moment it feels like a resurgence.
Steve Brown:  No not really its different now I have a recording studio in my house that I have had for the last 20 years. I don't a demo anytime I go into the studio it's always to make a finished song because the quality is so good. Back in the old days all we had was mini cassette recorders. I use my iPhone a lot to record ideas if I get something good it is digital and it sounds great.
Angel Alamo: Everyone seems to be writing a book. P.J. had mentioned wanting to write a book about the music is that still happening?
Steve Brown: You have to ask him. Yes at some point. I have been blessed I say this line all the time it is one of my catch phrases every dream I have had come true 100 times over. I did it all I met all of my idols I have been top the top of the mountain. I have no regrets. Yes I have a lot of incredible stories. Playing with Def Leppard was one of the greatest experiences of my life I thank them from the bottom of my heart for being so great to me. Phil Collen one of my best friends in the world he is like a Godfather to me. Each and every guy Joe, Sav, Vivian, Rick Allen. They treated me like I was a part of the band lived with them flew on jets, limousine everything you can image. It was a wonderful experience I would never forget.
Angel Alamo:  I wanted to ask you these questions for the younger fans who have recently discovered TRIXTER. The song Surrender from your debut album still sounds as good today as it did 25 years ago. What is the song about and why did the song go through many re-writes and so on?
Steve Brown: It used to be called in your arms which was the original concept. Our producer back in the day Bill Wray and his brother Jim Wray who turned us into the band we are today. They had some different ideas we were about that. Experimenting and trying different things Bill Wray came in with this great melody.I couldn't even tell you about the video. The guy who directed was a cool guy who had directed a Madonna video it was an expensive video. We were on Scorpions tour got done playing spectrum in front of 10,000 people. We had to get on a bus drive to Brooklyn, NY didn't get to shower for it. I wasn't sure what the concept was still don't know what the concept was but it was #1 on MTV for 3 weeks. I had cool double neck guitar. It was shot at a studio where they shoot TV shows.For more information on tour dates and Trixter check out www.t
rixterrocks.com