TRUMP Z'NUFF
Johnny Monaco's latest podcast includes a mock Chip Z'Nuff/Donald Trump presser as Z'ump
CHICAGO, Illinois — What can we say, but if you like a good laugh…then you might wanna tune into the latest Johnny Monaco podcast, episode #10 'SUMMER of LIES'.
Monaco is a creative genius and thensome. There are numerous highlights, and several slight backhanded comments on-going throughout the 57 miunte and 39 second gem of a recording.
To start the show Johnny's doing a Chip Z'Nuff impersonation. The first several minutes is essentially a mock Chip Z'Nuff meets Donald Trump press conference which Monaco coins this character Z'ump.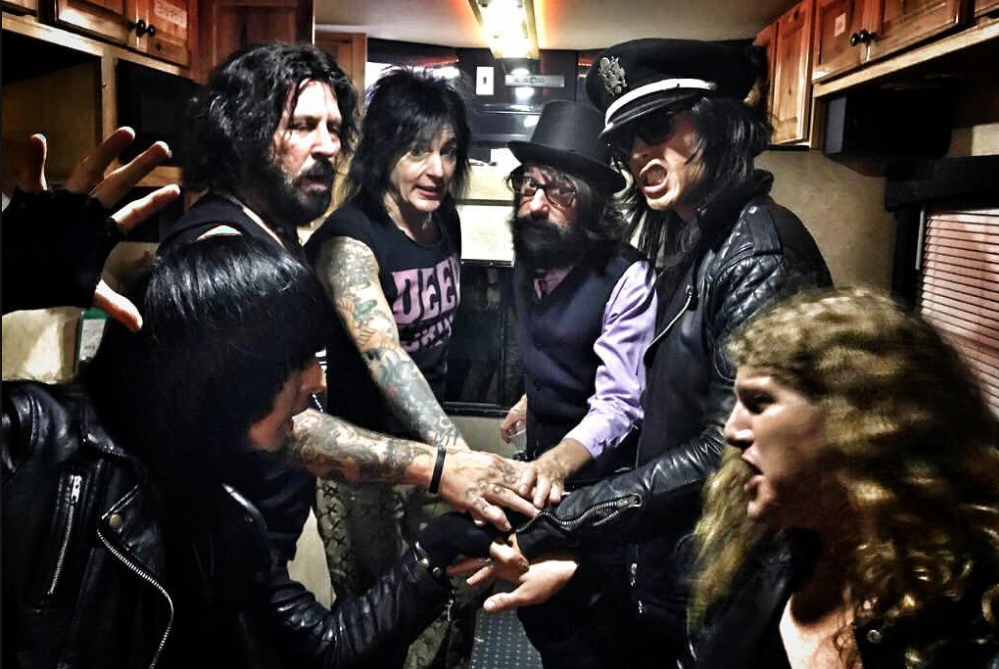 It appears it's Chip assuming a Donald Trump like voice and position. The presser then fields questions by the popular online 80's zines.
These are all fun, and it seems that Monaco is doing all the voices.
The "cheers" sample of Chip's actual voice being dropped in every 30 seconds is amazing.
At some point there is mention of a tour with the BulletBoys, and Z'ump then says; "I heard they got deported". We're pretty sure Marq Torien won't laugh at that one regardless of whether it was a 'joke' or not.
There is a snipet or two about going out to a L.A. Guns show in the Chicago area. There is some general chit-chat and a little bit about their dysfunction comes up as well.
Johnny inset right with L.A. Guns on their tour bus pre-show
Monaco also tries to do a few Phil Lewis immitations and chats about the newer members Michael Grant (guitars) and Johnny Martin (bass). Monaco talks about going on a 'mix date' with Grant, who he then adds; "He's Filipino".
The section about Donnie Vie starts around the 19 minute mark and the cat sound effects will possibly make you piss yourself.
We'll let you listen on, and we encourage it as Johnny is a pile of laughter, enjoy.
—————————————————-
Info tab from Johnny Monaco's latest podcast on Spreaker 
"Johnny Monaco is a LOSER!" – Chip Z'nuff – Raging Bull – Z'ump – LA GUNNS @ ARCADA – DONNIE VIE – Overrated vs Unknown – SongDivison Chicago – The Socialites – Maytag – LAS VEGAS/ The Limit Mandalay Bay – The Car Wash took my $2.25 – "I highly recommended it" – Wrigley's Extra Time To Shine – Uber vs Taxi – Kids on Bikes – SOCKS – Post Office – Panda Express – Vocal Coaches – I threw up the other day – She's Leaving Home Video – I got fired from BRIO – Mr Big @ ARCADA – Fran Cosom/ Boston – St Charles / Motorcycle / River / Rocket Fizz – My Car – APPROVED! – MY Birthday! – Summer/ Bushes / Motorcycle / RV – Jewel – Dog barking – She Said She Found Her Soulmate – Cambodia – Thailand – Vietnam – Laos – Speakeasy @ ARCADA – I Met Corey Feldman – Metropolitan Square – Kevin Rankin, my mom, Peter & Cathy Kuehl – Little kids walk right up to me & start talking – Mickey Finn's – 4th of July! – The Drive Way – Working on the Motorcycle –TEKKIES – I still think I wanna move to Las Vegas