CONFIRMED
Michael Grant "I was fired out of nowhere" confirming Metal Sludge's original L.A. Guns story
Eddie Trunk Radio Show — Former L.A. Guns guitarist Michael Grant has come clean and admmited he was booted from the group.
Grant tells Eddie Trunk in a brand new radio interview on Trunk's Sirius/XM radio show; "I was fired out of nowhere."
"The press release says that I left to pursue Michael Grant and The Asssasins. But truth be told, that is not true at all. I was actually fired out of nowhere….and given absolutely no reason." said Grant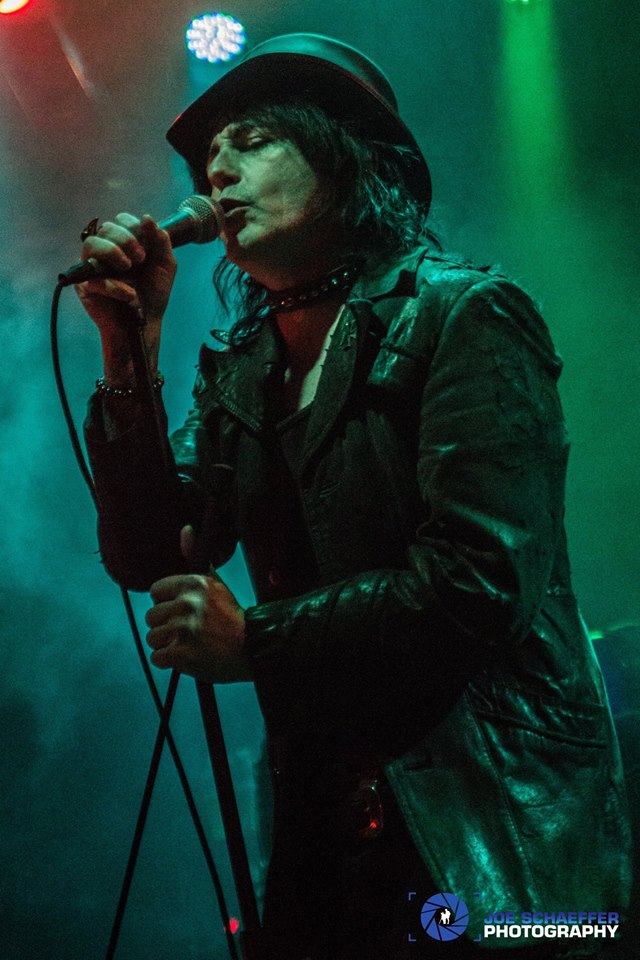 Grant continues: "I'll let the crowd, the audience, do some basic emotional math. If Tracii Guns is sad about my departure, if Shane Fitzgibbon is sad about my departure, if Johnny Martin is sad about my departure… then there is only person who's not."
Trunk pipes in with: "Cutting to the chase, you are saying this was the decision of Phil Lewis." (pictured at right)
"Correct. Yeah, and you know, I wasn't even given the courtesy of a personal phone call or any kind of reason at all. It just came out of nowhere." says Grant
Grant then goes on to say he was called by the band's manager who told him; "Do you want the good news or the bad news?" which was followed by: "We're letting you go" and it was simply stated to the guitarist, "It's time, it's time."
Trunk and his side-kick for the day comic Dean DelRay seem perplexed at the swift firing of Grant.
Which for those keeping records, this was news first broke right here at Metal Sludge on March 6th.
Metal Sludge even made direct contact with L.A. Guns management to confirm or deny or story. The band's management denied our story, and said it was not true.
The following day L.A. Guns posted a short press release stating in-part: "Michael Grant leaves L.A. Guns… to pursue other interests, including his solo project, Michael Grant And The Assassins."
Metal Sludge stuck to our story that Grant was fired, without notice and as of this interview with Trunk, it appears we were spot on all along.
"I got my own personal speculation that has to do with you know, ego and insecurity. And I'm not really here to slam people man, I am not trying to slam anybody, but you know, if ahh, I can be a difficult man to stand next to if you are insecure with yourself" says Grant
Grant continues his 40+ minute interview talking about there never being any instances that he can recall that may have put him on the hot seat so to speak.
Trunk asks directly: "Did you ever have any issues, the time you were in L.A. Guns before Tracii (Guns) came back. When you were Phil's guy?"
Grant does recall an incident in 2017 where Lewis was furious with the guitarist over a social media post by Grant referring to Lewis as a "cunt".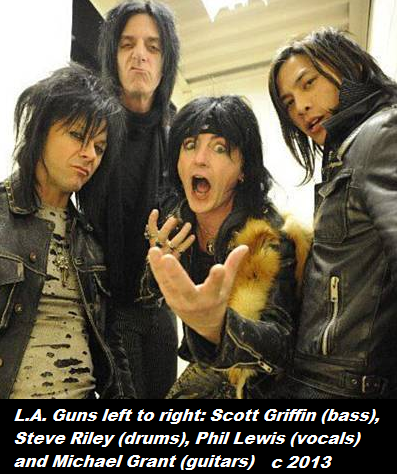 Maybe the fog machine and bright purple stage lights nightly have affected the guitarists memory.
Readers may recall Grant has had a few public unravelings during his tenure in L.A. Guns. Which may or may not have been part of the cause for his dismissal.
In October of 2013 Grant arrived at the Monsters Of Rock Cruise ship with no passport.
The then Phil Lewis fronted version of L.A. Guns, that also featured Steve Riley (drums) boarded the ship, and played a make-shift set minus their lead guitarist for the duration of the cruise. Meanwhile Grant sat in a Florida motel while the ship sailed.
In June of 2014 Grant was arrested at the U.S. border re-entering the states from Canada for allegedly carrying illegal drugs.
Grant was taken into custody, jailed overnight and then had to return to the Midwest weeks later to face charges in a Michigan court.
In the fall of 2017 after a short European tour, Grant was the subject of ridicule again by some fans for his use of the word "faggot" in a social media post.
The guitarist detailed a night in Prague after a show, where he boasts: "After the show, Me, a few of the lads and some guests got locked in the dressing room so we had to kick the door down to get it open."
Grant continued with his rant stating: "The fucking douche bag club owner gets these faggot ass meathead, tracksuit wearing, wanna be gangster bitches to try and fuck with us. We came really fucking close to throwing down with these assholes."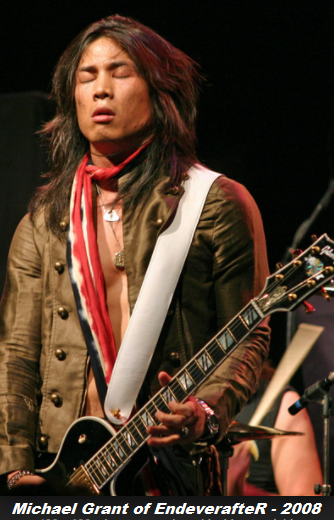 At one point during the interview Trunk and DelRay fawn over Grant, his good looks and talent telling him he's got time in life to succeed as Trunk jokes; "You've got a few more swings."
Then Trunk inquires: "How old are you dude?"
With a slight hesitation, Grant answers; "Ahh…I'm 30."
Sadly we have to expose Grant as a fraud here. Multiple sources close to the band have stated "Michael is 36, he will turn 37 in November." 
In the summer of 2017 Grant also endured a very public Facebook break up with his longtime girlfriend Alicia Vigil from the band Vigil Of War.
Grant seemed very remorseful to his former girlfriend in what read like a heartfelt apology, but the rebuttal from Vigil was shocking for sure.
As the two posted long and lengthy accounts as to the details of the breakup, Grant admitted his imperfection and making a mistake. While Vigil accused Grant of being unfaithful, living a double life with mulitple girlfriends and even hiriing prostitutes off Craigslist.
Vigil at some point berates Grant writing: "You are 35 years old, so you are old enough to know better."
As for Grant's (band) history, as he stated in the Trunk interview, "It's not my first rodeo."
Grant formed his band Endeverafter in 2004. And in a September 2006 interview Grant tells Maximum Ink: "There has never been a moment where I didn't think I would not be a rock star."
The band released "Kiss or Kill" in 2007 and toured with the likes of Poison, Cinderella and even opened a few shows for Kiss in Japan.
Added below are the recent full interview with Trunk, along with several Endeverafter videos from youtube.
L.A. Guns will continue on with a new guitarist who has yet to be named.
Michael Grant @ WebSite – Facebook – Twitter – Instagram – Spotify  – Amazon – iTunes – Endeverafter –