"If they were like an athlete one day and said 'Oh, I think I am going to be a rock star', and they just get up there, and do jumping jacks and have a tape going… I have a problem with that."
— Sebastian Bach referencing his long running feud with Fozzy singer Chris Jericho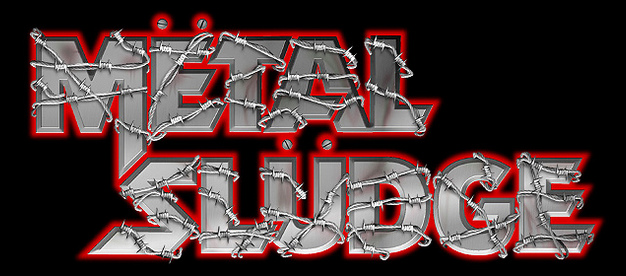 Metal Sludge — Sebastian Bach appeared at the Fanboy Expo in Orlando Florida over the weekend and during a Q&A made sure to go into details about his thoughts on the use of backing tracks.

Bach, 55, was very open and explained to fans his feelings and not only shared support for their use by the band KISS, but seemingly took a swipe at Chris Jericho of Fozzy, whom Bach alleges also uses them.

Of course Bach made sure to take a jab at Skid Row at some point during his rant and their 8th replacement singer (Erik Grönwall) according to him.

As many readers recall Bach has been in a feud with the WWE wrestling star Chris Jericho of the group Fozzy for years after the former Skid Row screamer started accusing him of "miming to a tape" as far back as 2018.

The weekends Fanboy Expo was held September 1st, 2nd and 3rd and included actors, wrestlers and comics in addition to a few musicians.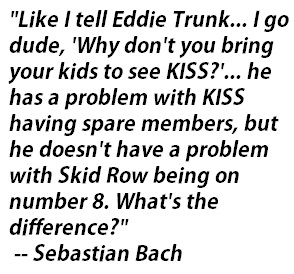 On Sunday September 3rd an internet Youtube channel dedicated to KISS called Syncin' Stanley was in attendance at the Bach Q&A and the singer directly addressed the members in the crowd who wore their KISS themed Syncin' Stanley t-shirts.

Bach talks in depth about the use of backing-tracks (as transcribed by Metal Sludge): "These guys are wearing these Syncin' Stanley shirts, okay, and it's about Paul Stanley (KISS) evidently using background tapes, okay. Here is my position… on background… everybody is not doing it, I'm not… not everybody is doing that, but I'm definitely not, but I don't know how, really." (laughing to himself)

"Umm, my position on that, is that, if you're in your 70's… right, if you are 72… and you gotta put on foot high monster boots and a Godzilla costume… and hook yourself up to wires and fly to the top of the roof… and sing… a guy like that age, I don't really have a problem… with a guy that's in his 70's or 80's that might use the technology to give us a show."

"What I do have a f#@king problem with… excuse my language there… you know who you are talking to (crowd laughs). I don't like when I have an opening band, who is 23, and they have the whole show on a click-track, and the background vocals are going… you can tell so easily."

Bach continues: "I know who's doing it, I know who's not. And if you wanna sit down and watch the video with me and tell me you're not using tapes, I will tell you you're full of sh!t."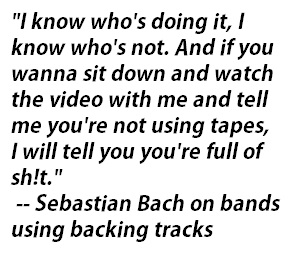 At some point after several minutes Bach goes on a secondary tirade that appears to be aimed at Chris Jericho of the band Fozzy.

"If they were like an athlete one day and said 'Oh, I think I am going to be a rock star', and they just get up there, and do jumping jacks and have a tape going… I have a problem with that."

"Like I tell Eddie Trunk… I go dude, 'Why don't you bring your kids to see KISS?''… he has a problem with KISS having spare members, but he doesn't have a problem with Skid Row being on number 8. What's the difference?" added Bach while giggling.

It also appears the Syncin' Stanley guys are fans of Metal Sludge and tricked Bach into getting a photo with them, and 1 of the guys had a Metal Sludge logo duct-taped to the inside of his jacket… and while Bach was pointing at the photographer, he opened his jacket to show love for Metal Sludge.

Thanks for the old skool love to the Sync Army and the Syncin' Stanleys.

These guys also have a popular Facebook group called the Sync Army with over 1,500 members.

The entire video rant by Bach about backing tracks can be seen below, along with the Syncin' Stanleys photo opportunity they got with Metal Sludge's biggest fan.

Below are also a list of articles on Metal Sludge related to the Bach versus Jericho feud that appears to be at least 5 years old and still going strong.


December 1st 2018 > FAKKY … Fozzy singer Chris Jericho "mimes to a tape very well" says Sebastian Bach

July 16th 2020 > I KNOW YOU ARE BUT WHAT AM I? … Sebastian Bach has drunken Twitter meltdown goes after Chris Jericho for lip-syncing claims wrestling isn't real

January 14th 2021 > LOVES TO HATE … Sebastian Bach is once again attacking Chris Jericho of FOZZY about "Miming to a Tape" then boasts "Wrestling Sucks"

January 25th 2021 > DO YOU WANNA START A WAR … Chris Jericho says Sebastian Bach is Going Out of His Way to Bury Him and Shoots Back with: "Be My Guest"

December 3rd 2022 > BITTER – Sebastian Bach throwing more Shade at his former band Skid Row and Fozzy singer Chris Jericho



Stay tuned to Metal Sludge for Breaking News, Updates and Features along with both new and classic interviews.