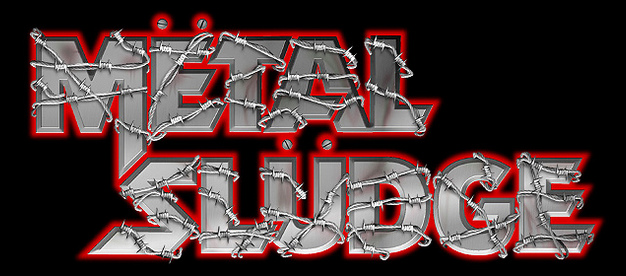 Metal Sludge — Joining a list of rock stars who have fallen ill, or had to alter their performance in recent years is Kiss bassist Gene Simmons.

Simmons seemingly fell ill in the heat during the band's show in Manaus Brazil on Wednesday night April 12th.

Simmons started the show standing but at some point the show was stopped and The Demon asked for a chair from their road crew.

Online reports are noting the show was stopped for a brief period while frontman Paul Stanley talked to the audience about the developing situation.
Blabbermouth is reporting the following: "Before KISS took a short break during the concert, KISS frontman Paul Stanley told the crowd: "We're gonna have to stop to take care of him, 'cause we love him, right? Let's give Gene a really loud 'Gene'." He then added that he and his bandmates would return to the stage "a little bit later."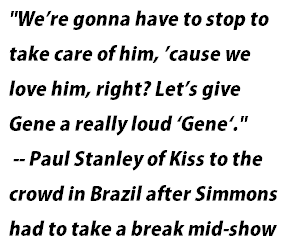 According to Brazilian journalist Igor Miranda, KISS came back on approximately five minutes later, with Gene greeting the audience in Portuguese: "Manaus, all right!", adding "Thank you."
Some media outlets and fans have speculated that heat exhaustion contributed to Gene feeling unwell. According to the National Institute of Meteorology (INMET),the temperature in Manaus at the time of the concert was between 26.9 degrees Celsius (80.4 degrees Fahrenheit) and 27 degrees Celsius (80.6 degrees Fahrenheit)."

The rock world has seen some interesting scenarios over recent years involving some of the industry's biggest stars.

Foo Fighters' singer Dave Grohl broke his leg back in 2015 in Gothenburg Sweden but ended up finishing the show seated with his leg raised. (watch videos below)

After the injury the band's founder followed up that performance by sitting on a chair (throne) during several tour dates during the summer of 2015.

One year later, Axl Rose of Guns N' Roses injured his foot at the band's initial comeback show at the Troubadour in Los Angeles in early April 2016 and was then subjected to being seated at some of their immediate follow-up dates.

Rose then hit the road with AC/DC filling in for an ailing Brian Johnson, and the Guns N' Roses frontman was offered the use of Grohl's throne and Rose obliged.

Rose then played several shows with the iconic group led by Angus Young with several of the dates seeing the singer either seated, or performing with limited movement while wearing a walking boot.

Last summer guitarist Tracii Guns performed a show in Texas after complaining about the heat and he ended up performing back-stage in an air-conditioned bathroom.

Metal Sludge was first to report this with our article L.A. TOILETS … Tracii Guns of L.A. Guns has a Panic Disorder and will perform tonight in Toilet with Amp, Monitor and Pedals for Texas show.

During that L.A. Guns show, the rest of the band played live on stage, with their lead guitarist playing the entire show out of sight from the crowd as he sat on a toilet.

The reaction from fans varied from compassion to haters attacking Guns on social media.



Stay tuned to Metal Sludge for Breaking News, Updates and Features along with both new and classic interview.
Gene Simmons, baixista e vocalista do Kiss, passa mal e show é brevemente interrompido na Arena da Amazônia. pic.twitter.com/nphJEj1PQo

— A Crítica (@ACritica) April 13, 2023