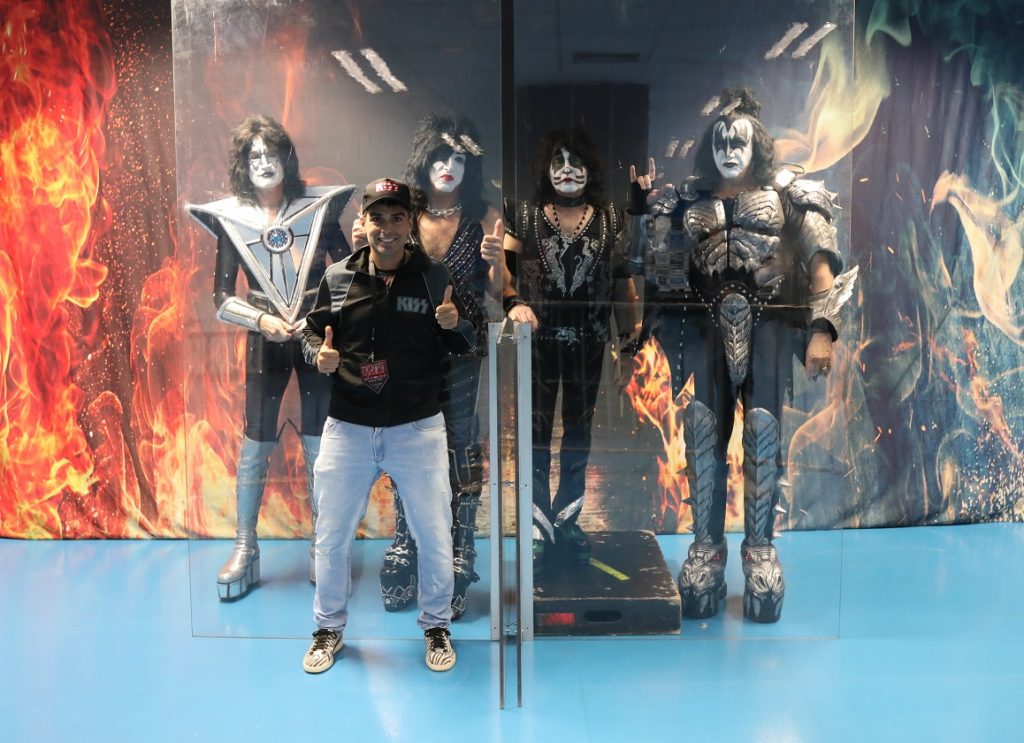 Metal Sludge — Ever take the kids to the Zoo, and stare at the monkeys and the gorillas behind the glass?

Well, if you pay for a meet n' greet with the rock band KISS, it might bring back some memories of your trip to a Zoo.

Or perhaps, the local pet store, where they keep lizards, mice, hamsters and other animals in a glass like tank or aquarium.

The difference is, there are not animals behind this plexiglass or plastic wall, no… it's actually a Demon, a Starchild, the Spaceman and the Catman.
The above photo is actually KISS behind that plexiglass, not mannequins.

And no, that is not a little kid with Tommy Thayer, Paul Stanley and Gene Simmons, that is Eric Singer standing on the box to make him closer in height to the others.

And don't forget, this will set you back a pretty penny, according to one fan online, it was $1,000.00 to get this photo with KISS.

KISS were recently on tour in South America, where some of these photos were taken.

Some fans online were complaining about how the photo opportunity was handled.

One fan named MEG from Buenos Aires Argentina wrote online about their experience: "It was a ROBBERY. We had to wait outside in the cold for nearly an hour only to be rushed to take the pic with the band behind the plexiglass. No contact with the band, no authographed lithographs, no acoustic set, no sound rehearsal, no voucher from kissonline. Lots of people who didn't pay a cent were in the same queue."

MEG continued with: "To this day, the pics they took and were supposed to be online one week after tops, are still missing in action…. I don't know how is it taking so long to upload that crap. Nobody gives any explanation. If I knew, I would have never spent a thousand bucks in this shit."

Look for KISS on their "End Of The Road" world tour throughout 2022.