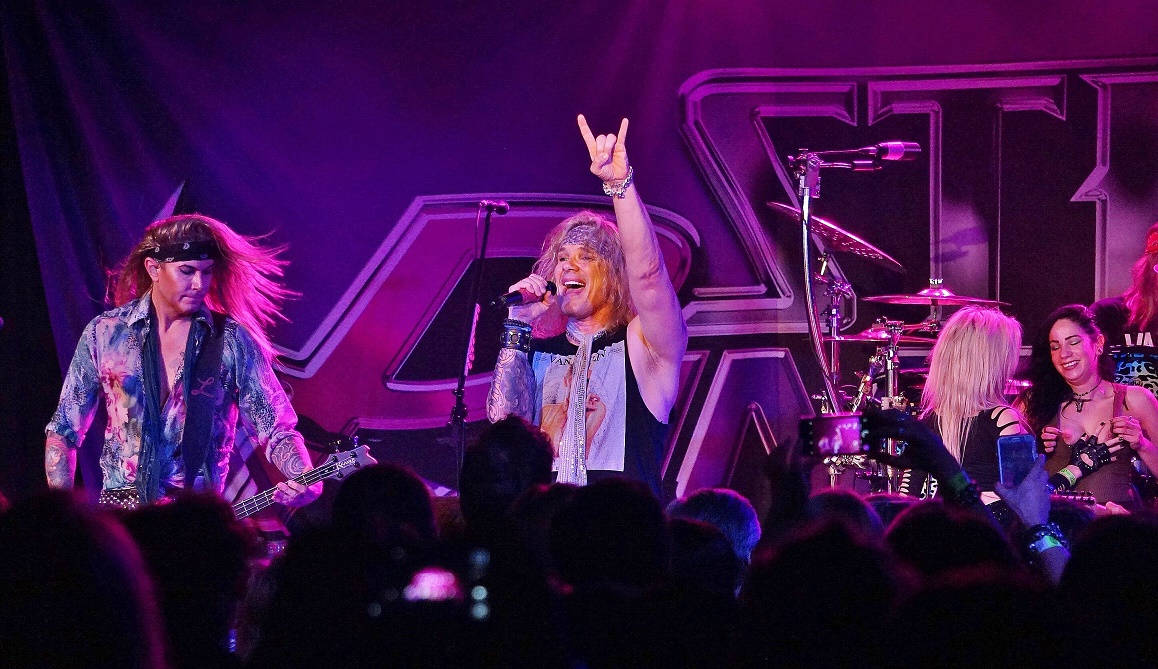 GLAM MEETS GRUNGE: Members of ALICE IN CHAINS and GODSMACK join STEEL PANTHER live at THE ROXY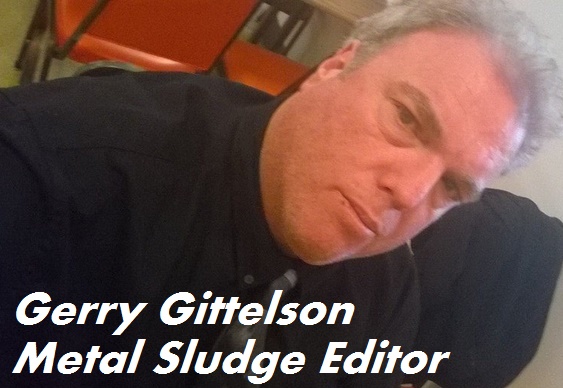 LOS ANGELES — Who says Glam and Grunge remain blood enemies?
Steel Panther's very own version of the "Hell Freezes Over" tour happened Monday at famed Roxy Theatre on Sunset Boulevard when grunge kings Jerry Cantrell of Alice in Chains and Sully Erna from Godsmack jumped on stage to join in on a rousing version of "Man in The Box" that sent the capacity crowd into a state of delirium.
Alice in Chains and Seattle compatriots Nirvana and Pearl Jam all but wiped out glam-metal in the 1990s — a flannel blanket that bewilderingly smothered retail, radio, MTV, the concert market, you name it.
As we gray-hairs will attest, nothing is more cruel than the calender, yet time heals all wounds. Cantrell was loving every minute of it, Steel Panther's Michael Starr was singing his ass off, and Godsmack's Erna was bashing away on drums.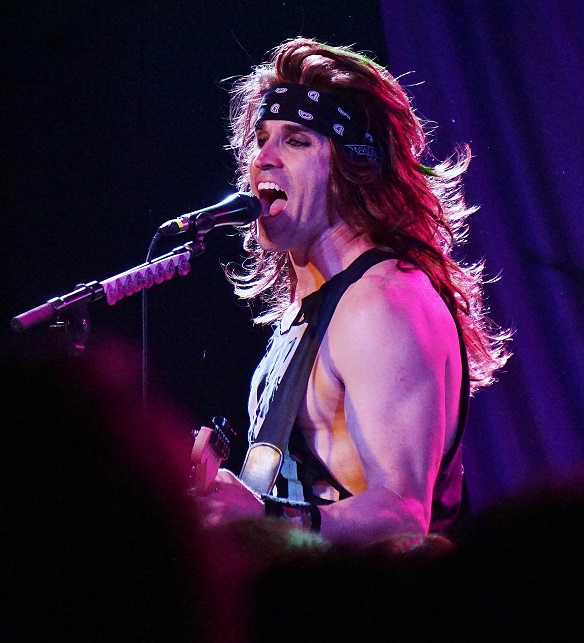 A few moments earlier, when the two first jumped up, they jokingly began improvising a few bars of "More Than a Feeling" — Godsmack is from Massachusetts — and that sort of set the mood for what continued to be a lively old time.
"I actually owe all these heavy metal bands before us a debt of gratitude," Starr said upstairs a few moments before showtime. "Without them, we would not be able to do what we do, and my solo band (laughs) would not be nearly as big as we are now."
Now, many, many lifetimes later, as Motley Crue would say, it's all good between two rock movements that were different yet the same in that both captured the youth of America.
As for the rest of Steel Panther's performance, it was raunchy and bawdy from the very beginning — even before the beginning, actually, when TV celebrity Drew Carey first got things warmed up with a few dirty  jokes as he introduced the band.
With a string of successful part-comedic, part-killer albums, Steel Panther, in the midst of weekly Roxy residency, still pays homage to its predecessors. On Monday, they tore threw Van Halen's "Ain't Talking 'Bout Love" and Autograph's "Turn Up The Radio."
"Turn Up The Radio"? Even guitarist Satchel snickered about that one. "We haven't played that song in, like, over two weeks," he joked.
Steel Panther alluded at one point about breaking into "Jump" but got off on one of their improvisational tangents and never got around to it.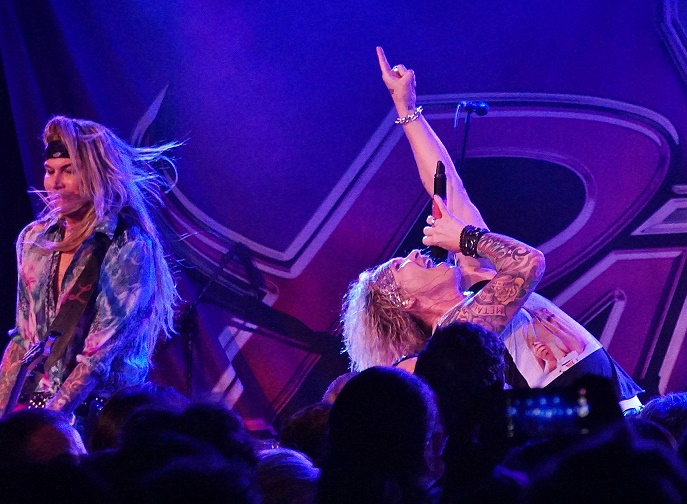 Lexxi Foxx and Michael Starr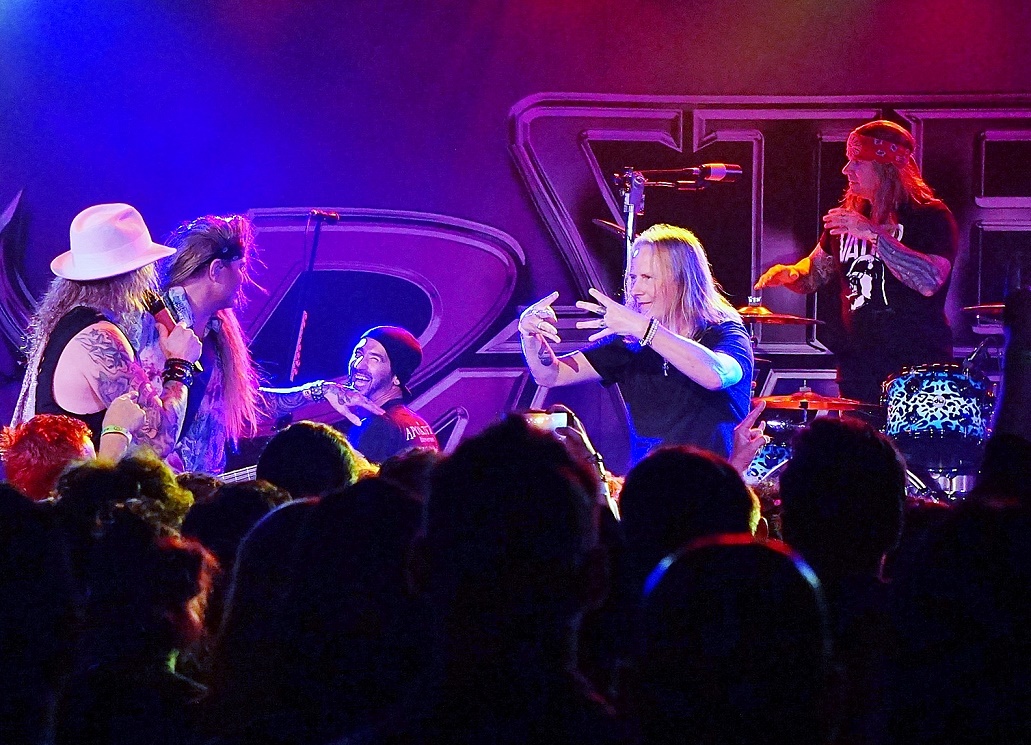 Steel Panther with guests Sully Erna (Godsmack) and Jerry Cantrell (Alice In Chains)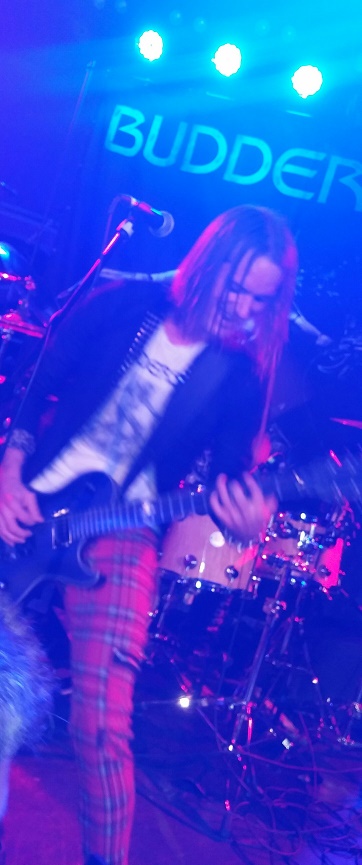 Satchel was laughing and joking and oddling tits — and this was backstage even before the band went on! Once the curtain rose, Satchel was especially in his groove on this night, and his guitar tone sounded beautiful, as always. The other members are bassist Lexxi Foxx (who spends nearly as much time with his mirror as his guitar) and hard-hitting but goofy drummer Stix Zadinia.
Steel Panther also played a series of their fun originals like "Asian Hooker" and "Community Property."
Yup, Steel Panther is celebrating 20 years together, and it's still an ultra-fun night of entertainment.
Meanwhile, compelling new buzz band Budderside nearly stole the night with an opening set of hard-hitting rockers like "Genocide," which had made its world-premiere video right here on Metal Sludge (see HERE).
Singer Patrick Stone (inset), formerly of Adler's Appetite, led the foursome through a 40-minute set that saw Budderside win over the crowd in layers. By the end, the Roxy had filled up nicely, and Budderside was more than holding its own, as drummer Rich Sacco was crashing his drums hard enough to feel the echo on your skin.
"Los Angeles is our home, and we always feel very welcome here," Stone said. "We want world domination, and if you really get into our songs, I think they touch the soul."
Gerry Gittelson can be reached at gerryg123@hotmail.com
Steel Panther Photos By: Nanci Sauder Ruest