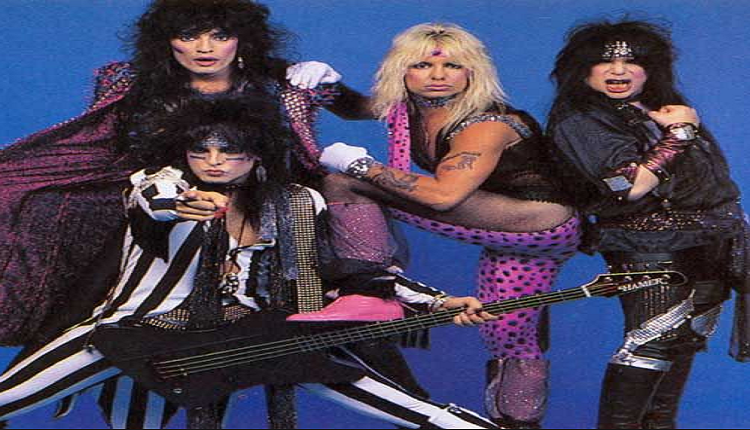 Metal Sludge's Top 19
HAIR METAL SPECTACULAR: The Top 19 Sappiest — and Greatest — Power Ballads of All-Time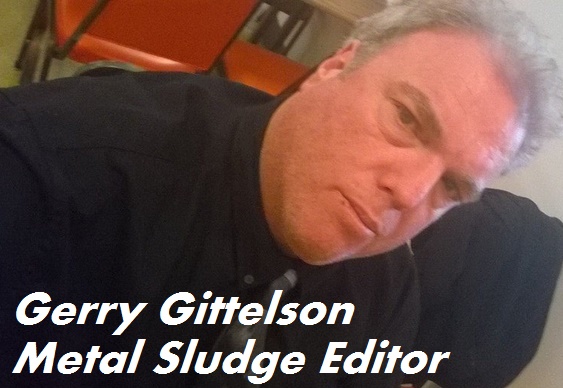 HOLLYWOOD, California — Power ballads make the hair-metal band, not the other way around.
All these iconic groups like Guns N' Roses and Motley Crue from the MTV era spent a lifetime trying to prove they had more teeth in than their music than in their smiles, but often all it took was one slow-building love song with lyrics that rhyme to push a band to stardom.
Power ballads do have power. That's for sure.
Faster Pussycat, for instance, plays pretty darn hard, but it was the pop-tinged power ballad "House of Pain" that earned Taime and his cohorts a gold record and the distinction of being a household name.
So Metal Sludge presents hair-metal's 19 greatest power ballads of all-time. Without further ado, here we go, starting from 19 and working our way up like a well-aimed spray of Aqua Net. 
——————————————————————–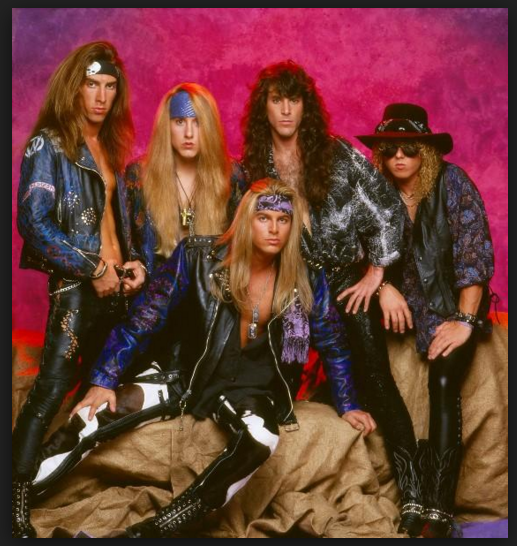 WildSide L-R; Brent Woods (lead guitar), Benny Rhynedance (guitars),
Drew Hanna (vocals), Marc Simon (bass) and Jimmy D (drums) 
#19. "Just Another Night" WildSide
Oh what might have been had the timing and other circumstances been different, but "Just Another Night" was a huge hit single waiting to happen. Still irresistable to this day.
Fun Facts: WildSide recorded their debut "Under The Influence" for Capitol Records at the infanous 5150 Studios owned by Eddie Van Halen. The studio is located on Van Halen's sprawling Coldwater Canyon hillside property.
The sessions were produced by the late and legendary Andy Johns.
The band was also managed by the famed rock photographer Barry Levine who produced many images for KISS and Motley Crue in their hey-day.
Read more about 5150 Studios that helped create WildSide's debut among much of the Van Halen catalog.
————————————————————————
#18. "I'll Never Let You Go," Steelheart
The band never headlined arenas, but boy could Miljenko Matijevic sing, especially on this one. When he hits that high note at the end, it's one of best moments in hair-band history.
Metal Sludge just has to ask; "Can Mili still hit those high notes 25 years later?" We'll let you be the judge of that by watching a live take of his band's biggest hit filmed at "Live" October 2015.
Steelheart @ WebSite – Facebook – Twitter – iTunes
————————————————————————————-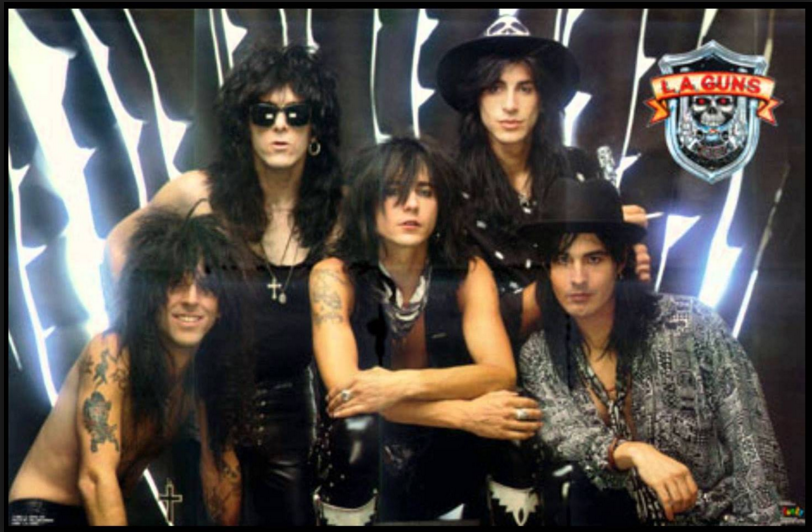 L.A. Guns L-R; Steve Riley (drums), Kelly Nickels (bass), Tracii Guns (lead guitar),
Phil Lewis (vocals), Mick Cripps (guitars)
#17. "The Ballad of Jayne" L.A. Guns
The song that helped push "Cocked & Loaded" to gold status, "Ballad of Jayne" found heavy rotation on MTV thanks to Phil Lewis' chiseled features and Tracii Guns' sizzling guitar work.
Fast Facts: Everyone knows that Tracii Guns is the 'Guns' from the original Guns N' Roses line up. Other interesting facts about L.A. Guns is that Steve Riley previously played in W.A.S.P. and appeared on 3 of their releases. He also recorded with Keel on their debut "The Right To Rock."
Another tidbit, original member Mick Cripps has a twin brother.
L.A. Guns @ WebSite – Twitter – Facebook – iTunes


———————————————————
#16. "I Hate Kissing You Goodbye" Tuff  
Stevie Rachelle has some pull at Metal Sludge, but Tuff earned this one fair and square with its signature Dial MTV hit that found the poofy-haired Los Angeles rockers connecting with a big audience, albeit 99 percent girls.
You said it Gerry, I do have pull. Check out recent podcast interviews with Stevie Rachelle on Izzy Presley's Another FN' Podcast and Earl Skakel's Inappropriate Earl.

Tuff @ Facebook – eBay – Amazon – Store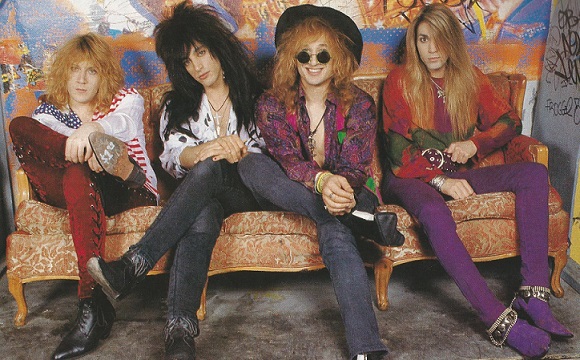 Enuff Z'nuff L-R Donnie Vie (vocals), Derek Frigo (guitars),
Chip Z'nuff (bass) and Vikki Foxx (drums)
#15. "Fly High Michelle" Enuff Z'Nuff  
If you love glam, no one looked cooler than Enuff Z'Nuff, and the video for "Fly High Michelle" is colorful and catchy in a Beatles throwback kind of way. The image was big, but the group had awe-inspiring talent, too, as every member was excellent. A great song that should have propelled the band to superstardom instead of getting stuck at the cult-favorite level.
Enuff Z'Nuff @ WebSite – Facebook – Twitter – Spotify
————————————————————————————
#14. "Carrie" Europe 
Joey Tempest had the look and the voice, and when you throw an infectious song into the mix, voila you have a big hit. "Carrie" was a constant on MTV and helped make "The Final Countdown" a hugely successful LP.
WikiPedia Says: Europe is a Swedish rock band formed in Upplands Väsby, Stockholm in 1979 under the name Force by vocalist Joey Tempest, guitarist John Norum, bassist Peter Olsson and drummer Tony Reno. Since its formation, Europe has released ten studio albums, three live albums, three compilations and nineteen videos.
Fast Facts: Europe rose to international fame in the 1980s with its third album, 1986's The Final Countdown, which sold over three million copies in the United States. Europe sold over 23 million albums worldwide. The band has achieved two top 20 albums on the Billboard 200 chart (The Final Countdown and Out of This World) and two top 10 singles on the Billboard Hot 100 chart ("The Final Countdown" and "Carrie").
Europe has achieved new attention in the US due to being featured in a GEICO Insurance cable television commercial campaign viewed for many months across the US in 2015-16.
——————————————————————————-

#13. "House of Pain" Faster Pussycat 
Taime Downe never got credit for being such an insightful and poetic lyricist, but Faster Pussycat definitely found their moment in the sun with this massive MTV and radio hit.
In April 2014 the band had a huge hit and their biggest in years when current basisst Danny Nordahl face planted off the band's drum riser during a live show. It wasn't intentional that we know of, but will assume it was Danny's intention to drink all night long previous to his news making tumble.
The band's live clip of  "Bathroom Wall" which includes Nordahl infamous fall went viral and the clip currently has north of 100,000 views on youtube.
If you missed this, you really need to check it out – the crazy event was covered by Metal Sludge.
Faster Pussycat @ WebSite – Facebook – Twitter – iTunes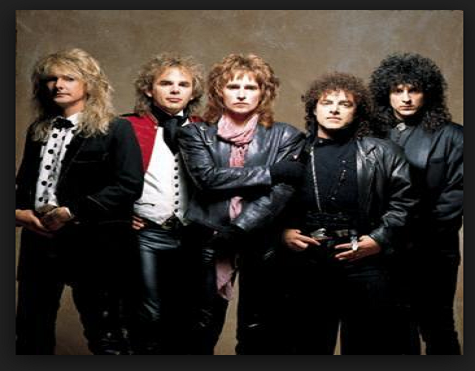 Bad English L-R;   Ricky Phillips (bass), Jonathan Cain (keyboards),
John Waite (vocals), Neal Schon (guitars) and Deen Castronova (drums)
#12. "When I See You Smile" Bad English 
It's a great song that's beautifully crafted and produced, and frontman John Waite delivers magnificently, pushed by Neal Schon's soaring, ultra-melodic guitar solo.
Wikipedia Says: Bad English was an American/British hard rock supergroup formed in 1987, reuniting keyboardist Jonathan Cain from Journey with singer John Waite and bassist Ricky Phillips, his former bandmates in The Babys.
The members decided on a name for the band while playing pool. John Waite missed a shot and Jonathan Cain made a comment on how bad his "english" was (referring to the spin a player puts on the cue ball) and the band decided to use the phrase. The name is also thought to be a reference to The Babys, since the name was misspelled and an example of bad English.
————————————————————————————
#11. "The Flame" Cheap Trick
You thought Cheap Trick could never recapture the soaring popularity of the "Budokan" era, but "The Flame" was the Chicago group's first No. 1 single. Robin Zander comes through with the performance of a lifetime.
Cheap Trick has finally been nominated for the Rock N' Roll Hall of Fame in 2016
Metal Sludge reviewed Cheap Trick live in Los Angeles in the summer of 2015 right HERE.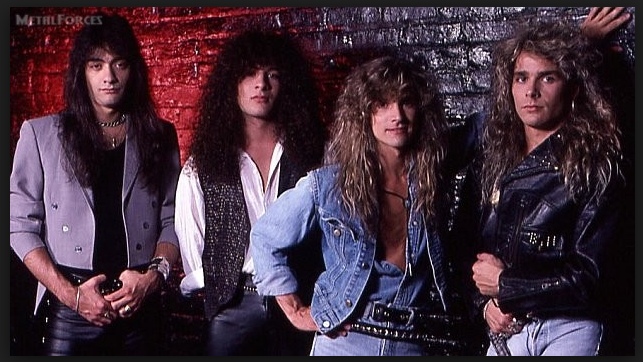 White Lion L-R; Vito Bratta (guitars), Greg D'Angelo (drums),
James LoMenzo (bass) and Mike Tramp (vocals)
#10. "When The Children Cry" White Lion 
With great songs, a super-sexy singer in Mike Tramp and amazing musicianship led by Van Halen-style guitarist Vito Bratta, White Lion was a can't-miss, and "When The Children Cry" proved a radio hit that seemed to echo everywhere you went in those days.
WikiPedia Says: White Lion is a Danish/American rock band that was formed in New York City in 1983 by Danish vocalist Mike Tramp and American guitarist Vito Bratta. Mainly active in the 1980s and early 1990s, releasing their debut album Fight to Survive in 1985. The band achieved success with their No. 8 hit "Wait" and No. 3 hit "When the Children Cry" from their second album, the double platinum selling Pride.
———————————————————————–
#9. "I'll Be There For You" Bon Jovi
This one is more a pure power ballad some of Bon Jovi's bigger hits like "Wanted Dead or Alive," and the chorus was neatly designed for big crowds to sing along with lighters in the air.
Some Fast Facts: Thus far, Bon Jovi has released 13 studio albums, plus two compilations and two live albums. They are one of the world's best-selling bands of all time, having sold more than 130 million records worldwide and performed more than 2,700 concerts in over 50 countries for more than 34 million fans.
WikiPedia Says: Bon Jovi was inducted into the UK Music Hall of Fame in 2006. The band was also honored with the Award of Merit at the American Music Awards in 2004, and as songwriters and collaborators, Jon Bon Jovi and Richie Sambora were inducted into Songwriters Hall of Fame in 2009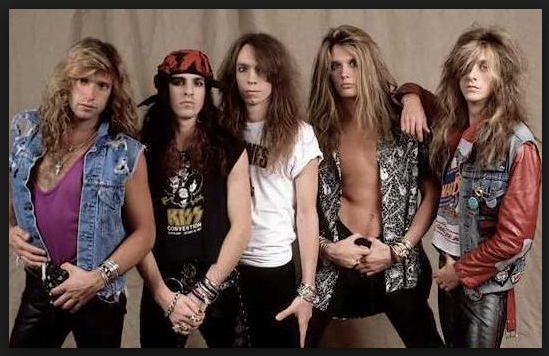 Skid Row L-R; Rob Affuso (drums), Rachel Bolan (bass), Scotti Hill (guitars),
Sebastian Bach (vocals) and Dave "Snake" Sabo (guitars)
#8. "I Remember You" Skid Row
The band made quite an impression right out of the gate, mainly because of young Sebastian Bach's obvious star quality. This one is a great example of Skid Row's unique style and sound that appealed to so many young fans back in the day.
Wikipedia Says: Skid Row is an American heavy metal band, formed in 1986 in Toms River, New Jersey. They were very successful in the late 1980s and early 1990s, with their first two albums certified multi-platinum. During this period, the band consisted of Rachel Bolan (bass), Dave "The Snake" Sabo (guitar), Scotti Hill (guitar), Rob Affuso (drums), and Sebastian Bach (vocals). As of 2015, the band consists of Bolan, Sabo, Hill and Rob Hammersmith (drums). The band has sold 20 million albums worldwide.
#7. "Don't Know What You Got Till Its Gone" Cinderella

A song with a hook that lodges itself on your brain and refuses to leave for days. Philadelphia fivesome Cinderella, led by god-voiced singer Tom Keifer, were masters of the power ballad, and this sparkling gem proved a masterpiece.
Metal Sludge review of Tom Keifer solo show at "Power Plant Live" in Baltimore by contributor Bob Suehs from June 2015 is found HERE.
————————————————————-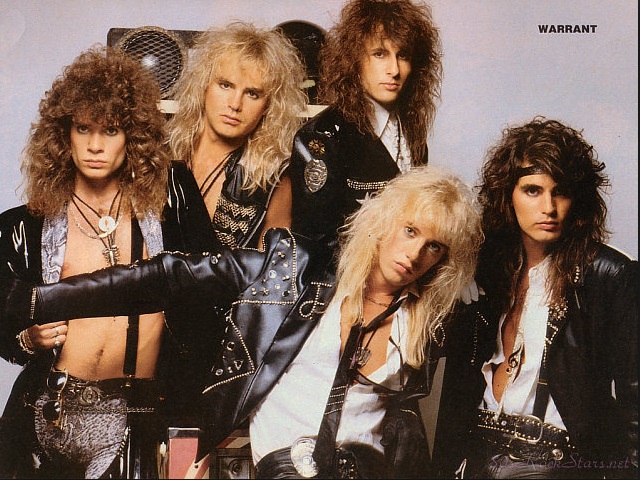 Warrant L-R; Steven "Sticky" Sweet (drums), Joey Allen (lead guitar),
Erik Turner (guitars), Jani Lane (vocals) and Jerry Dixon (bass)
#6. "Heaven" Warrant
The Los Angeles band sort of epitomized the style-over-substance culture of hair metal, but the truth was, Warrant was totally legit, particularly singer Jani Lane, who did all the songwriting with no complaints from his bandmates. The group had teeny-bopper fans yet plenty of respect from their contemporaries.
Metal Sludge interviews bassist Jerry Dixon back in June 2015. The band's longest standing and a founding member talks about the group and their rise to superstardom and the fall-out that followed. Dixon is the only member to play every Warrant show throughout their 30+ year career.
Also, check out Joey Allen talking about his time in and out of Warrant over the years. The band's lead guitarist talks in depth about all things releated when he's a guest on The Double Stop podcast back in March 2015.
————————————————————————–
#5. "Sister Christian" Night Ranger

This song was so big that Night Ranger has been able to live off of it to this day, with help from a few other familair radio hits but nothing compared to this massively successful anthem with the "motoring …" catch phrase.
Wikipedia Says: Night Ranger is an American rock band from San Francisco that gained popularity during the 1980s with a series of albums and singles.
The band's first five albums sold more than 10 million copies worldwide. The quintet is perhaps best known for the power ballad "Sister Christian", which peaked at No. 5 in June 1984.
——————————————————–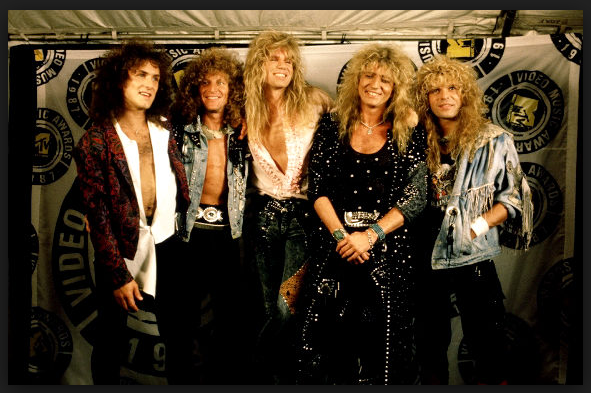 Whitesnake L-R; Vivian Campbell (guitars), Tommy Aldridge (drums), Adrian Vandenberg (guitars), David Coverdale (vocals) and Rudy Sarzo (bass)
#4. "Here I Go Again" Whitesnake 
Everything a great power ballad should be: ear-candy keyboard intro, an over-the-top vocal performance accompained by a huge chorus, plus a hook large enough to catch a shark. "Here I Go Again" is perfect for turning up the radio on a hot summer night.
David Coverdale has a storied career spanning 50 years ago. His first band was Vintage 67 which he played in starting in 1966 at the age of 15.
Before founding Whitesnake in 1978, Coverdale was the lead singer of Deep Purple from late 1973 to March 1976, when he resigned from the band and established his solo career.
In 2016 he will be inducted into the Rock and Roll Hall of Fame as a member of Deep Purple.
————————————————————
#3. "Every Rose Has Its Thorn" Poison
Bret Michaels says he wrote the song after calling girlfriend Tracy Lewis and hearing a male voice in the background; we say the singer, a magnet for young groupies, simply was looking for a way out — but no one will ever know for sure! At any rate, in concert this one always gets the girls' panties wet.
Wikipedia Says: Poison is an American rock band that achieved great commercial success in the mid-1980s to the mid-1990s. Poison has sold over 45 million records worldwide and have sold 15 million records in the United States alone. The band has also charted ten singles to the Top 40 of the Billboard Hot 100, including six Top 10 singles and the Hot 100 number-one, "Every Rose Has Its Thorn".
The band's breakthrough debut album, the multi-platinum Look What the Cat Dragged In, was released in 1986 and they hit their peak with the second album, Open Up and Say… Ahh!, which became the band's most successful album, being certified 5x platinum in the US. The popularity continued into the new decade with their third consecutive multi-platinum selling album, Flesh & Blood.
————————————————————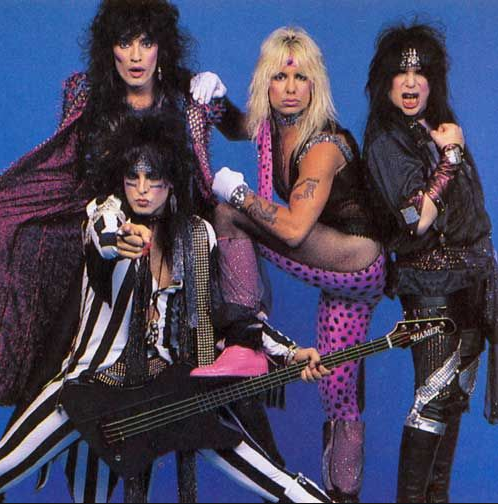 Motley Crue L-R; Tommy Lee (drums), Nikki Sixx (bass),
Vince Neil (vocals), Mick Mars (guitars)
#2. "Home Sweet Home" Motley Crue 
The song that propelled Motley into the statosphere, arriving at the perfect time when MTV was peaking and Vince Neil could still sing his ass off. "Home Sweet Home" was voted No. 1 on MTV's afternoon countdown for so many days and weeks in a row that the producers eventually had to flip-flop the runner-up just to keep the show interesting.
Motley Crue retired on New Years Eve of 2015/16 and opened up the door for a reunion of our #1 band.
—————————————————————————
#1. "November Rain" Guns N Roses

The only one on the list to feature a participant swimming with dolphins, the video cost more than some major films of the day. Nevertheless, the epic, grandiose "November Rain"holds up in own its right with sweeping changes, a killer performance by Axl Rose and an amazing guitar solo by Slash.
Fun Fact: Guns N' Roses "November Rain" has over 500 million views on youtube. This is more than all of the other artists above combined. There is no questioning the massive appeal of this band around the world.
Gerry Gittelson can be reached at gerryg123@hotmail.com