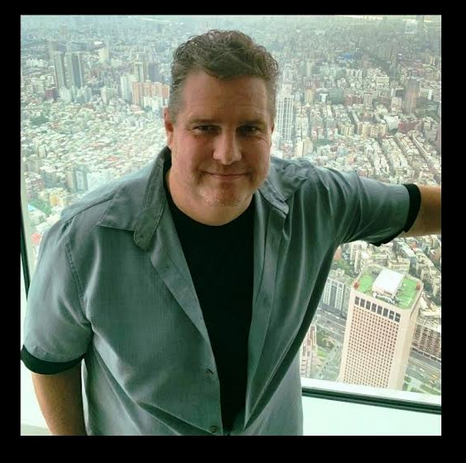 Updated: Monday May 3rd 2:00PM (PST).

Metal Sludge have obtained the 6 page indictment of Frederick J. Stahmer as filed on April 21st 2021 by a District Court of Arizona.

U.S.A. Vs: Frederick J. Stahmer case number 4:21-cr-00793

See all documents below.

————————————
Metal Sludge — Anyone remember the Farm Rock Festivals?

Well if they slipped your mind, maybe our articles from 2016 and 2017 will shed some light and refresh you on the subject.

But before we get to the past, let us update you on the present.

Frederick Stahmer has been indicted by the FBI.

KOLD News 13 reported today (April 29th 2021): "An Oro Valley businessman faces federal fraud charges for an alleged scheme that lost his investors hundreds of thousands of dollars."

"Frederick Stahmer, 54, was indicted on four counts of wire fraud, according to a news release from the FBI. This indictment also includes a forfeiture allegation."

The article continues: "The indictment states Stahmer received thousands of dollars from investors in his Oro Valley music promotion business called Frederick Entertainment, Inc. Stahmer's investors lost over $1 million in his alleged scheme, according to the news release."

A second outlet KGUN-9 based in Tucson Arizona has also published similar news.

USA V: Stahmer case number 4:21-cr-00793 was filed on April 21st 2021 in an Arizona District Court.

The Arraignment is set for May 13th 2021 at 1:30PM before Magistrate Judge Eric J Markovich.

More info related to the suit can be found at Pacer Monitor.

The Farm Rock festivals were operated by promoter Frederick 'Freddy' Stahmer and his company Frederick Entertainment Inc..

Stahmer was promoting lower tier festivals and events that took place in select markets over a 3 year span in cities like Chicago, Atlanta, Nashville, Tucson and Tulsa.

The name Farm Rock or Farmrock was used several times along with Metal May-Hem and Dessert Rocks.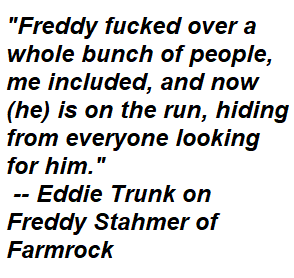 But the Farmrock brand quickly fizzled after allegations of fraud against Stahmer surfaced and an FBI investigation ensued.

We ran our first article FRAUD ROCK … Popular Farm Rock promoter Freddy Stahmer being sued and chased by FBI back in September 2016.
By that time several people had come out via social media and in related interviews alleging they had been defrauded, and down right ripped off by Stahmer.

The popular radio host Eddie Trunk even stepped up to plate and delivered an extensive blog of his own blasting Stahmer to his readers: "Freddy fucked over a whole bunch of people, me included, and now (he) is on the run, hiding from everyone looking for him," Trunk wrote.

In March of 2017 another article hit the wire from KVOA of Tucson Arizona.

Metal Sludge picked up their story with our article ROCK N' SCAM … Concert promoter investigated by FBI, lawsuit filed and multiple investors fleeced.

The KVOA article noted: "Stahmer and his company are under investigation by the FBI and being sued for fraud by five former investors. The lawsuit filed in Pima Co. Superior Court claims they gave Stahmer $275,000 towards the costs of several concerts. In return, Stahmer was supposed to pay back their investments plus dividends, often 10%. The suit claims, among other things, that when Stahmer sent investors a check for $100,000, it bounced. Besides the lawsuit, there are other alleged victims."

Well now it's 2021 and it seems Stahmer has been back in business but doing so under a different company name.

Global Unity Tours is the name of the company and it appears they have a Website, Facebook, Twitter, Instagram, Linktree and also have a European/U.K. Facebook page and an Asia/Aussie Facebook page.

It also appears that Stahmer has been using a different social media identity (name) as well, he now goes by Frederick John. (see screen captures below)

According to Stahmer's new Facebook page, his title lists: "Entertainment Consultant, Concert-Tour Development/Management, Global Unity Tours"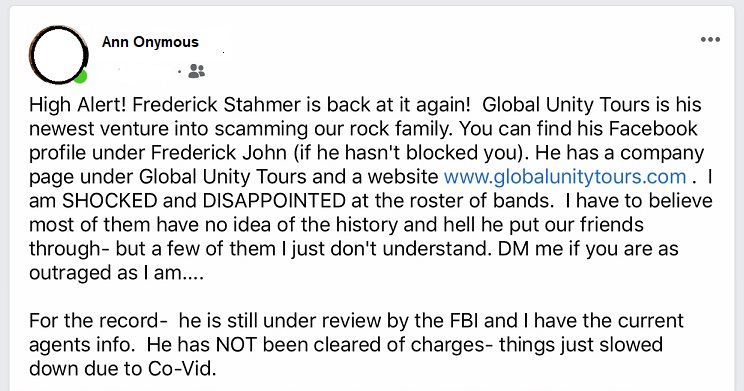 A former investor from Farmrock who wishes to remain anonymous recently went on a Facebook rant sending readers a clear message.

The former friend and investor of Stahmer's wrote: "High Alert! Frederick Stahmer is back at it again! Global Unity Tours is his newest venture into scamming our rock family. You can find his Facebook profile under Frederick John (if he hasn't blocked you)."

At a glance it appears Global Unity Tours has many acts who appear to be from other countries, however there are some U.S. based bands.

Brandon Gibbs is not only listed as a featured act, but has had content and promotions on several of the Global Unity Tours platforms in recent weeks and months promoting his latest single "Lost Boys."

Gibbs appeared previously at Stahmer related events like Farmrock and when he sang for The Special Guests (Poison without Bret Michaels).

Other U.S. based artists include Michael Grant and the Assassins along with Atlanta local band Kickin' Valentina.

Pollstar ran an article in March 2017 that includes the following statement from the FBI: "The feds stated March 7, "In the past five years, Stahmer promoted and produced at least 23 concerts in various locations, including Tucson, Chicago, Tulsa, Nashville and Las Vegas. "It has been alleged that a number of individuals and vendors advanced monies or supplied goods and services in connection with these shows and were not repaid."

Also included in the Pollstar article is contact information for the FBI: "Anyone with complaints about dealings with Stahmer are encouraged to call the dedicated FBI line at 520-594-2800."

Metal Sludge reached out to Stahmer in the past but he's never replied.

Since becoming aware of his new profile, we tried to locate him via our related Facebook accounts, but oddly we are blocked on all to send a message.

We have sent messages to other Global Unity Tours platforms, and hope to hear back from Freddy.

As of this publishing we have yet to hear back from Freddy, but it's clear he's likely going to be busy with the FBI for now anyway.

Metal Sludge will keep you posted as more develops.