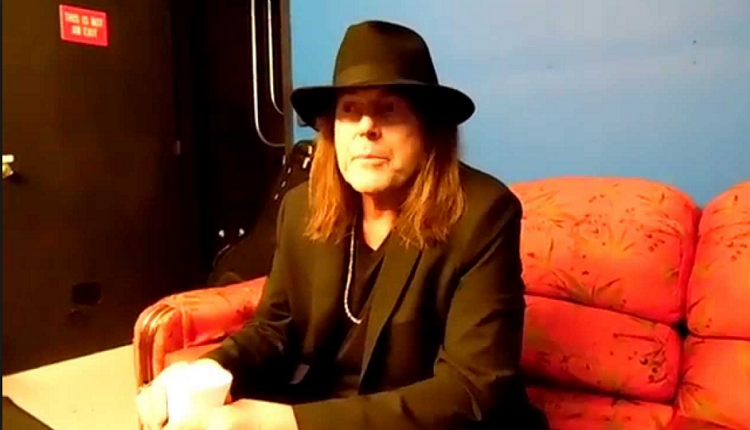 INTO THE LIAR!
Don Dokken; "Bobby Blotzer made up this bulls??t story that I slept with his wife"
Sweden — In a recent interview with Swedish rock site Rocksverige Don Dokken accuses Bobby Blotzer of making up a story in his book that the Dokken singer slept with the Ratt drummers wife.
Blotzer released "Tales From A Ratt: Things You Shouldn't Know" in April 2010.
Dokken replied with the following: "I never slept with your wife. I´d like to sleep with your wife. But the truth is Bobby, she wasn´t your wife anymore, so if I wanted to sleep with her, I would´ve. You don´t own her."
Blozter is currently booking shows with his lineup of the band Ratt in which he is the only original member. The Ratt camp has been at odds with each for years but it recently got legal when guitarist Warren DeMartini tried to stop Blotzer from going forward as Ratt with his 'role players'.
DeMartini and his legal team refer to Blotzer's band members as "imposters" but that hasn't stopped the drummer from playing live. Blotzer has seemingly won the first 2 court battles against his equal partner in WBS Inc.
Stay tuned for more from Ratt and Dokken, in the meantime, check out part of the recent Don Dokken interview with Rockverige below.
————————————————————————-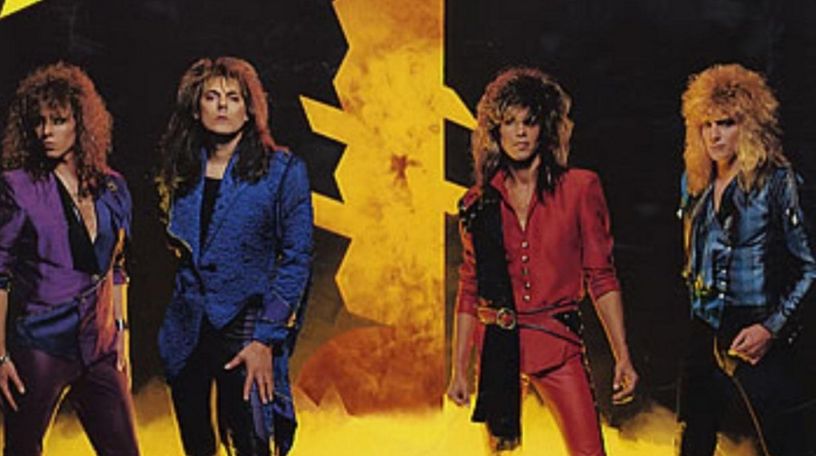 What got you into music in the first place? What was it that made you wanna be in the music business?
Don Dokken: I never really wanted to be in the music business. I did it because I started playing guitar. My mom bought me a guitar and I just started noodling like every little kid at 12 years old. In 8th grade I had a little band and I played "Louie Louie" and stuff like that. I was a little kid, but there wasn´t anything like "Oh, I´m gonna play guitar and get a band and be famous!" Never thought of that. Even in my 20´s I didn´t think about it. I liked playing the scene and playing the Whisky A Go Go and the Starwood, but I didn´t think it was gonna be a living. I thought we´d do it for fun, get the girls…
About your home, I saw a video you posted about your garden?
Don Dokken: It´s big. It´s in a place nobody knows about really. It´s between Santa Monica and the Palisades on the ocean and it´s called Rustic Canyon. It´s two blocks off Sunset Boulevard. It looks like you´re in the mountains. I have a couple of other homes in Beverly Hills, but yes, it´s a big home. It´s two acres and the river runs through the properties and I´m building a pond right now. It´s a fucking lot of work! There´s a lot of trees and they´re over a 100 years old. All the water in the Santa Monica mountains comes down into LA and the river comes out in this one spot and it´s only like one quarter mile and that´s where these homes are. It´s very expensive to live there and nobody knows about it. There´s only one road in and one road out. I can walk in my river down to the beach. It´s a nice garden and I work out there every day. We have a gardener who comes twice a week, but Elisabeth and I just go out there every day. It doesn´t take care of itself. It´s big and if you have 6 million bucks, you can have a garden like that. It´s expensive and that´s why I don´t show the house. If I show you the house, you´ll think I´m bragging. It´s a big house.
Do you ever get nostalgic about the good old days, the 80´s when you still sold records?
Don Dokken: Yeah, I mean, I don´t know what´s going on now? The Jay Z´s that are billionaires with their own cologne and their own vodka and you have these stupid girls with big fat asses, the
Kardashians. Why are they famous? They´re famous for being famous. What do the Kardashians do?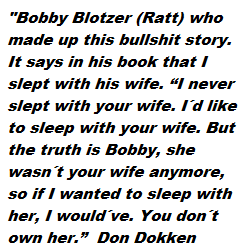 Nothing. They sleep with basketball players and they make babies and they argue on TV. It´s really stupid and embarrassing. It´s changed. Back in the day it was real movies and you watched MTV and it was great. When MTV came along it was amazing. There was no commercials, no Kardashians, no reality
TV. It was just music. That helped the band a lot. We probably got lucky that we came out when MTV came out, to launch us in. Now there´s no radio. It´s owned by Clear Channel in America and they only play what some girl in New York says. The only time you can hear Dokken, is on Sirius or satellite radio on Hair Nation. I said I wasn´t gonna make another record and then Jon said "Why not?". It´s because we like to do it. It isn´t about the record sales, because I think that everybody who knows me personally, knows that I don´t need the money. It´s not about money. I feel bad for other bands from the 80´s. They made a lot of money, millions, and they have nothing. I can´t say who because it´s not my place to talk badly about anybody. They have nothing. There was the partying, the strippers, the wives. Alice Cooper says "They complain about how they marry a stripper and she took all the money. She´s a stripper. You should´ve known that when you married her. Thay´re not exactly doctors or lawyers, they´re strippers, so don´t complain if she takes your Ferrari." But it´s nice to be able to play music because you want to. Two weeks ago I played in Quebec with Slipknot. Dokken and Slipknot, hhmmm? Kinda strange, but the guys in Slipknot were watching us.
Everybody´s writing books these days. Have you ever thought about doing that?
Don Dokken: Yeah, I have a standing offer and two companies have offered me quite a bit of money to write my autobiography. The problem is, that if I write my autobiography, people wanna hear the dirt and I don´t wanna write about that. Why? It doesn´t serve me to say… We´re one of the oldest bands, we came from Sunset Strip, I played with Van Halen in ´77 and I know a lot about a lot of bands and I´ve seen a lot of things, but why talk badly about it. Like Bobby Blotzer (Ratt) who made up this bullshit story. It says in his book that I slept with his wife. "I never slept with your wife. I´d like to sleep with your wife. But the truth is Bobby, she wasn´t your wife anymore, so if I wanted to sleep with her, I would´ve. You don´t own her." I don´t see the point. Mötley Crüe did very well with "The Dirt" and they talk about heroin overdoses and such, but I don´t have those stories. I never did drugs. I could write about a lot of things I´ve seen. Memories from the Bon Jovis and the Whitesnakes and the Def Leppards and all that. That´s why I haven´t done it yet. I´m gonna write a book, but it´s not gonna be full of shit. I don´t see the point in talking badly about people in a book.
Fun Fact From Wikipedia: Don Dokken's first band formed in 1976, named Airborn. He played club shows in the Los Angeles area, including the Starwood Club on Sunset Strip. Airborn included with Bobby Blotzer on drums and Juan Croucier on bass, but Blotzer and Croucier left the band in 1978 to form FireFoxx.
Read the full interview By NICLAS MÜLLER-HANSEN found at Rocksverige