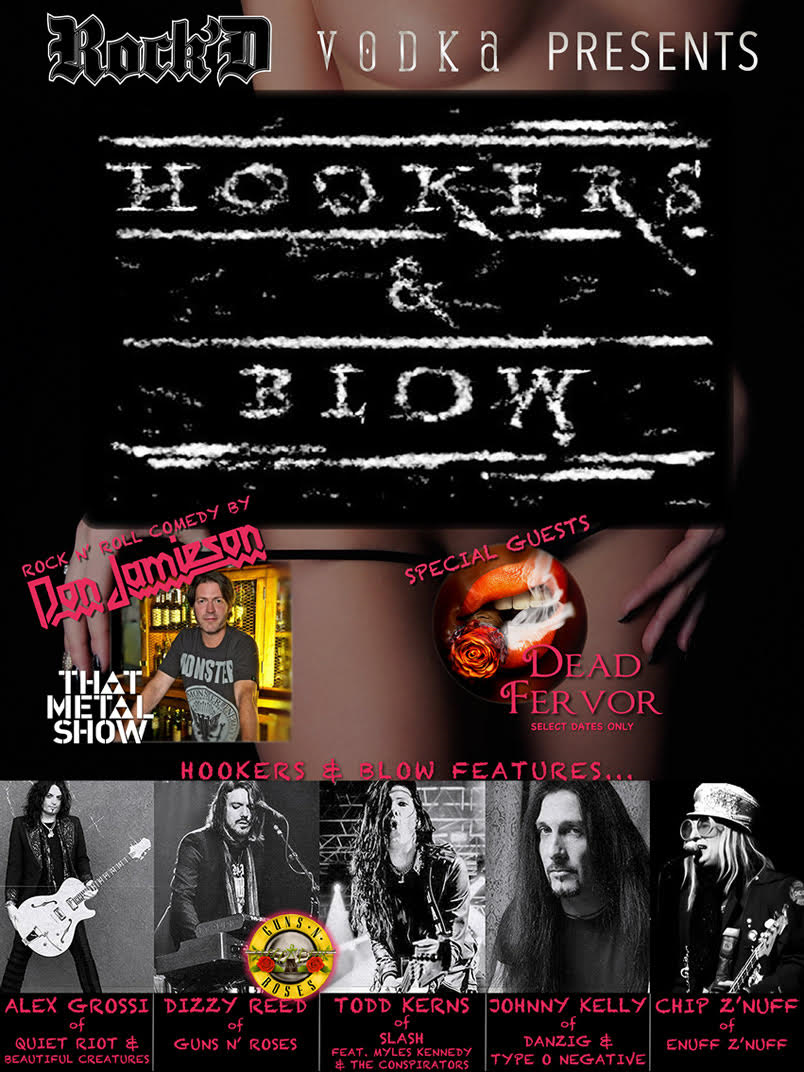 MORE BLOW PLEASE
HOOKERS & BLOW to Unveil Signature VODKA in 2018, Announce New Line Up
LOS ANGELES, California — HOOKERS & BLOW, the band led by GUNS N' ROSES keyboardist Dizzy Reed and QUIET RIOT guitarist Alex Grossi have announced an exclusive partnership with ROCK'D VODKA for a winter tour.
Fans can expect a January release for the spirit to coincide with the band's upcoming winter tour, which kicks off on December 27th in Hermosa Beach, CA.
"When we were approached by ROCK'D, it just made perfect sense" says guitarist Alex Grossi. "It obviously fits well with what we do, and the quality is truly top notch, we are really looking forward to getting out on tour to promote it, we are also very excited to have Sick Boy Motorcycles onboard, they have been longtime supporters and great friends.
ROCK'D VODKA is produced by HDC (Heritage Distilling Company), who has for the past four years been North America's most awarded craft distillery.
Hookers & Blow also recently welcomed bassist/vocalist Todd Kerns of SLASH Feat. MYLES KENNEDY AND THE CONSPIRATORS & AGE OF ELECTRIC to the fold for the upcoming December dates, as well as ENUFF Z' NUFF Bassist and founding member CHIP Z' NUFF to round out the 2018 the line-up with drummer Johnny Kelly (TYPE O NEGATIVE, DANZIG). Comedian DON JAMIESON of VH1's "THAT METAL SHOW" will also be on hand with his one and only brand of Rock N' Roll Comedy as well.

More info and pre-sale links will be available at the following locations:
http://rockdvodka.com/
https://www.facebook.com/HNBMerch/
HOOKERS & BLOW – 2017-2018 TOUR DATES:
12/27 – St Rocke – Hermosa Beach, CA
12/28 – Count's Vamp'd – Las
12/29 – Blk Live – Scottsdale, AZ
12/30 – Whisky A Go Go – Hollywood, CA
12/31 – Holy Diver – Sacramento, CA
1/11 – Liquid Joe's – Salt Lake City, UT (with Don Jamieson)
1/12 – Diamondz – Jerome, ID (with Don Jamieson)
1/13 – Pink Garter Theater – Jackson, WY (with Don Jamieson)
1/14 –  Private Event (with Don Jamieson)
1/15 – Herman's Hideaway – Denver, CO (with Don Jamieson)
1/16 – The Scene – Kansas City, MO (with Don Jamieson)
1/17 – The Oaks Theater – Pittsburgh, PA (with Don Jamieson)
1/18 – River Rock – Derby, CT (with Don Jamieson)
1/19 – Cannery Music Hall – Southbridge, MA (with Don Jamieson)
1/20 – The Vault – New Bedford, MA (with Don Jamieson)
1/21 – Blacktorne 51 – Elmhurst, NY
1/22 – BAR XIII – Wilmington, DE (with Don Jamieson)
1/23 – TBA- Columbus, OH (with Don Jamieson)
1/24 – Musica Theater – Akron, OH (with Don Jamieson)
1/25 – Route 20 Music Hall – Racine, WI (with Don Jamieson)
1/26 – The Back Bar – Janesville , WI (with Don Jamieson)
1/27 – Sundance Saloon – Mundelien, IL (with Don Jamieson)
1/28 – The Looney Bin – Bradley, IL (with Don Jamieson)