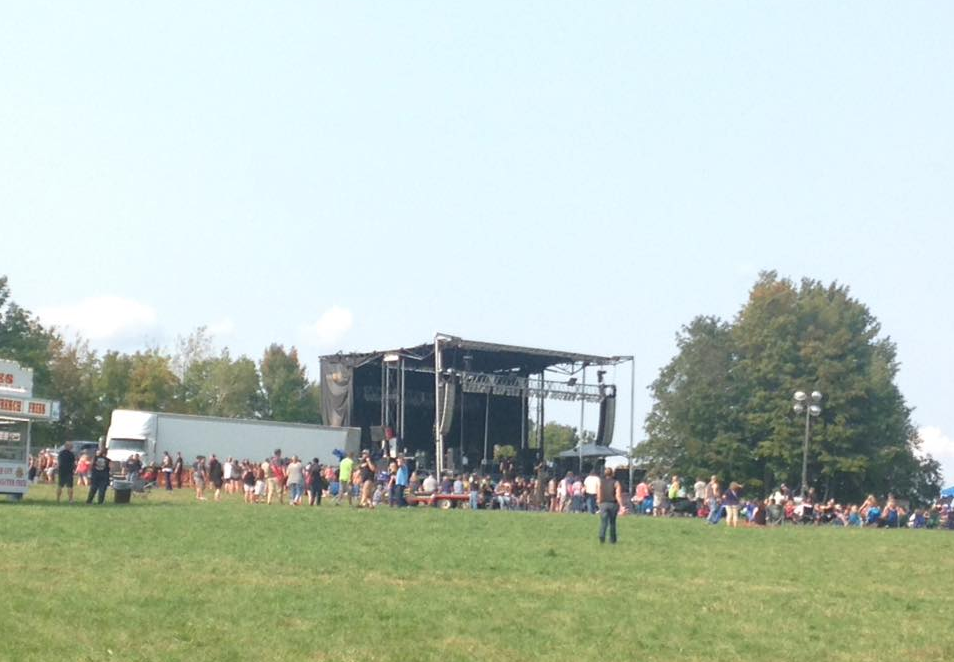 NO PAY = NO PLAY
Shrinedom concert ends early as Vince Neil, Warrant, Lita Ford, Slaughter and FireHouse all walk for nonpayment
IRASBURG, Vermont — Where the hell is Irasburg Vermont?
It's anyone's guess but one thing is clear, not nearly enough people know, knew or cared to look it up this past weekend.
The Saturday event poster for "Shrinedom" was impressive (kind of) but the attendance was depressive for sure.
A edge of town pasture was only slightly filled with hair extension queens from yeteryear in overly filled mini-skirts as they all stood patiently waiting for the music to play.
All the while a few hundred sober mullet men looked on as the stage and amps were slowly dismantled like the 80's era was by grunge in the 90's.
Cutting to the chase, the show was over before anyone could get drunk enough to endure Vince Neil's every-third-word lyric delivery.
Errr…wait….that wasn't even possible, but more on that in a minute.
The bands themselves have spoken out that they were not paid (in full), nor was the sound (production) company, so they all walked.
On the other hand, a statement from the promoter on the event's official Facebook page reads in part: "Due to unforseen circumstances the event was shut down, generators went out and it was well documented the issues with them. Please do not follow gossip and assumptions."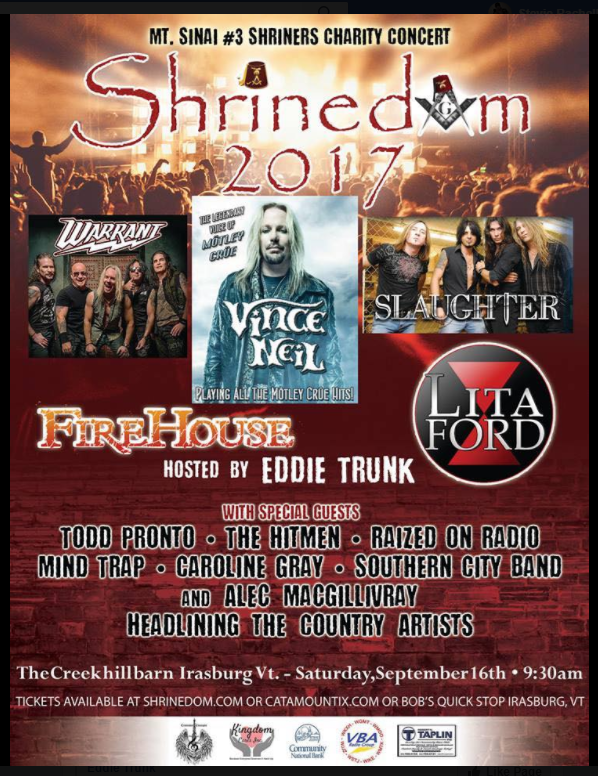 When a statement notes gossip or rumor, it's usually safe to assume the gossip and rumor have more worth than the person typing said statement.
"Shrinedom" advertised Vince Neil the voice of Motley Crue, Warrant, Slaughter, Lita Ford, FireHouse and a slew of local bands.
The September 16th show was also hosted by Eddie Trunk of That Metal Show.
But for the sparse crowd that attended, they watched local bands Mind Trap and Raized On Radio instead of the 5 advertised platinum plus selling 80's icons.
Then just like a bad dream, the P.A. was turned off, and equipment was being broke down and loaded into road cases.
Show over.
Metal Sludge has communicated with an industry source close to multiple acts who were scheduled to appear.
The scoop from our source is as follows: "The bands were not paid in full, nor was the production company. The generator story is 100% bullsh?t." 
"The whole thing just screamed amateur hour" said a roadie who worked behind the scenes.
We're gonna go out on a limb here and say that holding an event of this magnitude in Irasburg Vermont was the first dumb idea.
Here are some more of the (dumb) details.
A promoter named Marc Clay, as noted in an article on Seven Days Vermont was the man behind this clusterfizzle.
"Marc Clay, is a veteran concert promoter. And judging by his company's insignia — a treble clef wrapped around a winged sword like a serpent — he's all about the capital-R Rock. He recently relocated to Vermont after spending many years in southern states such as Georgia and Tennessee. He is also a Shriner." — Seven Days Vermont
More like capital-J, as in Joke.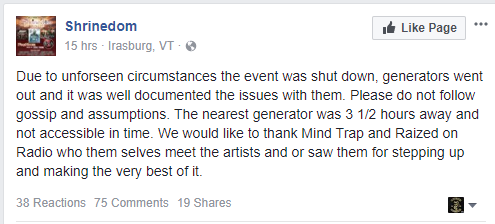 The doors were also advertised to open at 7:00am with the first band set to take the stage at 9:00AM.
Huh?
Yes, you read that right, the gates were set to let people in at 0700 hours.
Stop for a second and think. How old are you? How many concerts have you been to in your life and how many of these kicked off at 9:00AM?
More from the article notes there would be NO alcohol at the event.
No alcohol at an 80's concert? That's like opening a strip club and saying NO bare tits allowed.
Clay who seems to be a genius for sure, even offered this advice in his mini-interview with the Vermont based webpage, Clay boasts to fans attending: "Here's how it works: You're parking outside. Your vehicle is your private property. If you wanna drink in your car, we don't care." 
The host (Eddie Trunk) made a statement and he seems to paint a picture that has the radio personality admitting he felt it was going to be a bust from the start.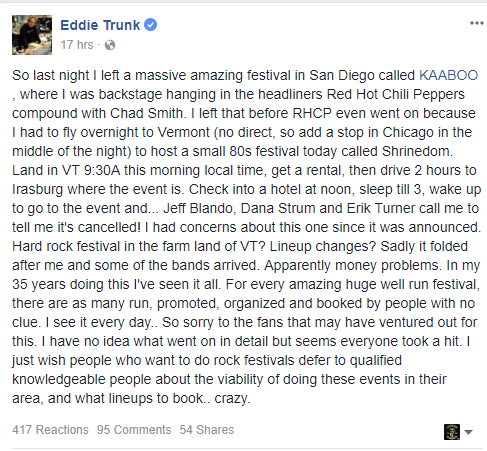 Trunk writes; "I had concerns about this one since it was announced." 
For the record, at last census in the year 2000, the Irasburg population was a whopping 1,077 people.
In a nutshell they needed roughly 4x the town's entire population to attend the concert to make this work.
One fan blogged online back on September 5th writing: "I'd like to go on record as saying SHRINEDOM 2017 isn't going to happen." 
Of course these are some general estimates, but it's also pretty clear that this whole idea was not well thought out and appeared to be another fanboy's pipe-dream.
This same scenario has played out multiple times in recent years, and oddly it's the same bands who are always booked.
Anyone remember "Rockesha" from 2014?
The Sheppard Express wrote a review titled "Rockesha Was Truly Wisconsin's Worst Music Festival".
Similar to what happened at "Shrinedom" fans were already positioned in front of the stage when the "Rockesha" event was cancelled.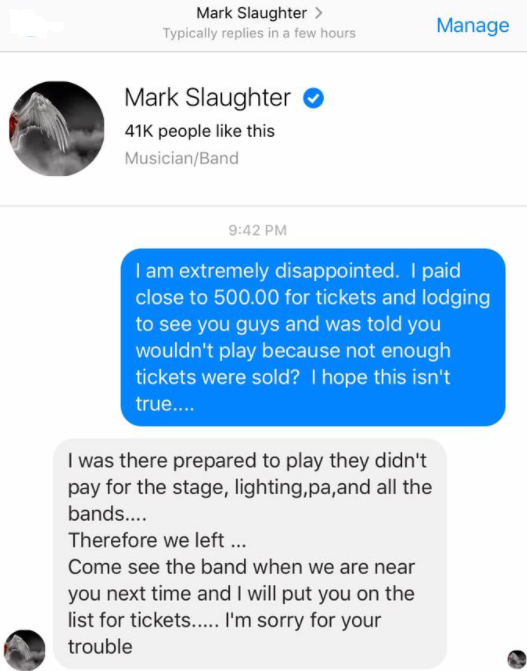 How about "Rock Harvest" held in Baltimore (2013), or more recently with "Farm Rock" in 2016.
Two weeks ago was "Hair Metal Hull" in the U.K. which did happen but not before the promoter admitted to losing $ 66,000.00 of his own money. Even with that, there were a few no-shows and last minute cancellations from some artists at the 3-day U.K. festival.
Sadly for the fans there are hairband events car crashing in slow motion as this article is being typed.
Who can't help but think about "Rock N' Skull" which was first advertised late 2016 and to date there have been over 30 changes in the lineup.
Unfortunately there are a percentage of these die-hard fans who cannot see past their pay pal BUY NOW button. They see the logos, the amazing (dream) lineup which seems just too good to be true.
How long before a promoter advertises Jani Lane, Kevin DuBrow and Robbin "King" Crosby appearing in hologram form.
We're not being morbid or direspectful folks, it's already happening with Ronnie James Dio and Tupac.
Getting back to "Shrinedom", the fans are livid and demanding refunds.
We have added numerous online rants from fans who attended and are not too happy about what they got in exchange for their hard earned money.
An exchange with a fan and Mark Slaughter was shared online, the singer wrote; "…they didn't pay…" and details his perspective of what went down.
It's also a crazy sign when the promoter is posting stuff like: "If you want to be Vendor you need to contact us, slots are filling up fast."
Or when they're asking who you want to see at next year's 2018 show when this year is already showing signs of failure.
We've also added a list of posts from the promoters from the last several weeks leading up to the event.
In looking back some of these are very telling, especially considering how things turned out.
We reached out to the Shrinedom facebook page but have yet to hear back from them.
May the power of Sludge compel you.