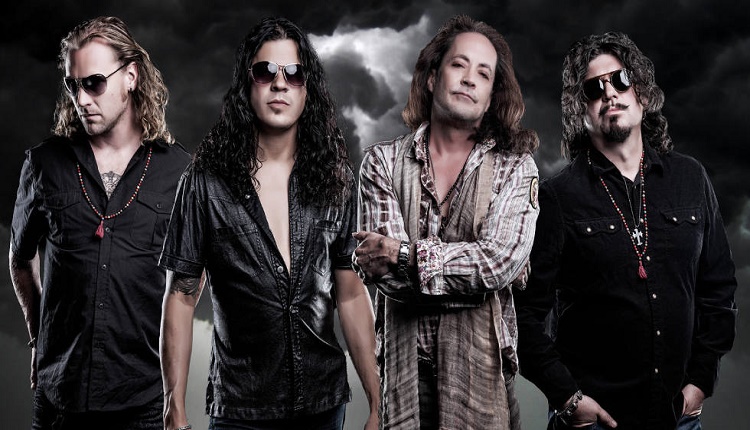 RED DRAGON CARTEL representative confirms return of DARREN JAMES SMITH
Reunited And It Feels So Good — Well it's already been 4 months and 12 days so why not do a reunion. Afterall, it's clear and evident the fans are clamoring for this.
What are we talking about? The Red Dragon Cartel reunion of course.
The band featuring 80's hair-metal guitar god Jake E Lee (Ex Ozzy Osbourne Band / Badlands) has come full circle to return to their roots.
The roots of spring 2015 that is.

After a much publicized summer of sillyness it seems the band is back to where they started – with Darren James Smith as vocalist.
Smith left the band on March 18th 2015 and it appears he's coming back to the band says their day-to-day manager from Six Lane Entertainment.
Metal Sludge reported this (rumor) was happening on July 31st in our article right HERE.
For anyone who clicked on one of a dozen or so metal and rock news websites in recent months you couldn't help but notice the every-other-week headline reading "Red Dragon Cartel adds >insert name here< as singer."
The band themselves at time seemed to laugh along with those who laughed at them says a insider close to the Cartel camp.
One insider said;  "They're doing auditions (referring to the potpourri of singers) on the road. What better way then trial by fire. Throw them out there and see how they do."
The band also includes their 3rd bassist (to date) in former Lynch Mob'er Anthony Esposito. Aside from Lee himself, the band's original drummer Jonas Fairley is still on the throne.
Now it seems that after several months of playing tour kareoke it has been confirmed by a band representative that the group's original voice, is in fact returning.
Metal Sludge reached out and asked directly, "Wow, full circle huh?" and the return message was "Yes. Darren (James Smith) is coming back."
The problems with Smith started months before his official departure in March when the band was asking Oni Logan to front them at some shows surrounding the annual NAMM convention.
At the time it was rumored and eventually confimed that Smith (a Canadian resident) had not received his official papers (travel VISA for the USA) in time to make the shows.
Metal Sludge reported on this HERE on January 20th 2015 and the band who was turned down by Logan, was forced to cancel several shows.
Smith himself has been bombarded with questions about our report that he was coming back. Over the weekend on August 2nd, he confirmed with fans on his official Facebook it was in fact true. (see screen capture below)

We must say, Smith played this just perfect. He avoided the dreaded van drives from New Jersey down to Georgia up through Tennessee and into Arkansas durng the searing summer heat.
Multiple reports from the road had the "guess who are singer is tonight tour" playing off-nights to less than stellar crowds anyway, so Smith comes back in time for a few select gigs for sure.
Smith has returned just in time to do a handful of California warm-up dates which includes the Labor Day Backyard Bash at the "Rainbow Bar & Grill" on Sunset Strip in Hollywood and then the group will jet off to play Japan.
One insider close to the camp told us that Jake wants to take the rest of the year off after Japan and make a new album anyway.
Not much else to report other than like we predicted last week, Darren James Smith has returned to Red Dragon Cartel.