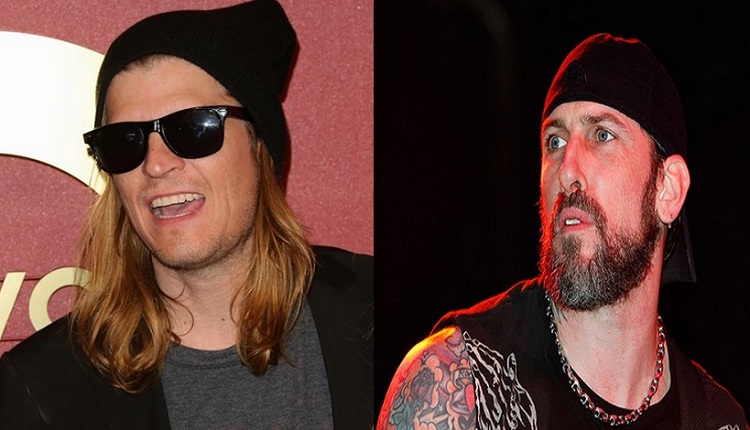 Dick News — SEVENDUST guitarist JOHN CONNOLLY posted a comment on his official Facebook page over the weekend in response to PUDDLE OF MUDD having to cancel a show.
The word is that WES SCANTLIN had missed his flight (Metal Sludge story HERE) and thus forcing "The Machine Shop" in Flint Michigan to cancel the Friday night show with PUDDLE OF MUDD.
CONNOLLY says: "Cmon……really? Dude wouldn't get on a bus with me to go meet cancer patients…..????"
The guitarist added; "Kind dick head……Kurt would had the decency to show up. Btw…..Wes is a dick"
See screen capture below.
SCANTLIN has had several run ins with the law in recent years. A list of events involving the law and arrests just since 2007 from wikipedia are noted below.
———————————————–
Late in 2007, Scantlin got himself into trouble when he was banned from Graceland for swimming in an off limits pool while touring the facilities.
In 2012, Scantlin found himself in trouble again when he failed to pay nearly $45,000 in federal taxes in 2009, on top of a $17,000 tab for state taxes.
On September 4, 2012, Scantlin was arrested while traveling on a cross country flight from Boston to Los Angeles because he was intoxicated. The airplane had to make an emergency landing in Austin, Texas. He was charged with public intoxication.
In May 2013, Scantlin was arrested on domestic violence charges after he apparently dragged his ex-wife and then pulled her by the arm or the shirt.
On April 16, 2014, Scantlin had an on-stage meltdown during a show at Trees Dallas, in which he threw a microphone and beer into the audience, as well as appearing to threaten and attempt to physically attack members of the audience. He also received criticism as he appeared to be lip-syncing during the performance.
On January 16, 2015, Scantlin was arrested at Denver International Airport for riding on the baggage carousel and ending up in the restricted area.
During a live performance on April 2, 2015, Scantlin had a meltdown, smashing his guitar, headphones and part of the drummer's kit.
On April 15, 2015, Scantlin was charged for disorderly conduct at the Mitchell International Airport in Milwaukee, Wisconsin.
On June 19, 2015, Scantlin did not board a flight to Michigan, resulting in the cancellation of Puddle of Mudd's show at The Machine Shop. Tickets were refunded by the venue and the concertgoers got to see the rest of the bands for free.