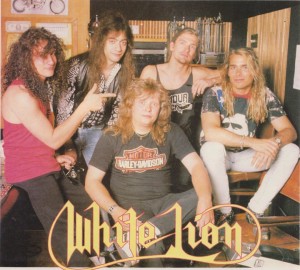 Metal Sludge — That's right, we're back with an oldie but a goodie from the year 2003.

Not only does the history of Metal Sludge include hundreds of Rock Star interviews, but we've got those who make Rock Stars sound great.

With no further babble, we'll give you our 20 Questions interview with Producer Extraordinaire Michael Wagener.

This is the exact interview we ran with Michael from May 13th 2003, enjoy.

———————————————————————————-
20 Questions with Michael Wagener, May 13th 2003
Even though we've been doing this for almost 5 years, we've never done 20 Questions with a producer. Well finally we've tracked one down that'll talk to us and that brave man is Michael Wagener. Michael has produced such CDs as the first two Skid Row albums, most of the Dokken albums from the 80s, stuff for White Lion, Saigon Kick, Warrant, Great White, Extreme, Sebastian Bach, and even mixed Metallica's "Master Of Puppets," Poison's "Look What The Cat Dragged In," Ozzy Osbourne's "No More Tears," and Motley Crue's "Too Fast For Love." He was also the guitarist in Accept at one time, so Michael has plent of stories to share. Enjoy!
1. What are you currently up to? This is your only chance to promote your shit!

Michael Wagener: I have my own studio now, called WireWorld, just outside of Nashville. Just finished an album with the metal band LeRoi from Upstate NY. It's the first album I recorded in 5.1 surround sound from the ground up and it will be released on SACD in June of 2003.
2. You used to be the original guitarist in Accept. What made you decide to leave the band and pursue a career as a producer? Did you not fit in with the rest of the band, or were you just very good at telling people what to do?

MW: That decision wasn't up to me. In Germany you get drafted to the Army when you turn 18. They placed me 350 miles away from home, which makes band practice a pain in the ass. Besides that, I was never a good enough guitar player to begin with and on this side of the studio window I get to make 5 records a year not one every two years.
3. What band or artist have you not yet recorded but would very much like to work with?

MW: AC/DC
4. What hard rock/heavy metal band should give it up and call it a day?

MW: Every band where the singer has to be rolled out on stage in a wheelchair. Everybody else should keep trying, because, by Angus, we need some great music.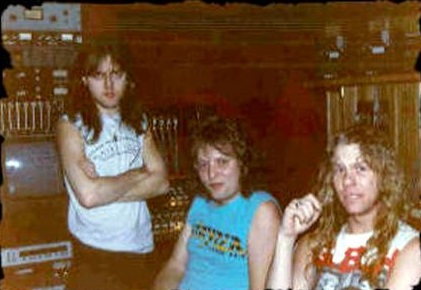 5. Rate the following producers on a scale of 1 to 10. 1 being somebody who is deaf and 10 being a Producer Extraordinaire!

Tom Werman = 8
Bob Rock = 10
Andy Johns = 9
Bruce Fairbairn = 10
Mutt Lange = 1000
Ted Templemen = 10
Beau Hill = 8
Eddie Kramer = 8
Brendan O'Brien = 10
Roy Thomas Baker = 12
6. You mixed "Master Of Puppets" which is one of the best metal albums of all time. What do you remember about mixing that record and how come you never worked with Metallica again?

MW: Those guys definitely know what they want to hear on their albums, it was a very intense experience in a good way. After the success of "Master…" I got extremely busy and they teamed up with Bob, which works great for them, so why change it.
7. Of all the singers you've worked with, what singer needs the most work with in the studio and what singer is the most natural.

MW: The most work was needed on some singers from bands that never saw the light of day after the record was done. The most natural was Joe Lynn Turner, what pipes.
8. Do you think bands should produce their own CDs or is it just their ego getting in the way?

MW: No, I think musicians should concentrate on "performing" their music rather than worrying about the fricking snare sound.
9. You produced Warrant's "Dog Eat Dog." In the song "The Bitter Pill" there was some German chanting going on. Was that really necessary?

MW: Jani thought so.
10. What do you remember most about working with the following artists:

Poison = rarely saw them at the studio, but when they were there it was always a party.
Warrant = The project with the highest groupie to musician ratio.
Alice Cooper = Very funny. Alice used to watch three "C" class horror movies every night at the studio. Very scary if you ever had Alice Cooper cut your birthday cake.
Dokken = Every possible human emotion, we worked a lot together. Don brought me to America and I thank him for that.
Motley Crue = Wildest bunch ever, even on their first album.
Skid Row = One of my favorite projects. We recorded the first album at the old Playboy resort in Lake Geneva Wisconsin, probably the most fun a producer can have (I love my job).
Bonfire = Tons of food.
Great White = One of the first bands I worked with in USA, great time. I hope they get out of this bad situation.
Ozzy Osbourne = Ozzy has got to be one THE coolest guys on the planet, never a dull moment, what a character.
Metallica = Intense, totally devoted to their music.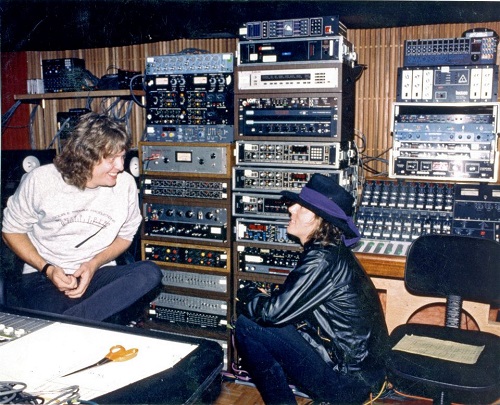 11. Of all the albums you produced, which one are you most proud of, and which one are you the most embarrassed about?

MW: My favorite has to be the first Skid Row album, the only embarrassing one to me is "Love Is Grand" by "X" where I was asked (by the label) to make a "commercial" album with an underground punk band. I think the band is great, we were just pushed into the wrong direction.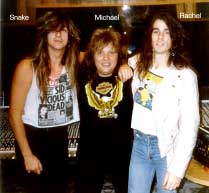 12. You have to pick one of the following. Which will it be?

A. Wolf Hoffmann is framed and sentenced to death for a murder he did not commit
or
B. An entire set of silverware (including the dessert fork) is shoved up your ass sideways, causing severe internal damage and forcing you to wear a colostomy bag for the rest of your life

MW: Definitely B, because there will always be enough new assholes around but there is only one Wolf Hoffmann.
13. The last of Michael Wagener:

Last band you produced = LeRoi
Last professional conference you attended = What?!?
Last time you visited Wolf Hoffmann's farm = Everyday, because my studio is on his farm.
Last song you heard on the radio that you liked = Jonny Cash, hurt.
Last DVD you watched = The Osbournes first season
Last celebrity you shook hands with = George Massenburg
Last time you went to the gym = What's a gym?
Last time you played guitar = 1971
Last prospective studio client you turned down = Every Country artist knocking on my door…
Last time you got drunk = During pre-production for Skid Row's "Slave To The Grind". We all went to Miami to check out the studio and we hooked up with the guys from Saigon Kick, oh boy…
14. What rock star deserves a smack in the mouth and why?

MW: Everybody who only thinks they ARE a rock star.
15. Which do you prefer and why?

Soundfield or Schoeps microphones = Soundfield, great for 5.1 recording
Stryper or Creed = Stryper, Creed has great songs but I don't like their sound.
The Tascam DA88 or the Sony 3488 = Sony, more expensive
BMW or Mercedes-Benz = Hummer, so you can spit on BMW and Mercedes when driving by.
Helloween or Raven = Raven, always loved that band.
Chris Impellitteri or Kane Roberts = Kane Roberts, nothing wrong with Chris but Kane is THE dood
American football or soccer = Don't know either, I'm not into sports (can't you tell?)
Randy Jackson or Simon Cowell = Simon Cowell, he tells it like it is.
DAB or Hacker-Pschorr = I must be the only German who doesn't drink beer.
Pro Tools or SoundForge = Neither
16. Of all the albums you've worked on, which album did you think deserved more success than it got?

MW: Kane Roberts/Criminal Justice. I like that album a lot, but it got lost in the corporate shuffle.
17. How much songwriting did Sebastian Bach contribute to for the first two Skid Row albums?

MW: As far as I can remember he didn't write much on the first album. He was involved in the writing of the second album, but I can't remember to what extend. I don't really care who writes what on an album, as long as the music is good.
18. What is it about Nashville that made you decide to relocate there? Are you into the country music scene, or did you just want to live near Wolf Hoffmann?

MW: Well, it's not as much what I like about Nashville as what I dislike about LA as in: 3 earthquakes, 6 floods, 2 riots and 4 mudslides in 12 years. If you are in music you can only be in NYC, LA or Nashville, so I picked Nashville for the time being.
19. Your portfolio of your work is dominated by hard rock/heavy metal bands. With your reputation preceding you, how did it come about that you worked with Janet Jackson?

MW: A&M records asked me to mix Janet's "Black Cat" Single because she wanted to cross over into Hard Rock.
20. Who's more of a pain in the ass to work with, Sebastian Bach or Don Dokken?

MW: Since it's only supposed to be 20 questions I take the liberty not to answer this one.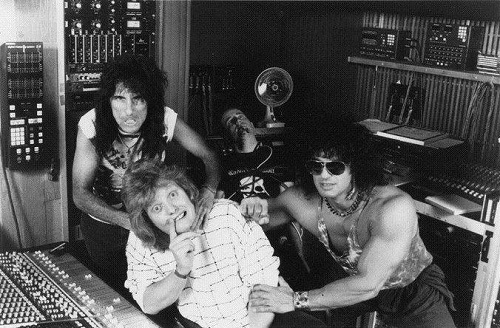 21. Time for Metal Sludge's Word Association. We mention a name and you give us your thoughts.

Ozzy Osbourne = Coolest dood on the planet
Dave Mustaine = Didn't really hang with him enough to know him.
Lars Ulrich = Great drummer
Clive Davis = Never met him.
Blackie Lawless = Crazy, in a good way.
Mike Tramp = Harleys, Mike and I went through our Harley phase together. A great friend.
Alice Cooper = Still kicking ass.
Don Dokken = Thanx for bringing me over here.
Jani Lane = Great singer.
Udo Dirkschneider = Udo and I grew up together from when we were five years old, all those memories could fill a book (or an X-rated movie)
——————
Once again, thank to FozzyRock.com webmaster Ed Aborn for hooking us up with Michael!

Enjoy the latest installment and make sure to click the CLASSIC SLUDGE menu bar tab for more old skool interviews from way back.

Interview Copyright & Credit to Metal Sludge – May 13th 2003