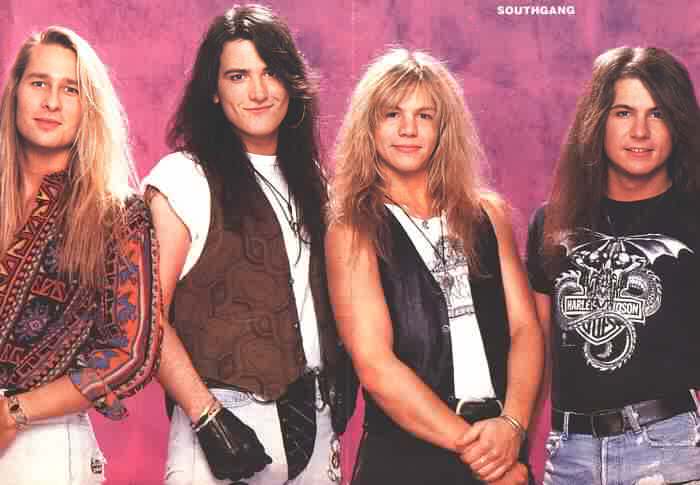 TAINTED LINEUP 
Jesse Harte posts "Southgang 3.0 possibly in fetal stage"
Facebook — In a social media post from over the weekend Ex-Southgang frontman Jesse Harte has posted the possible rebirth of his former band.
Harte a native of Georgia along with his old bandmates wrote on facebook; "Southgang 3.0 possibly in the fetal stage. What do you think about that idea? \m/"
Fans immediately jumped all over his post with hundreds of 'likes' and dozens of comments.
Below are several screen captures of Harte exchanging with diehard fans.
Some of the exchanges include input from Douglas Mitchell, who is pka "Slug" the band's drummer.
At first glance some fans assumed 3.0 may have meant 3 of the 4 original members. And just as many assumed that Butch Walker was the odd man out to not be involved. But after several comments and exchanges between Harte and Mitchell for all to see it seems that is not the case.
One fan typed; "Nice. Is Jayce going to be part of this as well. I'm super stoked at the idea." 
Jayce Fincher was the band's bassist along with Slug on drums, Walker on guitar and Harte as lead singer.
Mitchell replied 1 minute later replying with; "I don't think so."
Harte than replied himself with; "Thanks Slug."
From the outpouring of hardcore (Southgang) fans it appears there is some demand.
Harte also wrote that he and Walker have been friendly and talking but also stated; "Butch is WAY too busy. Different guitar player."
"Unfortunately it is not a reunion. But a set of guys from same group of guys from Rome and Cartersville that played together." added Harte
The fact remains that Southgang struck a nerve with fans 25 years ago and their music lives on.
Maybe one day they will reunite as a whole and shock the diehards for real.
And never at a loss for words are the always entertaining members of the Metal Sludge gossip board who chime in on the subject.
One contributor starts off with; "more like FECAL stage."

Another adds; "No way Butch is in on this."
While another contributes; "There's still time for an abortion." 
In recent years Heaven's Edge relaunched themselves onto the map with succesful events along the East Coast. Including hometown sellout shows in their local Philadelphia stomping grounds.
Added to the mix are Babylon A.D. from the Bay Area. And more recently WildSide regrouped 4 of the 5 orginal members to play a big show at "Wolf Fest" in Golden Colorado.
Now the most recent on the radar from the era is a KingOfTheHill show to take place at the annual "Rock N' Skull" in October.
Stay tuned and we'll see what Harte brings to the table.