BANG BANG
Ted Poley on Rock N' Skull; "Justin Murr is stealing the fans money with a bait and switch festival."
NEW JERSEY — Danger Danger frontman Ted Poley has spoken out in a public rant posted online earlier this week about Rock N' Skull promoter Justin Murr.
Poley goes off on Murr, who Poley says he was a partner with for this year's 2017 Rock N' Skull event.
The Danger Danger frontman's rant is found in the comments section of an interview Sleazeroxx did with Murr regarding his festival.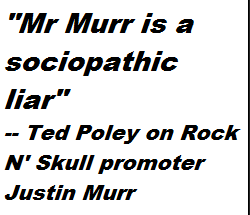 Poley was rumored to have been involved for sometime, but this is his first public comment acknowledging his involvement.

Rock N' Skull is a 3-day festival that has been under much scrutiny for their continued loss, or cancellation of their advertised acts to appear.
Poley says; "Total bullshit, this festival is a scam, there is not even an event poster anymore, I was Mr Murrs partner for 6 months and he fucked me over bad! The fans must know the real truth."
Poley continues; "The real story of this promoter gone bad and his scam festival is coming out in November…" (see screen capture below)
Murr and Poley have clearly hit a snag, but to what extent nobody knows.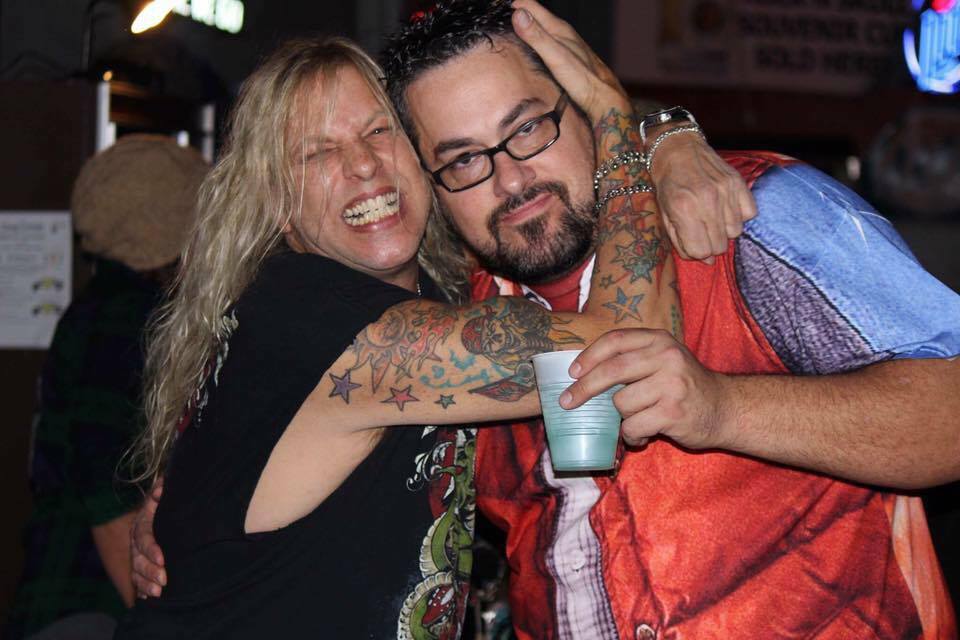 Ted Poley and Rock N' Skull promoter Justin Murr in happier times
The Rock N' Skull founder and main man has been very outspoken about his event and at times to his own detriment.
Murr a former door-to-door vacumn cleaner salesman turned promoter spoke out back on May 5th after losing event headliner Ace Frehley writing; "Every year we loose bands, this is nothing new."
Which Murr then followed with his own laundry list of 59 acts the festival has cut, lost or cancelled over their 4 year history (2013-2016). (see screen capture below)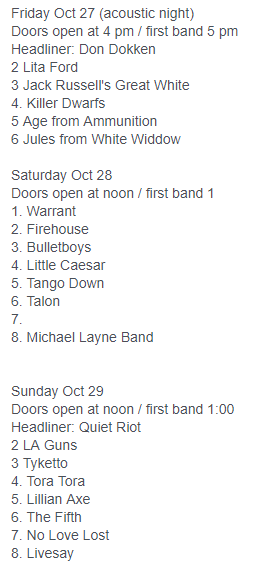 Murr also has promised inquiring fans a 'new updated poster' since early May but there has been none released since losing several bands off the 2017 event.
The list of losses for this year includes ex-Kiss guitarist Ace Frehley, Danger Danger's Ted Poley, WildSide, SouthGang and the recent rumored acts to be cut from the roster are Steel Panther and Jean Beauvoir.
According to Murr in a brand new Facebook comment to fans, the current lineup is the one listed on the event's official Facebook page.
We have added it to the left, of which neither Steel Panther or Jean Beauvoir are listed.
Just since the rumor article Metal Sludge posted about Steel Panther's possibly being cut, other acts have fell off including Maverick from Ireland. (they were listed in the 7. spot for Saturday October 28)
Adding to the rumor mill, more alleged losses for the event include Norway's Age Sten Nilsen from Ammunition and Australia's Jules Millis from White Widow, who are both thought to be next to fall from the current lineup.
Poley continues with his rant on Sleazeroxx boldly writing; "Mr Murr is a sociopathic liar, I have been compiling proof, documentation to back up my claims 100%- all coming in November."

In Murr's interview he insinuates Metal Sludge and our related staff are to blame for his event's 'hampered ticket sales' and alleges we've helped to 'bury his event'. We detest these accusations and will publicly tell Murr right here that Metal Sludge reports news. All of our articles related to Rock N' Skull are 100% accurate, factual and truthful. Your event and the related shortcomings are to no fault of anyone but those in charge of it.
Rock N' Skull is scheduled for "Avanti's Dome" in Pekin, Illinois on October 27th 28th and 29th 2017.
The event celebrates its 5th year this fall with a platinum packed roster of 80's hairbands including: Quiet Riot, Warrant, L.A. Guns, Firehouse, BulletBoys, Tyketto, Lillian Axe, Tora Tora and Little Caesar all playing full rock, full band sets.
The opening night is billed as acoustic only and features Don Dokken, Lita, Ford, Jack Russell of Great White fame and Russ Dwarf from the Canadian group Killer Dwarfs.
Ticket options range from single day general admission ($39.80) up to VIP packages listed up to $2,149.00.
The event is promoted as rain or shine and wil be held in a 5,000 capacity in-door soccer facility.
Ted Poley @ Facebook – Twitter  – iTunes – Danger Danger – 
Rock N' Skull @ Facebook – Twitter – Tickets – YouTube –