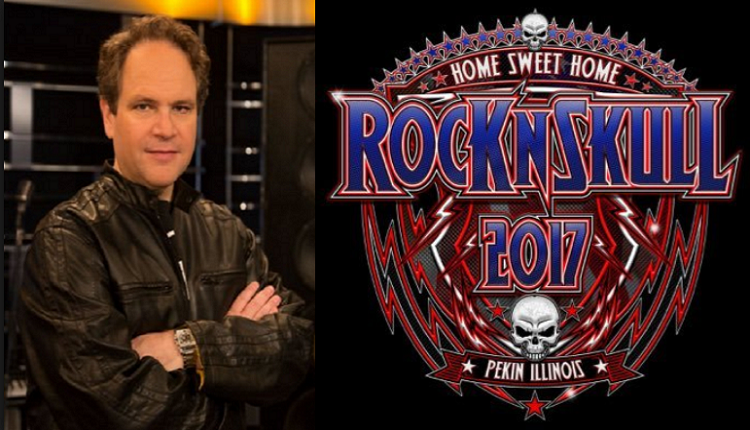 THE TRUNK HAS BEEN STUMPED
Eddie Trunk a no go for Rock N' Skull
Updated: October 22nd 2017


It appears that the Trunk has been Stumped!
Eddie Trunk is rumored to be the 35th loss to the Rock N' Skull lineup.The famous radio Dj and host of That Metal Show will no longer appear at Rock N' Skull say sources.
Multiple industry insiders have revealed to Metal Sludge earlier in the week that Trunk has in fact fallen off the 2017 roster.
However as of press time today, the line-up screen captured (lower left) notes todays updated set times and still is listing Eddie Trunk as the host.
One of our sources alleges that Trunk will be in New Orleans the same weekend, and that the dates were conflicting even though he has been the advertised host for nearly a full calendar year.
The screen capture below for upcoming Eddie Trunk appearances was taken today from his official website.
Rock N' Skull is at "Diesel Dick's Pub & Grub" on Oct. 27th, 28th and 29th.
See Ticket info and line-up as noted below.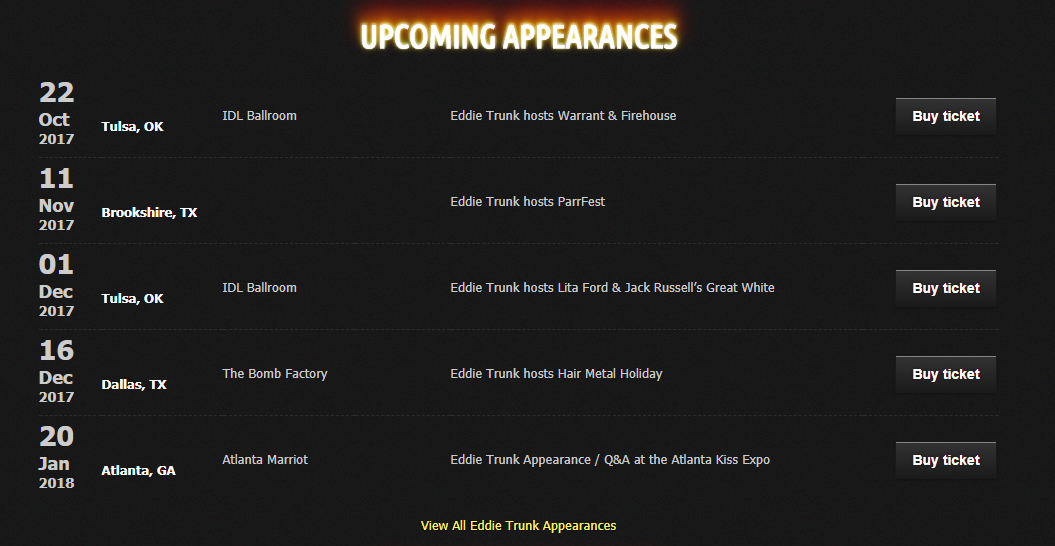 ——————————————————————————————————–
PEKIN, Illinois — It's only 3 weeks out and what started with a 'Go big or Go home' advertising campaign looks to be closer to the later. In 24 days everyone will be home – that is – if they even leave the house to show up.
Rock N' Skull and its founder Justin Murr have clearly fumbled the proverbial ball, and just in time for football season which kicked off last month.
After several semi-successful events in recent years, Murr's plans for this year appear to be falling short of the goal.
That is, unless the goal was to book 34 bands, and none of them would take the stage.
Rock N' Skull started off 2017 pushing Ace Frehley (ex-Kiss), Steel Panther, Warrant, Don Dokken, Lita Ford, FireHouse and many other MTV favorites from the heyday of hair metal.
There was a fancy youtube commercial, a mega venue, neat posters full of platinum 80's band's logos and tons of hype.
Let's not forget their original promo way back last November which was touting rare appearances by acts like  King Kobra, TNT, WildSide and SouthGang. All of which haven't played 10 shows combined in the U.S. over a decade's time.
Add to that list Quiet Riot and rumored partner (no longer) Ted Poley of Danger Danger.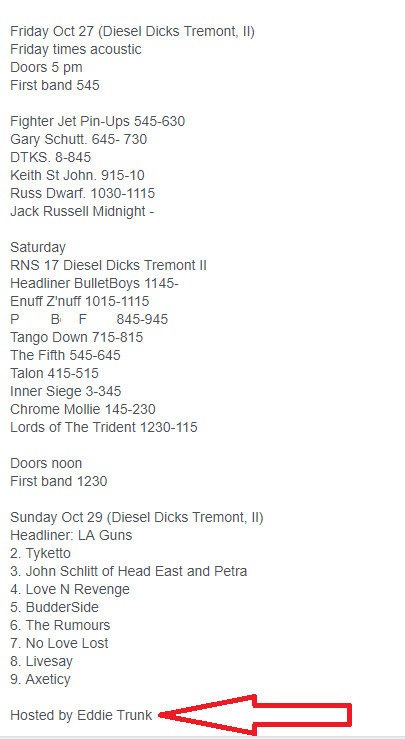 All to appear on a 3-day event which was originally taking place at the 5,000 person capacity "Avanti's Dome" in Pekin, Illinois.
But by mid summer all of the above groups were gone from the event.
The venue was gone too.
Metal Sludge broke the story in mid July that they had lost the 'Dome' and it was finally confirmed by Rock N' Skull a month later August 16th.
Metal Sludge also broke news that Ace Frehley was pulling out, which was also confirmed by Rock N' Skull.
The reasons why all of these bands fell from the card, well there is a laundry list.
A few bands pulled out for other tours like the above mentioned former Kiss guitarist, and WildSide. A few more dropped and noted issues regarding their contracts and communication breakdown with the promoter. While many others just quietly evaporated from the Rock N' Skull radar.
One even claimed a band member was having surgery. Then it almost became a "the dog ate my homework" type of excuse as bands dropped from the festival faster than their labels dropped them in 1992.
The latest news from the ever-changing lineup is that it appears a few more (of what was left) of marquee names have now dropped fron the roster as well.
The most notable in the last 4-5 weeks are Juan Croucier of Ratt, Tora Tora, Lillian Axe and Little Caesar.
As of Otober 22nd, the roster for Rock N' Skull (inset left) lists the lineup for Oct. 27th, 28th & 29th 2017.
And according to the list of acts (noted at the bottom of this post) these 4 recent bands now take the total booked, advertised, promoted but eventually lost from the event – to a total of 34 artists.
Notable names still left and appearing are Jack Russell (Great White) and Russ Dwarf (Killer Dwarfs) who will both appear on Friday night's acoustic show.
Saturday night headliners are BulletBoys with Enuff Z'Nuff as support. Sunday will see L.A. Guns as headliner with Tyketto in support.
The rest of the weekend is a who's who of nameless bands with faceless members. No disrespect of course to these groups, but let's be real – Rock N' Skull is nothing what it was projected to be and this is what has caused an uproar amongst disgruntled fans wanting a refund.
After the big 'Dome' was also lost, the event opted to hold the festival at "Diesel Dicks Grub & Pub."
Let's not forget to add Eddie Trunk from That Metal Show. He'll be the host for the weekend.
The edge of town style barbeque pit is a far cry from the fancy mega dome but that won't stop diehards from checking out hits like "Smooth Up In Ya" or "Fly High Michelle" which will both be the highlight of Saturday night.
But not everyone seems to dying that hard to go, as there are dozens of fans posting tickets, and VIP packages for sale on the event's Facebook page for months.
Just in the last 24 hours a half dozen posts appear on a thread (see below) on the Rock N' Skull public Facebook event's page where fans are trying to sell tickets.
The event is 3 weeks out and there are still tickets available but to be fair, Murr is letting fans share already purchased tickets and packages for others to buy at a discount.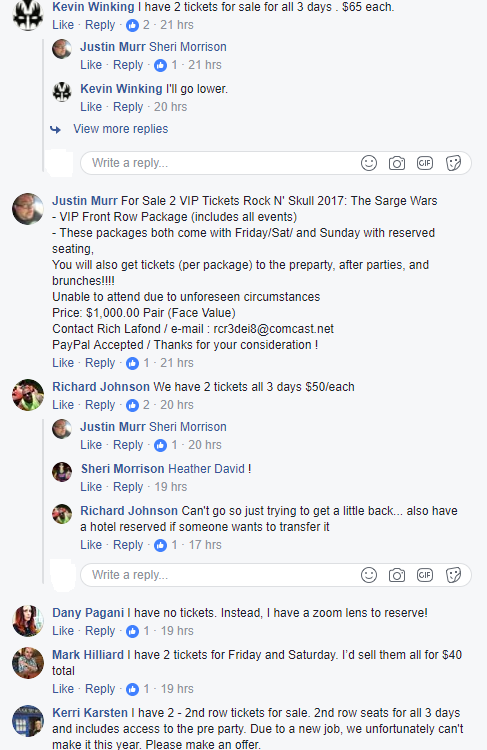 Rock N' Skull is still on for October 27th, 28th and 29th at "Diesel Dick's Pub & Grub". Get your tickets while you can.
Rock N' Skull @ Facebook – Twitter – Diesel Dick's Pub & Grub – Tickets

List of the 34 bands who have cancelled, been cut from or pulled from the Rock N' Skull roster.
Eddie Trunk
Tora Tora
Lillian Axe
Juan Coucier (Ratt)
Little Caesar
Quiet Riot
FireHouse
Don Dokken
Lita Ford
Warrant
Steel Panther
WildSide
SouthGang
Maverick
Jules Millis (White Widow)
Age Sten Nilsen (Amunition)
Jean Beauvoir
Shane Tassart
Ted Poley (Danger Danger)
Ace Frehley (Ex-Kiss)
TNT
King Kobra
Bangalore Choir
Kevin Steele (Roxx Gang)
Vicki James Wright (Johnny Crash)
Michael Olivieri (Leatherwolf)
Coldpsell
Grand Design
Best Of Seven
Niterain
The Great Affairs
Jennasyde & The Watchers
Giancarlo Floridia Thomas
Brent Stortzum & The Valentines
Johnny X And The Wild