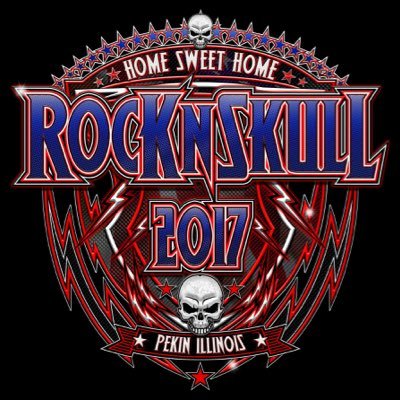 ROCK N' REFUND
Disgruntled fans want Rock N' Skull refunds: citing roster cuts, cancelled afterparties and a rumored venue change 
PEKIN, Illinois — In recent months Rock N' Skull has been a crapshoot as to what might happen next.
The annual midwest festival has struggled to maintain their lineup, but that appears to be just the tip of the iceberg.
Aside from the revolving roster, the event has not published nor updated their poster since April and fans are asking; "Who is gonna play?"
Since first announcing last November 2016, the 2017 event which is advertised to take place at "Avanti's Dome" has had more than 20 artists either pull out, get cut, or were simply lost along the way due to on-going changes with the 3-day concert series.
The extensive list of losses includes weekend headliner and former Kiss guitarist Ace Frehley, along with Danger Danger frontman Ted Poley, WildSide and SouthGang.
Also, add the recently rumored Saturday night headliner and hairband sensations Steel Panther, who appear to be gone from the bill as well.
It should be noted that Frehley and WildSide pulled their dates due to conflicting tours, both ironically in Australia during the same time as Rock N' Skull.
The event has publicly taken reponsibility for the losses of Poley and SouthGang along with the initial changes after revamping their lineup from late last year into early 2017.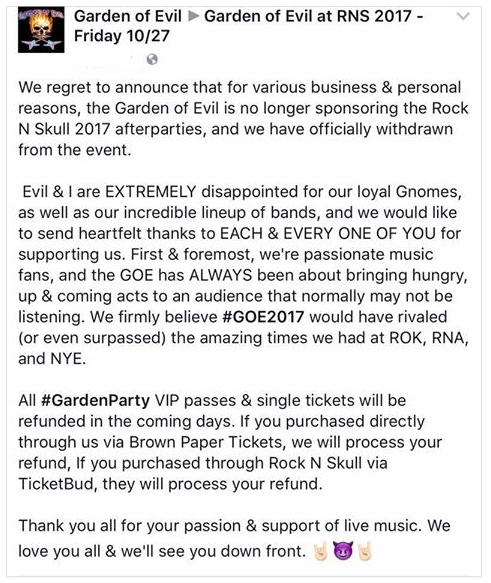 In addition to the band's coming and going, industry sources are now alleging that Rock N' Skull will no longer be held at "Avanti's Dome" in Pekin Illinois.
Another hint that adds to the rumor of a change of venue was a comment made by promoter Justin Murr in recent days.
A fan asked about related changes and would it shorten the bands set times.
Murr replied: "We are not and we can go longer til 1 am. So bands set lengths will increase since we were only going to 10:30-11."
Most venues the size of a 'dome' or arena do have a more strict curfew, whereas clubs can stay open and serve til 1:00am in most states.  (see screen capture of this exchange below)
"Avanti's Dome" has multiple events listed monthly, most of which end at or before 11:00pm.
Adding to the fans' frustrations, was the news of the official afterparty hosts pulling the plug as well.
Garden Of Evil made an announcement on Monday July 24th that their official advertised Rock N' Skull afterparties are no longer taking place. (see screen capture at right)
Garden of Evil writes: "We regret to announce that for various business & personal reasons, the Garden of Evil is no longer sponsoring the Rock N Skull 2017 afterparties, and we have officially withdrawn from the event."
Metal Sludge reported this was taking place and the afterparties were likely to be cancelled or moved to yet another location in our report from July 16th.
Garden of Evil continues: "All #GardenParty VIP passes & single tickets will be refunded in the coming days."
The afterparty hosts send "hearfelt thanks" to their supporters, and added: "If you purchased through Rock N Skull via TicketBud, they will process your refund."
With these recent changes several fans have begun to voice their opinions and are asking for refunds.
Ticket holders have claimed everything from the lineup changes, to the cancelled afterparties and even fraud.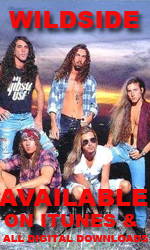 One fan from Japan has posted a long rant on a Facebook page stating she bought a ticket for $ 1,049.00 last year.
But after Rock N' Skull changed their ticket outlet from Ticket Tailor to Ticket Bud she was informed of this and instructed to buy a new ticket from the new outlet and she'd be refunded for the original purchase.
Miwako Kude from Japan writes: "I planned to go to RNS17 and bought a ticket earlier last year but that ticket seemed to change the ticket company due to promoter side's circumstances and it was suddenly canceled and refunded in February this year. I thought that I would be refunded soon, I bought a new ticket again from a new ticket company. But I haven't got refund yet."
Metal Sludge reached out to Kude and inquired as to whether this was the case, that she infact bought the $ 1,049.00 twice and was promised a refund for the first ticket after the event changed their ticket outlet.
Kude replied with: "Yes, I bought 2 tickets and paid."
The Japanese fan also confirmed she was not refunded and there is no longer any communication between her and the promoter.
Kude added: "I have bought two tickets with the same high price, one will not be refunded but the other will be sold but I do not know how to do it. The tickets are of the type with a hotel and put in the back stage. However, because that ticket is in my name, hotel reservation and VIP pass ID are also booked by my name. If I sell my ticket, is it possible to change name? So I asked promoter about that. But there is no answer from him."
Ending her post with frustration the Japanese fan writes: "I feel like I was in fraud" then adds; "I want my money to return properly!"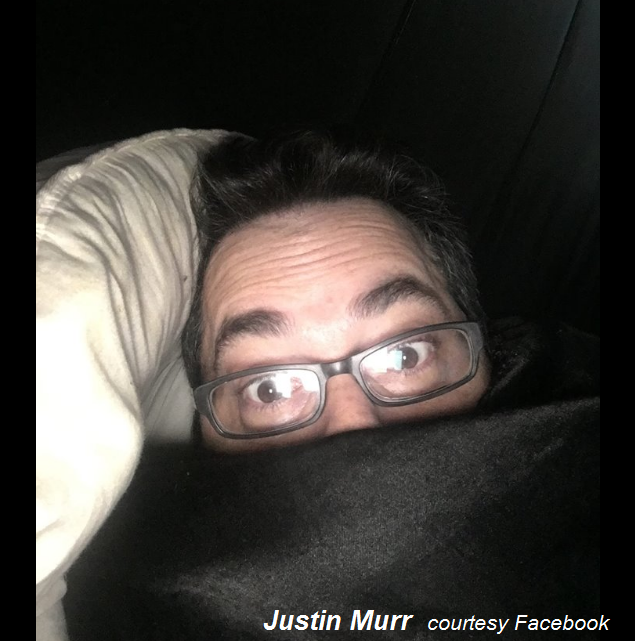 Rock N' Skull promoter Justin Murr has publicly went on record stating their initial push for Rock N' Skull only sold 43 tickets, but adds that ALL ticket holders were refunded before the re-launch with the new lineup in January.
According to some fans, including Kude … they were not refunded for those initial sales.
Kude wrote in her July 9th Facebook post (see below); "I asked for the evidence of refunding him. But he just stopped contacting me."
Ticket holders have ranted online that Murr has avoided answering directly when questioned about the lineup, there have been accusations of deleted comments and some insinuated he was simply hiding from some of their inquiries.
Fans have been commenting all day today and many are still searching for the answers.
Jeffrey Meyer writes: "Announce the lineup please. I think we've waited long enough."
Johnie Suzette Angell commented in a recent thread started by event promoter Murr: "I really think you need to start offering refunds. I have been very partient and tolerant about this but this is all just a mess"
Johnie Suzette Angell also wrote in regards to inquiring to event promoter Murr about refunds: "He said no refunds and I could sell the tickets. No one is going to buy them."
Editor's Note: Several of these comments were in a thread that has since been deleted by the author (Justin Murr) but we have screen captured them below.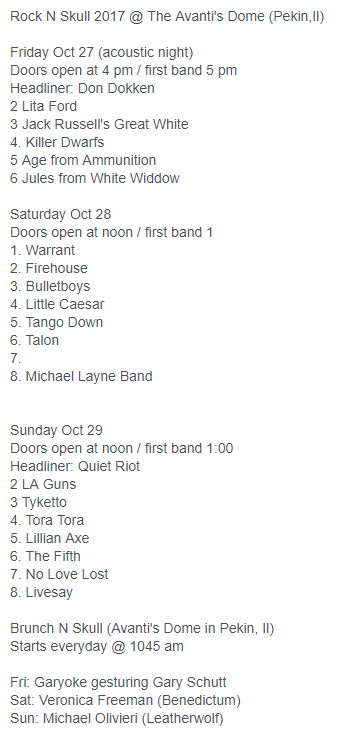 John Browning writes: "Is Steel Panther gonna be there" adding "pretty soon nobody will be playing, lol." 
Browning continues: "who else is officially out, what happened they didn't get there deposit. and why isn't there an official poster. that's kind of strange what's going on with that."
Murr answering Browning writes: "why be rude who didn't get a deposit???"
One fan named Ronny Jo Anderson asks: "The band line-up you are referring to, is that on the private page you have just created? If so, can you tell me how else I can see it?"
Murr answers Anderson with: "Hi Ronny it's listed on this page"
See scheduled lineup screen captured July 25th 2017 insert left, click to enlarge.
Another fan, turned investor Lisa Sunde has taken to Facebook as well and alleges she is owed $ 5,000.00 from the 2016 event.
Sunde has posted several rants in recent weeks and writes: "This is makin me VERY NERVOUS! I am not a stupid girl! I have money invested in last years RNS."
Sunde continues as she boldy writes: "Why are there no announcements happening? Where is the event poster?  Why are there no replies from Justin? Is this even happening? WTF IS GOING ON?" 
"If shit continues to go haywire – you need to refund us all, and cancel the gig – because too many things are happening now" said Sunde in her 1st rant.
Editor's Note: Many of Sunde's comments were made on the public official Rock N' Skull event's page on Facebook. All of these have since been deleted but the screen captures are posted below. 
Metal Sludge has tried to inform fans about this event, and give them up to date information but we can't give it to you if it's not available.
Earlier today Murr did post an update and we have added it below as well.
Murr has also commented that tickets will be back on sale come Friday (July 28th), and that "Avanti's Dome" is still the official venue for Rock N' Skull.
If we get anything more official, we will post it.