TUFF DIARIES #10
Goodbye 1989, Jessica Hahn, Skid Row, Martha Quinn, Young Gunns, Flyer Wars & Cock-Rings

Sebastian Bach, MTV, Brian Kushner, Tawn Mastery, Taz, Other People's Pussy and Heavy Metal Thunder & Mud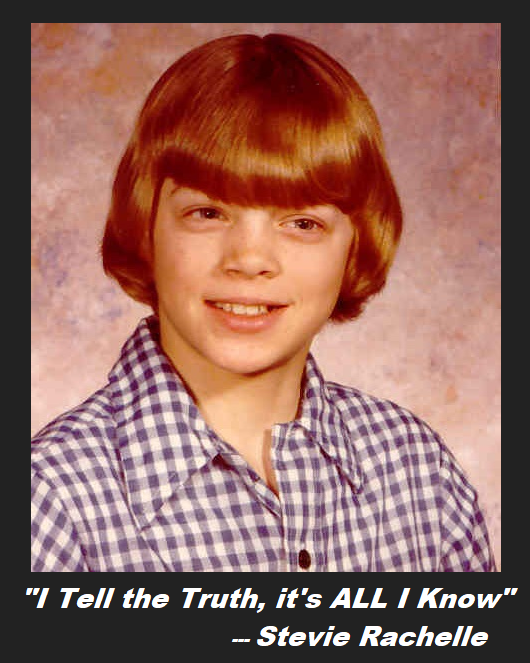 It's now the fall of 1989.
September and October are a bit slow with 1 show each.
We hit "The Marquee" in Orange County on 9/16 and "The Waters Club" in San Pedro on 10/7.
In November it heats up and we'll play 7 shows in a little over 3 weeks.
We'll close out November on the 28th back at "The Marquee" but this time in support of Enuff Z'Nuff.
The Chicago based band had just released their debut record a few months earlier.
This was the first time we met them and I recall talking to Donnie Vie and Vikki Foxx that night.
We watched their set and dug the band.
All really good guys who Tuff would share friendship with for years to come.
—————————————–
Skid Row – Take 2.
The band were shooting a video for their song "Piece Of Me" and it was being filmed at "The Country Club" in Reseda California.
As noted in previous diaries, Tuff had played this venue a few times in recent years.
Also, as I mentioned in Diary #8, we first met Skid Row earlier in the spring of 1989.
Somehow we got wind of this shoot, so Michael and I headed down to the set that day.
I want to say that it was a club employee, or a stage-hand who was working that gave us the scoop.
I don't have an exact date to recollect on this, but my guess is it was in early September.
Skid Row were on tour on the West Coast and in California around this time.
And based off of an internet search of their 1989 tour schedule, this time frame makes sense.
See below with yellow underline noting possible off days to film on the 4th. 5th. 6th or 11th.
Also it notes on their Wikipedia that this single was released but does not note a date.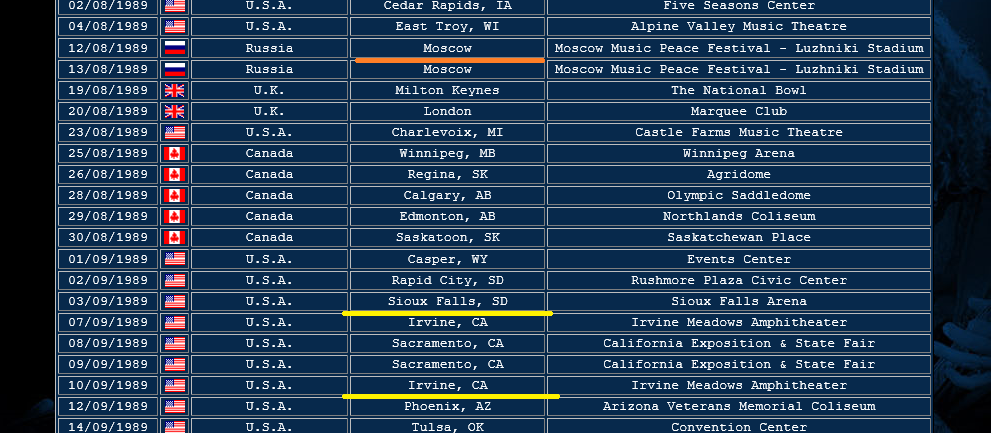 We arrived and were let in backstage.
They were killing it, and doing a live performance, but for sync and editing purposes they were basically playing to a track of the song.
I think they were all live at some point, as I recall them doing a few jams for the fans between takes of the song.
There was a small crowd, of about 200-250 kids that they were using like extras, to fill out the front of the stage area.
But they were also being moved around a lot as there were cameras on roller tracks set up front as well.
They had already begun shooting but at some point took a break.
Michael and I were having a good time and chatted with Rachel, Snake and Sebastian.
We brought the guys Tuff tour t-shirts with the slogan "Put Out Or Get Out" on the back.
Rachel grabbed one, ripped the sleeves off and put it on.
Then at some point a crew person instructed him to remove it before the next shot as they had already done multiple takes with Bolan shirtless.
I guess they didn't want footage of him wearing something (different) midway through the shoot.
There were also a few photographers on set.
Sebastian was wearing that metal mesh looking shirt and Bolan in pink leather pants wearing combat style boots.
Yeah the nose chain was swinging too. Haha.
Baz and I were hanging out and did several candid photos for the cameras.
I don't know who the cameramen were, and from my memory it wasn't Zlozower, Weiss, Laferman, Maluk or Hames.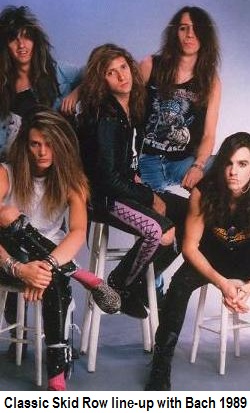 None of the big name guys but someone out there has a bunch of pics of Sebastian Bach and Stevie Rachelle from that day.
Bach was also doing some interviews and asked me to join him.
I sat with him at a table on the lower level stage right.
As he answered questions, he would occasionally make comments that included me with a, "Right dude?" or "What do you say Stevie?" kind of dialogue.
Funny as this stands out, but he said something similar the first time we met in the spring.
"Dude, you totally remind me of Michael Monroe" in his overly exaggerated motormouth.
After some more photos, the interviews and meeting a few fans on set the band are summoned to the stage to shoot some more.
We are asked to go up in the (VIP)  balcony to watch.
Michael and I head up the backstage stairs and are now standing on the long narrow upper level.
There is only 1 other person up in that area aside from myself and Michael.
That was Christina Applegate.
I recognize her and immediately thought she looked more like a hippie than she does on Married with Children.
I also recall my friend Tina Yothers from Family Ties telling me in the spring of 1988 that her actress friend (Christina) thought I was cute.
I forgot to add this in my early 1988 blog, but yeah – Tina was a fan of mine and wrote me fan mailto our P.O. Box.
Which also included her phone number.
She was 15 at the time and read about Tuff in some Teen magazines where I mentioned my love of the show Family Ties.
We became phone buddies for a while, and eventually she did come to a Tuff show in Orange County.
I recall her arriving with her friends and an assistant too – all in a limousine.
She also had a staff photographer following her around.
So yeah there are pics floating around with Tina Yothers and Tuff as well.
She was a cool chick but I was more interested to meet Michael J. Fox than her.
How cool was she?
So cool she invited me to the final taping of Family Ties…but I never even went.
Life got busy in Tuff, and even some celebrity opportunities were forgotten about.
I was kind of a celebrity myself – or so I thought. Lol.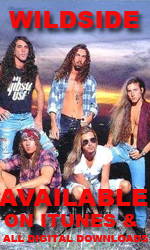 Anywho….
So….Christina is watching the stage intently from our top perch and I slide over right next to her.
"Hey, how are you?" I say to the 17 (soon to be 18) year old actress.
She looks at me with a shitty stare, "Hey" and turns away.
Can you say cold?
There was a bit of small talk between us but it was next to useless as "Piece of Me" was blasting from the P.A. system.
Regardless of her age, and whether she ever thought I was cute or not – her attention was clearly on Sebastian Bach.
As many know, he wrote about her in his book and their flings.
The shoot went on, we watched but at some point bailed back to the Tuff Muff Mansion in Van Nuys.
Searching youtube I found a little MTV news clip from that day, I have added it below.
This was my 2nd time hanging with Skid Row and once again, they ruled.
The only thing I will add, is that at some point a young female fan came up to Sebastian while he and I were standing there.
She was young, like 12 or 13 and told him something like, "My uncle is a vocal coach and he could help you if you ever wanted lessons."
Totally innocent, and just trying to get his attention I am sure.
But Bach lost his mind and started screaming, "Your Uncle! What the fuck has he done?"
He then ranted about how he just played Moscow Russia, and so on.
This was my first exposure to him being a complete prick.
To a young little girl no less.
She just stood there, frozen – saying nothing and looking scared.
Some set handlers came up and politely moved everyone along as some adult-types seemed horrified.
Bach was 21 at the time, and I was 23. But even back then – I knew what he was doing was out of line.
I mean, this little girl didn't want to upset him but rather was likely thinking it would be cool to tell him this and win her some brownie points.
Like if a 12 year old kid told Tom Brady, "My Uncle is really good at passing a football too, maybe he could show you some time."
My guess is that Tom would say, "Your Uncle sounds awesome, maybe one day I can meet him"
To appease the young fan.
But not Bach.
He screamed at her then, the same way he screams at fans today who use their iPhone to film him at shows.
Oh well, a sign of what's to come.
Regardless of him acting like a jackass, I was still a Skid Row fan.
It was cool to hang out with those guys and it seemed like we were building some type of friendship.
——————————————
Speaking of friendship – there were also some enemies over the years.
Well, maybe not mortal enemies, but we had our fair share of beefs too.
This leads me to the Flyer War we had with the local band Taz.
Everyone has heard of how the bands would hand out flyers for their shows back in the 80's.
But unless you were here, and walked the Sunset Strip on weekends, you don't really know how epic it was.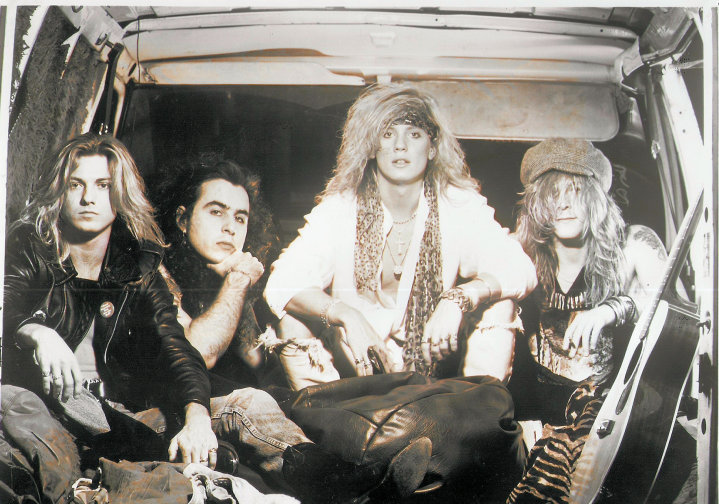 The amount of colored paper that covered sidewalks and filled gutters was monumental.
The band TAZ inset right.
At the height of this, the city of West Hollywood had to hire a crew that would come to the heart of the scene (on weekend after hours) with brooms and a truck to clean the street.
Almost a post parade like mess covered a 2-3 block area.
Even if you lived close to the area and drove to work (in Hollywood) you saw the level of insanity that the flyering actually reached.
All or most bands handed out flyers on the weekends.
And that also included some weeknights at Cathouse (Tuesdays), Bordello on Thursdays and X-Poseur 54 on Sundays.
Add in a host of other clubs all over the grid.
Then there were some of us who flyer'd the telephone and light polls as well.
Along with every other standing flat surface we could glue our image onto.
Telephone poles required heavy duty staple guns bought at Home Depot.
Stoplight or streetlight poles needed to be coated with wall paper paste or glue.
Tuff used all methods and it wasn't for free.
We didn't buy 1 staple gun, we bought 3 or 4 and several boxes of 5,000 staples.
We would then buy a few 5-gallon buckets of the sticky stuff and paint brushes too.
Then we'd have our flyers for the show, and others with just our logo on 8.5 x 11 sheets of paper or even 11 x 17 mini poster size prints.
Here is how this worked… at least for us.
We would rehearse on a weeknight, say a Wednesday from 8:00pm until 11:00pm.
Then we would go back to the apartment, eat something and put on old clothes and map out a strategy.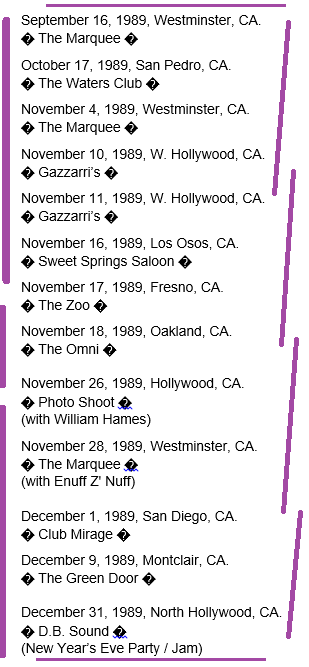 Michael, "Stevie and I will start at Hollywood Bowl and go down Highland to Sunset. Then we'll head West"
Talking to Todd and Jorge, "You two hit Vine Street by Capitol Records, La Brea by A&M Records and then head down to Melrose."
We would start this after midnight and go until 3 or 4:00am.
Dressed in Oshkosh B'Gosh overalls and an old flannel shirt, I am ready to tackle tonight's workload.
All of us are dressed in beater clothes as this paste, glue and the related will be everywhere.
In reality, this was I guess the band's way of tagging our name.
Kind of like the gangs had been doing all over Los Angeles County for decades.
And yes, at some point cans of spray paint did come in to play as well.
So one night in 1989 we set out with a huge supply of gear to cover Hollywood in our band's name – Tuff.
Michael and I are in his white Toyota pick-up and we start at the overpass (under the Cahuenga Bridge …locals will know what I am talking about) and head down Highland.
Under the Cahuenga over-pass, there is a wall, with dozens of flyers.
A space that is 20 or 30 feet wide, and maybe 8-10 feet high.
Everyone's flyers are there, but not for long.
Michael and I spend 15 minutes or more, and put a flyer (coated in glue) over every single band flyer.
I recall there were a bunch of Taz flyers and New Haven too.
We covered all of them.
Now we pull away and stop by the Hollywood Bowl and like a garbage truck driver (Michael) and helper (me), we pull up and I jump out and assault each pole.
We don't miss a one.
Nope, every single pole.
If it's a wood telephone pole, the staple gun is loaded and ready.
If it's a metal light pole, there is a 5-gallon bucket of glue in the back of the pick-up ready and a box of 5,000 flyers along-side it. .
Each stop takes a minute, or less. But there are a lot of poles on a city block.
Michael is smoking a Marlboro and directing the assault, "Hit those right there".
I jump out and hit each pole with 3-4 flyers, sometimes 5.
But a few times a block, Michael jumps out as well and hits 1 pole while I hit a second.
Sometimes I run ahead of him with supplies and he has the flashers on slowly following.
And, acting as a lookout.
We never got busted, but did have a few close calls.

Sometimes he pulls right next to the curb, and I stand on top of his truck to paste or staple them higher up at 10, 12 or 15 feet off the ground.
The higher you go, the less likely they will be covered.
We're now on Sunset Boulevard and headed West towards the clubs.
Posting away, and we're hitting every pole in sight.
We pass Hollywood High School, Rocker Ralph's grocery store, Denny's and Guitar Center too.
We're not missing a pole and everyone is coated in neon colored Tuff flyers.
I have to admit, we've done this before and there is no better feeling then seeing every pole on every street corner covered with a big bright Tuff logo.
Remember, Hollywood is full of record labels too.
Geffen was on Sunset Blvd, so was Chrysalis and the BMG/RCA building too.
Then there was Capitol Records off Hollywood on Vine, and A&M on LaBrea just south of Sunset.
Aside from fans, and club goers – we wanted the entertainment industry to get use to and become familiar with our band name – Tuff.
Fun Fact: Many of our flyers were printed at a local Hollywood printer on Santa Monica Boulevard. The lady who owned the place was named Barbara, and she was super sweet to us. Her son Bruce use to do the same thing locally – until his band got a record deal.  Bruce goes by the stage name C.C. DeVille.
So we are plastering the Strip with our paper faces for few hours.
We're getting hungry so Michael pulls into a 7/11 and we grab a snack or two.
Back to work and now we're passing Pink Dot and even the poles near Sunset Plaza Drive get hit.
It's 3:00am and we're finally at The Whisky, Roxy, The Rainbow and Gazzarri's.
This is essentially, ground zero for the 80's bands.
I used the trusty google search and it says Hollywood Bowl to The Rainbow is 4.1 miles.  (see insert screen capture)
Fingers are pinched from staple guns, pants are covered in paste and we're a mess.
But we put in a few solid hours of work to make sure our name is seen by every car as they drive into work tomorrow morning.
We now double back and are driving east on Sunset Boulevard.
We're anxious to get home, but all giddy to look at our work.
As we pass Coconut Teazer we're looking at the poles, but our Tuff flyers are gone.
We look closer, and see that every pole we just hit, no longer has a Tuff logo on them.
WTF!
We pull into the 76 Station across from Laugh Factory to take a closer look.
Michael pulls in and we park next to a van that is parked by the air and water hoses.
I don't know why, but I looked towards the van and the occupants kind of slumped in their seats.
Maybe they were getting stoned, and didn't want to be seen.
I jump out and run over to the corner and inspect the poles.
Our flyers are gone, or have just been covered – by Taz flyers.
Not some of, but every Tuff flyer we just put up – appears to be gone.
And where there wasn't a Taz flyer, it appears someone had just ripped, torn or scraped off every Tuff flyer.
We jump back in Michael's truck and start slow rolling back down Sunset.
What the FUCK!
EVERY SINGLE Tuff flyer is either covered or gone.
This is too crazy.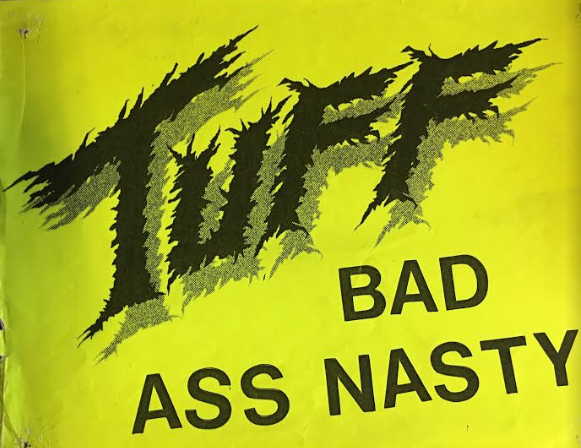 We'd make these flyers in multiple neon colors like pink, green, yellow or blue and post them everywhere.
Michael pulls over on Sunset and so I jump out and start to peel off the Taz flyers.
Just as I am mid tear at the freshly posted Taz flyers, the van from the 76 Station suddenly pulls up behind us.
The van slams on its brakes and the doors fly open.
It's KK (singer) and Kenny (drummer) from Taz along with a few roadie friends.
"What the fuck are you guys doing?" says KK.
"Huh? Fuck you!" I fire back.
I am pissed off, and so are they.
Now KK and I are face to face and screaming at each other.
We're barking back and forth but no punches were thrown.
I can recall Michael once again, being the voice of reason and trying to calm everyone down.
But I was mad as hell and F-bombing like crazy.
After a very heated argument at 3:15am on Sunset Strip, it was over and we all went our separate ways.
We never had a beef or any bad blood with Taz.
No drama between us at all – but this night, it almost came to blows.
Over some flyers, Lol.
It appears that our covering their flyers – not some – but every one of them, touched a nerve.
And it seems they literally by chance were driving home themselves – from rehearsal and saw us in the act.
So they in turn, went home, got their gear and ultimately came back to the Strip and followed us.
And every block we hit, they hit as well – 10 minutes later.
As Michael and I drove home we rubbernecked back, and looked at all of the poles we just spent hours covering in Tuff flyers.
And guess what?
There was not 1 single Tuff flyer to be seen.
Instead…it was all Taz flyers.
This was what the Flyer Wars were.
Our 3+ hours of work and 4.1 miles of Tuff logo covered poles, only lasted about 15 minutes.
Ugh… amazing to think back though… but this was one of those events that was the 80's.
My honest thought, is if there is a shortlist of bands who deserved a record deal – Taz was one of them.
A real solid band, who many locally compared to Kix.
Maybe at times, a little too much Kix. But I guess no different than our Tuff comparison to Poison.
Check out their 1989 Japanese release "Cold Shoulder" EP which has been reissued by Demon Doll Records.
A shout out and mad respect to KK, Ethan, Kenny and the others from Taz & crew.
———————————————-
MarthaTV
Something else cool that happened in 1989… Tuff made an appearance on MTV.
Kind of….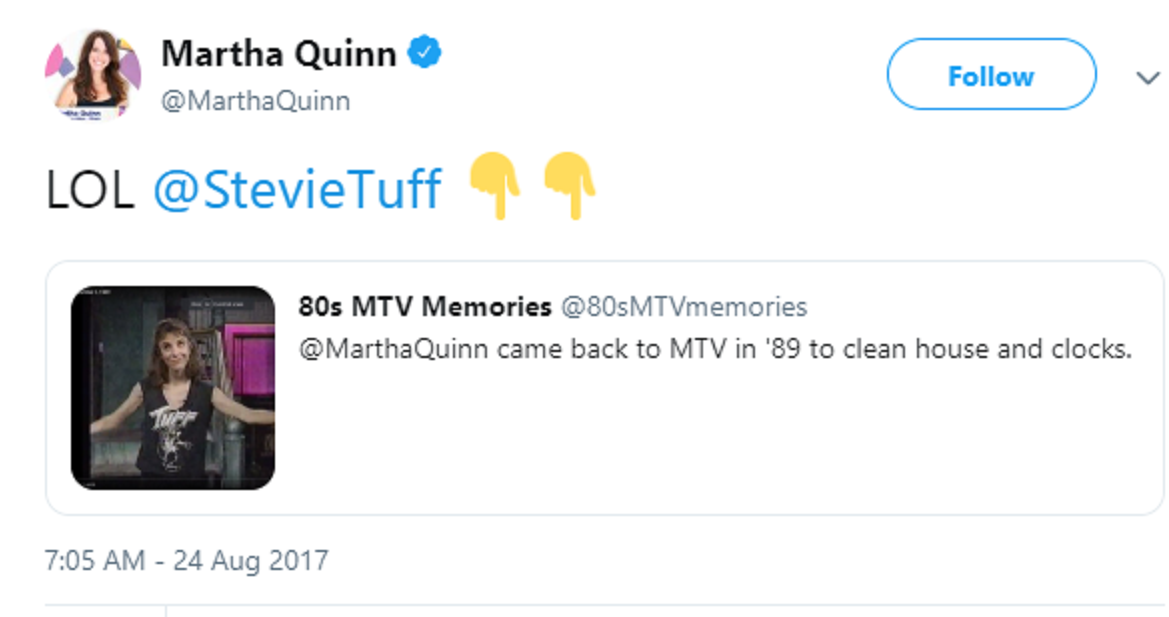 Oddly one day at our apartment on Woodman Ave in Van Nuys, I was coming in the front door.
And I run into a familiar face, it's MTV Veejay Martha Quinn.
In short order we are saying hello and it turned out she was visiting someone who lived in our building.
Of course we were quick to tell her about our band, and established a friendship.
I am pretty sure when we first met her, she was not working on the channel anymore. But soon after, at some pont in 1989 she was rehired.
If you recall, there was a series of commercials that ran with Quinn where she suddenly appeared and said,, "I'm back!"
In that commercial, which ran countless times, Martha was weaing a black Tuff t-shirt.
We remained friends and I will talk about her in future blogs.
Such a cool person, and she was even on the set years later for the shoot of our "I Hate Kissing You Goodbye" video.
For those who have that "What Comes Around Goes Around" Home Video (DVD) she is in a few scenes.
Still friends today and she even tweeted this little image and message in August of 2017.
———————————————-
The THUD show.
At some point in 1989 we got another movie offer.
Well…sort of.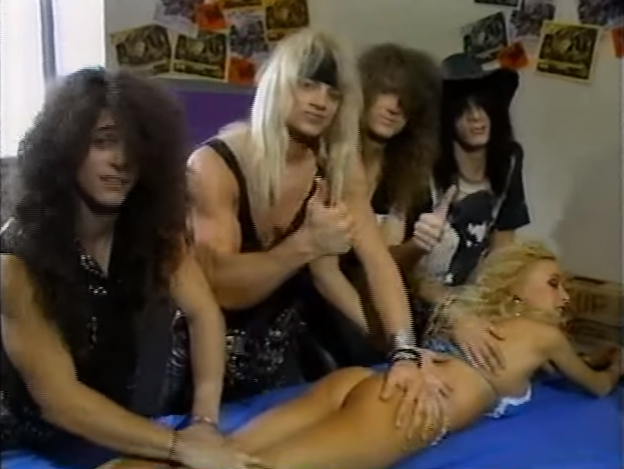 We got a call from Penelope Spheeris.
We first met Penelope when she was walking the Sunset Strip with her film crew in the fall of 1987.
As most know reading this, Tuff appeared in Decline of Western Civilization Part 2 – The Metal Years, directed by Spheeris.
Penelope was always really cool to us and asked us to be in another of her projects.
This was to be a Pay-Per-View on cable T.V.
It was called, Heavy Metal Thunder & Mud – The THUD Show.
It was a mish mosh of hair bands, metal bands, mud wrestlers and cast of Hollywood characters.
Bands that appeared in addition to Tuff were Nuclear Assault, Emi Canyn of the Nasty Habits (Motley Crue) with her band She-Rok, Grave Danger and Young Gunns.
They also hired mud wrestlers from The Tropicana and had local and longtime Tropicana Emcee Dennis Morgan to work the matches.
Jessica Hahn was hosting with "The Leathur Nun" Tawn Mastery from KNAC 105.5 Pure Rock Radio.
Other notables were the Godfather of the Sunset Strip Bill Gazzarri and Sam from Sam Mann & The Apes.
The bands were each paired up with a girl, and we all played 1 song each.
Our performance was also judged by a panel of rock stars.
The judges included; Randy Castillo, James Kottak and Nadir D'Priest.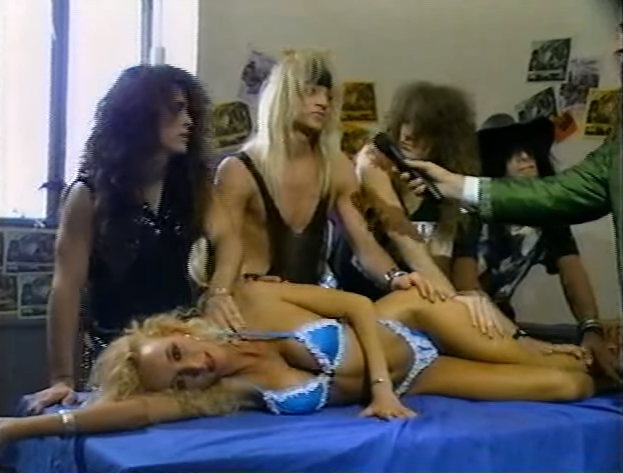 Then our rep (mud wrestler Lauren) would wrestle another band's girl.
Our match was Tuff vs: Nuclear Assault.
There are some hilariously bad clips on youtube (see below and inset).
This was a fun experience for sure, but it was crazy cable T.V. at its worst.
One thing that stood out to me, was the band Young Gunns.
This was my first memorable run in with the guys and I immediately liked them.
I told Michael, "These guys are great. We should put them on some of our shows."
Soon we became fast friends with Drew, Brent, Marc, Benny and Johnny.
As time goes on in these blogs, I will share a ton more about this band.
Some good, some great and some funny as well.
Heavy Metal Thunder & Mud was a bomb.
As huge as The Metal Years was as an underground documentary, the THUD show was a DUD show.
There will be another offer from Penelope Spheeris in the near future that we unfortunately rejected!
All I will say until that is revealed is… Party On!
Sadly…as I wrote this I realized…that several of these people have all passed on.
Bill Gazzarri died in March of 1991
Randy Castillo died in March of 2002
Tawn Mastery "The Lethur Nun" died in October 2007
Dennis Morgan died in December 2015
Emi Canyn died in February 2017
RIP to all of these great people. All of whom I had met at some points along my journey.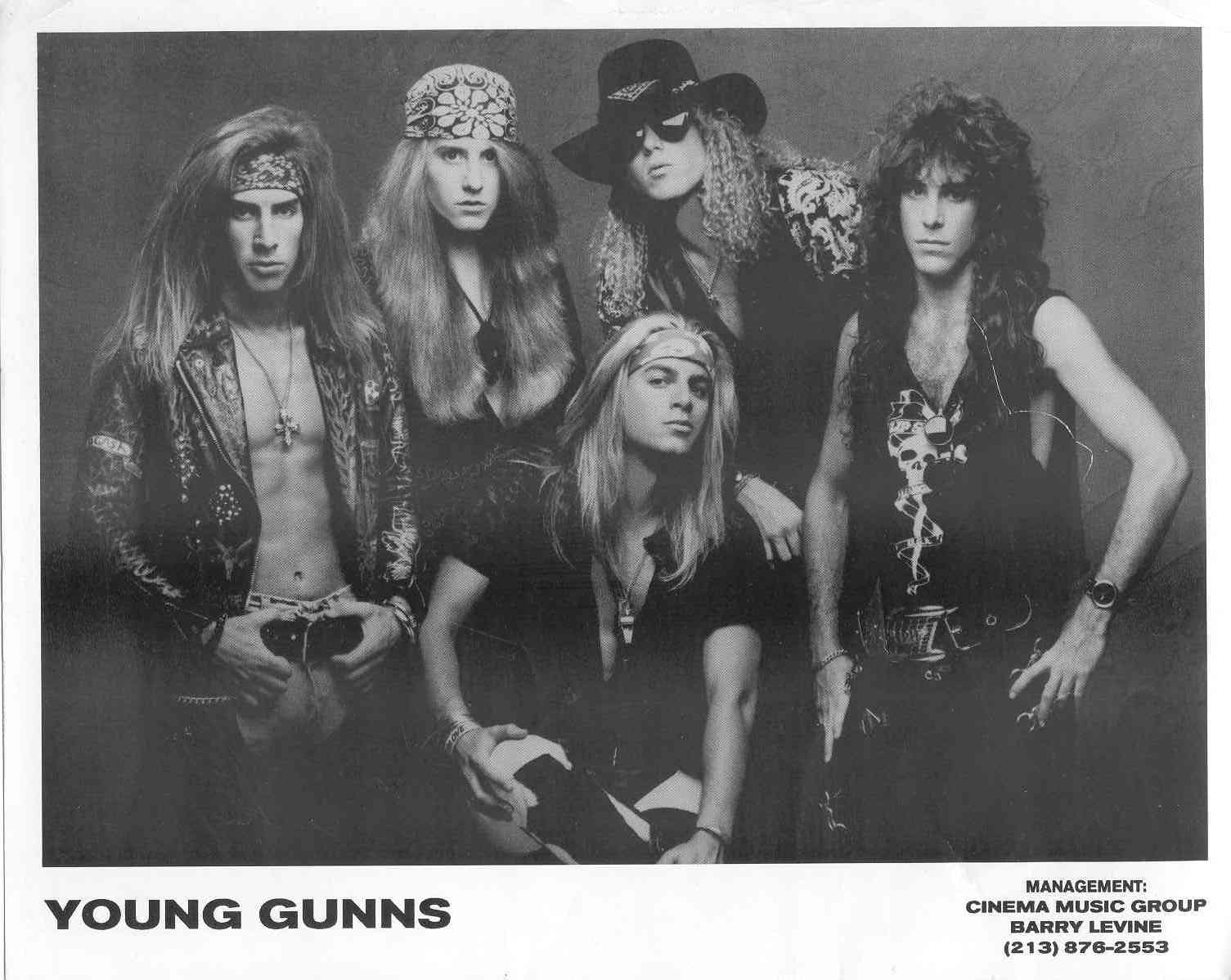 ———————————————-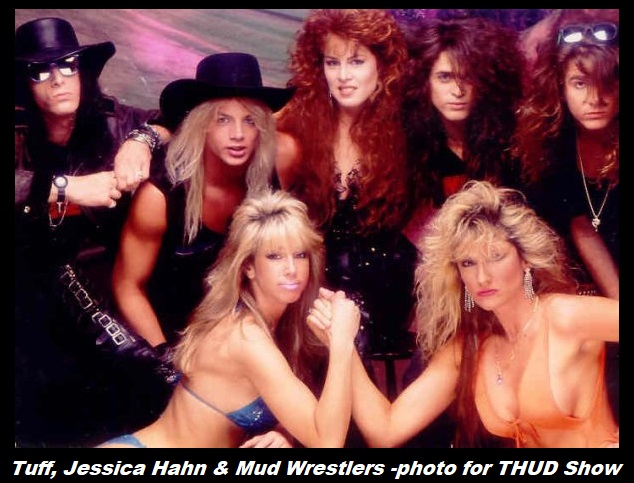 Jessica Hahn.
Something else that came about from the THUD show was becoming friends with Jessica Hahn.
This was 1989 and Hahn was a pretty big 80's celebrity for sure.
Her scandal with Jim Bakker, and becoming a press darling of sorts was obvious.
She was a regular on late night talk shows, the ever growing in popularity Howard Stern Show and was the focus of Sam Kinison's "Wild Thing" 1989 hit Mtv video.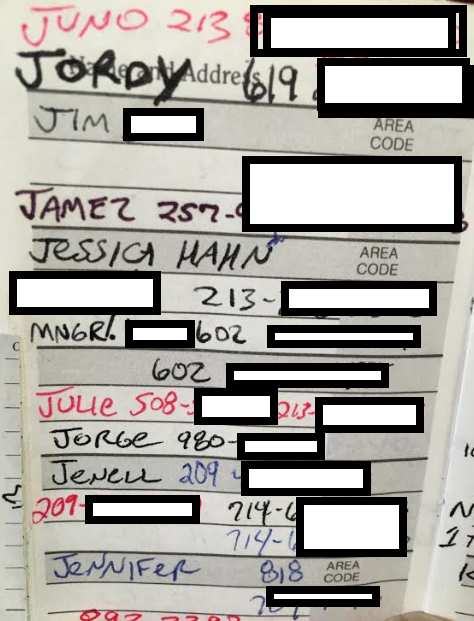 I recall Jessica had a younger late teen brother who really liked hairbands, so she brought him to a show or two.
We had a few various dealings with Jessica including a photo shoot with photographer William Hames.
This was part of the promotional stuff for the THUD show, set up by Penelope.
The photos made it into mainstream press rags like The National Enquirer in addition to the rock mags.
In 1989 I was 23 and Jessica was 30.
To me this was a much older woman and not that I didn't have any of those along the way because I did…but whether she would have boned me ever is a wash.
I do recall her and I calling each other on the phone late at night.
She lived in Beverly Hills and I still have her number in one of my little black books.
I also remember her telling me about her "situation"…which could best be described as living with an older sugar daddy or similar.
In a google search I see that she had a long relationship with Ron Leavitt the co-creator of Married…. With Children.
This was also a time when I didn't have a car or any money to speak of.
So even if she said, "Come over and see me tonight" I would have had to take the bus or get a ride.
Which…happens at some point with a Playboy Playmate in 1990. Wait for it…
Other than some late night bedtime talk on the phone, Jessica Hahn and I never evolved into anything more than friends.
In short I was never attracted to red heads anyway.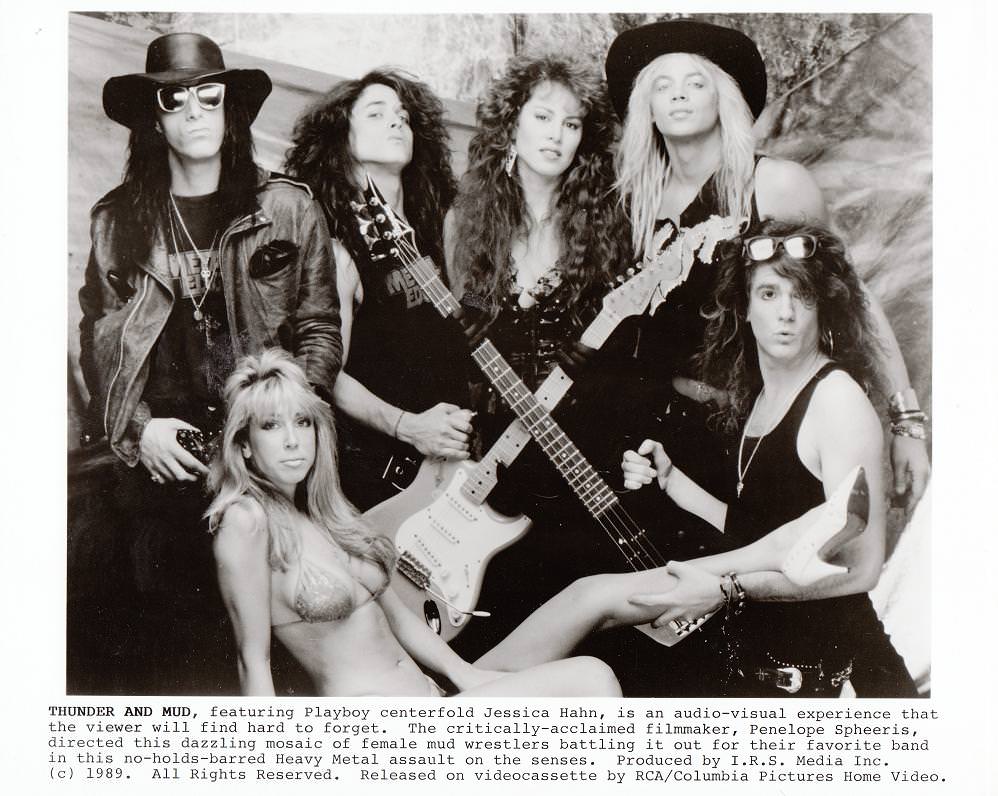 ———————————————-
Nice bracelet.
So I meet this girl name Leann.
She was from the East Coast, kind of clean and wholesome.
She didn't wear a lot of makeup and I liked that.
Leann was kind of the hippie type, with a touch of tomboy in her.
We met at a show and exchanged numbers.
I recall she had an apartment on the West end of Hollywood Boulevard.
Away from the main drag, halfway to Fairfax.
We had sex several times and I always recall she would sweat more than your average girl.
But it was a turn on too, as I could tell she was really getting off on it.

One day she brought me to her place and we're messing around.
She grabs her wrist and pulls off this rubber and leather bracelet.
"I want to put this on you" she tells me.
I was like, "Huh, you wanna put your bracelet on my dick?"
"It's not a bracelet honey, it's a cock ring."
As perverted as I was, I wasn't into anything this crazy – yet.
Never did any bondage kind of stuff, or role playing… so I was like "Huh?"
She is now unstrapping her bracelet, and instructing me.
"It goes like this" as she starts to strap it under my balls and over the top side of my cock snapping the button clasp shut.
It was really tight and made my dick like a rock.
"You also cum quick, this will help you hold it" she tells me.
I am not sure if I should laugh or be embarrassed as I am now wearing her accessories on my schlong.
She starts stroking my long dick and I feel the ring getting tighter.
"Oh baby, you are so fucking hard" as she starts sucking me.
I am now hard as a rock and start fucking her.
Leann loves this and is all sweaty underneath me.
"I love your arms and chest" she tells me as I am plunging inside of her.
I was never a skinny rocker boy, at least not like the bird leg burnouts.
As a late bloomer, I was only 105 pounds as a freshman, but by my senior year I was 155 pounds at age 18.
It's now 1989 and I am 23, and at 6' tall – and probably weighed about 170.
Leann was a small brunette with a super flat stomach and small boobs.
I will take a flat stomach over every other asset ALL day long!
We sucked and fucked and I recall she always wanted it more than once.
Which in my 20's, no problem. I could blow 3 loads a night easily at that point.
I don't know where Leann went and I wish I did, as I'd love to say hello to an old friend.
Thanks Leann for your friendship and introducing me to the cock ring.
—————————————————————————————————-
Powerstar Management
It's now in the later part of 1989 and we started communicating with a few other managers.
Howie had some stuff going on in his personal life that kind of took him away from rock n' roll business for a period but it was all good between us.
Somehow we got talking with Warren Entner.
Entner was originally a musician singer, song writer in the band The Grass Roots.
He at some point started to manage bands which included Quiet Riot. Faith No More, Rage Against The Machine and others.
We met with him a few times but nothing came of those communications.
We also started dialogue with Brian Kushner.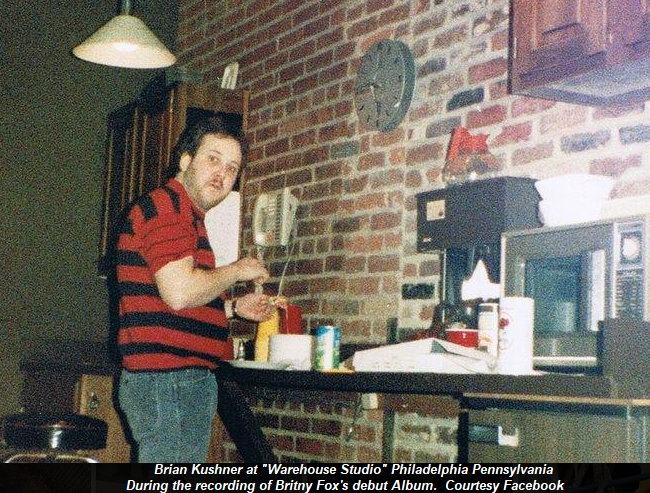 Kushner had a company called Powerstar Management.
He managed Britny Fox and the Miami 3-piece boy band Linear.
Kushner was based in Philadelphia and had ties to Britny Fox going back to Michael Kelly Smith's time in Cinderella.
I recall Michael Lean and I went to meet Brian for the first time in Hollywood.
He was in town on business and staying at The Mondrian Hotel on Sunset Blvd.
We arrived and rang him from the hotel lobby.
A few minutes later he bounced out of the elevator.
Jeans, white t-shirt and Converse Chuck Taylor tennis shoes.
With a Tri-State area accent we immediately liked Kushner.
Very down to earth, very blue collar and he seemed very genuine too.
Because he was.
We gave him our band press kit and chatted over some lunch.
If my memory is correct, we were sitting at a table poolside.
At some point Brian motions, "There's Phil Collins reading the newspaper."
Bald as a cue ball in a Speedo style swimsuit there he was.
A man who wrote more hit songs than we could have counted on all of our fingers combined.
Funny how Hollywood works.
But living here for so many years, this stuff never shocked me much.
We finish our meeting with Kush, a nickname Michael started calling him and we headed back to the valley.
Over the next several months Brian and Michael would talk daily.
Occasionally I would jump on the call and berate him with questions.
He was always armed with a good answer and taught (me) us a lot.
I wanna say after a few weeks we were offered a management contract.
We signed it and Powerstar was officially representing Tuff.
No he was not Doc McGhee but Kushner seemed to have some things going on.
Britny Fox had went Gold off their 1988 debut release and were support on the "Open Up And Say Ahh" tour with Poison.
Not sure there were many tours bigger to be a part of, as Poison went 5x Platinum with that release and had a #1 single with "Every Rose Has Its Thorn."
We never thought we'd get a tour of that magnitude but knew our new management company was well connected.
——————————————————–
A label showcase.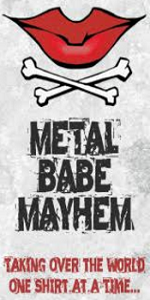 Mechanic Records was interested in Tuff.
Kushner had some ties to this East Coast based label.
President Steve Sinclair and A&R rep (his girlfriend) Elisa Casas had been hearing the endless buzz on Tuff.
I recall us doing a showcase for them at some venue in downtown Los Angeles.
It was during the day. In a big club, full stage, lights, the works, but no fans.
Basically the band, our crew and like 3-4 label people.
Not the easiest scenario to act like it's a sold out show in Hollywood on a Saturday night – when in reality it was 1:30pm on a weekday.
Nothing came of that showcase and the label had just signed Trixter as well.
Their debut hit the stores in May of 1990 and was RIAA certified Gold.
Another band signed, and selling… good for them, but we want our shot too.
———————
Other People's Pussy.
"You down with O.P.P., yeah you know me" – search O.P.P. on youtube if you're under 40.
In looking back it's crazy to think but there was some sort of pot of gold at the end of The Rainbow – for not getting signed.
Not The Rainbow Bar & Grill, but the dating rainbow.
While so many guys were out touring, many of their girlfriends or wives were back in Los Angeles.
I recall meeting a girl named Lynn.
A beautiful blond, petite and very sweet.
Lynn was dating Jerry Dixon from Warrant.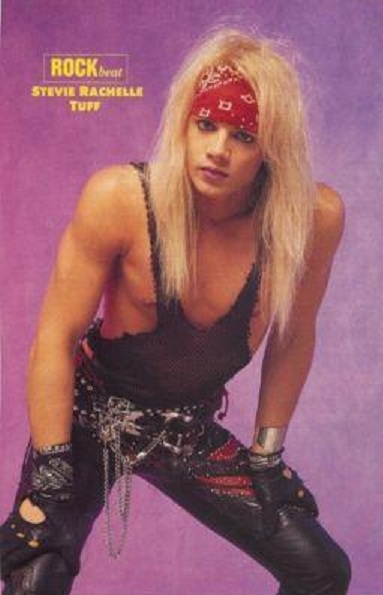 One night I was at Lynn's apartment and the phone rang.
She looks at me and puts a finger up to her mouth "Shhhh, it's going to be Jerry."
I played along and laid there quietly in my underwear.
This wasn't my first rodeo with someone else's girlfriend.
I also had a pretty good idea of what the "road rodeo" was (is) as well.
A Rock Beat Magazine pin-up from 1989.
Being a rock star on the road in the 80's was everything you imagined and more.
Most – not all – but many of these guys cheat.
I don't think this, I know this.
Boyfriend, fiancé' or husband – makes no difference.
Also, most – not all – but a huge percentage are also liars.
Truth.
Of course in 2018 it's much different than it was in 1989 with no social media
Even the fat disheveled roadies would get laid 5x as much on the road than at home.
Imagine if you were in the band, and good looking.
Some guys will hate me for saying this stuff, but to each his own.
Same applies with my little stories about these girls or women.
I care more about them and their feeling smore than the guys, but most of what I am telling is in good fun.
Also…it's 3 decades ago.
We were kids…we had fun, we lived our lives.
Loosen up folks.
So….back to the phone call.
Lynn spoke to Jerry for a few minutes and I tried not to eavesdrop (or laugh) as I stared at her tiny body wearing only panties and a little top.
To be clear, we didn't have full on sex – but we weren't doing Bible study either.
I truly think a fair amount of girls and women cheat as well.
Or shall we say…they get even.
Like that old saying goes, what's good for the goose – is good for the gander.
This wasn't the first or last time that I will cross paths with a Warrant member's better half.
More on this as the years go by.
I recall a follow up incident to this visit, when I brought Lynn a Tuff poster and our demo.
It seems at some point Dixon became aware of these items, questioned her, likely thought the worst and lost his shit.
No hard feelings towards Lynn or Jerry, both have went on in life as have I.
———————————————————
It's now late 1989 and another full calendar year is passing us by.
Speaking of Warrant, they had officially went double Platinum off their debut "Dirty, Rotten, Filthy, Stinking, Rich".
Add to that, they were touring with Motley Crue on the "Dr. Feelgood" tour.
Skid Row were double platinum too and out supporting Bon Jovi.
Both Warrant and Skid Row had released their debut in January of 1989 and before the year is out – they will have numerous hit videos on Dial MTV, multi-platinum records, endless press and were living the dream.
There were also others who got a deal and already had a record in stores as well.
L.A. Guns, Faster Pussycat and Guns N' Roses – all of whom had gone Gold to Platinum to Multi-Platinum.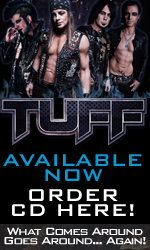 These 3 band's had released records in 1987 and 1988.
Then there were also the 1989 releases….
Dangerous Toys from Austin, Texas (May 1989)
Danger Danger from Queens, New York (June 1989)
Enuff Z'Nuff from Chicago, Illinois (August 1989)
Pretty Boy Floyd from Hollywood (October 1989)
Vain from San Francisco, California (1989)
Shotgun Messiah from Sweden (1989)
Sweet F.A. from Indiana (October 1989)
None of these bands had reached the status of Warrant or Skid Row, but we were all in some form connected, similar and fighting for our place on the rock n' roll map.
We admired all of these bands, and wanted to play too.
We wanted in the game.
Like a player wanting to get on the field or on the court.
Not jealous, but ready to challenge – to stake our place and do so with confidence.
Even in Tuff, with our band, crew and friends, we were always (at least I was) ready for the battle.
The hard work, the highs, the lows, the good, the bad and the ugly.
I wanted more than anything to set goals, and to achieve them.
And we (I) did.
But getting that record deal was a mind fuck at times for sure.
Tuff was into our 3rd year with me fronting the band and was about to enter their 6th year since forming in early 1985.
Did we think about quitting?
Changing our name, image or hair color?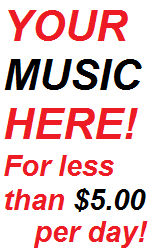 Or maybe giving up?
No, no and no.
That never crossed our minds.
But of course labels would say, "You're too much like Poison", "There already is a Bret Michaels" or "You don't have a hit song."
The "hit song" drivel is the same stuff they likely told every artist to ever sign a deal and that still rings true today.
Oh well, we live to fight another day.
Stay tuned for next year… big things are coming our way.
Another Midwest & Texas tour.
An East Coast tour with Britny Fox….. kind of…Ugh.
And will Hell finally Freeze Over in Hollywood California during the scorching Sumner months?
Stay tuned for Diary entry #11 and the start of 1990.
Thanks for reading …
Message from the author.
People have said to me for years, "You should write a book, I'll buy it."
That's not likely going to happen… not anytime soon at least. But if you are down with my blogs, my band or my various projects – I say thank you. 
I have self-released roughly 50 projects on CD. Cassette, VHS, DVD and Vinyl since 1994. All on my own. Without any label support. None. 
I have also kept Metal Sludge alive, afloat and online since 1998. For Free. You cannot imagine the workload a website of this magnitude can be.
No Kickstarters, no Go-Fund Me, and no Pay Me now and I'll make a CD in a year and send it to you later. 
I am also self-managed, self-booked (most of the time) and 100% self reliant. A 1-man gang. 
If you want to support in anyway, buy a CD or Vinyl record from me, or a T-shirt. Or send me something direct via Pay Pal.
I am not begging. I am not sick and no hospital bill. Nope, just continuing my service to the fans that support my Rock N' Roll. 
My direct Pay Pal email is Sludgeceo@gmail.com – send a dollar, send ten or send fifty. Send whatever you like, or nothing at all. 
Many independent websites have Donate buttons, Metal Sludge has NOW added one, Top Right of this page.
No pressure, but hey, it's an option if you care to do so. 
Thank you for all your loyal support of my projects.
There is more to come, more blogs and more music too. I have something in the can now it just hasn't been packaged just yet. 
Thank you again and all of your support is greatly appreciated. 
Stevie Rachelle
Read my previous blogs linked below, numbered and dated.

Read my previous blogs linked below, numbered and dated.
Entry #1  How I Made My Way To California, 31 Years Ago Today  (June 25th 2018) 
Entry #2  My First Meeting With Tuff, "Is That All Your Real Hair?"   (June 29th 2018)
Entry #3  Tuff audition, Jim Gillette screams, a near fist fight & our debut show  (July 5th 2018)
Entry #4  The Metal Years, Famous People, Cocaine, Kiss & Sex with a Miss Gazzarri's Dancer  (July 14th 2018)
Entry #5  Guns N' Roses, Del James, 1988, Sound City, Strippers, Crabs & You're Fired!  (July 30th 2018)
Entry #6  Summer on Sunset, Vinnie's Invasion, Tracii's Glue Gun, Vain & Sex by a Dumpster (August 11th 2018)
Entry #7  MTV's NYE Big Bash, Riki & Taime's Cathouse & My Girlfriend was a Poster at Spencer's (August 20th 2018)
Entry #8  Jon Bon Jovi, Sebastian Bach, Rick Rubin, Howie Hubberman, BulletBoys & Gazzarri's (Sept. 16th 2018)
Entry #9  Summer Tour '89, Andy McCoy, Def Leftovers, Max the Model, Z-Rock, Tommi Gunn & Lit (Oct. 10th 2018)
Entry #10 Goodbye 1989, Jessica Hahn, Skid Row, Martha Quinn, Young Gunns, Flyer War & Cock-Rings (Nov. 9th 2018)
Entry #11 Hello 1990, Texas, Britny Fox Tour, Strippers, Hells Angels and Atlantic Records signs Tuff (March 24th 2019)
Entry #12 Ready to Record, Howard Benson, FM Station, Jani Lane, Court hearing & my 1st Playmate  (June 2nd 2019)
Entry #13 Recording our Atlantic debut, Bret Michaels, Kane Roberts & Sex is fine, but no sleepovers (Aug. 27th 2019)
Entry #14 New York City, Mixing our Record, Publishing Deal, Video Shoot , Cherry St. & Tigertailz (March 25th 2020)
Entry #15 Hello MTV, The Nelsons, Jason Newsted, U.S. Tour, London & our Stolen Ryder Truck (May 19th 2020)
Entry #16 Lita Ford, Jason Flom, 75+ Shows, Cocaine, a Lawsuit, Sweet F.A. & the Freeway Fight (July 29th 2020)
Entry #17 Hello 1992, Gene Simmons, More Money, Mike Starr, a New Bassist & Jason Flom II (March 20th 2021)
Entry #18 WildSide, Dee Snider, Tour Drama, Baywatch, New Label Search and Living in Reseda (Aug. 21 2021)
Entry #19 Michael Resigns, River Phoenix, Thirsty Whale, He's Got a Gun, Stolen Van & Danny Quits (Jan. 16th 2022)
Entry #20 1994, Northridge Earthquake, Kurt Cobain, RLS Records, releasing "Fist First" (May 2022)

Tuff @ Facebook –  eBay – Amazon– iTunes – Instagram – Twitter – Store – Discogs – YouTube –

https://www.youtube.com/watch?v=xiSIfgGvh0k




https://www.youtube.com/watch?v=KNVCXiYCavo