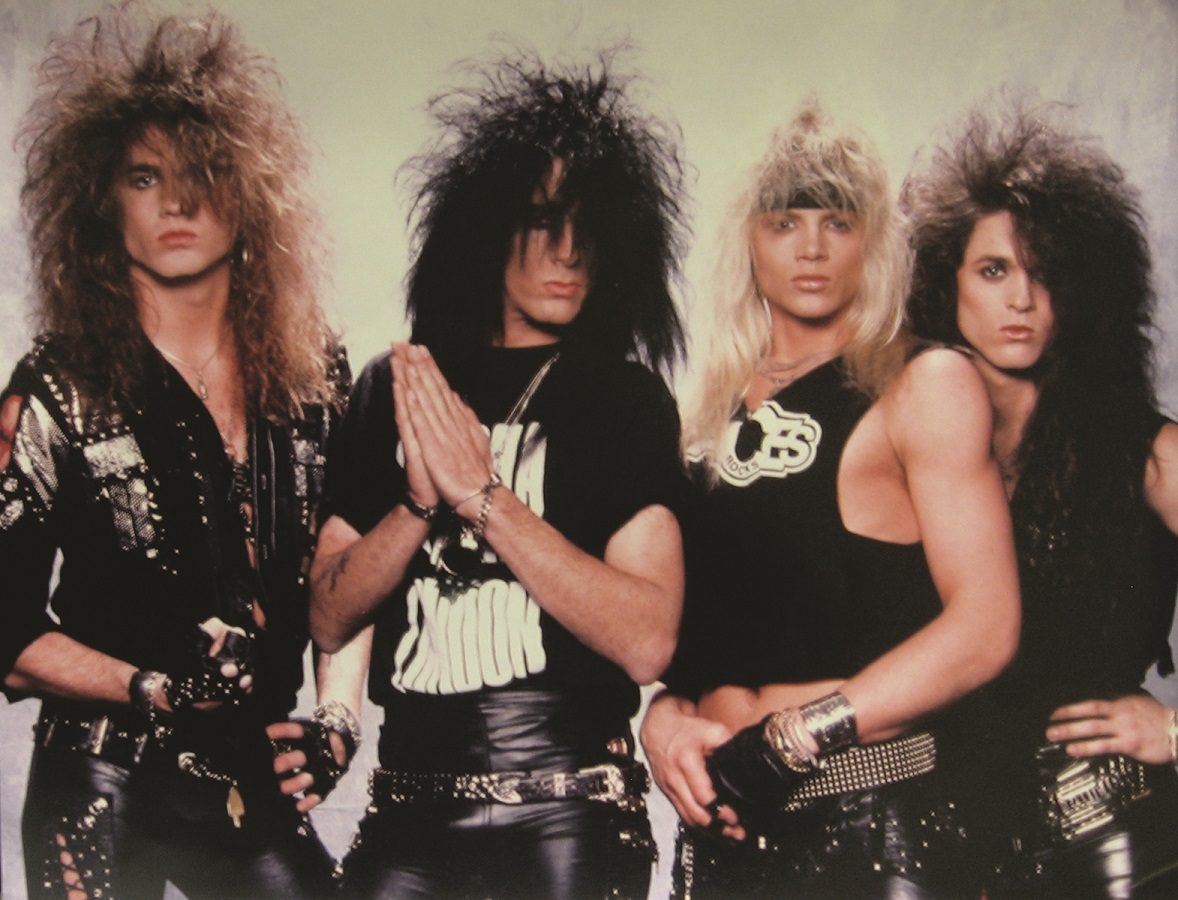 TUFF DIARIES #9
Summer Tour '89, Andy McCoy, Def Leftovers, Max the Model, Z-Rock, Tommi Gunn & Lit
Jeremy Popoff, Murderdolls Reject, Blue Oyster Lords, Monster Energy, Sea Hags & Madd Maxx Hammer.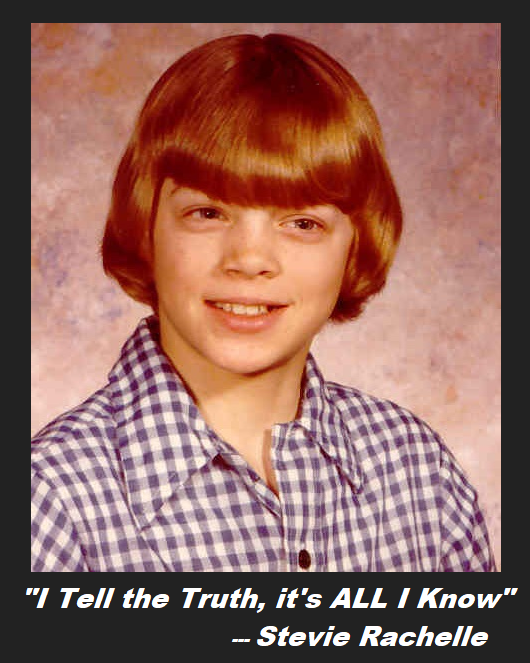 It's now the summer of 1989.
Tuff are booked on our first ever Midwest tour.
We just had a busy spring and now we're picking up right where we left off. In June alone we will play 14 shows in 6 states.
On June 2nd we'll play Tucson Arizona and the 3rd we hit the "Mason Jar" in Phoenix and do 2 shows, including an all-ages show early.
The very next day on June 4th we'll rock "Rios" in San Diego with the band Sea Hags.
Next weekend we'll head north and play "The Stone" in San Francisco on June 9th and on our way home our stop is "The Zoo"  in Fresno on June 10th.
In looking back there were a few different types of bands.
Some bands, or part of their members were locals and grew up in the greater Los Angeles area.
Then there were the bands. or musicians who moved to Hollywood from other states.
Most of them moved here to go to music school (MIT), play in bands and/or showcase locally for record labels.
Tuff did that (minus the music school) but we also started spreading ourselves out and touring the West Coast and beyond.
We were playing almost every weekend and usually back to back shows.
Our weekend guarantee was $ 1,000.00 to $ 1,5000.00 per night on bigger gigs and $ 300.00 to $ 800.00 on others.
We once did 2 shows in 1 night at "Whisky-A-Go-Go" and got paid $ 3,000.00 for our services.
Add in merchandise sales, and it's safe to say in June of 1989 our band did over 15 grand in business.
We were not just a local band playing Hollywood waiting for a record deal.
Nope, we went out and started building a fan base  – 1 show at a time.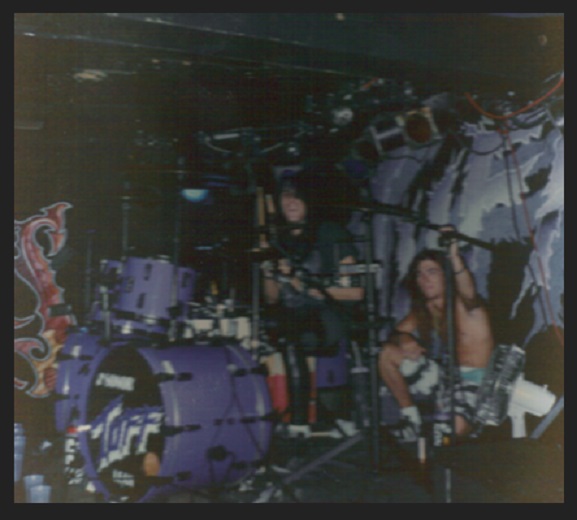 Michael Lean and drum tech Dennis 'Rat' Dudek at "Rios" in San Diego June 1989. Note the Sea Hags backdrop on the wall to the left. 
Where to meet girls?
At the pay phone of course.
It's a typical day and we're running around putting flyers in stores on Melrose and Hollywood Boulevard.
Oh and stopping by the Post Office on Wilcox too.
That was a regular stop, maybe not daily but at least a few times a week.
Aside from getting our mail, we'd also buy stolen calling cards.
We would get these from shady black dudes who would hang around outside.
Not sure how Michael met these characters, but in short, if you gave them $10 they'd give you a little slip of paper.
On that piece of paper was a long set of numbers, which was someone's calling card.
You could then use these on a pay phone to make long distance calls.
Anyone under 35, just an FYI: … there were NO cell phones in 1989.
Unless you were a mogul and had a backpack size carrying case complete with battery and antenna attached.
We'd get these numbers and immediately go to a pay phone.
There we would make as many calls as we could, until the number was no longer working.
Sometimes it would last for days, other times it would be dead in a few hours.
One day we were parked at a Mobil Gas Station on the corner of Highland at Santa Monica Boulevard.
There were severaal pay phones there and we'd pull in, grab a soda and start making calls.
We're there for a bit and soon we see a few girls walking past.
They're looking and we're looking and they stop and say hello.
They said they were walking back from shopping on Melrose.
One girl is super-hot and I am flirting with her.
I ask, "What's your name?"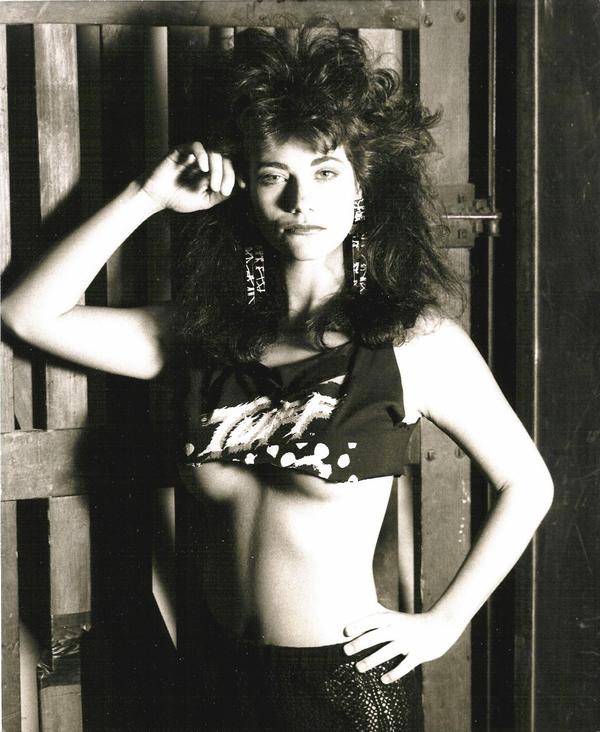 "Max."
I had never seen a sexier person named Max in my entire life.
Wow… her eyes, face, teeth and boobs too.
Max was also very charming and sweet with a good soul.
We exchanged phone numbers and they walked away.
Michael and I continued with our calls to New York, Chicago and probably the planet Mars.
The calling card was a golden ticket in the 80's, even if it wasn't ours – we still used it.
Soon Max and I started hanging out and she was very interesting for sure.
Max had moved to Hollywood from Florida to pursue entertainment in some form I guess.
The typical stuff, ie: modeling, movies and music.
Maxine was her full name and she was very sexy, but also had a classy and sophisticated look about her.
We both loved the movie Scarface and for some reason I started calling her Gina.
Being from Florida with dark hair, it fit her well.
Then one day she was listening to Tony Toni Tone and somehow she nicknamed me as well.
She started calling me Tony.
Weird as Tony was Gina's older brother in Scarface, right?
Well call us crazy but soon Gina and Tony were having fun.
I guess this was incest in some weird way, lol.
Yes, and we had a great time as well.
One night at her apartment we were messing around in her room.
I remember at some point she slid off the side of the bed – I followed .
I recall shoes being in the way… high heels, boots and pants too.
Pushing them aside, almost as if I was swimming through clothes and shoes. #WTF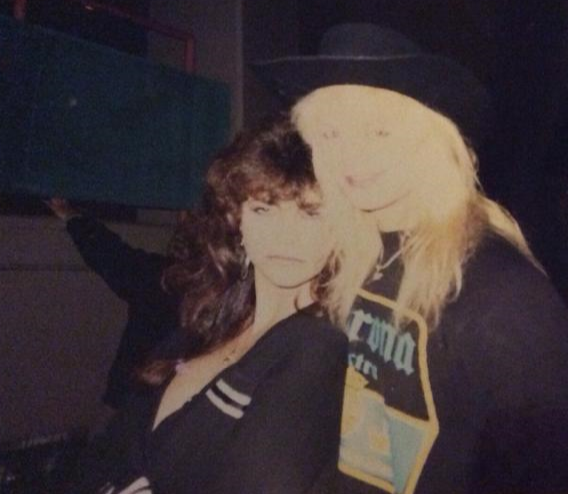 Finally we collapse on top of each other.
Max  and Stevie Rachelle somewhere in Los Angeles late 1980's. 
We're both breathing heavy.
After she catches her breath she says, "Tony, we're in the closet."
I was like, "What are you talking about" as I am laying on her.
My face against her neck and she giggles, "We're IN THE closet."
I start to get up I realize there are clothes hanging everywhere.
We finally pull ourselves upright and see we're across the room, nowhere near the bed.
And yes… in the doorway of the closet.
The pillows and sheets were everywhere.
We just looked at each other and laughed.
We remained dear friends and lovers for some time, but eventually life called and we drifted apart.
Thanks to long distance telephone calls – no calling cards needed – we stayed in touch.
We have some great and crazy memories from our twenties.
And Max today is still stunning as ever.
——————————————————
Agent Orange County.
Someone who came into our lives around this time was Shelly Berggren.
Shelly became our booking agent.
Tuff had a few managers along the way, but really only had 1 agent during our years as a local band.
And that was Shelly B.
In reality, it started out as Jennifer Perry, but Jennifer was moving onto bigger bands and Shelly was her protégé.
Jennifer Perry was older and had been on the scene since the early 80's.
Shelly was younger, more our age and in her early 20's.
She was from Orange County and grew up with Joey Allen of Warrant.
And she was a young businesswoman in the making.

In other words, Shelly was not taking part in the on-going who's fucking who side of the industry.
The agency who booked us was called Tapestry Artists and their offices were in the Valley.
They represented bigger bands too like The Cult, Leatherwolf and Dangerous Toys.
Tuff were the local "baby band" on the roster that was rising in the ranks.
Shelly helped book us from Phoenix to Oakland, Hollywood to San Diego.
I have to say, Shelly has been a dear friend for years and has always been in with the most respected women in this business.
This included Sharon Osbourne, Wendy Dio, Jennifer Perry and so on.
Fast forward to the late 90's Shelly called me one day and said. "Stevie, we need an assistant."
I asked, "Okay, for who?"
She said, "Us girls, we need a guy to help at the office."
Shelly went onto detail my pay and what the job entailed.
I would be working for Sharon Osbourne, Jennifer Perry and Shelly.
I laughed out loud, "You must be kidding! You will ALL kill me."
She laughed, and told me. "You're probably right" and then explained how she knew I was the right guy for the job.
The pay was like $10.00 an hour and I was loaded from the Cheesheads, so I really didn't need the money.
Besides, at the time I was already working at an array of record labels.
I was on a call list with a major Hollywood (Head Hunter) agency that places people at industry jobs.
Over the late 90's I worked everywhere, even Atlantic Records.
Ironically I was answering phones for Kevin Wiliamson at one point, who was the head of A&R at the time.
He was also present in our last ever Tuff meeting with Jason Flom in May of 1992 and Tuff were dropped the next day.
More on that in a later blog.
Back to Shelly B…..
So I declined the offer to work for Sharon, Jennifer and Shelly.
I did think about it, as I figured it would interesting for sure.
This was before The Osbournes too.
Which had I taken the job, who knows how long I would have lasted – or maybe I would have become their house boy being yelled at by Kelly and Jack to clean up dog shit?
Maybe I would have been Ozzy's assistant to drive him to the grocery. Or perhaps I would turned into a Z-list reality Mtv star – but – sadly we'll never know for sure.
Shelly is still in the industry today and has worked for both Singerman Entertainment and Live Nation for many years.
One of the OG's from our camp Shelly B. is good people for sure.
——————————————————-
Hanoi Rachelle
So Tuff is definitely moving the needle on the local scene, but also in the industry.
We couldn't get a record deal to save our lives, but clearly someone thought we, or perhaps, I, had what it took to go to the next level.
At some point I was contacted by Gold Mountain Management via the Tuff Hotline.
Gold Mountain was a big management company who represented everyone from Bonnie Raitt, to Belinda Carlisle, Beastie Boys and eventually Nirvana.
A woman called and left a message for me personally.
I returned her call and she informed me that Andy McCoy of Hanoi Rocks was interested to have me sing for his new band.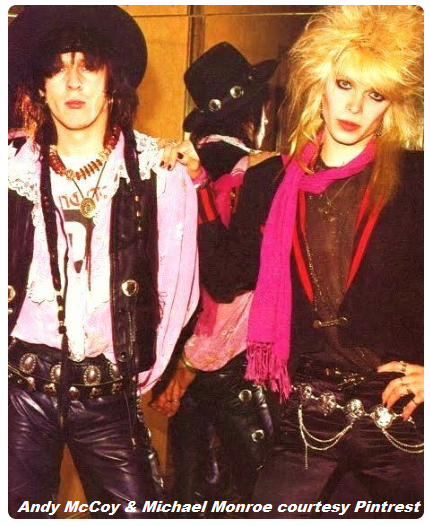 I was somewhat flattered as I loved Hanoi Rocks, especially Michael Monroe who had officially went solo by this point.
She invited me to their offices in Studio City.
Michael came up with a plan, that I would take the meeting and listen to their pitch.
But after hearing them out, I would present them with the Tuff press package and demo.
The day of the meeting Michael drove me and waited in the parking lot.
I checked with the receptionist and she picked up the phone.
"Stevie Rachelle is here…." as she spoke into the receiver.
After confirming with whomever answered, I was invited to an upstairs office.
There was a woman, whose name escapes me and a couple of middle aged guys.
I remember being in this big office with windows facing busy Ventura Boulevard.
It was just me, and these industry people looking me up n' down.
After some time in this business, I have done the show cases, the auditions and meet n' greets.
It's always an odd feeling when you know you are being judged, or visually and verbally qualified by others.
They asked me some basic questions about my age and where I was from.
The woman starts telling me there is a big industry buzz on Andy as he was part of Hanoi Rocks.
McCoy was also the band's primary song writer.
By this time Guns N' Roses – who were heavily influenced by Hanoi Rocks were becoming a massive band.
They also told me how there was going to be a huge push for his band, a big record deal and world tours.
I had a few questions and didn't hesitate to ask, "Doesn't Andy have a serious drug problem?"
To which they all replied, "No, he's 100% clean" blah, blah, blah.
I didn't believe it but listened to their pitch.
I can vividly recall them telling me they are trying to find the hottest singer available to replace Michael Monroe as Andy's new frontman.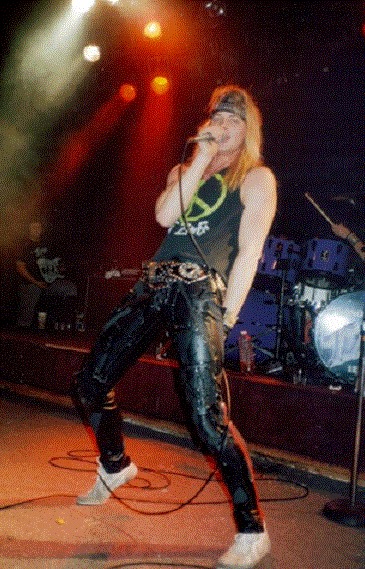 They then went on to tell me that I was on their radar and they knew I was turning a lot of heads with Tuff.
Stevie Rachelle live show with Tuff "The Marquee" Orange County California 1989. 
After hearing their offer, I suggested Tuff as a whole.
"Maybe you should consider working with Tuff instead and help us shop for a deal?" as I hand them a large manila envelope.
The woman opens the folder looks over the cover sheet, bio and focuses on the 8×10.
She then peeled through our press kit and remarked at how much coverage we'd already had as a local band.
"Your band has definitely made a mark, and you seem to be stealing a lot of hearts Stevie."
The lady made a few more comments about my look.
In 1989 it's no secret that image was a huge part of a company's agenda to sell or promote their artist.
Anyway, so the staff at Gold Mountain gave me their best shot, but it didn't even remotely interest me.
I was so determined that Tuff was going somewhere, they could have held out a million dollar check and I likely would have passed.
Young, dumb and full of cum for sure.
Fast forward to the early 90's Tuff played a show at F.M. Station and Andy's new band Shooting Galley were the openers.
We all shared the dressing room and VIP area upstairs behind the club.
I recall Andy McCoy being there, out of his mind on whatever.
He walked right up to me and said, "How come you didn't want to be in my band?"
I was kind of shocked he even remembered this as he wasn't even at the meeting.
I was also in awe of his teeth.
They were rotted, brown, black, missing and he could hardly form words.
It was sad actually.
And it made me angry as I looked at his label and (likely some of the same) management people all congratulating him on a great show.
I thought to myself, "Do these people not see he's fucking whacked out of his mind on heroin!"
It really did turn my stomach.
In the end Shooting Gallery went nowhere and barley made a blip.
However if they called today and did offer that million dollar check, I would join tomorrow.
—————————————————
Big brother and dreams do come true.
Tuff have become big enough locally that some younger up n' coming bands would look to us for advice.
Being a big band in Hollywood was no easy accomplishment either.
It's not like in >insert most other U.S. cities here< where there might have been a handful of great bands.
In Los Angeles, there was a virtual melting pot of all styles, from all over world – who all converged on this spot to get signed.
On any given night there were 12-15 places you could go see a live show.
And in each venue, there were 3-5 bands.
It's hard to calculate but it was likely 50 bands a night were playing somewhere.
So getting the attention of the fans, was not easy. Never mind trying to get the industry heavy weights or A&R people to show up.
But somehow, we managed to beat the odds and became a local giant to some extent.
We had some local favorites as well.
D'Molls were awesome, but had already gotten signed to a label (Atlantic) that didn't do much for them.
We also dug other bands like Taz, Tommi Gunn, Young Gunns, Creature and Razzle.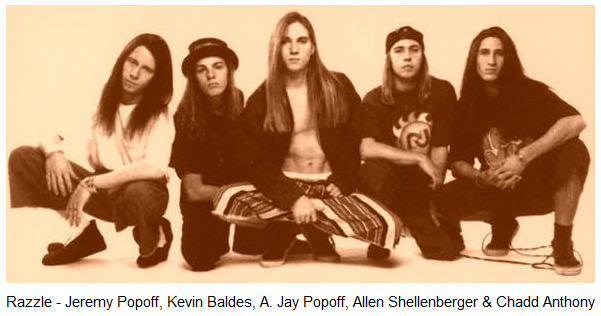 Creature were interesting as they were basically Kiss only everyone was as ugly as Gene.
And the drummer played double bass in those stack heels too. Insane!
Young Gunns became WildSide, and there will be much more on them in a few future diaries.
Tommi Gunn were from Chicago and definitely one of my favorites from The Strip.
But for now, more about Razzle.
As some of you may know, Razzle became Stain and eventually Lit.
A. Jay their singer even got the name Stain tattooed on his stomach at some point.
Then they found out they couldn't use the name, oops. Lol.
They were about to release an E.P. in the mid 90's and quickly settled on Lit.
But before they were Lit, Stain or even Razzle, the guitarist Jeremy Popoff had a band called Dreams.
I don't remember much other than I think they were playing the scene in late 1987 or early 1988.
One night Dreams were handing out flyers and Jeremy had his little brother with him.
A. Jay Popoff was about 14 or 15 at the time.
Years later, after they went platinum and were playing Irvine Meadows he reminded me of the night he helped his big brother flyer.

He tells me in front of backstage of friends, "I was so stoked and walked up and handed you a flyer."
I guess I said something like, "Good luck kid, but don't hold your breath."
At this point Tuff were already big rock stars on the local scene, so to a 15 year old kid, handing me his brother's flyer was a big deal.
And I guess I shit on his dream. Haha.
Handing out flyers was fun, but also competitive and a challenge of sorts.
Walking up to a group of pretty girls and extending your hand with a flyer, could often be met with a cascade of, "No thank you."
Worse yet, them just flat out ignoring you.
There were also the fake encounters as you'd hand some other band guys a flyer, "Dude, awesome, I love your band, I'll be there."
And as they walk away, you turn to see them laughing and throwing your crumpled up flyer into the gutter.
After Jeremy's Dreams ended he teamed up with his little brother's group Razzle.
They loved Tuff and were at many shows, and ready to stage dive during "Good Guys Wear Black."
Jeremy was always the leader and at some point we exchanged phone numbers.
He would call once in a while and say they were driving up from Orange County to visit labels, and wanted to stop by.
I invited them over a few times to the Tuff Muff Mansion.
I can recall a zitty faced teenager (A. Jay) sitting on my bed while Jeremy did the talking.
Asking me advice, or telling me of their plans.
I always liked those guys, they seemed genuine the whole way.
Jumping ahead to the mid 90's … Jeremy calls and tells me of their plan to lose their name, throw away their mailing list and totally re-launch the band.
A new name, new songs, new haircuts, a whole new direction – but the same guys – minus the extra guitarist.
At some point a few years later Jeremy calls again and gives me the big news, "We got signed and we're recording our record. I want you to come down to the studio."
This was late 1998, like a full decade after his first band.
I went down to NRG Studios in North Hollywood and by this point Jeremy's goatee was hanging in his Chinese food.
They played me a few mixes and I clearly remember the chorus, "You make me. You make me cum. You make me complete. You make me completely miserable."
I also remember thinking …"Hmmm, good play on words guys."
We had stayed in touch over the years and even worked as extras on Wayne's World 2 together.
These guys were a full decade into this band thing, but the changes worked.
A few months later I was driving in the Valley and heard "My Own Worst Enemy" on KROQ and that song was just KILLING it.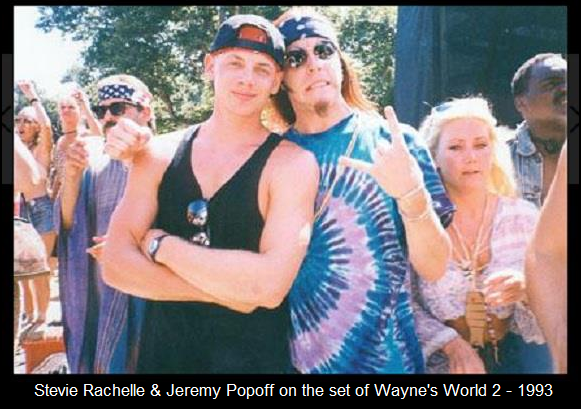 I immediately called him, "Dude, your song was just on KROQ, HOLY FUCK, it sounds amazing."
Jeremy was beyond thrilled and said the label is excited and is pushing up the release date.
The reaction at radio was massive.
Soon enough they went Gold and then Platinum.
Then shows with Kid Rock, Sugar Ray, The Offspring and Pamela Anderson in their video.
A video for the song "Miserable", with that chorus I remembered from going to the stuido.
Damn… dreams really do come true.
Jeremy's first band (Dreams) didn't go much further than an opening slot, but he persisted.
To be fair that wasn't Lit, or even Razzle but everybody starts somewhere.
That zitty faced teen kid, became a Platinum lead singer. Kudos A. Jay and the rest of the band too.
I ran into Jeremy at the Hair Nation event at Irvine Meadows a few years back.
Oddly, that was the same place I saw him and the band backstage after they sold a million records and A. Jay shared his story of handing me a flyer when he was a teenager.
Jeremy came up to me at the Metal Sludge tent, we had a good hug and a handshake.
The guys are still out there today, but sadly they lost their drummer Allen to cancer some years ago. #RipBigAl
I love Lit and was happy to see them succeed.
——————————————————-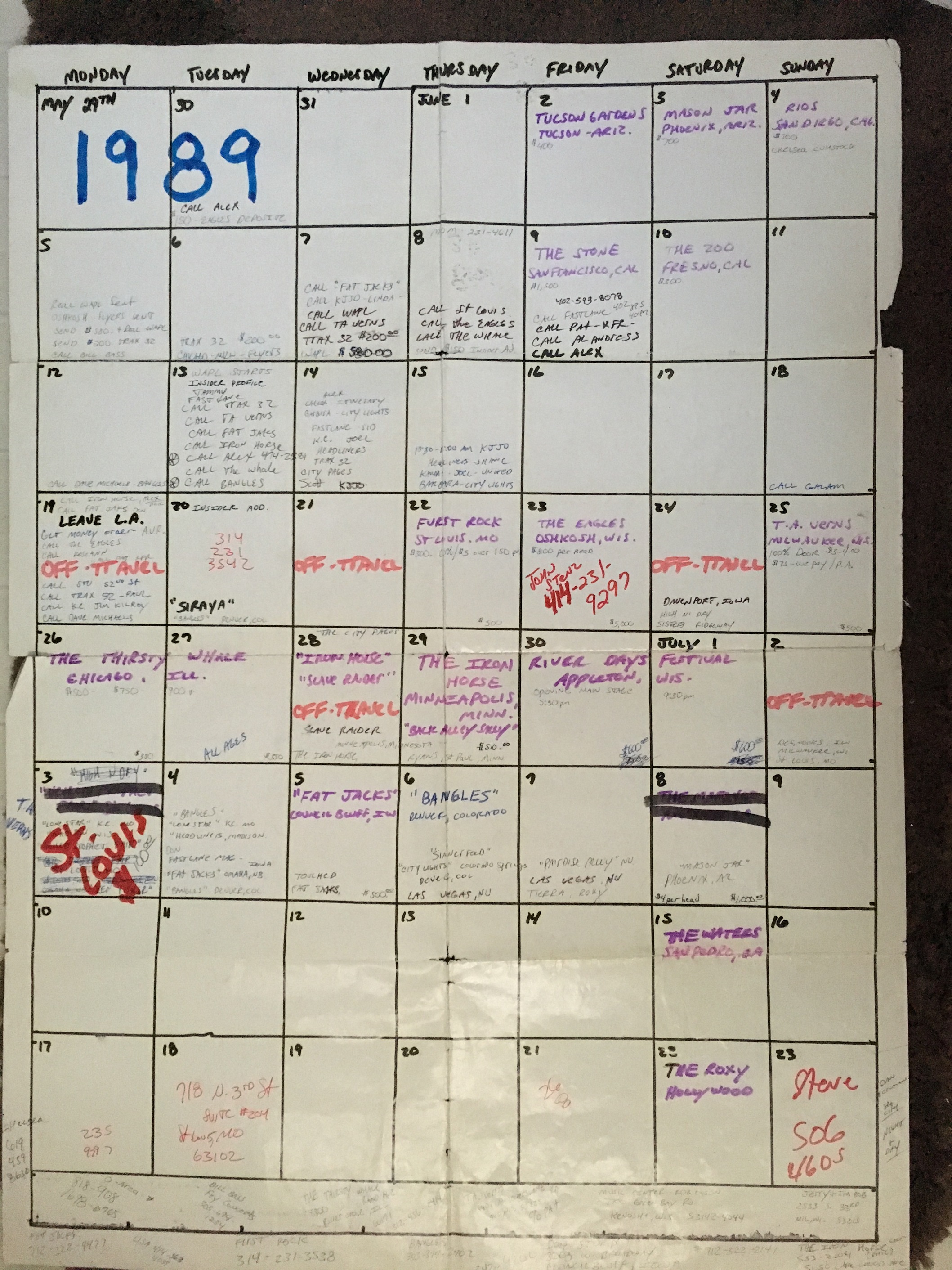 Connect the dots.
Funny looking back I remember telling Michael, "You guys are from Phoenix, and I am from Wisconsin. I know we can get a show in Oshkosh again, now we just have to book the cities in between and we'll be on tour."
He kind of looked at me like I was either crazy or a genius.
If you recall from a earlier Tuff Diary we flew to Wisconsin in April 1988 and played 3 shows.
Sadly on our 1988 trip we booked 2 of our shows on the same night as David Lee Roth And Guns N' Roses. Ugh.
But that was then, this is now…in 1989.
So Michael starts making calls.
We were somehow given contact information for a club in St. Louis, a club in Iowa and the Thirsty Whale in Chicago.
Then we got a lead for Minneapolis as well.
Before we knew it we were booked in all these cities.
Plus shows in Wisconsin, at "T.A. Verns" in Milwaukee and closer to my home town.
The promoter from "Furst Rock" in St. Louis told us over the phone, "Send me your press kit and we'll get back to you."
We mailed off press kits and our full color wall size posters to the prospective venues and bookers.
A week later the lady from St. Louis called and said she put our poster up in the club and every girl that walked in wanted to know when the show was.
St. Louis = booked.
Similarly, "Fat Jacks" in Council Bluffs Iowa agreed to book us as well.
Not just book us, but give us a gurantee of $500.00 on a Wednesday night.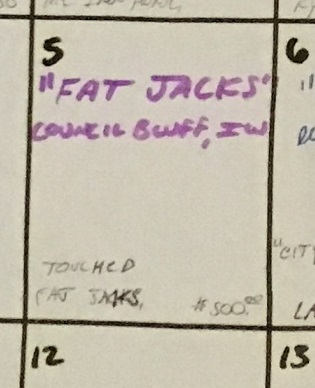 How do I know?
See insert, this is the very make-shift calendar I wrote up for the tour.
Yes, I have calendars from 30+ years ago and can tell you who, when, where and how much we were paid as well.
This calendar was actually on the back of a Tuff poster, and yes, I still have it today in a file cabinet.
We were booking these shows a few months in advance, and preparing like any band would to go on a full-fledged tour.
The only thing was different for us, is that we didn't have a record deal.
No label, and no radio.
No radio, except for Z-Rock that is.
Anyone remember Madd Maxx Hammer?
It was late spring or early summer 1989, as Tuff had just finished our demo in late April.
A Dj from Z-Rock named Madd Maxx Hammer loved Tuff.
After hearing our demo Maxx and  Z-Rock invited us down to Texas.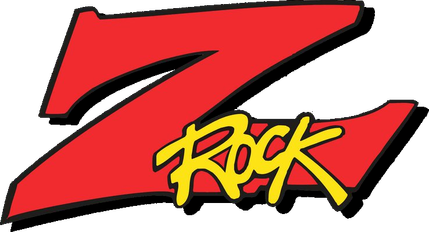 Anyone who doesn't remember, or you weren't old enough, here is how this radio outlet worked.
Z-Rock was syndicated in markets across the U.S.A. but they had their home base in Dallas.
The show was mainly rock and metal, and select stations around the states picked up the show.
They also had cool phrases and slogans on the station like, "If it's too loud, you're too old."
Our song "Good Guys Wear Black" was nominated the Maddest Most Maximum Hammer It Down Your Throat song of the week and got some solid rotation.
We enjoyed our visit to Z-Rock and even were Dj's for a day on Maxx's show.
Maxx invited us to his apartment, and he had us autograph his hallway.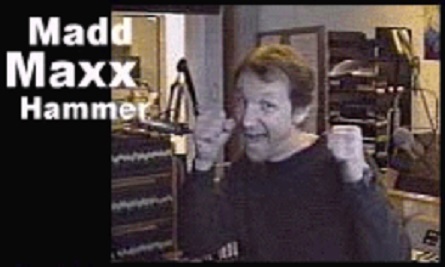 Yes, his hallway.
The walls were full of rock star signatures, messages and drawings.
Maxx was also the first person to tell us about his friends in a killer local heavy metal band.
That band was called Pantera.
Good times, and Maxx and I are still buddies on Facebook today.
——————————————
Summer tour blues.
Our big show in Wisconsin was here.
This weekend we're playing at River Days in Kaukauna Wisconsin.
It's a multi-day event with big national bands. This year includes pop-star Michael Damian and a heavy metal day too.
Blue Oyster Cult will headline the metal day with House of Lords as support and Tuff as the opener.
The festival is in a big field and is sponsored by local radio as well.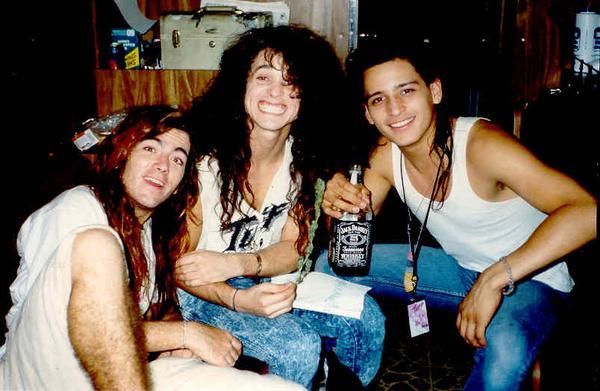 Drum tech Dennis 'Rat' Dudek, Jorge DeSaint and his tech Robbie Crane on the Tuff tour bus summer 1989. 
This is a home-coming of sorts for Tuff, or at least me as I grew up 28 miles from here.
The day of the show arrives and Tuff is traveling in from Minnesota where we just played 2 nights at the "Iron Horse" one of those was supporting Slave Raider.
We're rolling in our tour bus with a full road crew.
We arrive early and our bus is situated on the festival grounds behind the stage.
Before long our road cases are rolled out, drums being set up (side stage) and our techs are tuning guitars.
There is a long line of fans already waiting outside the gates, many of whom were wearing Tuff tees.
House of Lords rolls in and their Winnebago style Motor Home looks a little run down.
At some point Blue Oyster Cult arrive as well and they're all in rental cars.
Or was it vice versa?
I am not 100% sure, but I do know we had the bus, 1 of them had a beater Motor Home and the other were in 2 rental cars.
My guess it was a fly-in date for whoever were in the rentals.
Either way, we got some weird looks.
I am sure it was a bit of, "Who are these young punks" with all our gear, shiny guitars and tour bus.
BOC is doing sound-check and it drags on, and on.
For several hours.
Tuff arrived early and before the other bands, but we also knew the drill – we stayed off the main stage and out of the way.
We patiently awaited our turn.
It's now pushing 5:00pm and the BOC crew are dick dancing around with every possible thing, yet no band or songs being played.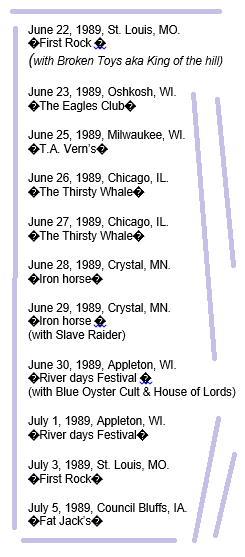 Another hour goes by and at some point I go to speak to promoter about the time.
The promoter is an old friend from the area. His name was Pat Meurat.
Pat had 1 leg.
Not a joke, for real, he was down a leg but I had known him since my days in local bands around Wisconsin.
He agreed to book Tuff as the opener for this show and we are headlining the smaller stage on the other side of the hill the next day.
We were getting $ 600.00 each night for our services.
It's now 615 and the gates are slated to open at 6:30 and BOC are still on the stage.
I go to Pat's trailer and ask him, "What's the deal?"
He informs me that our set is being cut from 40 minutes to 30 minutes.
We're not happy but what can we do.
Schedule was something like Tuff at 7:00pm to 7:40.
Then House of Lords 8:00pm til 9:00pm and BOC would headline from 9:30 til 11:00pm.
And it was an outdoor event, so I am guessing that 11:00pm was the curfew as well.
It's now 6:30 the gates are opened and fans are streaming in.
Including my Mom, sister, friends, other relatives and local fans.
Every 5 minutes Michael and I are given a quick update, which was always something like, "We're almost there, please be patient."
It's now close to 7:00pm and I am told Pat wants to talk to me.
"Stevie, I hate to do this to you, but I gotta pull Tuff from the show."
I am sitting there in full stage clothes and boderline furious.
Before I could say much more Pat counted out six hundred bucks and says, "I am still going to pay you." (also noted on the calendar)
We didn't care about the fucking money but had they not done so, it would have been ugly.
We wanted to play.
Along with the several hundred fans who were there early.
Many wearing Tuff shirts.
What could we do?
Nothing.
We had to just eat it.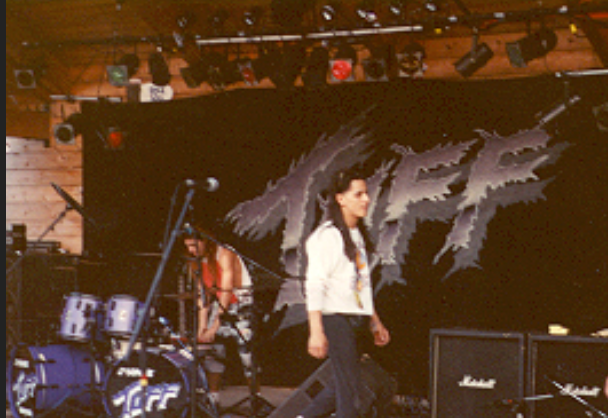 And it was because Blue Oyster Cult and their crew spent about 5 hours on lights and monitors.
Raodies Dennis 'Rat" Dudek (drum tech) and Robbie Crane (guitar tech) ready the stage for Tuff, July 1st 1989. 
I've been in this business and it was ridiculous.
We weren't a local band, we were on tour, in a bus.
We were on tour, with a full crew, expenses and merchandise to sell.
We were doing our part, working hard, being respectful and staying out of the way.
But I know all to well on how some road crew guys operate.
So yeah, BOC … or rather their crew… were out of line and ruined a good day for us.
Oh well, we packed up our shit and went and told fans what happened.
None were happy, but the next night we made up for it.
Tuff headlined the smaller stage immediately following Michael Damian's headline show on the main stage.
In the end the weekend was fun, but it sucked we got cut from the metal day show.
—————————————–
Hello Iowa…
After a return to St. Louis on July 3rd, we headed North West to Iowa.
We roll into Council Bluffs which is in Iowa but very close to the border of Nebraska.
This day we did a videotaped interview with a local teenager named Ryan McMurray for his fanzine.
He was kind of a nerdy kid, who came to the show with his Mom.
Ryan was a friendly and very out-going kid and we invited him onto our tourbus.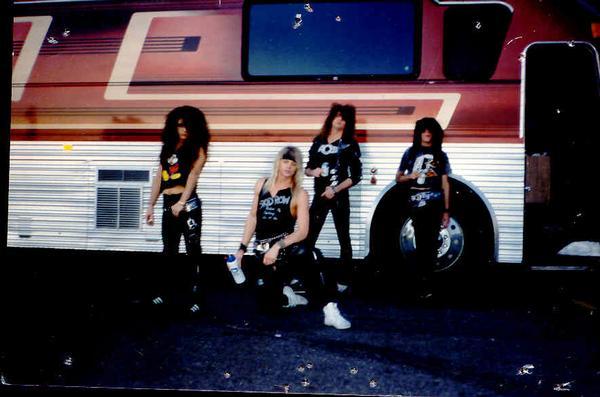 Tuff outside our tour bus in Council Bluffs Iowa July 5th 1989. 
He was with some other local friends too, one guy named Matt Larsen was there as well.
Part of this interview is in one of the Tuff Home Videos and you can see and hear both Ryan and Matt.
For anyone keeping fun facts here are few.
Ryan is pka Dizzy Draztik and was the original singer in the band Murderdolls.
As you all know Slipknot and Joey Jordison are all local to that area.
Well fast forward many years and Jordison puts his glam ghoul band together and his singer is childhood friend Ryan.
Ryan was always in touch with all the crazy bands, from Hollywood to London and the rest in between.
Including those whackos in Frankenstein Drag Queens From Planet 13..
That band was fronted by a guy named Wednesday 13, who Ryan suggested to Jordison they use a bassist in their new project.
Well, they invite W13 out, he hangs and at some point sings some backgrounds.
The background singer is better than the real singer, and shorty story – Ryan is let go – enter 13.
So…yeah…Ryan interviewed us when he was 15.
Per Larsen, anyone drink Monster?
You may know Matt from his most recent gig working for Monster Energy.
But he's also worked at a ton of labels and been on tour with everyone from A to Z, including Guns N' Roses.
Yeah…it's a crazy weird web this business, I am still friends with both.
Oh and Tuff killed it at "Fat Jacks" …was there any doubt?
———————————————-
Purple Helmet Club.
What do bands do on tour?
They have competitions of course.
Everyone read about how Motley Crue members Nikki Sixx and Tommy Lee would see who went the longest without a shower, right?
Tuff had a different contest.
We started the Purple Helmet Club.
The game was simple.
Fuck as many girls as you could on tour – and you win.

So as we left town the bus rolled down the freeway and we set the game rules in motion.
If you have sex with a girl, you get a point.
If you get a blowjob, or a handjob, you get a half point.
Also, it was kind of like the basketball game H-O-R-S-E at the same time.
If a whole week passed by, and you didn't have any scores, you were given a letter.
Week one was the letter F, week two was the letter A, week three was G and so on.
We designed a chart, and listed all band and crew member's names.
The players were as follows.
Band members Stevie, Jorge, Todd and Michael.
And crew members Robbie, Dennis, Kenny, Timmy and soundman Billy.
I think we added the bus driver too.
A week in and there were 3 guys at the top of the point total. Stevie, Robbie and Jorge.
As the tour wound down certain people were getting desperate for points (Cough >Crane< Cough) and he would do anything to score.
I recall being outside the club in St. Louis and we were getting ready to pull away.
The bus driver was ready, the band was on and Robbie was in the bathroom trying to close the deal on a 1/2 point hand job as the bus drive let the airbrake off.
The girl came running out of the back lounge with her clothes half off as he stood there smiling.
Damn, it was like the opponent kicking a field goal as time expires.
But I was always getting the best looking girls and tried to institute a bonus point for the hottest girl each day.
Unfortunately for me, the game had already started and I was voted against to add this rule.
The summer tour was a blast, but I must admit defeat. I was runner-up to Robbie Crane and I will never live it down.
Jorge was in 3rd place, and yes a few crew guys ended up with F-A-G next to their name.
It was close, as I believe Robbie had 23 1/2 points and I had 22.
Had my hottest girl rule went into effect I would have been over 30 points. Oh well…such was life on tour in 1989.
Ahh what it was to be young and crazy.
———————————————-
Rich girls.
Over the years there would always be the occasional rich girl who came along.
Some were just industry brats who had famous or rich parents.
I remember I use to screw this one girl when I first moved here.
She lived in Sherman Oaks and grew up with all of the famous actors and actresses.
I am pretty sure she was underage, like 17.
But for what it's worth, I was only 21 at the time and her Mom approved of me.
I recall her always having stories of going on auditions with the likes of Corey Feldman, River Phoenix and Keanu Reeves.
And her friend (Caprice) was Tina Louise's daughter.
Yeah, Ginger from Gilligan's Island, that Tina Louise.
I immediately thought, "Hmmm, I'd like to bone your friend's Mom."
Even though by this point Ginger Grant was already 54, I was thinking about those after school episodes and hearing Ginger's sexy voice.
These are things that happened living in the Los Angeles area.
Another girl I came to be friends (with benefits with) was Stacey Gilbert.
Her parents weren't famous – that I know of, but I wanna say her family was better off than mine ever was.
She was a little older than I, like mid to late 20's and drove a BMW.
Even though she seemed to be from a more up-scale family and background, I guess she liked her rocker boy toys.
As in plural.
I was your typical broke rock singer and she was already zooming around the Valley in a fancy car.
Her day job was something like pushing medical supplies to various Dental or Doctor's Offices.
We met somewhere, probably at a show or the Rainbow and soon we're dating.
Or, screwing was a better description.
She'd take me to dinner as well.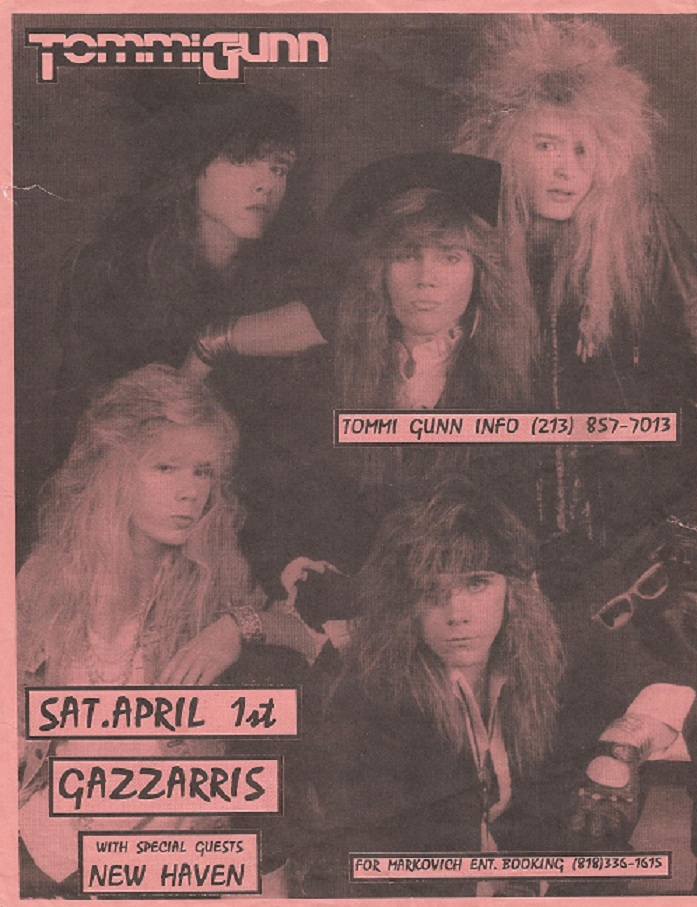 I recall one night I stopped by the Tommi Gunn house as Vince (the twin singer) was a buddy of mine.
I knew all of their band, who had moved from Chicago in late 1988 or early 1989.
We did shows with those guys, and I always got along with them.
Tommi Gunn flyer from the spring of 1989.
Anyway we stop by their place on Formosa off Melrose.
It was a well-known house to other bands, and of course the girls.
Those guys all got a lot of pussy too.
Vince and Marty Kelly were the twins – singer and lead guitar.
Then there was Pat on bass, Steve on guitar and Anthony Focx on drums.
They use to have awesome after-show parties and everyone was there.
I recall one night hanging out and in walked James Hetfield and Slash.
They said, "Where is the beer?"
Just like that they were sitting on the couch shooting the shit with everyone.
So the day we popped in to say hi was a little odd.
The guys were all hanging and I walked into someone's room and there was Stacey sitting on the bed with Anthony.
"Hi" she says from across the room.
My memory (at times) is like a photograph, I can picture it now.
I had to laugh, as she had taken me for Chinese food a few nights earlier and it included the happy ending too.
I guess Anthony was another "friend" of hers, Lol.
Oh well, I guess if the guys can do it to the girls, the girls can in turn – do it to the guys – right?
Another crazy recollection I have with Stacey was her taking me to her condo in the Wilshire District.
A really nice area compared to our apartment in Van Nuys that's for sure.
We pull into her underground garage and she's telling me about all of the famous people that live in her building.
That included stuff like, "Paula Abdul is my neighbor."
I didn't care, and was never impressed with name dropping but whatever.
Now we're in her room, and I remember being naked and fooling around.
She's about to get on top of me and asks, "Do you have a condom?"
Me, "No."
Her, "Oh well, I hope I don't catch anything….."
As she plunges down onto my long hard dick.
I guess I was just a notch in the belt but not marriage material.
Not that I cared, as I never married anyway.
Stacey married Rick Allen of Def Leppard, but that didn't last forever either.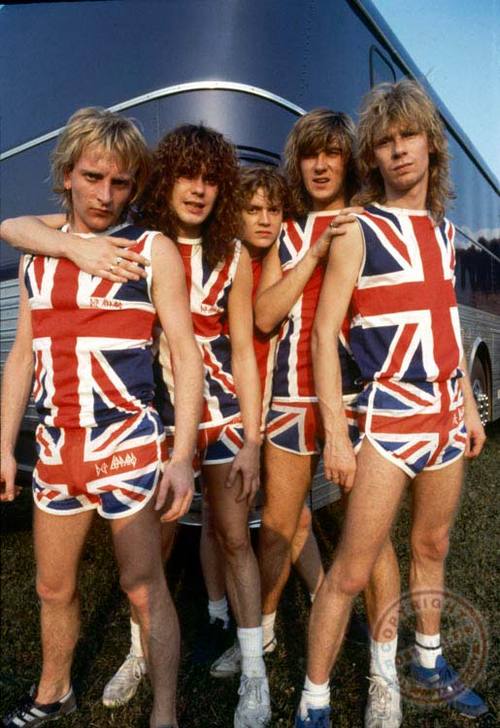 Most marriages never do, that's why I am still single to this day.
Oddly this wasn't the only girl I dated who upgraded to Def Leppard's lineup.
I also dated Bobbie Tolsma who later dated Joe Elliot.
Bobbie and I had  a few one-nighters if ya want to call it that.
She was a very cool chick from Chicago, and knew what she wanted or so it seemed.
Walking into her apartment was a little shocking for me, especially when we go into the bedroom.
There was no bed, no nightstand and no dresser.
Nope, none of that.
There was a dominatrix cage that took up (most of) the room.
The floor inside and out was littered with girls clothes, panties, hand cuffs and chains.
Thankfully none of those items were used on me, but we did fuck on the floor inside the cage.
Many years later I was eating at Sushi on Sunset when Bobbie and Joe walked in.
At some point I went to use the bathroom and she noticed me.
As I passed them she looked over, "Hey Stevie" and smiled.
I stopped and she introduced me to Joe.
He was very pleasant and even asked me to join them.
I politely declined as I was actually with a girl but shook his hand and headed back to my table.
I refer to these old friends as Def Leftovers.
Lucky for me I had the first helping.
————————————————–
Home Sweet Sunset Strip.
We're back from our summer tour and its back to the West Coast stomping grounds.
We're only home a week from the tour and we're booked at "The Waters Club" in San Pedro on July 15th.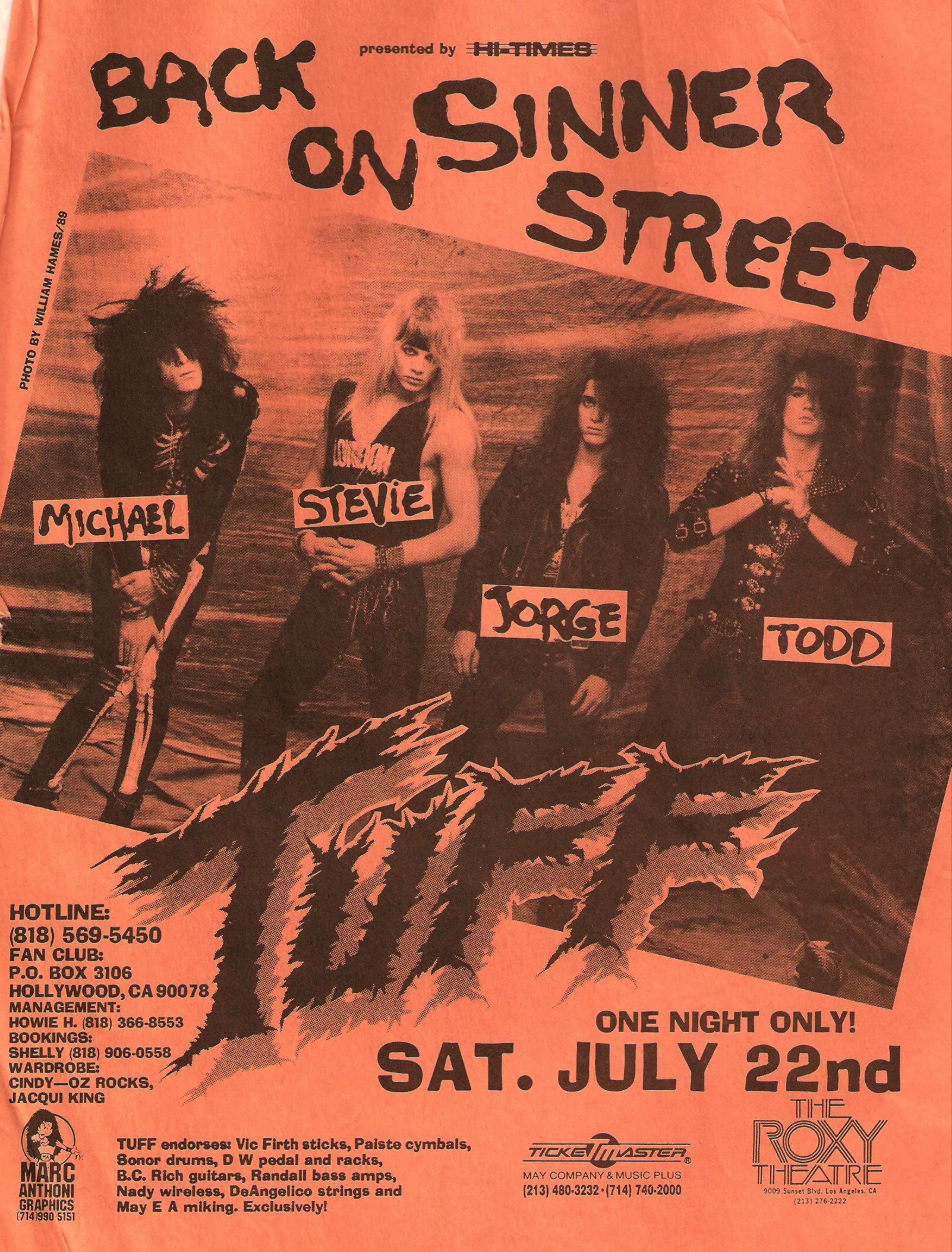 A week later we headline "The Roxy" on Sunset Strip for a big return to town show.
The following week we're back in Oakland at "The Omni".
As August approaches we are booked in Solana Beach at a place called "The Surfside".
This is close to San Diego and we met a guy named Johnny Coffin and his band who opened up for Tuff.
Sometime down the road Johnny makes the move to Los Angeles, and eventually forms a band called Jones Street.
We become friends with Johnny and his crew.
Some of you may know of his company he started called Coffin Case.
Johnny and I are still friendly today, he's also a good guy, always has been.
We round out the summer months with shows in Phoenix back at 'The Mason Jar" and a return to "Gazzarri's" on August 23rd.
A final show in August has us back at "The Waters Club" in San Pedro.
To some who think this may sound kind of familiar, it was talked about in some Guns N' Roses related books. Including Vicky Hamilton's "Appetite for Dysfunction."
It was previously called "The Dancing Waters", same club.
Which for the record, I just finished reading Vicky's book, what a great story.
I recommend it for anyone who has interest in the 80's and the Sunset Strip.
——————————————————–
It's crazy to think but summer is over.
It's now the fall of 1989 and the next entry is #10.
Then we'll leave the 80's behind us…and head into 1990.
Sad and crazy to think how cool it was at the time to move into the 90's but little did we know, what really lies ahead.
And even crazier, that the 80's made such a huge impact, with the decade's music, movies, culture and so much more.
I hope you enjoyed all of what I have written so far, there is more to come.
Thanks for reading … Stevie Rachelle "From Hell"
Message from the author.
People have said to me for years, "You should write a book, I'll buy it."
That's not likely going to happen… not anytime soon at least. But if you are down with my blogs, my band or my various projects – I say thank you. 
I have self-released roughly 50 projects on CD. Cassette, VHS, DVD and Vinyl since 1994. All on my own. Without any label support. None. 
I have also kept Metal Sludge alive, afloat and online since 1998. For Free. You cannot imagine the workload a website of this magnitude can be.
No Kickstarters, no Go-Fund Me, and no Pay Me now and I'll make a CD in a year and send it to you later. 
I am also self-managed, self-booked (most of the time) and 100% self reliant. A 1-man gang. 
If you want to support in anyway, buy a CD or Vinyl record from me, or a T-shirt. Or send me something direct via Pay Pal.

I am not begging. I am not sick and no hospital bill. Nope, just continuing my service to the fans that support my Rock N' Roll. 
My direct Pay Pal email is Sludgeceo@gmail.com – send a dollar, send ten or send fifty. Send whatever you like, or nothing at all. 
Many independent websites have Donate buttons, Metal Sludge has NOW added one, Top Right of this page.
No pressure, but hey, it's an option if you care to do so. 
Thank you for all your loyal support of my projects.
There is more to come, more blogs and more music too. I have something in the can now it just hasn't been packaged just yet. 
Thank you again and all of your support is greatly appreciated. 
Stevie Rachelle
Read my previous blogs linked below, numbered and dated.

Entry #1  How I Made My Way To California, 31 Years Ago Today  (June 25th 2018) 
Entry #2  My First Meeting With Tuff, "Is That All Your Real Hair?"   (June 29th 2018)
Entry #3  Tuff audition, Jim Gillette screams, a near fist fight & our debut show  (July 5th 2018)
Entry #4  The Metal Years, Famous People, Cocaine, Kiss & Sex with a Miss Gazzarri's Dancer  (July 14th 2018)
Entry #5  Guns N' Roses, Del James, 1988, Sound City, Strippers, Crabs & You're Fired!  (July 30th 2018)
Entry #6  Summer on Sunset, Vinnie's Invasion, Tracii's Glue Gun, Vain & Sex by a Dumpster (August 11th 2018)
Entry #7  MTV's NYE Big Bash, Riki & Taime's Cathouse & My Girlfriend was a Poster at Spencer's (August 20th 2018)
Entry #8  Jon Bon Jovi, Sebastian Bach, Rick Rubin, Howie Hubberman, BulletBoys & Gazzarri's (Sept. 16th 2018)
Entry #9  Summer Tour '89, Andy McCoy, Def Leftovers, Max the Model, Z-Rock, Tommi Gunn & Lit (Oct. 10th 2018)
Entry #10 Goodbye 1989, Jessica Hahn, Skid Row, Martha Quinn, Young Gunns, Flyer War & Cock-Rings (Nov. 9th 2018)
Entry #11 Hello 1990, Texas, Britny Fox Tour, Strippers, Hells Angels and Atlantic Records signs Tuff (March 24th 2019)
Entry #12 Ready to Record, Howard Benson, FM Station, Jani Lane, Court hearing & my 1st Playmate  (June 2nd 2019)
Entry #13 Recording our Atlantic debut, Bret Michaels, Kane Roberts & Sex is fine, but no sleepovers (Aug. 27th 2019)
Entry #14 New York City, Mixing our Record, Publishing Deal, Video Shoot , Cherry St. & Tigertailz (March 25th 2020)
Entry #15 Hello MTV, The Nelsons, Jason Newsted, U.S. Tour, London & our Stolen Ryder Truck (May 19th 2020)
Entry #16 Lita Ford, Jason Flom, 75+ Shows, Cocaine, a Lawsuit, Sweet F.A. & the Freeway Fight (July 29th 2020)
Entry #17 Hello 1992, Gene Simmons, More Money, Mike Starr, a New Bassist & Jason Flom II (March 20th 2021)
Entry #18 WildSide, Dee Snider, Tour Drama, Baywatch, New Label Search and Living in Reseda (Aug. 21 2021)
Entry #19 Michael Resigns, River Phoenix, Thirsty Whale, He's Got a Gun, Stolen Van & Danny Quits (Jan. 16th 2022)
Entry #20 1994, Northridge Earthquake, Kurt Cobain, RLS Records, releasing "Fist First" (May 2022)

Tuff @ Facebook –  eBay – Amazon– iTunes – Instagram – Twitter – Store – Discogs – YouTube –

https://www.youtube.com/watch?v=14iHRpk9qvQ&start_radio=1&list=RD14iHRpk9qvQ
https://www.youtube.com/watch?v=IK9Tt7LJo90&t=48s