TUFF DIARIES (Entry #5) 
Guns N' Roses, Del James, 1988, Sound City Studios, Strippers, I Got Crabs & You're Fired!
Jesse Harms of Sammy Hagar Band, Troubadour, Industry Showcase & my GF had no tits but drove a Pink TR7.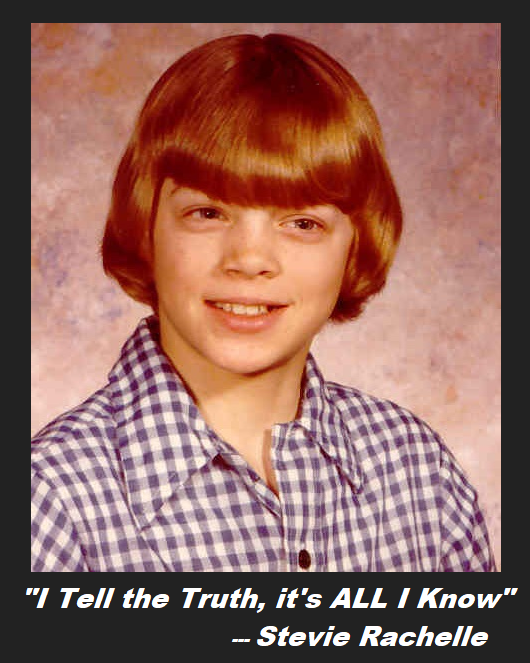 —  The calendar has just changed to 1988.
But there are a few things that happened late last year that I felt warranted a mention.
There was a period in the fall of 1987 where we were starting to draw the interest of managers.
One such person was a girl (woman) named Johnni Teagarden.
Johnni was a cool chick, and best I could tell she was a bit of a punker.
We were invited to her roof top loft one night, I am thinking it was in Downtown LA.
Del James and his girlfriend were there and introduced to us.
I recall him talking about being out (on tour) with Guns N' Roses.
I also recall him talking about Todd Crew, his former band and untimely death.
Most of this stuff was foreign to me, as I had only been in town for a few months. So I had little knowledge of JetBoy or Todd at that time.
Guns N' Roses were not mega Gods (yet) either.
Not platinum or even gold.
Nope, they were just another signed Hollywood band, who were out playing clubs like "The Ritz" in Detroit, "The Living Room" (Rhode Island) and "Hammerjacks" in Baltimore.
A few things about Del stood out to me.
He seemed like a bit of an outlaw if you will.
Also, he seemed to be a loyal person.
He'd go through a wall for his friends.
Or he'd go through that same wall to grab a guy by the throat, if he had to.
This was my perception of Del James.
Del would also look at (most) everyone the same. Be it a local glam band like Tuff, or Lemmy from Motorhead.
Del gave respect, and without a doubt – earned it back.
I once read a "Roxy Theatre" live review that Del wrote in Rock City News.
He said: "Guns N' Roses are going to be the biggest band in the world."
Something along those lines.
I remember thinking to myself, "This dude is fucking crazy."
Not exactly respectful, and no I didn't tell him that. However, I did think it.
I also recall Del telling me that at Todd Crew's burial, (if memory serves me) he told me he took off his boots and threw them into the grave.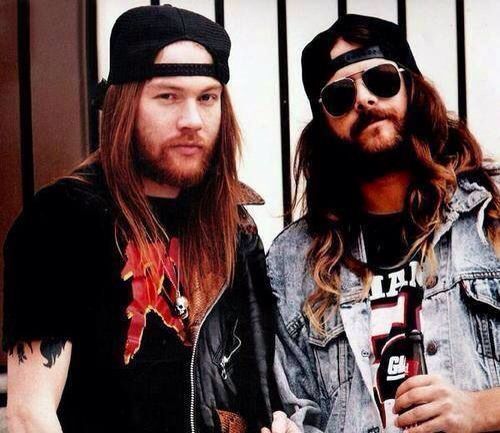 That is some John Wayne kind of shit.
Del James was real.
Del James was loyal.
Over the next decade, Del was always VERY cool to me as his friends and their band became mega giants.
Axl Rose and Del James.
Del also wrote for Rolling Stone and Rip Magazine among others.
Over time things changed for that group of guys in a big way.
But Del, he never changed. At least not from my perspective.
However in August of 2004 when I came out as the Metal Sludge guy, Del was not happy with me.
We exchanged some (not so nice of) words.
But, I stood my ground and he stood his. Whatever friendship we had, was lost and life went on.
For almost 15 years.
But, recently I ran into Del at a record show. We had a nice chat and shook hands.
Sort of… a burrying of the hatchet.
Either way, he's been busy herding humans, or something like that… around the globe.
And three plus decades later, Del is still tour mangling… what easily could be considered the biggest band in the world.
To my knowledge, Del has been loyal to that camp since day 1.
Respect.
Johnni Teagarden was a total sweetheart, but it just wasn't meant to be.
——————————————–
It's now January 1988 and we did agree to work with Stage Fright Management.
It was another Johnny, only this time a man with a big gut and a cigarette.
Johnny Dallas sold us with a free rehearsal space, free flyers and some other stuff.
Johnny was a character, and worked with us for the first several months of 1988.

He was married to Sandy, who was a Dolly Parton-esque looking woman.
Busty, big blond hair, all dolled up, and Johnny… he had that stomach and always a cigarette in his mouth – even if it wasn't lit.
He looked like he owned a pawn shop or a used car lot.
Johnny was a good guy. And good for us locally. But beyond that, it wasn't for long.
Truth is, I was a REAL dick to Johnny Dallas.
More on that soon…
——————————————-
We're now playing gigs at Troubadour regularly.
In 1988 we played 3 of our first 4 shows that year in Hollywood.
January 16th, February 26th and in early April … and all were Troubadour shows.
We also squeezed in our first ever Orange County play.
On April 1st, we played "Joshua's Parlor" in West Minster. Then Troubadour the very next night April 2nd.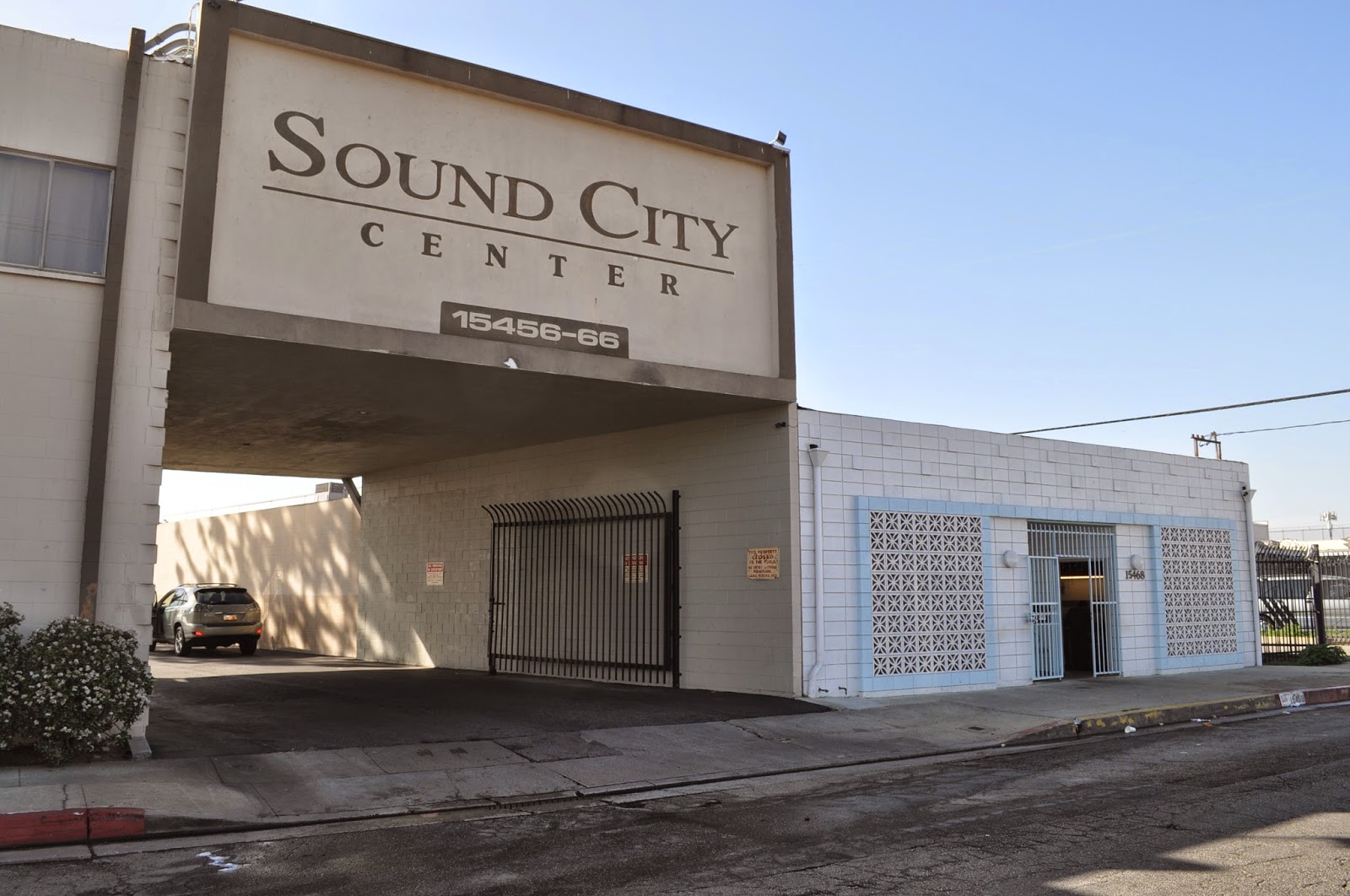 Entrance to the legendary Sound City Studios.
Tuff has now done a half dozen or more shows, and written several new tunes.
It was time to do a demo.
Our manager and Michael started making some calls.
It's official, we're gonna record the first Tuff studio tracks with me singing.
Jesse Harms was chosen to produce the band.
Jesse was the keyboard player in Sammy Hagar's band. I don't recall how that came about but he was a super cool guy to us.
The studio chosen, was Sound City in Van Nuys California.
I remember being told, "It's an amazing studio, Tom Petty has recorded there, Fleetwood Mac and Foreigner."
I wasn't impressed.
At least, not that much.
Had they told me "Too Fast For Love" was recorded there, I would have licked the floors.
Why?
Because that is what dumb 22 year old bleach blond rocker dudes thought like in 1988.
At least I did. Lol.
We rented the big room, and tracked on that big board. Yup, the same one that Dave Grohl bought and made that documentary about.
Jesse was great, and we recorded live takes with the full band. Then did overdubs of lead guitars, vocals, backgrounds and some keys.
The songs appear on a few Tuff CDs, along with the RLS Records release "Decadation" on 12″ vinyl. Buy it RIGHT there >>>
In addition to this recording, we did a new photo shoot with William Hames and a press kit was made.
Michael put it all together. A totally professional package. The new demo, a bio and all on cool letter head with our logo.
I recall one of our first ever live show-case performances. As much info as I do have, some escapes me but I will try to give you the basics.
It was a bigger team of guys that came to see us. Like some record label's A&R person, a producer and maybe 1 other industry dude.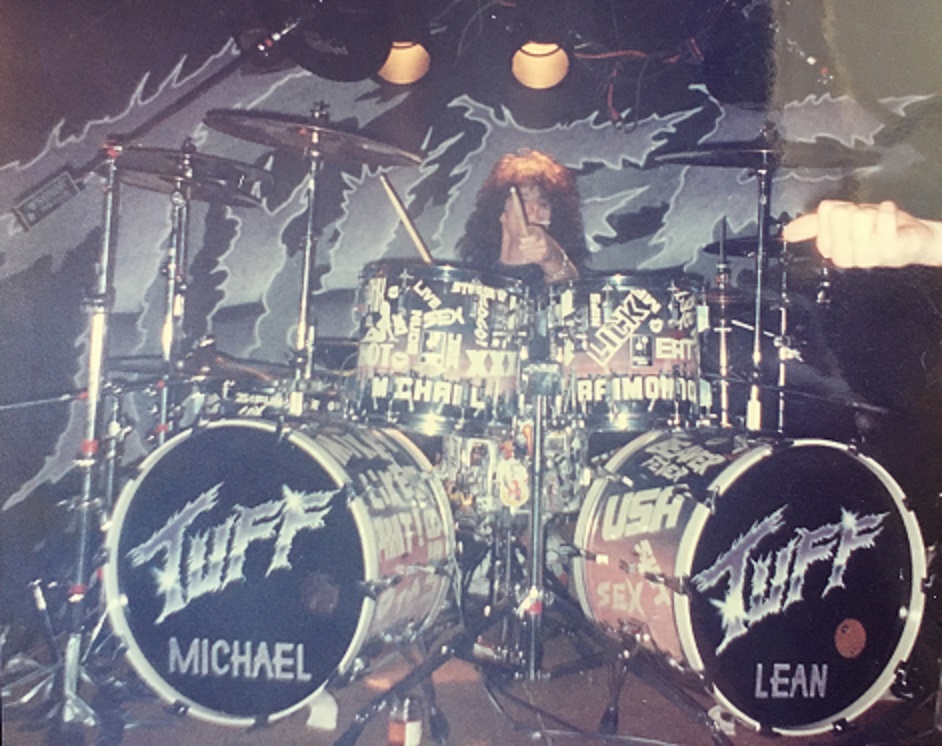 We set it up at a reahearsal studio in the San Fernando Valley and they all showed up as planned.
Upon their arrival each guy was handed an envelope with our full press kit. An 8×10, the bio and a 52nd Street duplicated cassette tape.
Note: 52nd Street was the cool industry place that even labels like Capitol Records used for their advances.
I think we even gave them each a t-shirt as well.
Michael Lean on the drums. Fun Fact: Michael got his stage name after seeing a commercial for Sizzlean. He was long, skinny and lean. Like a strip of bacon or Sizzlean! #True
Michael's drum kit was airbrushed. It had all matching cymbals, front double bass drum heads with logos, the works.
Todd and Jorge, each had a roadie on stand-by, and multiple B.C. Rich tuned up axes ready to go.
The lights are dimmed, and we bust into songs.
We're doing choreography and playing like it's the Los Angeles Forum.
Fifteen or twenty minutes later we end and they all give us a half-ass clap.
One of the guys says, "Wow, you have everything. Amps, drums, back drop, it looks like a real show."
The other guy, "Yeah, this press kit looks awesome and merchandise too."
We're all standing there, beaming with pride and toweling off as we listen.
Then the third guy adds, "But you don't have any songs. I don't hear any hits."
First guy and second guy join in, "Yeah. Guys it's just not there."
Of course Oshkosh is ready to debate.
"But did you hear "Summertime Goodbye""?
As I stand there with hair extensions rocking and more bracelets than a Barbie Doll.
Todd and Jorge don't say much and Michael was the calm, voice of reason.
Instead of challenging their hearing, like I did… Michael says something like, "We're open to working with some co-writers."
Michael says the right thing.
To which one of the guys adds, "Yeah, you guys should get with a few writers, work on a few songs."
Michael, "Of course, we'd love to do that."
Even though he was probably thinking, "Fuck You!"
But Michael was mature and handled all of this well.
Me, I am like, "How about "Sinner Street", the girls love this song live."
To which the guys are all probably thinking, "Can you get the singer guy to shut up?"
The showcase came and went, and I want to say by the end of it, it wasn't the best.
I think we all kind of felt like they were being dicks, so… okay thanks for coming. And don't let the door hit ya.
——————————————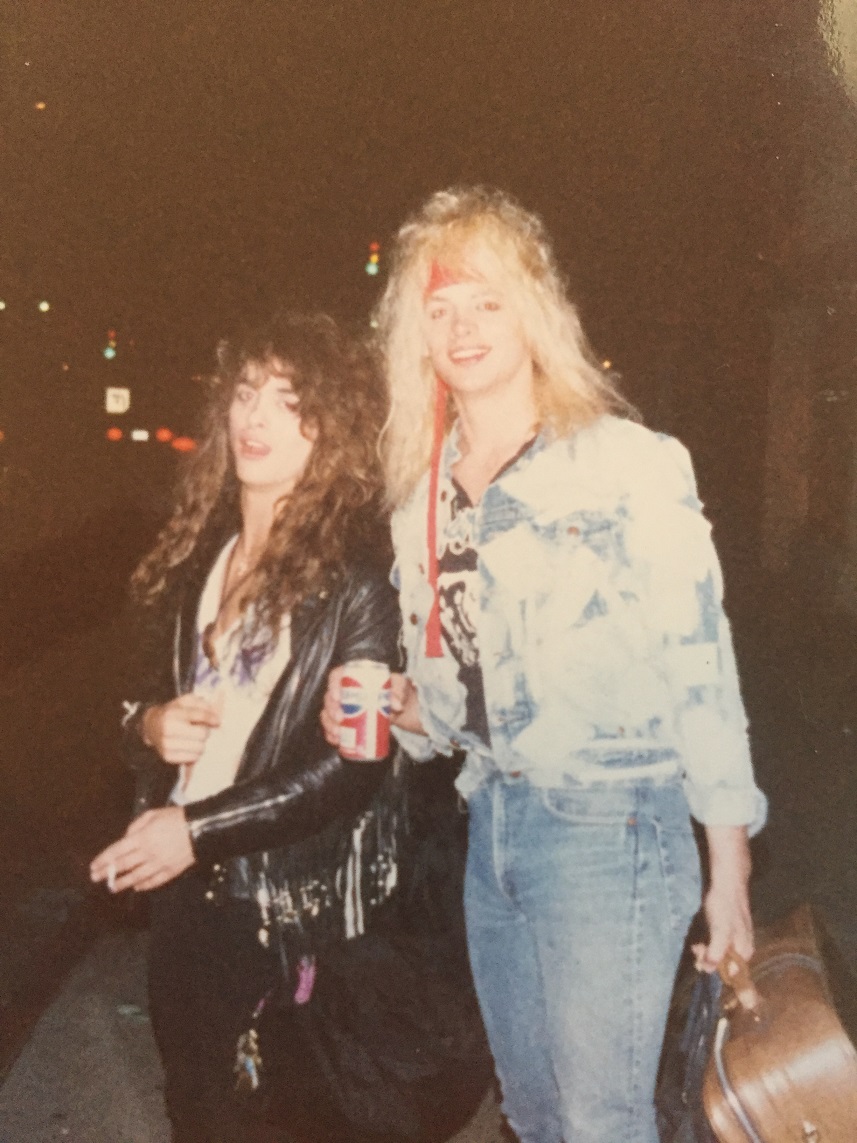 Like the plan from the start, Tuff started stretching out.
We had done Phoenix, Orange County, and now we went north.
Jorge and Stevie frolicking like hairband heroes on tour in the late 80's. Note the old skool leather box suitcase.
The Bay Area was home to some killer clubs and our first invite was to play the legendary "The Stone" in San Francisco.
It was walking distance from Fisherman's Wharf, and all the seedy XXX clubs.
I don't recall a ton about our first show there other than there were some amazing rare, old skool super glam shots of Poison and Guns N' Roses on the walls.
I mean, Guns N' Roses were rocking tons of purple eye shadow, Slash included, Duff with the Police Hats, and Axl's red hair all ratted up in a tumble weed.
The club owner was John Nady, of Nady Wireless.
He owned several venues up there, this was our first trip – and it appears as if though we did NOT disappoint – as we would be back sooner than later.
We played San Francisco on a Friday night and the very next night we played "The Celebrity Theatre" in Orange California.
That is about a 7 hour trip, minimum.
Our second back-to-back in as many weeks. And with what is just around the corner, we'll do 7 shows in the month of April alone.
We are basically "on tour", and not fucking around.
—————————————————–
Speaking of tours, I came up with a genius idea.
"Guys, I really think we should go back to Wisconsin, and play my hometown."
Michael inquiries about some details, and we put the plan in motion.
Of course this was sorted back in late January and February.
We booked Tuff to play 3 nights in Oshkosh at "The Eagles Club".
I had played there previously with my local bands a few times before moving to California.
The idea was, we would come to Wisconsin for like 5-6 days and play on April 27th, 28th & 29th 1988.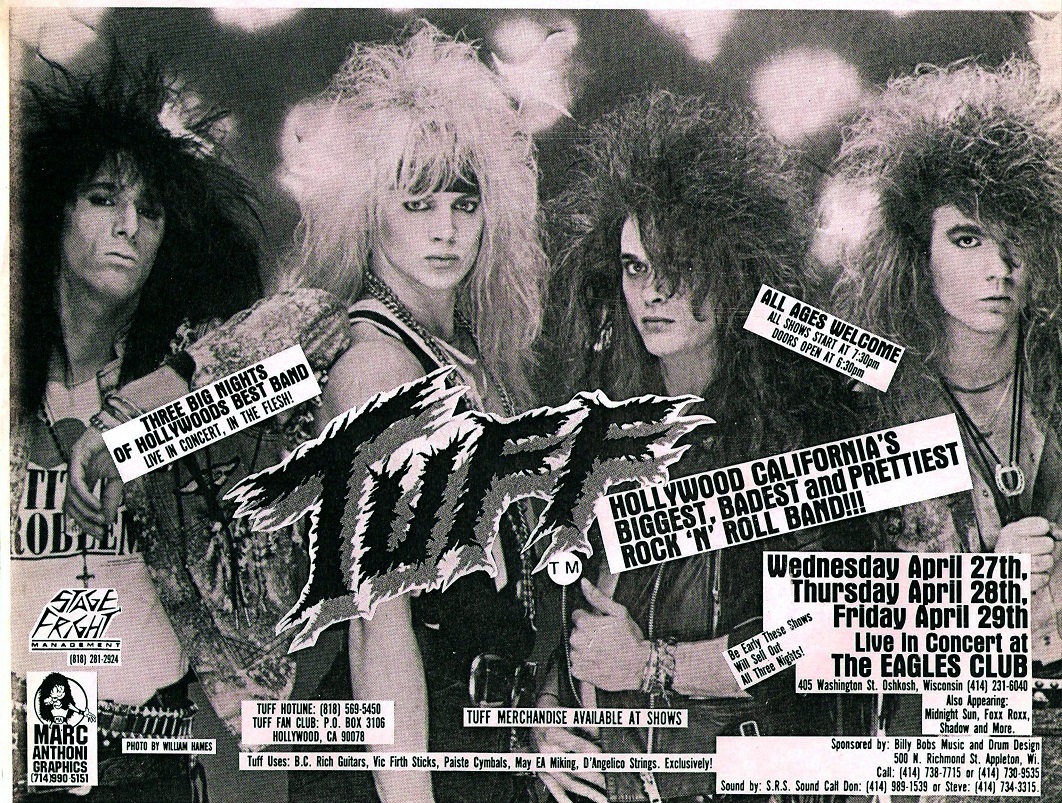 Original Tuff flyer for the Oshkosh 3-night tour!

Surely it would be a HUGE deal, to have a Hollywood band playing in Oshkosh.
I mean, I lived there for 21 years, and there were only 2 concerts that ever came to our town in my entire life.
The Tubes played the college (UWO) in the early 80's and also Donny Iris once played a local club.
We put the thing in motion, bought plane tickets, designed flyers and I had my family start promoting.
Then, we get some bad news.
David Lee Roth is booked to play Milwaukee, on April 27th.
Fuck, NOT good.
There are 2-3 major cities that always have tour stops in Wisconsin.
Milwaukee, Green Bay and Madison.
Amazing timing, as we are about to fly 2,000+ miles to play there and now we have one of the biggest possible competitive 80's rock stars playing against us.
The singer from Van Halen. Ugh.
Adding insult to injury, we hear more bad news.
Guns N' Roses is also playing a show on April 28th 1988, in Wisconsin as well.
Milwaukee? No.
Green Bay? No.
Madison? No.
Oshkosh? Yup.
WTF!
REALLY?
Guns N' Roses is playing in Oshkosh Wisconsin!
How is that even possible?
Well it was.
Guns N' Roses live in concert, in Oshkosh with special guests Zodiac Mindwarp and UDO of Accept.
So we fly to Milwaukee from Los Angeles with the band, our manager (Johnny Dallas) and his son.
There might have even been a roadie.
We take guitars, basses, some basic stuff and merchandise.
Arriving in Milwaukee and we're now at baggage claim rounding up, I don't know…upwards of 20 bags.
There are 7 of us, so 2 guitars, 2 basses, cymbal case, merch and luggage.
Michael makes a comment to our manager, "Where is the van?"
Johnny shrugs his shoulders, looks kind of silly and uncomfortable.
Now there is some exchanges and it's determined pretty quickly, there is no van.
No rental car. No ride. No transportation.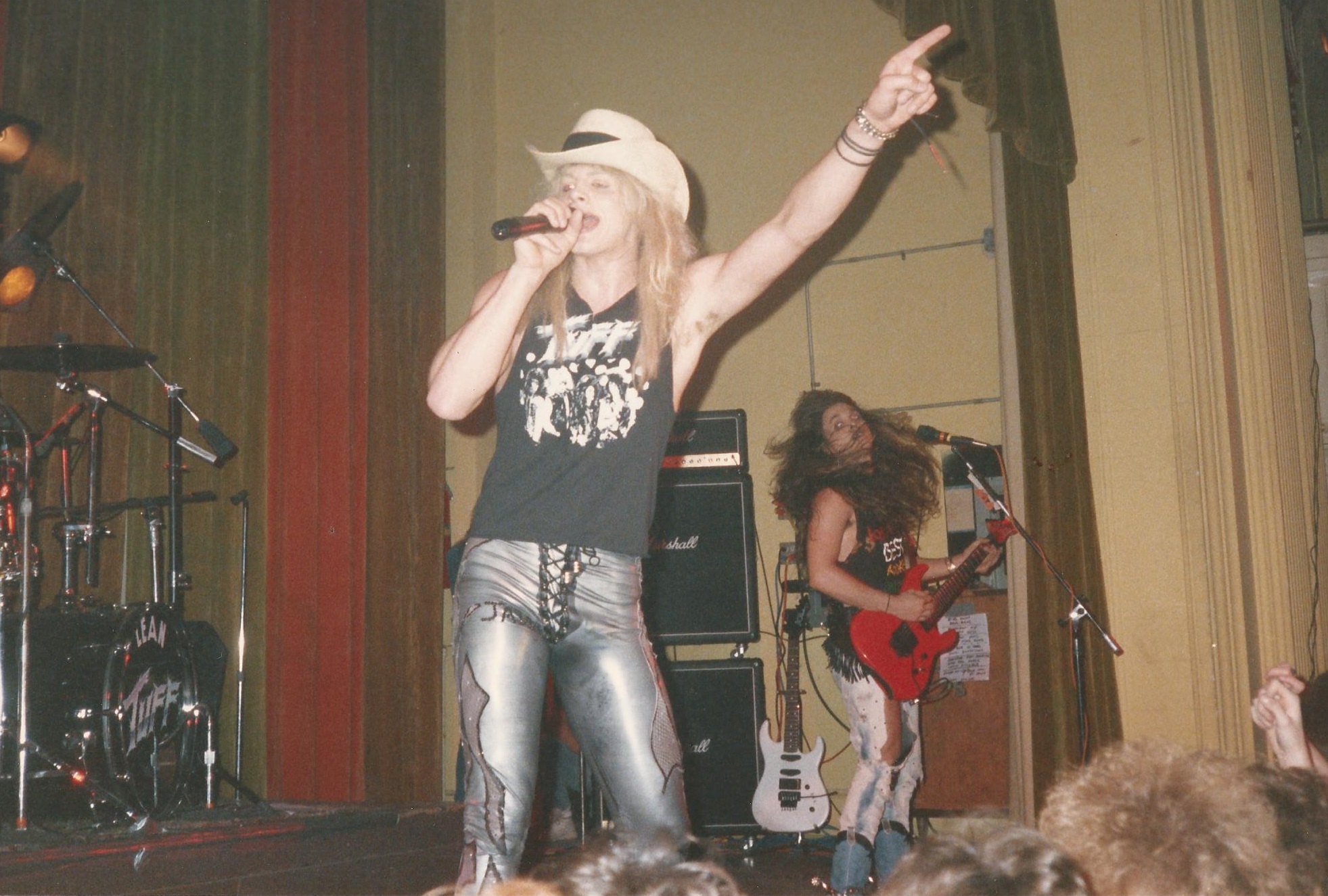 Huh?
Soon it is being stated, that he thought this was my home town, and we're essentially there.
I guess he thought we'd need a few taxis to a hotel, or some local friends to give us a ride.
Nope.
Milwaukee is 80-90 miles South of Oshkosh. We need a van.
Tuff live at The Eagles Club, Oshkosh Wisconsin April 29th 1988
Our manager has no credit card, or at least it appeared as such, so Michael had to bail us out with his trusty Amex Gold Card.
Wait 'til a few years from now, when I tell the Boca Raton Florida resort story.
And that same credit card….ouch…Michael wanted to KILL all of us, lol.
Michael is PISSED!
He's acting (sort of) calm, cool and collected. But he is boiling on the inside. As was I.
Todd and Jorge, not so much.
They were probably most concerned with, "Where are we gonna score some pot out here?"
Michael hits a rental counter and arranges a van.
We load up and are off on our 90 minute drive to Oshkosh.
The shows… meh… they bombed.
The first night, abysmal.
David Lee Roth and Lita Ford likely did 10-12 thousand in Milwaukee, and Tuff had 25-30 in attendance.
The second night Guns N' Roses has likely 1,000 or more people and a line down the block.
Tuff, we had like 30 people again.
Even crazier, the local Convention Center, where Gn'R played, is like 800 yards from The Eagles Club. They were literally playing like 3 blocks away from our event.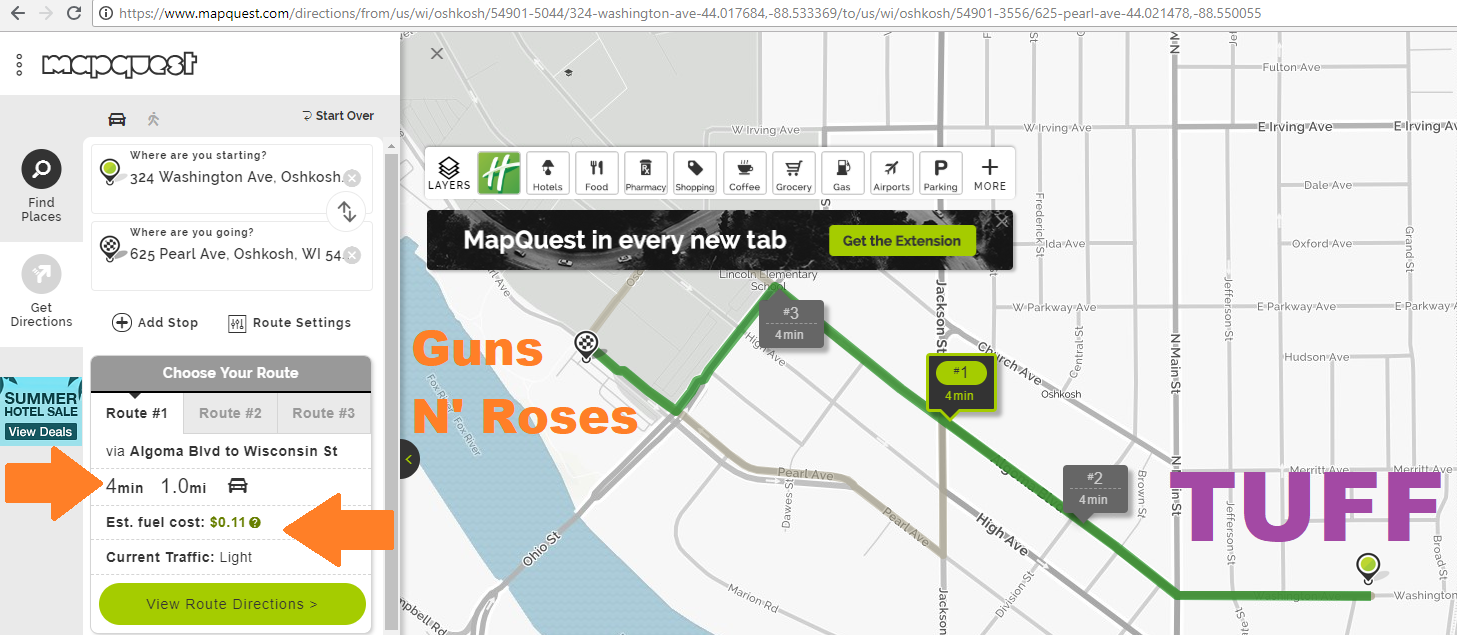 A mapquest of where Gn'R played and where Tuff played on April 28th 1988.
Their show was literally 1 mile away from our gig. Ouch.
The Eagles Club is where they hold weddings, etc.. so the place holds like 500+ and yeah, our shows bombed bad.
Our Friday night show was the best, but I don't think it was much more than 150 total.
Oh well, like that band from Australia once said, "It's a long way to the top…."
———————————–
Tuff return from Wisconsin and our band is not to happy about some poor decisions being made.
We're rehearsing for free at Johnny's place, he made us flyers (at his wife's place of employment) and helped us do our demo.
Which I am not sure who even paid for our recording session, or not.
Heck…for all I know, Tuff might still owe Sound City a few grand.
Either way, regardless of free flyers and the rehearsal room, the band has decided we were done with Stage Fright Management.
We're at the studio one night, and we had planned a meeting with Johnny.
Talking about plans, things past and present and going forward.
The plan was for us to tell him, "We're moving on."
But in a professional way.
No one had the guts to come out and say it though.
The meeting was dragging on, and the plan was not being executed.
To execute him, that is.
At some point I said to our manager: "I have a question for you. I want an honest answer, and please think about it before you reply."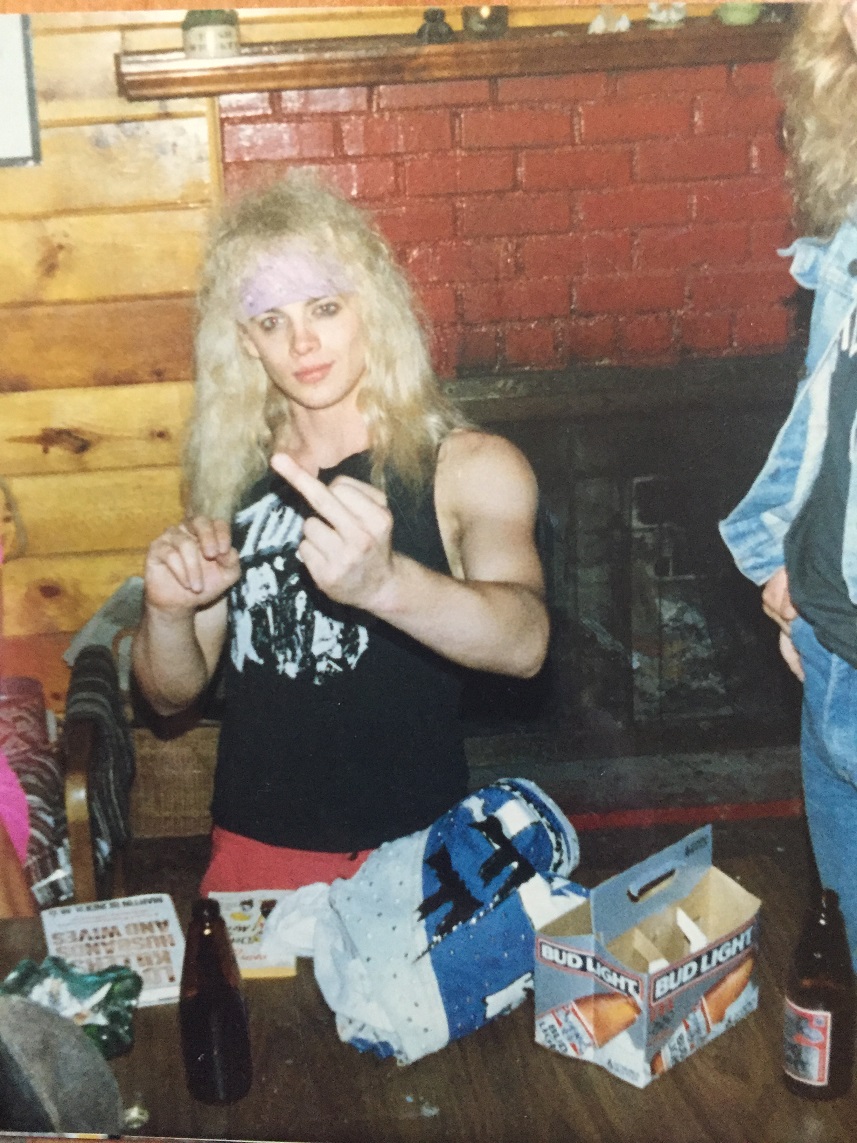 No one knew what I was going to say.
Stevie Rachelle, backstage pre-show somewhere in California 1988.
As Johnny smokes his cigarette awaiting my big question.
"You've done a lot of stuff for us. The studio, the flyers and so on. I want to know, do you think you're a nice guy?"
He drags off his cigarette, and thinks for a few moments.
He looks at me and says, "Yeah, I do think I am a nice guy."
Without hesitation, I looked at him pointing my finger with an angry tone, "Really, that's too bad. Cause nice guys finish last, you're fired!"
He just stared at me.
The band was mostly silent, and at some point Michael tried to step in, and say it a little nicer.
"We just feel we're ready for a change, to challenge ourselves and move forward" adds Michael.
Something politically correct.
But not me, I was scowling, and pissed.
Angered about  a few things, and I felt he wasn't good enough for us.
So I was a smart ass, and let it out.
Johnny was mostly silent, and I could tell he was pissed too, but also hurt.
As years passed I look back on that incident still to this day.
I am ashamed of what I said and how I handled myself.
I knew I hurt his feelings, but I simply didn't care.
"Fuck him" were pretty much my thoughts.
I was a punk kid know-it-all. And I was cutthroat.
Nothing, and no one was going to stop me from getting to where I wanted to go.
——————————–
During these early months of 1988 I was fucking everything in sight.
I had met this girl named Jennifer previously in late 1987.

She was a stripper, and use to date Steven Adler of Guns N' Roses.
She was a tiny, flat chested, blond who was about 18, but looked 16 and had a mouth like a trucker.
Jennifer and I became friends, and lovers.
Or, fuck buddies if you will.
I remember she worked at The Odd Ball strip club, and would go to work and I would stay at her place.
She had a hot pink TR7 sports car, and would let me drive it while she was at work.
While we dated, and half the time that I lived with her, I screwed other girls, and she knew it.
This included a few of her friends and roommates.
Jennifer also went on the road and did Foxy Boxing.
She was gone on tour, and around this time she had rented a house in Sherman Oaks. She also had a hot blond roomie named Tracy.
While Jennifer was gone, I was living in her house, driving her car, and yeah… fucking her roomie too.
Let's just say, Tracy wasn't at fault, it was more me. But she did give in.
The roommate was a stripper too and we could only be in the same room (house) for so long and soon enough we were fucking.
I remember one night her telling me, "This is SO wrong, Jennifer would kill me."
Of course I didn't care saying, "She's in Iowa and won't be home for 2 weeks."
As I lay on top of her tanned body, firm tits, with my cock deep in her pussy.
I was careless, reckless, horny and full of cum.
I recall one time Jennifer got home from tour and I was taking a shower.
She comes in the bathroom and is talking to me as she sits on the toilet to pee.
I am scrubbing and itching my crotch and pubic hair.
I tell her, "It's really itchy, do you have any lotion?"
Like any good girlfriend she offers to help, starts inspecting my private area and then slaps my long flaccid dong a good one.
It bounces off my leg, "Hey! Take it easy, you could hit my balls."
"You got CRABS Motherfucker!"
Now she's looking closer and pulls off a tiny little insect out of my pubic hair.
"See this FUCKER…you got crabs."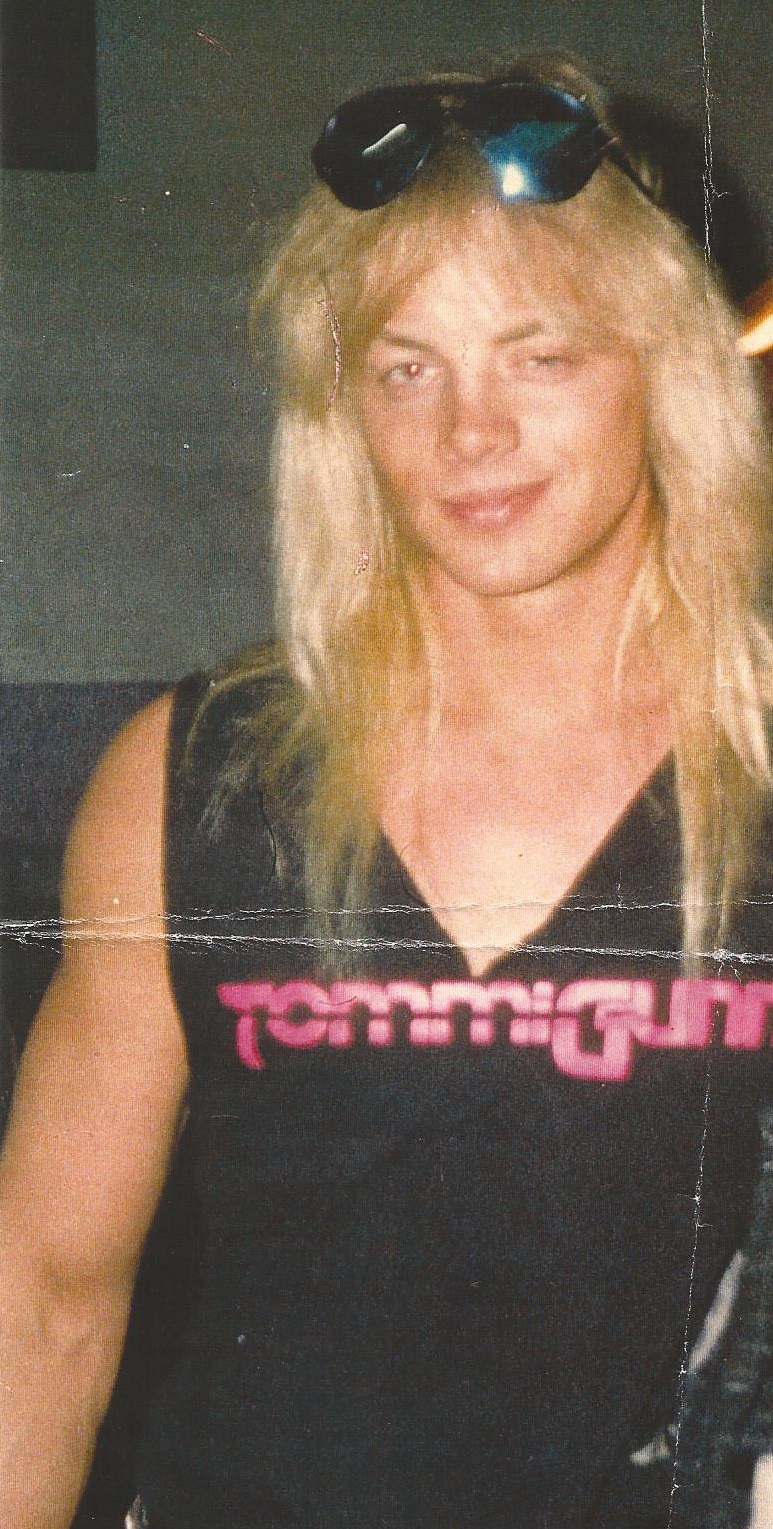 I am now half laughing and half embarrassed… "What should I do?"
"You stupid motherfucker. You need to shave all that shit off."
She hands me a razor, and starts filling the tub.
Jennifer instructs me to get in the tub and shave all my public hair off.
Now she's in the bedroom pulling the sheets off the bed and cussing me out.
Then she grabs her purse and looks in at me from the hallway.
I am sitting in the bathtub smiling and giggling, "Where are you going?"
"To the Walgreens, to get your dumb ass some RID!"
She storms out and comes back with a bag of products.
Stevie Rachelle rocking a t-shirt from one of the Sunset Strip's finest. 
Jennifer and I haven't seen each other in years, but we chat on Facebook here n' there.
We were never in love, but we definitely loved each other.
Aside from me fucking her friends, she was fucking around with mine too. So I am not the only guilty party. Lol.
Vince from Tommi Gunn and her were buddies and dating at the same time.
We'd (Vince & I) often joke with each other, who would get the car or some other attention, dinner, gifts or money from Jennifer.
We were kids, we were young, so dumb and having the time of our life.
What I wouldn't give to go back to those days once again.
———————————————————–
What's next…?
It's now May and Tuff will support Warrant at the "Country Club" in Reseda.
The summer of 1988 is right around the corner, there are tons of crazy things happening including our first show at "Gazzarri's" on Sunset Strip.
Also, our return trip to the Bay Area in Northern California where we will open for VAIN at "The Omni" in Oakland.
Our summer ends with a bang as we play "The Palace" in Hollywood supporting Vinnie Vincent Invasion with Brunette (Hardline) as openers.
What I saw during sound check was a bit mind boggling. It will be one of the last ever VVI shows.
Stay tuned…for TUFF DIARIES ENTRY #6
Stevie Rachelle
Message from the author.
People have said to me for years, "You should write a book, I'll buy it."
That's not likely going to happen… not anytime soon at least. But if you are down with my blogs, my band or my various projects – I say thank you. 
I have self-released roughly 50 projects on CD. Cassette, VHS, DVD and Vinyl since 1994. All on my own. Without any label support. None. 
I have also kept Metal Sludge alive, afloat and online since 1998. For Free. You cannot imagine the workload a website of this magnitude can be.
No Kickstarters, no Go-Fund Me, and no Pay Me now and I'll make a CD in a year and send it to you later. 
I am also self-managed, self-booked (most of the time) and 100% self reliant. A 1-man gang. 
If you want to support in anyway, buy a CD or Vinyl record from me, or a T-shirt. Or send me something direct via Pay Pal.

I am not begging. I am not sick and no hospital bill. Nope, just continuing my service to the fans that support my Rock N' Roll. 
My direct Pay Pal email is Sludgeceo@gmail.com – send a dollar, send ten or send fifty. Send whatever you like, or nothing at all. 
Many independent websites have Donate buttons, Metal Sludge has NOW added one, Top Right of this page.
No pressure, but hey, it's an option if you care to do so. 
Thank you for all your loyal support of my projects.
There is more to come, more blogs and more music too. I have something in the can now it just hasn't been packaged just yet. 
Thank you again and all of your support is greatly appreciated. 
Stevie Rachelle
Read my previous blogs linked below, numbered and dated.


Entry #1  How I Made My Way To California, 31 Years Ago Today  (June 25th 2018) 
Entry #2  My First Meeting With Tuff, "Is That All Your Real Hair?"   (June 29th 2018)
Entry #3  Tuff audition, Jim Gillette screams, a near fist fight & our debut show  (July 5th 2018)
Entry #4  The Metal Years, Famous People, Cocaine, Kiss & Sex with a Miss Gazzarri's Dancer  (July 14th 2018)
Entry #5  Guns N' Roses, Del James, 1988, Sound City, Strippers, Crabs & You're Fired!  (July 30th 2018)
Entry #6  Summer on Sunset, Vinnie's Invasion, Tracii's Glue Gun, Vain & Sex by a Dumpster (August 11th 2018)
Entry #7  MTV's NYE Big Bash, Riki & Taime's Cathouse & My Girlfriend was a Poster at Spencer's (August 20th 2018)
Entry #8  Jon Bon Jovi, Sebastian Bach, Rick Rubin, Howie Hubberman, BulletBoys & Gazzarri's (Sept. 16th 2018)
Entry #9  Summer Tour '89, Andy McCoy, Def Leftovers, Max the Model, Z-Rock, Tommi Gunn & Lit (Oct. 10th 2018)
Entry #10 Goodbye 1989, Jessica Hahn, Skid Row, Martha Quinn, Young Gunns, Flyer War & Cock-Rings (Nov. 9th 2018)
Entry #11 Hello 1990, Texas, Britny Fox Tour, Strippers, Hells Angels and Atlantic Records signs Tuff (March 24th 2019)
Entry #12 Ready to Record, Howard Benson, FM Station, Jani Lane, Court hearing & my 1st Playmate  (June 2nd 2019)
Entry #13 Recording our Atlantic debut, Bret Michaels, Kane Roberts & Sex is fine, but no sleepovers (Aug. 27th 2019)
Entry #14 New York City, Mixing our Record, Publishing Deal, Video Shoot , Cherry St. & Tigertailz (March 25th 2020)
Entry #15 Hello MTV, The Nelsons, Jason Newsted, U.S.  Tour, London & our Stolen Ryder Truck (May 19th 2020)
Entry #16 Lita Ford, Jason Flom, 75+ Shows, Cocaine, a Lawsuit, Sweet F.A. & the Freeway Fight (July 29th 2020)
Entry #17 Hello 1992, Gene Simmons, More Money, the L.A. Riots, a New Bassist & Jason Flom Part II (March 20th 2021)
Entry #18 WildSide, Dee Snider, Tour Drama, Baywatch, New Label Search and Living in Reseda (Aug. 21 2021)
Entry #19 Michael Resigns, River Phoenix, Thirsty Whale, He's Got a Gun, Stolen Van & Danny Quits (Jan. 16th 2022)
Entry #20 1994, Northridge Earthquake, Kurt Cobain, RLS Records, releasing "Fist First" (May 2022)

Tuff @ Facebook –  eBay – Amazon– iTunes – Instagram – Twitter – Store – Discogs – YouTube –

https://www.youtube.com/watch?v=-Gu3gDhESRY

https://www.youtube.com/watch?v=3c0RItWE40c