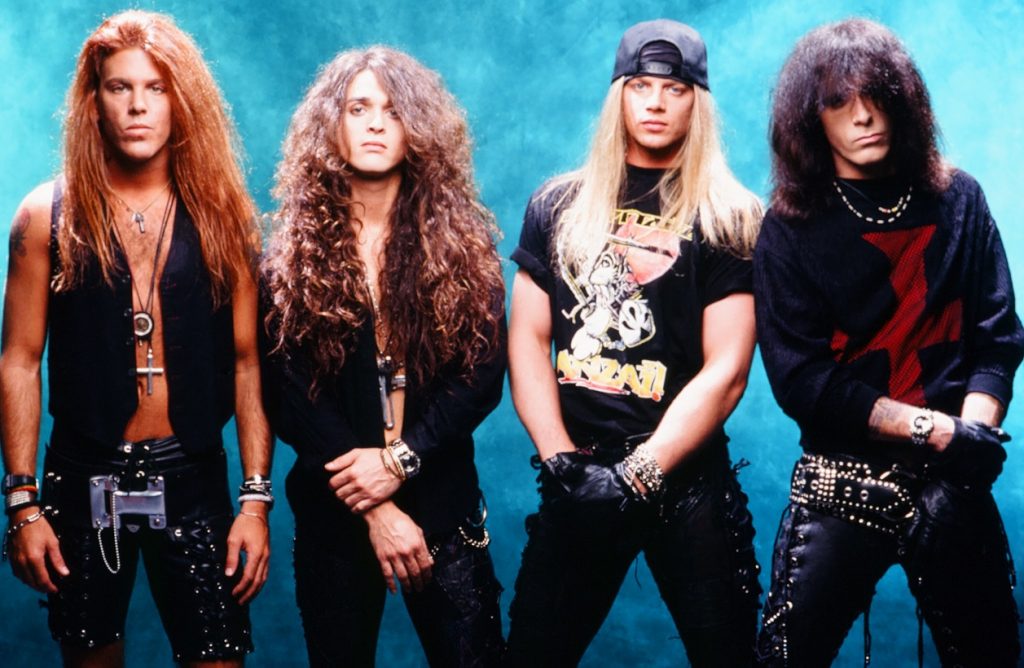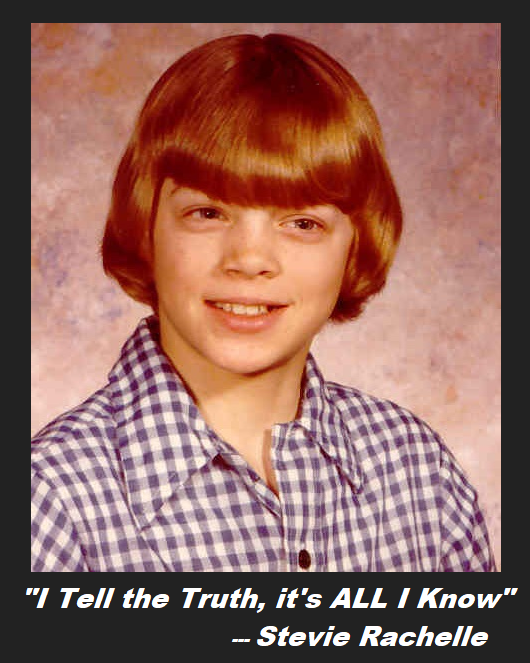 LOS ANGELES – Its spring 1992 and summer is on the way.

A year ago Tuff were riding high on our major label debut and now we're looking for a new home.

A new home as in a new record label, and actually a new home as in a new place to live as well.

Not sure what made me react this way, but it was time for a change as I was growing tired of living in an apartment.

I (we) had been living in apartment buildings for the last 5 years and it was time to upgrade.

Tuff had 3 main band apartments over the years.

Which as I mentioned in earlier diaries, these were all referred to as the Tuff Muff Mansion.

The 1st was at 13956 Vanowen Street, just east of Hazeltine in Van Nuys.

This was the apartment the guys moved into in 1986 when they first relocated to California from Phoenix.

They still lived there when I joined the group with Todd and Jorge in 1 bedroom and Michael in the other.

However, with the addition of me, Michael now had a roommate.

The 2nd band apartment was at 5100 Woodman, just north of Riverside Drive and the 101 Freeway.

This larger apartment was in Sherman Oaks but the same set up with us split, two to a room.

Of course add in the occasional roadie (and random drifters) on the couch or living-room floor.

And the 3rd place was at 12750 Barbara Ann, a little side street south of Sherman Way in North Hollywood close to the 170 freeway.

In between these places, we had short stays at some girl's place on Burbank Blvd. in Van Nuys and there were a few months in a house in Toluca Lake on Auckland Avenue just south of Cahuenga Boulevard.

The place in Toluca Lake was rent free for us and courtesy of our manager at that time, Howie Hubberman.

That house was in a nice area, and my bedroom was the dining room, with bed sheets hanging over the entry-way for privacy.

Ahh the good ole' days, when milk-crates were your night stands and your dresser too.

So one afternoon I was looking through a Recycler under 'Houses for Rent' and something caught my eye.

A swimming pool.

——————————-
Free Fallin'

"Its a long day, living in Reseda… " are words that I actually lived.

These words could not have been more fitting for me at this time in my life.

Hearing this song today replays vivid memories in my head and often they leave me a bit teary eyed.

That swimming pool in that Reseda backyard was the epicenter of my life, our life.

For those not from here the Recycler is a local weekly news paper that advertises everything under the sun.

This is the same Recycler that listed an ad for a "Loud, Rude, Aggressive Guitarist" back in early 1981 that caught the attention of a young bassist putting his new band together.

Now let's get back to that pool and that house for rent.

It had 3 bedrooms, 2 bathrooms, plus a sun room, a patio and a big in ground pool.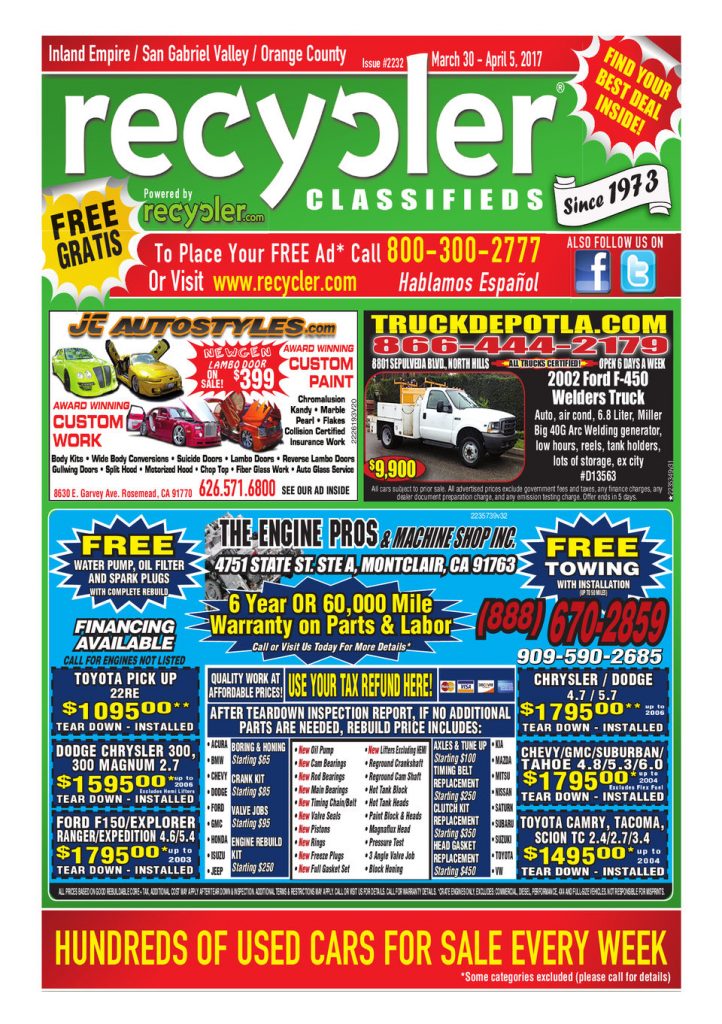 All for $1,100.00 a month.

The pool jumped off the page, and sure some of the previous apartments we stayed in had pools too, but they were community pools that everyone in the building shared.

I dialed the local 818 number.

"Hello" says a man with a thick accent.

"Hi, I am interested in the house for rent in Reseda, when can I see it?"

The man told me: "It's available now, when do you want to come?"

I replied: "How about now? I am in North Hollywood, and could be there in 20 minutes."

He gave me the address and I jumped in my 1989 Toyota Corolla and headed West on Sherman Way.

Soon enough I was pulling up to a home at 19558 Strathern Street just west of Tampa.

The little old man was very nice, and he showed me around the property.

The house was average at best, but it was a castle compared to our 2nd floor apartment.
I was sick of apartments, and tired of the neighbor families stealing our laundry out of the dryers.

It wasn't uncommon to pull into the complex and see a Mexican kid wearing a Vic Firth Drum Sticks t-shirt or some other music swag from our wardrobe.

We never confronted any of them, or said anything as a t-shirt was no big deal, but one too many brand new $40.00 Levi jeans disappearing was getting old.

Tom was the landlord's name, and he said: "Its $1,100.00 a month plus the same as a deposit."

I immediately said: "I don't have that" as we walked around the backyard.

And before I finished replying he blurts out: "How much do you have?"

"I can come up with the first month's rent, but I can't double that" I told him.

He quickly suggested: "Why don't you move in? Give me the 1st month's rent, and we'll add $100.00 per month for the next year, as your security deposit."

During small talk I told him that I was in a rock band, but also worked at a moving company and I would be 100% responsible for the rent.

In short it was $1,100.00 a month rent and he would accept that amount for us to move in, but he would charge me $1,200.00 rent for the next 11 months and then my security deposit would be paid in full.

I agreed and told him I could sign a lease first thing and give him the move-in money tomorrow.

He agreed with caution and asked: "You're in a band huh? You won't be doing any drugs will you?"

I literally laughed out-loud: "Tom, I don't do drugs… but I can't speak for the others. However it's MY lease, and I will be the responsible party, you can trust me."

He then informed me that the previous tenant was a drug dealer, and the house was breached by LAPD one morning to take the guy into custody.

I ensured Tom I would not have anything of the sort happen while I lived there.

At some point he asked if I was Jewish: "No, my relatives on my Father's side are all German."

He smiled and said: "I am Jewish and I run a tight ship."

"Me too Tom" was my swift reply.

I must say, Tom was so nice and he gave me a chance.

No background check, no credit check and thankfully he didn't ask too many questions.

My credit at the time was horrific at best.

But he just wanted my money and the place rented.

There was a master bedroom with an attached bathroom, which I immediately claimed.

Then there were 2 other bedrooms and an enclosed sun porch/patio room.

That extra room kind of doubled as a large 4th bedroom, it was huge… like 18' x 22'.

Add in a 2nd bathroom, a kitchen, dining area, a laundry area and a car port too.

At this point there were about 8-9 of us living in the apartment, so either way, this was an upgrade.

Let me quick run it down…

Aside from me, there was Todd pka Toy Staci who at some point was in The Zeroes, Billy from Philly and Jorge (DeSaint) who was a part time resident with us, when he was fighting with his girlfriend.

Also living in the apartment were Jackie Suicide from Milwaukee along with Aj, Alex and George V., those 3 were all from Canada.

And let me not forget Fred, pka Freddy B. who later started a popular L.A. Club called Monday Social.

But when we moved into the house, Fred didn't come with us, he moved to Studio City.

Fun Fact: The apartment from Karate Kid is less than 1 mile from this new house in Reseda.

I was super thrilled and drove back to North Hollywood to tell the guys.

I also told our landlord, some older dude named Don.

In reality, he was more like the property manager, and I had a good rapport with him so he had no issue with me only giving him a few weeks' notice.

We were month to month at this point and had already been there a few years.

It was mid month, and by the turn of the calendar, we were moving on up.

Swimming pools, rock stars and pure Reseda sunshine!

—————————————-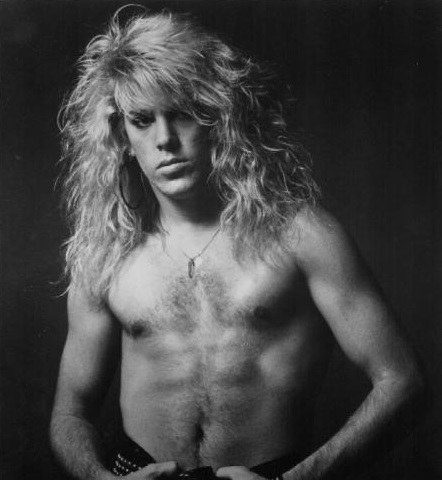 Wilder Side

I want to give a bit more detail about our newest member, bass player Danny Wilder.

Danny is an absolute perfect fit.

As previously noted he was part of the Hollywood scene since 1988 when he joined Paradise.

He unlike the rest of us (all living in the San Fernando Valley) actually lived in the heart of Hollywood.

By this point I was living in Reseda, Michael was in Burbank and Jorge was living with his girlfriend in North Hollywood.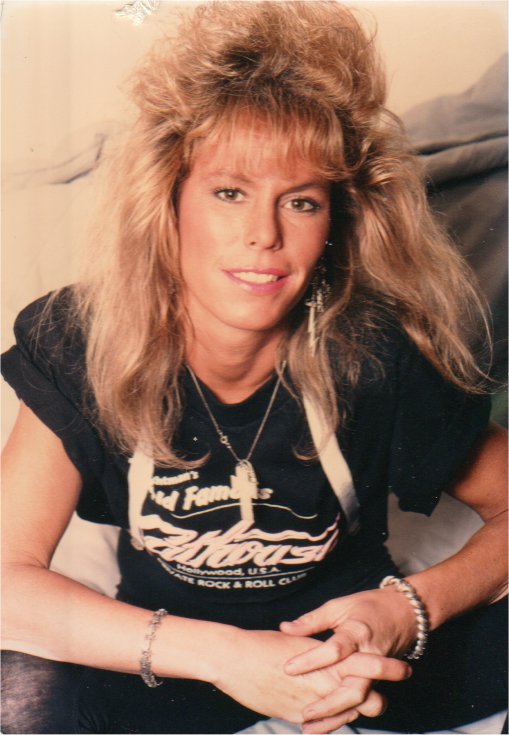 To those not from the area, North Hollywood or NoHo as it's called is not in Hollywood.

Technically, it's in the San Fernando Valley, where as Hollywood and West Hollywood are not.

It's kind of confusing, but in short, NoHo is over the Hollywood Hills or up the 101 freeway by a few miles.
Danny was a party guy, so he fit right in living in the 213 or 323.

Those are the area codes for Hollywood or Los Angeles, and if you were in the Valley, your phone had an 818 area code.

If you lived west of the 405 or near the beaches, you were in the 310 and if you lived south of LaX, or in Orange County or the South Bay, your area code was usually 714.

Confused yet?
Any-who, Danny knew a lot of people, he was definitely a social butterfly and yes the girls liked Danny too.

By the time he joined our band he was living in an apartment on Las Palmas and working at a Tanning Salon.

The Salon was owned by a guy (I forget his name) who had taken it over from Betsy Browning.

This is the same Tanning Salon that endorsed Tuff and other bands in the 80's.

Of course bands need guitars, drums and amplifiers.

But just as important to their gear endorsements, was having a never-ending membership at a Tanning Salon.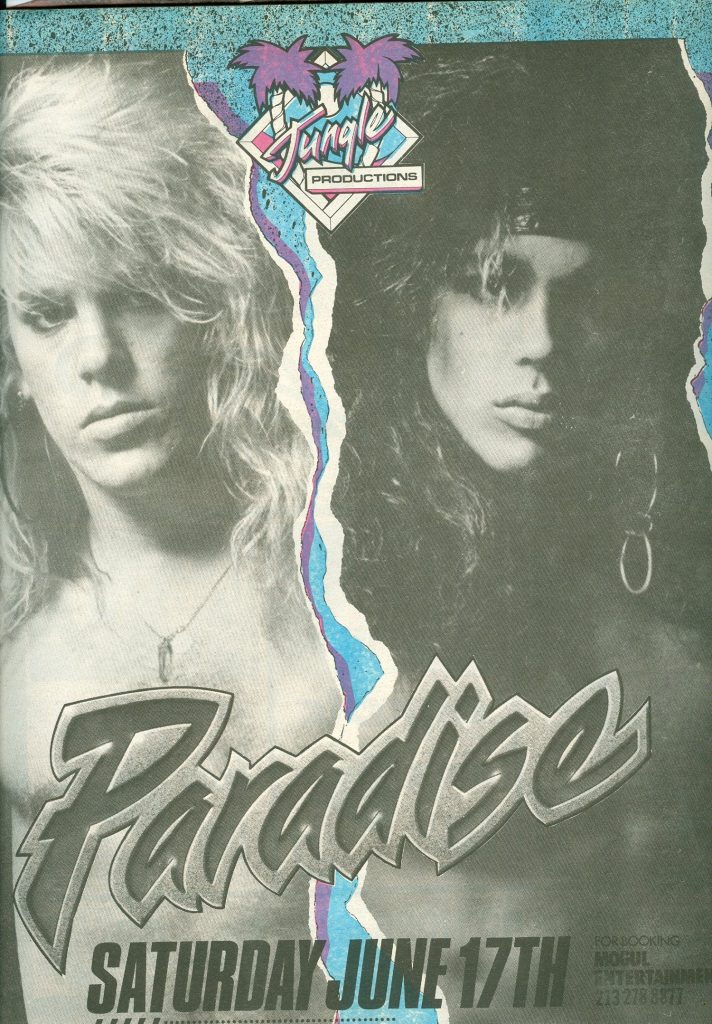 Going way back, Betsy was always super nice to me and went out of her way a time or two to take care of all my needs in more than one way.

Betsy was a sweetheart for sure and well known on the scene to the locals and also to the biggest of National touring bands.

She was right in the heart of it, especially at the height of 80's debauchery on Sunset Strip.
Danny was too, and now a full-fledged member of our band and I can't stress enough how perfect the fit was.

We didn't have to coach him at all, hold his hand or show him any of the so-called ropes.

But something I soon realized was that Danny was a bit of a party boy and that meant more than beer or cigarettes.

Of course Todd and Jorge were the Ace and Peter (ex-Kiss members) of our band in the way of drugs and that lifestyle.

So I guess it was fitting that Todd's replacement was a party guy too – now Jorge had a new partner in crime.

However as much as Danny fit the band – we were no longer 21 years olds and all living in the same apartment together like we were in 1987 and 1988 – that was in the past.

Now we were in our mid 20's and all of us lived in separate homes.

There was no living and breathing the same air unless we were on the road or at rehearsal.

Danny was awesome for our band and he was stoked be part of it.

We even gave him a nickname as well, we called him Shaky.

Danny seem to have the shakes, or was doing something that caused the shakes.

Either way, Danny was in and earned his place for sure.


Label Search

Well since Atlantic Records officially dropped us on May 14th, we were now looking for a new label.

We started the search and were communicating with a few companies.

One of the labels that showed interest was Moonstone Records and their rep Dean Schactel.

Dean was very nice and after some phone calls invited us to their offices.

I recall being there and the one band from their roster that stood out was Quiet Riot.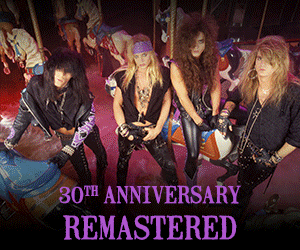 I guess mainly because I knew who they were and the mind starts turning: "If we sign here, maybe we'll tour together since we're label mates" and so on.

This also marked the return of Kevin DuBrow to the band after being fired in 1987.

Needless to say, we never signed with Moonstone, but they were very nice to us.

Another label who showed interest was Grand Slamm Records and Brian McEvoy.

They had previously released the first White Lion record "Fight to Survive", along with albums from Lillian Axe, Lion, Riot and Cry Wolf.

Another label we had a bit of communication with was CMC International.

CMC in the 90's released records by a ton of 80's artists including: Dokken, KIX, Slaughter and Warrant.

Either way, we were fresh off our label debut selling 100,000 units and had a fairly known name.

We weren't in any rush as we were trying to gather ourselves from the previous year.

New songs, new bassist, new home and a new record label in time.

—————————————–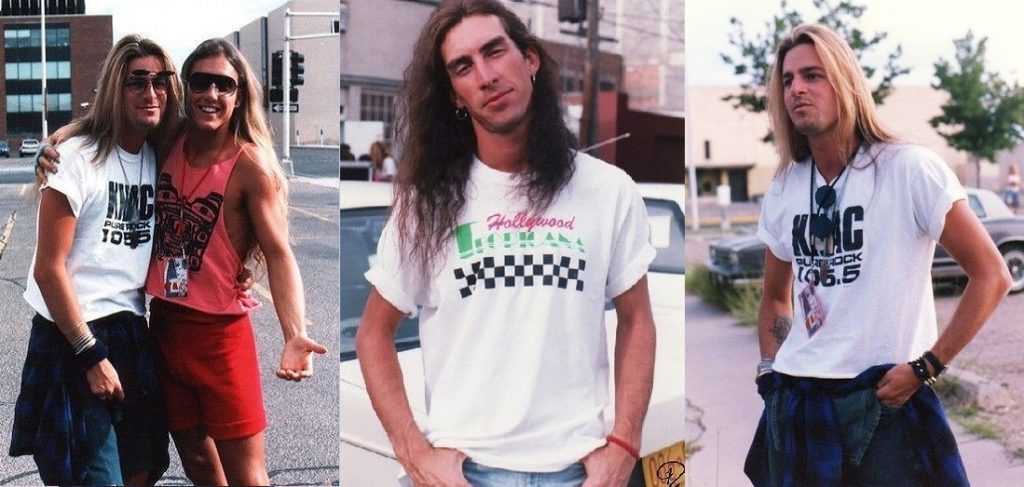 WildSide

I decided to visit my family in Wisconsin for a short weekend.

Well, in truth, I had planned 2 stops on my trip.

First I flew into Milwaukee and drove up to Oshkosh to spend a few days with my family.

The second part of my trip, I flew from Milwaukee to Nashville to visit a friend.

A friend, as in… a super hot girl who worked at a Hooters in Murfreesboro.

I had met Ginger last fall when Tuff played a bar called "Mainstreet."

Hot is an understatement, as she was the girl Hooters used on their billboards, posters, calendars and much more.

She was also cast as featured background on a few episodes of Baywatch.

For the record, at this time in my life I was infatuated with Pamela Anderson, so I guess if I couldn't get her, get her stand-in or similar.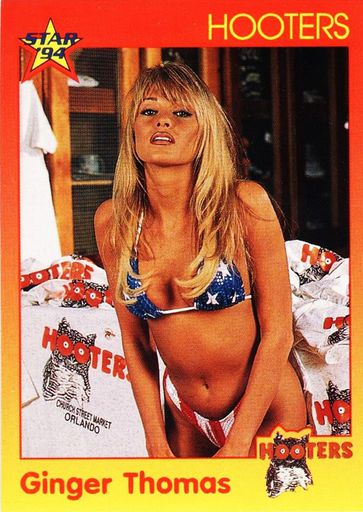 So I get into town and she picks me up at the airport.

We stop at her work, yes the Hooters and I guess I was being shown off to her friends.

For the next few days we were pretty much eating and fucking and sleeping and fucking.

Not sure how else to word it, but let's just say we had fun and kept busy.

In the south the summer heat was sweltering and we're in her bed after screwing some more.

The phone starts to ring… and to you younger folks, this is what they called a land-line as cell phones for the masses did not really exist yet.

Now we're laying there and the phone keeps ringing when her machine finally picks up.

"Hi, can't get to your call, but please leave me a message" is all I hear and the room is now silent.
Beeeeeeeeeeeeep…

I could see her squirming as the beep ends.

"Hey Ginger this is Drew from WildSide… we're gonna be in town, why don't you call me…" blah, blah, blah and he left a number.

I am now laughing inside, but not wanting to make her feel too embarrassed.

"So you know Drew?" I ask.

In her Southern voice, "Yeah, he's a friend of mine."

A friend huh?

As the Biz Markie song enters my mind and I am thinking, "Don't even give me that, a friend…."

I can tell she's a nervous wreck and feels really dumb, even though she shouldn't.

So I tell her, "Call him up… see what he wants."

She's hesitant, but I convince her to call the number and tell him he's a good friend of mine not to worry.

She seems horrified, but dials him up anyway, and I am right next to her as I hear the male voice answer.

"Hello"

"Hi Drew, I am returning your call…" as she starts the chit chat.

I let it go on about a minute and motion to her, to hand me the phone.
"Hey Drew, what do you want?"

It's now clear to him, it's no longer a girl's voice on the phone.

"Who is this?"

"It's Stevie."

"Stevie… Stevie who?"

"Dude… it's Rachelle…" as I start laughing.
He immediately blurts: "Oh for Christ's Sake… what the fuck are you doing there?"

Before I could say another word he says: "Never mind, I get it."

We're both laughing… except for her of course.

I hear him telling the other guys: "Rachelle is at her house…" and the guys all start cackling out-loud.

We had a great hoot, and Drew said: "Why don't you guys come to Atlanta tomorrow?"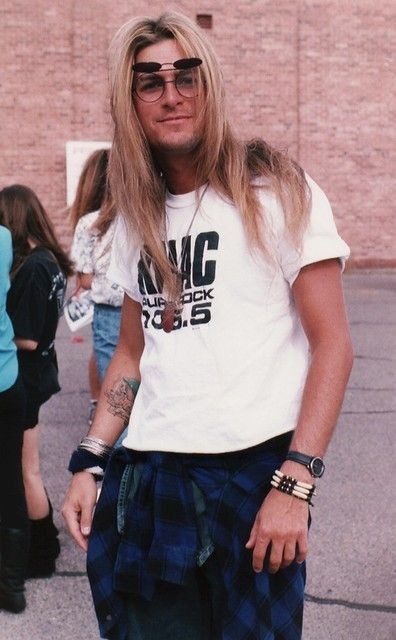 So we got the info, and the next day she and I drove to Atlanta that afternoon.

WildSide was on tour and they were playing the "Masquerade."

Tuff had played this venue a few times in previous years so I kind of knew the area.
So we showed up and visited the guys on the bus for a few, and everyone was all smiles.
I recall someone under their breath mumbling; "The cock blocker is here…" and everyone was laughing.

Ginger seemed a little shy at first, but of course loved all the attention she got as well.

Drew was totally cool, he was in the middle of their new release "Under The Influence" on Capitol Records and they were rock stars for sure.

They were rolling around in a big tour bus and having the time of their lives, I couldn't have been happier for them, it was their time.

I am sure he wasn't lonely for long, but this week, Mr. Rachelle was rocking Miss Hooters.

Sorry not sorry Drew.

Ahh the good ole' days… to be in our 20's with not a care in the world.

The show was great and the next day we drove the 248 miles back to Nashville.

I enjoyed my time my mini-vacation but it was time to get back to work.

I guess I will have to let WildSide hog all the road pussy.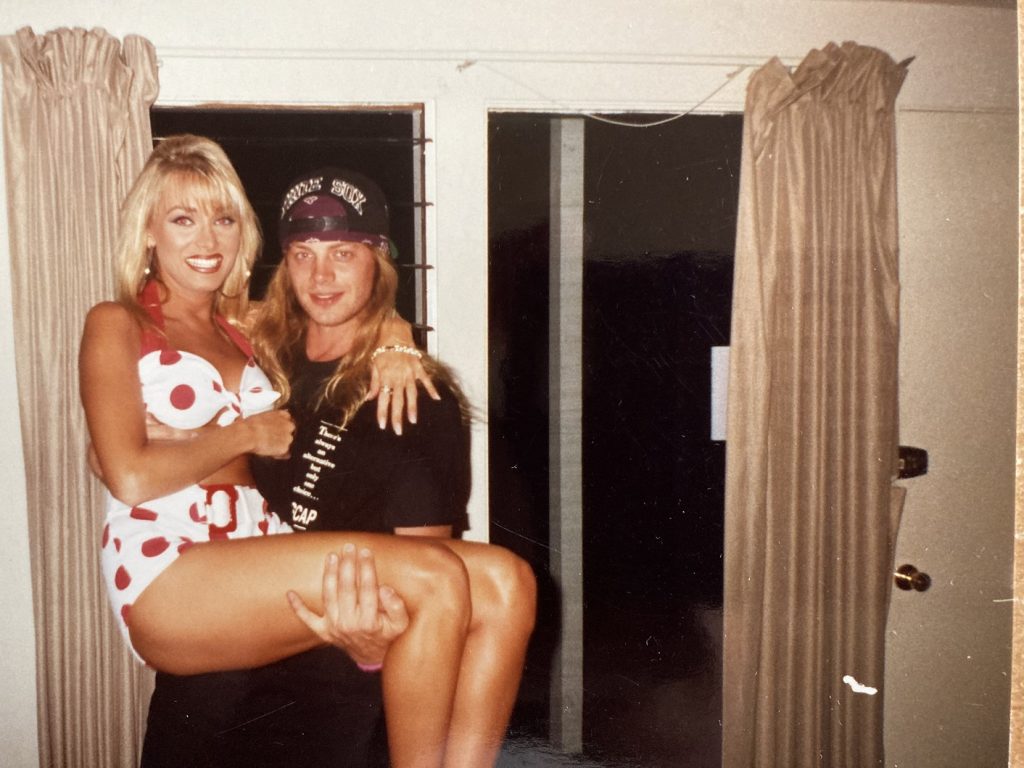 Welcome to California


Speaking of hogging all the pussy…

One thing the road offers more than anything is opportunity.

Girls, girls, girls… as was famously sung by you know who.

Being in a band, on the road and in a tour bus is like having a license to kill.

I mean, not literally kill, but fuck, suck, party and the rest for sure.

Of course I was never the party, smoke or drink type, but when it came to females – I was an addict.

What I didn't do in drugs or booze, tattoos or piercings, I made up for in vagina.

I don't say this to be crude, but rather to be honest.

Like most young people in their 20's, everyone has endless energy, and apparently I had an endless hard-on too.

Along with the rest of my responsibilities in the band, I was very organized and detailed, even with my girl intake.

In almost every city, you have the chance to meet countless friends, and of course in my world, most nights would end with me screwing the girl of my choice.

Or, a few of my choices.

It was not uncommon for me to pull a hat-trick on tour in a single city.

Regardless if we were leaving immediately after the gig, had my own motel room or shared – I found a way to make it happen.

A few buddies use to joke with me and tell me I was a Black-Belt in nailing chicks.

But now that we weren't on the road, at least not anywhere outside the West Coast – I was missing some of my East Coast and Midwest friends.

So what to do?

Simple, you invite them out and fly girls to Los Angeles.

This was a win-win for both her and I.

Or… I would fly out to meet them, like I did in Nashville.

I would keep in touch with lots of girls in all different states, and based on how we got along, at some point the talk of a mini vacation came up.

"Hey, so if you ever want to come out for a little visit, we should figure it out" were my words.

Usually that was followed by: "I'd LOVE to come to California, I've never been there."

Of course there would have to be some prepping and talking about what to expect and not to expect.

Going to see Venice Beach, Hollywood Boulevard or Universal Studios were the usual highlights for most tourists and the same applied for these girls.

I am now living in a house, with a big back yard, palm trees and a pool which seemed amazing I am sure… especially to a girl from Michigan, Tennessee, Texas or New Jersey.

Never mind the fact that I have 7 roommates and a Doberman Pincher that sleeps in my bed every night.

However I did have the master bedroom with the attached private bathroom, so she could feel safe in the confines of my sex cave.

Yes I had a waterbed and mirrors on the walls as well!

Wait, what?

Yup… I had a waterbed too.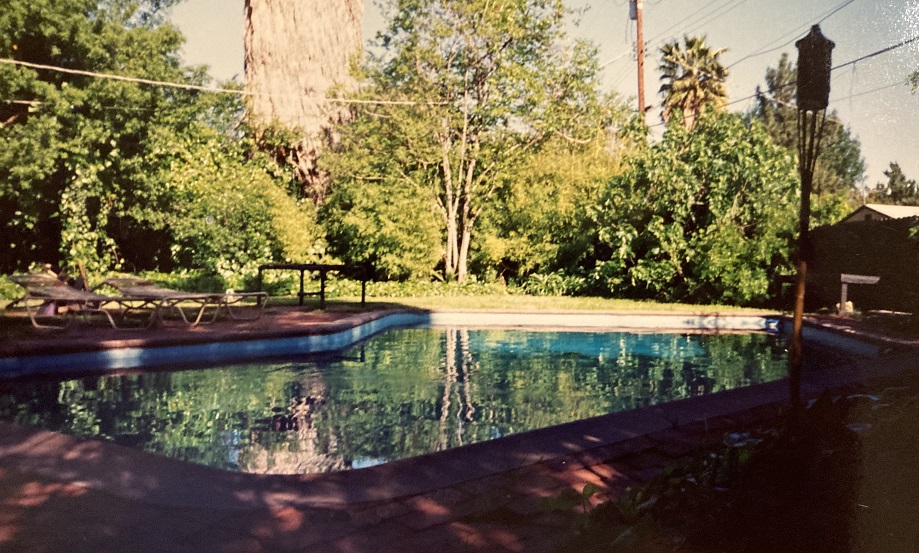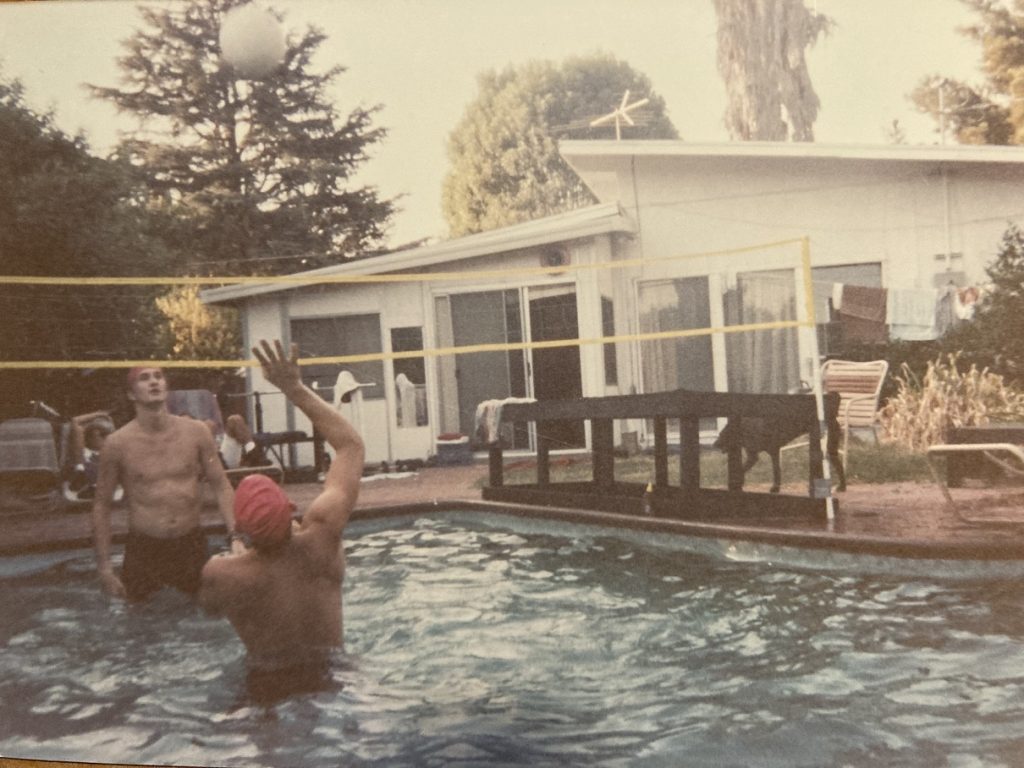 Ok, so over time I had done these, let's call it… the 'fly a friend in' long weekends on several occasions.

I'd usually have them come in Wednesday or Thursday night, stay through the weekend and then fly home on Sunday or early Monday.

Besides, I was working back at Load, Lock N' Roll Moving Company and had bills to pay too.

And I always kept it to about 4-5 days maximum.

A lot of girls had jobs the same, so they get off Friday and Monday, or Thursday and Friday and we'd sort.

The plan for me would be something like this….

Thursday night, "friend" arrives after 6-7PM on a flight from wherever.

Go to LaX, pick her up, she's a bit tired, long travel day, grab some In N' Out Burger… and by the time we hit the Valley, it's already night.

Now we're having fun, getting more acquainted, reminiscing about when we met in >insert city here< and now it's bedtime.
Of course she wants to shower before bed, and she knows full well my face is going to be buried in her pussy before she can say yes please.

Now we fuck each other's brains out, a few times, a couple kisses on the cheek and off to bed.

My biggest fear was… having to take a shit the next morning, or the dreaded "What if I fart in my sleep" concerns.

I am sure at 19, 20, 21 or whatever her age was, that she had the same concerns but sweet dreams it is.

The next morning I am making her fresh squeezed juice in the kitchen.

She comes out of my room in her sweat pants and hair up in a pony tail.

I hand her a glass: "OMG, this tastes SO good."

I then walk her out the patio door and point to a huge orange tree in my backyard.

She is impressed: "You picked these from there?"

"Sure did" and we can pick some more later and make fresh juice again tomorrow.

Her face is glowing as she sips the juice walking around the pool surrounded by tiki torches.

It's now Friday, and I decide to take her to Melrose or Venice Beach, whichever she wants.

In the San Fernando Valley it's 80 and sunny, with pure blue skies almost daily, she is in paradise for sure.

I mean, let's be real… Grand Rapids Michigan to Southern California is night and day.

All of this is a fantasy to those visiting from the Midwest or East Coast – especially during the fall or winter months.

As we drive the 101 South towards Hollywood I can see her eyes darting back n' forth.

I point out some landmarks as we go by them, tell her the city names and she has an ear to ear smile.

"I love all the palm trees…" are her words as I am cranking Slik Toxik in my car stereo.

We spend a day hitting stores shopping, grab lunch at Johnny Rockets and head home in the late afternoon.

As the sun is setting, we'd be getting ready to go out to Hollywood for the night.

Of course the girl has her suitcase open on my bed, she has her favorite clothes, shoes, belts, etc.. all laid out.

I know that visiting So. Cal. for the first time is a huge deal for these girls and I knew that.

I was once that young guy who moved here at 21, and the first night I was getting ready to go to Hollywood, I was on cloud nine.

But regardless of how many girls I had sex with on the road, in a motel, in Hollywood or in my room – I always treated them right.

What's that old saying: "I'm a Lover, not a Fighter"

Well, that's definitely not me, because I am both.

I was a great lover, and those aren't my words, I heard it from them.

I was also cognizant of all her (their) needs, wants or concerns.

I was taught from a young age, to be a ladies' man.

To always hold the door, open the door, protect her, and make her feel safe.

And I did all that and more.

Sure I was a rock singer, but as much as I was a dirty minded pervert, there was also a clean element to me.

Non smoker, non drinker, no pot, no drugs, no tattoos, no crazy piercings and I brushed my teeth.

Imagine that… what a concept huh?

Of course the cliché' dirty rocker boys got plenty of play too, but there was rarely a moment, when I didn't capture the prize.

And when I say prize, I mean the girl that everyone in the club would say: "Who the Fuck is she?"

My reply was, "She's mine bro…" and I was always right.

Okay… enough about me being Fabio with the ladies, you get the idea.

We'd hit Hollywood, see a show, stop into the Rainbow, run into a few rock stars and it didn't hurt that I had a little clout as well.

"Hey Stevie, can I get a photo?" as random fans would come up to me all night wherever I went.

And of course, the other girls were all looking at my friend, and thinking: "Is that his girlfriend?"

The weekend was usually a blur…

Food, sex, tourist stuff, more food, more sex, sleep, morning sex and suddenly it's Sunday.

Time to pack up and usually there would be a little sad face, that they were leaving La La Land.

For the really good ones… they were invited back, or I opted to go there.

But as much I was spreading myself thin with girls, I was also a worker.

Always working, at my job and working for the band too.

My little fantasy weekend was over now, and I was back to that Moving Company Monday at 7:00am sharp!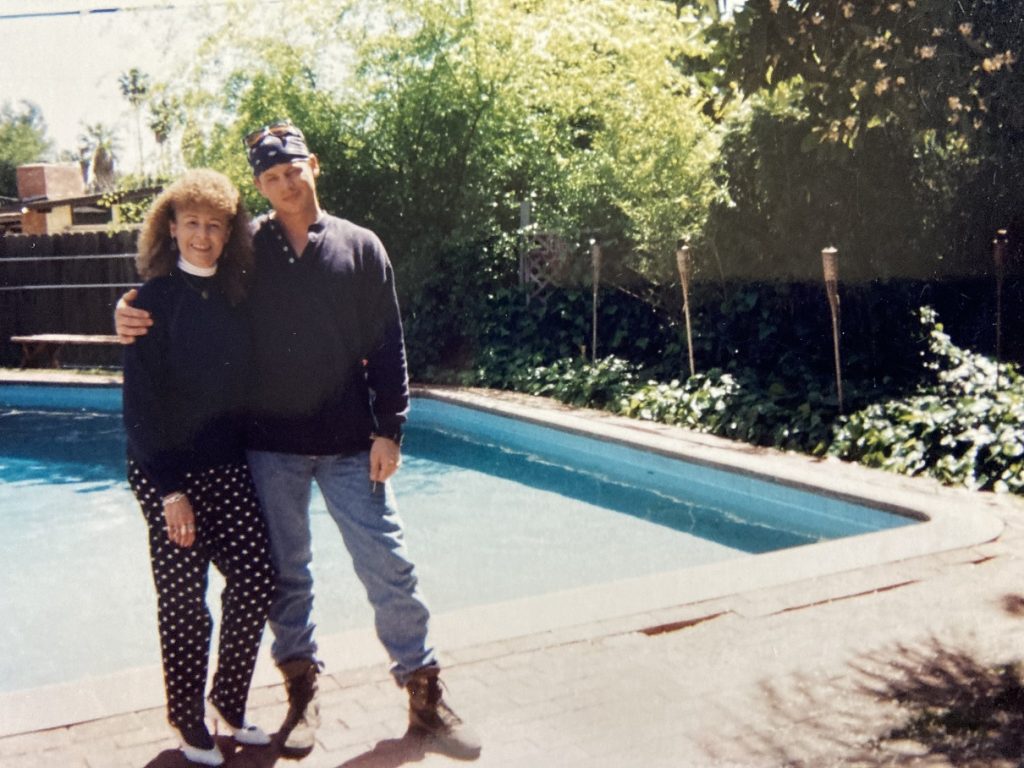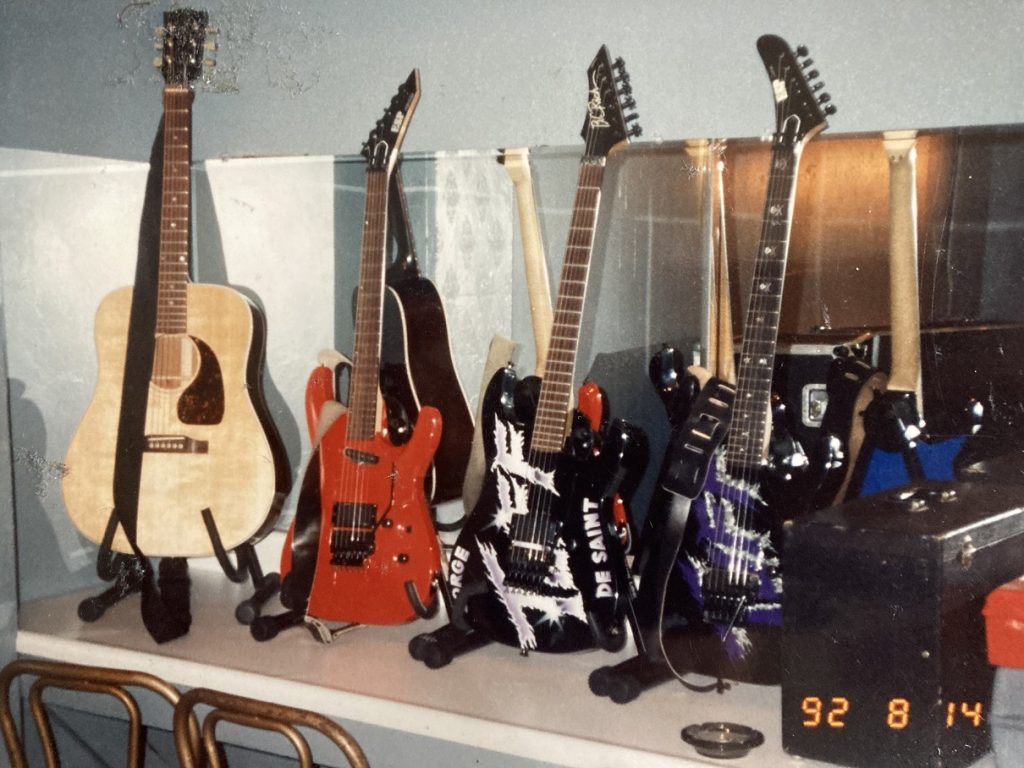 Summer / Fall Tour Dates


We haven't played a live show in over 7 months.

Our last live show with Chase was in early December 1991 and now it's already July 1992.

Like we did previous to getting signed, we started doing some weekend shows in Arizona, Nevada and along the California coast.

Danny was the new guy so we broke him in on a handful of these weekend runs during July and August.

We also booked a longer run for a month starting in mid September that would take us through Denver, Omaha, Minneapolis, St. Louis, Kansas City, Chicago, Milwaukee, Detroit, Ohio and into Texas.

We had already played nearly every one of these markets, and most of them several times, so it was easy to come back to as we had built a good relationship with the fans, promoters and the clubs.
There are stories from every city on every tour and here are a few good ones.
————————————————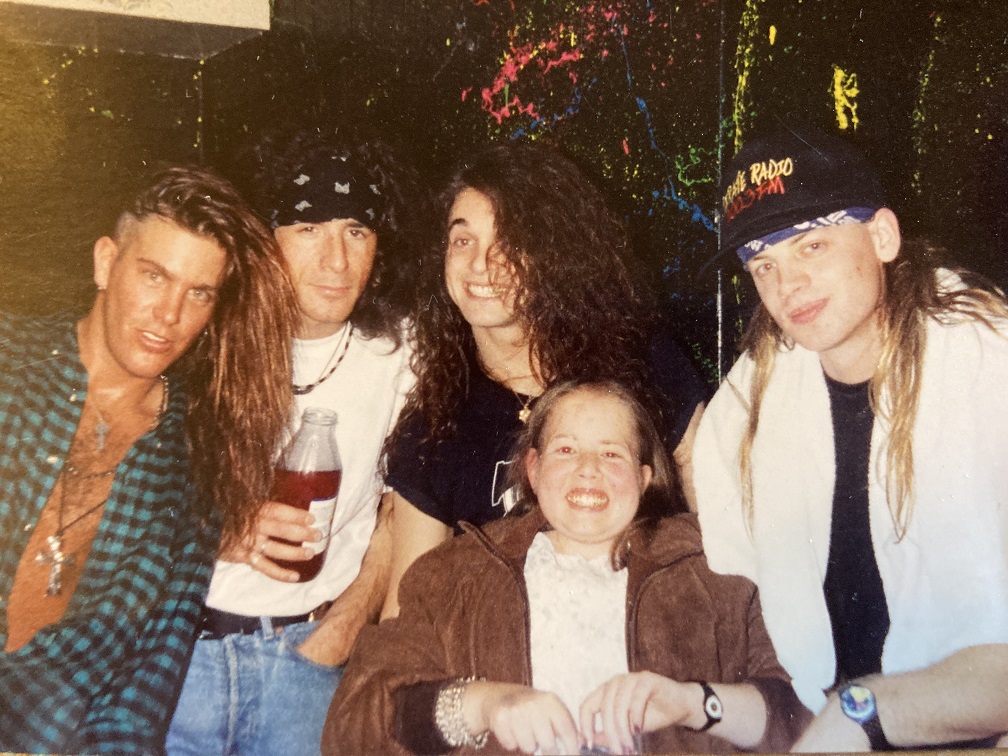 I'm Not Gonna Take It

This kind of stuff has been happening to bands for as long as there have been live shows.

But, I was definitely not one to put up with much of this.

And what is that?

I will tell you here…

So we're playing at a place called "The Mirage" in Minneapolis and its late September.

As our show is going along I see someone throwing ice at the stage.

This place holds about 1,000 people but my guess is we had 250 maybe 300 people there tops.

Most of them were close to the stage, and everyone seemed to be enjoying our set.

Well, except for the guy in the New York Jets jersey about 15 feet back.

Since I have been down this road before, I don't react to the guy throwing ice at me at first.

I mean, I am essentially setting him up for humiliation, a beating or both.

Every a song or so he nonchalantly tosses a few pieces of ice at the band.

I ignore it the first few times, but now it's gotta end as he's not stopping.

Again, I don't show any signs that I am aware this is happening, which makes him get a little more comfortable and he continues his little game.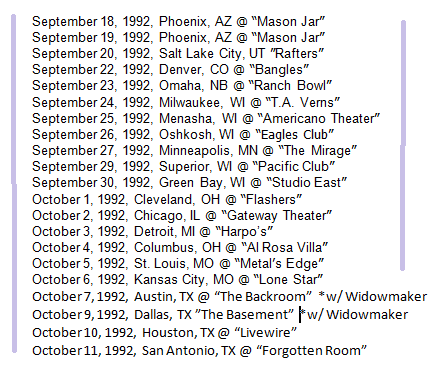 After about the 5th or 6th time I see the guy is wearing a football jersey and as he tosses the ice, he then slides behind the crowd to try and blend in.

However, what he doesn't know is that I am also a Black-Belt in dealing with a heckler in the crowd.

He and his buddies are giggling away as they pelt Tuff and their singer with ice cubes.

We're more than halfway through the set when we play "I Hate Kissing You Goodbye" and now I am strapped with an acoustic guitar as well.

Again, this guy is tossing ice at the stage and I am aware of where he is in the crowd.

But just when he least expects it, his night of tomfoolery ends.

After we play the ballad I take my guitar off and ask the crowd: "So is everybody having a fun time?"

Which of course is met with the expected cheers and positive response from the crowd.

"Well you know what, I am having a great time too… but I'll tell you right now… (as I walk right to the end of the stage and laser focus my eyes on the bad guys)… if I catch one of you Fuckers throwing ice at me, I will jump off the stage so fast…."

Now the whole place stops, listens and turns as I point to section where the ice is coming from.

"…..and beat… (the crowd is a bit noisy, so I shush them) … beat the Fuck out of you in front of everybody… and if you don't think I can do it, throw another piece of ice, cause I will do it… I will beat you like a piece of Fuck!"

Now I stand there staring this guy down from the stage.

I will admit, I had a very loose trigger in my younger years, and I put up with more than my fair share, but if you crossed that line… look out.

Yeah, I was a little bit Axl and a little bit Bach… but I was 100% Stevie Rachelle from Hell and this guy was going to soon learn where that nickname came from.

"I swear to God I will do it… you are throwing pieces of ice at me, and I don't Fucking like it. I will kick the Fuck out of you, I swear to God I will."

Now the entire place is listening to me threaten this guy and the whole crowd is staring in his direction.

He's acting like he didn't do anything and plays stupid.

I go from Mr. Nice Guy to Mr. Nightmare in seconds.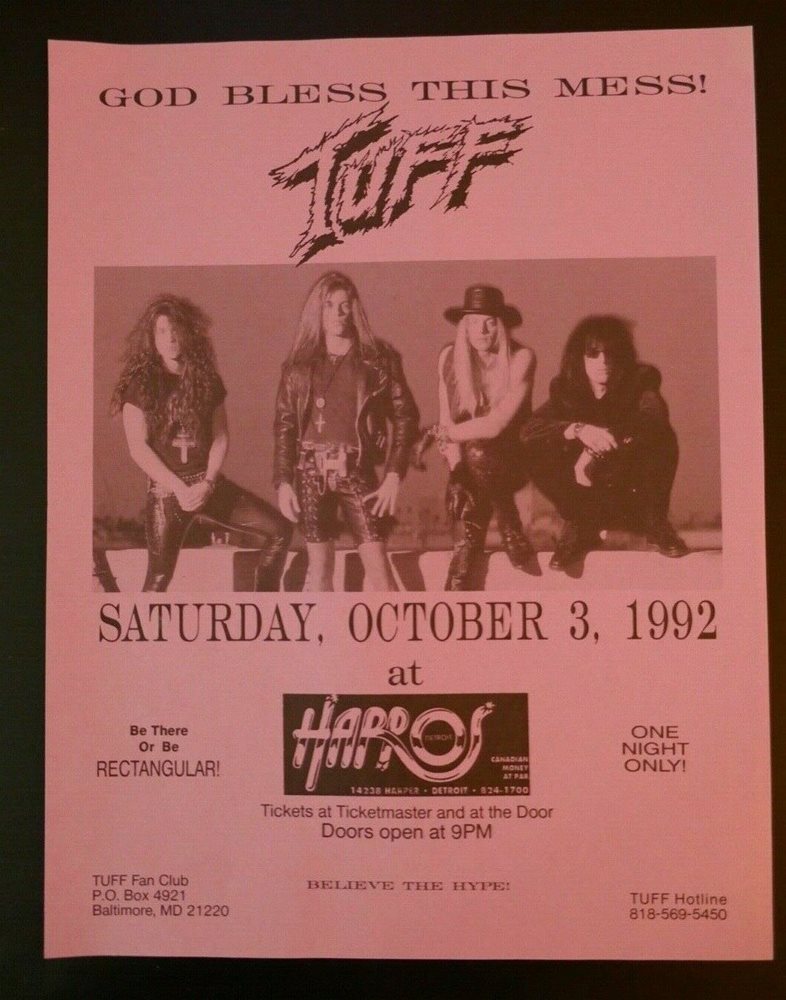 He might have thought I was all talk, but once I stepped off the stage and the crowd parted he quickly realized I was more than talk.

I am now right in his face and as I grab his jersey he is no longer smiling and is giving the: "Who me? What did I do?" look, however it's too late for that.

Everyone around him had been pointing: "It's him" and "He's the one throwing stuff."

Rachelle from Hell is now on the floor and about to go Sammy "The Bull" on this guy as security approaches.

I was legit pissed and this was not the first time that I left the stage to Fuck someone up.

Ask the smart-ass in the crowd at "Annie's" in Cincinnati Ohio circa 1991.

Or, ask Robbie Crane who has pulled me off more than one guy that I was in the process of hospitalizing.

Anyway… lucky for him, the security guard saved his ass and likely saved me from going to jail as well.

Now they escort him out of the club as the crowd cheers and I retake the stage.

I explain in short that this stuff won't fly with me and the show goes on.

Regardless of me being a Packers fan, it was a guy in Jets jersey in Minnesota who tested me that night.
Thank you Minneapolis, you've always been a friend to Tuff.

Slave Raider is forever in my heart!

If you want to see it all unfold in real time, watch this video below at the 48:00 minute mark.

Enjoy…
Dee's Not Gonna Take It Either


It's now October and we're about 20 dates into our run of shows.

We're in Texas for a string of shows and a few of those dates we'll support Widowmaker.

This is Dee Snider's 2nd project that he put together post Twisted Sister after Desperado dissolved as well.

We're loading in and roadies are sorting amps, drums and the rest.

During sound check at "The Backroom" in Austin, the town's local hero showed up to hang out.

That local hero is none other than Dangerous Toys singer Jason McMaster.

I had known Jason for a few years already and we always had good conversations.
Jason and I are perched in the middle of club catching up and watching the sound-check.

Widowmaker finished their sound-check and Dee comes over to chat with us.
It's late 1992 and as we know now, the industry was going through a huge shift.

Dee, Jason and I all stood there chatting about what we were all doing, and how we were navigating the landscape of life and music.

Of course at the time, none of us really knew to what level it would affect us but it was clear that the process was underway.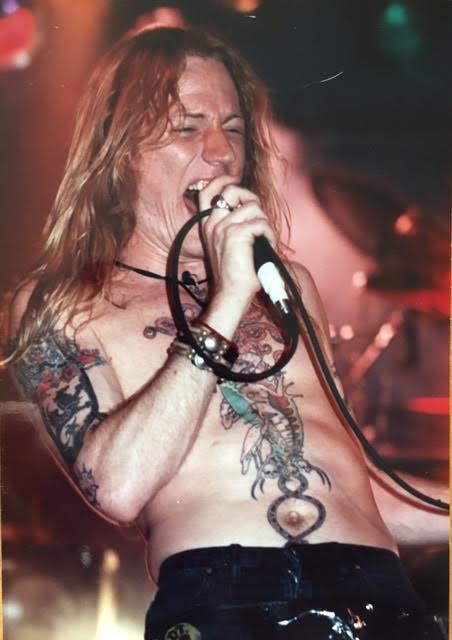 Widowmaker were touring in a passenger van and that night there was probably a few hundred fans in attendance.

I do recall thinking to myself: "Wow, Dee was playing packed arenas with platinum albums at the height of Twister Sister, and now he's in a van, playing local clubs that were less than half full."

But regardless of the size of the stage, or the numbers in the crowd, Dee was a pro and killed it.

We did a few shows with their band and Dee was nothing but a gentleman to all of us.

There were no hang-ups, no opening band limitations and we had plenty of stage and a full set time.

Overall, Dee, his band and crew treated us great on both the shows.

Aside from all that, I recall the interactions we had, that Dee was the kind of guy who looked you in your eye when he talked with you.

There was no bullshit, no beating around the bush, he was the real deal.

Dee was a blue collar rock n' roll guy, who had a firm handshake and was all business.

One last thing that I recall happened during the Widowmaker set that night in Austin.

During the set a fan ran up on stage and was all up in Dee's face trying to hug him and sing along.

A couple roadies promptly removed that idiot from the stage.

After that song Dee explained to the crowd that while he appreciated their enthusiasm, the stage was his workplace, and it was off limits to anyone else.

He said something like: "The next guy that comes into my work space, I will remove you myself and it won't be pretty."

"So stay the Fuck off my stage!"

The crowd roared with laughter and Dee smiled back, but he wasn't joking.

Thanks for all Mr. Snider.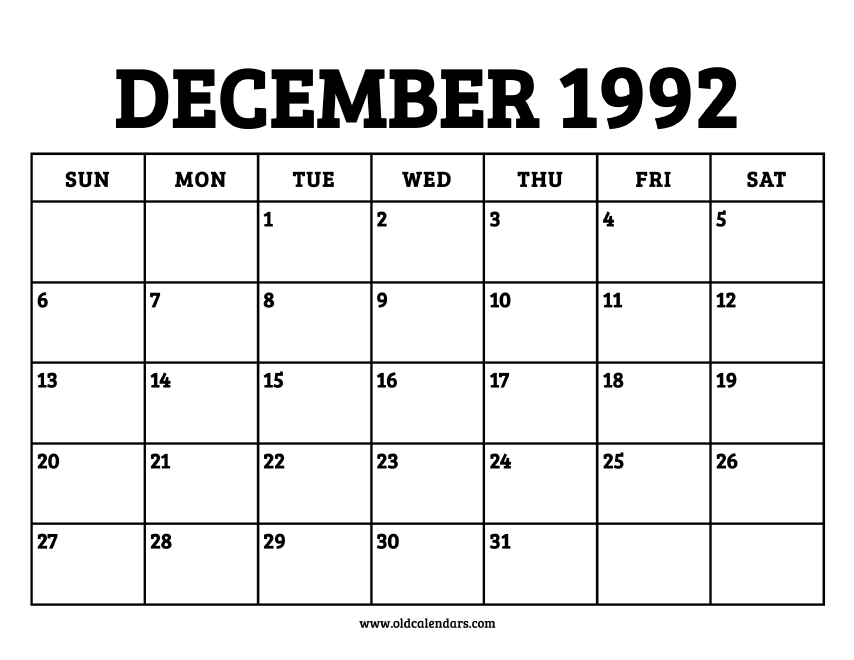 Goodbye 1992


That fall tour was about a month long, 21 shows to be exact and as the year wound down we added a few more to the itinerary.

In all we did 35 shows with Danny in the 2nd half of 1992 and it was a good getting to know each other period.

Other than some random tour drama, nothing crazy or bad happened.

Tuff were once again traversing thousands of miles across America playing dive bars and bowling alleys.

We ate daily at random truck stops, Denny's, Waffle House and occasionally a Cracker Barrel.
We stayed in Motel 6, Red Roof Inn, and even some trailer park type places too.

There were no buses, there were no arenas, there was no catering and certainly no Sold Out shows.

Regardless of all that, we were still there… we never canceled, never quit and kept going forward.

But where were we going?

Honestly, I had no idea.

Stay tuned for 1993…


—————————————-
—————————————–


Message from the author.
People have said to me for years, "You should write a book, I'll buy it."

That's not likely going to happen… not anytime soon at least. But if you are down with my blogs, my band or my various projects – I say thank you.
I have self-released roughly 50 projects on CD. Cassette, VHS, DVD and Vinyl since 1994. All on my own. Without any label support. None.

I have also kept Metal Sludge alive, afloat and online since 1998. For Free. You cannot imagine the workload a website of this magnitude can be.
No Kickstarters, no Go-Fund Me, and no Pay Me now and I'll make a CD in a year and send it to you later.

I am also self-managed, self-booked (most of the time) and 100% self reliant. A 1-man gang.

If you want to support in anyway, buy a CD or Vinyl record from me, or a T-shirt. Or send me something direct via Pay Pal.
I am not begging. I am not sick and no hospital bill. Nope, just continuing my service to the fans that support my Rock N' Roll.
My direct Pay Pal email is Sludgeceo@gmail.com – send a dollar, send ten or send fifty. Send whatever you like, or nothing at all.
Many independent websites have Donate buttons, Metal Sludge has NOW added one, Top Right of this page.

No pressure, but hey, it's an option if you care to do so.
Thank you for all your loyal support of my projects.

There is more to come, more blogs and more music too. I have something in the can now it just hasn't been packaged just yet.
Thank you again and all of your support is greatly appreciated.
Stevie Rachelle

———————————-
See TUFF DIARIES entries all listed below… the series will be 25 parts!

Entry #1  How I Made My Way To California, 31 Years Ago Today  (June 25th 2018) 
Entry #2  My First Meeting With Tuff, "Is That All Your Real Hair?"   (June 29th 2018)
Entry #3  Tuff audition, Jim Gillette screams, a near fist fight & our debut show  (July 5th 2018)
Entry #4  The Metal Years, Famous People, Cocaine, Kiss & Sex with a Miss Gazzarri's Dancer  (July 14th 2018)
Entry #5  Guns N' Roses, Del James, 1988, Sound City, Strippers, Crabs & You're Fired!  (July 30th 2018)
Entry #6  Summer on Sunset, Vinnie's Invasion, Tracii's Glue Gun, Vain & Sex by a Dumpster (August 11th 2018)
Entry #7  MTV's NYE Big Bash, Riki & Taime's Cathouse & My Girlfriend was a Poster at Spencer's (August 20th 2018)
Entry #8  Jon Bon Jovi, Sebastian Bach, Rick Rubin, Howie Hubberman, BulletBoys & Gazzarri's (Sept. 16th 2018)
Entry #9  Summer Tour '89, Andy McCoy, Def Leftovers, Max the Model, Z-Rock, Tommi Gunn & Lit (Oct. 10th 2018)
Entry #10 Goodbye 1989, Jessica Hahn, Skid Row, Martha Quinn, Young Gunns, Flyer War & Cock-Rings (Nov. 9th 2018)
Entry #11 Hello 1990, Texas, Britny Fox Tour, Strippers, Hells Angels and Atlantic Records signs Tuff (March 24th 2019)
Entry #12 Ready to Record, Howard Benson, FM Station, Jani Lane, Court heaing & my 1st Playmate  (June 2nd 2019)
Entry #13 Recording our Atlantic debut, Bret Michaels, Kane Roberts & Sex is fine, but no sleepovers (Aug. 27th 2019)
Entry #14 New York City, Mixing our Record, Publishing Deal, Video Shoot , Cherry St. & Tigertailz (March 25th 2020)
Entry #15 Hello MTV, The Nelsons, Jason Newsted, U.S. Tour, London & our Stolen Ryder Truck (May 2020)
Entry #16 Lita Ford, Jason Flom, 75+ Shows, Cocaine, a Lawsuit, Sweet F.A. & the Freeway Fight (July 29th 2020)
Entry #17 Hello 1992, Gene Simmons, More Money, the L.A. Riots, a New Bassist & Jason Flom Part II (March 2021)
Entry #18 WildSide, Dee Snidet, Tour Fun, Baywatch, Label Search & Living In Reseda (Aug. 2021)
Entry #19 1993, Michael Resigns, River Phoenix, Thirsty Whale, He's Got a Gun, Stolen Van & Danny Quits (Jan. 2022)
Entry #20 1994, Northridge Earthquake, Kurt Cobain, RLS Records, releasing "Fist First" (May 2022)

Tuff @ Facebook – eBay – Amazon– iTunes – Instagram – Twitter – Store – Discogs – YouTube –
Stevie Rachelle @ Twitter – Facebook – Facebook 2 – Intsagram – Reverbnation – Metal Sludge – Donate –


July 24, 1992, Phoenix, AZ. @ "The Mason Jar"
July 25, 1992, Las Vegas, NV.@ "Fuddy Duddy's"

August 6, 1992, Stockton, CA.@ "Stockton Rocks"
August 7, 1992, Sacramento, CA.@ "Icehouse"
August 13, 1992, Fresno, CA @ "Cadillac Club"
August 14, 1992, Santa Clara, CA @ "One Step Beyond"
August 15, 1992, San Francisco, CA @ "The Stone"

September 18, 1992, Phoenix, AZ @ "Mason Jar"
September 19, 1992, Phoenix, AZ @ "Mason Jar"
September 20, 1992, Salt Lake City, UT "Rafters"
September 22, 1992, Denver, CO @ "Bangles"
September 23, 1992, Omaha, NB @ "Ranch Bowl"
September 24, 1992, Milwaukee, WI @ "T.A. Verns"
September 25, 1992, Menasha, WI @ "Americano Theater"
September 26, 1992, Oshkosh, WI @ "Eagles Club"
September 27, 1992, Minneapolis, MN @ "The Mirage"
September 29, 1992, Superior, WI @ "Pacific Club"
September 30, 1992, Green Bay, WI @ "Studio East"

October 1, 1992, Cleveland, OH @ "Flashers"
October 2, 1992, Chicago, IL @ "Gateway Theater"
October 3, 1992, Detroit, MI @ "Harpo's"
October 4, 1992, Columbus, OH @ "Al Rosa Villa"
October 5, 1992, St. Louis, MO @ "Metal's Edge"
October 6, 1992, Kansas City, MO @ "Lone Star"
October 7, 1992, Austin, TX @ "The Backroom" *w/ Widowmaker
October 9, 1992, Dallas, TX "The Basement" *w/ Widowmaker
October 10, 1992, Houston, TX @ "Livewire"
October 11, 1992, San Antonio, TX @ "Forgotten Room"

November 19, 1992, Fresno, CA @ "Cadillac Club"
November 20, 1992, Santa Rosa, CA.@ "City Limits"
November 27, 1992, Phoenix, AZ @ "Mason Jar"

December 4, 1992, Las Vegas, NV @ "Fuddy Duddy's"
December 5, 1992, Salt Lake City, UT @ "Rafters"
December 11, 1992, Santa Clara, CA @ "One Step Beyond"
December 12, 1992, San Francisco, CA @ "The Stone"