TUFF DIARIES #2
My first meeting with Tuff, "Is That All Your Real Hair?"
By Stevie Rachelle
STEVE MEETS TODD, JORGE AND MICHAEL…THE TUFF BAND! July 1st 1987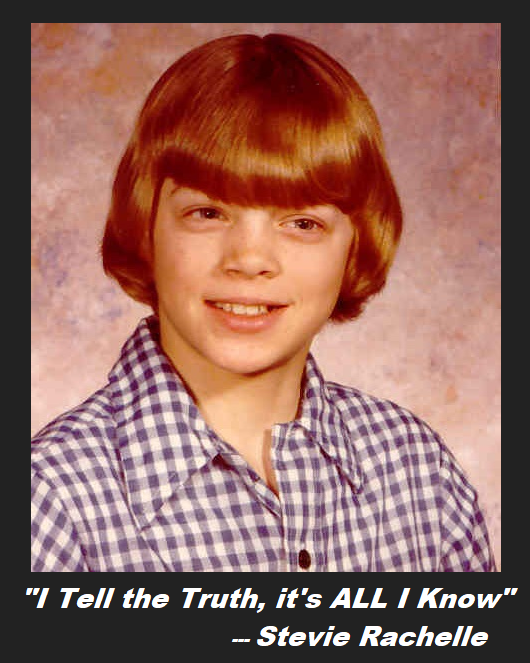 — It's Saturday monring June 27th 1987.
I wake up after my first night out in Hollywood.
I had went to see ANGORA at Troubadour with my new apartment neighbors Fredy and Greg.
At some point over the weekend, we all had a cookout if memory is correct.
You know the balcony grill, some food, beer and everyone talking about band stuff.
Then my host/roomie/landlord Pam says, "What will you do for work?" to which I replied, "Whatever."
I don't recall what our agreement was, but something about letting me stay there (on her couch that pulled out into a bed) until I could get on my feet.
And I am guessing I would chip in $ 150.00 towards rent.
She wasn't totally happy with me being there either. Even though she was telling me for a year, "Steve, you NEED to come to L.A."
Now I am here, and I guess I was in the way. Afterall, she was dating the keyboardist from St. Valentine now.
Whoopty fucking doo!
"They're headliners", "They're showcasing" and "They are gonna get signed" was pretty much what I heard from her daily.
Of course, this was the same drivel that every band said and all of their girlfriends, roadies and close friends supported them.
I get it.
As time rolled on, I am sure it was similar with the Tuff family and our network of support.
Full disclosure, I first banged Pam back in Wisconsin a year or two earlier.
We had met at either Jabberwocky or Billy's Old Mill, I can't recall for sure.
But after I began my search of bigger, better rock n' roll bands, I was soon hitting bars in Milwaukee watching bands like Moxy Roxx, Raven Bitch and Slave Raider.
As some of you reading will recall, my first ever band was X-Iter.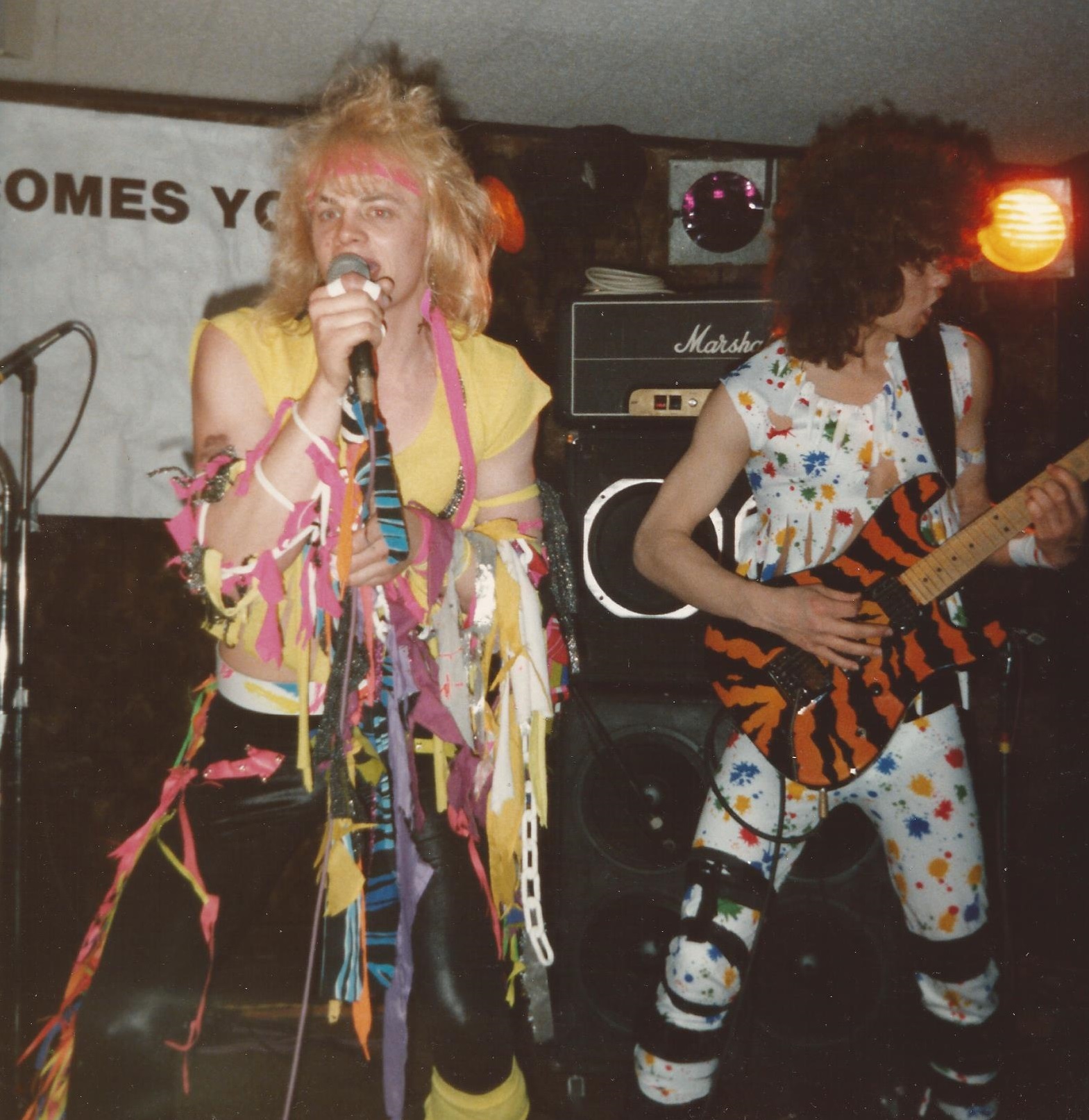 This was from spring 1985 into 1986. We had already demo'd original songs but in our set we covered Motley Crue, Helix, Judas Priest and Fastway songs.
X-iter performing in the WAPL Battle Of The Bands 1986
More on X-iter, and my early years bands later, but for now back to Van Nuys California.
I woke up with a hard-on daily in Pam's living room, but nothing came of it.
Had she opened the door for me to pound her  –  I would have. And knowing there was a vagina 20 feet away was kind of torture.
But no hanky panky (between Pam and I) happened once I got to California.
I was never shy of taking on any task, so any job would do… I just needed one.
Previously to moving West from the Frozen Tundra I had worked at a Warehouse Foods as a overnight stockboy. I also had a job for Coe Drug (Pharmacy) delivering meds to old folks homes.
That was always entertaining but also sad the same.
As quick as I met the Krystal Gem guys, they kinda took me under their wing.
Greg said to me at the cookout: "So you want a job?"
"Sure"
Fredy pipes in: "We leave early, Monday morning … 5:45AM, be ready."
"No problem"
They told me in a nutshell, I would be selling boats.
Boats?
#WTF
Monday morning rolls around, my alarm goes off, and soon enough I am piling into the backseat of Greg's shitty car (again) in the apartment carport.

Along with Fredy and Sherrie (Greg's chick) we were off onto the busiest freeway I had ever seen.
It's 6:00am ish, and we're now on the 405 South headed towards Culver City.
I had no idea what freeway it was at the time, or where the hell Culver City was, but after nearly an hour in bumper to bumper traffic we arrive.
We walk into this makeshift office space, with a few dozen people. It's not even 7:AM and tons of people are on the phone.
The location looked like it use to be a Radio Shack or similar. And was on a fairly busy street, maybe Pico or something close to the freeway.
All kinds of personalities were here; white guys, black guys, Mexican cholos, pretty girls, fat middle aged woman, the works.
Greg it turns out is a "closer."
A term given to a guy with experience, that if anyone gets a "live one" on the phone, interested in their Free boat, this is where Greg comes on the line.
I am seated in a cubicle with an endless list of numbers. All direct phone numbers to people on the East Coast or in the MidWest.
Remember, it's already 9 or 10 in the morning across the rest of America but early on the West Coast.
I don't remember who trained me, but after a few short minutes I was calling random numbers.
"Hi, Mr. Smith. This is Steve from >INSERT BOAT COMAPNY NAME HERE< you won a boat."
Mr. Smith: "Huh? A boat, really?"
Me: "Yes, all you have to do is pay the shipping and freight and your boat will be delivered."
Mr. Smith asks 20 questions, I answer and more often than not, the other line suddenly is a dial tone or a firm "No thanks."
But occasionaly I am asked, "What is it made of?" and I reply: "It's PVC Poly Vinyl Chloride. You know the stuff that your pipes under the sink are made of…"
Of course, it's about 1/100th the thickness of those pipes, and in reality… it's a rubber raft.
It was amazing to see a room with 30+ phones going, non-stop and every few minutes I'd hear, "Let me put you on with my supervisor" and Greg or another closer would jump on the phone.
This is where the $ 399.99 freight charges come in.
If my recall is correct, it use to be $ 999.99 but overtime the "freight" cost came down. Lol
"Great, do you want to use your VISA or American Express?"
And before they could answer, the closer would be saying stuff like: "You will be fishing by Saturday."
Now it's 10:00am and I hear a loud horn and everyone is up and rushing out the front door.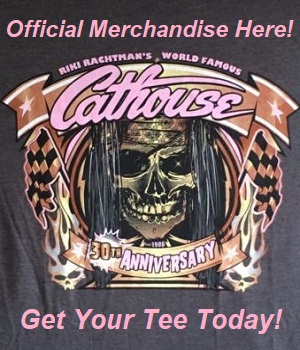 I guess this must be recess, I say to myself.
As I follow the crowd outside I am about to have my first ever Roach Coach meal.
To all you under 30-35, this was the old term for a Food Truck.
Way before they were air-brushed or covered in colorful wraps, with mag wheels, mascots and cool themed food.
Nope, this was a white truck, with mostly Mexican workers who pulled up daily to the hungry Boiler Room sales-staff.
And not just in Culver City, but to businesses ALL over Southern California.
Breakfast burritos, tacos, BLT, and so on. Then the side panel opened up to a bed of ice, which was filled with juice, soda, milk and Arizona Ice Tea cans that rivaled a Pringle's can in size.
As I stand there, Greg eyes me and asks: "You hungry?"
Me: "Yeah, but I am broke."
Greg with his million dollar smile and snickering laugh, "I got ya.. . order what you want" as he motions to the guy in the truck, "He's on my tab."
I don't recall what I ordered, but I am sure it tasted amazing at the time but if I ate it today I would be on the toilet in an hour or less.
I also recall thinking; "Greg has a tab? This guy is legit."
Break is over and back to my station to make more calls.
I am not entirely sure of the day, but it was either this day (Monday June 29th 1987, my first day at work) or the following day, Tuesday June 30th 1987.
As I sit making calls in the afternoon Greg comes up to me, "Steve, you have a phone call in the office."
At first I am like, "Huh?" and Greg says: "Some guy named Michael, it's about that band."
I don't recall how they got my work number.
Maybe they called the apartment, Pam heard a message, called them and told them "He's at work" etc..
So I pick up the phone, "Hello."
"Is this Steve?" asks the voice.
"Yeah."
"This is Michael, from Tuff. We got a message you were interested to audition for our singer position."
Me: "Yeah. I called last week. I am from Wisconsin, and just moved here."
Michael and I chat for a brief minute or so, and then he asks the most important question that ANY band guy could ask another.
Especially during the 80's.
"What do you look like and how long is your hair?"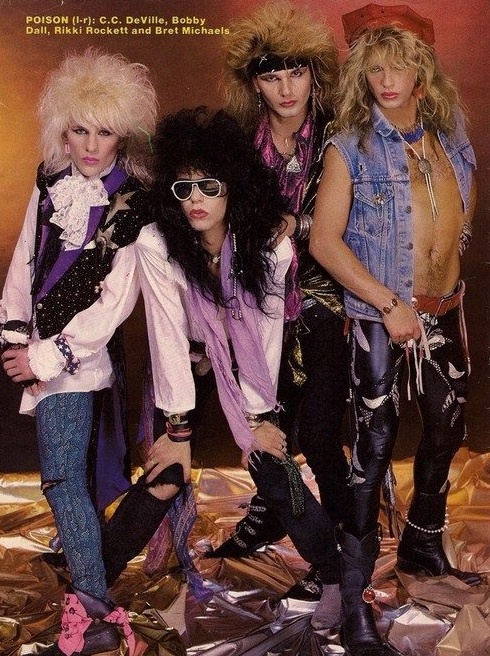 Me: "Everyone keeps saying I look like that singer from Poison."
Mind you, I had known about Poison but only in the last 6 months had they really blown up with their 2nd single "Talk Dirty To Me."
When that hit MTV, alot of local rockers and folks around N.E. Wisconsin were saying: "That guy looks like Steve." Lol.
Once I moved to California it was the opposite, I now looked like Bret.
Some friends from High West High School, were I had graduated from in 1984 knew I was in a band, But I lost track with most of my school buddies.
After Poison exploded, there were a few old classmates saying stuff like, "I heard Steve got signed. He's in a band now on Mtv, called Poison."
Funny, I guess Bret and I definitely had a similar look.
Both from the Midwest, German heritage, (thinning) blond hair, blue eyes, and both were heavily influenced by David Lee Roth and Vince Neil.
Either way, I tell Michael what I look like, and answer all the important questions.
Of course he never asked if I could sing, or how good I was.
I am pretty sure your hair length and stage clothes were super high on the priority list at that time.
Of course I am joking but at the same time, not.
Michael asks me where do you live: "I tell him on Sherman Way, in Van Nuys. Right by this Hot Dog stand and a 7/11."
Later in life, friends and I would frequent Law Dog for hot dogs, and at some point legal advice.
Yes, you read that correctly.
Law Dog was the "Pinks" of the San Fernando Valley.
For any of you who lived here, you remember Law Dog. For those who didn't, here is the general theme.
On Wednesday nights, starting at 6:00pm, people would line up, buy a Judge Dog or two, then stand in line on the side of the building.
The owner was an Attorney. And every Wednesday night, he would sit in a little office and give Free legal advice to customers.
And yeah, all the hot dogs had legal (court) related names, The Plaintiff, The Defendant and of course The Judge Dog. Which I believe came with the works.
Sadly Law Dog is no longer there.
So I tell Michael Raimondo, Tuff drummer where I live.
He reacts: "Wow. You are really close. We live on Vanowen near Hazeltine."
I had NO idea where that was, but afterall I was only in town for a few days.
Little did I know, the nearest cross street to Sherman Way, where I lived was Hazeltine. The same corner where a 7/11 still stands today. And the Law Dog hot dog stand was a little shack, about 50 yards from that corner.
According to a current Google Maps search, it is exactly 1.0 miles, or 3 minutes away.
Now stop and think for a second.
Was this fate?
I had just flown 2,064 miles from Oshkosh Wisconsin, to try and audition for this band in California.
To those who have only visited or never been here.
There are multiple areas, districts, cities and Valleys to the greater Los Angeles (Southern California) area.
There were the beaches, name one.
There are a ton of Ocean side cities, like Santa Monica, Marina Del Rey, Malibu, Venice, Redondo Beach, Huntington Beach, Hermosa Beach and the list goes on.
Then you got Ventura County (to the North), Los Angeles County, Orange County (to the South), San Bernardino County and Riverside County.
Then all the Valleys;, like Simi Valley, the Antelope Valley, San Gabriel Valley and the San Fernando Valley..
I was in the San Fernando Valley, but even there…do you know how many cities are in the SFV?
I could have ended up at someone's pad in Reseda, Woodland Hills, Northridge, North Holywood, Encino, Granada Hills, Burbank, Chatsworth, West Hills, Tarzana, Pacoima or 1 of several dozen other little suburbs.
But no…..I land in Van Nuys …and literally 1 mile, from the Tuff Muff Mansion.
Just to put this in perspective, Los Angeles county (alone) is 4,751 square miles.
And we end up living 1 mile apart.  Some things were meant to be.
Back to Michael's phone call.
So he tells me. "How is Wednesday night? We can come to your place, give me the address."
I give him the addy and now I await Wednesday night, July 1st 1987.
I wake up and once again I head to work with Fredy, Greg and off on our early morning commute to the West Side.
It's now dinner time on Wednesday, I eat and decide to shower and get ready for my first meeting with the band Tuff.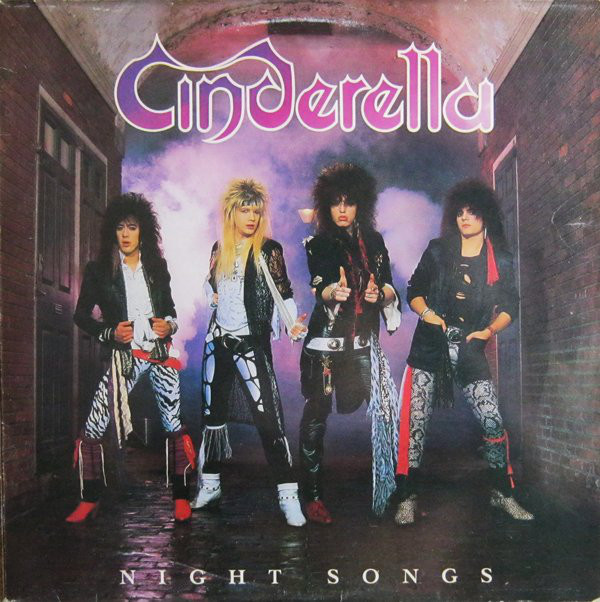 At this point, I know nothing about them. I have 1 flyer with me, that's it. The same one from Al back in Oshkosh from about 10 days earlier.
I can see their names on the flyer.  Todd, Jorge and Michael.
I shower and put on whatever cool rock clothes I had. Which by L.A. fashion terms was NONE!
I had an earing, and the pink Cinderella "Night Songs" esque looking boots.
I had my cool jean jacket, but no real leather jacket.
I mean, I had a Members Only leather jacket, but that was from High School from like 1983.
Something Corey Hart would have wore, not Jon Bon Jovi.
Also…I had my clip-in hair extension.
Yes, you read that right.
I am wearing it in the jean jacket photo at the top. One good yank and that fucker is coming out. Haha.
My hair was never a great asset (as if everyone reading this didn't already know), and considering I just founded Heavy Metal in March of 1984, I had not been growing my hair for very long.
Add to that, I was already getting it bleached by a hair dresser, and using my girlfriend's Sun-In every chance I could get.
I was already a blond, but I wanted my hair like Vince Neil's hair on the "Shout At The Devil" album cover.
Rewind to 1984.
I was in High School, a near expert level (vertical) skateboarder, and loved New Wave, Punk and all the odd bands from MTV.
Skateboarder…? Yes…skateboarder. I even had a half-pipe in my backyard.
Anyway…back to music,  I had all this on vinyl.
The Surf Punks, The Plazmatics, The Specials, Madness, XTC, Devo (every album), The B-52s (every album), 999, Billy Idol and more.
But not a single Heavy Metal album. Not a one. Well, until after the next part of the story is told.

My friends all were starting to listen to Loverboy, Def Leppard and a lot of Heavy Metal or Hard Rock in the recent year or so, but I wasn't sold yet.
Then some guys said Ozzy was coming in concert.
I knew nothing about him.
I had no idea he was from Black Sabbath (until later), had no clue his guitarist (Randy Rhoads) was killed in a place crash, and didn't know a single song.
But…I knew he ate bats.
So I agreed to go.
Who doesn't wanna go see a guy eat bats in concert.
My ticket was about $ 10 or $12 and I paid an extra $2 to ride the chartered bus from Mad Hatter Music in Oshkosh to Dane County Colliseum in Madison.
I had a car, but it would have been suspect to make it that far. Besides, I could ride on the bus and have fun with all the guys.
It was March 8th 1984 and I had just turned 18 on March 2nd. Yes, I share a birthday with Jon Bon Jovi and Dr. Suess.
I am on the bus, a 90 minute ride to the concert. We arrive and it's general admission. We are in the arena, down front and I am taking it all in.
Suddenly the lights go out and the entire crowd begins to scream.
Through the giant speakers I hear this eerie voice speaking: "In the beginning good always overpowered the evils of all man's sins…."
Soon I see this tall skinny longhaired dude standing on his drum kit and the fans go crazy.
Of course this was Tommy Lee, but I wouldn't have known him in a lineup of 2 people.
Next thing I recall was this red guitar and a psychotic looking man staring at us kids like he would eat our brains if we let him.
I was only like 2-3 people from the baricade, on the left side of the stage.
Later I would learn this was not a guitar, but a red Hammer bass. This pyscho looking dude was named Nikki Sixx.
Soon the guitaistr appeared and everyone was screaming in unison: Shout, Shout, Shout, Shout.
So I began to yell it too, as loud as I could.
SHOUT, SHOUT, SHOUT.
I had NO fucking idea what I was saying, or singing. Not a clue. But everyone else was, so I joined in.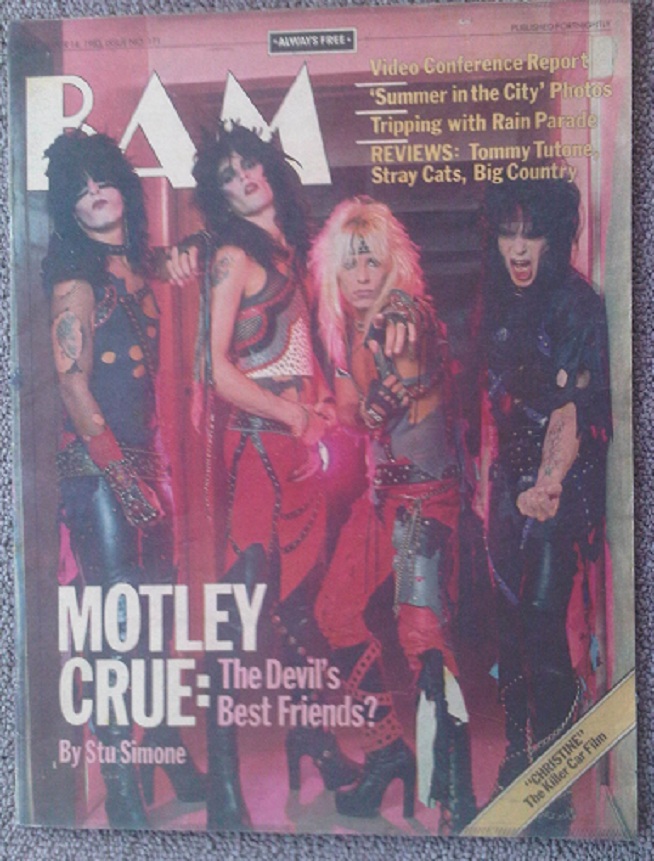 I hate to sound like an emotional bitch, but I am tearing up writing about this…because it was this very moment that decided my path in life.
How fucking stupid huh?
Some 20 something drug addicted lunatics from California were high as hell and imploring me to Shout at the Devil.
And I was…
That was nearly 35 years ago.
I can still clearly recall it. Haha… funny but powerful stuff those Motley Crue guys.
The next thing I see is this bleach blond dude running out, tan, skinny, young and asking the arena full of fans: "How the FUCK are you Madison?"
That was Vince Neil.
According to a quick google search, Vince had just turned 23 years old. Tommy was just 21 when I saw them.
Vince was screaching away, "Are you feelin' HOT tonight?" Soon after the band played "Red Hot" and so on.
He also talked about wanting to eat all the girl's pussies in the crowd.
Pretty much EVERY chick in the place, thousands of them, all screemed in agreeance.
I was like: "What the fuck?"
To myself: "This guy can just walk out on stage, in front of thousands, and tell him he's gonna eat their pussy and fuck them?"
"And they ALL agree. Really?"
It was at this very second that I subconsciously told myself, "I am going to do that."
Not, "I wanna do it", or "I would like to do that"
NO!
I told myself, "I am GOING TO DO THAT!"
Eat the pussy?
No… be in a fucking band.
But..yeah…eating their pussies and fucking endless girls, that too.
And boy…I did BOTH! More on that later.
At some point in the evening I bought a Red "Shout At The Devil" tour t-shirt and wore that more than I wore my own skin.
No clue where it went, but it was worth whatever I paid for it.
I met a girl after the openers finished and went and sat at the top of the arena with her. Towards the back.
We were watching Ozzy, and making out.
She smelled amazing. Was such a good kisser, and I probably grabbed her boobs or crotch too.
We traded phone numbers and talked at some point, but I never saw her again.
I rememer after Ozzy ended the lights came on and the song "So Tired" played as we all walked out.
I went home that night and went to bed.
I was still a senior in high school, with about a D average. But I was going to graduate in 3 short months.
Fuck school.
I always hated school. Hated meaning… I didn't like home work. But I loved the social aspect of it.
Hanging with friends, meeting girls and of course…getting into fights.
I was suspended multiple times from Middle School through High School, all for fighting.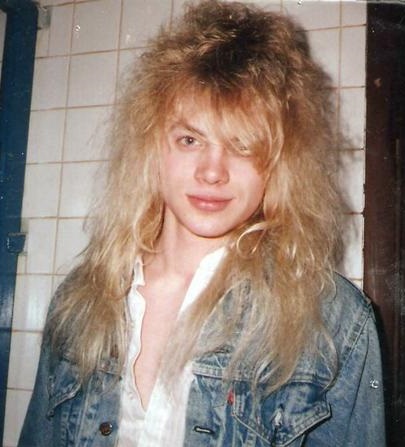 So…now I am 18, and overnight, I was infatuated with ALL things Motley Crue.
"Mom…I want my hair white…what can I do?" as I stood in the living room the next day.
"Steven, your hair is blond. What do you mean?"
"No, I want it like this" holding up a picture of Vince Neil.
"That isn't blond, that is burned."
"Mom, I want my hair burned, what do I need to do to make my hair look burned" I insisted.
"You need to use bleach."
Soon enough I am in the basement looking around the laundry area for bleach.
My Mom sees me and asks: "What are you doing? You can't use THAT kind of bleach."
I was ready to pour it over my head right then and there.
I wanted my hair burned, just like Vince Neil of Motley Crue.
Flash forward to Van Nuys California July 1st 1987 around 8:00pm.
I am awaiting Tuff to come meet me and am in the bathroom trying to clip in my hair extensions.
I had hair that was resembling Leif Garrett's teen years…(sadly my hair still resenbles Leif Garrett's hair today as we're both in our 50's) you know, to my shoulders, feathered, etc.. nothing crazy or super cool like Eric of Cinderella.
So back in Wisconsin I had heard about this salon where they would make hair extensions. The clip in type. I made an appointment, and went in and orderded one.
My guess it was late 1986 or early 1987 when hairband mania was peaking, but I had the hair length of Honeymoon Suite or Loverboy. That wasn't gonna cut it.
So.. I got this whack ass hair extension thingy. I wore it sometimes. but not all the time. Even for Oshkosh it looked pretty stupid.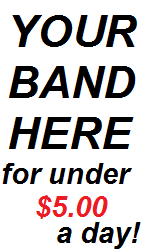 But now I am in California, and about to meet Tuff for the first time.
I need to look cool…like say…someone from King Kobra.
Suddenly I hear the buzzer…
I push the intercom: "Hello?"
"Is Steve there? It's Michael and Tuff, we're downstairs."
"Yeah, it's me, come on up."
As I push the entry buzzer I walk onto the balcony and await them to appear around the corner on the lower level. I wanted to motion them to come up the stairs as a lot of these apartement buildings are mazes once in the gate.
A few seconds later they are below me, all cool jackets, black cowboy boots and they had super long and big hair.
What do I say? Something completely fucking stupid and cocky.
"Hey you fucking dicks, I am up here."
I have no idea why I said it, but it was something totally random and uncalled for. They ignored me and walked up the stairs.
I am now standing in the living room and the door is open.
Three guys walk in and all say hello and their names. I shake hands and now we're face to face.
The tallest one (Todd Chaisson) without hesitation looks at me and says: "Is that all your real hair?"
My heart sank, my throat swelled up and I felt about an inch tall.
Stuttering: "Ummm. well, I do..have a hair extension."
He says nothing.
Alrighty then, Mr. Oshkosh (to myself).
Tuff = 1, Oshkosh = 0.
I now notice the shortest guy (Jorge DeSaint) has possibly the MOST hair I have ever seen on a human in my life.
I am thinking…"There is NO way that is all real."
It was.
The guy was like Sigmund The Sea Monster. Lol.
Then Michael says something like: "Here, these are our demos"
He hands me a shrink wrapped brand new copy of their 1986 debut "Knock Yourself Out" on cassette, released by Tuff Muff Music on Hot Stuff Inc.
Also another demo, professionaly duplicated. And a folder, with a Tuff logo on it, all their lyrics, already typed out, a bio, press shots, etc..
Holy fuck. These guys are like Motley only need a singer…that could be me.
I hope my fucking gay-ass hair extension doesn't look, ummm…totally gay! As I stand there in my pink Cinderella boots.
We start small talk, asking ages, influences, etc.. as I put in their demo tape in the stereo.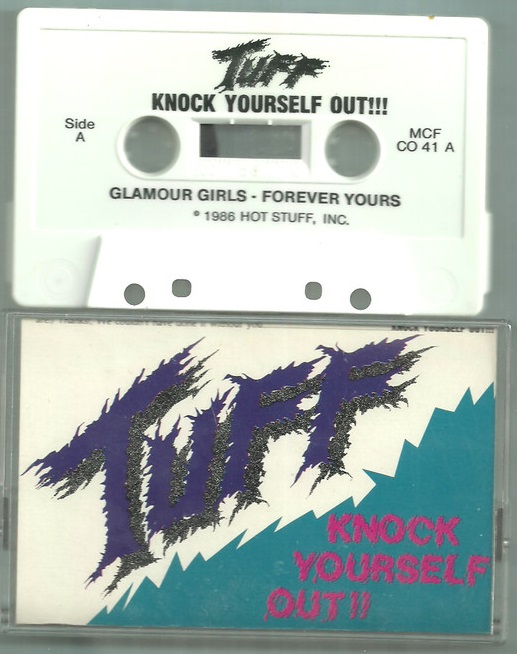 We listen to a song snipet or two and I was thinking, "This sounds like 'Look What The Cat Dragged In" side 3."
It was very Poison, very Motley, very RIGHT up my alley.
I stop the tape, "Wanna hear my demo?"
They all kind of mumble, "Sure…"
As I hold up my demo, which is a copy of a copy on a Maxwelll 60 Minute tape, with a hand written label.
Tuff = 2, Oshkosh = 0.
I played them "Love Ride" (see a Live Version below from youtube) and a clip or two of the other tracks.
They commented but nothing I recall. I am sure they were not too impressed.
Michael Raimondo was the band's drummer. And soon it appeared was the band's leader as well.
He was the Gene Simmons or Nikki Sixx of Tuff.
Anything I know, I learned from Michael.
Seriously, mature beyond his years and a work-a-holic. Oddly, Michael was also the youngest guy, and I was the oldest.
I was 21 when I moved to California, Todd and Jorge were 20 and Michael was 19.
But they had already been here almost a year, done professional recordings, played the big clubs, opened for Poison and more.
Tuff = 3, Oshkosh = 0.
Clearly my hickass from Oshkosh had some catching up to do.
After a short meeting the guys and I traded some more info and phone numbers.
Todd was more outspoken and more friendly than Jorge or Michael. He said something like "Let's hang out this week, as Michael is going to Phoenix for some business."
Michael was actually going to Phoenix to see his son. Michael was a Father at 18, and his son was back in Arizona with his (even younger, underage) girlfriend who gave birth to their son at 16.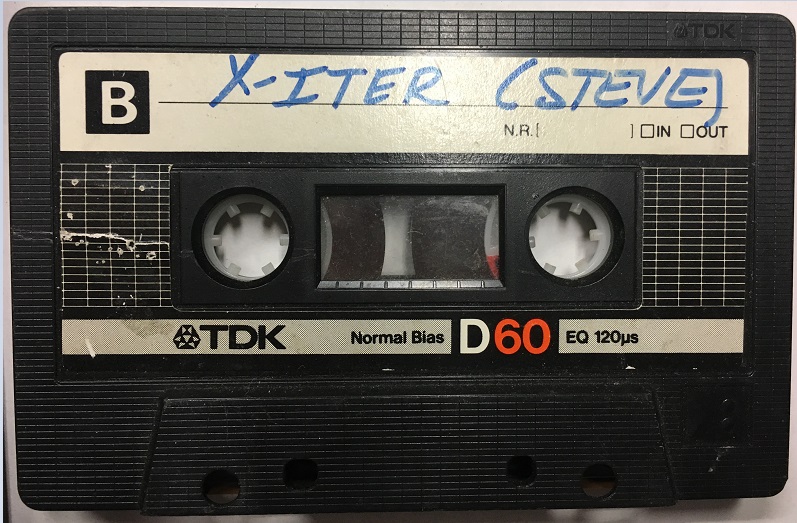 Michael's trip was already planned for this week, so we couldn't jam or do an audition til the following week.
July 7th to be exact was set to be my audition.
So Todd offered to hang with me, and was probably trying to feel me out. See if I was a cool guy, and so on.

That weekend was July 2nd, 3rd and 4th. I don't recall any fireworks but Todd came over to my place and we walked back to the Tuff apartment.
As noted earlier, this was 1 mile door to door. And the 7/11 on the corner (next to Law Dog) is where we stopped for Todd to buy some alcohol.
He bought beer, smokes and I likely bought soda and candy.
We walked to the pad and he was calling some girls.
At some point he invited over a pair of girls. I wanna say it was Tina and Wendy.
He was with Tina and those two matched me up with Wendy.
I recall Todd on the phone (with an inquisitive girl on the other line) saying something like: "No, he's cool. Come hang with me and my singer."
Wendy's hair was bleached more platinum blond than I had ever seen. She was cool, and skinny. I liked skinny girls.
We hung out, Todd smoked, drank, got drunk, and my guess is he or they probably smoked a few bowls too.
All of which I politely declined.
I kinda recall Todd smiling and saying something like: "All good… more for me."
As the night wore on we ended up with the 2 girls in Todd and Jorge's bedroom.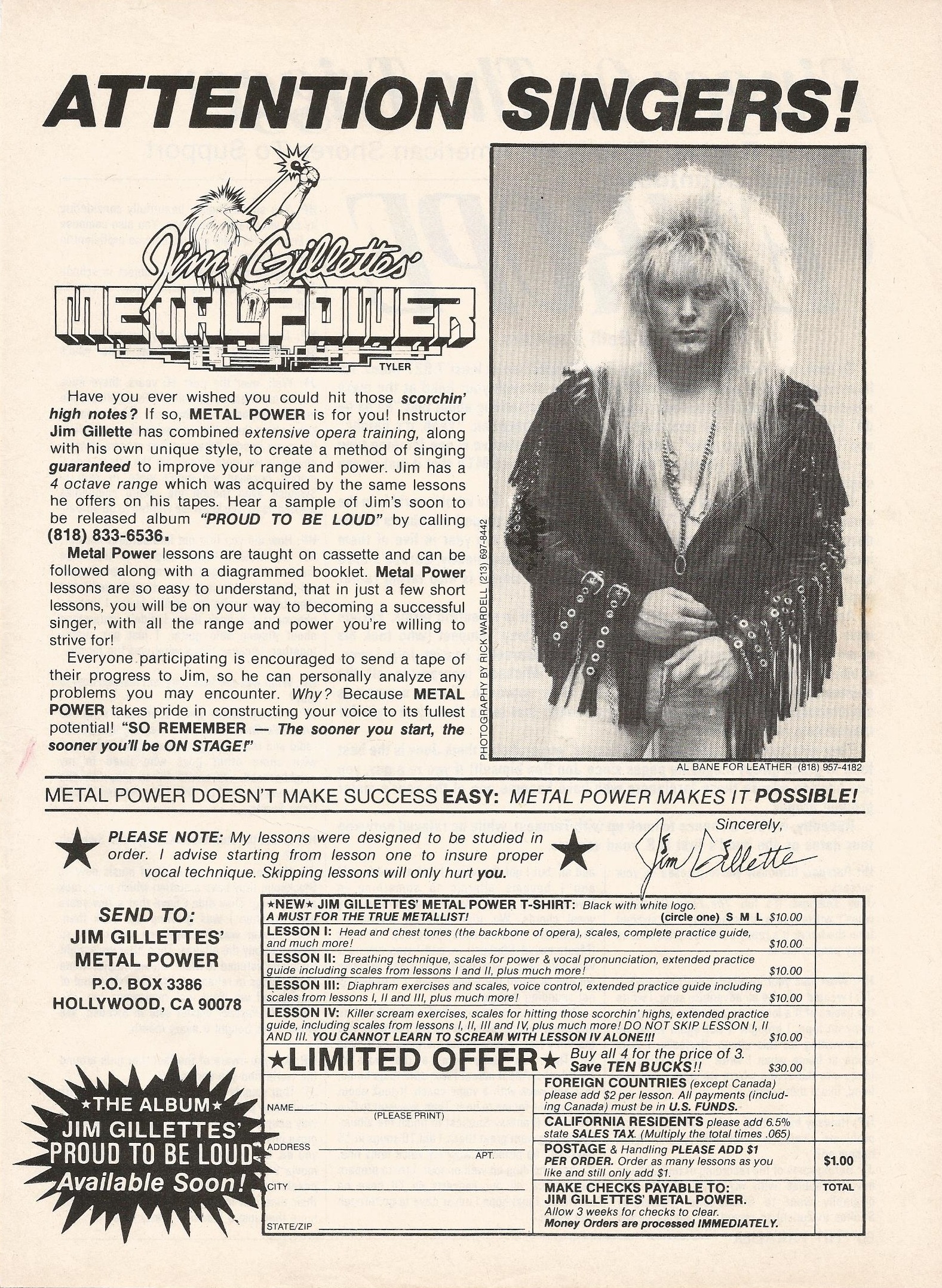 They shared a room. Todd was on his bed with Tina and I was with Wendy on Jorge's bed.
Sure, I don't smoke, No I don't drink and No thanks on the Pot.
But vagina? Yes please!
I was fucking Wendy a few hours after I met her and I remember at some point I got up to use the bathroom and the light came on.
Tina and Todd both see me naked and Tina says, "OMG! Look how big his dick is."
Wendy is on the bed smilling and Todd acknowledges her comment and at some point says something like: "That's my singer" proudly laughing.
This was my first visit to the Tuff Muff Mansion but the weekend fun ended…and it was time to go back to Pam's apartment.
Add to this… I had to go to work on Monday morning.
Lastly… I had an audition on Tuesday night July 7th.
Todd told me: "Work on the songs dude. And do those lessons too."
Along with all the Tuff stuff they gave me, they also rbought me a copy of their previous singer's new voice lessons.
They were being sold in Rip magazine and their old singer had an amazing voice.
His name was Jim Gillette and his vocal tapes, "Metal Power" were a huge hit. Even crazier, Jim was a teenager, younger than all of us and already in magazines selling vocal lessons.
Damn, I need to catch the fuck up!
Tuff guys = 4 Oshkosh = 0
Time to get to work.. .at phone sales… vocal lessons and rehearsing songs like "Candy Coated", "Dressed For Dancin", "Glamour Girls" and "Bang Bang."
Stay tuned for my next journal when I detail the audition, that almost ended in a fist fight between band members.
Stevie Rachelle
Message from the author.
People have said to me for years, "You should write a book, I'll buy it."
That's not likely going to happen… not anytime soon at least. But if you are down with my blogs, my band or my various projects – I say thank you. 
I have self-released roughly 50 projects on CD. Cassette, VHS, DVD and Vinyl since 1994. All on my own. Without any label support. None. 
I have also kept Metal Sludge alive, afloat and online since 1998. For Free. You cannot imagine the workload a website of this magnitude can be.
No Kickstarters, no Go-Fund Me, and no Pay Me now and I'll make a CD in a year and send it to you later. 
I am also self-managed, self-booked (most of the time) and 100% self reliant. A 1-man gang. 
If you want to support in anyway, buy a CD or Vinyl record from me, or a T-shirt. Or send me something direct via Pay Pal.

I am not begging. I am not sick and no hospital bill. Nope, just continuing my service to the fans that support my Rock N' Roll. 
My direct Pay Pal email is Sludgeceo@gmail.com – send a dollar, send ten or send fifty. Send whatever you like, or nothing at all. 
Many independent websites have Donate buttons, Metal Sludge has NOW added one, Top Right of this page.
No pressure, but hey, it's an option if you care to do so. 
Thank you for all your loyal support of my projects.
There is more to come, more blogs and more music too. I have something in the can now it just hasn't been packaged just yet. 
Thank you again and all of your support is greatly appreciated. 
Stevie Rachelle

Read my previous blogs linked below, numbered and dated.

Entry #1  How I Made My Way To California, 31 Years Ago Today  (June 25th 2018)
Entry #2  My First Meeting With Tuff, "Is That All Your Real Hair?"   (June 29th 2018)
Entry #3  Tuff audition, Jim Gillette screams, a near fist fight & our debut show  (July 5th 2018)
Entry #4  The Metal Years, Famous People, Cocaine, Kiss & Sex with a Miss Gazzarri's Dancer  (July 14th 2018)
Entry #5  Guns N' Roses, Del James, 1988, Sound City, Strippers, Crabs & You're Fired!  (July 30th 2018)
Entry #6  Summer on Sunset, Vinnie's Invasion, Tracii's Glue Gun, Vain & Sex by a Dumpster (August 11th 2018)
Entry #7  MTV's NYE Big Bash, Riki & Taime's Cathouse & My Girlfriend was a Poster at Spencer's (August 20th 2018)
Entry #8  Jon Bon Jovi, Sebastian Bach, Rick Rubin, Howie Hubberman, BulletBoys & Gazzarri's (Sept. 16th 2018)
Entry #9  Summer Tour '89, Andy McCoy, Def Leftovers, Max the Model, Z-Rock, Tommi Gunn & Lit (Oct. 10th 2018)
Entry #10 Goodbye 1989, Jessica Hahn, Skid Row, Martha Quinn, Young Gunns, Flyer War & Cock-Rings (Nov. 9th 2018)
Entry #11 Hello 1990, Texas, Britny Fox Tour, Strippers, Hells Angels and Atlantic Records signs Tuff (March 24th 2019)
Entry #12 Ready to Record, Howard Benson, FM Station, Jani Lane, Court hearing & my 1st Playmate  (June 2nd 2019)
Entry #13 Recording our Atlantic debut, Bret Michaels, Kane Roberts & Sex is fine, but no sleepovers (Aug. 27th 2019)
Entry #14 New York City, Mixing our Record, Publishing Deal, Video Shoot , Cherry St. & Tigertailz (March 25th 2020)
Entry #15 Hello MTV, The Nelsons, Jason Newsted, U.S. Summer Tour, London & our Stolen Ryder Truck (May 2020)
Entry #16 Lita Ford, Jason Flom, 75+ Shows, Cocaine, a Lawsuit, Sweet F.A. & the Freeway Fight (July 29th 2020)
Entry #17 Hello 1992, Gene Simmons, More Money, the L.A. Riots, a New Bassist & Jason Flom Part II (March 20th 2021)
Entry #18 WildSide, Dee Snider, Tour Drama, Baywatch, New Label Search and Living in Reseda (Aug. 21 2021)
Entry #19 Michael Resigns, River Phoenix, Thirsty Whale, He's Got a Gun, Stolen Van & Danny Quits (Jan. 16th 2022)
Entry #20 1994, Northridge Earthquake, Kurt Cobain, RLS Records, releasing "Fist First" (May 2022)
Tuff @ Facebook –  eBay – Amazon– iTunes – Instagram – Twitter – Store – Discogs – YouTube –


LINKKKS