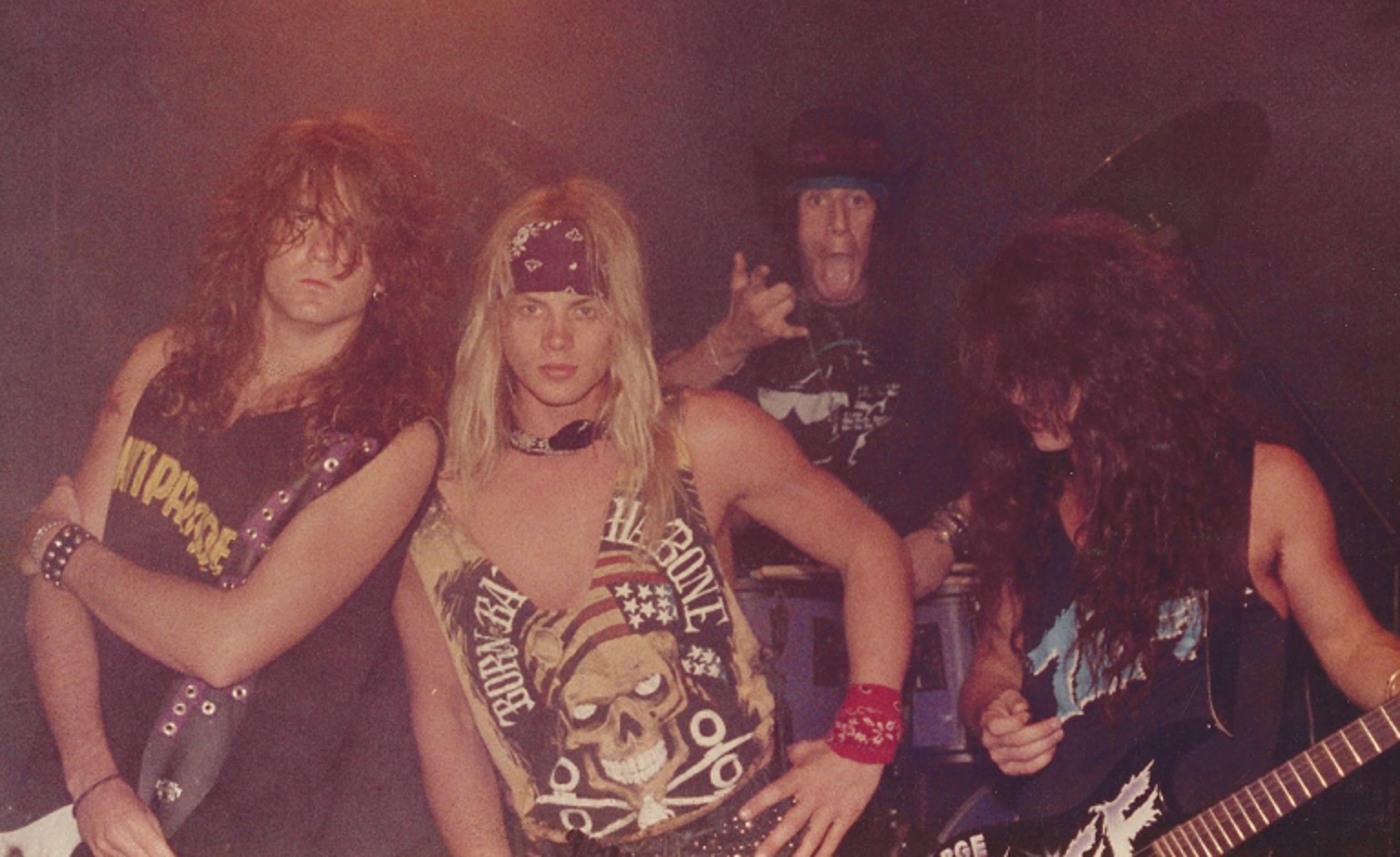 TUFF DIARIES #11
Hello 1990, Texas Strippers, Hells Angels, the Britny Fox Tour and Atlantic Records signs Tuff
'Dizzy' Dean Davidson, Dangerous Toys, Pariah, Troubadour, Jani Lane, X-Poseur 54, Axl Rose, Marq Torien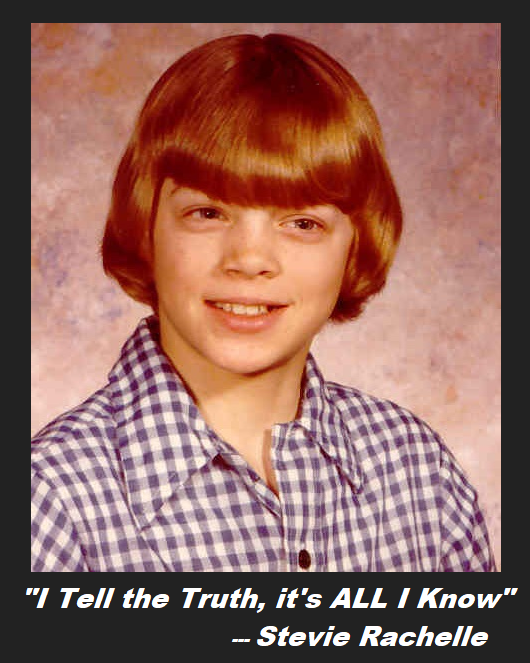 —  It's a new decade, the 90's have officially begun and the 80's are in the rearview mirror.
Everyone was stoked for the 90's.
Little did we know what was waiting around the corner?
Tuff are entering the 5th year as a group and we're halfway through the 3rd year with me singing.
But, we still don't have a record deal.
It's January and once again, we're about to set out on tour.
This month we'll play Phoenix, Dallas, Austin, San Antonio, Houston, Minneapolis, Iowa, Wisconsin and Kansas City.
We've played all of these markets before, except for the Lone Star State.
The first set of shows was in a familiar place…. Phoenix.
This was the band's hometown where Todd Chaisson and Jorge DeSaint first formed Tuff.
The story goes that on New Year's Eve of 1984, Todd and Jorge both 18 at the time were at a party and came up with the band name Tuff.
This after seeing a commercial for the movie Tuff Turf.
By the spring of 1985 they were playing shows.
The earliest lineup of the band that started turning heads featured Chaisson (Bass), DeSaint (Guitars), Terry Fox (Vocals) and Michael Raimondo (Drums).
At some point Terry left to join The Ice Capades as he was a professional ice skater. For real.
Enter a new singer, but not me. Nope, not yet as I was singer #3.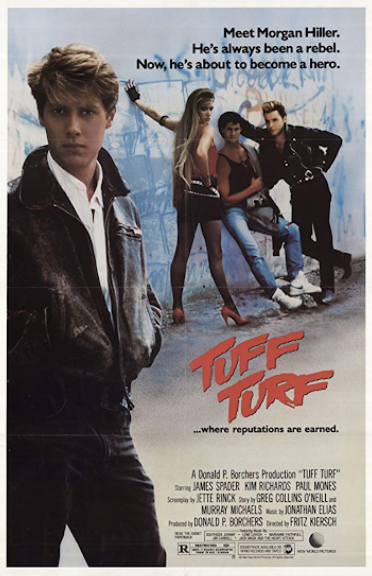 Michael had just turned 17 and was friends with Jim Gillette (also 17) who was in a local Phoenix band called S.L.U.T.
Gillette's stage name around this time was Jimmy Jill.
But according to press shots and old biographies, once Gillette became the new voice of Tuff he evolved into Jimmy L'Mour.
But let's get back to the 1990 tour.
I have a million memories of Phoenix as we played there about every 3-4 months, and usually stayed the whole weekend.
During this stop we played two nights at "Rocker's" and per usual, the place was packed full of strippers and local musicians.
I recall it was late one night after a show and an offer was made to me.
A friend of Jorge's named Robbie said some girl he knew was interested in me, and asked if I wanted to meet her.
Because I was a man whore, of course I agreed.
Next thing I know I am hanging with some hot skinny blond who talked a mile-a-minute.
I think she was doing coke but I didn't care, she was hot and very forward.
The word was she was recently single and I was the target.
"Hey…I think you're sexy as hell. Wanna come back to my place for the night?" her words.
She was bold, but so was I.
"Sure, when are we leaving?" my reply.
At this point I didn't know what this girl's name was, yet agreed to leave with her.
Not being a douche, but at this point in my life it was like: "What else is new?"
Girls, women, young, old, younger and older were all at my disposal.
Or shall I say, I was at theirs.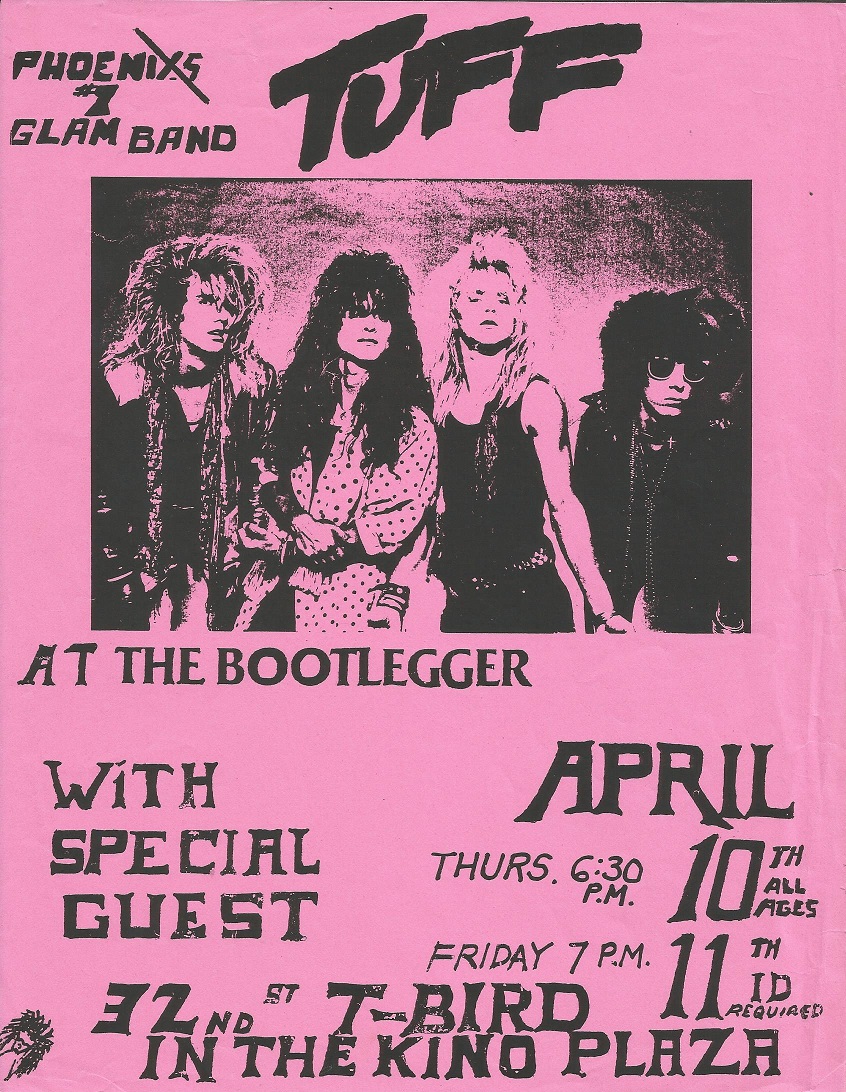 Old flyer with the stolen TUFF TURF logo from a show in Phoenix. Left to right: Todd, Jorge, Terry & Michael.  
Let me add, with the current state of the world reading this (#metoo) relax on my choice of words.
I have countless female friends from 2-3 decades ago.
Many of us were slutty, both the guys and the girls. It's just the way this era was in the heyday.
Looking at my Facebook friends list, it's crazy but many are girls who I met at a show, half-my-life ago.
I have built lifelong friendships with many of those girls. (#respect)
Back to the "Rocker's" aftershow.
A little small talk and sooner than later I am in the backseat of a random car with her friend driving.
This was common after gigs.
Meaning, after the show various members would find their fix… be it cocaine, pot, alcohol or women.
My choice was always finding a girl for the night.
Jorge and Todd, well… let's just say they partied. Nothing was off limits, except for heroin.
Michael, oddly enough was the youngest of our group, but was the most mature.
More often than not he was back in the room crunching numbers, and being more responsible than all of us.
But reality was, he had to be.
You see Michael became a Father in November of 1986. Before I even joined the band.
And Michael at the time was 18 when his son was born, and the Mother was only 16.
Crazy to think, but even at that age, with a child, Michael seemed to make it all work.
Hats off to Michael, he taught me so much over the years.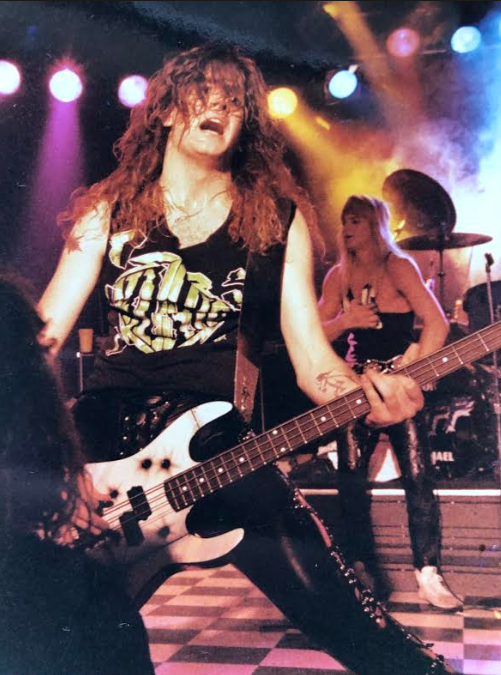 Todd Chase rocking a Nitro shirt at "Rockers" in Phoenix 1990. 
She's been shoving her tongue into my mouth the entire 20 minute car ride.
And talking dirty into my ear: "I am gonna suck your dick when we get to my place."
I lay back  in the seat and a huge smile hits my face.
Now she grabs my crotch and her eyes get wide: "Mmmmm …I cannot wait to taste you!"
We finally end up in some middle class neighborhood outside of Phoenix.
A quick dash past the kitchen she grabs 2 beers and down a hallway to her bedroom.
I politely decline her beer offer, as we both quickly undress.
It's now about 3:00am and we're already in her bed, naked and the fun had already started.
Suddenly there was a burst of commotion in the hallway.
Her face changed from sweet and happy to concerned and annoyed.
"This motherfucker….what the fuck…." as she starts ranting.
Simultaneously I hear a roommate trying to calm the storm.
Then a few loud hard knocks on her locked door.
As I lay there, she is scrambling on sweatpants and a shirt.
"Who is that?" I quietly asked.
"It's my ex…I thought I heard his motorcycle pull up."
In my head, "MOTORCYCLE? WTF!"
My mind is now racing and I cannot get the image of a Hells Angels looking dude standing on the other side of the bulsa wood thin Home Depot door.
"Huh?" as my face contorts into a WTF look.
"So….your ex-boyfriend is here?" I whisper as I am trying to pull my pants up and sliding on cowboy boots.
She's mumbling under her breath, "I told her to tell him I am not here."
To which I am thinking, "Oh great, so her 100 pound stripper roomie is now negotiating with a huge biker as to why his old lady isn't there, but her bedroom door is locked."
I am looking at the window, gauging my plan of action should the door suddenly come crashing down?
But she assures me, "It's cool. Just chill, he'll be gone in a minute."
After a few minutes of arguing and doors slamming it gets quiet.
She opens the door as her roomie starts to fill her in on what we couldn't hear.
In short…I quickly interrupted, "Umm, can one of you give me a ride to Saddleback Road, we're staying at a Motel 6?"
They look at each other and both agree, it's probably best to get the evidence out of the house before he returns.
I dart to the other side of the room to look for my fanny pack and tour laminate next to her bed.
In a flash we're back in that same car from an hour ago and off.
Thanks Phoenix, it was fun.
—————————————–
It's now the 2nd week of January and Tuff is rolling through Texas in a tour bus.
We play "The Backroom" in Austin, "Dallas City Limits" in Dallas and on our way back we'll hit San Antonio and Houston too.
A few quick memories from the journey.
I remember showing up at "The Backroom" and a pen pal showed up to say hi.
Sims Ellison of the band Pariah.
Sims and I had written each other from seeing our respective band's P.O. Box listed in Metal Edge.
I didn't know much about his band, but I did know he was a very nice guy.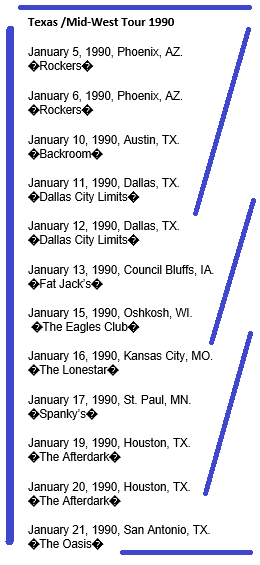 Sims and I chatted for a while in the parking lot as the band did a sound check.
Such a cool guy, so sweet, and he really was nice.
I still have post-cards from Sims and will keep them forever. RIP Sims.
Something else happened in Austin that day.
I saw this girl walk in and I was shall we say… smitten beyond words.
More on this precious human later, but for now, let's just say that Annie was, and still is to this day – one of the most special people I have ever known.
"The Back Room" was a legendary club in Austin that was the home to the one and only Dangerous Toys.
Another great bunch of guys, and Jason McMaster and I are still long distance buddies all these years later.
Dallas was interesting for sure.
A cool club and I don't remember hanging with them, but I wanna say that Dimebag and Vinnie from Pantera were there.
This club known as DCL, was a hot spot for all the cool bands to play.
The next few shows are a blur, from Texas up into Kansas City, then Iowa, Wisconsin, and Minnesota.
A trek into the cold in early January is never fun. I mean, touring is fun at any time, but if it's 70 & sunny out, it's so much better.
One of the drives stands out.
After Minnesota the bus pointed south and our next stop was Houston.
That's 1,177.3 miles, or 17 hours and 15 minutes according to google.
Ouch!
Add in some fuel stops, a few meals and we're looking at 20+ hours.
We left Minnesota right after the show, so …guessing like 2:30AM after load out.
After nearly a full day on the bus we pulled into our motel parking lot with a Denny's right next door.
It was late, after midnight in Houston and still hot as hell.
Not sure how this came to be, but before we hit that Denny's to eat, we were throwing around a football in the parking lot.
I guess after being cooped up in the bus for so long, we all wanted to get out and stretch our legs a bit.
Everyone was dressed in sweat pants, strategically torn t-shirts and sweating.
It was South Texas heat, but even at 1:00am it was still hot as hell.
Someone made a comment about taking off their pants and wanted to play catch in their underwear because it was so hot.
So I did it.
I pulled my pants down around my ankles and stood in my briefs throwing a football.
Then Chase followed, and then Lean.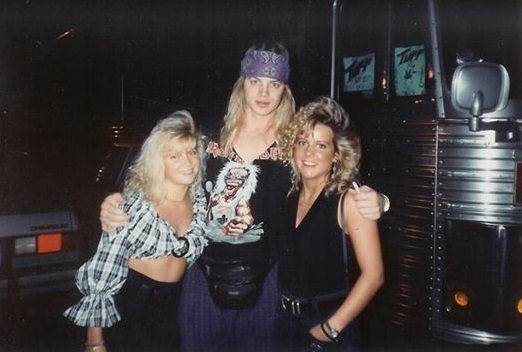 No clue who these girls are, but I am positive it's from the January 1990 tour.
I believe this was taken in Texas, let's review shall we?
Tour Bus = Check
Purple Headband = Check
Iron Maiden T-shirt – Check
Hot Blond on each arm = Check
Fanny Pack = Check
Soon enough all of us band and crew were in our underwear playing football in Denny's parking lot.
After a few more plays someone ran a route, and took a dive into the asphalt.
Now we got a member full of gravel and scrapes laying on the dirty pavement.
This was silly, but just another day on the road.
We ate Denny's, slept in the bus that night and checked into a day room for everyone to take showers the next day.
That night we played "The After Dark" in Houston.
I remember meeting an Asian girl with super long hair. She was hot and at some point I invited her back to my room.
We're fooling around and the smell was beyond bearable.
No joke, something smelled really bad.
And I knew what it was.
Her feet.
She was a dancer, and had just finished stripping all day.
We're naked rolling around, and at some point…I think she knew.
We're doing our thing but my face must have had a concerned look at times.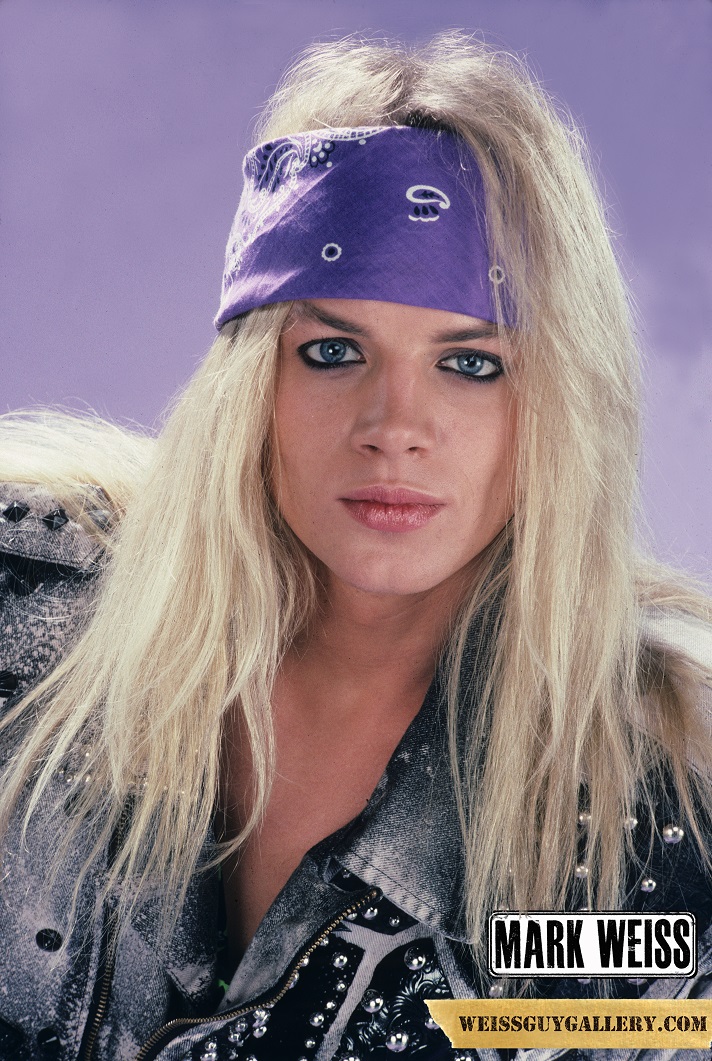 She then stops the fun and says, " I need to pee..".
I laid there as she bolted from the bed.
Next thing I know, I hear the tub running and water splashing.
One minute turned to two, turned to five and she finally returned.
Thanking the heaven's above, the smell was gone.
I guess she jumped in the tub and rinsed off the kickers.
Damn…it was bad…but with clean feet – it was game on.
A couple of weeks, a dozen or so shows and we head back to California.
After a few years of touring… the truckstop diners, the dirty backstage areas and even the girls – all became a blur.
But of course a stripper's smelly feet, Hells Angel bikers and pants-less football at 1:00am are memories that will last forever.
—————————————-
Photo of Stevie Rachelle by Mark Weiss, circa 1990
We're back from our most recent multi-state tour, but no rest for the wicked.
It's time for some more shows and photo-shoots too.
Mid month we do shoot with Mark "Weiss Guy" Weiss.
Mark is a top photographer in the rock world and has shot everyone A-Z that you can think of.
This is our first time shooting with Mark as he's an East Coast based guy.
We shoot with Mark in studio, on the streets of Hollywood and at some clubs as well.
A few weekends later we'll headline "The Roxy" on Sunset Strip.
This is our first big Hollywood show of the new decade and we have some killer bands on the bill with us including Lancia and Young Guns.
A week later we'll hit Arizona again for a 3-show weekend kicking it off in Phoenix as I celebrate my 24th birthday on March 2nd.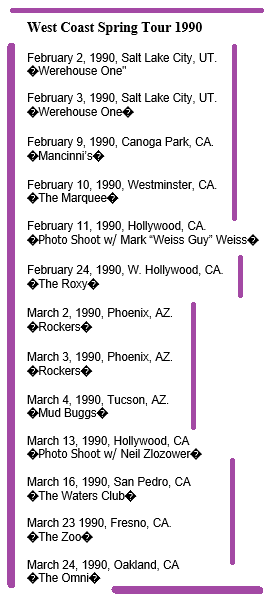 Now it seems our popularity is growing even more.
We're getting press in every rock magazine on the planet.
Not just a blurb but full page pin-ups along with 2-3 page feature articles.
We're appearing regularly in Rock Scene, Livewire, Shout, Faces, Hit Parader, Blast, Rock Beat and many more.
Tuff is being touted more than ever as the "Next Motley Crue" or the "New Poison".
As history would have it, this was a blessing and a curse at the same time.
These bands were huge with both selling 5 times platinum .
Even new baby bands like Skid Row and Warrant were going double and triple platinum.
The buzz is ramping up and it's also why the biggest rock photographers were requesting to shoot us.
In March we'll shoot with the legendary Neil Zlozower.
Neil is local to Hollywood, so we've already shot with him a few times, and per usual, the session is a great time.
We round out the month by playing "The Waters Club" in San Pedro and "The Omni" up in Oakland.
By this point in our career we play the Bay Area (Northern Calif.) almost as regularly as we play Southern California or Arizona.
It was good to have multiple homes, away from our home-base and so many of these shows helped us build our fanbase.
————————————–
April 1990
East Coast here we come.
Tuff has officially booked an East Coast tour with our friends Britny Fox.
Our management Power Star also reps Britny Fox and secured us these dates.
We're flying into Philadelphia and the tour will start at "The Living Room" in Rhode Island on April 16th 1990.
Then we're set to play Boston, Albany, Poughkeepsie and Massachusetts as well.
Our band has been rocking the West Coast for several years now and have also performed throughout the Mid-West, so now it's time to take Tuff Muff Mania to the Atlantic side of the U.S..
The plan is we will rent a van and drive (follow) behind the Britny Fox tour bus.
We'll then share general backline with their guitarist and bassist.
Michael is endorsed by Sonor Drums and Paiste Cymbals who have agreed to set him up with his gear for this tour.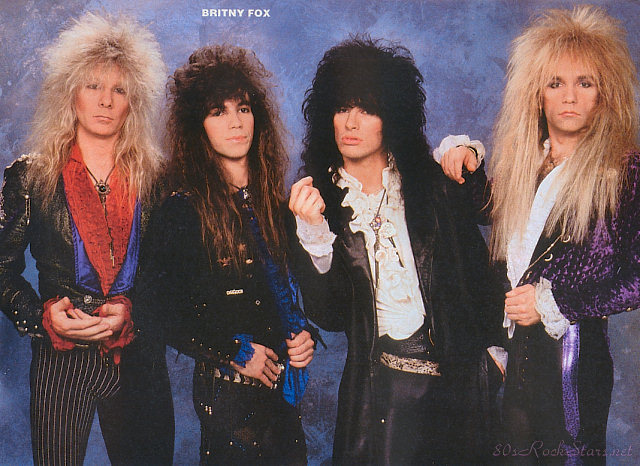 Britny Fox: Billy Childs, Johnny Dee, 'Dizzy' Dean Davidson & Michael Kelly-Smith 
The first night we arrive in Philly our manager, tour manager (Richie) along with Billy Childs (Bass) from Britny Fox take us out to a local strip joint.
After the night out we hit a local WaWa to grab something to eat at 1:30am.
For those who don't know, a WaWa is essentially a 7/11 or an AM/PM.
We enter the late night corner store and we're all wearing our leather Tuff jackets and Los Angeles Raiders swag.
Within a minute of arriving we see flashing lights and sooner than we could blink there were multiple Police cars speeding into the parking lot.
Next thing we know the men in blue are standing at the counter.
The Cops are looking around, eyeing us and I couldn't help but ask, "What's going on Officer?"

An officer looks at me and asks, "Where are you guys from?"
I tell him California that we're a rock band on tour.
The Cop kind of smiles and laughs.
He then leans over and tells me, "The clerk freaked out, saw all the Raiders gear and called 9-1-1."
I guess he thought we were going to rob him. Lol.
They were all super cool, wished us good luck and bailed.
Now we check out with the clerk who looks thoroughly embarrassed.
Back to our seedy motel for some much needed sleep.
It's the first full day of the tour and we load up our rental van and head to a local rehearsal space.
The Britny Fox tour bus is there, roadies loading gear and the guys are all showing up.
Except "Dizzy" Dean Davidson.
If my memory is correct, he didn't ride with the band and flew into Rhode Island instead.
Or maybe, he just was last to arrive, I forget.
Either way…Dean was very serious once he arrived and seemed to be all business.
The other guys, Michael Kelly-Smith (Guitars), Johnny Dee (Drums) and bassist Billy Childs were all very nice to us.
Not that Dean wasn't, but he was fairly distant and didn't interact much with any of us.
Michael Lean and Johnny Dee hit it off right away talking shop about drums.
Johnny was super helpful as was his tech, and those guys were like 2 peas in a pod pretty quick.
We were super excited to be on tour, especially in an area we'd never been to before. And making friends with guys in these Platinum selling MTV faves was necessary.
Michael Kelly-Smith was kind of quiet, but Billy like Johnny was very cool.
I recall Billy making all of us feel welcome and he was one of the guys for sure.
The tour is off and we start our 5 hour journey towards Rhode Island.
Upon arrival the tour bus pulls into the parking lot outside "The Living Room".
I vividly remember fans already at the club.
I also recall that as Tuff got out of our Van, several of the kids (fans) seemed equally as interested in Tuff as the guys in Britny Fox.
Of course we were the hot up n' coming band, voted the #1 unsigned band according to Rock Scene Magazine just a year earlier, so we seemed to fit right in.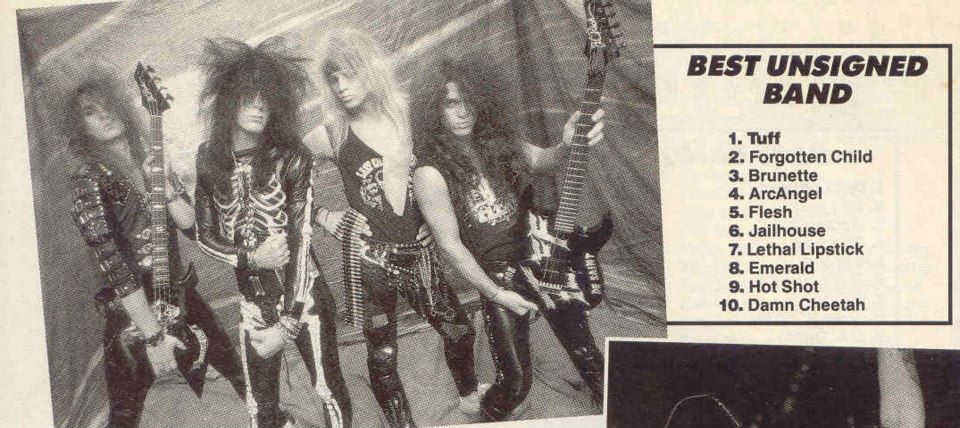 Tuff is #1 in Rock Scene magazine's top 10 unsigned bands listing.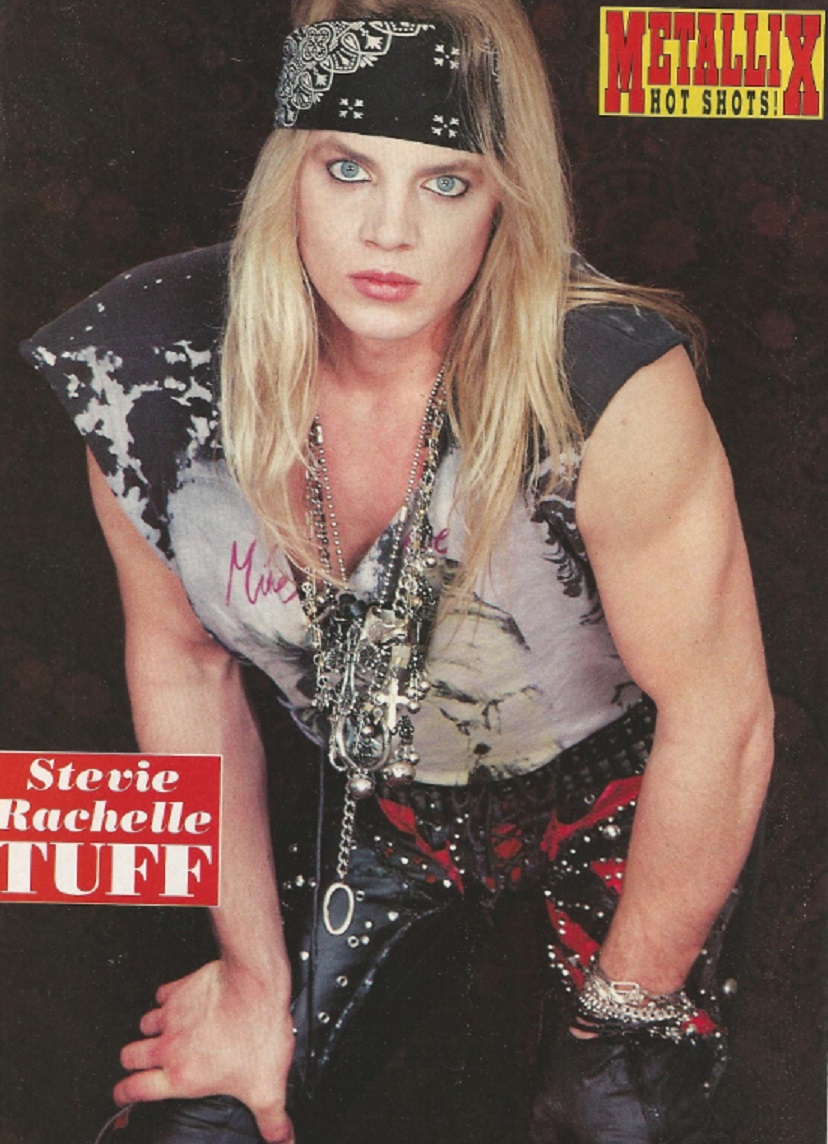 Metallix pin-up from 1990.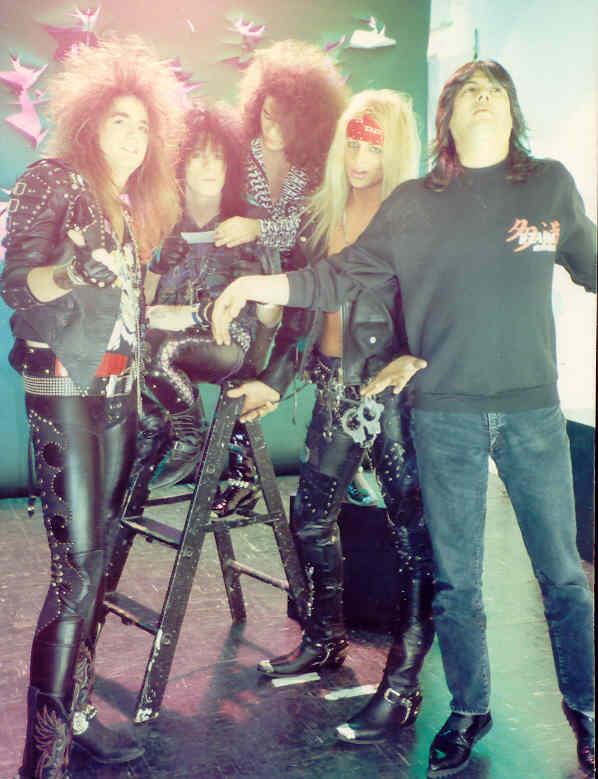 Tuff with William Hames clowning at a photo shoot circa 1990.
Fun Fact: William's studio was in the same place where Amoeba Records sits on Sunset Blvd. 
Tuff was making a name for ourselves and we were elated to be meeting East Coast fans.
I recall the dressing room at "The Living Room" was covered in graffiti.
So, we added to it…writing TUFF in big letters on the walls, with the date, etc..
I remember seeing the same from other touring bands who had previously played there…one name that stood out, Red Hot Chili Peppers.
Note, this was before they became mega giants playing arenas.
So our first ever East Coast show was a hit.
The place was packed, and there were hundreds of fans going crazy as we played our guts out.
It's April 1990, I just turned 24, Todd and Jorge are 23 and Michael is 22 years old.
We're young, hungry and ready to take on the world.
I recall late that night at the hotel our manager told us we sold more merchandise than Britny Fox.
I also recall him having a concerned look in his eye. Not that he was mad, but I think he had foresight as to what might be to come.
That night we partied, hung with girls and lived life like rock stars on tour.
Because, we were just that – rocks stars (in the making) on tour. Lol.
Day #3 of the tour was a day off and we drove in the rain to Boston.
It was a short drive, about an hour.
After checking into the motel we loaded up our van and went to the local mall.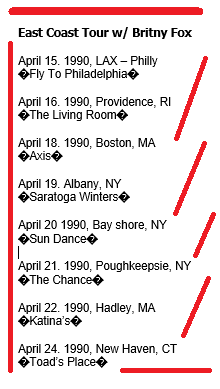 We were taking it all in and it felt awesome.
Sure, we had toured the West Coast for years now, played hundreds of shows throughout the Mid-West and Texas too.
But being East of the Mississippi felt different and we were ready for anything.
Almost anything.
We returned from the Mall and it was the late afternoon.
As we settled into our rooms we heard some commotion in the hallway.
Loud voices, and some rumblings of sort.
I don't know why, but my first thought was, "The Britny guys are horsing around, rough housing or playing a tour prank on us."
So we jump up to see what all the excitement is about.
Upon exiting our hotel room I see Michael Kelly-Smith laying on the floor and everyone is shouting.
I also see "Dizzy" Dean Davidson fuming mad.
Everyone is trying to calm Dean down and essentially hold him back.
Michael is hurt, Johnny Dee and Billy Childs along with tour manager Richie Wuestenberg are all there and it's a cluster of F-bombs, pushing and shoving.
At first glance, again I wasn't sure if they were playing football in the halls or this was real.
Well, in short order a few of the guys were pushing Dean back as he spewed verbal attacks and insults at the other members of Britny Fox.
In a blink of an eye it was over.
And not just their fight.
The whole tour.
Over, done, do not pass go!
Correct…our East Coast tour was about to be over after only 1 show.
It's now an hour or so later and we're talking to our manager, the tour manager and trying to figure out WTF is going on.
At some point the Britny camp and management asked me to go try and talk to Dean.
You see I was the straight laced guy in Tuff.
In a nutshell, I didn't drink, didn't smoke, no drugs and didn't even have a tattoo.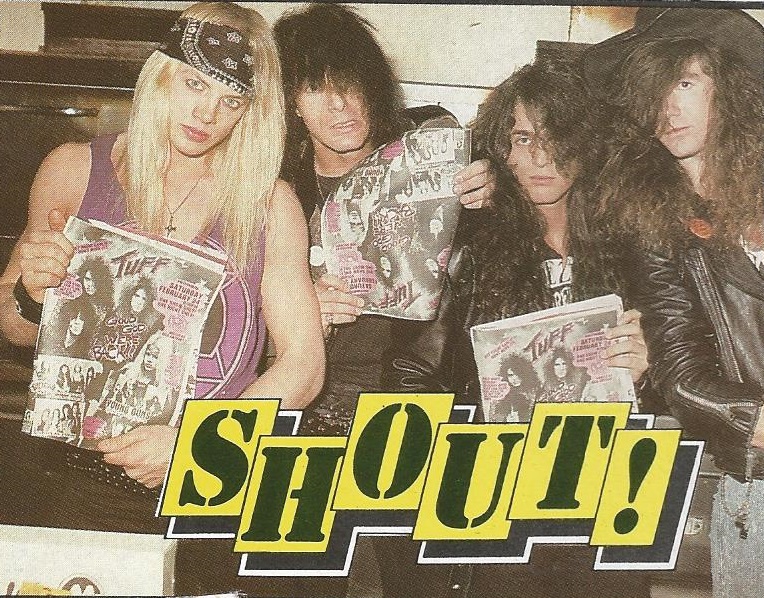 Tuff  in SHOUT Magazine 1990 holding the Feb. 24th "Roxy" show ad from earlier in the year.
Dean himself was very straight edge and it seems part of the issue was he didn't like the other guys in the band partying, womanizing, etc..
Before I knew it I was knocking on Dean's motel room door and he let me in.
I sat and watched him fold clothes and pack his suitcase.
He then spent several minutes quoting Gene Simmons and Paul Stanley of Kiss.
I say that loosely, but he did mention Kiss and their policies regarding their band.
And of course everyone knows the history that Ace and Peter were at some point left behind for similar (questionable lifestyle) choices.
Dean was very cool to me and even noted that he knew that I was a non-user and tried to give me his thoughts and reasons for what was about to happen.
I asked, "So, you are leaving the tour? You're going home? Tonight?""
To which he replied, "Yes, yes and I will be headed to the train station shortly."
I don't remember all that was said, but I definitely tried my hardest to persuade him not to leave.
Something else I recall was that it all this seemed to be somewhat premeditated.
Meaning I recall Dean telling me about his next project, he had the players, the songs and a new record deal in place as well.
Side Note: Fast forward, all that came true and fairly quickly as Dean's new band Blackeyed Susan released their debut on May 7th 1991.
More notes, the Britny Fox tour we were on (April 1990) was a leg for the "Boys In Heat" album which was released December 17th 1989.
The date of this Britny Fox argument, fight and ultimate break-up was April 17th 1990.
Exactly 4 months to the date from their second and final release with that line-up.
So after months of planning, thousands of dollars in flights, rental agreements, hotels booked and shows promoted .. it was over.
Within a few hours of the fight in the motel hall Dean was gone and the tour cancelled.
The next day we drove the 300+ mile trek from Boston back to Philadelphia.
All the while our manager was changing our flights and the very next day we stood at the Philly airport checking guitars, basses and luggage for our flight home.
Sure some of you will say or ask, "Why didn't you go do the shows on your own?"
That was considered, but we were a package deal.
Tuff were also using the Britny Fox backlines, road crew, etc…
Also, the clubs themselves were selling tickets for a co-bill headlined by a Platinum selling MTV artist who had previously toured supporting Poison playing to sold out arenas.

Now Britny Fox was off the tour, and Tuff was an unsigned band from Hollywood with a buzz.
Welcome to the record industry.
We did nothing wrong.
No one got arrested, we didn't start a bar-fight or fuck the other band's girlfriends (yet).
Oh well, this is what it was like for Tuff as we tried to claw our way to the top.
I know my story has been experienced by other bands, both bigger than us and smaller the same.
But there are some things you cannot control and it's all the reason more, as to why it really is no easy task to do what we (us) bands do.
No matter what you think of certain bands, or how lame their music is (to you) – this takes a lot of organization and dedication from all involved.
Many of you reading this right now can think back to a show, a tour or a band whose career took a turn for a multitude of reasons.
Was it a member who got injured, a player quit or worse yet – overdosed, or maybe even died.
In this case, Dean's obsession with the band not following or adhering to his every wish caused a rift and dissention within the band.
There were band meetings, and that day in Boston was just that – a band meeting.
Words were exchanged, it got heated and all boiled over resulting in assault and injury.
From my recollection Michael's arm was broke or severely injured to where he could not play.
I wasn't privy to all of what happened throughout the Britny Fox career but there were things talked about, said and alleged that were a bit silly.
Something I heard more than once was that Dean wanted the band to rehearse on off-days or record in the bus.
Now I know a lot of bands who have recorded on the road during tours.
But at the same time, not everyone wants to do that.
Especially rehearsing.
Going on tour is a privilege not a right.
Since starting this music stuff I have been to 42 states and 29 countries on 4 continents.
Sure I have rehearsed to start a tour or get acquainted with players in other countries. But once the shows get underway, the live show is like a rehearsal on steroids.
It's hard to gauge, but I feel it's safe to say that the East Coast tour cost us thousands of dollars.
And in the end, we played 1 show.
"The Living Room" in Providence Rhode Island.
In a crazy way, it was pay-to-play only we chose a show that was 2,968 miles away from our home base.
It's stuff like this that would drive anyone nuts.
Or to drink, or do drugs.
Looking back, now I understand why so many guys did such things.
——————————–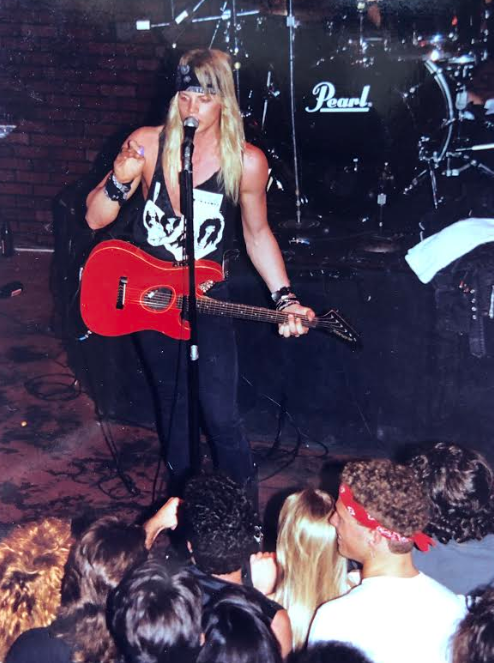 Back to California we go.
I recall being on the flight back from the East Coast tour after just 1 show.
Thinking to myself; "What are we going to tell everyone?"
How embarrassing, as we had t-shirts printed with the tour dates and more.
We lost a small fortune as well, thousands of dollars… wasted.
Ugh…
Oh well, back to the grind.
It's now early May and Gina B. asked us to play her birthday party at "Troubadour" in West Hollywood.
Gina was the house booker for the club and we were one of her favorites.
It was an annual event with everyone from Paul Gilbert of Racer X to local flyer kings New Haven jamming at her parties.
It wasn't just 1 band's show, but rather a jam and each group performed a couple songs.
On this night Jani Lane of Warrant was in the house and introduced us to the crowd.
Unlike most gigs, we started this show (jam) with a ballad, "I Hate Kissing You Goodbye."
Fun Fact: The guitar (see images) I played that night was borrowed from Brent Woods of Young Guns (aka WildSide).
This performance with Jani introducing us is actually featured on the Tuff "Rock N' Rarities" home DVD.
After our short set Jani came up to me and said, "Hey, that's a great song" as he sung the hook back to me.
I thanked him and the night went on.
Over the years Jani commented on that song more than once, always saying something nice about it.
#RipJaniLane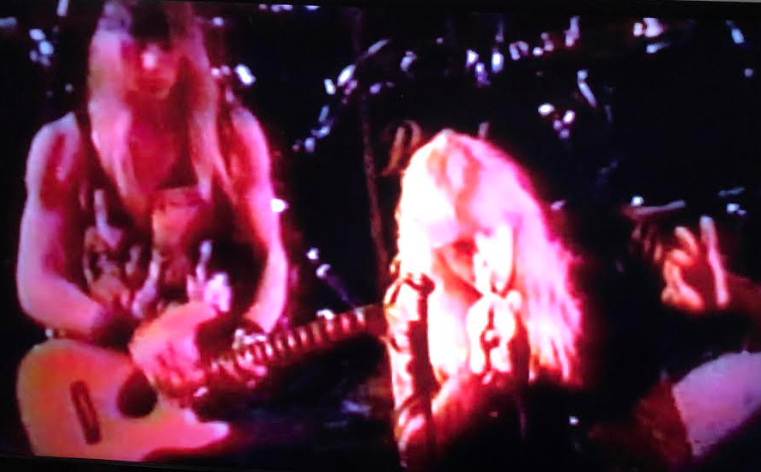 Jani Lane of Warrant introduces Tuff at Gina B's Birthday Jam @ "Troubadour" May 4th 1990 
———————————————
Over the next few months we'd play more shows, but some odd places.
Or shall I say, some new places that we hadn't played previously.
We hit Salt Lake Cty Utah for 2 nights on May 18th and 19th.
The next week we appeared at "The Palomino" in North Hollywood.
This was a legendary club in the 50's, 60's and 70's, but more for country artists.
This venue hosted countless legends on its stage including: Johnny Cash, The Everly Brothers, Ricky Nelson, Buck Owens, Linda Ronstadt, Patsy Cline, Tanya Tucker and Willie Nelson.
More related to this blog, Quiet Riot also played here, when Randy Rhoads was in the band.
Word is that Merle Haggard hung out here regularly, kind of like Lemmy hung at the Rainbow.
Legend has it, even Elvis paid a visit to the club in the heyday.
It was also featured in several movies like; "Every Which Way But Loose" (Clint Eastwood) and "Hooper" (Burt Reynolds) among others.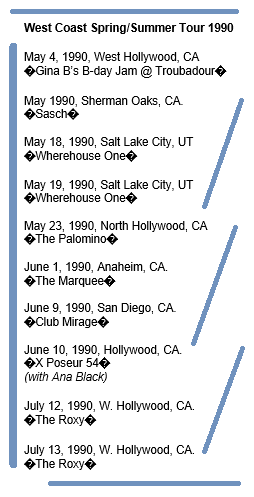 Note: This was NOT "Paladino's", that is more recent years, and that club was located in Reseda.
Either way, we played "The Palomino" and it was fairly uneventful.
This place was very Western esque in decor, sawdust on the floor, and didn't suit a glam rock or heavy metal band's audience.
It's now June, and we hit up Anaheim and San Diego for weekend shows.
Then mid-month we play another new hot spot, "X-Poseur 54."
This was a warehouse style club on Santa Monica Blvd, headed towards East Hollywood.
"X-Poseur 54" was a once a week club, and only on Sunday nights.
That show included some hot band from Canada called Ana Black as our support.
Imagine Motley Crue meets Murderdolls with Yngwie sweeps thrown in and you have Ana Black.
We would frequent "X-Poseur 54″ and it was always a good time.
There were multiple rooms, a cool outside buffet style barbeque and smoking area.
I recall one night standing near the entrance when Axl Rose walked up.
He was with a few people, and there was a group of maybe 4-5 of us.
Just chatting, basic stuff, "Who's playing tonight?" and talk about their new recordings.
I recall Axl being very polite, pleasant and acknowledging me with something along the lines of a "What's up?" as he glanced at me.
Weird side note here: I also recall seeing Marq Torien there on the dance floor.
He was dancing as were some others, they were all in their own world.
Some guy at the bar then taps me on the shoulder and says, "You know who that is?"
To which I replied, "Yeah, that's Marq from BulletBoys."
He laughed, "No not him, her. That chick right there, she's a porn star."
He continued babbling and told me the name, something Nikki or Christy or Nina.
The guy then described seeing one of her videos where she was getting fisted by a body builder.
The bar fly then holds up his arm and motions to me, "Dude, this guy had his arm elbow deep in her asshole!"
Now I am staring at this 100 pound hottie spinning like a top, and all I can think of is, "How big is her asshole?"
This was hanging out in Hollywood in the heyday.
—————————————————–
Summer 1990!
It's official, we got signed.
Or…we're about to get signed.
Yup, after 3 solid years of doing this, it seems it's really happening.
Our manager Brian Kushner gives us the all clear, and we book a double night at The Roxy for July 12th & 13th 1990 to officially announce the big news.
The 2 page BAM advertisement has a slogan we've been holding onto for a while.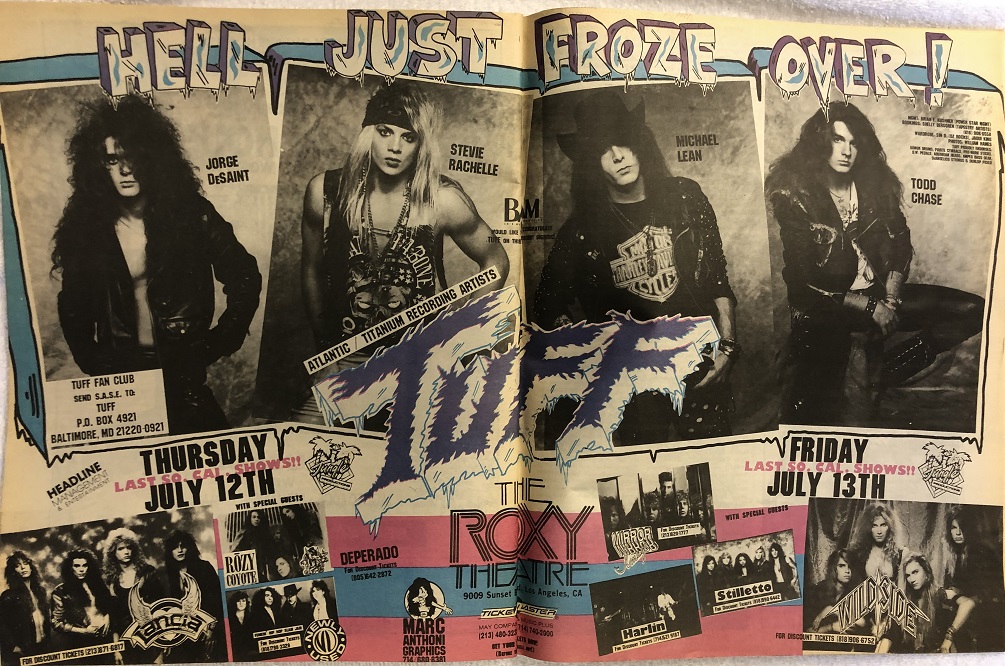 "Hell Just Froze Over" Atlantic / Titanium Recording Artists TUFF
Bands who share the bill with us on night #1 are Lancia featuring: Paul Lancia formerly of Pair-A-Dice, Bart Walsh & Robbie Crane.
Also on the first night is the band Rozy Coyote who were managed by Bobby Dall of Poison.
On night #2, the support band was WildSide, but not likely the WildSide you are thinking of.
A local band fronted by Jeff Wylde was playing the scene as WildSide.
When Young Guns got signed to Capitol Records, they bought the name WildSide from Jeff.
Previously Jeff had a local band called Jade and now Jeff currently has transitioned into Lucy and lives as a woman.
It's mid-summer on the Sunset Strip and it seems we're onto the big leagues.
But all the buildup, hype and big dreams… in truth, now the fact that we're actually signed – seems like it's no big deal.
Okay, so yea, we got the record deal, but now…the real work begins.
After a few years of being on the top of the local scene. the biggest unsigned band, we're now at the bottom again.
We're basically starting at square one…and now it's time to write, record, release the record, shoot a video, tour, etc..
These "Roxy" shows will be our last live shows of 1990 until we appear at Jani Lane's Policeman's Ball in December.
Now for the next several months we're preparing for our debut album on Atlantic Records.
I still have my official signed contract, it's 29 pages long.
And this may sound cliche', but dreams do come true.
—————————————————————–
Stay tuned as we go into the fall of 1990 for the 12th entry of the TUFF DIAIRES!
And yes…Hell has Froze Over and Tuff finally got signed.
Atlantic Records finally gives us our shot.
In my next entry I will talk about writing songs, pre-production, picking a producer and much more.
And some cool guests will join us in studio to contribute background vocals on some tracks too. Think big… as in BIG arms.
Hint: He played a machine gun style guitar.
See ya all soon….
Message from the author.
People have said to me for years, "You should write a book, I'll buy it."
That's not likely going to happen… not anytime soon at least. But if you are down with my blogs, my band or my various projects – I say thank you. 
I have self-released roughly 50 projects on CD. Cassette, VHS, DVD and Vinyl since 1994. All on my own. Without any label support. None. 
I have also kept Metal Sludge alive, afloat and online since 1998. For Free. You cannot imagine the workload a website of this magnitude can be.
No Kickstarters, no Go-Fund Me, and no Pay Me now and I'll make a CD in a year and send it to you later. 
I am also self-managed, self-booked (most of the time) and 100% self reliant. A 1-man gang. 
If you want to support in anyway, buy a CD or Vinyl record from me, or a T-shirt. Or send me something direct via Pay Pal.
I am not begging. I am not sick and no hospital bill. Nope, just continuing my service to the fans that support my Rock N' Roll. 
My direct Pay Pal email is Sludgeceo@gmail.com – send a dollar, send ten or send fifty. Send whatever you like, or nothing at all. 
Many independent websites have Donate buttons, Metal Sludge has NOW added one, Top Right of this page.
No pressure, but hey, it's an option if you care to do so. 
Thank you for all your loyal support of my projects.
There is more to come, more blogs and more music too. I have something in the can now it just hasn't been packaged just yet. 
Thank you again and all of your support is greatly appreciated. 
Stevie Rachelle
Read my previous blogs linked below, numbered and dated.

Read my previous blogs linked below, numbered and dated.
Entry #1  How I Made My Way To California, 31 Years Ago Today  (June 25th 2018) 
Entry #2  My First Meeting With Tuff, "Is That All Your Real Hair?"   (June 29th 2018)
Entry #3  Tuff audition, Jim Gillette screams, a near fist fight & our debut show  (July 5th 2018)
Entry #4  The Metal Years, Famous People, Cocaine, Kiss & Sex with a Miss Gazzarri's Dancer  (July 14th 2018)
Entry #5  Guns N' Roses, Del James, 1988, Sound City, Strippers, Crabs & You're Fired!  (July 30th 2018)
Entry #6  Summer on Sunset, Vinnie's Invasion, Tracii's Glue Gun, Vain & Sex by a Dumpster (August 11th 2018)
Entry #7  MTV's NYE Big Bash, Riki & Taime's Cathouse & My Girlfriend was a Poster at Spencer's (August 20th 2018)
Entry #8  Jon Bon Jovi, Sebastian Bach, Rick Rubin, Howie Hubberman, BulletBoys & Gazzarri's (Sept. 16th 2018)
Entry #9  Summer Tour '89, Andy McCoy, Def Leftovers, Max the Model, Z-Rock, Tommi Gunn & Lit (Oct. 10th 2018)
Entry #10 Goodbye 1989, Jessica Hahn, Skid Row, Martha Quinn, Young Gunns, Flyer War & Cock-Rings (Nov. 9th 2018)
Entry #11 Hello 1990, Texas, Britny Fox Tour, Strippers, Hells Angels and Atlantic Records signs Tuff (March 24th 2019)
Entry #12 Ready to Record, Howard Benson, FM Station, Jani Lane, Court hearing & my 1st Playmate  (June 2nd 2019)
Entry #13 Recording our Atlantic debut, Bret Michaels, Kane Roberts & Sex is fine, but no sleepovers (Aug. 27th 2019)
Entry #14 New York City, Mixing our Record, Publishing Deal, Video Shoot , Cherry St. & Tigertailz (March 25th 2020)
Entry #15 Hello MTV, The Nelsons, Jason Newsted, U.S. Tour, London & our Stolen Ryder Truck (May 19th 2020)
Entry #16 Lita Ford, Jason Flom, 75+ Shows, Cocaine, a Lawsuit, Sweet F.A. & the Freeway Fight (July 29th 2020)
Entry #17 Hello 1992, Gene Simmons, More Money, Mike Starr, a New Bassist & Jason Flom II (March 20th 2021)
Entry #18 WildSide, Dee Snider, Tour Drama, Baywatch, New Label Search and Living in Reseda (Aug. 21 2021)
Entry #19 Michael Resigns, River Phoenix, Thirsty Whale, He's Got a Gun, Stolen Van & Danny Quits (Jan. 16th 2022)
Entry #20 1994, Northridge Earthquake, Kurt Cobain, RLS Records, releasing "Fist First" (May 2022)

Tuff @ Facebook –  eBay – Amazon– iTunes – Instagram – Twitter – Store – Discogs – YouTube –