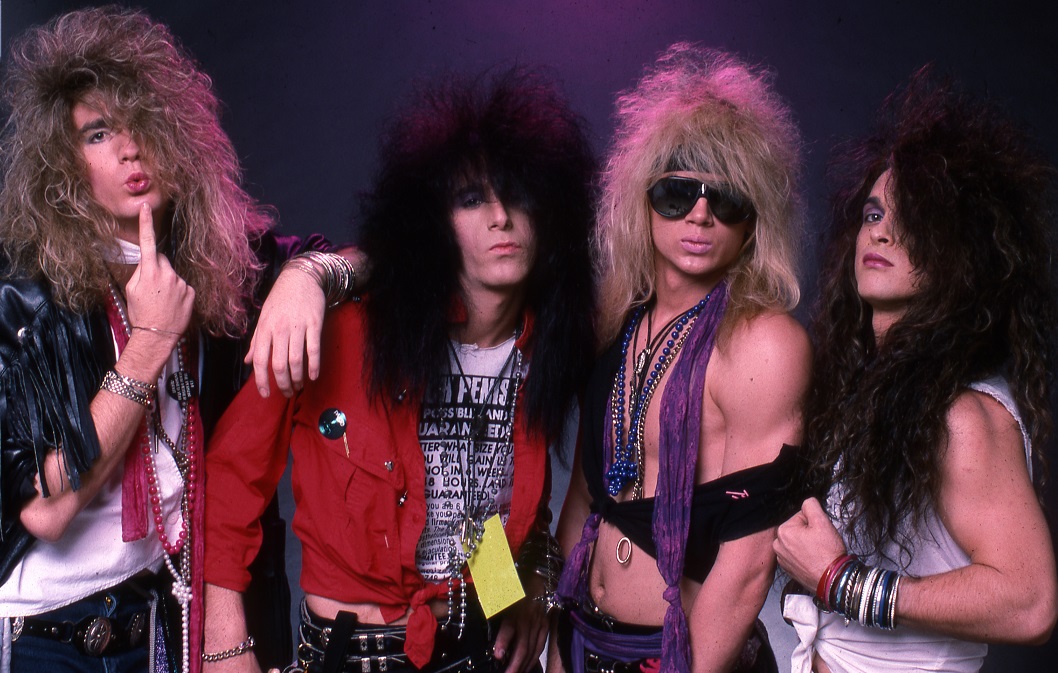 TUFF DIARIES #4
The Metal Years, Famous People, Cocaine, Kiss and Sex with a Miss Gazzarri's Dancer

Rock City News, Troubadour, The Whisky, Redd Foxx, Nadir D'Preist, Slash and dating a future Van Halen wife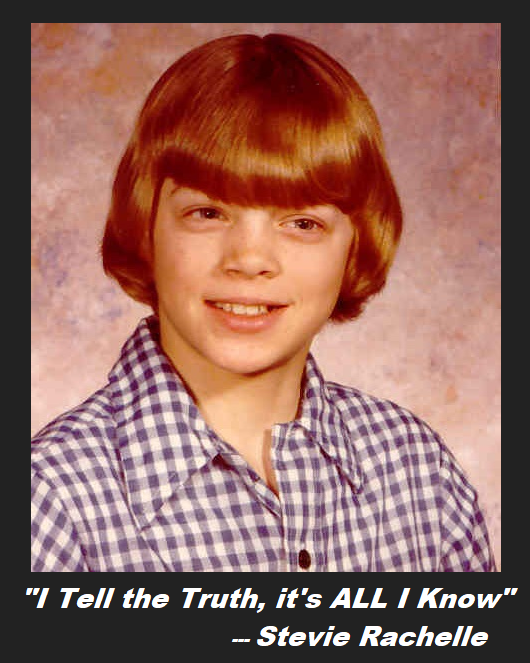 I have been in Tuff for just over 2 months now and we're a force to be reckon with on the Sunset Strip.
At least that's what we thought, Lol.
Our 2nd Hollywood show was booked at Troubadour in West Hollywood.
It was a 3 band bill.
Troubadour unlike many of the clubs on Sunset Strip (Gazzarri's, The Roxy and Whisky-A-Go-Go) didn't usually have the closer.
In other words, the last slot or clean-up band, after the headliner.
Tuff was the 1st slot opener at 9:00pm, Clockwork Orange were (2nd slot) at 10:00pm and Mon' Cheri were the night's headliner.
The Troub was on Santa Monica Boulevard, but is only 8/10th of a mile from the Whisky-A-Go-Go.
Unless you take the long route down Doheny Drive on the border of Beverly Hills, than your odometer will rack up a full 1 mile.
Yet another legendary rock club situated right in the hub of this fantasy filled patch of paradise.
Mon' Cheri featured a bleach blond bassist named Johnny Martin.
He is the only guy I remember from the band and he has always been very cool to me.
In recent years you have all come to know him as the punky Ramones'ish looking bassist in L.A. Guns.
Yeah, that guy with the bangs.
Who has bangs anymore besides teen girls on pornhub (not that I looked, someone told me) and Johnny Martin.
I haven't had bangs since my freshman year. And they all fell out for good later in life.
Well, except for the ones I had transplanted back into my scalp to the tune of $ 30,000.00.
But more on hair loss later, let's not go bald just yet, it's only 1987.
So…the line of fans is down the block stretching towards Doheny Drive by the time doors open.
Mike the African American doorman is taking tickets as scantily clad (mostly underage) girls, and glammer boys lined up.
Fun Fact: Mike is still the doorman at the Troubadour. Not that I frequent the place like the olden days, but it seems any time I have walked up, Mike immediately recognizes me and puts a VIP band on my wrist.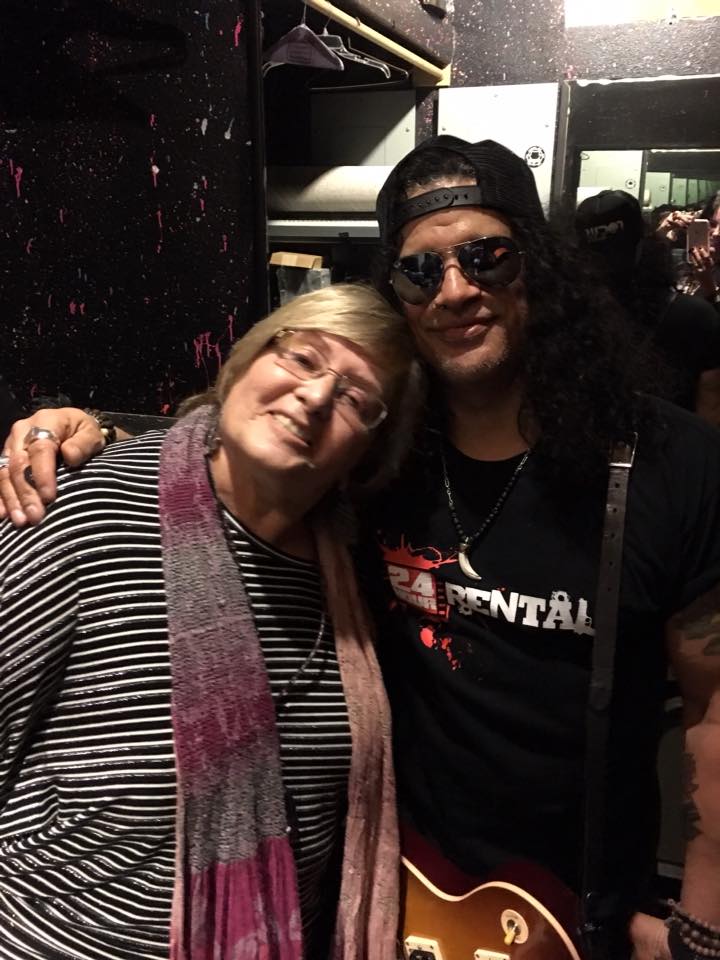 Mike is a true solider of the Hollywood scene, and has likely upwards of 40 years in.
Respect.
It was a Friday night September 25th 1987, and we're about to rock Troubadour.
If you recall in TUFF DIARIES #1, I flew to Los Angeles on June 25th to audition for Tuff.
Exactly 3 months ago to the day.
And ironically it was the very next night I went to see ANGORA at Troubadour. With my first So. Cal. rocker friends, Fredy and Greg from Krystal Gem.
The show at Troubadour came and went, and without sounding like a jerk, Tuff stole the show. I would venture to guess, the other 2 bands may have agreed.
Afterall, we were a super hot, young up n' coming band with backdrops, road crew and more stage clothes than songs.
The house booker, Gina Barsamian known as Gina B, took a liking to Tuff.
Gina B in a recent pic with a man who has clearly not forgotten his roots
I recall many times when Michael and I would go to the club and meet with Gina in her office, during the day.
The upstairs (offices) years later were transformed into a VIP area and lounge.
I remember sitting in that little room, and behind Gina on the wall were black n' white strip ads with dates advertising past shows.
Looking at the wall I saw ads for Motley Crue, Ratt, W.A.S.P., Great White, Metallica, Poison, Slayer and Guns N' Roses.
Now…Tuff was booking gigs at this same club.
It was kind of mind blowing, but I was never…and I mean NEVER star struck.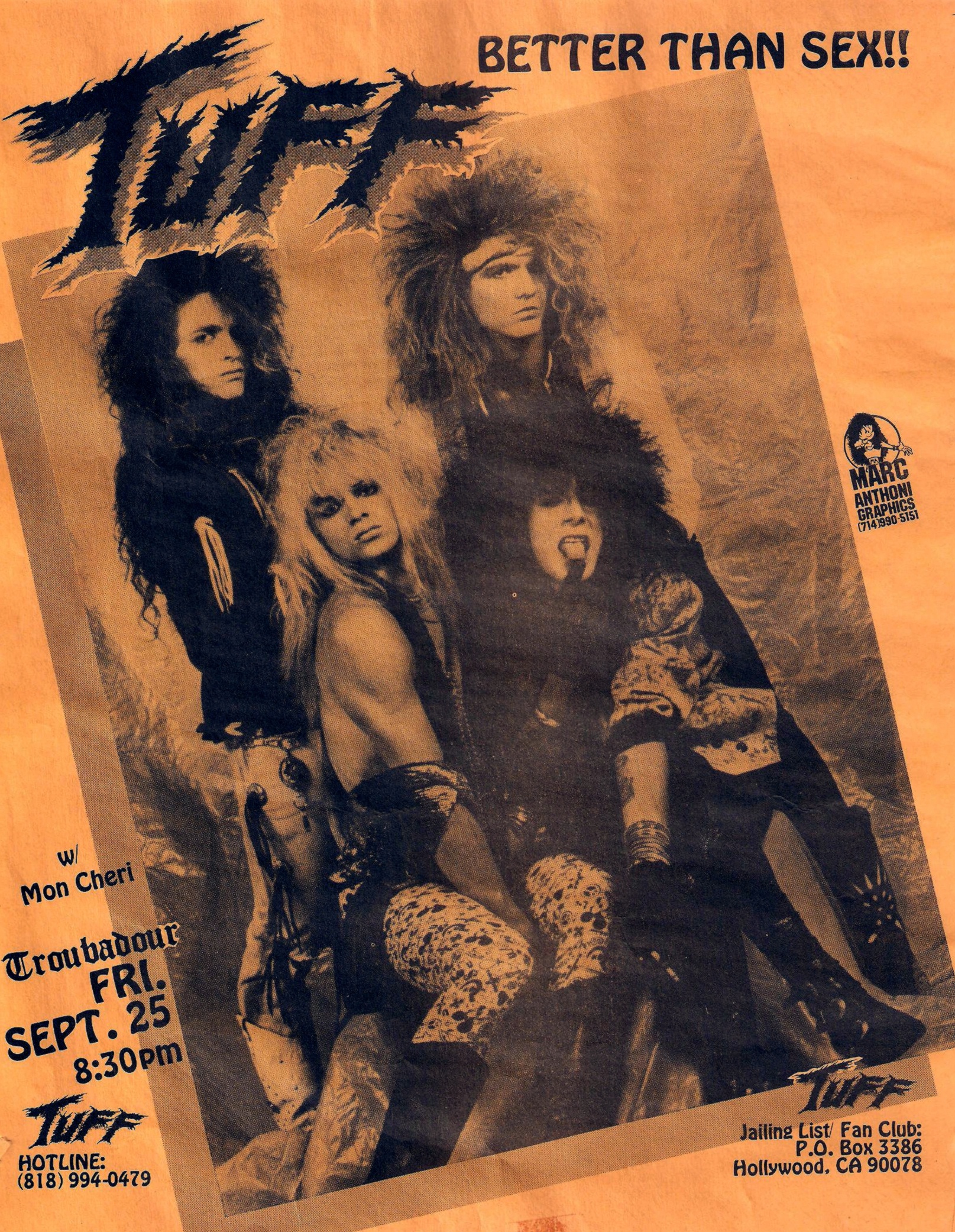 Sure… I'd have a little moment and think, "Wow."
But, I was always grounded. We all were. And in some weird way, we felt we belonged.
We likened ourselves, to being equal with those bands.
Early on Michael would say, "Fuck the local bands. We need to be as good as Motley Crue, Bon Jovi or Aerosmith. Not Hot Wheels and Charade."
Again, no disrespect to anyone. But we realized to try and go where we wanted to go, we needed to be heads n' tails above the locals.
Tuff wanted to be a National or Internationally recognized brand name. Of course over time this would prove to be challenging beyond belief.
Flyer from our Troubadour show Sept. 25th 1987
Michael would also talk about strategy, to achieve what we wanted.
If Warrant was headlining the Country Club on a certain weekend, we would NOT book a show to compete with them.
We were selective. When we played, where we played, who we played with and always tried to get maximun results from our shows.
If we booked the same night as the other hottest bands in town, then there are that many more options, for the fans to attend.
But more inportantly, the label reps and A&R guys to come watch you dwindles when there are 3-4 or 5 other big shows that same weekend.
Again… we had fun, partied, and screwed girls nightly, but this was a business plan from the word go.
Gina would tell us stories about the bands and we'd listen with open ears.
She told us that Poison were so broke and poor, they couldn't pay their rent.
So Bobby Dall would come in and cut a deal with the club,"Pay our rent for X amount of months, and we'll headline X amount of shows".
I also recall seeing some snap shots of live shows and one stood out.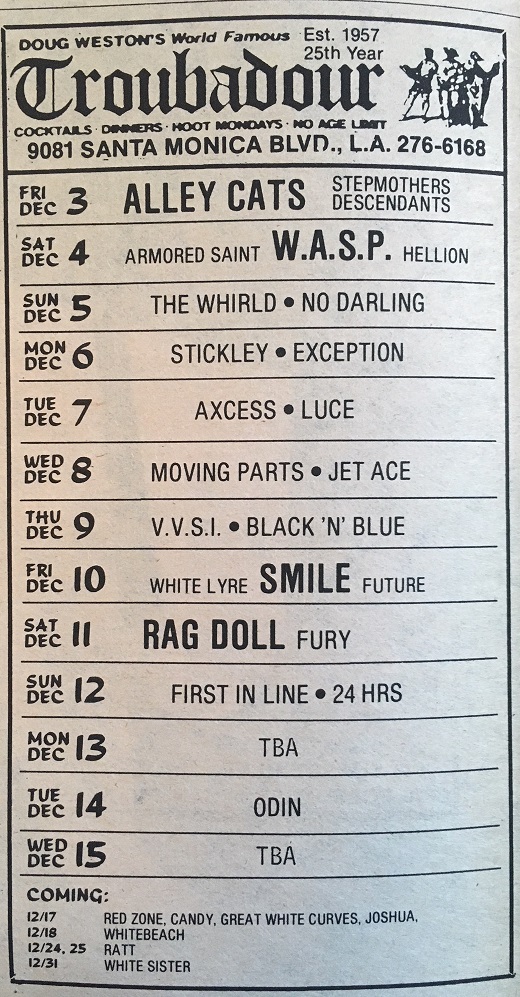 Motley Crue played a show at Troubadour with their full "Shout At The Devil" stage show.
The same Tommy Lee double bass kit, the barbed wire lined amps, those badass B.C. Rich Warlocks, killer stage clothes and ruined city back drop.
This was amazing to me. As this was the show that changed my life back on March 8th 1984 in a huge arena opening for Ozzy.
What was more amazing, was that this place only holds about 400 people.
Troubadour strip ad from around 1982.
In the coming years, Tuff would become a regular at Troubadour. Not only as performers but as guests to shows.
I recall seeing a flyer and it said something like: "Featuring x-members of King Kobra."
We went to the show, but nothing stood out. Just another band, playing to a half filled club and they were forgotten (by me), and probably before I even left the club.
But upon hearing "Smooth Up In Ya" less than a year later, I was soon reminded of who that band was.
BulletBoys hit the charts with that track and wow did they kick ass.
Another show I saw was the band London.
The only thing I knew about this band, was that Nikki Sixx use to be their basssist.
Like a smartass I was saying some remarks between songs from the crowd.
Why? I have no clue.
I was heckling Nadir D'Priest, and didn't know him from a whole in the wall.
This would come back to bite me in the ass.
One night I was in the Rainbow Bar & Grill with a British journalist named Kelv Hellrazor.
Kelv was from London, the city, not the band . He wrote for Metal Forces and other magazines.
Next thing I know Nadir grabs me by my jacket and yanks me into his corner booth.
"Hey Tuff guy, you have something you want to say to me?" snarling with liqour on his breath.
I am now sitting there covered in hairspray, eye liner and pink lipstick and Nadir has a firm grip on my sparkly rhinestone studded jacket.
Nadir was the veteran frontman of one of the strip's most historically famous bands.
It was like the Big Bad Wolf and Peter Cottontail.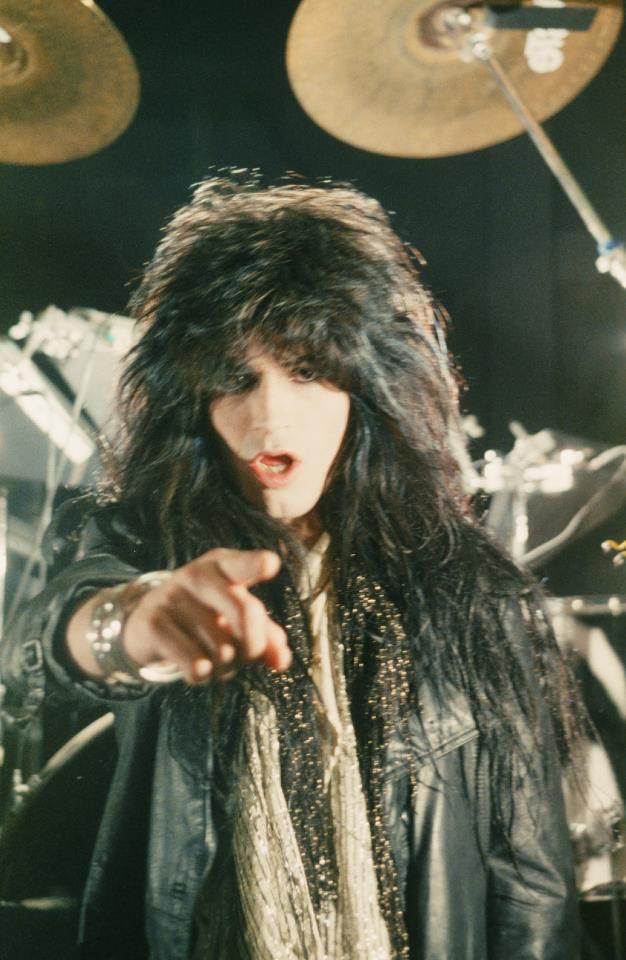 Slash is sitting across the table from us just watching as Mr. D'Priest is schooling me with a quick lesson in Hollywood 101.
He was smiling while he chastised me, but the smile was filled with venom.
Nadir D'Priest of the band London
It was like a drug lord looking down at some punk who had stole from him. And the higher-up realized the newbie had no idea what he had gotten himself into.
So he gives him a pass, but just this once.
Nadir gave me an earful, and an eyefull.
He was 2 inches from my face and in so many words told me, "Be a good boy, or else! Now beat it."
I scurried away fixing my bracelets and necklaces.
As Kelv and I move through the crowded club he asks, "What did you do mate? You don't wanna fuck with him!"
Looking back, fuck, I can't even recall, I probably yelled, "You suck" and threw some fflyers on the stage.
I was just being an idiot I am sure.
Either way, I avoided Nadir like the plague for a long while.
Many years later he stopped me again one night. Only this time it was more like, "You're an okay kid…I like you. You got some balls too. Congrats on all of your success."
Nadir and I are buddies today and there is a deep mutual respect that goes both ways three decades later.
——————————————————————
Our 3rd live show was booked in the band's hometown of Phoenix Arizona.
We played at "The Pride Pavillion" in early October 1987.
The show was with a band from San Diego called Mistreated and held at this indoor roller hockey mini-arena.
I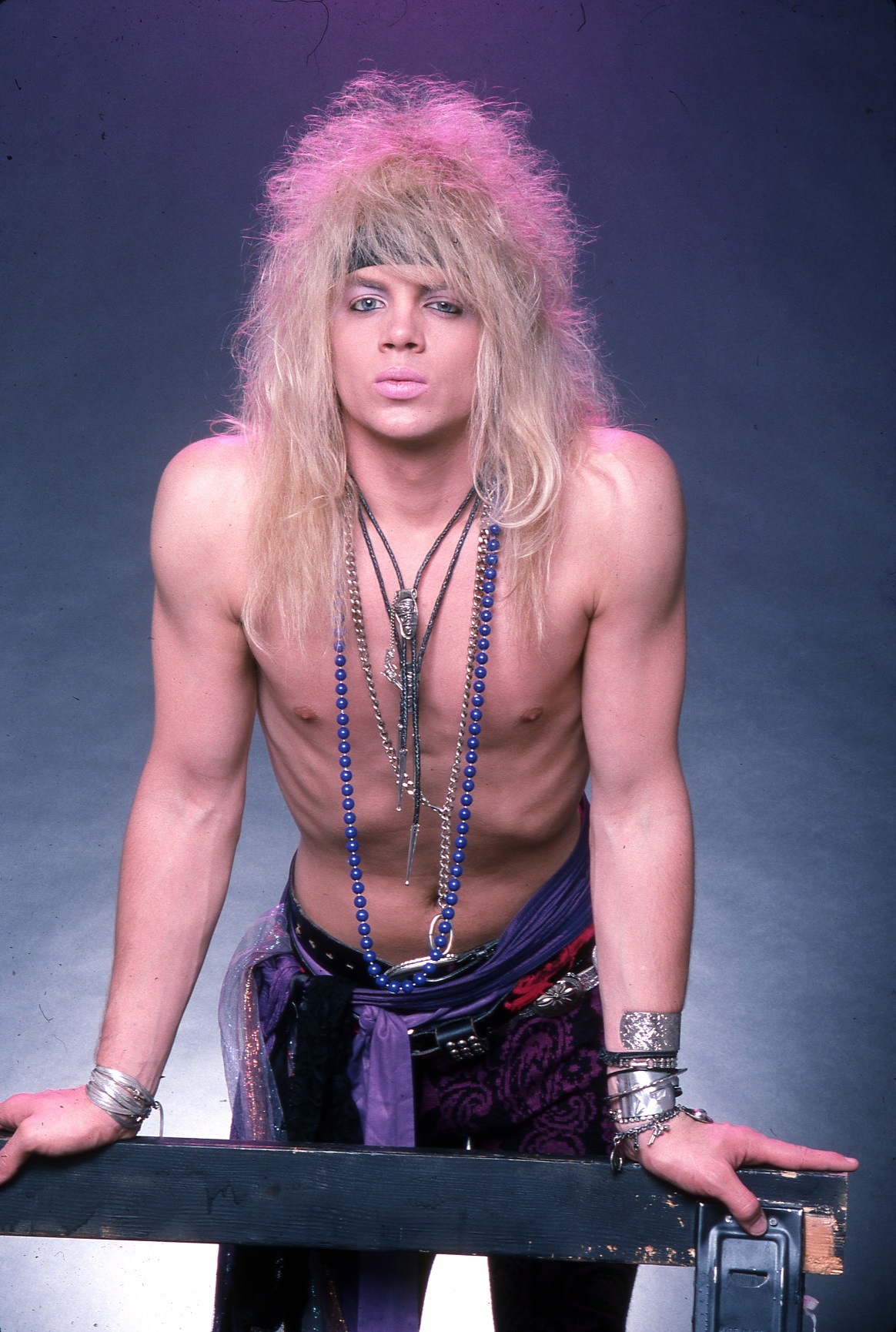 don't remember much about their band except sometime after this show, 3/5th of that group moved to L.A. and formed Asphalt Ballet with Gary Jeffries.
My only recollection of that band was the band's drummer Mikey Kiner, along with their guitarists.
All really good guys but the singer they left behind looked like he should have been fronting Honeymoon Suite.
Stevie Rachelle photo by Beth Nausbaum for Rock Scene magazine
Tuff would play the 602 area code often and there were shows at "Rockers", "The Mason Jar", "Electric Ballroom" and many others over the next near decade.
My first memories of Phoenix were, "Holy fuck it's hot here" and "Holy fuck are the chicks hot here."
I also recall there were a lot of friends of the band, who did cocaine.
And every time we came back, it was guaranteed that Todd and Jorge would do endless amounts of coke.
But I will say, it never affected the shows. Or the process of being in the band.
At least not yet, and there were never any super crazy incidents … like, it being so bad that we (Michael, myself and the crew) were wondering, "Where the fuck are Todd and Jorge?"
Haha… nope none of that.
I mean they partied hard. But it was always, band (business) first.
They both respected the band, the fans and did their job very well.
But after the show, it was a fucking snow storm in the middle of the desert!
There will be many crazy tales about visits to the triple digit Arizona heat, but for now we're going back to Southern California.
——————————————————————
It's now mid October 1987 and Michael is hard at work selling our band.
To magazines, to promoters, to anyone who would listen.
Michael was also a student of Debra Rosner.
Not really a student, but he befriended this local Hollywood publicist years earlier.
He would call Deb and ask her 100 questions and she was always accommodating to what I am sure at some point, became annoying calls.
Why annoying?
Well, she was the publicist for Poison, who had just sky rocketed to multi-platinum status in the previous months.
So Deb was in demand, and had a lot of bands in her ear. Tuff included.
After Tuff had played a few shows, appeared in a few local papers and strutted our stuff in the most famous rock clubs in the world – we (Michael was) were getting business cards and phone numbers almost daily.
This included companies wanting to endorse us, magazines wanting to interview us and professional photographers wanting to shoot us.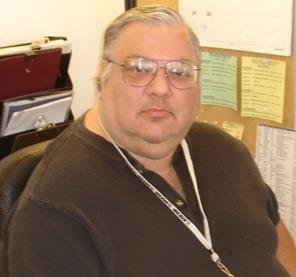 Our look, our sound and style was EXACTLY what the labels, and magazines were looking for.
If we didn't get approached in person and handed a business card (with a pitch), then the Tuff Muff Hotline served us well.
That is, beyond the girls calling us, or the other local bands pranking us.
One call that stands out was a voice mail on the Tuff Hotline from a known industry veteran named Kenny Kerner.
Kenny Kerner, a great man who was one of the first to believe in us
I had no clue who he was, but in time I would learn he produced the earliest Kiss records.
He was also good friends with Kiss' former, and current (at the time) Billy Idol manager Bill Aucoin.
Kenny was also the editor of Rock Scene Magazine.
Along with Zing, Rock Hunks, Metal Mania, Teen Machine and many others.
Kenny in short.. LOVED our band. And it was evident, he loved me the most.
Michael returned the call and set up a meeting for us to meet Kenny Kerner at his Sunset Strip offices.
I remember it well, Michael and I sitting in this high-rise building, and a heavy set 40-something (I am guessing was his age in the late 80's) man wearing glasses talking to us.
Kenny was from Brooklyn, well spoken, smart and name dropped all the names he had worked with.
Those names ran the gamut, Kiss, Gladys Knight, Badfinger and more.
I can vividly recall Kenny saying; "We are going to do a special issue, with all the hot guys in the magazine. Jon Bon Jovi in a bubble bath, Mark Slaughter with his shirt off, and you too… you will be in the same issue."
Kenny is pointing at me and then explains he wants me to wear a speedo, maybe a beach towel and I will be lifting weights.
I recall thinking, "This sounds gay as hell."
And also, "There is NO WAY Jon Bon Jovi is doing this."
Fast forward, Jon did do it.
So did Mark Slaughter, Kip Winger and me as well.
There is a shot of Kip Winger in a red speedo, as that issue's Hunk Of The Month. Google it if you dare.
And all these Tuff pics, just like Kenny had told us, ended up in countless issues of nationally published magazines.
I have a copy of one of the zines that has Brad Pitt, myself and some others in the "rising stars" section.
There were pin-ups, 2-3 page feature stroies and our P.O. Box would be listed for fans to write.
Our incoming fan mail EXPLODED.
Some of those infamous towel pics were part of these articles too.
Sure those are silly to look back on, but it's been 3 decades since. And honestly, I have never been ashamed of it.
A little embarrassed, sure…but no regrets.
Those pics are me in all my glory at 21, oh well.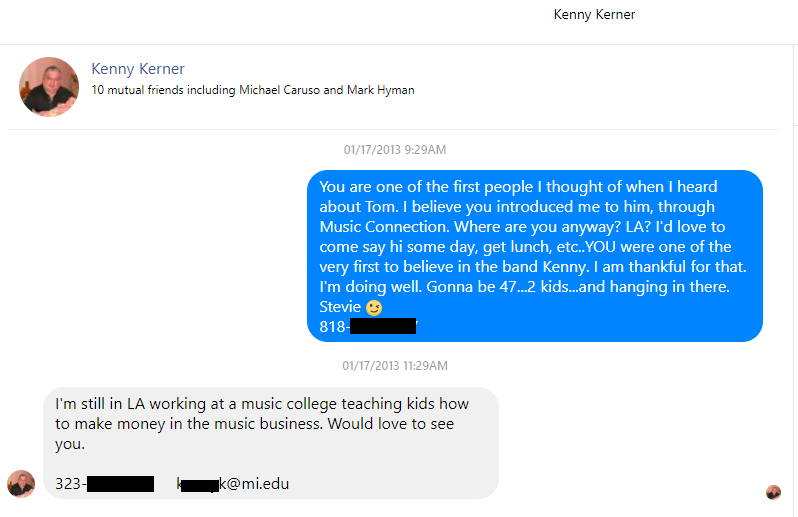 It's like looking back at pics of yourself in 4th grade and seeing your Mom dressed you in Garanimals at a K-Mart photo shoot.
Truth is, those pics from all of us, are amazing and people drop them on social media all the time.
We left the meeting and in a few weeks' time we were doing photo sessions with name photographers.
I got in touch with Kenny in 2013 and wrote him this message.  Kenny replied ASAP. We never did get lunch, and I regret that. In 2014 he passed away at 66. Kenny Kerner you are missed my friend, you helped us in so many ways – I thank you. 
I think it's safe to say, in some way Kenny Kerner discovered us, just like he did Kiss.
Kenny remained our friend and always gave us great advice.
He even invited me to be a guest speaker at UCLA where he was teaching.  I talked to kids about the music industry.
Kenny also put the band in Music Connection several times, where he was the editor for many years.
It was at Music Connection's Hollywood offices where we first met Bill Aucoin early in our career.
There was some interest for him to manage us, but nothing ever came of it.
We had heard rumors that Kenny and Bill were both gay.
We heard the same about David Geffen and other notable industry types, but it didn't bother us.
These were all good men (in our eyes), who were making history with bands they had worked with and discovered.
I also knew that I was the eye-candy here and everyone (in the band) joked about it.
The guys would say stuff like, "You might have to get fucked in the ass, for us to get a record deal at some point" and they'd all laugh.
Well that never happened, but some other sexually related business dealings did happen soon after.
————————————————————
Around this same time, late September or early October we got another call.
A promotions company named Razmatazz Productions was interested to book Tuff.
This time, at the world famous Whisky-A-Go-Go.
The company's promoter was a teenage girl named Janie Liszewski.
She offered us a headline show, and a guarantee of $ 500.00.
The date was set for November 6th 1987.
Tuff was officially a Sunset Strip headliner. We had only played 3 shows in total, 2 of which were in the Hollywood area.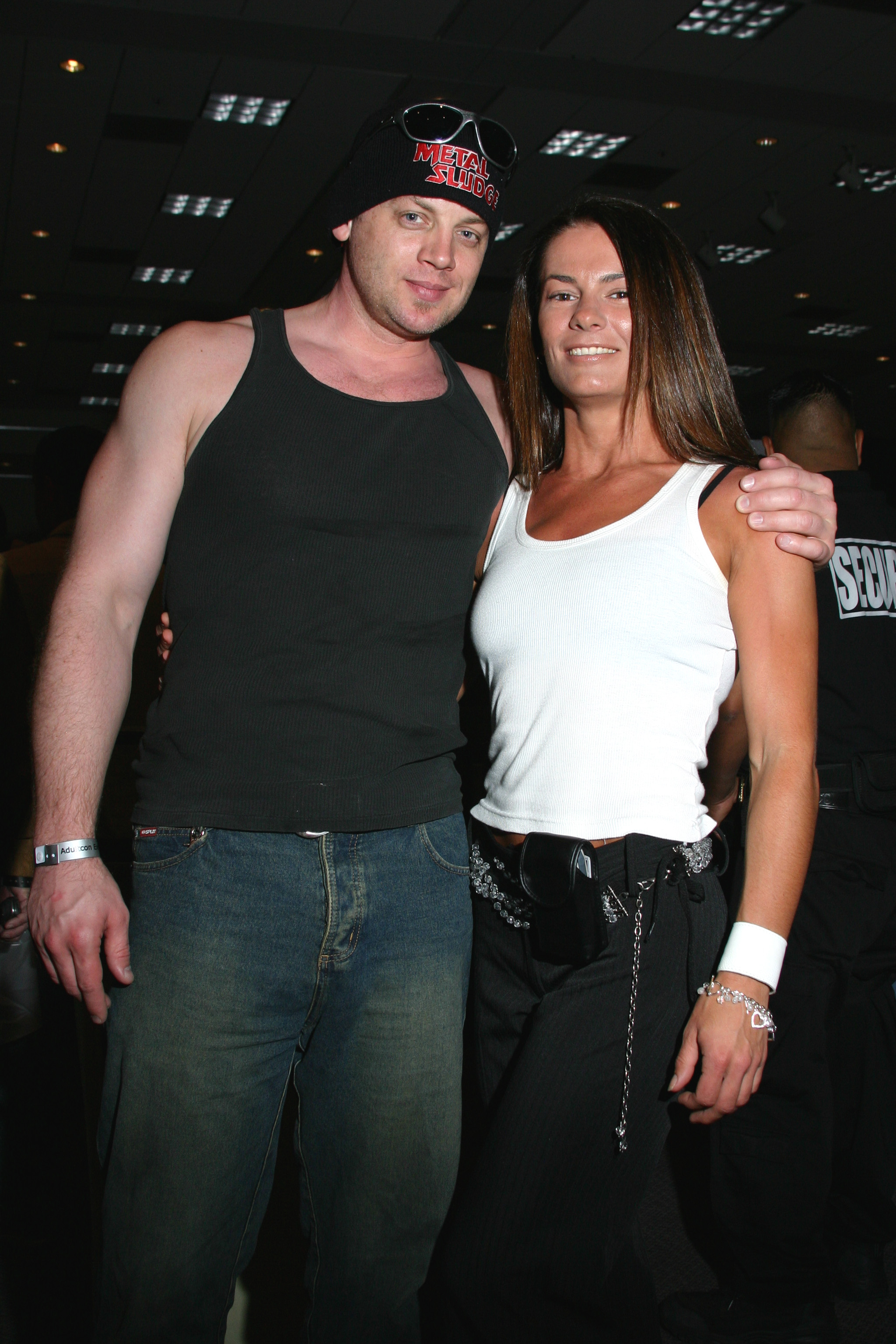 Jane was a very sexy girl. She had looks, a body and brains too.
Did I mention her body?
And her brains?
Even at 17, she carried herself like a much more mature woman.
Sure she loved all the rocker guys, or at least it seemed that way. But she was ALL business.
Talking contracts, noting costs to put the event on, offering of our(cash) guarantee, our deli tray and more.
Janie Liszewski and I mid 2000's.
Jane and I had dated casually and had become friends too.
I recall one time having sex in her bedroom, and we were both really sweaty. I wanna say it was out in Santa Clarita, close to Magic Mountain and her little sister had just gotten home from school.
I mostly remember her dark brown eyes and wow… she was so attractive.
Kinda like a Charlie's Angels type of look.
We had some flings, if you wanna call them that, but we never became a super-hot item.
Besides, I was just getting started in life, and she the same.
I do remember her taking me to her Mom's work once. At a porn company. Or maybe it was a sex toy warehouse.
I remember walking in, Jane introducing me and the women's desk had dildos on it.
Like a bunch of them and employees asking her questions about filling orders with new products.
I was a little shocked for sure, as my Mom never worked at a dildo factory. They don't have those in Oshkosh.
Jane didn't spend much time promoting as she was soon acting and doing work as a stuntwomen.
She was always in incredible shape, like a fitness model type body.
I have remained friends with Jane for years and imagine my surprise when in 2009 I see her picture on the cover of every internet page and entertainment magazine.
Jane is now married to Eddie Van Halen.
She is still beautiful as ever, fit as ever and I have no doubt smarter than most men in the room.
Tuff headlined the Whisky that Saturday night in early November and the show was recorded on a hand-held VHS camera.
It's still floating around and wow…what a train-wreck we were. Lol.
Yeah, we had stage scrims, garbage cans on stage full of porn magazines, we did our choreography and shot off silly string too.
But hey, this is exactly what all the fans, especially the girls wanted.
The set included songs from the band's debut release "Knock Yourself Out" among others.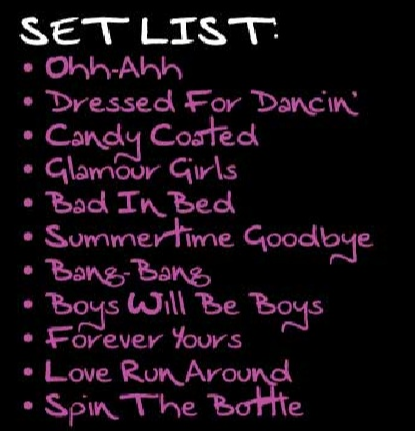 Some other mega hits we played that night were, "Bad In Bed", "Spin The Bottle" and "Boys Will Be Boys."
Whisky-A-Go-Go set list for Tuff November 6th 1987
Our Hollywood live shows, and nightly hangs included getting our photo taken by a local guy named Ruben Blue.
Rueben was the owner/editor of Hollywood's coolest rock zine.
ROCK CITY NEWS.
Rueben was a fan of ours, or at least appeared to be and supported us in a big way.
There were reviews of our shows, and tons of pictures.
The bi-weekly paper often featured sections with just photos of all the band members, the groupies, local people, promoters and more – just hanging out.
Tuff was sure to be somewhere in almost EVERY issue of Rock City News.
At the same time there were other zines that helped make the scene go.
L.A. Rock Review, which was run by a cute girl named Kelly Q. But her zine was geared a little bit more towards the goth, punk or edgier side of Hollywood's scene.
Kelly also gave Tuff some love, but we didn't fit in with Pigmy Love Circus, Janes Addiction or the Sea Hags.
BAM was also on the streets, and in reality was bigger than ALL, but BAM catered to the whole industry in general, not just the glam bands. Stories on Tom Petty, Ice T, Melissa Ethridge and more.
Getting in BAM was less likely, unless you were noticed by John Sutherland, who wrote a column. I want to say it was called, Molten Metal, or something like that.
John did take notice of us at some point and gave us a few mentions over the years. Even nthough I'd guess, at some point there were a few blurbs, but wth a slight or slant saying something like, "The Poison wannabe locals in Tuff…" blah, blah, blah.
Most of the time, we didn't care.
We subscribed to the any press, is good press theory.
Looking back, there were endless magazines, probably a few dozen or more throughout the 80's and into the early 90's.
But most didn't last more than a few months.
Other stand outs over the years were Screamer and Hollywood Rocks.
——————————————————-
Somewhere along the way in late 1987 I recall being approached by a lady on the Sunset Strip.
"Hey, what's your name? I want to interview you."
A dark haired strong hard stare lets me know, "It's for a movie."
This women was Penelope Spheeris.
She was filming "The Decline Of Western Civilization – Part 2 The Metal Years."
And Tuff, well we stood out among the throng of hair and scarfs.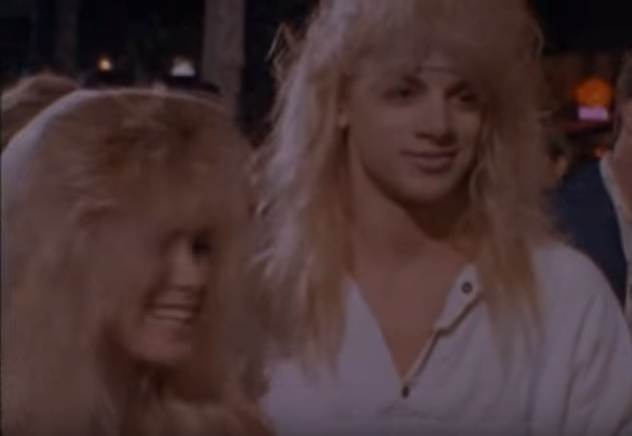 Before I could react a camera crew was on me and she was firing off questions.
I was standing with Michelle.
Michelle was gorgeous to say the least, and I recall her being in the Miss California pageant.
She was from Upland, about 18 or 19 and stunning beyond words.
Michelle a Miss Gazzarri's dancer, and me on the Sunset Strip in 1987 being interviewed for Decline Of Western Civilization – Part 2 The Metal Years
As I stood with my date for the night, Penelope asked and I answered.
A few of those clips made the movie along with a more in-depth interview.
Michael and I were chosen to come to a studio and were featured in the documentary along with Kiss members Paul Stanley and Gene Simmons, Poison, Dave Mustaine of Megadeth, Alice Cooper, Faster Pussycat and of course… Odin!
Back to Michelle, I recall one night she came back to the Tuff Muff Mansion with me.
It's late fall 1987, and we went in the apartment's hot tub for a while.
After a quick late night dip we went into my room and started fooling around,
I remember she was so beautiful, super tiny and blond.
Just a flawless looking beauty. The type Hugh Hefner would have made a Playboy Playmate.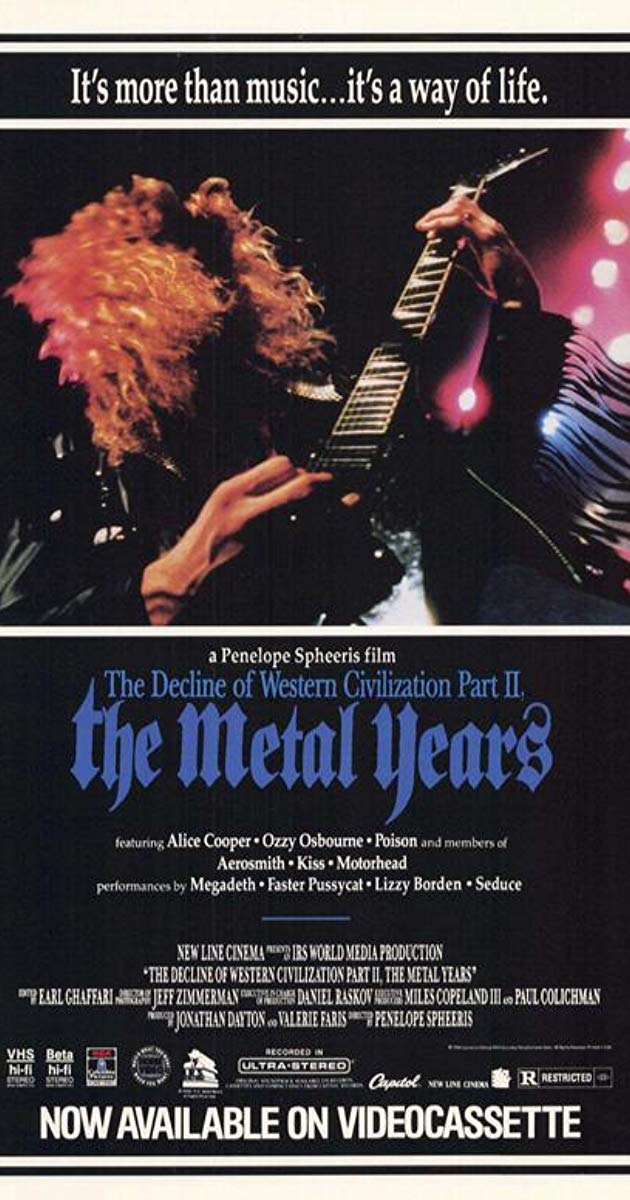 She was also in the Miss Gazzarri's dance contest and that was a big deal.
It was 1987, and let's be honest, to a rocker dude this was epic stuff.
We are now makingout, rolling around and soon enough I am down between her legs.
I am looking up at 98 pounds of pure perfection as I bury my tongue deep into her pussy.
She is moaning and groaning and reaches down to run her fingers through my long blond hair.
I am eating her out, she's in the moment and seems to be loving it.
As was I.
Then suddenly I feel her hand on the back of my head, and now her fingers are clearly discovering the rows of hair extensions sewn onto the back of my head.
She didn't say anything, but her body language was suddenly a little bit like, "WTF!"
I fucked her silly that night and the next morning she was back to Upland – a suburb East of Los Angeles by an hour or so.
I don't recall more than a few dates with Michelle, but that's okay because what lays ahead (literally) was an endless wave of beautiful girls and women.
All ages, all hair colors and from all over the planet.
In short, when it comes to women I have lived a life that most men can only dream of.
No joke.
I do not say this to brag, but only because – it's true.
I lost my virginty when I was 15 and before I was 20, I had sex with upwards of 100 girls.
Many of whom I had met working at Mister Donut, Warehouse Foods or riding my skateboard.
These relationships in Wisconsin (if you wanna call them that) were mostly before I was even in a band. Or had moved to California.
What I didn't drink in booze, smoke, snort or shoot – I made up for, in girls.
One thing seemed to have been a common reaction from my dates, was that I was a very good lover.
Again, I am not bragging … just saying.
I have been in love many times, and have had a lot of great friendships with many amazing girlfriends over the years.
If this was called the SEX DIARIES, there would be hundreds of entries.
Being totally honest, I loved sex and could not get enough of it.
After moving out West, and going on tour – I went super sonic.
Looking back, I am sometimes in awe of what I did.
——————————————————–
The year is coming to an end and Michael books us 1 more show for December.
This night, will be our 5th show and we will support the band Leatherwolf.
The show was December 6th at The Roxy and like any other weekend show, the place was packed.
One thing comes to mind, that their road crew were kind of being dicks. But that's par for the course.
I can't recall much else, other than we weren't exactly a match with these metal head types, but we got along nonetheless.
If memory is correct, I think this was a Jennifer Perry Presents show.
Perry was a name promoter who worked for Avalon Attractions.
She also had dealings with Sharon Osbourne and Wendy Dio. All powerful women in the music business.
These were the early baby steps and big (little) victories for our band getting recognized by larger promoters.
Those who were putting on concerts at The Palladium, The Palace, Santa Monica Civic Center and Irvine Meadows.
——————————————————
It's now normal in life to see rock stars while living in California.
I mean, I am from a small town west of Lake Winnebago in Wisconsin, where the population was just over 50,000.
So running into guys I have only seen in magazines or on TV was pretty cool.
In addition to rock stars, there were movie stars too.
Like I mentioned earlier, I was never star-struck but it makes you realize how normal we all are.
Everyone eats, sleeps, shits and a host of other things.
I recall the 1st time I went into the Cathouse. This is the original location, at 333 N. La Cienega.
I walk in and standing at the bar is Charlie Sexton.
Rock-a-Billy looking, his cool hair, dressed in all black with a drink in hand.
I said;, "Hi" and he nodded.
This was normal.
In my head I say, "Hey, that's the guy that sings…"Beat's So Lonely" as I hum to myself.
I also recall seeing John Waite at the Rainbow, on the pay phone. In my eyes, the only cool red head to ever front a rock band.
Remember, this is many years before cell phones.
Here is an odd one for ya.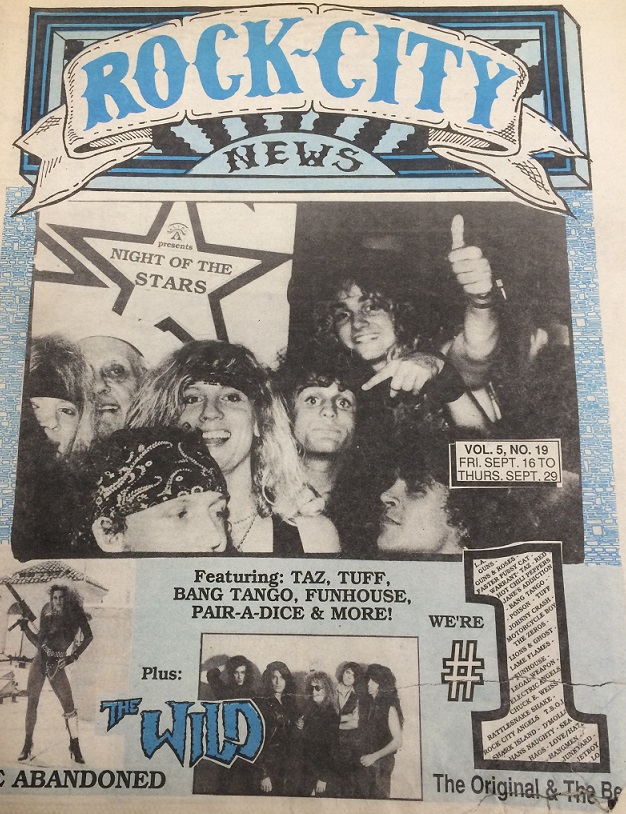 It's day time, and we're in Hollywood. I don't recall why, likely putting flyers out, running errands, etc..
I am standing on La Brea, just south of Sunset and a Mercedes slowly drives by.
The driver, Fred Sanford.
Redd Foxx, in a red-ish (more maroon in color) Benz just rolling along.
My mind flashes back to countless times I had watched Sanford and Son after school as a kid.
All of these guys, well… they are just normal people living their lives in California.
Just a guy having a drink, another making a phone call and the other, driving his car.
I am in California too, and from day 1, I have loved it here.
I still do to this day.
This is my home.
An issue of Rock City News from 1988 and what's to come for Tuff. On the cover are Left to Right: Stevie Rachelle (Tuff), Bill Gazzarri, (lower) Sid from The Wild, KK from Taz, Todd Lane of New Haven, (upper) Billy D'Vette of Pair-A-Dice and (lower) Doug "Dr." Star.
1988 is right around the corner and to say it was a fantasy at times, is an understatement.
I have tasted nearly everything from the Willy Wonka Chocolate Factory of Rock.
In the coming year we will play 2 dozen shows and share the stage with Vain, Vinnie Vincent Invasion, Warrant and The Zeros.
As I tell you my story, you will see that I have (almost) been to the Mountain Top of Rock n' Roll.
But then again, who's to say what the Top is? Maybe my top is different than yours.
EIther way, I am here and happy to talk about it.
Stevie Rachelle
Message from the author.
People have said to me for years, "You should write a book, I'll buy it."
That's not likely going to happen… not anytime soon at least. But if you are down with my blogs, my band or my various projects – I say thank you. 
I have self-released roughly 50 projects on CD. Cassette, VHS, DVD and Vinyl since 1994. All on my own. Without any label support. None. 
I have also kept Metal Sludge alive, afloat and online since 1998. For Free. You cannot imagine the workload a website of this magnitude can be.
No Kickstarters, no Go-Fund Me, and no Pay Me now and I'll make a CD in a year and send it to you later. 
I am also self-managed, self-booked (most of the time) and 100% self reliant. A 1-man gang. 
If you want to support in anyway, buy a CD or Vinyl record from me, or a T-shirt. Or send me something direct via Pay Pal.

I am not begging. I am not sick and no hospital bill. Nope, just continuing my service to the fans that support my Rock N' Roll. 
My direct Pay Pal email is Sludgeceo@gmail.com – send a dollar, send ten or send fifty. Send whatever you like, or nothing at all. 
Many independent websites have Donate buttons, Metal Sludge has NOW added one, Top Right of this page.
No pressure, but hey, it's an option if you care to do so. 
Thank you for all your loyal support of my projects.
There is more to come, more blogs and more music too. I have something in the can now it just hasn't been packaged just yet. 
Thank you again and all of your support is greatly appreciated. 
Stevie Rachelle
Read my previous blogs linked below, numbered and dated.


Entry #1  How I Made My Way To California, 31 Years Ago Today  (June 25th 2018) 
Entry #2  My First Meeting With Tuff, "Is That All Your Real Hair?"   (June 29th 2018)
Entry #3  Tuff audition, Jim Gillette screams, a near fist fight & our debut show  (July 5th 2018)
Entry #4  The Metal Years, Famous People, Cocaine, Kiss & Sex with a Miss Gazzarri's Dancer  (July 14th 2018)
Entry #5  Guns N' Roses, Del James, 1988, Sound City, Strippers, Crabs & You're Fired!  (July 30th 2018)
Entry #6  Summer on Sunset, Vinnie's Invasion, Tracii's Glue Gun, Vain & Sex by a Dumpster (August 11th 2018)
Entry #7  MTV's NYE Big Bash, Riki & Taime's Cathouse & My Girlfriend was a Poster at Spencer's (August 20th 2018)
Entry #8  Jon Bon Jovi, Sebastian Bach, Rick Rubin, Howie Hubberman, BulletBoys & Gazzarri's (Sept. 16th 2018)
Entry #9  Summer Tour '89, Andy McCoy, Def Leftovers, Max the Model, Z-Rock, Tommi Gunn & Lit (Oct. 10th 2018)
Entry #10 Goodbye 1989, Jessica Hahn, Skid Row, Martha Quinn, Young Gunns, Flyer War & Cock-Rings (Nov. 9th 2018)
Entry #11 Hello 1990, Texas, Britny Fox Tour, Strippers, Hells Angels and Atlantic Records signs Tuff (March 24th 2019)
Entry #12 Ready to Record, Howard Benson, FM Station, Jani Lane, Court hearing & my 1st Playmate  (June 2nd 2019)
Entry #13 Recording our Atlantic debut, Bret Michaels, Kane Roberts & Sex is fine, but no sleepovers (Aug. 27th 2019)
Entry #14 New York City, Mixing our Record, Publishing Deal, Video Shoot , Cherry St. & Tigertailz (March 25th 2020)
Entry #15 Hello MTV, The Nelsons, Jason Newsted, U.S. Tour, London & our Stolen Ryder Truck (May 19th 2020)
Entry #16 Lita Ford, Jason Flom, 75+ Shows, Cocaine, a Lawsuit, Sweet F.A. & the Freeway Fight (July 29th 2020)
Entry #17 Hello 1992, Gene Simmons, More Money, the L.A. Riots, a New Bassist & Jason Flom Part II (March 20th 2021)
Entry #18 WildSide, Dee Snider, Tour Drama, Baywatch, New Label Search and Living in Reseda (Aug. 21 2021)
Entry #19 Michael Resigns, River Phoenix, Thirsty Whale, He's Got a Gun, Stolen Van & Danny Quits (Jan. 16th 2022)
Entry #20 1994, Northridge Earthquake, Kurt Cobain, RLS Records, releasing "Fist First" (May 2022)
Tuff @ Facebook –  eBay – Amazon– iTunes – Instagram – Twitter – Store – Discogs – YouTube –
https://www.youtube.com/watch?v=R8VlhMHOPvw&t=1672s