TUFF DIARIES #8
Jon Bon Jovi, Sebastian Bach, Rick Rubin, Howie Hubberman, BulletBoys and Gazzarri's
Skid Row, Dave "Snake" Sabo, Steve Brown of Trixter, D'Molls, Jailhouse, Guitars 'R Us & Jim Torgeson.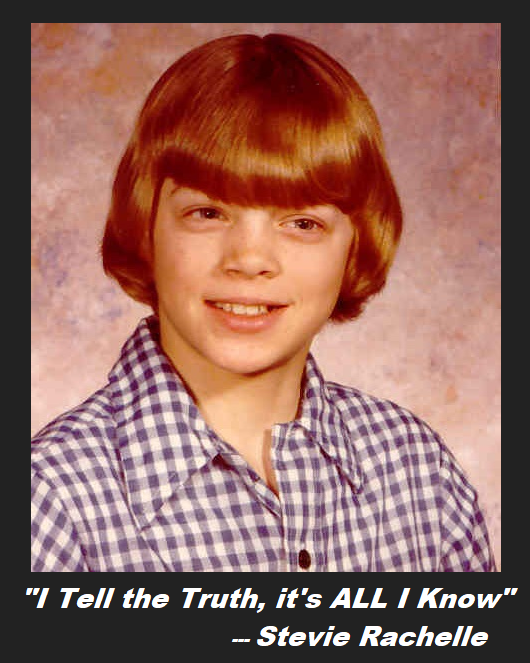 — Welcome to 1989….
It's early January and Tuff kick off the year with a show at The Marquee in Westminster California.
This venue is only 35 miles from Hollywood, or about 50 miles from where we lived in Van Nuys.
But in traffic, this was an eternity away.
Also, the Orange Curtain as it is (was) sometimes referred to is kind of a dis to the area.
Being from Hollywood, or Los Angeles was more respected to some select individuals.
Similarly people from the city or the beach communities would mock you if you lived in The Valley.
Funny how a city or county border could pigeonhole you, but that was the case.
In the 90's the punk and KROQ bands who had success put an end to that dis, especially from the entertainment industry when they started selling millions.
By that time, being from Hollywood or L.A. was the exact opposite, and in some ways a curse.
Anyway, back to 1989….
So the first several weeks of the year we returned to Oakland and headlined The Omni.
We also went into San Bernardino County and played The Green Door in Montclair.
This is another suburb about an hour South of Los Angeles.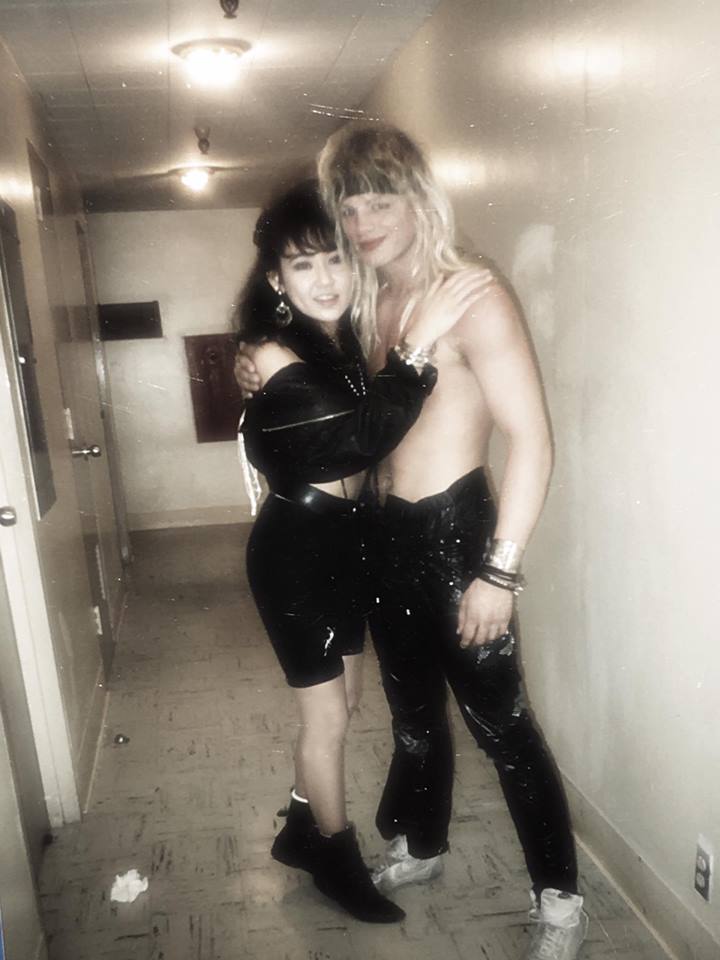 On this show we played with Fiona.
Anyone remember her?
A few weeks later we hit San Diego and play Club Mirage.
After a handful of warm-up gigs we are anxiously awaiting our upcoming Los Angeles area show.
Next we are playing Santa Monica Civic Center on Feb. 25h 1989.
The Civic Center will be the biggest venue we have ever performed in as the capacity is 3,000 people.
This is a legendary venue that has hosted shows featuring: David Bowie, Prince, The Rolling Stones, Black Flag, Bob Dylan, Frank Sinatra and Eric Clapton.
Also, one of Motley Crue's first mega shows was held here on New Year's Eve of 1982 to a sold out crowd.
The show tonight will be BulletBoys, D'Molls and Tuff.
Backstage after the Tuff set at Santa Monica Civic Center February 1989, with my dear friend Crickett.
I recall being side-stage during soundcheck and Marq Torien was standing there.
I had never met him previously but went up and introduced myself.
Marq was a bit short with me, but also seemed to be in a good mood.
He had a right to be happy as their debut record had just went Gold off their hit single "Smooth Up In Ya".
He then said something like, "We gotta put this thing on the map" and walked away.
I recall the feeling I had that night just before Tuff went on stage.
It was the first time I had experienced that "arena feeling" when the lights go out.
The house lights were still on, music was playing and then suddenly the music fades, the lights go out and the crowd roars.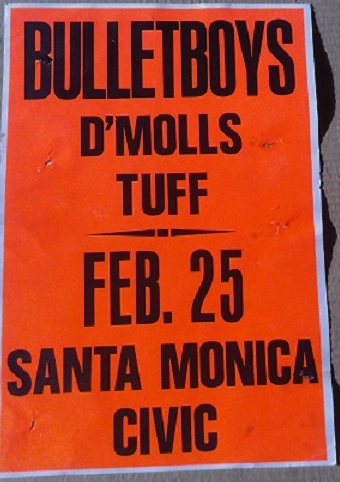 It literally gave me goose bumps as I typed that line.
This wasn't a club, or a bar.
Nope.
It was a mini-arena and the place was already packed with 80's rock enthusiasts.
Michael's drums sounded like canons and Jorge's guitar was searing through the P.A. system.
Tuff played a short 30 minute set, and the fans went crazy.
But sadly, as soon as it started – it ended.
It was like a DRUG.
Standing on stage in front of thousands, as they cheer you on and scream your name.
You feel as if though you are invincible.
It's a feeling that I can't describe, and when it goes away… you want it some more.
This is the additicion that is being in a band and longing to succeed.
Chasing that high that you felt the first time and wanting it again, and again.
It's late 2018, I am 52 years old and still want that high.
———————————————
Over the next few months Tuff would play several more shows. Each in a different town, some new and some we are revisiting.
The day after I turn 23 we will play Chexx on March 3rd in Santa Fe Springs.
On March 24th we return to The Omni in Oakland.
Our draw in the Bay Area is killing it and we are here almost as often as we are playing in Hollywood.
April 3rd we take a show back at Troubadour in West Hollywood.
Two weeks later, we're back at The Marquee in Westminster (Orange County).
A week after Orange County we are at The Green Door in Montclair on April 21st.
Looking back I remember club names and little things that took place. But so many of these become a blur.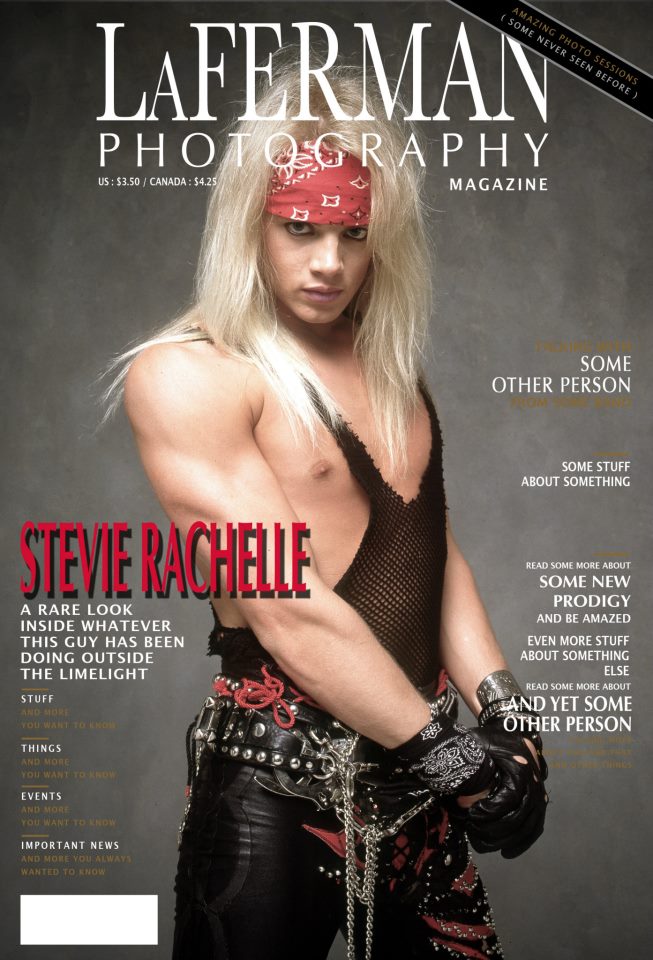 Roll into a town, do sound check, get some motel rooms, eat, shower and get ready for the show.
After the show our crew would tear down while we met with fans, signed autographs and sold merchandise.
Stevie Rachelle photo by Glen La Ferman circa 1989. 
And then there were the girls.
Picture a Great White Shark (me), and a group of little Baby Seals (the girls).
They froliced, laughed and would do their best to get our (my) attention.
And at the precise moment I would move in for the kill.
Of course the kill was a kiss, a blow job or full on sex.
This took place back stage in dressing rooms, on the bus or in our motel room.
Sometimes there would be 2-3 kills in one night.
A girl early in the evening, in back of the bus. Another after the show, in the dressing room.
Then at 2:30am there would be a solo seal wondering the motel hallways.
This usually happened after a small group of seals (friends) got separated.
Usually if there was a pair, one would end up with Jorge, and then the other was targeted by Michael or myself.
I am not writing this to talk ill of girls, or women at all.
Nope, I love girls and have shown great respect for everyone from casual fans, to the one nighters and life long friends.
But being youthful and living life included this stuff.
Sex, drugs and rock n' roll.
I didn't do the drugs or the drinking – so I just had three times as much sex as the other guys.
It's funny to think back that we were all so young and a bit crazy.
But clearly there was a fair amount of organization as well.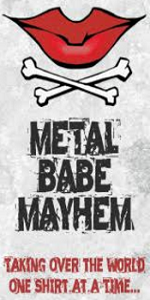 I've mentioned our ages before, but in early 1989 I was 23, Todd and Jorge were 22 and Michael had just turned 21.
Yet we were rolling around in $300,000.00 tour busses like rock stars and living a life beyond words.
Being in Tuff was not a garage band or even a Hollywood local band either.
Nope, we were building something that over the next 3 decades would take that jagged logo and songs to 25+ countries around the globe.
And I have stood front and center every single night. It's been hard work, a lot of fun and I couldn't write it all in 10 books muchless 1.
In 1989 the band will play upwards of 50 shows across the West Coast and into the Mid-West.
This is half of what we will play in the coming years and it only gets better.
Then worse, much worse.
Being in Tuff was like riding a rollercoaster – without seat belts – while it was on fire.
————————————————
Our next manager and stacks of cash.
It escapes me on how or when we first met Howie Hubberman, but by early 1989 he was basically our manager.
For those who don't know, Howie managed Poison up through their record deal with Enigma.
Howie also managed local legends The Zeros, Nitro and had his hand in a slew of other super successful bands along the way.
He also owned (with a partner named Albert) Guitars 'R Us on Sunset Boulevard.
His guitar store was directly across from Guitar Center, and right next to El Compadre Mexican Restaurant.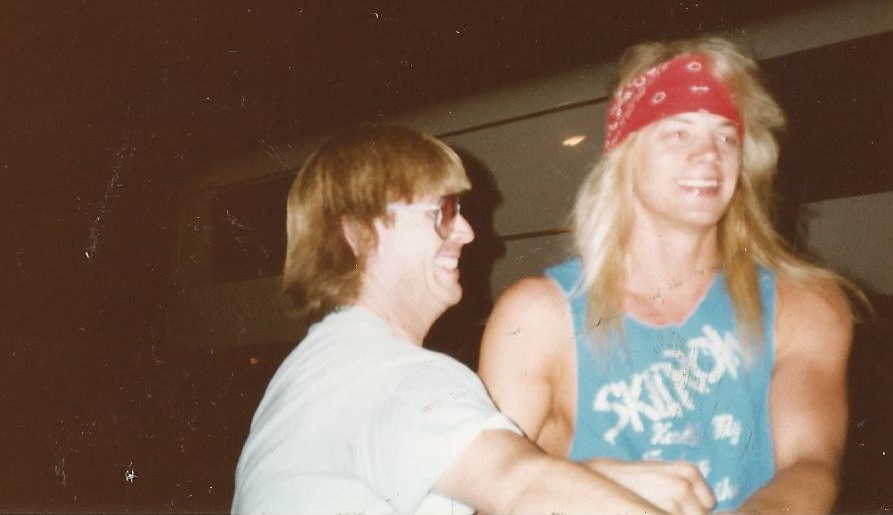 Howie was a very likeable guy who was from New York and moved to Hollywood in the 70's
Saying Howie knew everyone in the industry was an understatement.
If Howie didn't manage the band, promote their show, invest or partner in a related business deal with >insert famous entertainer here< then he sold (or borrowed) them a guitar at some point.
Howie's rolodex was the equivelant of the Hollywood phone book.
Tuff manager Howie Hubberman clowning with Stevie Rachelle outside the tour bus 1989. 
I remember many days when Michael would drive us into Hollywood and we'd do our errands.
First we would hit the P.O. Box for fan mail and orders.
Then swing by the BAM offices, or Music Connection and of course the corner newsstands.
There was a newsstand on Cahuenga off Hollywood and another on Fairfax just north of Melrose.
The one on Fairfax is where Slash use to work.
We would frequent these a few times a month and look for the new Rock Scene, Powerline, Faces, Kerrang or Metal Forces magazines.
Of course we were feverishly thumbing through these looking for press or photos of Tuff.
Which over time became quite regular that we'd stumble upon a blurb, small feature and sooner than later  – full page pinups.
I cannot tell you the thrill that it was to open a magazine and see a full page color shot of Tuff.
This is what Michael did all day long on the phone.

He called publicists, booking agents, editors of magazines and record labels.
Michael was driven and was all business spending his day trying to get the industry to notice us.
On many of those Hollywood runs we would also stop into Guitars 'R Us.
Howie was there on the phone, or cutting a deal with some Japanese tourist wanting to buy guitars.
There was also Jim Torgeson on hand.
He was Howie's 1 employee that I remember.
Jim was a bigger guy and kind of menacing looking, he played guitar and like everyone else was in a band.
He was kind of a jerk, or if I am being honest – Jim was a dick.
His band Virgin was horrible, at least I thought so. And at some point Riki Rachtman was their singer.
Let's just say Riki was a better promoter than singer.
Jim was also in China which had quite the buzz before I was even in town, but it never got beyond the Strip.
As for Jim, he was a knowledgeable guy about music and guitars for sure. And the scene as well, as he grew up in a suburb not far from Hollywood.
But Jim wasn't too fond of our band, however he was kind of hands tied in totally hating us – as his boss was our manager.
As much as he may have been a dick, I am sure I was a smartass the same.
Remember my little run-in with Nadir D'Priest?
Like Nadir, Jim was here years before a lot of us, let's call us … outsiders.
There were some veteran guys who put in a lot of time, but things never fell into place for them.
Then some jagoff from the Midwest would move into town and become a heartthrob in Rock City News overnight.
Clearly that got old to some of the locals pretty quick.
I guess I was the 21 year old punk coming in from Oshkosh Wisconsin and stealing people's thunder.
But like anything in life, we all have to earn our stripes.
Tuff was laughed at, made fun of and written off long ago. But overtime I believe we gained a fair amount of respect.
I am friends with Torgeson today and we have a much better rapport than we did back in the day.
Same applies to Riki Rachtman. He's seen it all and thensome, I like Riki he's a good guy
Even though we never were played on Headbanger's Ball, I know it wasn't his choice.
However he wouldn't have picked us anyway, he would have played Sea Hags or Motorcycle Boy instead.
Truth is, we didn't give a fuck.
Out of the box our first single was added into active rotaion.
Two weeks later we were on Dial Mtv at #3, which is 1,000 x the exposure as a HBB video shown at 2:47AM on Sunday morning.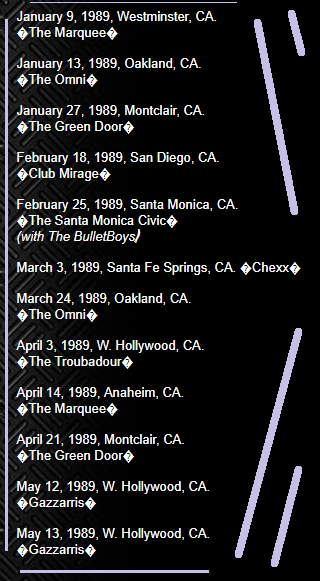 Anyway… back to Double H.
Howie was not just our manager, but an investor too.
There was never a contract, never a "Hey, you are gonna owe me now.." conversation or anything of the sort.
Nope.
Just a mutual respect, and friendship that kind of turned into business at some point.
Howie was a shorter guy with glasses, balding and fighting the good fight to keep whatever follicles he had left.
Even if it meant Hair Magic.
Regardless of height or hair, Howie's personality was (and still is to this day)  that of 10 men.
And let's talk about his left, and right front pockets.
I don't think Howie ever had less than 5 grand on him.
In each pocket that is.
"What do you need today?" he'd say to Michael and pull out a two inch thick fold of cash.
He would then peel through the stack and put it back, only to reach into his other pocket and remove an even larger stack of bills.
Howie was the king of deals, and took care of us beyond words.
Whether it was renting a tour bus, booking a rehearsal studio or pushing Tuff at promoters to add us to the next big show – Howie made good.
Aside from the business side, he had the fun side too.
It was regular for us to walk into his shop and he would say, "Rachelle, how many pushups can you do?"
He'd then drop to the floor and rip off 50. Then demand I match him.
Another fun fact: Howie is the man who coined me Stevie Rachelle From Hell.
I guess over the years I was "Hell" to deal with. But in a good way.
I was relentless in getting my way, for myself and the band too.
If there is a short list of good guys, from our history, Howie Hubberman is easily at the very top of that list.
To this day I have remained on good terms with Howie, and am thankful for all he has taught me over time.
I might add, I believe we still owe Howie some money as well.
Maybe if I win the lottery one day I can write him a check.
——————————
Demo time – take 2
During the previously mentioned April show dates all over California we were also busy with other band business.
It was time to do our second studio recordings.
It was just over a year ago that we went into Sound City Studios out in Van Nuys.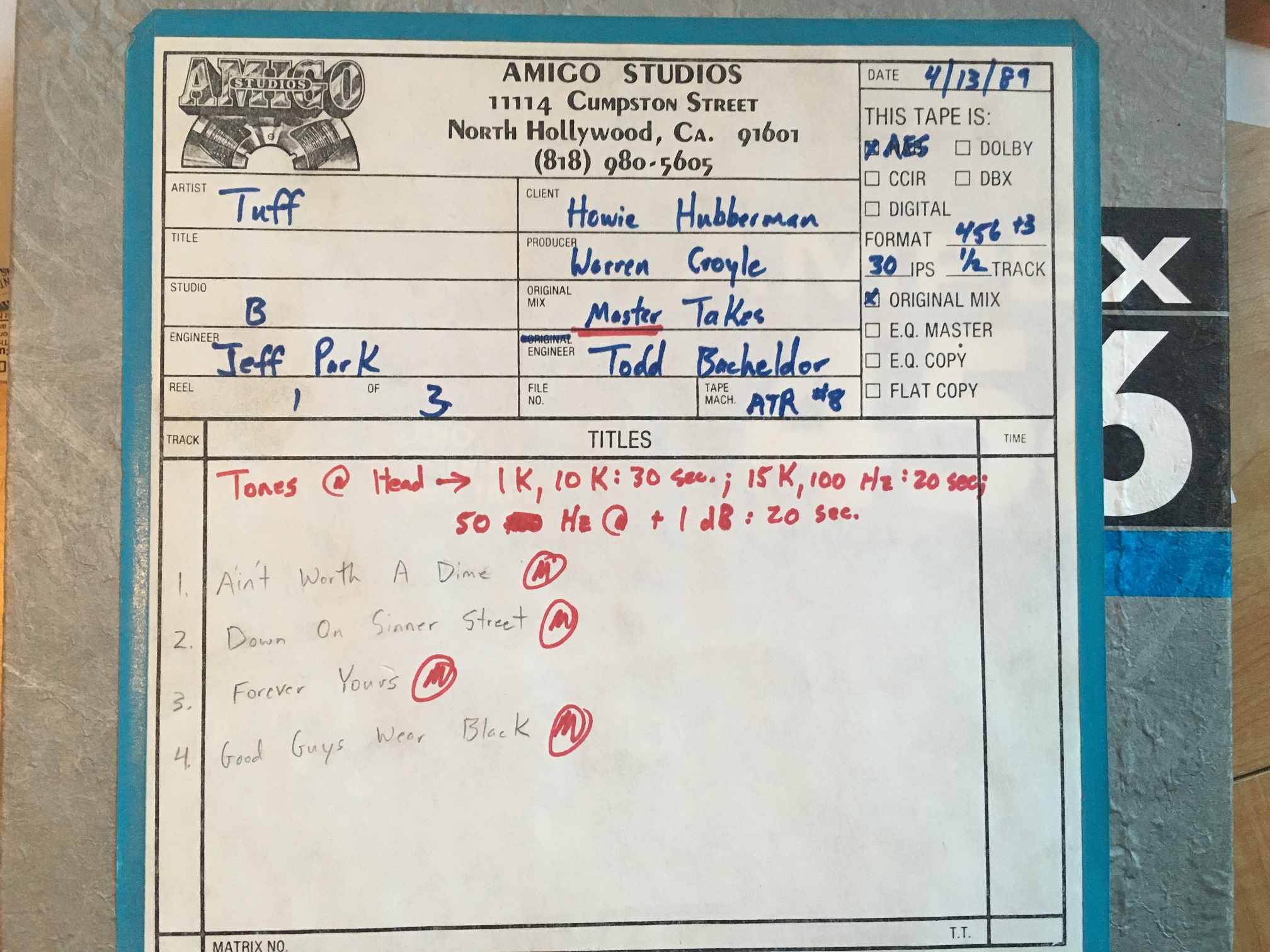 This time we would record basic tracks at Sunset Sound in Hollywood.
We would also use Amigo Studios in North Hollywood for some overdubs and a final mix.
Not sure how he came to us, but the band chose Warren Croyle to produce our second demo.
I am pretty sure Howie locked in these studios and it was early April.
The AMPEX 456 Tape box from these 1989 recording sessions, tape still intact. 
We recorded 4 songs, and did these over a few days' time.
I recall during mixing we had Michael Raphael of Jailhouse come down to sing some harmonies on a few tunes.
Michael was a friend, but also a bit of a prick.
I can still remember first meeting him on Sunset Strip.
He came right up to me and said something like, "You guys are possibly the worst band I have ever heard – how do you have so many fans?"
As he stood there laughing.
I think there was a bit of jealousy on his part, along with some others.
But we didn't care what anyone thought, including the guy in Jailhouse.
Oddly over time he became a close friend, and I am still friends with Michael today.
He's also still the same…. brutally honest to a fault at times.
The songs we demo'd were "Good Guys Wear Black", "Sinner Street", "Ain't Worth A Dime" and "Forever Yours."
Al of which appear on our vinyl release "Decadation" and "The Glam Years 1985-1989" on CD.
Warren was a super cool guy who also co-wrote some of the lyrics for "Good Guys Wear Black" with me.
He was a little dark and would tell us stories about crazy bands, the devil, UFOs and other sheltacan nonsense.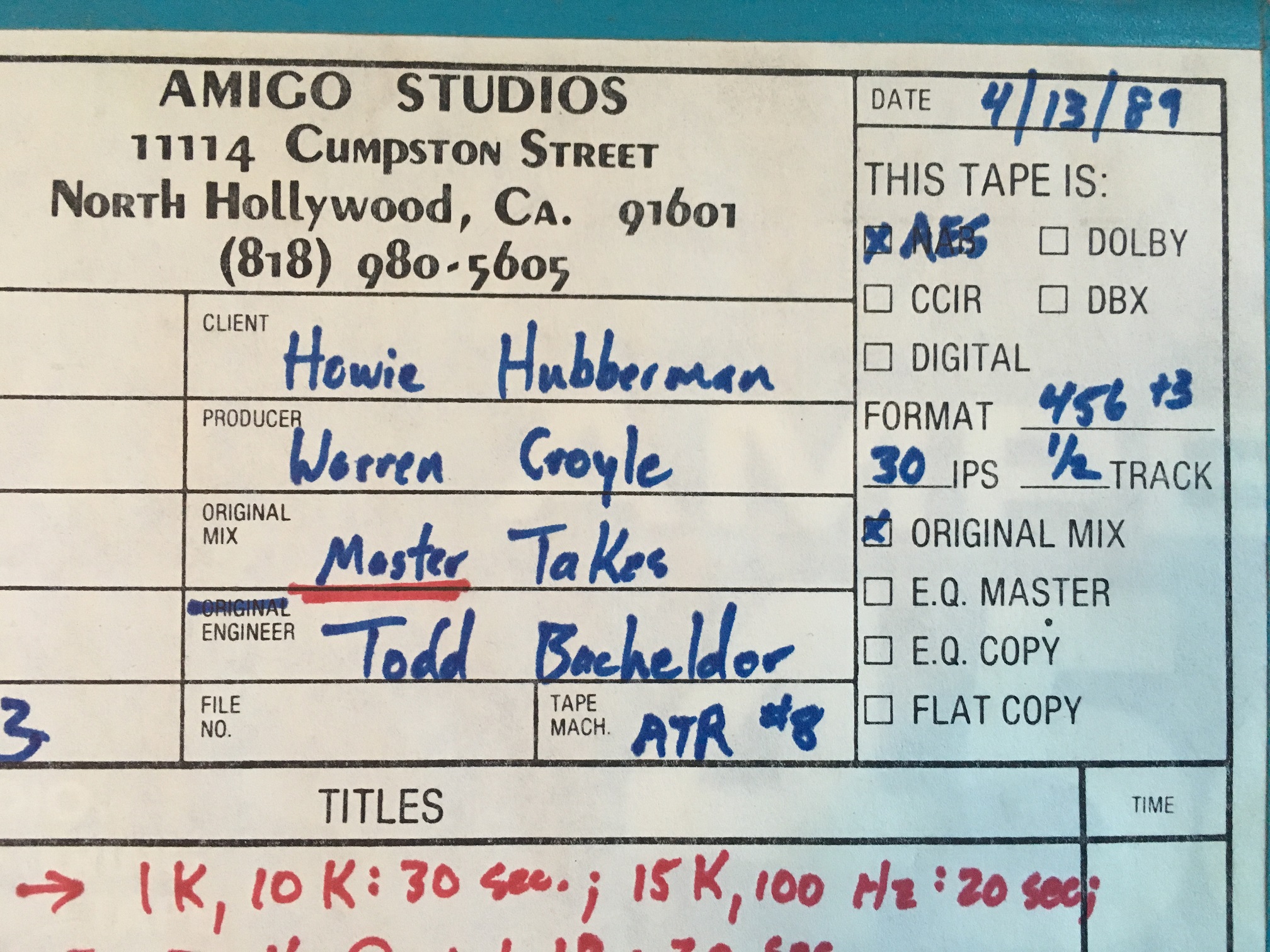 WTF is sheltacon?
I have no fucking idea, but Warren was a trip for sure.
Warren was always saying things like, "You guys need a reality check."
But in a fun way, like he wanted to kick us in the ass to make us better.
Some years down the road he founded Reality Entertainment.
R.E. did everything from music to merchandise, eventually focusing more on movies and documentaries.
Warren would joke around in the studio, dimming the lights, burning candles and incense.
Telling us he was channeling Satan asking if he wanted the singer's soul in exchange for success. Lol.
He was so much more than a producer too.
Warren was kind of like the big kid on the block who introduced younger kids to cigarettes.
Let's say, he was the Eddie Haskell of Leave It To Beaver.
I guess I was Beaver Clever with my no drink – no smoke attitude. Ha.
Warren and I chatted a few years ago and he's still a character.
I asked to give me a tidbit of info that I could add to the "Decadation" album.
He then reminded me, "Metallica mixed "Master Of Puppets" on that same board we did those demos on."
I was floored and in awe of another brush with greatness for our band.
Tuff and Metallica one in the same. Who knew?
————————————
It's now late April 1989 and Bon Jovi is coming to Southern California
The support band are the new East Coast bad boys Skid Row.
I recall hearing about this band in 1988 from a fan, musician turned friend from New Jersey.

That person was Britt Penella.
He had just moved to Hollywood in 1988 with his friend Jamie Phillips, their band was called Filthy Ritz.
Believe it or not, I still have the flyer they handed me that night on lime green paper.
I recall Britt telling me about this local Jersey band called Skid Row and there was a big buzz on them. This was 8-10 months earlier.
Yea, this is the same Britt who eventually formed Blackboard Jungle.
Fast forward it's now spring 1989 and the Skid's debut was getting a ton of action with their "Youth Gone Wild" video.
Now these guys were coming to town with Bon Jovi.
But better yet, they would play 2 club shows on their off nights from the big arena tour.
According to a google search it notes Bon Jovi played The Forum on April 25th and 26th of that year.
The tour also played Irvine Meadows about a week earlier on April 22nd.
So my best guess is these 2 club shows happened on either the 23rd, the 27th and/or 28th.
Either way, I was at both with Tuff drummer Michael Lean.
I recall the first being at The Marquee in Westminster.
As I mentioned above, Tuff just played here in January as it was the hot go-to club in Orange County.
We rolled down to OC and the place was already buzzing early.
I spotted their tour bus and walked up and found a crew guy.
"Hey man, my name is Stevie from Tuff, is Sebastian around?"
Crew guy, "Hang on let me check" and the dude enters the bus.
Moments later out comes a ball of basketball sized energy.
"DUDE! Hey man, cool to meet you. I am a fan." says Bach
I was kind of surprised that he had seemed excited to meet me, muchless knew of our band.
But in reality, Tuff was already a pretty big and established West Coast name by this time so I guess it makes sense.
Fast forward in life, and reading all I have read about Sebastian over the years – he's very hot, or very cold.
His love of KISS, or other rock stars that he looks up to, has always been without filter.
Even decades after his success – he is still a big fan of many of the same groups he once worshipped as a young kid.
So, I guess this was the case – when he was only 21 years old and met the guy from Tuff.
Not trying to rock star myself, but remember Bach was also in the early stages of his career.
Their debut had only been out a few months and this was before their 2 power ballads propelled them to triple platinum status.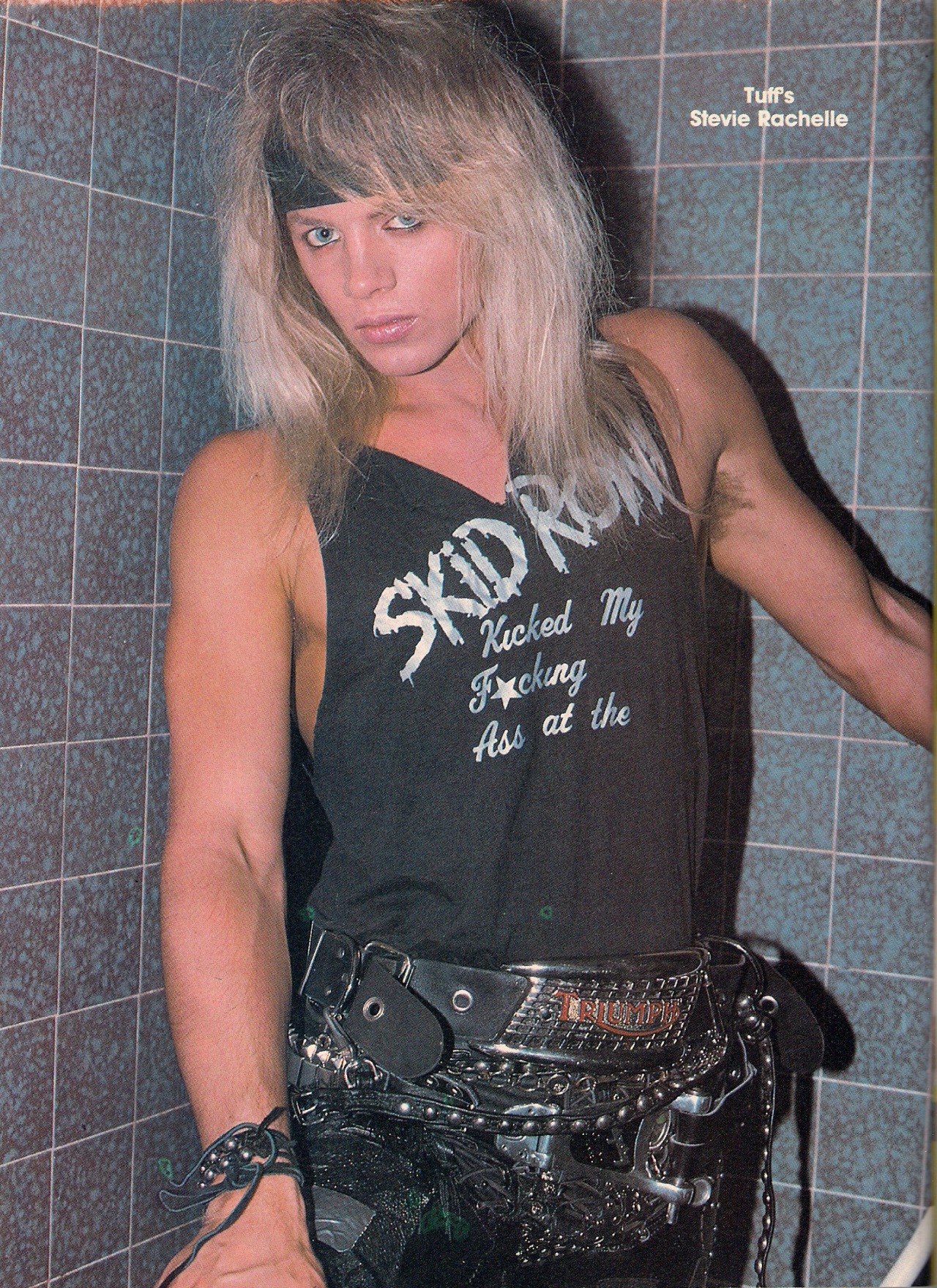 Anyway…
We are standing there talking and I am sure I was telling him how great their record was … because as many of us know, it was.
He cuts me off mid-sentance and says, "Dude, my girlfriend loves you!"
Now of course I am sure she didn't really "love me" but this is an example of Sebastian's over-the-top jubilation.
In truth, they (she) probably saw our photo in a rock magazine and thought outloud, "Hey, they look cool…awesome".
Rocking my Skid Row shirt in a Hit Parader pin-up. I got the tee from the band on their first ever So. Calif. club show. This shot taken backstage at some point in 1989 at The Stone in San Francisco.
All of us in the 80's did this…thumbing through Metallix or Faces and some new raggedy razor wearing bandits first hit our eyeballs.
Like the first time I saw Hanoi Rocks, or TigerTailz or King Kobra.
"Wow…who the fuck are they?" as my mind was telling me, "These guys look cooler than Quiet Riot and Twisted Sister for sure."
Who were all into their 30's by now and seemed like old geezers.
Now as I stand there looking like his rock god equal – I was the ripe old age of 23 and Sebastian had just turned 21.
Bach makes a comment to me, "You remind me of Michael Monroe."
Just then a roaide walks by and Bach stops him and says something like "Hey go get Maria."
But the roadie seems busy and is moving gear.
"Wait here a second" says Bach as he bolts into the tour bus.
He walks out a few minutes later and introduces me to his girlfriend Maria.
"Here he is, Stevie Rachelle of Tuff" says Bach to the girl.
She is bleach blond, a huge smile, skinny and sexy as all get out.
We're a few minutes into having our little nice to meet you threesome when Sebastian is summoned to the bus.
It's time for the band to go on.
Maria and I are talking and at some point we decide to hang out together and watch the show.
We walk into the side backstage entrance of the venue and it's packed.
Maria and I are standing towards the back of the club. We exchange some general chit-chat and before long the band is on stage.
Wow.
They are killing it, and Sebastian is a force for sure.
This was my first time seeing Skid Row live, and there was no doubt – these guys were fucking badass!
At some point the show ends, and Maria goes to reconnect with her man.
During the few hours I hung with Bach, Maria and their crew – aside from letting me in they also gave me a few tour t-shirts.
Michael and I left that show knowing that the bar had just been raised.
Skid Row and Sebastian Bach mopped the floor with the glammy sleaze bands that Hollywood was full of.
They were heavy metal but had a younger newer energy and some East Coast style too.
Skid Row just flat out ruled.
———————————————————
More Skid Row…
So thinking back I am guessing it was a Sunday night.
Me and Michael went to Gazzarri's and I believe they were doing their Miss Gazzarri's dance contest.
We're hanging and it's pretty full so we head up stairs to this little VIP section.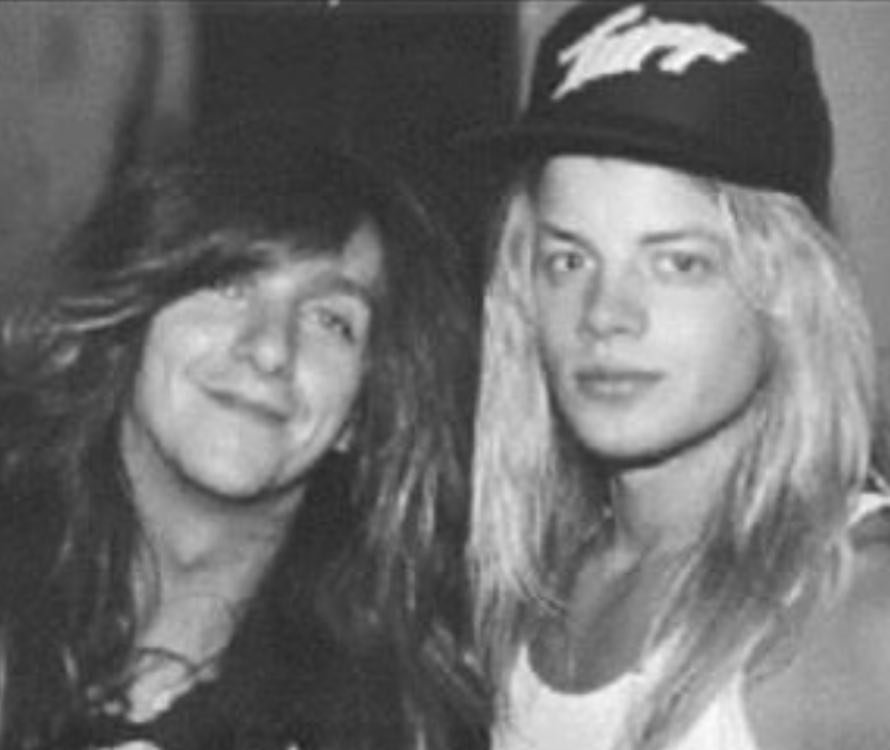 Michael and I are up there with maybe 4-5 other people, and it only held maybe 20-25 tops.
The show is going on and soon I see these long haired rockers heading up the stairs, and then it hit me, "Hey, it's the guys from Skid Row!"
Snake, Scotti and a few others are suddenly standing with us and we start chatting.
We had just seen them a few nights earlier and it was cool to meet Snake as the other night I only conversed with Bach.
At some point we took a few photos as it suddenly became a whole event.
Dave "Snake" Sabo of Skid Row and Stevie Rachelle at Gazzarri's on Sunset Strip spring 1989. 
No sooner was I talking to Snake that I realized the entire club was focused up on the little VIP balcony.
People are shoving their way up the stairs and then I realized, Snake's friend (who was standing right next to me) was kind of a well known guy.
His head was kind of hanging down, and he was doing all he could not to get noticed.
But the shaggy frosted hair gave him away.
The poor guy – who is standing to my immediate left, was as low key as he could be.
For about 2 minutes.
Then the entire club wanted a photo…and not with me, Snake or Scotti.
We exchanged hand shakes said our hellos but within a few short minutes security had to step in to stop the flow of people.
Me, Michael, Snake, Scotti and their shaggy haired friend were all whisked down the side stairs and escorted out the front door.
I recall standing right next to him and he was really mellow, but when the fans approached he was all smiles.
Once outside he kind of looked up at the stars and took a deep breath.
As we all walked towards the Rainbow, even way back then I could tell, this guy was feeling the pressure of being a massive star.
Just another long haired dude in a jean jacket at Gazzarri's?
Nope…that was Jon Bon Jovi.
——————————————————–
Tuff does 2 nights at Gazzarri's.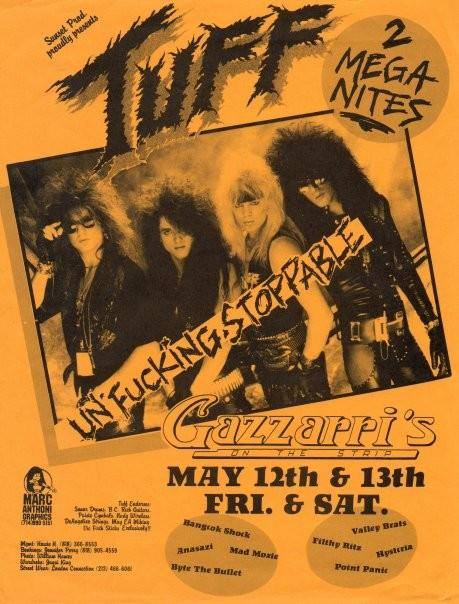 We are getting ready to go on our first ever U.S. mini Midwest tour.
But before we leave town we lock in a Friday and Saturday night headlining weekend on the Sunset Strip.
The ads read "Un-Fucking-Stoppable"
And at this point, we were.
Tuff flyer for Gazzarri's on May 12th and May 13th, a two night weekend on the Sunset Strip.
Tuff was expanding on every level. Including the promotion for the shows.
Aside from the local rock zines, like Rock City News, or the area's biggest entertainment rag BAM – we were big enough now that promoters printed Colby posters.
These were the same cardboard promo signs they made for Van Halen, Dokken and Ozzy Osbourne.
A company would then staple them to telephone poles all over Los Angeles County.
Our image also started to take a turn at this point.
We had just recorded our 2nd official demo, which had songs like "Good Guys Wear Black", "Ain't Worth A Dime" and "Down On Sinner Street".
These songs were definitely harder than the more glam inspired "Bad In Bed", "Round 'Em Up" or "Spin The Bottle".
Our wardrobe was basically black.
We ditched about 98% of the colors, and there was a bit more metal in our tunes as well.
If we allowed 1 color to stay, it was purple.
Our purple logo with either a white or silver drop shadow never went away.
Fun Fact: The guy who designed the Tuff logo was an artist named Tyler. He also designed the debut L.A. Guns album cover and logo. The same logo they also still use today,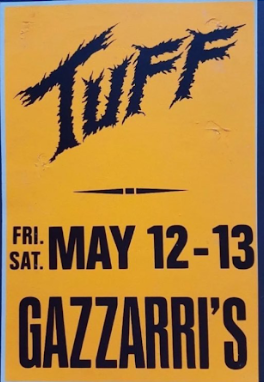 It was safe to say that Skid Row also threw their harder sound and image into the pot.
Sebastian Bach was only 21 but had been singing Heavy Metal songs in cover bands since his early teens.
They were East Coast, and had a no nonsense way about them.
Jean jackets, biker boots and leather belts.
No spandex or mega hairspray which was ruling the Sunset Strip and much of the 80's on MTV.
Sure Bach and those guys had done that previously, just like Tuff…but we were also moving (or trying to) into a more heavy metal style.
I can also say that Todd and Jorge were more metal from their roots.
Todd's older brothers were in Keel (Kenny Chaisson) and Badlands (Greg Chaisson).
So he grew up on Iron Maiden, Judas Priest and local Phoenix bands like Icon and Surgical Steel.
Jorge was also a bit of a hesher and pre-Tuff was in a band for a short time called Metal Beast with Jason Newsted. This was also pre-Flotsam N' Jetsam.
Michael was also a metal fan who loved his Motorhead.
As for me, I liked Devo and The B-52s.
—————————————————
It's now May and we're actively shopping our new demo.
Michael is the king of phone calls.
He chain smokes Marlboro's and drinks AM/PM Big Gulps all day long.
If we tallied the time spent on the phone, Michael would have been on an average of 6-8 hours per day.
At some point Michael arranges a meeting with an A&R guy named George Drakoulias.
Drakoulias works with Rick Rubin and American Recordings.
The label was previously known as Def American or Def Jam.
Michael and I drove to their office which was on Sunset Boulevard.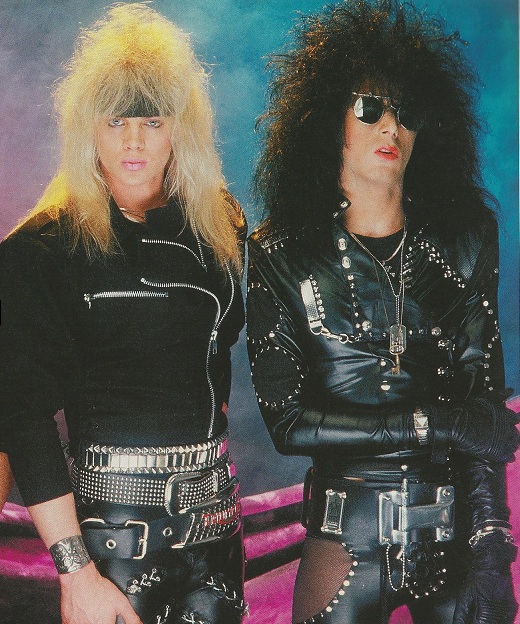 Stevie Rachelle and Michael Lean circa 1989, photo by William Hames. 
It was a tiny little place, situated directly across the street from Geffen Records.
I was recently reminded that the guy working the front desk that day was Steve Brown of Trixter.
Steve reads these diaries and gave me the tidbit so it's officially added. Give it to me good brother. 😉
We arrived for our meeting and Steve tells George and Rick that Tuff have arrived.
Of course we hand over our full press kit, which includes; the new demo, an 8×10 and a folder full of "look at us" stereotypical hype.
We walk into a tiny little room, a quick hello and Rick says, "Let's go eat".
No sooner did he say that, Michael and I, along with George piled into Rick's muscle car.
He stepped on the gas as we bolted down Sunset Strip passing the row of world famous clubs.
As the stereo cranked Rick shouted over the loud engine and even louder music.
Our music?
No, don't be silly.
Truth is, I don't believe they listened to the tape at all.
Rick zig-zagged a few side streets and minutes later we were in the Barney's Beanery parking lot.
We told the guys about our new tunes and heavier direction.
Michael emphasized our desire to go away from the glam image and the Poison comparisons that were starting to haunt us.
As Rick ate nachos and salsa he says, "I see it the othe way."
We're interested to hear his thoughts as he explains, "I would want you to wear stack heels, glitter eye shadow, be super duper glam….."
I am pretty sure our faces were screaming "Hell NO!"
But we sat, listened, ate and tried our best to pitch what we thought was best for us.
They couldn't have been nicer but it just wasn't a match.
Thinking back, getting signed was like playing Tinder on the street with record labels.
In the end, even if you start with a match, it sometimes goes to shit after a few dates.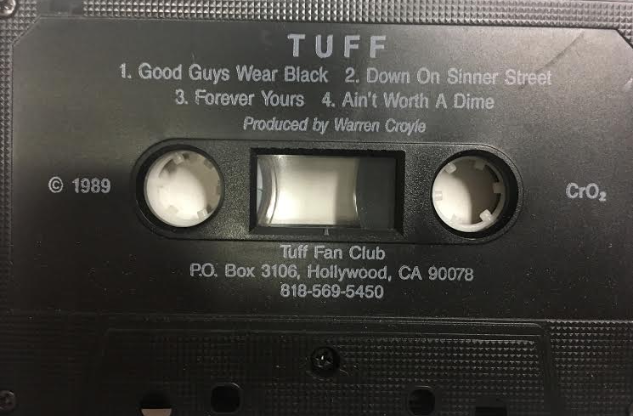 A free dinner, and a few hours with an interesting guy for sure.
Nothing came from that meeting other than reading about everything Rick Rubin touched over the next several years, was HUGE!
A full decade later I am working at Virgin Records in Beverly Hills.
It's 1999 and I am walking to the bathroom to take a piss.
I see this man as I round a corner and suddenly we're walking next to each other.
He has a somewhat disheveled looking beard, dressed in jeans, a white t-shirt and Converse.
Then it hits me, "Rick, hey man…remember me?"
As we walk down the long hallway.
He eyes me up and says, "You're face looks familiar…." as he pauses.
"Stevie Rachelle, from Tuff."
"Dude…how are you?"
We then both turn in simultaneously to use the men's room.
Standing side-by-side at urinals we caught up on a decade since our last meeting.
A few hours later as I left work I saw Rick getting into his chauffeur driven Rolls Royce.
His brief case looked like Paul Revere used it, and his clothes couldn't have cost more than $ 75.00 in total.
Regardless of all his success, there are parts of Rick Rubin that are still the real deal for sure.
But you can't blame the guy for not wanting to drive in L.A. traffic, right?
I've since been to a house party at Rick Rubin's Laurel Canyon Houdini Mansion as well.
At some point I walk in and there is Rick, Flea, Rob Zombie and Andy Dick.
Living here has been, let's just say… entertaining.
Truth is I've rubbed shoulders with enough Platinum related folks, that I even feel a little Platinum myself sometimes.
Even if it's just for an hour or two.
—————————————————
Stay tuned for Entry #9 as we head into the summer of 1989.
Tuff will rent a tour bus and head to the center of the United States.
We'll hit St. Louis and meet a cool local band called Broken Toys, who later change their name to KingOfTheHill.
We'll also play Minneapolis and support Slave Raider.
Along with several stops in Wisconsin we will do our first ever shows in the Windy City at the Thirsty Whale.
In the months of June and July alone Tuff will play 20 shows in 7 states.
Just in time for another summer on Sunset Strip, we return to California to headline The Roxy in mid July.
Stay tuned…
Stevie
Message from the author.
People have said to me for years, "You should write a book, I'll buy it."
That's not likely going to happen… not anytime soon at least. But if you are down with my blogs, my band or my various projects – I say thank you. 
I have self-released roughly 50 projects on CD. Cassette, VHS, DVD and Vinyl since 1994. All on my own. Without any label support. None. 
I have also kept Metal Sludge alive, afloat and online since 1998. For Free. You cannot imagine the workload a website of this magnitude can be.
No Kickstarters, no Go-Fund Me, and no Pay Me now and I'll make a CD in a year and send it to you later. 
I am also self-managed, self-booked (most of the time) and 100% self reliant. A 1-man gang. 
If you want to support in anyway, buy a CD or Vinyl record from me, or a T-shirt. Or send me something direct via Pay Pal.

I am not begging. I am not sick and no hospital bill. Nope, just continuing my service to the fans that support my Rock N' Roll. 
My direct Pay Pal email is Sludgeceo@gmail.com – send a dollar, send ten or send fifty. Send whatever you like, or nothing at all. 
Many independent websites have Donate buttons, Metal Sludge has NOW added one, Top Right of this page.
No pressure, but hey, it's an option if you care to do so. 
Thank you for all your loyal support of my projects.
There is more to come, more blogs and more music too. I have something in the can now it just hasn't been packaged just yet. 
Thank you again and all of your support is greatly appreciated. 
Stevie Rachelle
Read my previous blogs linked below, numbered and dated.

Entry #1  How I Made My Way To California, 31 Years Ago Today  (June 25th 2018) 
Entry #2  My First Meeting With Tuff, "Is That All Your Real Hair?"   (June 29th 2018)
Entry #3  Tuff audition, Jim Gillette screams, a near fist fight & our debut show  (July 5th 2018)
Entry #4  The Metal Years, Famous People, Cocaine, Kiss & Sex with a Miss Gazzarri's Dancer  (July 14th 2018)
Entry #5  Guns N' Roses, Del James, 1988, Sound City, Strippers, Crabs & You're Fired!  (July 30th 2018)
Entry #6  Summer on Sunset, Vinnie's Invasion, Tracii's Glue Gun, Vain & Sex by a Dumpster (August 11th 2018)
Entry #7  MTV's NYE Big Bash, Riki & Taime's Cathouse & My Girlfriend was a Poster at Spencer's (August 20th 2018)
Entry #8  Jon Bon Jovi, Sebastian Bach, Rick Rubin, Howie Hubberman, BulletBoys & Gazzarri's (Sept. 16th 2018)
Entry #9  Summer Tour '89, Andy McCoy, Def Leftovers, Max the Model, Z-Rock, Tommi Gunn & Lit (Oct. 10th 2018)
Entry #10 Goodbye 1989, Jessica Hahn, Skid Row, Martha Quinn, Young Gunns, Flyer War & Cock-Rings (Nov. 9th 2018)
Entry #11 Hello 1990, Texas, Britny Fox Tour, Strippers, Hells Angels and Atlantic Records signs Tuff (March 24th 2019)
Entry #12 Ready to Record, Howard Benson, FM Station, Jani Lane, Court hearing & my 1st Playmate  (June 2nd 2019)
Entry #13 Recording our Atlantic debut, Bret Michaels, Kane Roberts & Sex is fine, but no sleepovers (Aug. 27th 2019)
Entry #14 New York City, Mixing our Record, Publishing Deal, Video Shoot , Cherry St. & Tigertailz (March 25th 2020)
Entry #15 Hello MTV, The Nelsons, Jason Newsted, U.S. Tour, London & our Stolen Ryder Truck (May 19th 2020)
Entry #16 Lita Ford, Jason Flom, 75+ Shows, Cocaine, a Lawsuit, Sweet F.A. & the Freeway Fight (July 29th 2020)
Entry #17 Hello 1992, Gene Simmons, More Money, Mike Starr, a New Bassist & Jason Flom II (March 20th 2021)
Entry #18 WildSide, Dee Snider, Tour Drama, Baywatch, New Label Search and Living in Reseda (Aug. 21 2021)
Entry #19 Michael Resigns, River Phoenix, Thirsty Whale, He's Got a Gun, Stolen Van & Danny Quits (Jan. 16th 2022)
Entry #20 1994, Northridge Earthquake, Kurt Cobain, RLS Records, releasing "Fist First" (May 2022)

Tuff @ Facebook –  eBay – Amazon– iTunes – Instagram – Twitter – Store – Discogs – YouTube –

https://www.youtube.com/watch?v=4jpf-eC-Xlk