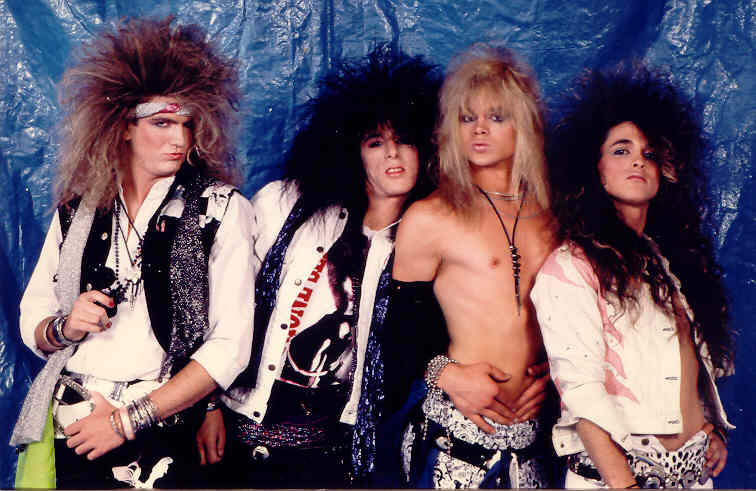 TUFF DIARIES (Entry #3)
My Tuff audition, Jim Gillette screams, a near fist fight and our debut show with Warrant.

AXL ROSE, W.A.S.P., PAIR-A-DICE, PARADISE, TAZ AND SEX WITH AN OLDER WOMAN.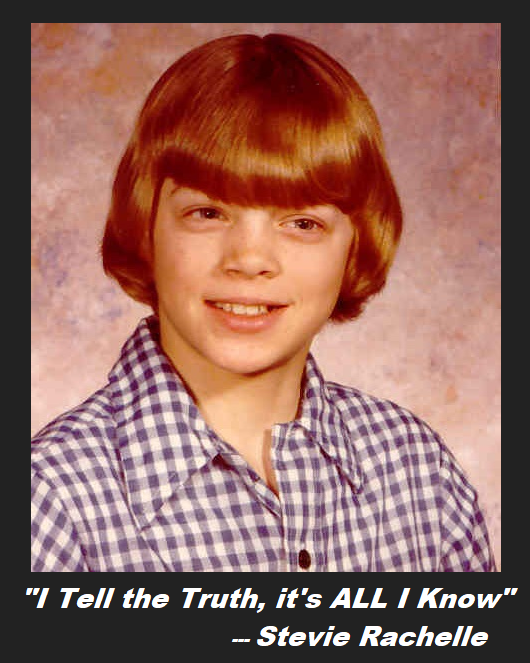 — It was July 7th 1987 and I woke up in Van Nuys California.
I had been hanging out with Todd Chaisson (Tuff bassist) for the last several days, and tonight was going to be my first Tuff rehearsal.
This is weird, because I went to the rehearsal but it wasn't really an audition for me.
The guys had told me they were gonna be at Rocking Horse Studios and I should come by.
They arranged to have a friend of the band take me.
That friend was Lani Hui Hui.
Lani was a big supporter of local bands.
Lani, her younger sister Loke, and their older brother David knew everyone in the local scene.
David was a security guy for Poison. His name was even listed in the credits on "Look What The Cat Dragged In."
Lani came to pick me up and drove me to a Canoga Park area industrial complex.
Lani was a heavy-set girl. Yes, a big girl body-wise but quickly I would learn that Lani's biggest asset was her personality.
Add to that her heart and smile.
I love Lani Hui Hui and we're still friends to this day.
Rocking Horse Studios was the home to other local bands who also practiced there. I recall meeting the guys from Pair-A-Dice and Sure Fire.
The bassist for Sure Fire was a guy named Mike Inez who had a gorgeous girlfriend named Heather.
Mike would go on in life to have great success in Ozzy Osbourne's band and then Alice In Chains.
As for Heather, more on her later. Man was she hot!!
Also, I am referring to Pair-A-Dice, not Paradise.
Those 2 bands had an endless war over who had the name first.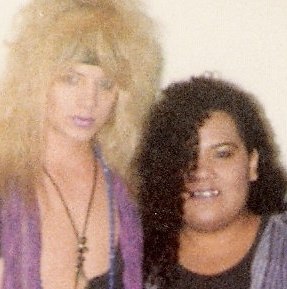 One was using 'dice' in their logo and the other a 'palm tree'.
It's all laughable looking back but their rivalry, amongst many other bands who battled (including Tuff) was healthy for the scene.
Over the years we would share gigs, random hangs and friendship with all the bands, but in my eyes – none of them could compete with Tuff.
We were un-fucking-stopable!
Stevie Rachelle and Lani Hui Hui, somewhere in 1987
As we drive the 15 minutes through the San Fernando Valley Lani is a bundle of energy, laughs and inquiries about her new friend from Wisconsin.
Lani thinks I have a funny accent and bursts into laughter when I use the word "couch"… said with a thick (what some people would say is a) Fargo type tone.
She also gives me a little 411 on the band Tuff, their new singer (who is about to get fired)… "Huh?" … and more.
As we arrive to the rehearsal that night, I guess I am suppose to just come in and watch with Lani.
You see, it turns out Tuff already have a new singer.
A guy named Dastin Luss, who was from Las Vegas Nevada.
They had been rehearsing with him, and he was already living with them as well. In their closet at the Tuff Muff Mansion.
Michael had his own room, Todd and Jorge shared a room and Dastin lived in the closet.
No joke, and more on this closet later.
So the word was, he was living there, had rehearsed with them but they were not really digging on him.
I recall the guys saying something like, "We think he's a fag."
And then something about him being a witch and he did a seance, or some weird shit with candles and incense.
I guess they were desperately trying to find a new singer. So much so, they took a half-fag, half-witch from Sin City.
But in short time they opted for the guy with a clip-in hair extension and pink bootss from Oshkosh instead.
Anyway… so Lani and I walk in and they are mid-song.
Michael is playing his drum kit that looks like something Rikki Rockett would play.
It was all tricked out and had words like SEX, HOT, BEAVER FEVER and LICK stenciled all over the shells.
Also the kit had airbrushed matching drums heads, and inner working plug-in mircorphones (MAYEA)) buillt into the drums.
Michael was endorsed by a few companies, including Sonor, DW and Paiste, as well as MAYEA.
This was possibly the coolest (glamest) drum set I had ever seen in person.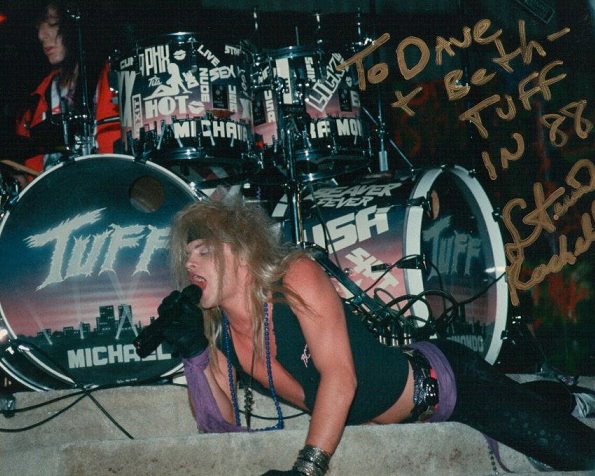 No clue who Dave or Beth is, but clearly their signed picture is in a google search.
Michael's bad ass drum kit and me fucking the drum riser circa 1987/88
Todd and Jorge had multiple axes lined-up, all were B.C. Rich. They were endorsed!
Seated on the other side of the room were 2 guys.
A dark haired Samoan looking guy and a blond haired guy who looked really young.
I would later learn the big dude was Lani's older brother David (Poison's security guy), and the blond was Jim Gillette.
The band were playing songs… just Todd, Jorge and Michael but no singer.
Then at some point this other long blond haired dude walks in and starts reading lyrics and singing along.
He was all glammy looking and seemed very flamboyant.
I could see where they thought he might be a pillow biter.
I immediately thought, "He sucks."
He only sang like a song or two, seemed uncomfortable and then left the room again.
I don't know if he was nervous, but I guess it could have been stressful for a new guy – when there were 4, 5 other people watching.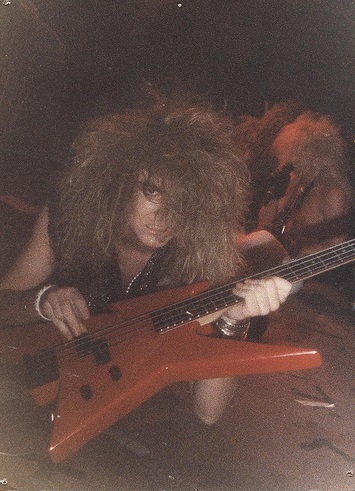 At some point as they are playing, at full volume no less… I hear the blond dude (Gillette) start belting out screams.
No joke, he was nowhere near a mic, and the screams were just piercing the air – over a drum kit, bass amp and Marshall guitar stack.
Todd Chaisson with one of his many B.C. Rich basses. Red Iron Bird, which I am pretty sure got smashed into a thousand pieces on a show just weeks or months after he got it.
This was the first time I heard Jim Gillette unleash his Metal Power pipes.
Wow.
He then got up and sang a tune or two and the band were done.
I do recall at some point someone later had pointed out to me, or said, "Why was Steve wearing sun glasses?"
Which I don't totally recall why I was.
I loathe people wearing sun glasses in-doors, in a club or at night.
It's so poseur and fucking lame.
Who knows, maybe I was trying whatever way I could to look cool.
God knows my clip-in hair extension and jean jacket were not doing the trick
Now the band is finished tearing down and everyone is in the parking lot.
At some point I see a few of the guys talking, and it looks like it's getting heated.
Next thing I know Jim is staring down Todd and David is watching closely.
I guess after Gillette had quit the band, Chaisson had said a few things and it caused an issue.
Even though Jim had quit Tuff, he was still business partners with Michael and it was kind of a mutual split anyway.
Never fear, Oshkosh is here.
I barely know the band, and had only said hello to Gillette and Hui Hui – but now I walk up and ask, "Is there a problem, what's the deal?"
David looks at me, and calmly says something like, "C'mon dude, you don't want to be involved."
I think I was just trying to be a good guy, and didn't wanna see anything go wrong. But lucky for me, they pretty much ignored me.
Chaisson and Gillette barked at each other a bit, but soon it was over.
Had Jim lost his temper, Todd might have ended up in the E.R.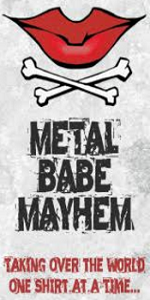 So a day or two goes by and Todd tells me "Dastin is gone, we kicked him out."
I had kind of heard them talk about him, but didn't know much. And the previous weekend, when he and I boned those 2 chicks nobody else was at the apartment.
Michael was in Phoenix, Jorge was gone and this Dastin character was gone too. At least I don't remember seeing him.
Maybe he was in the closet. In more than 1 way.
Now the plan is, the next rehearsal is this coming Saturday, July 11th.
Remember, I met them on July 1st, but Michael had to leave town. So they had booked the 7th and 11th (awaiting his return) for rehearsals.
I guess they were trying to ditch the guy they let move in and bring me in at the same time.
I have now been hanging with Todd (primarily) and working on the songs for about 10 days.
It's now Saturday morning and today is the big day, I am going to jam with Tuff tonight.
We run through like 5-6 tunes and take a break.
They are all smokers, so everyone is having a cigarette outisde. I was likely drinking a gatorade.
Todd tells me, "You need to move around more. We're always moving."
I will say, from the first rehearsal, I was thinking, "These guys are like they are playing to an arena in a closed rehearsal room."
I told them, "I am not a dancer. I am not that guy."
I am not David Lee Roth, even though I probably tried some silly jumps off the drum riser back in X-iter.
You know the splits in mid-air kinda stuff.
We rehearse the set again, and the band says they wanna have a meeting outside… without me.
I am told to stay in the rehearsal room.
Unlike Tuesday night, there is no one else here. Just me and the band.
About about 15 minutes goes by and they all come back in.
Everyone is chatty, upbeat and making various small talk.
Then at some point Todd says to me, "We want you…(pauses) to be our lighting guy" and giggles a bit.
I am not phased, "Fuck you" with a huge grin on my face.
Todd, "No dude, we want you to be our singer."
I don't recall the exact exchange, but it was something along those lines.
We all high five and it's offiicial, I am their new singer.
I flew to California 17 days earlier, on a 1-way plane ticket from Chicago with one goal.
To join this killer band called Tuff.
I did it, I got the gig.
In the coming days the main communication I had was with Todd.
At some point it was decided, that I would also move in with the band.
So I tell Pam after she comes home from work, "I am going to move out and will be out of your hair now, the band said I can live with them."
She is snotty about it, "Well I thought you were gonna help me with rent?" or some other drivel.
No pussy? Fuck this, I am out. Lol.
Actually I didn't say that, but I am sure I probably thought it.
Either way, pussy or not, fuck that… I am moving into the Tuff Muff Mansion.
And yes… that is what the band's apartment was called. On all of our flyers, we also had the Tuff Muff Hotline.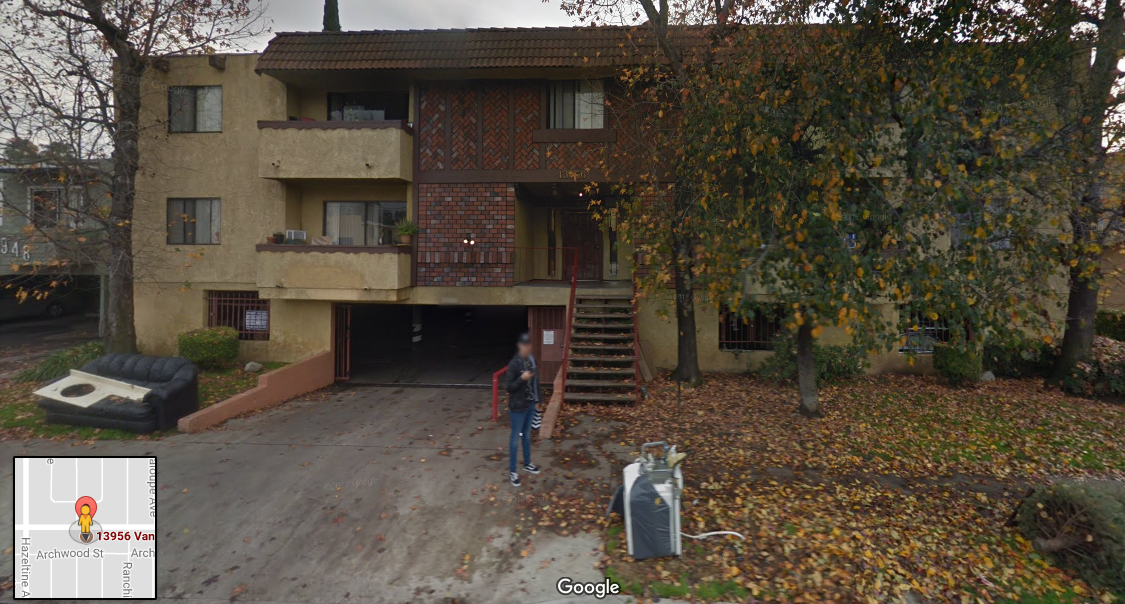 So it's mid/late July 1987 and I am now living at 13956 Vanowen Street in Van Nuys.
A current google earth search of the Tuff Muff Mansion apartment complex in Van Nuys California
I am not sure of the apartment #, but it was a 2 bedroom, on the back left on the the first level. The level above the semi-underground garage that is.
Aside from moving out of Pam's apartment after about 20 days, it was time to move on from my job selling boats in Culver City as well.
I would also be moving away from my neighbors from Krystal Gem and Hurricane.
But fear not.
Todd and Jorge work at American National Telecom (ANT) on Woodman near Oxnard. It too, is a phone sales room and was above a dry cleaners.
So, I am now working there, and it's a similar scenario. Only we're not selling boats, we're selling toner cartridges.
Over the years my friend Brent Woods from WildSide would remind me he worked there too, along with their other guitarist Benny Rhynedance.
I went there with Todd more than Jorge, and I also remember a girl named Kim.
She had braces, looked like Jan Brady and I really wanted to fuck her.
I don't recall much else, other than it sucked.
One morning just after moving in to the Tuff Muff Mansion I woke up and skateboarded down to the corner store.
It was on Vanowen and Hazeltine… I wanna say it was called Sunshine Market or something like that.
I walk in and am looking in the cooler, I grab an orange juice. Just then another long haired guy walks up and opens the cooler door next to me.
The guy looks really rough and his jet black hair is a complete mess.
He's ugly and looks old, then I realize… that it's Randy Piper of W.A.S.P..
I don't say anything, proceed to the front to buy my juice and donuts.
As I skateboard East on Vanowen I ponder, "He's Rock Star. I wonder what he's doing around here?"
Tuff rehearsed 2-3 nights a week. Usually weekdays as weekends were for promoting and hitting the Sunset Strip.
But, before we hit the clubs, the band and Michael decided I needed some clothes.
Michael was the money in Tuff.
I don't know what the exact number was, but even before I joined he had invested 5 figures into the band.
Michael had bought some of Todd and Jorge's amps, some road cases and other stuff.
Tuff were very professional.
They had roadies and even had airbrushed backdrops and stage scrims for their live shows.
Now it was time to make their broke, hick singer look the part too.
I remember the guys talking, "You need to go to Melrose."
I had no clue what that was. But in time, I learned it was a cool hip street, south of Sunset and Santa Monica Boulevard.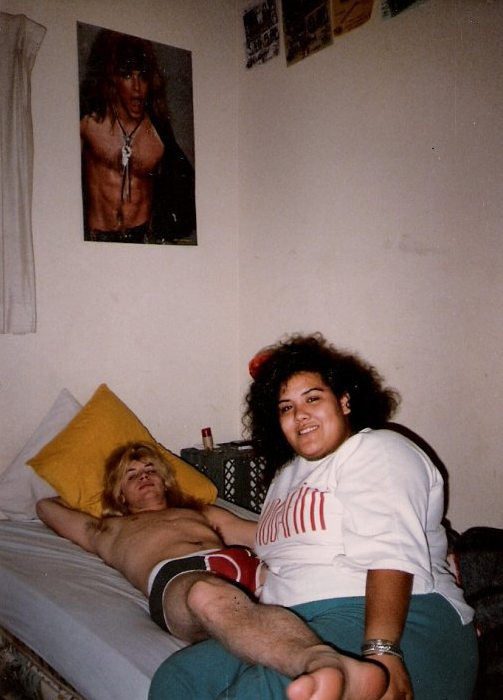 Melrose was lined with shops, eateries and hot chicks were out in force.
Michael took me to places like Retail Slut, Red Balls On Fire and others.
He bought me a vest, pants, boots, belts and bracelets.
Lani Hui Hui visits the Tuff Muff Mansion. 
Editors Note: I am not sure what is more insane… that I am wearing a speedo in this pic, that there is a milk-crate for a shelf next to my bed or that I had a Bret Michael's poster above my bed. Someone please hit me with a hammer now!
There was something else I needed.
Better hair extensions.
My Leif Garrett length shag-a-doo was not going to cut it and neither was my clip-in horse hair addition from Wisconsin.
Michael himself had extensions as well, and got his done at the same place that Tracii Guns and Michael Angelo got theirs.
That place was, Cherie Adam's Hair Magic.
Look at some old BAM magazines and you will see her advertisements.
Soon enough, an appointment was set and Michael drove me to Robertson Street in Beverly Hills.
A few hours later I walked out with an extra 18 inches of length added to my shoulder length locks.
It was a bit overkill and a follow-up appointment was needed to shape them, trim them up and make it look a little more realistic.
The cost?
Fuck, I don't know. But it wasn't cheap.
I am gonna throw a wild guess… $ 900.00, maybe more.
Plus the clothes, and their new singer's makeover was easily a few grand and we hadn't even taken a photo yet.
That was next.
Michael booked us a photo shoot with a popular photographer named Gene Kirkland.
For our first ever photo shoot we had a blue tarp as a backdrop. Yeah, the kind you use to cover a boat or camper.
Something else came up at one of our post rehearsal pow-wows.
We had talks, or band meetings about future plans often.
Almost nightly.
"What is your stage name?" asked one of the guys.
Steve Lauxes.
"Huh?" they all looked at me perplexed.
"Lauxes, Steve Lauxes" I said.
"What the fuck is Lauxes?" asks one of the guys.
"It's the word Sexual, spelled backwards" was my reply.
They all stare at me in disbelief.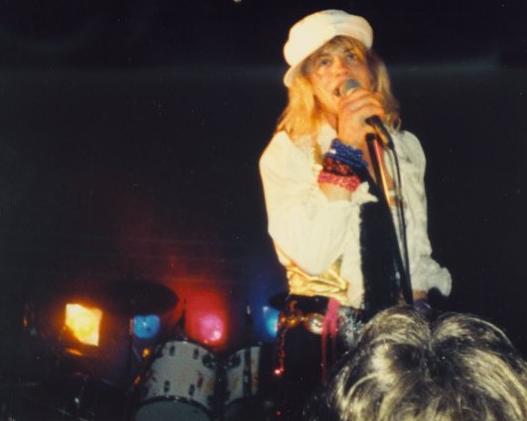 I am sure there may have been some eye rolling, or possibly adding comments like, "That's fucking gay"
"Ahhh, that isn't gonna work" as Michael takes a drag off a Marlboro.
"Why don't you be Stevie, instead of Steve. There is already Steven Tyler, Stephen Pearcy, Steve Stevens. You should use Stevie" adds Michael
I thought it was a good idea.
And someone added, "Yeah, cool, but you gotta drop the Lauxes"
Steve Lauxes live shot back in Wisconsin 1986
At some point I start doodling on the back of a flyer, and writing out different stage names.
Stevie Rachel was an idea.
Rachel, was my childhood sweetheart's middle name.
We met when she was in 8th grade.
Okay, don't get crazy… I was only in 10th myself.
So yeah, she was 13 and I was 15 and I met her at Skate World and she always use to wear a headband, like Duran Duran.
I am still friends with Jolane Rachel Lentz today, and she's still smokin' hot too.
Back to my new stage name….
I wanna say I wrote it down 10-20 ways, and at some point it morphed into Rachelle.
Michael as the band's leader, gave me the all clear – and I was now Stevie Rachelle.
I guess I was already more accepted than the other guy (Dastin Luss) as Michael let me share his room.
A single mattress was on one side of the room, and my suitcase at the foot of my bed.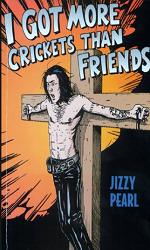 Daily I would wake up early (8:00am…ish) but Michael would already be up.
He had a desk in the bedroom and a type writer too.
He would write the band's bio, newsletters and cover letters to companies.
Companies for endorsements, and to record labels.
Michael was my mentor.
He'd tell me, "You up, we got stuff to do."
Soon enough I'd throw on some sweat pants and we'd jump in his beat up black Chevy van.
It's hot as hell in the Valley, triple-digits this time of year.
I remember he'd have the AC cranked, and it was just blowing hot air. Like a hair dryer on your hand.
I also recall going through these SUPER winding roads as we ran errands.
I was thinking, "Are we gonna fucking die?"
Every 5 seconds he's hard on the wheel to the left, then hard to the right. This went on, for what seemed like an enternity.
Overtime I would learn, this was Laurel Canyon or Coldwater Canyon. Both of which connected the Valley to Hollywood.
Essentially, a short cut to avoid the 101 freeway and traffic that was brutal.
We pull up to the band's P.O. Box on Wilcox just off Hollywood Boulevard.
Jim Gillette also had a P.O. Box here.
Michael and I would walk in, open both boxes, and stacks of mail was packed into the little 5″ wide box.
Sometimes so much, there would be a notice to come to the front desk.
Tuff were getting fan mail, and a few orders for cassettes or t-shirts.
Gillette, well he was getting MAD MONEY.
His ads for Metal Power vocal lessons were in multiple national magazines.
Michael told me he once saw Bobby Dall here picking up Poison's mail, and he was carrying huge gunny sack bags full.
We didn't have that much, but it was not uncommon to get dozens and dozens of letters per day.
For you young folks, this was our 'e-mail' 30+ years ago as there were no computers.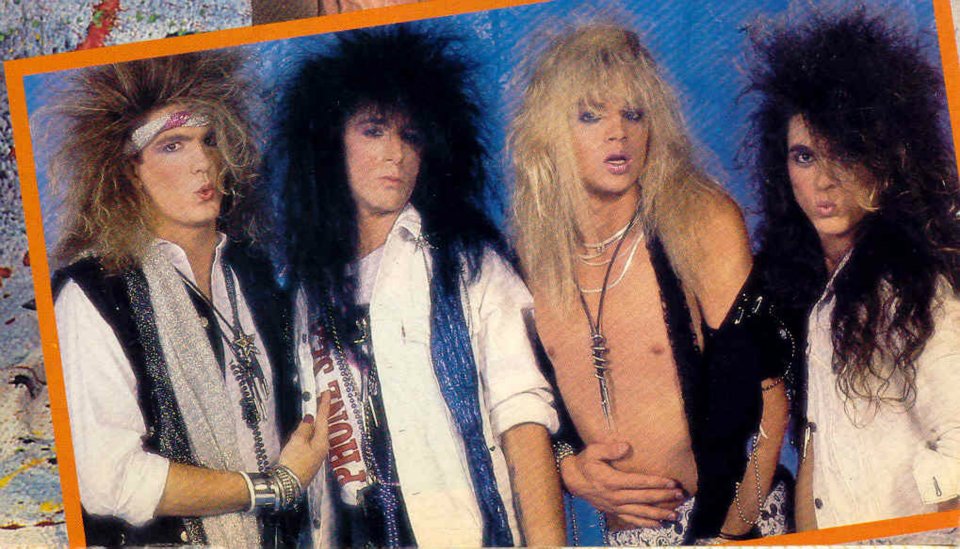 This was from a multi-page feature on Tuff in the teen magazine ZING, published in late 1987.
There were also pics of me in a speedo, or a towel – oiled up and lifting weights.
Photo credit Gene Kirkland
On the way home from errands Michael and I would hit an AM/PM.
Two hamburgers for .99 cents. And you'd add as much relish, ketchup, mustard or onions that you could. Add a Big Gulp, which at some point the biggest cup was like a 1/2 gallon container.
This was lunch more often than not.
We'd return to the Tuff Muff Mansion in the mid-afternoon, like 2:00, maybe 3:00pm.
Todd and Jorge would just be getting up.
"Lazy fuckers" Michael would mumble and shake his head.
Tuff was a band, but in time I would realize – there were 2 sides.
Michael and I, vs: Todd and Jorge.
We all shared everything, loved each other, at times hated each other but we were all on the same team.
However, there were definitely differences of opinion.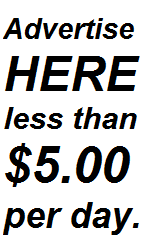 Michael was a chainsmoker, and had an occasional beer, but that was about it.
I know he dabbled lightly, very lightly. But I can honestly say, I don't think I ever saw him do a single drug.
Maybe he took a hit off a joint once or twice, but that was about it.
As for Todd and Jorge… all bets are off.
Except for heroin.
Never saw that, or knew of that in our circles. But pot, coke, speed, more pot, and WAY more coke…it was on for those 2.
Me, I was cleaner than a 5th grader.
They knew it, and totally… and I mean fully respected it. The whole way.
They were very cool with me being 100% sober, and seemed to be happy about it.
Probably more so because if I had done drugs, then I would be cutting into their share.
Todd would always say, "I am drug free" and then add, "If the drugs are free, they're for me" laughing.
I am guessing Michael thought the same and was happy he had another 'sober' partner in crime.
Afterall, Gillette, was like me. Other than he was also a chainsmoker at this same time.
I joked for years, Michael and I were Gene and Paul, while Todd and Jorge were Ace and Peter. Lol.
No disrespect, just what I thought over the years.
Too bad I don't have Gene or Paul's money today.
During one of Michael's many phone calls he was on the phone with Sidekick Productions. And a guy named Dennis.
He was a local promoter who put on shows all over the Los Angeles area club circuit.
Michael always brought all ideas, and offers to the band, and shared it with us. To which we would all interject our thoughts and opinions.
But make no mistake, anything the band did was absolutely Michael's final say.
"What do you guys think, should we take this gig at The Roxy. It's a Warrant show" said Michael
Todd tells me, "You have 2 guys in Hollywood, who are your main competition."
I look at him with a non-concerned look.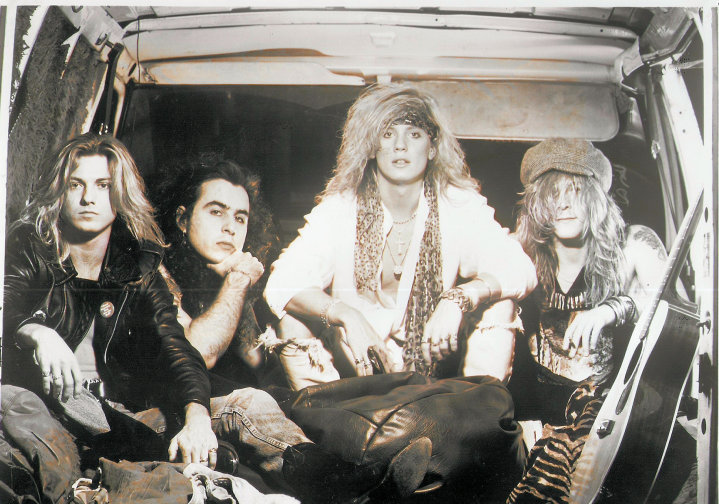 Michael, "Jani from Warrant and KK from Taz."
They tell me Warrant is the biggest band in town. And Taz is another hot headlining act.
Taz … left to right: Kenny, Ethan, KK and Chris in their band van
Tuff and Taz many years later had a flyer war that ended in a crazy heated confrontation at 4:00AM on the Sunset Strip.
It involved this van that they took this photo in as well. More on this down the road.
Both guys (KK and Jani) were blond heart-throb type frontmen and their bands were hot.
After the guys tell me about these other 'local stars' I make a mental note, but could careless.
I am not afraid of anyone, anything, or any other rock stars.
If there is one thing I have always had, it was confidence in myself.
I wasn't being cocky, I just wasn't concerned with who they were, what they did, looked like, sang like or other.
Michael agrees with Dennis over the phone to take the pay-to-play offer for The Roxy.
The deal is, Tuff signs a pay-to-play contract with Sidekick. We agree to sell 100 tickets, at $ 12.50 each to play the 2nd slot on August 26th 1987.
We would then take the pre-sale tickets and sell them for $ 15.00.
And if we sold them all, we'd profit $ 250.00, plus our merchandise sales.
We hit the ground running for a solid month and sold EVERY single ticket. No problem.
The entire band, all 4 of us were 100% dedicated to Tuff, 24/7/365.
Nothing else mattered… not birthdays, holidays, family reunions or funerals.
The only thing that mattered to all of us, was Tuff.
In the end, we only had to do pre-sale about 3-4 times max.
We became a huge draw in only months, and soon enough – Tuff would be the paid headliner – and the other bands would have to sell tickets to open for us.
Back to the contract with Sidekick.
There will be a 1st slot band who gets 45 minutes. A 15 minute change over, then Tuff plays.
The support band (3rd slot) is Pair-A-Dice.
Headliner is Warrant and there is also a 5th slot (clean up band) who would go on after the headliner.
This was common in many clubs, 5 bands, and the headliner would play 4th and a closer after.
Let's do a review…  I have been in town for just over 3 weeks.
Tuff audtion to be the band's new singer, check.
New stage clothes from Melrose, check.
Hair Extensions from Hair Magic, check.
New stage name, Stevie Rachelle, check.
Photo shoot with a pro photographer, check.
Gig booked to play the Roxy, with Warrant, check.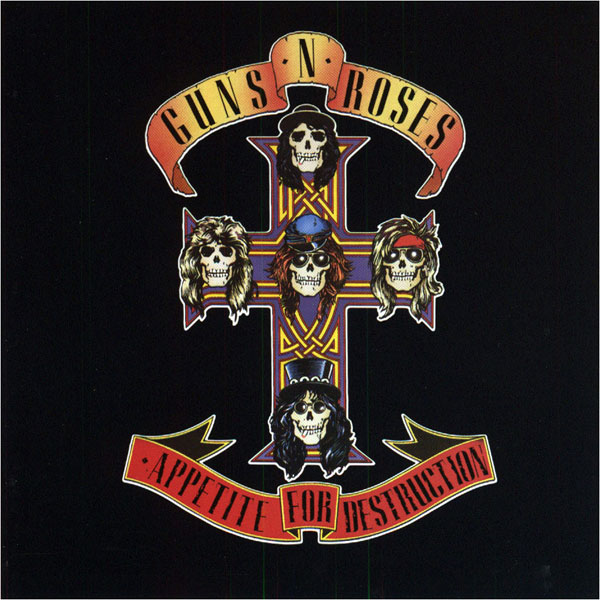 It's now late July 1987 and Tuff are out in full force.
Each weekend we walk the Sunset Strip handing out our flyers.
I am standing outside Gazzarri's and there is some commotion.
There was a wall, where all the people outside the club would sit and hang out.
Some people are gathering around someone, and everyone is excited to ask about the guy's new record.
At some point I hear someone say, "It's Axl."
I have no idea who Axl is, but clearly everyone else here does.
I would later learn that the guy was Axl Rose, from Guns N' Roses.
They had signed a record deal, and had just released their debut album "Appetite For Destruction" (Geffen Records, July 21st 1987)
I only recall hearing him say, "Thank you" and I remember he had a deep voice for a smaller guy.
I had a few other Axl Rose experiences in the years to come, but those will be saved for another time.
The Sunset Strip was insane.
I don't know if I even pictured what it would be like. But I do remember reading in Hit Parader and Circus magazine that Motley Crue, Ratt, Van Halen, Black N' Blue and all of my favorite bands had played these clubs.
I was blown away at how small the "Whisky-A-Go-Go" was.
And that only a block away, was "The Roxy", which was right next door to the "Rainbow Bar & Grill."
Then you'd walk about 50 yards to the West, and on that corner was "Gazzarri's".
A block further down on the opposite side of Sunset Boulevard was Geffen Records.
Everything was so close, it was mind boggling.
Michael would park off Doheny (2 blocks West of the center of this madness) on purpose.
Because as we walked towards the clubs, he'd say, "Put some flyers in there" pointing to Geffen's front door mail slot.
We'd shove a bunch in, and I am sure whoever opened up every Monday morning was annoyed.
In looking back, I am also sure all of those colored sheets of paper were thrown into a trash can.
But hey, we were all trying to get noticed.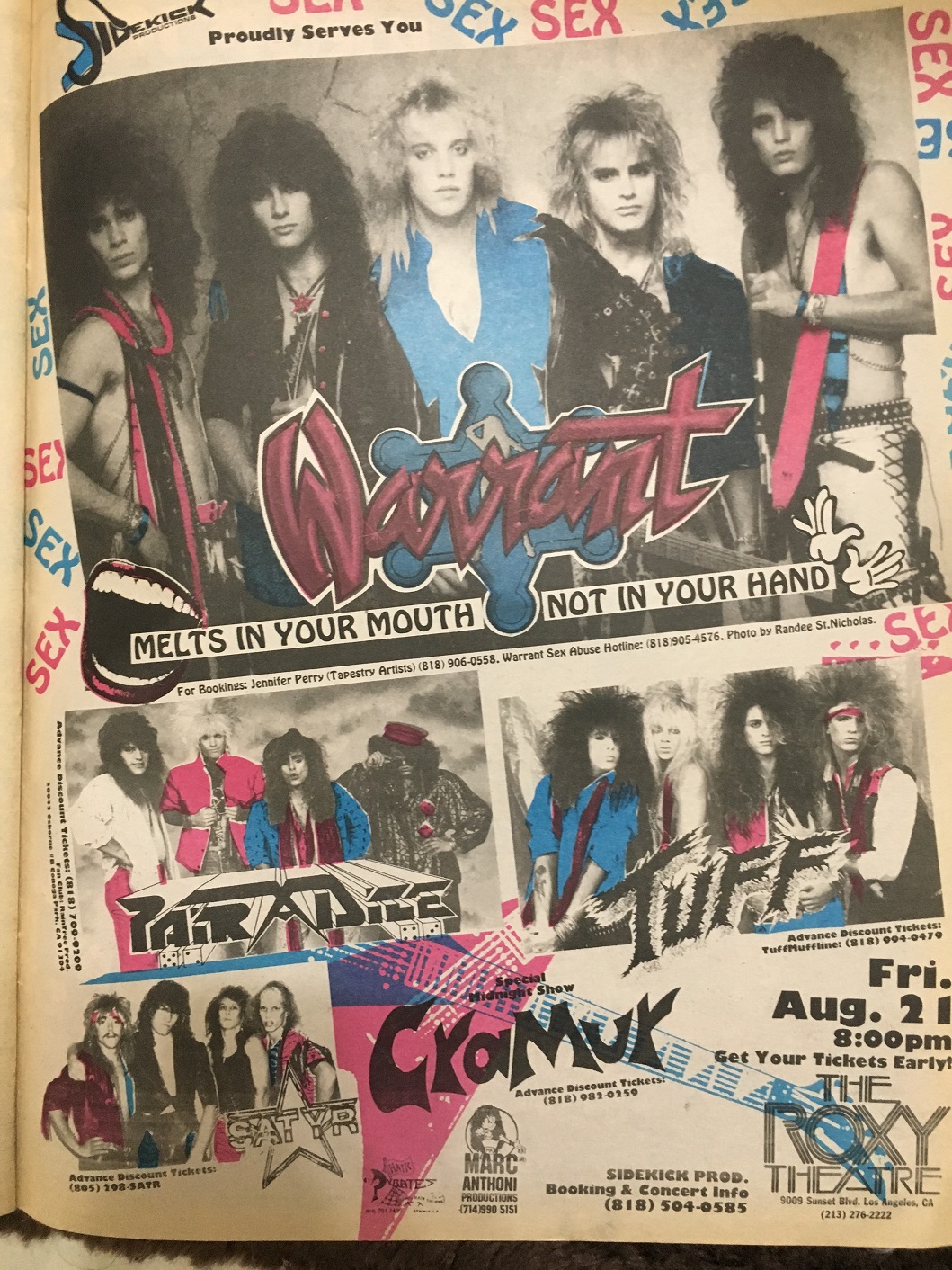 I rememeber a million little incidents on the Sunset Strip, but gee, there is only so much space to type.
It's now the big day.
Tonight we play "The Roxy" on Sunset Strip.
There have been thousands of flyers passed out and full page advertisements in BAM magazine.
Here is the actual adverstisement from BAM Magazine for our debut show with Warrant and Pair-A-Dice at "The Roxy" on August 21st 1987
This will be the biggest show in Hollywood this weekend.
Am I nervous?
Not a single bit.
I have never, and I mean never … been nervous to go on stage.
Of course I want to do good, or impress. And especially do well in front of my peers, or competition.
But from the very first time I ever walked on stage, I was never nervous.
Not even in High School in drama class.
Where our teacher asked us to go on stage and act out being a specific character.
Half or more of the students were like, "No way."
Me, I was at home… acting the class clown no hesitation and without an ounce of fear.
We arive at "The Roxy" and the place is packed. It's wall to wall, and mostly girls.
We are upstairs in the tiny dressing room.
The 1st band is done, and the 2nd band (Tuff, that's us) are now in the dressing room.
For those who don't know, the dressing room(s) at "The Roxy" is kind of 2-sided.
One side to the left, and another to the right. But both connected towards the back, in like a little mini hallway.
Tuff are on the left, and I would later learn Warrant was on the left as well. So the 2nd and 4th bands were sharing.
Pair-A-Dice were (3rd) on the right, and my guess the closer (5th) shared with them.
It was set up for the band's to alternate and give each band a little space and time between sets.
Anyway… so we play our set and the crowd reaction is huge.
I don't recall much of what I said or did, but I am sure most was silly shit that the girls found to be the thrill of their life. Lol.
Of course I say this jokingly, as we had only been a band for a few weeks.
We were probably a trainwreck.
I come into the dressing room, I am hot, sweaty and everyone is super exited.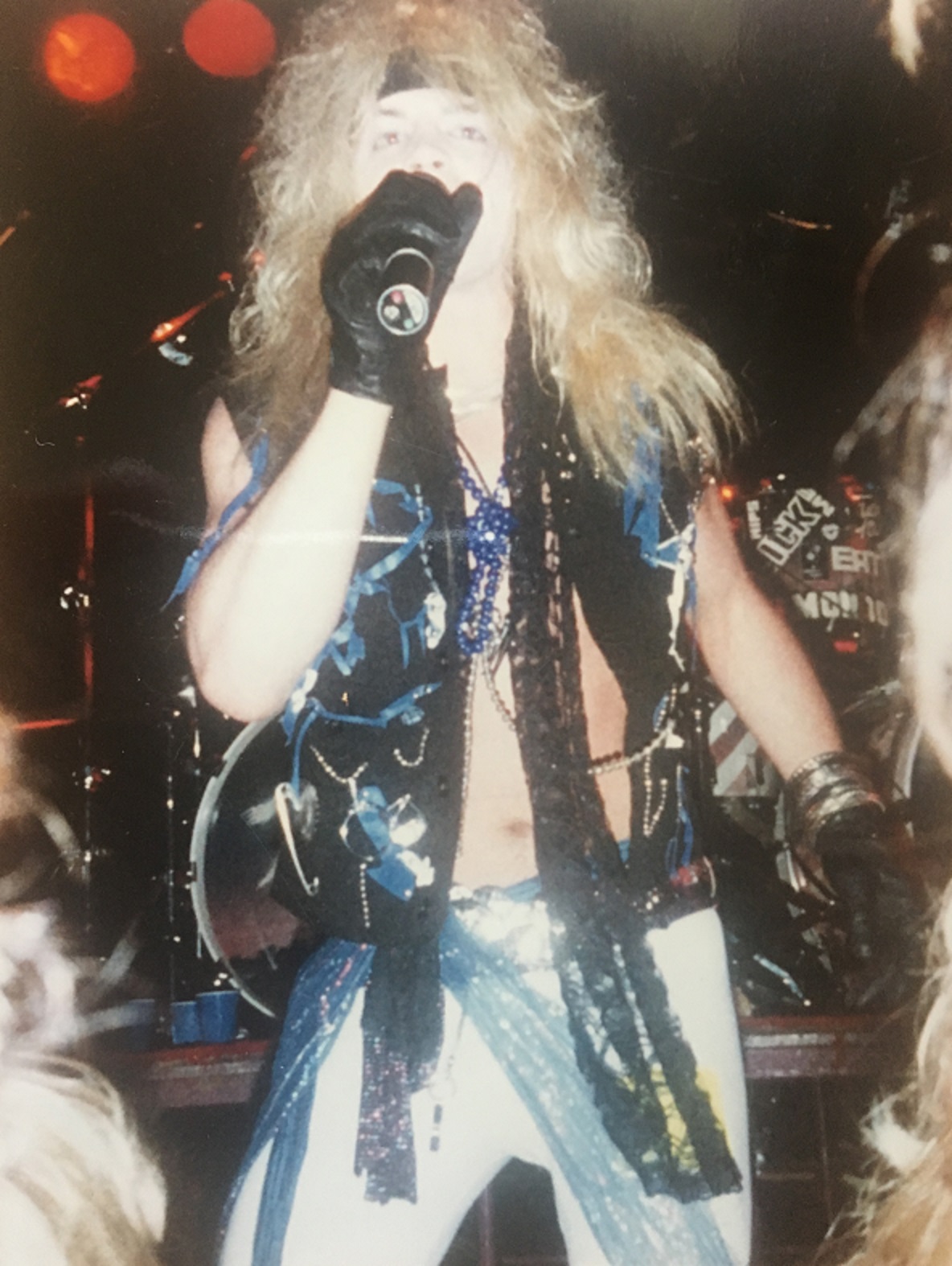 We killed it.
Stevie Rachelle of Tuff, live shot from "The Roxy" August 21st 1987
I sit down on a couch, and I am trying to take off my cowboy boots.
It's so hot, my boots are sticking to my socks and pants.
"Hey, dude, can you pull this boot off for me?" as I motion to the dark haired guy on the couch.
He looks at me with a 'are you kidding' kind of reaction, but then reaches down and pulls off my boot.
At some point Todd looks at me, "Dude, that's Jerry Dixon."
To which I reply, "Who is that?"
Someone else tells me, "He's from Warrant, they are the headliner tonight."
Of course, the word 'headliner' was oh such an important word back in the day. Lol.
I didn't care, and wasn't trying to be a dick, but I couldn't get my fucking boot off.
I thanked him and the night went on.
At some point Warrant takes the stage and Michael reminds me, "This is Jani Lane, the singer."
We watch Warrant and I thought they were good, but honestly didn't pay enough attention to care.
I was on the Sunset Strip and just played my first big show in front of a capacity crowd.
The first live gig was over and as they say, it was off to the races.
I was officially fronting a killer Hollywood band, and we were the talk of the town. Almost over night.
In the coming weeks my mug and the band's pictures were all over Rock City News. Things were really taking off.
One night I was out somewhere and this older woman started flirting with me. I was 21, but looked even younger.
Being with an older woman wasn't new to me though.
At my old job in Oshkosh, I use to fuck a waitress at Mister Donut when I was 18, and she was almost 30.
She use to be real flirty when I was 17 and once said to me, "You're jailbait now,, but when you turn 18 I am going to fuck your brains out."
I just kept mopping the floor and smiled.
She made good on that promise too.
Anyway, so I had been with older women before and was ready to rock n' roll.
At some point we leave a club and I remember she had a sportscar, maybe a Jaguar.
She drove us to her apartment.
It was somewhere in Hollywood and I wanna say it was above a business, right on the Sunset Strip.
It's late, like after bar time.
We walk into her second story apartment and it's very small.
As we enter the hallway we're right at the kitchen entrance. There is a flyer on the refridgerator door.
I don't recognize anything other than the name"Whisky-A-Go-Go" amongst a clutter of random band logos.
One of which I remember was 22 Ski-Doo.
Non-chalantly she says, "That's my son's band"
Somewhat shocked, in my head I tell myself, "Am I gonna bang some dude's Mom who was handing out flyers tonight?"
She excuses herself to use the bathroom and I am now standing alone in her bedroom.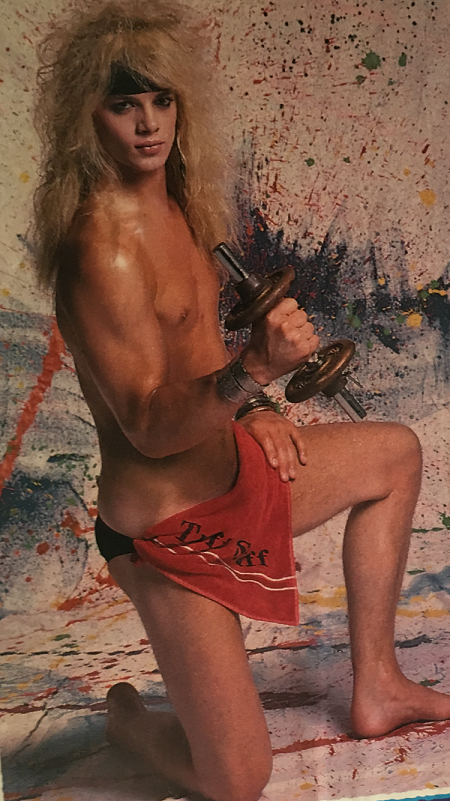 The dresser and shelves are covered with framed pictures of her with rockers.
I am taking in the scenery and suddenly realize…"Holy Shit! That's Nikki Sixx."
Then another photo, it's Stephen Pearcy of Ratt.
And another, it's a guy from W.A.S.P.
She is scantily clad in all, and this was way before iPhone selfies.
I immediately wonder, "She dated these guys! What am I doing here?"
As noted above, here is a shot that appeared in the teen magazine ZING. It was a multi-page feature, with multiple color pictures of me from the infamous "towel" photo shoot. 
Next I hear the toilet flush and my brain is churning, "If she's been with all these guys, she must have a venereal disease."
At that very moment she comes out in her lace bra and matching panties.
Any and all concern of diseases are now gone like my old clip-in hair extension.
Within seconds I am getting undressed and kissing turns to sucking, which soon turns to fucking.
I wake up the next morning and she is anxious to ditch me.
Looking around the side of the bed I see my pants on the floor. Also my cowboy boots (with spurs) and my strategically torn shirt.
She drives me back to the San Fernando Valley after I dig into my wallet to read her my address.
I was always was pro-active instead of re-active.
Once in California, I knew I'd be out and about and at some point, and have NO FUCKING clue where I was.
So I made sure to always have my full address and an apartment key in my wallet.
Nothing much was said on the ride home as I watched palm trees go by and looked up at pure blue skies.
I was in California, I was happy.
Thirty odd minutes later she pulls up in front of our apartment building.
I thank her for the ride, and she kisses me on the cheek like a kid who just mowed her lawn.
As I shut the passenger door she revs the engine and speeds away.
A few minutes later I walk in the door and Michael asks, "Where'd ya go?"
I smile… then stick my hands down my pants and rub the base of my cock.
I bring my fingers up to my nose and breath in the strong scent of pussy juice.
He laughs as he drags off a cigarette, "What's her name?"
"I have no fucking clue…  but she had a Jaguar" I answered with excitement.
I never recall seeing this women ever again, and yes… I also spent the rest of the day smelling my fingers.
Welcome to the Jungle Stevie Rachelle, do you know where you are… you're gonna diiiiiiiiiiiiiie!
Stevie Rachelle
Message from the author.
People have said to me for years, "You should write a book, I'll buy it."
That's not likely going to happen… not anytime soon at least. But if you are down with my blogs, my band or my various projects – I say thank you. 
I have self-released roughly 50 projects on CD. Cassette, VHS, DVD and Vinyl since 1994. All on my own. Without any label support. None. 
I have also kept Metal Sludge alive, afloat and online since 1998. For Free. You cannot imagine the workload a website of this magnitude can be.
No Kickstarters, no Go-Fund Me, and no Pay Me now and I'll make a CD in a year and send it to you later. 
I am also self-managed, self-booked (most of the time) and 100% self reliant. A 1-man gang. 
If you want to support in anyway, buy a CD or Vinyl record from me, or a T-shirt. Or send me something direct via Pay Pal.

I am not begging. I am not sick and no hospital bill. Nope, just continuing my service to the fans that support my Rock N' Roll. 
My direct Pay Pal email is Sludgeceo@gmail.com – send a dollar, send ten or send fifty. Send whatever you like, or nothing at all. 
Many independent websites have Donate buttons, Metal Sludge has NOW added one, Top Right of this page.
No pressure, but hey, it's an option if you care to do so. 
Thank you for all your loyal support of my projects.
There is more to come, more blogs and more music too. I have something in the can now it just hasn't been packaged just yet. 
Thank you again and all of your support is greatly appreciated. 
Stevie Rachelle
Read my previous blogs linked below, numbered and dated.


Entry #1  How I Made My Way To California, 31 Years Ago Today  (June 25th 2018) 
Entry #2  My First Meeting With Tuff, "Is That All Your Real Hair?"   (June 29th 2018)
Entry #3  Tuff audition, Jim Gillette screams, a near fist fight & our debut show  (July 5th 2018)
Entry #4  The Metal Years, Famous People, Cocaine, Kiss & Sex with a Miss Gazzarri's Dancer  (July 14th 2018)
Entry #5  Guns N' Roses, Del James, 1988, Sound City, Strippers, Crabs & You're Fired!  (July 30th 2018)
Entry #6  Summer on Sunset, Vinnie's Invasion, Tracii's Glue Gun, Vain & Sex by a Dumpster (August 11th 2018)
Entry #7  MTV's NYE Big Bash, Riki & Taime's Cathouse & My Girlfriend was a Poster at Spencer's (August 20th 2018)
Entry #8  Jon Bon Jovi, Sebastian Bach, Rick Rubin, Howie Hubberman, BulletBoys & Gazzarri's (Sept. 16th 2018)
Entry #9  Summer Tour '89, Andy McCoy, Def Leftovers, Max the Model, Z-Rock, Tommi Gunn & Lit (Oct. 10th 2018)
Entry #10 Goodbye 1989, Jessica Hahn, Skid Row, Martha Quinn, Young Gunns, Flyer War & Cock-Rings (Nov. 9th 2018)
Entry #11 Hello 1990, Texas, Britny Fox Tour, Strippers, Hells Angels and Atlantic Records signs Tuff (March 24th 2019)
Entry #12 Ready to Record, Howard Benson, FM Station, Jani Lane, Court hearing & my 1st Playmate  (June 2nd 2019)
Entry #13 Recording our Atlantic debut, Bret Michaels, Kane Roberts & Sex is fine, but no sleepovers (Aug. 27th 2019)
Entry #14 New York City, Mixing our Record, Publishing Deal, Video Shoot , Cherry St. & Tigertailz (March 25th 2020)
Entry #15 Hello MTV, The Nelsons, Jason Newsted, U.S. Summer Tour, London & our Stolen Ryder Truck (May 2020)
Entry #16 Lita Ford, Jason Flom, 75+ Shows, Cocaine, a Lawsuit, Sweet F.A. & the Freeway Fight (July 29th 2020)
Entry #17 Hello 1992, Gene Simmons, More Money, the L.A. Riots, a New Bassist & Jason Flom Part II (March 20th 2021)
Entry #18 WildSide, Dee Snider, Tour Drama, Baywatch, New Label Search and Living in Reseda (Aug. 21 2021)
Entry #19 Michael Resigns, River Phoenix, Thirsty Whale, He's Got a Gun, Stolen Van & Danny Quits (Jan. 16th 2022)
Entry #20 1994, Northridge Earthquake, Kurt Cobain, RLS Records, releasing "Fist First" (May 2022)
Tuff @ Facebook –  eBay – Amazon– iTunes – Instagram – Twitter – Store – Discogs – YouTube –