"This is 100% Wes. The Machine Shop, his band, agents and everyone involved are very disappointed."
— The Machine Shop / Music Venue Flint, Michigan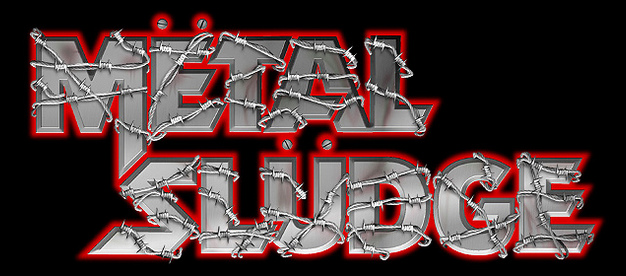 Metal Sludge — Well, it was a good run for a while… that is the run that was Wes Scantlin staying out of the headlines for all the wrong reasons.

But it's September 2023 and here we are again… reporting on another run of shows that Puddle Of Mudd have failed to play, only this time it's not 1 night, or a 2 show weekend run, like was booked for "The Machine Shop" in Flint, Michigan… nope, word is, that the entire fall run of dates have been cancelled.

And the word on the street is, "It's 100% on Wes."

The Machine Shop took to their official Facebook page and posted the following message earlier on Sunday September 10th 2023.


"Puddle Of Mudd has cancelled all their upcoming concerts including the shows September 15 and 16 at The Machine Shop. This is not a "due to circumstances beyond our control" cancellation. This is 100% Wes. The Machine Shop, his band, agents and everyone involved are very disappointed. We will not be postponing the shows as we are not ever rescheduling Puddle Of Mudd. All tickets purchased through Etix will be automatically refunded. All hard tickets can be refunded at point of purchase. Thank you and please know that all of us at The Machine Shop appreciate your support and understanding."
— The Machine Shop


All Wes Scantlin's fault… which likely means one thing and one thing only…. and no, it's not Covid.

We're not entirely sure if this cancelled run of scheduled dates is due to prior issues that once embroiled Scantlin in endless controversy or, perhaps is it something else?

One inside source has disclosed to Metal Sludge in recent times, that Scantlin has fallen hard off the wagon once again.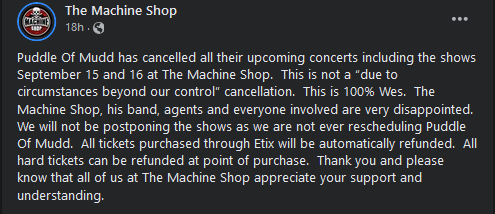 We all can only hope Wes gets his head out of his ass, or we will be writing his 'RIP' headlines next.

And no, that's not a dis either… and that's not being mean either, just delivering a dose of honesty here.

Which is what Wes really needs right now, is some honesty… and perhaps, a mandatory treatment program or a foot up his ass.

We posted about Scantlin back on July 11th 2018 in our article titled 'AWESOME NEWS … Puddle Of Mudd singer Wes Scantlin; "I am 11 months sober now… and I feel great"' and that was a great day.

However, over the last decade there was only 1 such article like that….and sadly 2-3 dozen of the others.

But who am I to say…

I am not in that camp… heck, I have never ever met the guy, but if it walks like a duck, and quacks like a duck… then I have learned it's probably a duck.

Or maybe, a drunk duck… depending on how it's walking or quacking.

Too many people in that camp, be it his friends, family, band members (yeah, you guys too) or some others… several of you have all continued to enable this man's behavior for years by continuing to make up excuses for him.

He doesn't need excuses, he needs a reality check, and whatever you're all doing, ain't working.

Wes Scantlin is Jani Lane…

Wes Scantlin is Scott Weiland…

Wes Scantlin is Steve Harwell…

Wes Scantlin is going to die, just like they did… is anyone paying attention?

Or will all his hardcore fans and the press, all sit by quietly and not dare say anything that might hurt someone's feelings.

I will say it…

Hey folks… Wes Scantlin is going to die… and quote me on it… my name is Stevie Rachelle.

Hopefully I am wrong… but based on past history, and this man's very dark relationship with his demons, Wes Scantlin is living on borrowed time.

And let me say here, those who continue to enable Wes Scantlin, or supply him with help for all the wrong reasons will be complicit in this man's death… then you can look back and remember the time that you thought you were just being his bro when you actually helped contribute to his demise.

Shame on you Wes Scantlin, and shame on anyone defending his actions.

Meanwhile, to all of you fans reading this… go support live music, and these clubs, along with all the hard working bands, crew and employees who deserve your interest and ticket purchase.

One last thing, I can promise you, the fans, is that 95% of these guys truly love your support, and will give you their honest day's hard work, rock show, and a sober one at that… and deliver what was promised.

As for those who fall short, time and time again… stop wasting your time… support someone who deserves it!

Below are several articles we published regarding Wes Scantlin and Puddle of Mudd over the years.


Feb. 25th 2023 > PATHETIC OF MUDD … Wes Scantlin of Puddle Of Mudd Arrested Again, this time for Trespassing

Nov. 21st 2021 > MESS SCANTLIN … Puddle of Mudd singer Wes Scantlin has meltdown during shortened Green Bay show: "F#@k You, MotherF#@cker"

Jan. 14th 2021 > DIRTY DOZEN … Metal Sludge's Top 12 Most Ridiculous Rock & Roll Arrests

Aug. 27th 2017 > PUDDLE OF MUCK… Wes Scantlin and Puddle Of Mudd are a no show at 3 more weekend concerts

Aug. 13th 2017 > PUDDLE OF DUMM … Puddle Of Mudd no show their gig Saturday at HOG DAZE MOTORCYCLE RALLY

May 1st 2016 > 250K BAIL! Puddle of Mudd singer Wes Scantlin arrested after So Cal gig

May 1st 2016 > CALLING DR. DREW! Fan starts Intervention Facebook page to help Wes Scantlin

April 2nd 2016 > Puddle of Mudd singer Wes Scantlin assault rifles out in Police standoff

March 26th 2016 > BAND QUITS? Wes Scantlin abandoned on stage by Puddle of Mudd bandmates in the U.K.

Feb. 19th 2016 > PUDDLE OF MUCK … Wes Scantlin has extended melt-down on stage in Pennsylvania

Feb. 2nd 2016 > GROUNDHOG DAY? Puddle Of Mudd singer Wes Scantlin snaps again

Jan. 10th 2016 > ARRESTED AGAIN! Puddle of Mudd singer Wes Scantlin taken away by Cops

Dec. 26th 2015 > Puddle Of Mudd singer Wes Scantlin booked on misdemeanor drug charges

Aug. 6th 2015 > PUDDLE OF IDIOT! Wes Scantlin arrested for DWI near Sturgis Motorcycle Rally

July 27th 2015 > PUDDLE OF MUDD singer arrested after 100MPH high speed chase

June 22nd 2015 > SEVENDUST guitarist: 'WES SCANTLIN wouldn't get on a bus with me to go meet cancer patients. King dickhead'

June 20th 2015 > PILE OF MUDD! A missed flight causes WES SCANTLIN and band to cancel Michigan concert


Stay tuned to Metal Sludge for Breaking News, Updates and Features along with both new and classic interviews.