"To all you musicians out there wanting to get the gig, get signed and go on tour… heed my warning and proceed with caution. Be careful what you wish for… because on the other side of that fence, my fence, our fence, and every other band's fence, the grass is not always as green as you think it may be."
– Stevie Rachelle
Metal Sludge — I decided to finally post this after I had kept some journals and personal blogs during our trip to Australia back in January of this year.

I meant to do it sooner, but after Australia I was in Thailand for shows, then Nashville, then Ohio, and most recently Wisconsin.

Of course throw in the family stuff, like our son's High School graduation, bringing our daughter home from year 1 at U.C. Berkeley and for what it's worth… my plate has been very full in 2023 thus far.

Now summer is over and both of my kids are in College… how crazy to think that football season is already here and soon it will be the Holidays once again.

Where does the time go?

Anyway… onto the Kangaroo news if you will…

FYI: It's a lot of details and while some of you might find it endless drivel… I am not writing it for anyone in particular, but rather those who want to know what really goes on behind the scenes.

This is not your typical Q&A or some strategic press release, but rather my words taking the reader on a trip (tour) with our band, from the initial stages to the last when booking a show or run of shows.

Like my standard TUFF DIARIES that I have shared over the years, this is a side-bar to those journals, but covering a more recent and current time with Tuff going on tour 10,000 miles from home down in Australia.

With that, I hope you enjoy…


Back in the fall of 2022 I was contacted by an Australian promoter named Danny Bazzi of Silverback Touring.

Danny inquired about Tuff and told me about his idea to promote an event called Glam-Fest that was to be held in early 2023.

In a nutshell he had a laundry list of several 80's bands in his sights including a few from the Sunset Strip.

I immediately said we were interested and our electronic dialogue began.

To be fair, I must give a shout-out to my best Aussie mate, Milan Crncevic, as he is the guy who connected Danny and I via the good ole' Facebook.

Milan is the promoter who brought me down to Australia to play shows back in 2007.

We've been friends ever since, and that includes his beautiful and amazing sister, and business partner Mili.

These 2 people, along with some others Down Under, have become dear friends over 15+ years, and they are all amazing.

Including, Jules of White Widow and his The Dead Things band-mates, Kellie Evans and Ace Jendell too!

I love all of you, and thank you all for your on-going – even though long distance – friendship.
With that, if Danny was a friend of Milan's, he's automatically a friend of mine.

Or is he?
Hmmm… everyone must be tested, so let me start the process.

Honestly, I had only vaguely heard of Silverback and did not know Mr. Bazzi from a hole in the ground.

But, like all promoters, event planners and club owners, I dug in with my Private Eye investigator goggles and did some research.

It didn't take long for me to recognize, that Bazzi and Silverback had done several tours with bands from the U.S.A. and Europe as well.

And, not just 80's rock n' roll, but 90's styled music and rap too.

After several phone calls, emails and messages to others from our industry, I soon found myself hearing the same thing, over and over, about Danny Bazzi and Silverback Touring.

I have no reason to blow smoke up anyone's ass right now, including this guy, as the tour is already over, we got paid and it's all in the rear-view mirror….

But… straight away… every single person I talked to, or inquired about this guy (Bazzi) and his company (Silverback) said the same thing…. and they did so with emphasis.

"Silverback was ALL Aces" said Pj Farley of Fozzy.

Fozzy and Buckcherry just did a run with Silverback in the late part of 2022, and after seeing this, I reached out to Farley.

I also spoke to one of the top agents, in our direct demo-graphic of bands here in the states, and again, Danny came with all positive reviews from the agent's past dealings and tours that his company contracted with Silverback.

Original bands, platinum bands, European bands and even tribute bands.
Anyone and everyone had nothing but good stuff, really good stuff to say about Silverback.

But… enough of that… I wanted to see first hand for myself, how Tuff would be handled more than how anyone else was received.
Over a few months time, our exchanges grew more regular, and soon enough the lineup was sorted, the dates were announced, and lots of plans were put into play.

Of course, this didn't come without some negotiating, and sorting various details.

I mean, we're not going to play a local bar here for the weekend, nor are we attending one of the many U.S. based festival style events, or casinos that many of our bands have appeared at over the last decade or two.
Nope, we're supposed to fly the full band to the bottom of the planet for a week.

And… let me stress it's not 1, not 2, not 4 and not even 5 bands… but 6 full bands that will fly down to Australia for this run of shows.

None of this 1 guy with a rented acoustic guitar tours… and that's not a dis to anyone doing that.

My point is, everything involving the full band, is times 4 or 5.

And when it involves the bigger bands, well that contract might involve 6, 7 or 8 bodies, when they add on a sound-man, tour manager or stage technician.

Now… multiply all that, times 6!

This is not your ordinary trip or tour… there are so many chances for this to fail, it's not even funny.

But… let's be positive… right?

All of us will play, 4 shows, in 4 cities, all of which could not be reached in the allotted time, each day by car or bus…

So… it seems everyone would have to fly, each day to get to the next show.

Really?

Who is kidding who?

This sounds far-fetched for sure…

I mean, this isn't The Stadium Tour, with private jets, and a 100 person crew, it's a grip of D-list hairbands from yesteryear.

To be honest, I could not help but think someone was smoking crack… and at this point, I was thinking Danny Bazzi, just might be holding the pipe.

"You're going to what?" said me aloud at 7:30am in my office as I am sipping coffee and reading the details of the Glam-Fest 2023 tour routing in one of Bazzi's emails.

Is this guy nuts?

I need to look at that Fozzy and Buckcherry routing again… and I did.

They did 5 shows in 7 days, in late November and early December 2022.

I also recall seeing Chris Jericho's Instagram post on the way down to Oz, and he looked all excited.

But, he also posted sitting on the plane on the way home a week later, and said something on his IG like: "I flew 55 hours this week…" and had a pretty wrecked look on his face.
Hmm…

I immediately went to google maps, and started looking at the distance between our shows.

Which for the record, we had 4 shows, in 4 days, all back-to-back, no off-day, no break!

Survey says…

Los Angeles to Brisbane = 7,182 miles, or 11,558 km, which is nearly 15 hours in flight time

Brisbane to Melbourne = 1,102 miles or 1,774 km, is 18+ hours by car, or 2.5 hours by plane

Melbourne to Adelaide = 451 miles, or 726 km, is 8+ hours by car or 1.5 hours by plane

Adeliade to Sydney = 855 miles, or 1,376 km, is 15 hours by car or about 2 hours by plane

Sydney to Los Angeles = this is similar to above at 7,497 in miles or 15 hours to get home

A quick run of numbers, and I would be looking at around 40 hours (flight time) going to Oz from Los Angeles, but Chase and Morris, well… they're coming from the East Coast, so add 4-5 hours each way, and they're in the 50 hour range of air travel.

Hmm… thinking some more…

Okay… I need to talk to P.J. Farley, but not in a DM or on messenger.

As I yell to my assistant, "Get me Farley on the phone… NOW!"

Fun Fact: I have no assistant, but that sounded good in this article.

Anyway, I DM Farley and get his number.

Fun Fact #2: If I am being honest, I only have 1 member of Trixter's personal phone numbers in my cell phone, and that is… the amazing Steve Brown, but he wasn't in Oz, so F#@k him!

I needed to talk to Farley.

I am babbling now, but I got on the phone with Farley, and he told me some CRAZY ass details about lobby call times, and other stuff… but… he also reinforced, "All went as planned."

You know… doing this was starting to look like a lot of work, and with work, comes planning, and with that comes cost, and ultimately you have to have trust.

Trust is big for me, and I am sure with a lot of you reading this too.

Fair to say…
Flashback to 2003.

Funny, as this was all being offered and unfolding, I couldn't help but think of the time Tuff got an offer to play Powerfest in Hungary back in the summer of 2003.

Oddly, that was exactly 20 years ago.

Long story short, a U.S. based promoter and an old friend Roy Scicca, was now married to an ex-Playboy model girlfriend of mine.

A Kevin Bacon kind of thing…

Roy used to play on the Sunset Strip scene too, in the early and mid 80's, but found greener pastures doing the business side of the industry.

Anywho, they got in touch with me and offer Tuff a huge guarantee to play this big outdoor festival.

It featured Twisted Sister, Scorpions, Tommy Lee's Methods of Mayhem, Adler's Appetite, and if memory serves me, L.A. Guns, Great White and a bunch of the other usual 80's suspects, all to appear on a multi-day festival bill.

This was going to take place at a race track in Budapest Hungary on August 1-2-3, 2003.

They were combining drag racing and heavy metal… it seems Roy had some connections to racing and motor-sports.

Long story longer, Tuff got a contract, that I sorted, and a guarantee of $10,000.00 to appear for the weekend.

Wow… 10 grand?

Yes.. and this is and was, WAY above our pay-grade and I knew that, but I wasn't about to say no, and accepted the deal.

Sometimes when promoters get their hands on "investor money", that old saying of "money is no object" starts to get thrown around.

And it can be good, and of course… it can go bad too.

If I am being honest, the deal seemed to good to be true…

Yes, I asked 100 questions, and in my brain was throwing around the various "what if" scenarios that could unfold, but in the end felt comfortable enough with the answers, so we moved forward.

I then put into play, making a specific tour tee for that week, relevant to our first ever appearance in Budapest Hungary along with crew apparel, tour laminates, etc…

We made a gross of shirts (12 dozen) with a cool passport stamp logo / artwork and it did seem odd that this was going to actually happen, I mean… Hungary of all places?

But… when someone told me about this Rock n' Roll Cruise ship idea over a decade ago, that would have 3 dozen bands on it and 4,000 fans floating around the Caribbean for a week, I questioned that too.

Fun Fact #3: Also at this exact time we had been in talks with Jorge DeSaint, our original guitarist to return to Tuff and this was mid 2003… so just a few short years after relaunching the band in 2001.

Jorge and I squashed some concerns over the phone, some past drama, and he flew to Los Angeles from Florida, with rehearsals already set.

Well, upon arriving in California Jorge informed me that his passport was expired, and when he tried to get it renewed, he was flagged for some – shall we say – personal and family related reasons, and he was denied a renewal by the U.S. Government.

This was a huge strike against him, and without batting an eye-lash, I enlisted Keri Kelli to fill the void.

Kelli was already going to appear at Powerfest playing with Adler's band, and it was Robbie Crane who suggested I use Keri… so a phone call sorted some details and soon after we were rehearsing with him in North Hollywood.

This all immediately led to a new argument and another fall-out with Jorge… which was as expected.

For those who have always asked, and continue to wonder, "Why isn't Jorge in the band?", well, this was Strike 1 of 3.

In 2004, and again in 2005, Jorge was afforded the opportunity to rejoin Tuff, but each time, he dropped the proverbial ball, and everything we worked towards or planned for, imploded.

No more chances, thank you drive thru.

Fast forward and it's now late July 2003, and we had printed Tuff Budapest Hungary tour t-shirts, we had 4 international plane tickets from LAX to Budapest in our hands, and everyone had a packed suitcase on Sunday night July 27th.
Our flights were to leave LAX on Monday July 28th… the very next day.
Then the phone rang… with dreaded news, that no band ever wants to hear.
"Steve, The Powerfest has been cancelled…." Roy was on the other line.

My heart sunk, and I chalk it up to another career let-down, so close, but yet so far.
I start to add the costs I had personally invested into the start-up of this run to Europe and of course fend off numerous incoming calls from other bands.

The t-shirts alone were upwards of $1,500.00 with artwork, screens for printing and the tees.

I called the others, and told them the bad news.

Nobody was thrilled, including the other bands, many of us whom had been in contact with each other regarding this event since the early stages… and without a doubt, many of us had our reservations the entire way.

But what can you do…

It's always a risk, but even a bigger risk when you're traveling to the other side of the planet.

Lucky for me, I had a more deeply rooted friendship with the promoter and his then wife – the ex-girlfriend of mine – and I had questioned them both from the start, "Are you sure this is a go? This is a big deal for us, to take on…" and so on.

With that, I immediately pressed hard, for some of our guarantee to be sent to me, and yes… I got it.

Kudos to Roy for coming through with some of the financials, even though he and whomever were organizing this, likely had an extremely brutal ending to their proposed Powerfest plans and probably ate much more cash than any of us did.
In the end, I got enough to cover all of my expenses, and then-some, but this is the game we play.

You can win and you can lose, and you have to take or accept either with some form of grace.

But enough about 2003, let's get back to Australia… and my trust issues…

Once you breach my trust, you're basically no longer a member of my inner circle.

Or, like Jericho says: "You just made the list!"

At Metal Sludge, we have a list too… only the word sh!t is in there somewhere.
I mean, if I am going to jump through 50 hoops, and someone else involved can't make it through 10 of their hoops, then like a running-back who fumbles, you get pulled from the game plan.

Also, that trust is across the board,… which means the promoter, the agent, and yes, the individual band members too.

There are so many moving parts to take something like this on, if people don't do their job, and are not honest, or can't be trusted… well, then the whole thing can fall apart.

Fall apart, meaning something like this (cough > pile up < cough) that recently happened with a U.S. based 80's artist and an Australian promoter.

And you know who else gets screwed over when that trust chain is broken?

And everything falls apart…
You, the fans!
That's right… you, the fans reading this, who buy the ticket to go see that show, or tour, or event.

And if it's not a major promoter, like a Live Nation, fans are often left chasing money sent through Pay Pal, or other.

The shady promoters also use the "Postponed" verbiage, and "All Sales are Final" when announcing their big event with a dozen bands and then 3 of them actually play, with the name artists being replaced by local bands to fill time.

Then there is the ever-famous "Due to Circumstances Beyond our Control" announcement.

Ugh… another dreaded statement.

So, from the ground up, everyone has to do their part, and be trusted to follow through.

At least that's how I think of things for Tuff.

There are many pieces to this for Tuff, especially considering that Todd Chase (bass) and Billy Morris (guitars) live in Cleveland Ohio, I live in Los Angeles and our drummer Tod "T" Burr lives in Phoenix.

We have to keep our own house clean too, keep things in order and follow through with our end of the deal, regardless of where we agree to play or perform at.

Then, we can only hope that those on the other end (the promoters or club owners), do the same… and finally, it's you, the fans, who need to jump in as well, buy a ticket and come to the show.

Playing in a band can be complex, and when the members live all over the U.S., it can get even more complicated, and it's imperative that each member follows through with what is needed on their end.
And it makes it even more crucial, when everyone is leaving the country for a week like in the case for Glam-Fest down in Australia.

I mean, is there a further place to travel to outside of Australia, Japan or Thailand?

I don't think so…
So… trusting Danny Bazzi and his company Silverback Touring was a big decision for Tuff.

But, after some research and various conversations with Mr. Chaisson, we decided to pull the trigger.

Yes, Tuff work with an official agent on some of our shows and offers, but not all… and this run to Australia was all handled in-house, by yours truly.

I am guessing the other bands had some considering to do as well, which included co-headliners Faster Pussycat and Wednesday 13, support acts Eclipse and Enuff Z'Nuff, along with openers PBF, Tuff and Australian Nationals Sisters Doll and Crosson.

In total, 5 of the bands were flying in from the U.S.A. and Eclipse from Sweden.

A quick tally of band members, and there were more than 2 dozen musicians all being flown to Australia to be part of the inaugural Glam-Fest.

The cost of each one of those flights, was roughly $ 2,000.00 (U.S. Dollars) per ticket.

Now multiply that times 25, and that is the initial cost, just to get the 6 bands on the ground!

The calculator says… Fifty Grand!

Give or take a few thousand.

Not to mention, the ground travel (vans and busses), the daily hotels, a back-line and gear nightly along with a staff of stage technicians, tour managers, sound-men, a monitor man, someone doing lighting and more.

Also, each city had local groups who kicked off the shows including: Cassidy Paris, Catalano, Star Crazy and Atomic Riot.

Each day had between 8 and 10 bands perform, for 4 days, in 4 cities and all back-to-back.

Of course I am not sure who did what for the other bands, but I will say that we negotiated, what I considered to be a fair appearance fee (guarantee) for Tuff to appear on Glam-Fest.

I won't divulge that exact number here, but I will note it was contracted that we are (were) paid in U.S. Dollars, not Australian Dollars, and the following was all covered in our agreement.

*4 Round-trip flights for our band (Tuff) from LAX to Australia.
*All Travel within the country of Australia, including Flights between cities, pick-ups and drop off at airports, Vans and/or Busses to and from the gigs, Hotels and anything related.
*All Back-Line for each show, ie: Drum Kit, Stands, Cymbals, Amps & Cabinets, along with Sound Man, Monitor Man, Lighting Tech and any stage hands needed to make the night transition smoothly.
*A General daily Per-Diem, an agreed Dollar Amount in Australian Dollars per band member, per day.
*A General meal plan, catering backstage or in dressing room & a Rider, ie: Snacks, Water, Beer & Soda.

I also included verbiage in our contract, so Tuff was not limited in anyway, in regards to our ability to sell our brand of merchandise, Tour T-Shirts, CDs, Vinyl Records and pricing it as we saw fair.

Everyone was fair, and there were no restrictions, which isn't always the case.

Sometimes the headliner will tell the openers, what they can and can't sell.

Also included, but was not requested, Tuff was given a day-to-day contact person for Australia, a point man if you will, or what is defined as a Tour Manager.

This is always helpful when visiting another City, State or Country, where you're not familiar with the surroundings, freeways, streets, laws, and the rest.

I can't even express how big of an undertaking this is for a promoter to do, especially with 6 bands coming in from out of the country.

And… this is just for the most part, our little D-list world of rock bands… to comprehend what the next levels do to coordinate such a run is even more complex.

What a band like Kiss does in order to plan a world tour, or Guns N' Roses or something like The Stadium Tour with Motley Crue and Def Leppard is just massive.

Never-mind the "They use samples", "He wears a wig" or "It's not all original members" chatter online, the overall planning and production for this level of touring is beyond comprehension and takes years to put together.

Even this Glam-Fest tour at this club level took a ton of planning and executing by all involved to make it work.

Now the real fun starts…
And that is going on tour… but… this is just the start, and it can get very challenging along the way.
To all you musicians out there wanting to get the gig, get signed and go on tour… heed my warning and proceed with caution. Be careful what you wish for… because on the other side of that fence, my fence, our fence, and every other band's fence, the grass is not always as green as you think it may be.
The fun, the money, the free booze, drugs and girls galore are absolutely a part of it… and most or all of those things can and will happen if you let or want them to.

But, there is a time and a place for everything and… it's not always going to be when it works best for you.

Take away an hour performing on stage and if you get lucky – an hour performing with some pretty girl in your hotel room, in reality that is only a two hours of your day.

There are 22 other hours in that day that you need to be as one… one meaning one group, traveling together, sitting in a van, on a plane, at the venue, in the dressing room, doing sound-check and eating together for breakfast, lunch and dinner.

Outside of using the bathroom (and even this is up for debate) you will have to share your entire world with everyone else on that same tour for days, weeks or months at a time.

You see, you have to also accommodate your schedule in conjunction with the others in your band, or touring party and at times, coordinating with the other group(s) you are touring with as well.

In other words, if the Tour Manager, Promoter, or band leader says: "Lobby call is 4:30AM..sharp!" well, guess what… you need to be in the lobby by 4:15.

The late great Frankie Banali of Quiet Riot used to say: "If you're not 15 minutes early, than you are already late!"

RIP Frankie… we miss you.
There are other pieces of this 'band on tour' puzzle that are also included – whether you like them or not and they are not always to everyone's liking.

Off the top of my head, where you can eat or what is available to eat are a common daily challenge.

So is the hotel room you are staying in, or maybe sharing with another person or persons.

Remember, it's not just you, and your appetite, desires, wants or needs that have to be met.

And, you're name is very likely not; Axl, Gene, Slash, Nikki, Ozzy or Bret.

So, best to fall in line, and adjust your presence to blend in with the group.
Oh, and another thing… a friendly reminder to those attending any show, be it a fan, friend or industry comrade.
At the end of the day, when all is said and done… asking any band member for anything, is the last thing anyone wants to hear, especially when on the road.
What's that I am referring to?
Stuff like; "Can I get on the guest list?" and "Can I get a free t-shirt?" quickly come to mind.

As for the guest list, isn't it so much better, if the band offers to put you on their list?

I mean, no disrespect but asking… well, it's just tacky.

It's also lame to ask for anything free… just to note.

The road is already challenging enough, being hundreds or thousands of miles away from home, living out of a suit-case and having to stick and move in cities you've never even seen before, or are moderately familiar with.

So, having to suddenly worry about someone else's ability to get good parking, a free entrance or hold your hand to get you backstage is a bunch of energy best used elsewhere.

Tuff worked with Gene Simmons back in the day, and we not only jammed with him in our lock-out rehearsal studio, he also invited us to his home up on Mulholland Drive.

As we sat in his guest house jamming on some song ideas, I told Gene: "Hey, we're playing in Hollywood next month, we'll put you on the guest list, please come down."

Gene looked at me and said: "No. I don't want to be on your guest list. I will buy my own ticket."
We all looked at him kind of dumbfounded…

Gene then added: "And when my band plays, don't ask me to be on my guest list either, please buy a ticket."

I found this very honorable.

In truth, I have witnessed Gene walk up to the will-call window at The Whisky, and literally tell the person in the booth: "One ticket please."

I then watched him open his wallet, pay for his ticket and walked in like everyone else.

Mad respect to The Demon.

Moral of the story, don't ask to be on the guest list, it's whack!

It's also understood that much of the time, while on tour, in a band, or sharing a bill with other groups…. everyone is not an equal.

Nope, not close… and whether you think that's fair or not, well, that will be decided with or without you.

This can very greatly, depending on what band you are, and the hierarchy within that band.

I have seen and heard horror stories, also witnessed ignorance and stupidity at the highest levels.

In Tuff, the 4 of us in the van, at the airport or on stage, are without a doubt equals
But, if the local radio station says "We want to interview Tuff" for the local 80's rock show, well it's understood and expected, that Todd Chaisson or myself is going to be doing that interview.

No disrespect to the others, but when the Deejay talks about the band's history on Sunset Strip, our debut on Atlantic Records or video play on MTV, it's logical that someone who was in the band at that time should be answering these questions.
Also, there is a pecking order when playing with other bands, whether bigger or smaller.

With time and experience, most touring musicians figure it out and fall into place as would be expected, but of course there are always some instances of D-list scabs acting dumb as dirt.

That goes for the bigger names too… meaning, sometimes the A or B list, perhaps the C list groups included have 2 or 3 classic or original guys in the line-up.

Then there are the 1 or 2 guys, maybe more who are essentially now hired-guns in these scenarios.

I have found most of the time, the guys that have achieved enough to garner these gigs, know how to carry themselves, and usually treat everyone across the board with the utmost respect.

But occasionally, a guy gets a little too comfortable in their setting and tries to act more important than he really is.

Either way… it's an interesting dynamic for sure… and one that you learn to be a part of as the years go by.

I would assume it's similar on a professional sports team, with the veterans, the true stars and then the rookies or the guy who came in off the practice squad for the week.

In short… know that when on tour, or performing anywhere… you are being watched, judged, and your attitude and the related are being subliminally scored by those around you.
In this next section I will detail a small glimpse into what we (Tuff) did over a 10 day period to take part in Glam-Fest Australia.
As most know, I am based in Los Angeles, the meeting point for our departure to Australia.
Todd 'Chase' Chaisson, the band's bassist, and co-founder is based in Cleveland Ohio.

Todd is also married and co-owns Smokin' Rock N' Roll Food Truck & Catering.
Billy Morris, our lead guitarist for more than a decade is also based in Cleveland.

Billy is also married with 3 kids (all under 10), co-owns Smokin' Rock & Roll with Chaisson and also has a recording studio, related Sound System company and plays in his own solo group regularly.
Tod 'T' Burr, who has played drums with Tuff on and off for 20+ years, is based in Phoenix Arizona.

'T', his shortened nickname is a full-time live and studio session player who also does pro tech work internationally for a host of name bands.

What does it matter who is married, or has kids, or the rest… you may be asking yourself?

Well, if someone is married, has kids, another job, or a second or third band they play with, well… then everyone has to check schedules with spouses, work, bands and a lot more.

Remember, we're not in our 20's anymore and can't just get up and leave at the drop of a hat.

Nope, as stated previously, everyone has to now survey and juggle their schedule, family and jobs to fit into the Tuff schedule, whether it's for a night, a weekend or a tour.

In our camp, after I deem an offer, show, tour or opportunity viable for us, with Mr. Chaisson's co-approval of course, we then present the plans, and an offer to our hired gun members.

Now everyone has to okay this and comes back with a "Yes, all clear" or a "I can't make it."

Once the lineup is set… now we have to sort the dates and make our plans.

For Glam-Fest in Australia, here is some of what happened…
Chase flies into LAX on Thursday night Jan. 19th, Billy flies in early on Friday Jan. 20th and T drives in from Arizona early on the 20th as well.
Rehearsal takes place in the evening of Friday January 20th from 7-10PM at Nitengale Studios in Burbank California.
Saturday January 21st, Tuff schedule and execute a photo-shoot in the afternoon, which is immediately followed by a lightly catered dinner (2 pizzas, delivered with tip, $ 85.00 – Yikes!) along with a second and final rehearsal.
The band except for myself (Stevie), are all staying at Hotel Burbank, which is less than 1 mile from the studios and ironically a similar schedule seems to be taking place at the same hotel and same rehearsal studios for the Wednesday 13 band.
We see the W13 guys on Saturday and a few quick hand-shakes and hellos are shared while both bands are on a short break in the lounge area of said studios.
A quick fact check, the W13 band I learn are also scattered around the planet.
Wednesday (vocals), Jack (guitars) and Mike (drums) all live in Los Angeles, while bassist Troy is in Texas and Roman (lead guitar) lives in Oregon via part-time in Sweden.

As for Enuff Z'Nuff, Chip is in Chicago, Tory is from Iowa, and the others are from other locations like Wisconsin if memory serves me.

I believe it's a similar story with Faster Pussycat as well, including Los Angeles, Nashville, Las Vegas and 1 guitarist is from Australia but spends part-time in the U.S..
On Sunday the Tuff band all UBER into the West Valley to meet at my house.
The afternoon is basically our final hours to pack, sort bags, run last second errands and then get ready to UBER to LAX for our evening red-eye flight.

We make the roughly 45 minute trip in 2 separate (UBER) cars, as all '4' of us and all of our gear and bags won't fit in 1 car.

Technically there were '5' of us, as Billy's wife made the trip West with him, but was headed home on a separate red-eye flight to Ohio, around the same exact time only from a different terminal.

And, before you say it, I already checked… to get 1 mega SUV Black, that will hold all of us, is actually more expensive, then us taking the 2 regular UBER X vehicles.

Moving along…

Something else bands do on this level to promote these gigs or tours… is press.

And, we do this before hand and usually it can include interviews the day of as well, and at times before going stage in the dressing room too.

A lot of these interviews are done before the dates as to get the word out and help promote we're coming to town.

Usually it's weeks or months in advance, and a publicist, the promoter or even yourself… will set up interviews to do to promote the scheduled dates or tour run.

These could be for radio stations, magazines (in the old days), websites and in current times, podcasts are a popular one.

This was a small taste of what I did… just the week before we flew down under.

On both Tuesday and Wednesday, January 17th and 18th they lined me up about a dozen interviews.

Each was 30 minutes long, back-to-back, and they started at 1:00 or 2:00pm (PST) and went for a few hours straight.

Mind you, at this time for me, it was the next day at 8:00 or 9:00am Australian time.

And yes, each of the artists likely did these… ie: Chip for Enuff Z'Nuff, Taime for Faster Pussycat, Wednesday 13 and right down the list.

You may have also guessed, yes, this all has to be coordinated with each of the guys, as to where they are and when available to do this… all the while on tour, between gigs, at a hotel or even in a van driving to the next town for a show that night.

Or, perhaps doing these in-between picking their kids up from school, taking them to karate lessons and the rest of life.

Sitting on the phone for 2-3 or 4 hours, answering questions about what happened in 1989 or what happened to the other original members, and what will the set-list be next Saturday night in Sydney.

Click on a zoom link and you're now talking to someone 8,950 miles away while he's having breakfast and you're sipping an energy drink.

Talk to him for 30 minutes, hang up, and it's time to click onto the next link, and you repeat this multiple times, over and over for hours.

How glamorous right?

See my little schedule below, and also a few of the interviews that some of the guys did, all embedded below for your viewing pleasure.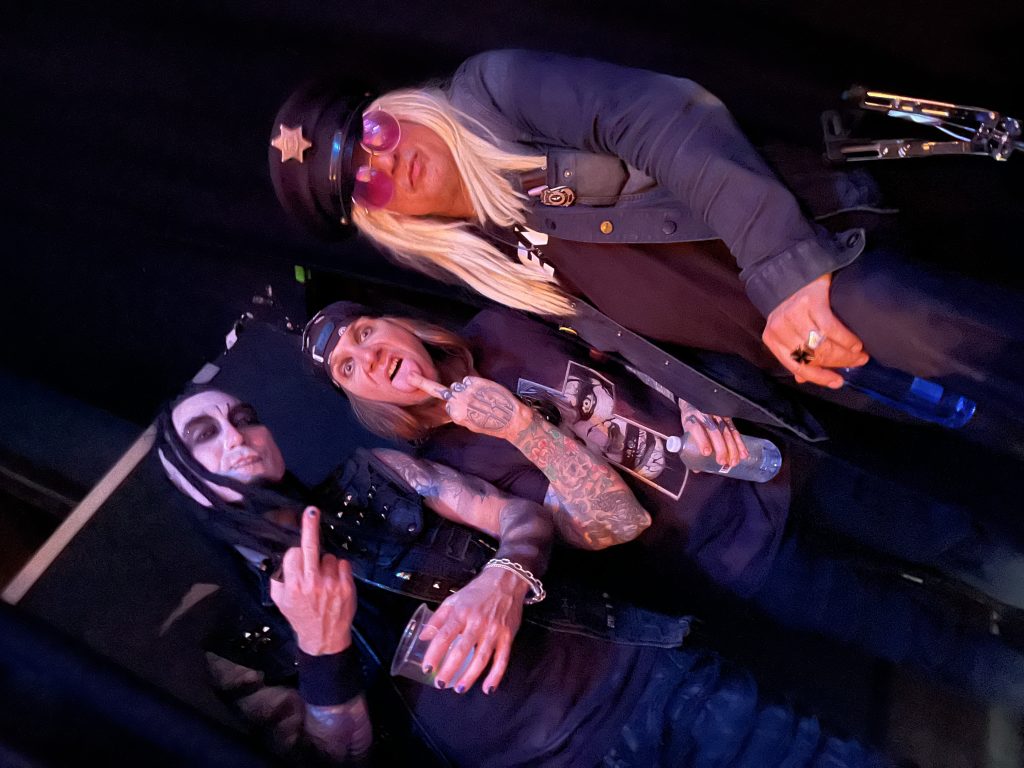 Several of the bands have shared their related details of the up coming journey, and I learn that Tuff and PBF will be on the same flight leaving and returning to LAX.
That now makes a total of 8 in our touring party between our 2 groups.
I also learn that both the W13 band and Enuff Z'Nuff are also on a flight together.
A total of 10 in their touring party.
Communications between myself and both Taime and Chad (Faster Pussycat) earlier in the week, I learned their departure from LAX would be on a late night flight Saturday January 21st.
Quick side-bar, Eclipse are based out of Sweden as previously noted, and flew and connected their 5 person touring group to Australia through Bali on their way to arrive on Tuesday in the evening on January 24th.

Note: When flying to Australia, which is on the other side of the planet and in a different Hemisphere, we also lose about 18 hours of time.

In other words, as I type this on a Thursday at 5:30PM on the West Coast of the U.S.A., it's currently 10:30AM on Friday in Eastern Australia where most of the shows are based.

To be more clear, most of our flights left Los Angeles on Sunday night, while we arrived in Australia on Tuesday morning.

That doesn't leave any or much room for error, as the first show is the very next day, on Wednesday.

Like I said, a lot of things to sort, coordinate, and organize… and that includes the days and weeks or perhaps months leading up to a tour like this, not just the day of departure.
While FPC were first to arrive, Eclipse arrived last, with the W13 and EZN flight, coming in a few hours earlier than the Tuff and PBF flight.
Tuff and PBF would connect in Fiji, with all 8 members then flying direct to Brisbane landing on early Tuesday morning the 24th of January.
W13 and EZN flew on Quantas, while our 2 bands were on Fiji Airways.
Oh yeah, speaking of Chip Z'Nuff and his band, along with Steve and the PBF guys… both bands were just in Key West Florida on Tuesday January 17th to play the opening night of RockIsland Fest.
In case you don't know our U.S. map too well, they did that gig more than 3,000 miles away from Los Angeles, then splintered off to other gigs, homes, wives, etc.. only to reconnect 72 hours later out in California for this trip to kangaroo land on the complete opposite side of the country.
And guess what?

There is more… a lot more.
So, basically these guys flew 3,000 miles to Florida, for 1 show, only to fly 3,000 miles back to California, only to board a plane to fly to the other side of the planet, on a different continent which was… about 15,000 miles away.
You following me still…
The PBF guys made their way to California on January 18th, while Chip and his band then went to knock out Friday and Saturday gigs on the 21st in Carolina and less than 24 hours before their Australian flight in Atlanta.
Sound confusing yet?
Ha… this is literally just the start.
Off the top of my head, we haven't even played 1 note yet… yet the bands combined have been booked on, and have tallied up more than 50 individual flights.
At some point in the weeks previous to the Glam-Fest all members were informed they would each receive an old fashioned tour book which included every last detail.
Previous to landing, this was also forwarded to each band agent or leader, to disburse to his groups via a 47 page PDF file.
No!
Not 4 to 7 pages…
47… as in almost 50 pages.
This was so detailed, I can tell you what color drawers Chip Z'Nuff was going to be wearing the morning he landed and that Wednesday 13 had drank apple juice with his breakfast.
Okay, that was an exaggeration, as we all know Chip probably doesn't own any underwear and Wednesday only drinks blood, but that's irrelevant.
Silverback Touring and President Danny Bazzi had left literally no stone un-turned.

But, I am still not convinced, he isn't out of his F#@king mind.
That, or Danny is not human, and may have some robot in his physical make-up.
But what do I know, I've only been doing this since 1985.
So yea… there was an amazing amount of pressure on everyone in their respective groups to each to do their part as we all were on foreign soil… but the part that suddenly became a brutal reality was the 1 small warning Pj Farley had given me during one of our chats.
"The lobby call tines were pretty early each day" said the best looking guy in Fozzy, sorry Chris.
My reply: "Oh really,… so what like… 7-8:am?"
Farley: "No. More like 4:00am."
Me: "Really?"

Farley: "Really!"

Me thinking in my head…"4:AM? There is NO WAY everyone in Faster Pussycat makes this lobby call!"
I am smiling now, but back in the final week of January… there were not a ton of smiles in the hotel lobby, at least not at 4:00AM.
Imagine 40+ adult men, dressed in all black, leaning against walls wearing sun glasses and shuffling like extras from a pre-dawn Scary movie set.

Someone reading this just said, "40? I thought you said it was 25 musicians?"

Me: "I did… but…"

What I said was 25 guys were flying into Australia, from the bands, but now that we're here, add on Danny Bazzi, the Tour Managers, our lovely band Mom Anna, some of the Aussie National Recording Artists and yea,.. more like 40.

One thing that I thought was pretty crazy for sure, and fortunately for Tuff it didn't affect us as much as the tour's 2 co-headliners.
Faster Pussycat were the final band of the night with Wednesday 13 playing direct support.

These shows often ended at 1:00am, so it's safe to say, that the Faster guys did not get back to their hotels, until 1:30am, at the earliest… sometimes, 2:00am or after.
Wednesday's band played just an hour earlier, so they're arrival to the hotel was also after midnight.

Now, going back to the above noted lobby calls early in the morning, some of which were 4:00 and 4:30am… all of these band members had to be packed and ready to roll with the rest of us.

Tuff and PBF were slotted 4th, 5th or 6th, after the Australian bands, so we were able to play our set and head back to the hotels by 9:00pm or 10:00pm.
Everything was moving along daily and nightly, one band arrives, one band departs, one band starts their set, while the other just ended, and the dressing room(s) were in full rotation as the event unfolded.

Again, lots of details here, but each band has a bassist and a bass, a guitarist or two and their instruments, pedals and cords, while the drummers carried pedals, sticks and other.

Some but not all of the bands use theater style make-up and of course everyone has some type of image, stage clothes, props and gear related to their specific show.

Sure, all of this is common with most touring bands, in the U.S., Europe or anywhere else, but I guess the point I am trying to drive home here, is we had 10 bands daily, doing a mini-festival style event, in a different city each day, all of which we had to fly to before the sun was up and there were so many things going on, that everyone had to be responsible for themselves and each of their band-mates too.

Kudos to Taime and the Faster Pussycat guys, along with Wednesday and his band the same, as both of these bands were literally putting on a show at Midnight. and less than 4 hours later had to be be back at their rooms, showered, packed up and in the lobby ready to be carted to an airport.

From what I know, Taime, Wednesday and their guys, most of them, slept at the Hotels during the day after arriving, and then would be shuttled to the venue later in the evening, at like 9:30-10:00pm for W13 band and a bit later for the FPC guys.

For what it's worth, I didn't see either W13 or FPC play, until the final night in Sydney.

Most of the earlier bands, missed the later acts and the later artists, were sleeping while the earlier bands played their sets and did meet n' greets.

Let's keep it moving….
Upon arrival and digging into the cookbook style tour booklet, myself and Mr. Chaisson started making mental notes for our group.
Things we (4) would need to be prepared for, and making sure our Tuff guys would not at any point be the reason an error was made or a delay created.
Also dare I suggest… offering a little guidance and advice to our other related 4 person party who we learned we'd be sharing things with for them tour.
We learned that Tuff and PBF were designated a local Australian tour manager named Marcelo, who would also be our main driver, with our own van, and he was our guy.

Marcelo is Brazilian, and ironically we have mutual friends back in his homeland. Did I mention, I love Brazil too? It's an amazing country, with amazing people, and I could tell from the start, Marcelo is one of them.

Let me just say, that Marcelo and our tour mom Anna, were nothing short of awesome.
Enuff Z'Nuff and Eclipse would both share a Tour Manager and Van as well, like our 2 band / 8 person party only they had 10 in their party.
We then learned that W13 would have their own van and Tour Manager Adam, while Faster Pussycat had their own Tour Manager and a Van the same.
I might be skipping all over here, and retelling parts or noting some of this out of order, but you get the idea.
So yea, 3 dozen plus bodies, 100 various bags, luggage and road cases, all shoved into 4 Vans daily, but there were a few points where we all were in a Tour Bus pulling a trailer.
And we haven't even gotten to the daily flights yet.
No… not the ones we all boarded to fly down to Australia, not those, I'm talking about all of the flights we had to take to fly to each city.
Still with me?
That's right… and this is the reason why, we had 4:00am lobby calls.

Dig?

If the flight was at 10:00AM, you can't leave the hotel at 8:30.

No, we needed to be a minimum, of 3 hours early, as it wasn't a party of 2, or 4 or even 10.

It was a party of 35-40, checking in together, with 2-3 bags each, yes… upwards of 100 bags… adding personal luggage, guitars, basses, carry-ons and boxes of merchandise!

So… each day, we were in the lobby, by either 3:30, 4:00 or 4:30AM, at the very latest.

Then, all herded into 4 different Vans or 1 big Bus with a Trailer, to get all of the bodies and bags to an airport, which was either 15, 30 or 45 minutes away.

Then get everyone's bags checked, then through security and to the gate, by a reasonable time.. like say.. 8:00-9:00AM… which then left enough time to go buy a coffee before boarding.

Let me note this as well, when the tour bus, trailer, or vans were lined up and bags were being loaded at 4:00am, it did not go unnoticed by me… that Danny Bazzi was right there, lifting bags, loading cases and doing more than his part.

That's right, the main man, the Promoter and CEO of Silverback loaded bags along with his hired crew.
So… after everyone was officially in town, in Brisbane to be exact… the bands all stayed at a Rydges Hotel on both Tuesday and Wednesday nights.

Tuesday, after arriving, was our 1 off-day, where everyone had to get their head on straight and prepare for the next several (5) days.
Then the Wednesday night show was in Brisbane on January 25th and aside from a lot of humidity in the air… night #1 went off without any major hiccups.
Well, to be fair, or blunt, or open… the dressing room area or backstage was barely able to accommodate 1 band comfortably let alone 8-10 bands… but… this is the road.
Doors we're at 2 or 3:00pm I forgot, and all the bands played.
Our 5 U.S. groups, the Swedes from Eclipse, 2 Aussie National recording acts and for The Bridgeway in Brisbane, there were 2 local bands, making for a 10 band bill.
As for who is who, which group featured which band members, original or classic era guys, and who were meeting for the very first time, well… this too is part of being on the road.

Of course there was Taime, Chip, Wednesday, Steve and myself (Stevie) along with Chase as the OG's if you will.
Over the next week, there will be a few "Oh wow… dude… I didn't know you used to play with >insert band name here<" type moments and getting to meet some new faces too.
Of course there are some of us who are over-the-hill (50+) and the rest of these bands have members in their 20's, 30's & 40's too.
We'll also share stories of where we're from, the cities, states and different parts of the world included.
Guys are telling War Stories from the road, and the local bands and fans from Down Under seem to be genuinely enthused that a bunch of Sunset Strip and 80's Dial MTV music history is all featured on 1 bill in their hometown.
One word seemed to come to mind… from what I heard, saw and experience that entire week.
Respect.
Another word was … Ego.
There was nothing but Respect across the board and, there were no Egos either.
And I am not talking about this band or that band or just the International bands.
Nope.
There was a level of equality, from the 1st & 2nd slot Local openers, to both of the Aussie Nationals and each and every touring band… everyone showed each other common respect, courtesy and fairness.
Let me add, that over the last 15-20 years, in most of the festival setting shows, along with every Monsters of Rock Cruise that I've been involved with, the same has happened.
Lots of love, respect, friendship and an overall appreciation for the opportunities that still present themselves to us.

Especially us older veterans, who were doing this in the 1980's and 1990's.

Show #2 was in Melbourne on Thursday January 26th at "The Prince."

This was very well attended and near full capacity.

I was stoked to play here as I had appeared here back in 2007 and made tons of cool friends, some of whom attended the show including Jules from White Widow & The Dead Things, Milan and his sister Mili and my friend Kellie and her boyfriend.

Our full show from Tuff is shared below in a video from Youtube.

Friday nite was Adelaide at "Bridgeway" and you can watch Tuff perform "I Hate Kissing You Goodbye" from this show below as well courtesy of Youtube.
The final night was Saturday in Sydney at "Factory Theater" and appeared to be the largest crowd of the week with Melbourne a close second.

Watch Tuff perform "American Hairband" below from Sydney courtesy Youtube.
Below is a list of daily personnel that does not include the Bus Drivers, Merchandisers at each show, Security, Bar Tenders, Waitresses and other venue related staff.

Glam Fest Australia / June 25th –28th 2023
Silverback Touring
Danny Bazzi – Promoter & CEO
Anna / House Mom, Backstage for all bands
Adam / T.M. – W13 Band
Squirt / T.M. – EZN & Eclipse
Marcelo / T.M. – Tuff & PBF
Jason / T.M. – Crosson
Ace Jendell / Adelaide
Faster Pussycat (Hollywood)
Taime Downe / Vocals
Chad Stewart / Drums
Danny Nordahl / Bass
Ronnie Simmons / Guitars
Sam Bam / Guitars
Wednesday 13 Band
Wednesday 13 / Vocals
Roman / Lead Guitar
Jack / Guitar
Troy / Bass
Mike / Drums
Eclipse (Sweden)
Erik Mårtensson / Vocals & Guitars
Magnus Henriksson / Lead Guitar
Victor Crusner / Bass
Philip Crusner / Drums
? / Sound Man
Enuff Z'Nuff (Chicago)
Chip Z'Nuff / Vocals & Bass
Tory / Guitars
Jason / Guitar
Daniel / Drums
Beasley / Tour Manager
P.B.F. (Hollywood)
Steve / Vocals
Diego Ashes / Guitars
Chris Six / Bass
Nick Mason / Drums

Tuff (Hollywood)
Stevie Rachelle / Vocals
Todd Chaisson / Bass
Billy Morris / Guitars
Tod 'T' Burr / Drums
Sisters Doll (Australia) National band
Brennan Mileto / Vocals & Guitar
Austin Mileto / Bass & Vocals
Bryce Mileto / Drums & Vocals
Crosson (Australia) National band
Catalano (Brisbane) local support
Cassidy Paris (Melbourne) local support
Atomic Riot (Melbourne) local support
Star Crazy (Sydney) local support

———————————————-

In recent months, Silverback Touring had a Skid Row tour of several cities down under, and half of the dates were Sold Out, before the band even left the U.S..

As some recall, unfortunately Erik Gronwall got sick the very day of show #1, and it was literally in the 11th hour, as fans were lined up down the block when the band decided to cancel the show.

They played show #2, but Erik was just too sick and could not do the rest of the dates.

Such an unfortunate set of circumstances for all involved, the band, the promoter and of course the fans.

Following that tour, Silverback brought down Riki Rachtman for 4 dates on his "One Foot In The Gutter" tour.

The shows went over great and the reviews were stellar.

Riki himself had asked me about Danny and Silverback in the months leading up to his tour down under.

Upon his return, Riki text'd me the following: "You were right, Danny is great."

I guess I want to sum all of this up with, what I talked about in the beginning of this article.

It comes down to trust.

You build trust, you earn trust, nobody is given trust, it is something that is earned over time.

Danny Bazzi has built trust with the artists, and many of us artists have built trust with each other.

I can tell you, every time I go somewhere new, I dig into the promoter or the venue's past.

Who played there last, most recently, that falls into the same category as I might, and I reach out to those bands, or musicians and ask, "How was it?"

The same thing happened when Monsters of Rock started doing their cruises more than a decade ago.

Larry Morrand and the Monsters of Rock Cruise, like the M3 Rock Festival, Rocktember and some others, have built their brand off of trust.

I can't say thank you enough to all of these people, all of these promoters, organizations and most of all – you – the fans who support our music and these events.

It's a family, and while that may sound corny, it's true.

Everyone has to do their part of the work, and part of that work is honesty.

Be honest… whether it's good news or bad news, just tell it like it is.

Nobody likes a bullshitter or a phony…

If you screw someone, whether it's the promoter screwing the bands, or the band screwing a the fans, it's going to come and find you in the way of karma.

This journal has went on forever and I know it's time to wrap it up but I just want to say that being in a band is not always as glorious as you might think it is.

And here is the kicker… all of this is just for a handful of washed up D-list 80's bands to go do a tour for a week.

Can you imagine what it takes to go on tour for the next level bands?

What it entails to go out for 2 or 3 weeks, in a bus, with a full crew, perhaps for a month or two.

What the next levels entail, is 5-10 or 50 and even 100x more mind boggling than anyone can imagine.

Respect across the board, for any band who does this, at any level… it's not all fun and games, it's real work and the reality is far from the fantasy.

But hey, if you really want to chase that rock n' roll dream, good luck and you better pack a lunch while you're at it.
I reached out to several of the bands who were on the Glam-Fest Tour down in Australia and a few of the guys from the other groups, who also worked with Silverback Touring at some point.

I will share their quotes below, that they personally sent to me about touring down in Australia.

"Australia's Glam fest tour exceeded our expectations. Packed venues full of trim and throbbing with life. Danny from Silverback Touring provided the best atmosphere for an incredible experience for the bands and fans alike. Faster Pussycat, Eclipse, Tuff, Wednesday 13 & Enuff Znuff showed the audience that Rock is alive and relevant worldwide!"
— Chip Z'Nuff / Enuff Z'Nuff
"Touring with friends from back in the day along with Wednesday 13 was a great time… and as always, the fans of Australia were great."
— Taime Downe / Faster Pussycat
"Australia is in the top three places that I love to tour. I've been fortunate enough to tour there many times but this tour was something different and something special. Sharing the stage with some of my favorite bands that I grew up listening to was beyond words. It was like band summer camp. It went by way too fast but such a great time. Danny at Silverback Touring was a pleasure to work with and took care of everybody. Until next time."
— Wednesday 13 / Murderdolls

"The Buckcherry/Fozzy tour in Australia with Silverback was nothing but top notch! They are an amazing team to work with with a deep passion for live music. let's do it again soon."
— Billy Rowe / Buckcherry

In reality, this is just a small glimpse inside of what bands go through to play an event, book a weekend run of fly-dates or a tour, whether it's 1 week, 3 weeks or 2 months, there is a lot that goes into it.

Thanks for reading and I hope you enjoyed!

Stevie Rachelle 'From Hell'

—————————–
MESSAGE FROM THE AUTHOR.
People have said to me for years, "You should write a book, I'll buy it."
That's not likely going to happen… not anytime soon at least. But if you are down with my blogs, my band or my various projects – I say thank you.
I have self-released roughly 50 projects on CD. Cassette, VHS, DVD and Vinyl since 1994. All on my own. Without any label support. None.
I have also kept Metal Sludge alive, afloat and online since 1998. For Free. You cannot imagine the workload a website of this magnitude can be.
No Kickstarters, no Go-Fund Me, and no Pay Me now and I'll make a CD in a year and send it to you later.
I am also self-managed, self-booked (most of the time) and 100% self reliant. A 1-man gang.
If you want to support in anyway, buy a CD or Vinyl record from me, or a T-shirt. Or send me something direct via Pay Pal.
I am not begging. I am not sick and no hospital bill. Nope, just continuing my service to the fans that support my Rock N' Roll.
My direct Pay Pal email is Sludgeceo@gmail.com – send a dollar, send ten or send fifty. Send whatever you like, or nothing at all.
Many independent websites have Donate buttons, Metal Sludge has NOW added one, Top Right of this page.
No pressure, but hey, it's an option if you care to do so.
Thank you for all your loyal support of my projects.
There is more to come, more blogs and more music too. I have something in the can now it just hasn't been packaged just yet.
Thank you again and all of your support is greatly appreciated.
Stevie Rachelle 'From Hell'
———————————————————————–
Read my TUFF DIARIES blogs linked below, numbered and dated.

Entry #1 How I Made My Way To California, 31 Years Ago Today (June 25th 2018)
Entry #2 My First Meeting With Tuff, "Is That All Your Real Hair?" (June 29th 2018)
Entry #3 Tuff audition, Jim Gillette screams, a near fist fight & our debut show (July 5th 2018)
Entry #4 The Metal Years, Famous People, Cocaine, Kiss & Sex with a Miss Gazzarri's (July 14th 2018)
Entry #5 Guns N' Roses, Del James, 1988, Sound City, Strippers, Crabs & You're Fired! (July 30th 2018)
Entry #6 Summer on Sunset, Vinnie's Invasion, Tracii's Glue Gun, Vain & Sex by a Dumpster (August 11th 2018)
Entry #7 MTV's NYE Big Bash, Riki & Taime's Cathouse & My Girlfriend was a Poster at Spencer's (August 20th 2018)
Entry #8 Jon Bon Jovi, Sebastian Bach, Rick Rubin, Howie Hubberman, BulletBoys & Gazzarri's (Sept. 16th 2018)
Entry #9 Summer Tour '89, Andy McCoy, Def Leftovers, Max the Model, Z-Rock, Tommi Gunn & Lit (Oct. 10th 2018)
Entry #10 G'bye 1989, Jessica Hahn, Skid Row, Martha Quinn, Young Gunns, Flyer War & Cock-Rings (Nov. 9th 2018)
Entry #11 Hello 1990, Texas, Britny Fox Tour, Strippers, Hells Angels and Atlantic Records signs Tuff (March 24th 2019)
Entry #12 Ready to Record, Howard Benson, FM Station, Jani Lane, Court heaing & 1st Playmate (June 2nd 2019)
Entry #13 Recording Atlantic debut, Bret Michaels, Kane Roberts & Sex is fine, but no sleepovers (Aug. 27th 2019)
Entry #14 New York City, Mixing our Record, Publishing Deal, Video Shoot , Cherry St. & Tigertailz (March 25th 2020)
Entry #15 Hello MTV, The Nelsons, Jason Newsted, U.S. Tour, London & our Stolen Ryder Truck (May 19th 2020)
Entry #16 Lita Ford, Jason Flom, 75+ Shows, Cocaine, a Lawsuit, Sweet F.A. & the Freeway Fight (July 29th 2020)
Entry #17 Hello 1992, Gene Simmons, More Money, the L.A. Riots, a New Bassist & Jason Flom Part II (March 2021)
Entry #18WildSide, Dee Snidet, Tour Fun, Baywatch, Label Search & Living In Reseda (Aug. 2021)
Entry #19 Michael Resigns, River Phoenix, Thirsty Whale, He's Got a Gun, Stolen Van & Danny Quits (Jan. 16th 2022)
Entry #20 1994, Northridge Earthquake, Kurt Cobain, RLS Records, releasing "Fist First" (May 2022)
Entry #21 "Fist First" Tour, Making F#@king Videos, Building Bunk Beds & O.J. Simpson (Dec. 2022)
Entry #22 1994 TBA
Entry #23 1995 TBA
Entry #24 1995 TBA
Entry #25 1995 TBA

Bonus Entry 2023 – AUSTRALIA … Stevie Rachelle takes you on a Wild Ride Touring Down Under

TUFF DIARIES Entries #1 – #21 of #25!
Tuff @ Facebook – eBay – Amazon– iTunes – Instagram – Twitter – Store– Discogs –YouTube–

Stevie Rachelle @ Twitter – Facebook – Facebook 2 – Intsagram – Reverbnation – Metal Sludge – Donate – Store